Some posts on this site contain affiliate links, meaning if you book or buy something through one of these links, I may earn a small commission (at no additional cost to you!). Read the full disclosure policy here.
---
Stowe, Vermont is an idyllic village to visit year-round. Skiing in the winter, fall foliage spotting in the autumn months, and exploring the iconic village and surrounding area throughout the year makes for the perfect trip. That's why we have the 25 best things to do in Stowe, VT that'll make you want to visit ASAP!
Stowe is a town located in northern Vermont, almost halfway between Burlington (Vermont's largest city) and Montpelier (the capital). It is flanked by the Green Mountains, making the views positively delightful.
Even though this town is small, there is plenty to do for a weekend in Stowe, VT that'll keep you entertained and planning a return trip!
Seriously, it is hard not to fall in love with this adorable place. During our fall road trip through Vermont, we instantly fell head over heels for Stowe and can't wait to return!
So without further ado, let's talk about the top 25 fun things to do in Stowe!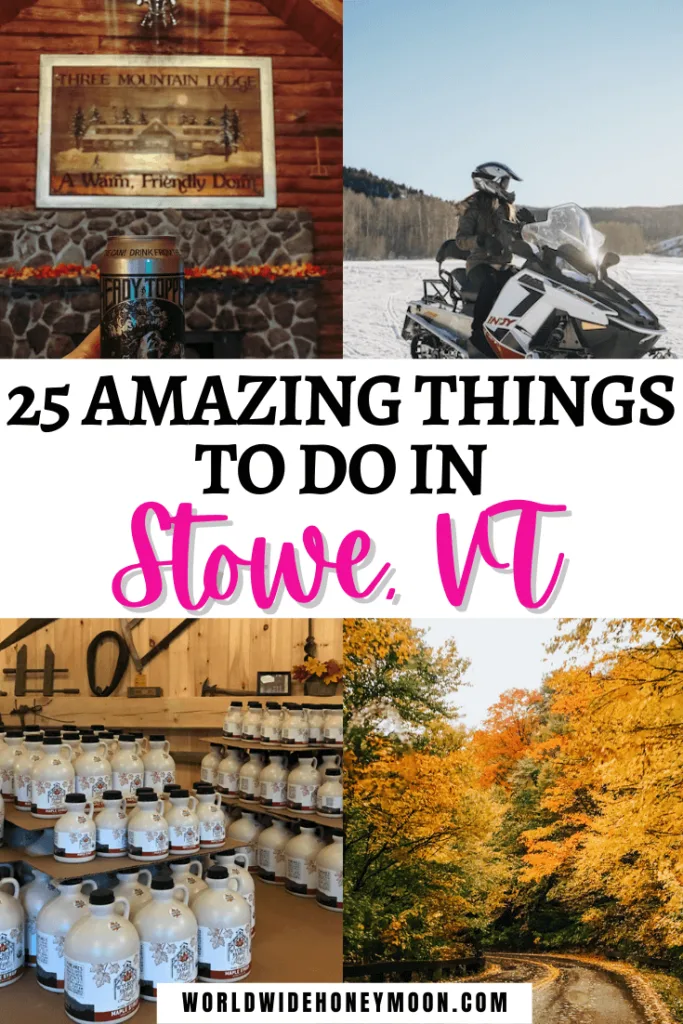 25 Best Things to do in Stowe, VT
Whether you're here for the leaf-peeping in the fall or adventures in winter, these are the best Stowe things to do!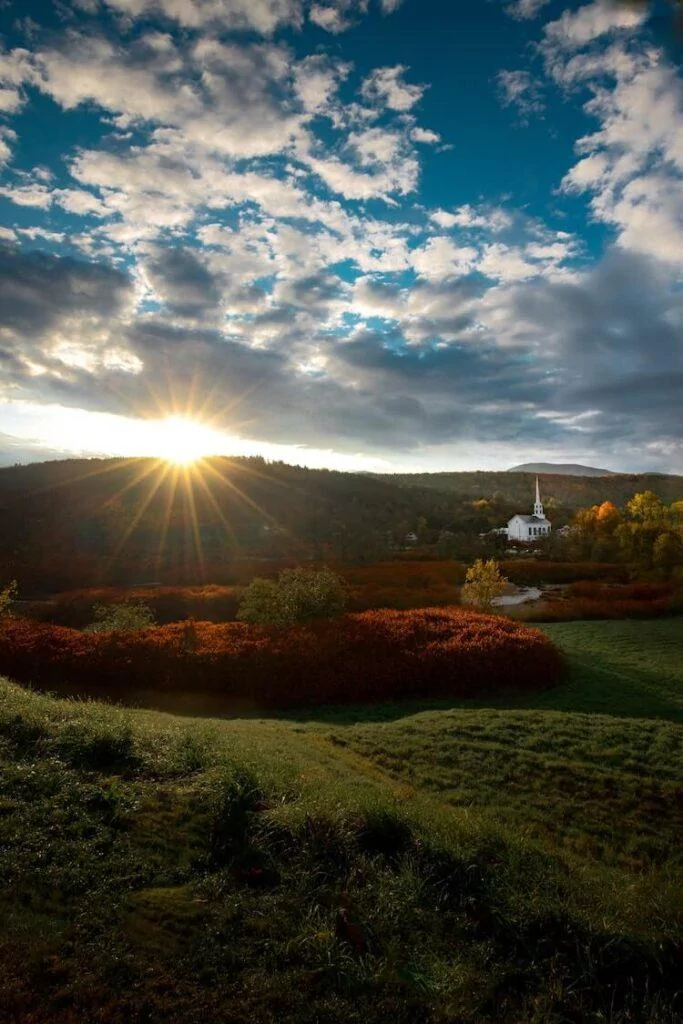 1. Gondola Skyride at Stowe Mountain Resort is One of the Best Stowe Attractions
Going for a joy ride up the gondola outside of downtown Stowe is exciting as it takes you to the top of Mt. Mansfield, the highest peak in Vermont!
Take in the incredible views, and perhaps have lunch at the top at Cliff House Restaurant. This is one of the best things to do in Stowe VT in the summer and fall as it is open from mid-June through mid-October from 10 am-4:15 pm.
The views from the top are absolutely breathtaking, and riding the gondola is a fun adventure for both children and adults alike!
The price for a ticket is $32 for adults and $22 for children.
2. Hiking Mt. Mansfield is One of the More Challenging Activities in Stowe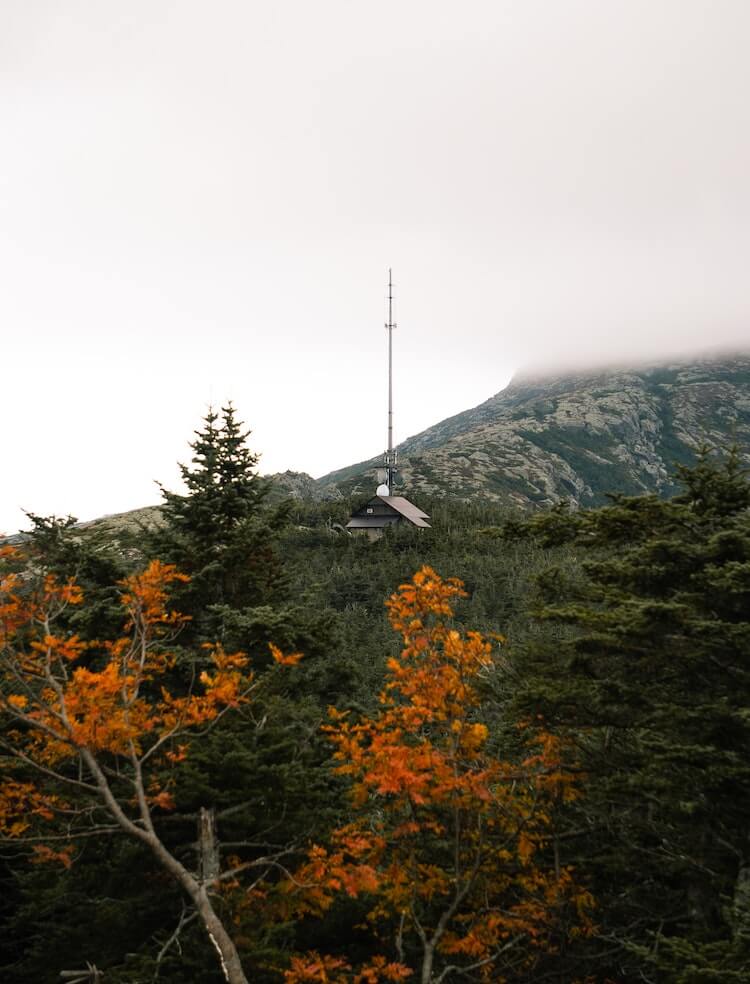 I talk about this trail more in-depth in my Stowe Vermont hiking guide, but I'll say this again: this is not for the faint of heart!
There is a rock wall portion and chasm to jump over, so if you aren't used to those things, or it is a wet or icy day, don't attempt this hike.
However, if you are up for it, it can be incredibly rewarding. Once you reach the top of Vermont, you won't be disappointed in the views! Take it all in and perhaps admire the alpine tundra up there!
The parking fee is $4 for this trail.
3. Going Ziplining in Stowe is One of the Top Things to do in Stowe, VT in Spring Through Fall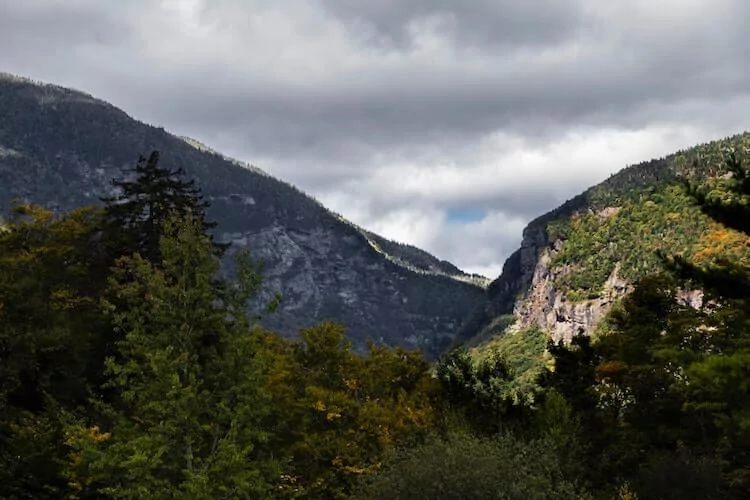 Did you know that you can go ziplining in Stowe? There are actually a couple of places!
First of all, ZipTour Adventures has a zipline near the gondola at Stowe Mountain Resort where you can zipline on the world's fastest zipline experience! We're talking speeds of about 60 mph!
Take the gondola up the mountain for an exhilarating ride back down on this super-fast zipline adventure! The price is $140 per person.
Secondly, there is also Arbortrek Canopy Adventures that offers a zipline canopy tour that has 8 lines and 2 sky bridges during a 2.5-3 hour tour through the valley below Smugglers Notch. Prices start at $99.95 per person.
4. Drive Through Vermont Route 108 Through Smugglers Notch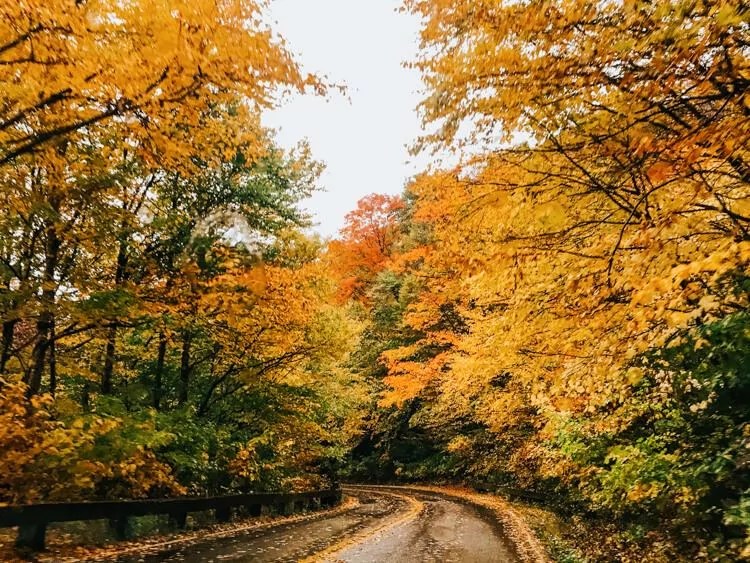 While everyone raves about Route 100 and the scenic places it passes (and yes, that's totally true!) Route 108 may be my favorite, especially when it goes through Smugglers Notch.
Driving through here is one of the best things to do in Stowe, VT in the fall! The vibrant hues of red, orange, yellow, and even a crisp brown shine brightly as you pass through the mountains on this iconic strip of road.
It is a bit twisty, though and steep at times, so having 4-wheel drive helps as well as not having any trailers or things attached to your vehicle. This is also closed in the winter, so come before mid-October for the views!
5. Sterling Pond Trail is One of the Best Attractions in Stowe, VT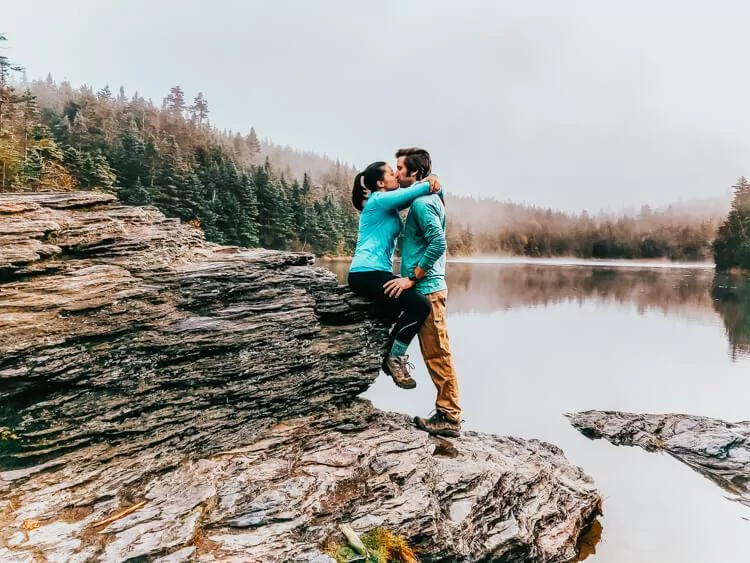 Sterling Pond is Vermont's highest elevation stocked pond! And while that doesn't sound terribly exciting, the pond itself is very beautiful!
The hike up is pretty steep but manageable, and the hike in total is about 2.3 miles round-trip. If you go in the fall, it is truly stunning with the fall colors, and if you go in the morning before the crowds show up, you may even get the pond to yourself for a bit as we did!
If you want more of a challenge, and to escape the crowds that gather here, try continuing on to the Long Trail from the pond to see the ski lifts and other views of the pond! This is about a 5.6-mile hike.
6. For Stowe, VT Things to do on a Rainy Day: Head to the Vermont Ski and Snowboard Museum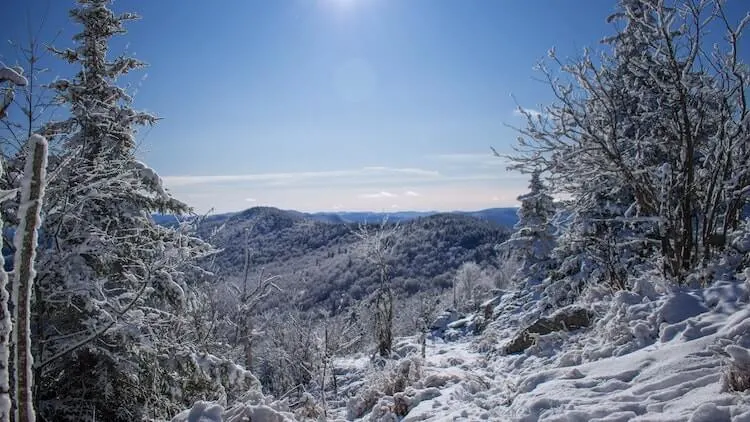 Maybe you've heard, but Vermont is a very popular place for skiing and snowboarding. And Stowe is certainly among the towns that people flock to in the winter months for a fun and adventurous getaway in the mountains!
It makes sense, then, that the Vermont Ski and Snowboard Museum is located here! Discover Vermont's roles in snowboarding, alpine skiing, and nordic skiing. Learn more about the stories and history of Vermont skiing and snowboarding at this museum!
The price to visit is a suggested donation of $5 per adult, and hours are Friday-Saturday from 12-5 pm.
7. For One of the Best Things to do in Stowe, VT in Winter: Ski or Snowboard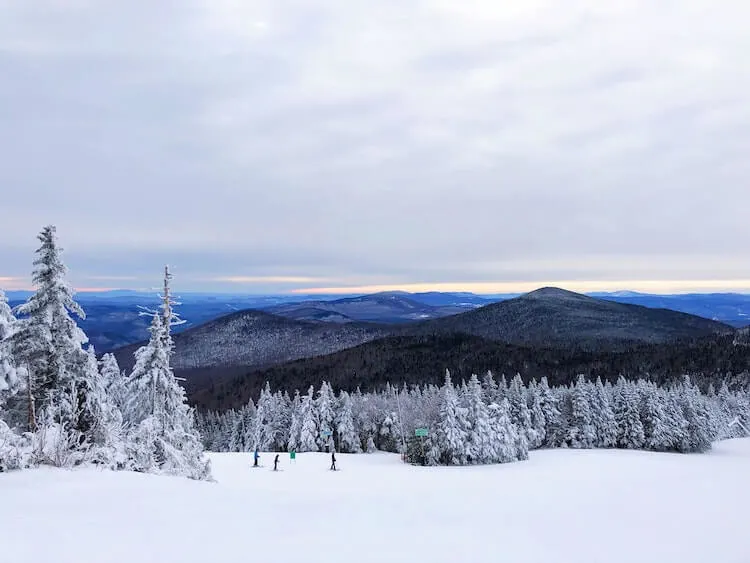 Speaking of skiing and snowboarding, Stowe is the perfect place to do it! Stay in a ski-in/ski-out resort like The Lodge at Spruce Peak, or stay in downtown Stowe and hit up the slopes each day!
With the tallest mountain in Vermont, there is definitely some great skiing for everyone!
Snag some tickets for Stowe Mountain Resort starting at $67 per day.
8. Have a Spa Day at Stoweflake Mountain Resort and Spa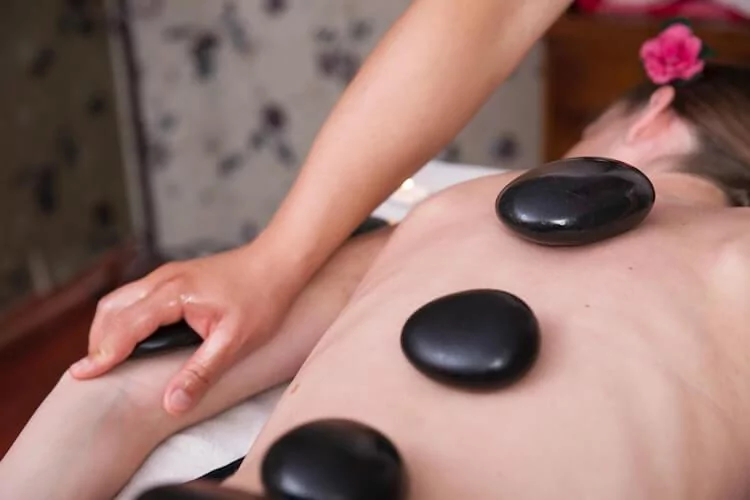 Pamper yourself with a day of relaxation at this spa. They not only offer salon and nail treatments, but they have several different types of massages to choose from including deep tissue, aromatherapy, and even shiatsu massage.
Aside from that, there is a fitness center to work out, and they have a cascading waterfall and soaking pools to really relax and unwind. It sounds like the perfect place to me.
9. Hike to Stowe Pinnacle for Some of the Best Views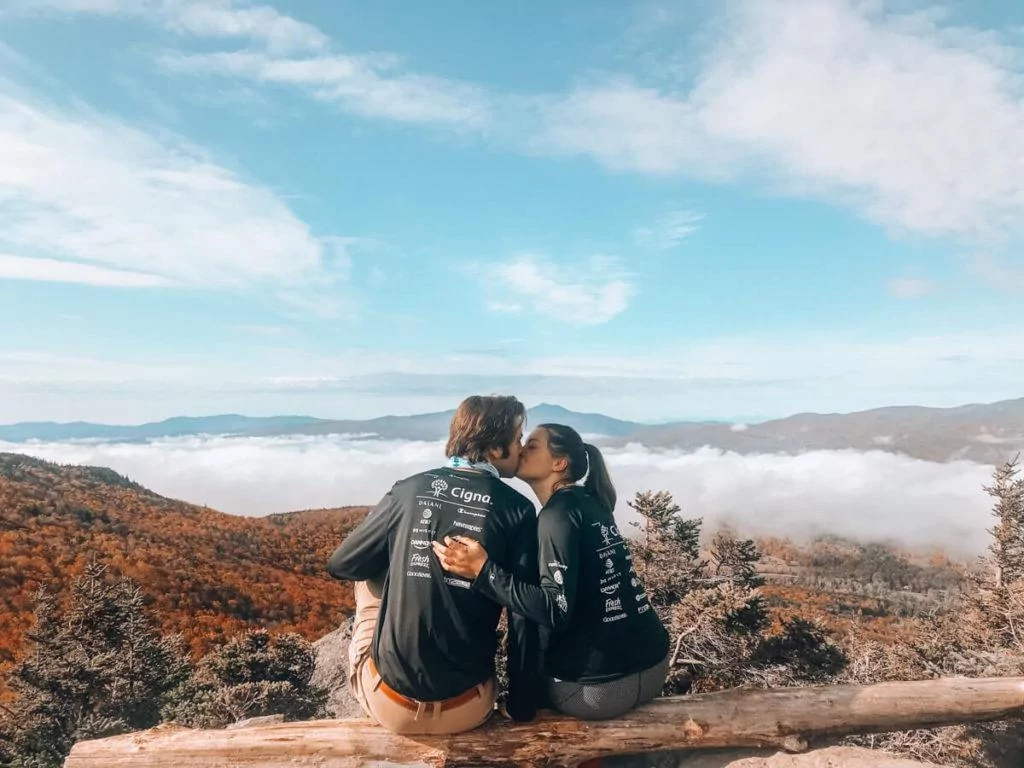 I've mentioned quite a few hikes, but Stowe is definitely the place to go for nice hikes, especially in the autumn when the leaves are so beautiful!
Stowe Pinnacle is such a lovely trail with stunning views of the surrounding mountains and beautiful little farms on the valley floor below. And if you're lucky and time it just right, you may just see the fog clearing and look as if you're above the clouds!
This hike is about 3.7 miles long.
10. Stowe, Vermont Things to do: Try Snowmobiling!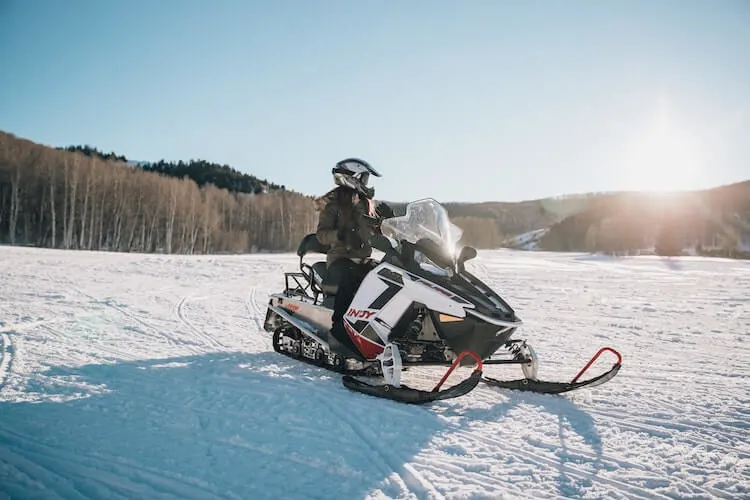 Again with Stowe being a winter wonderland! If you're in Stowe during the winter months, why not try your hand at snowmobiling?
Snowmobile Vermont offers a 2-hour backcountry tour where you wind through hills, woods, and more! Prices start at $129 per person.
11. Go Mountain Biking in Stowe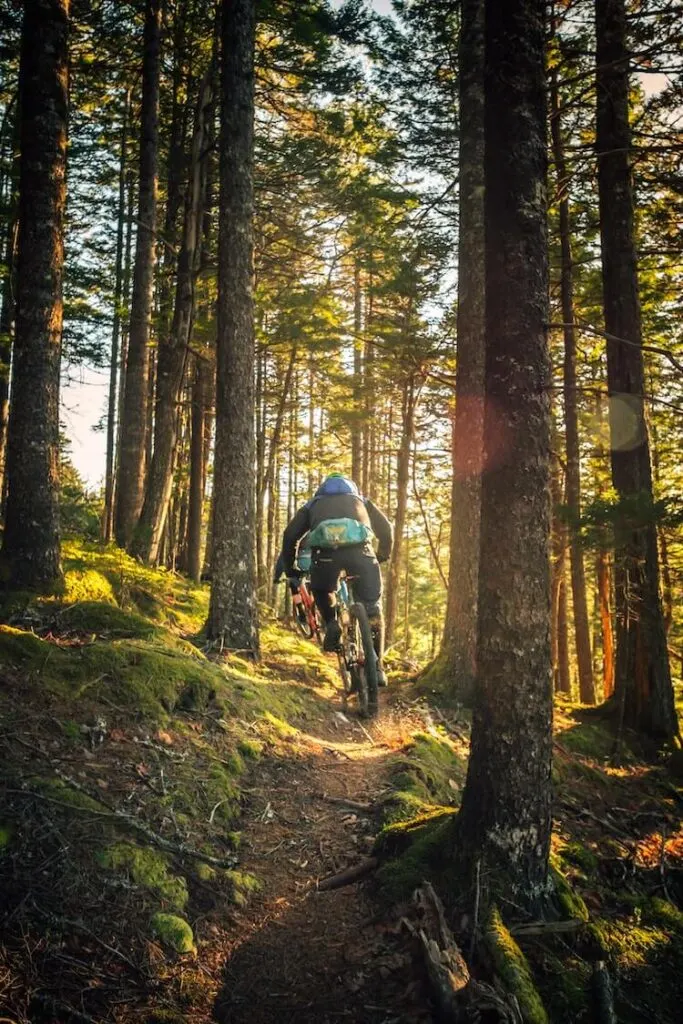 With fantastic trails around Stowe, you know there has to be some good mountain biking! There are a few places that rent out mountain bikes around Stowe, like at AJ's Ski & Sports (rentals start at $25 per day).
There are several mountain bike trails at Cady Hill Forest, Stowe Recreation Path, Sterling Forest, Adams Camp, and the Trapp Family Lodge.
12. Visit the Covered Bridges For Unique Things to do in Stowe, Vermont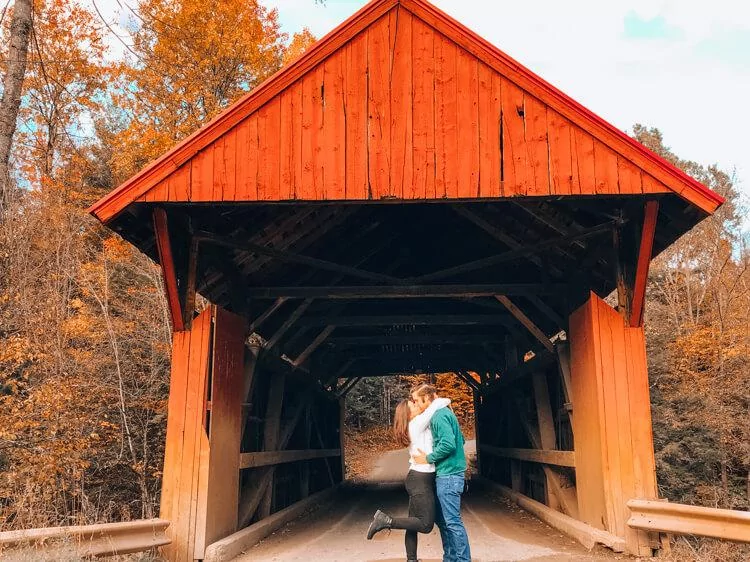 There are a few covered bridges in and around Stowe, so going to visit them is a unique thing to do while you're there.
The most famous is the Gold Brook Covered Bridge, or Emily's Bridge. The story goes that a poor teenage girl fell in love with a boy from a rich family and they became engaged. His parents refused the marriage and the boy told her to wait for her by the bridge at midnight.
However, he didn't show up. Emily was so upset that she jumped off the bridge to her death. They say she still haunts the bridge.
While that is a spooky tale, there is another bridge, called Red Covered Bridge, that crosses a lovely stream. There is also the Giles W. Dewey Memorial Bridge. While not a traditional covered bridge, it is a covered bridge sidewalk that crosses a stream in Stowe.
13. Wander Stowe Recreation Path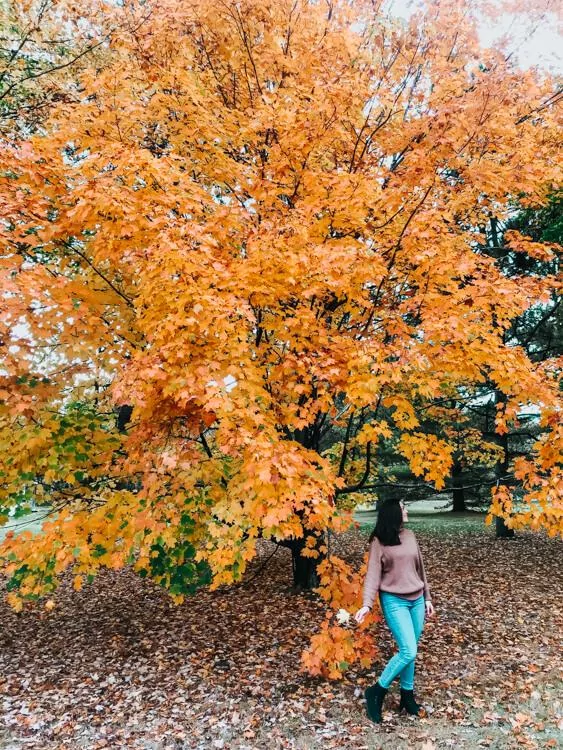 There is a dreamy little walkway that starts in downtown Stowe and goes 5.5 miles, winding its way over the West Branch of Little River.
This is a path that people use year-round and offers incredible views around the town and surrounding area.
Walkers, bikers, and runners use it in the spring through fall, and snowshoers and cross-country skiers traverse it in the winter!
14. Cool Stuff to do in Stowe: Visit a Sugar Shack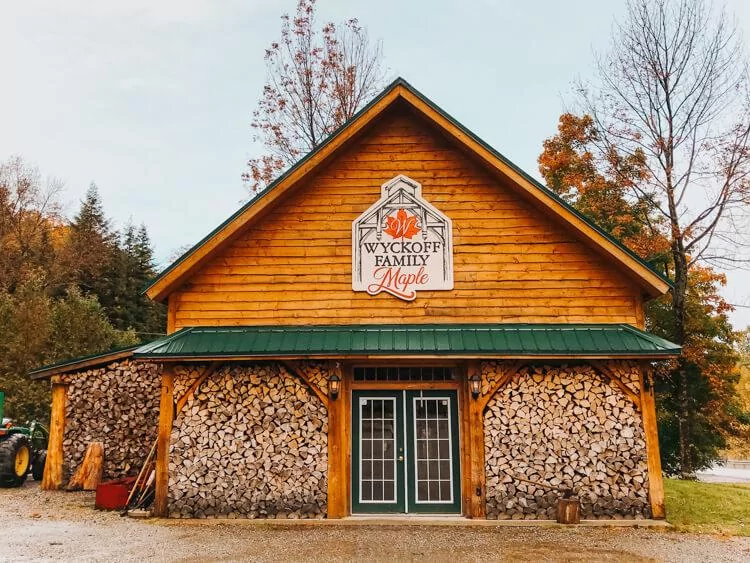 Vermont isn't just well-known for its lovely mountains and skiing. It is also famous for its maple syrup! So while you're there, why not visit a sugar shack?
If you're lucky enough to visit in the spring, you can see people out and about collecting sap. However, you can always pop in and learn more about sugaring and purchase maple syrup products year-round.
Some popular places include Nebraska Knoll Sugar Farm and Stowe Maple Products. However, the Airbnb we stayed at during our time in Stowe also had a sugar shack on the premises called Wyckoff Family Maple.
15. Try Incredible Ciders at Stowe Cider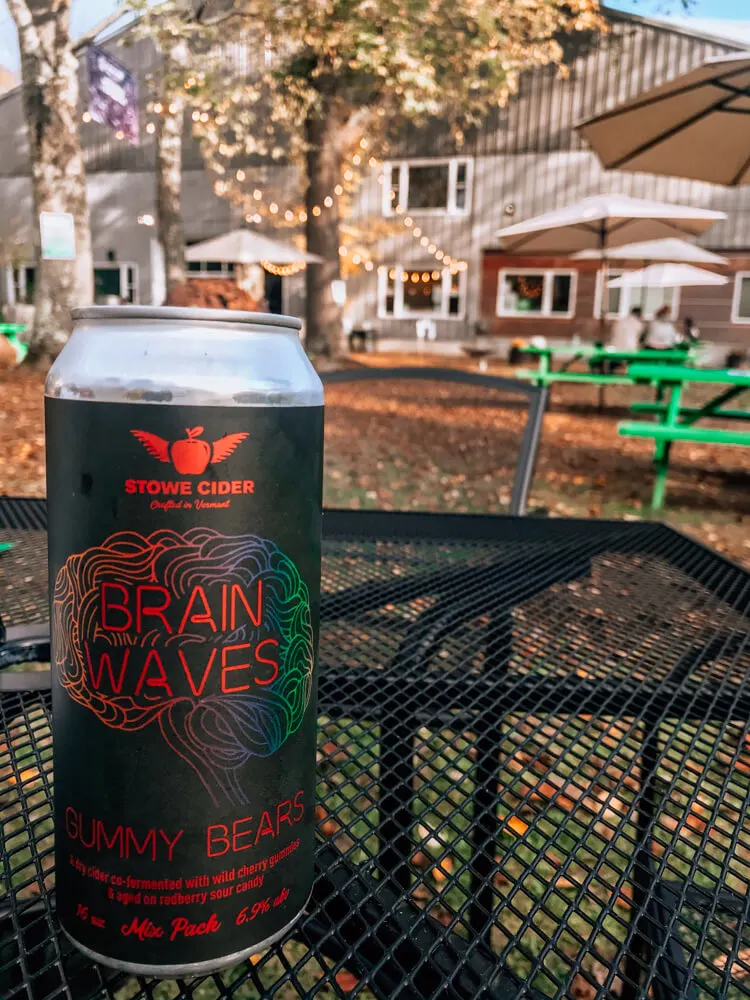 First of all, this place is fantastic. If you're spending a weekend in Stowe, then this is a must!
There is a lot of outdoor seating, which is perfect for a mild autumn afternoon! They also have live music events which are a lot of fun, and the cider is superb.
They offer anything from seasonal and limited edition ciders as well as their classics like High & Dry, Tips Up, and Safety Meeting. Definitely try Brain Waves if you can, though. Their Brain Waves collection offers many flavors.
Plus, all the flavors range in sweetness from semi-dry to super-dry.
16. Try the World's Best Beer at the Alchemist Stowe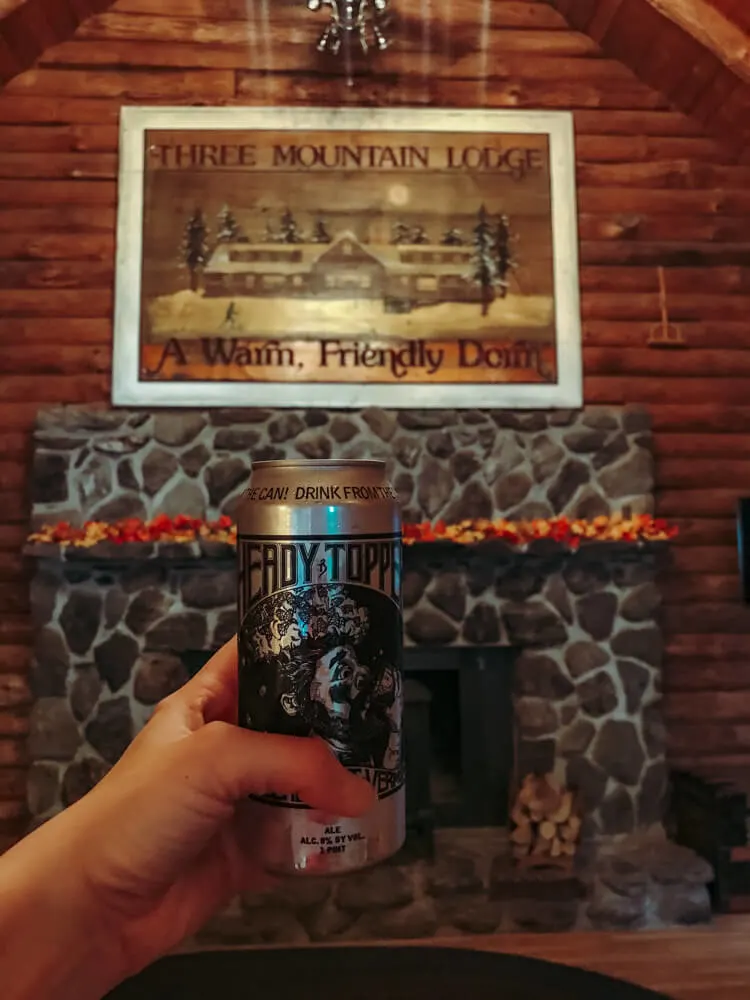 Did you know that the world's best beer is in Vermont? Heady Topper is a double IPA that has won the world's best beer in 2013. It caused quite the sensation when The Alchemist couldn't keep up with demand, and they restricted the amount of 4-packs people could purchase.
The most shocking was when a family from South Africa flew their private jet just to purchase the allotted amount available and went home. Crazy, right?!
Luckily, they've been able to meet the demand these days and have a larger brewing facility in Stowe.
But if you are a beer lover and are looking for fun things to do in Stowe, then taking a tour for $20 (offered at 5 pm) is a great idea. Plus, buying some beer and tasting this delightful brew yourself is worth it!
We love Heady Topper, Focal Banger, and Farmer's Daughter. We may have stocked up on it while we were there as we can't get it back home in Cleveland!
17. Have Some Famous Vermont Dairy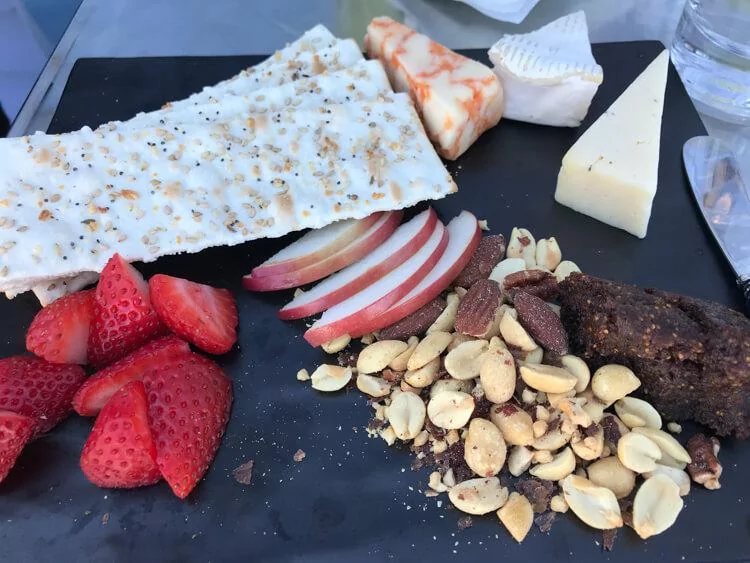 Who doesn't love some cheese? Cabot, the famous cheese producer, has a shop in nearby Waterbury.
So stop into their store and get some cheese, creams, butter, and yogurts to enjoy!
Aside from cheese, the Ben & Jerry's Factory is also located in Waterbury! So tour the factory and find out how your favorite ice cream is made! Tours are $4 for adults and $3 for seniors. Children are free to visit.
18. Enjoy Tasty Apple Cider Donuts During Your Weekend in Stowe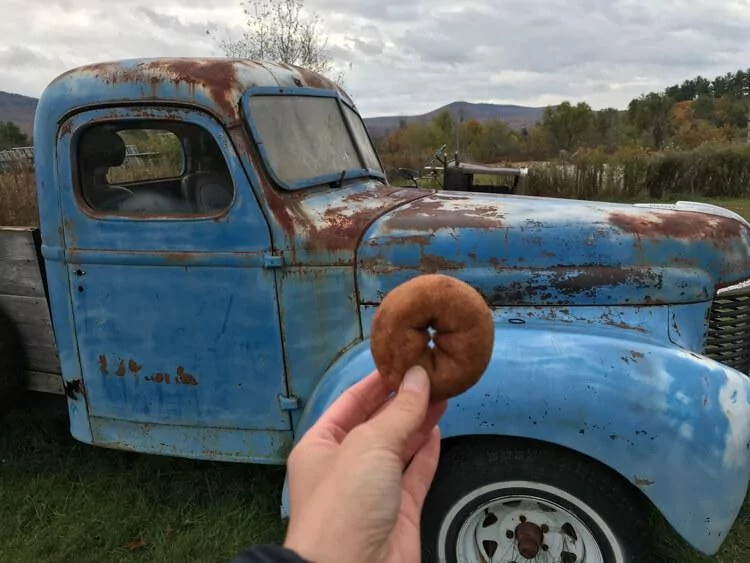 Okay, there is a lot of great food in and around Stowe! But definitely head to Cold Hollow Cider Mill outside of Stowe, Vermont for some tasty apple cider donuts and apple cider.
They are both super good, and you can find all the maple products and candy that you'd want there too!
19. Stowe Things to do: Go for a Carriage or Sleigh Ride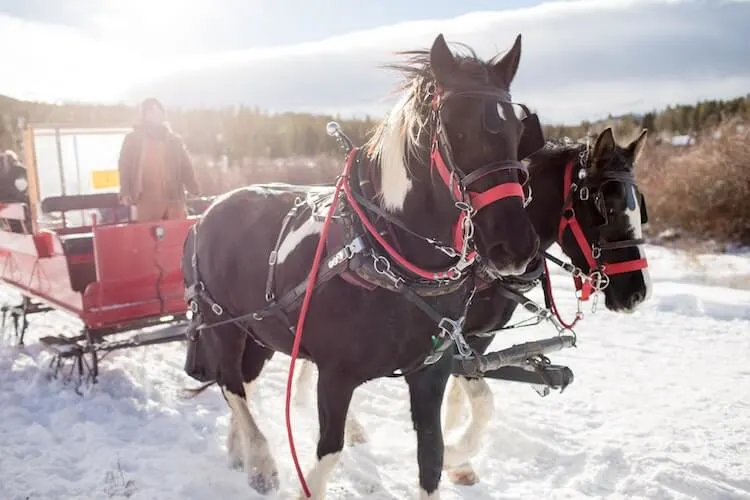 Looking for romantic things to do in Stowe, VT? Why not go on a carriage ride?
Gentle Giants Sleigh Rides offer carriage rides in the spring, summer, and fall and sleigh rides in the spring/winter (depending on snow, obviously). Admire the views around you as you snuggle up on a ride around the beautiful landscape near Stowe!
Prices are $40 per adult and $20 for children 4-14. Children under 4 are free to ride. Rides are every 30 minutes from 11 am-4 pm.
20. One of the Best Places to Visit in Stowe, VT has to be the Trapp Family Lodge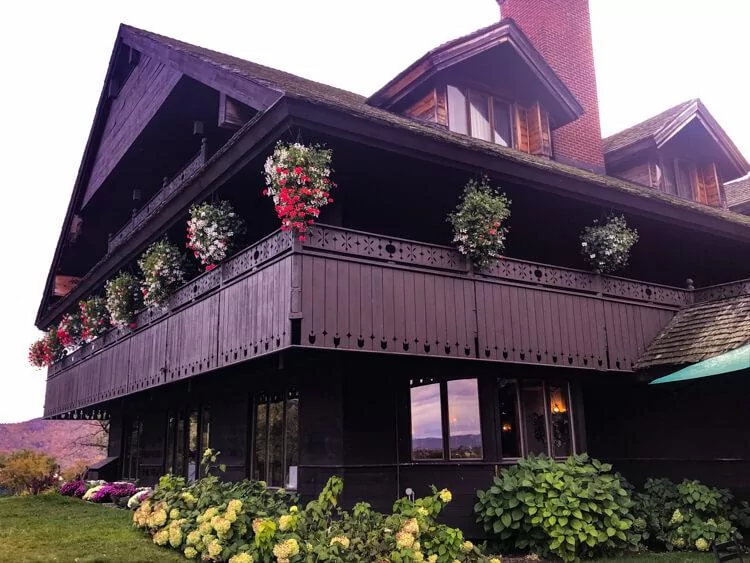 Founded by the von Trapp family after they settled in Stowe, this adorable alpine lodge truly looks like one you'd find in their original homeland of Austria.
With hiking trails, a restaurant on-site, and plenty of sweeping mountain views, a visit here is one of the most romantic things to do in Vermont!
While I highly recommend having dinner out on the terrace as you watch a sunset over the Green Mountains, you can also stay here for a luxurious and uber-romantic weekend in Stowe!
21. Finding Your Way Around the Percy Corn Maze is One of the Best Things to do Near Stowe, VT in the Fall
Vermont is full of fun autumn activities, so of course, a corn maze would be a must! Challenge your navigation skills as you walk to find the end of the maze!
Prices are $8 for adults, $4 for seniors and students, and for children under 7 and the military are free. Open 10 am-5 pm daily.
22. Have a Night Out And Take in a Show
The Stowe Theatre Guild puts on various shows throughout the year! And in years past they've performed anything from the musical Mamma Mia! to Chicago.
A date night during a trip to Stowe, Vermont at the Stowe Theatre Guild is well worth it!
23. One of the Spookiest Things to do in Stowe, VT: Go on a Ghost Tour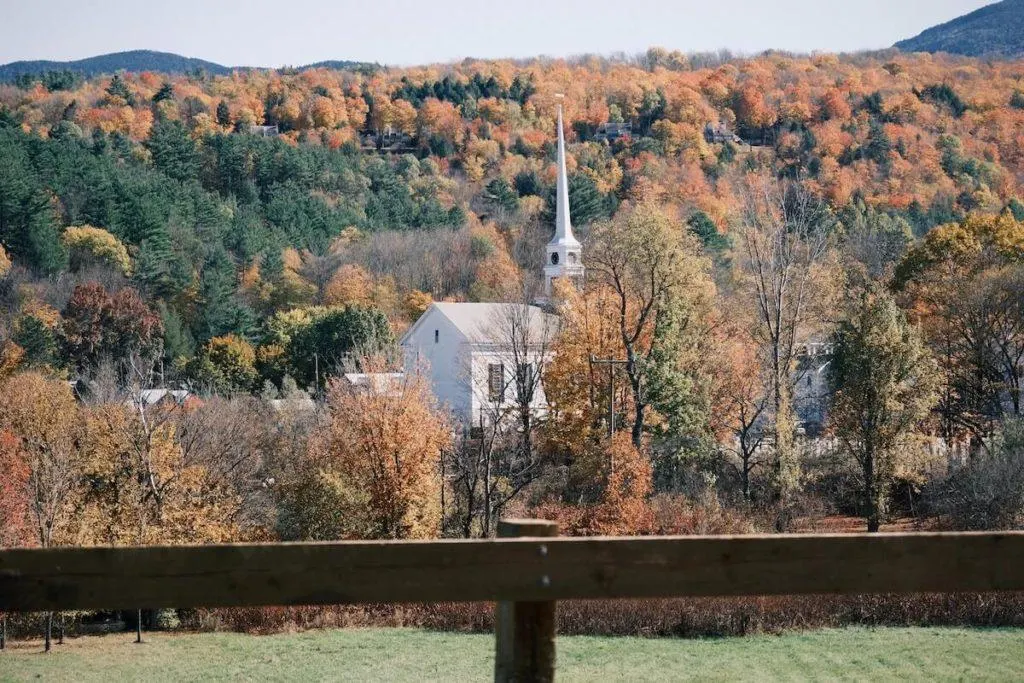 During the month of October, from the 15th-31st, you can go on a ghost tour around town as they carry a lantern and tell spooky stories.
There are plenty of stories of the town's history and its resident ghosts. It starts at 7:30 pm at the Stowe Visitor Center. Tours are every night except Wednesday and Sunday. Prices are $10 for adults and $5 for kids K-12.
24. Visit Waterbury Reservoir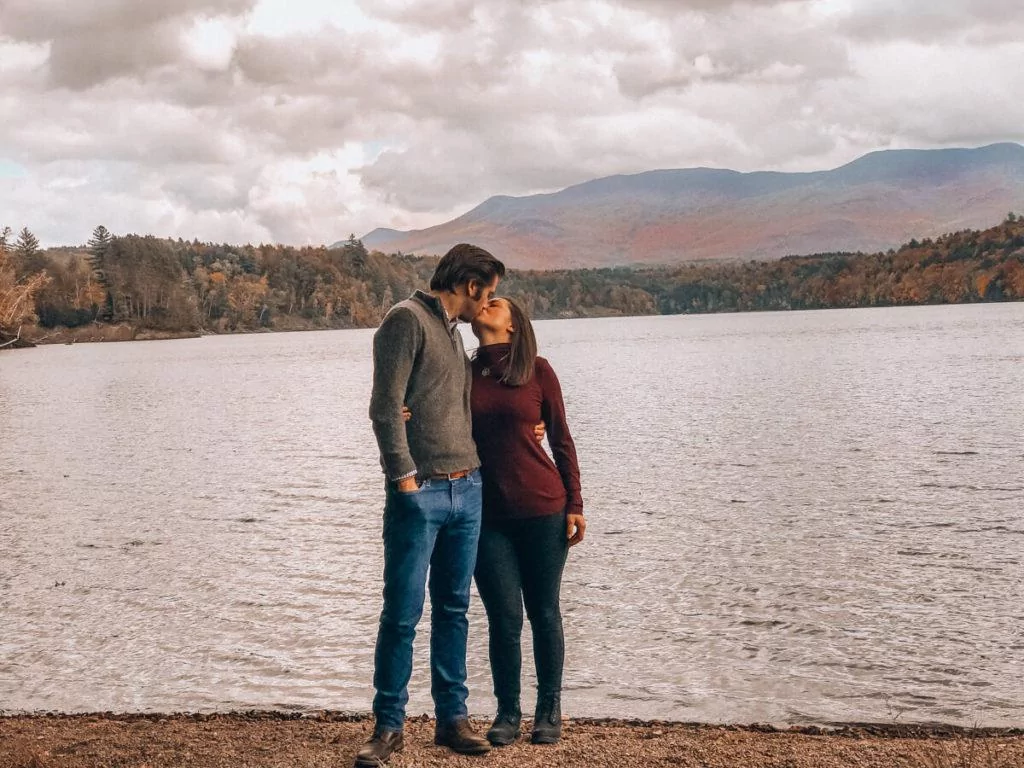 One of the best things to do in Stowe, VT would be to visit Waterbury Reservoir. This lake has such beautiful views, especially with the mountains on the other side!
At Umiak Outdoor Outfitters, you can even rent a paddleboard or kayak and get out on the water! Rentals start at $29.
Take in the mountain and lake views from the water as you glide along at this tranquil place.
25. Take a Day Trip From Stowe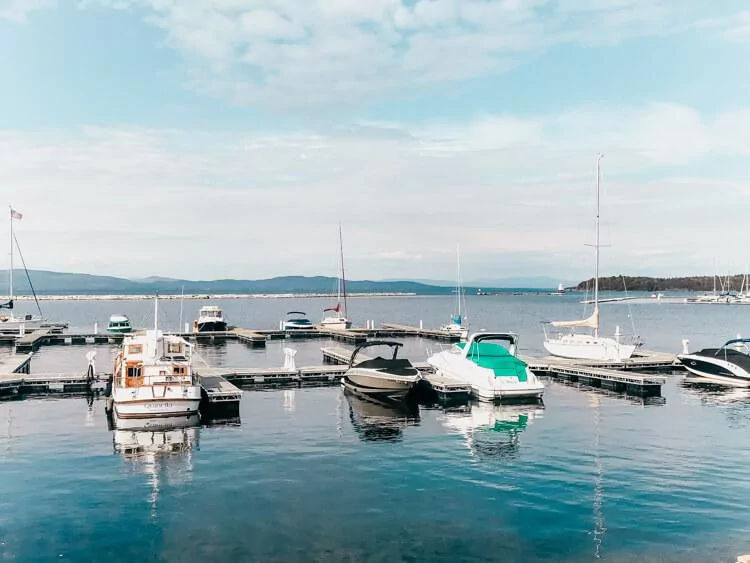 Stowe is absolutely lovely, but, as Vermont is a pretty small state, you can definitely take some great day trips!
Burlington, Vermont's largest city, is a lovely place to visit from Stowe for a day. It is only about 45 minutes away. You could also drive to Montpelier about a half-hour from Stowe and explore.
If you want to see the Northeast Kingdom and the lovely hiking trails there, why not drive up to East Burke about an hour and 15 minutes away?
And if you're really ambitious, the Adirondacks in upstate New York is about 2 hours from Stowe.
Where to Stay in Stowe, Vermont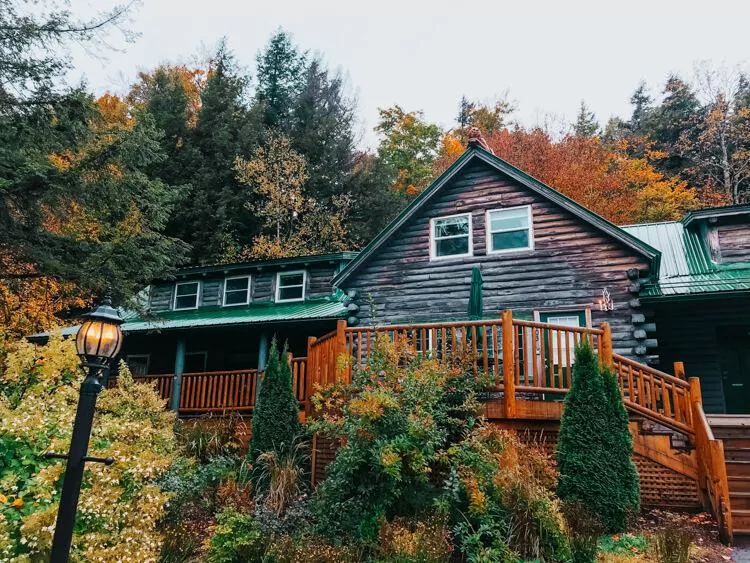 When it comes to where to stay in Stowe, Vermont, there are several lovely spots. We stayed in this Airbnb lodge, but there are plenty of other vacation rentals to choose from as well.
There is also the charming and beautiful Trapp Family Lodge for a luxurious and romantic stay.
Lastly, Stowe has several charming inns like Edson Hill and Green Mountain Inn each with lovely rooms and great amenities.
There are so many great things to do in Stowe, VT that your weekend in Stowe will be nothing short of exciting! From adventures in the mountains to sampling the best products from Vermont, you'll easily fall in love with Stowe.
Would you visit Stowe? What would you like to do?
Read more:
Pin it here!