Some posts on this site contain affiliate links, meaning if you book or buy something through one of these links, I may earn a small commission (at no additional cost to you!). Read the full disclosure policy here.
---
What does the perfect 3 day Cape Town itinerary look like?
From beautiful mountains to incredible neighborhoods, spending 3 days in Cape Town is a dream. It is the perfect amount of time to see the top things to do in Cape Town as well as enjoy the culinary delights and delicious wines that come from the Western Cape area.
Chris and I fell head over heels for Cape Town during our 2 weeks exploring South Africa. It was the last stop on our itinerary and it blew all of our expectations out of the water.
That's why I'm showing you the perfect 3-day itinerary for Cape Town so you can see the delights of the "Mother City" in a short amount of time!
Listen to our podcast episode about Cape Town here!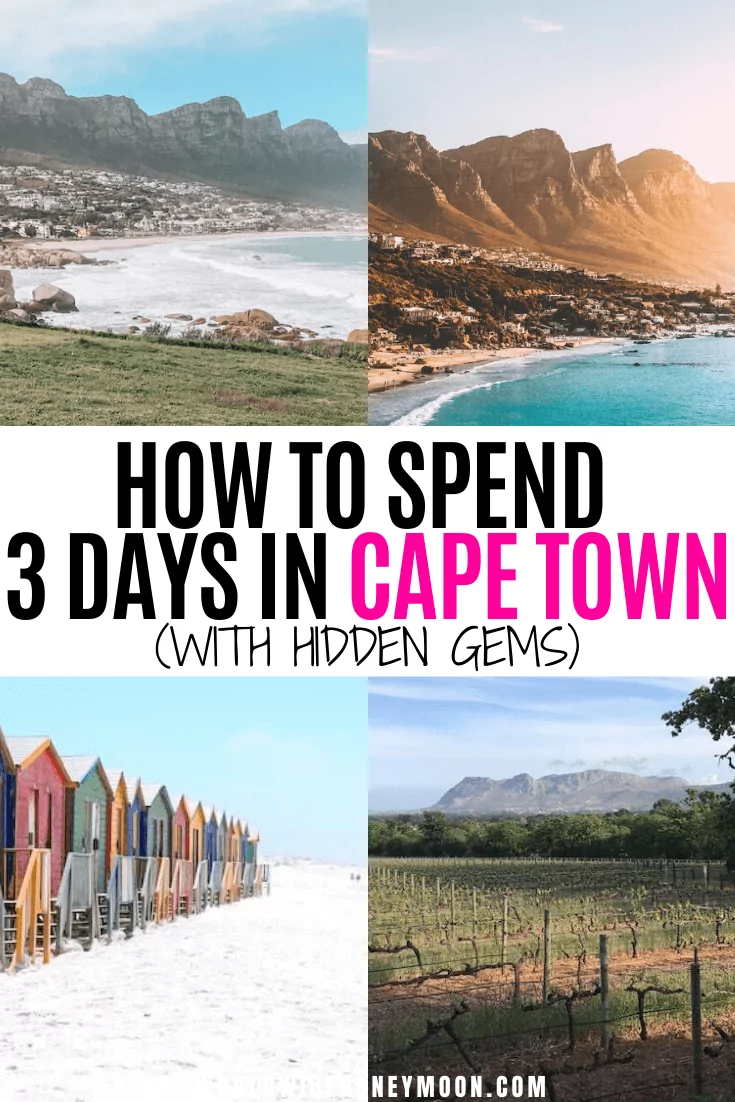 How to Get to Cape Town
Chances are if you are making the trek all the way to Cape Town for 3 days, it is likely a part of a larger itinerary, whether it is to South Africa or to many other countries around the southern part of Africa. In any case, the easiest way to get to Cape Town is by flying.
We set up price alerts on Skyscanner and booked our flights to South Africa from Cleveland for only $850 when the prices dropped! It was a great deal!
Now we did fly into Johannesburg to start our itinerary, as this is the largest airport in the country. There are also a few direct flights from the USA to Johannesburg.
So far, the only direct flight to Cape Town from the USA is from Newark Airport with United. So if you are able to score that flight, that's awesome! If not, we ended up flying from Cleveland to Chicago, then on to London, and then ended in Johannesburg.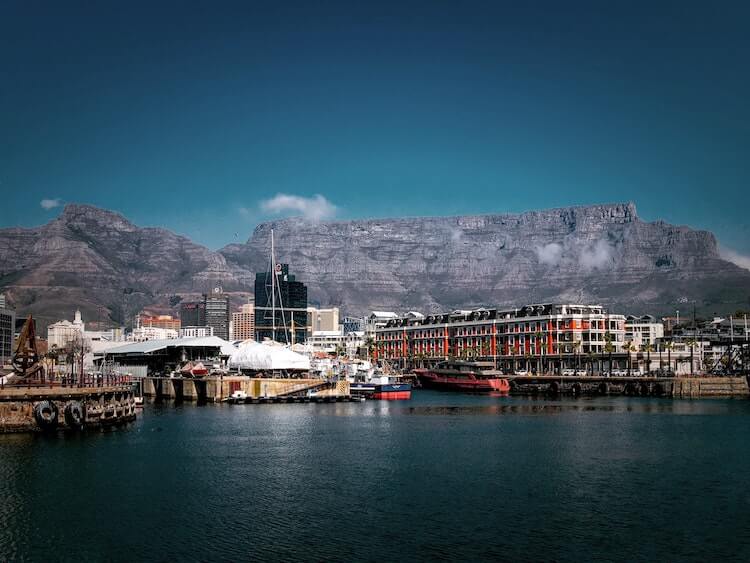 If you're already in South Africa, flights are fairly inexpensive to Cape Town. Flights on Skyscanner from Johannesburg to Cape Town are around $50-60 per person and take about 2 hours.
From a safari destination like Hoedspruit (the airport we flew from to Cape Town), flights are between $200-250 with a direct flight taking 2.5 hours or with a layover in Johannesburg it takes about 4.5 hours.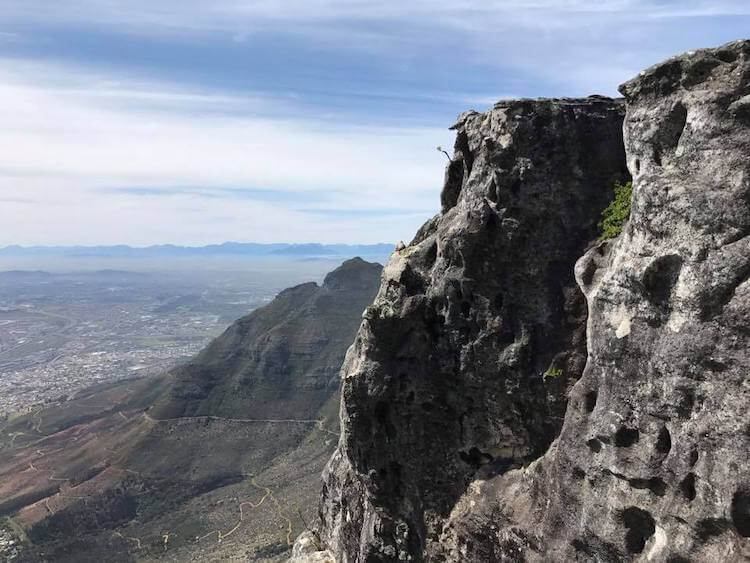 Getting Around During Your 3 Day Cape Town Itinerary
Now that you know how to get to Cape Town, let's talk about transportation around the city. One of the easiest ways to get around by far is Uber. We used Uber to get from Camps Bay to V&A Waterfront and all things in between.
You can also rent a car. Parking is fairly inexpensive around the city. Just be cautious to not leave anything valuable in the car when you park it.
Cape Town does have some walkable areas like V&A Waterfront, Woodstock, Bo-Kaap, etc. And if you plan to see a lot in a little amount of time, the City Sightseeing Bus is a great option to learn more about the city and get dropped off right in front of the main attractions.
Lastly, there is a bus system called MyCiTi bus that serves the city center to many tourist attractions as well as the suburbs. Be sure to purchase a MyConnect card before riding!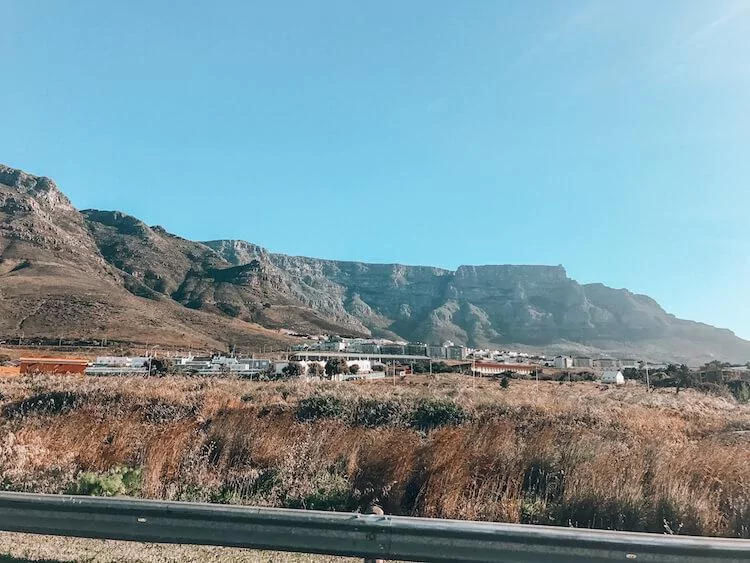 Perfect 3 Days in Cape Town Itinerary
If you plan to spend 3 days in Cape Town, South Africa, here are the perfect things to do each day!
Day 1: From Table Mountain to the V&A Waterfront
If you've seen a photo of Cape Town, chances are that you've seen Table Mountain. This place is hard to miss. Even on our drive into the city from the airport, we turned a corner and there it was! So let's kick off our itinerary with visits to some iconic sights in Cape Town including Table Mountain!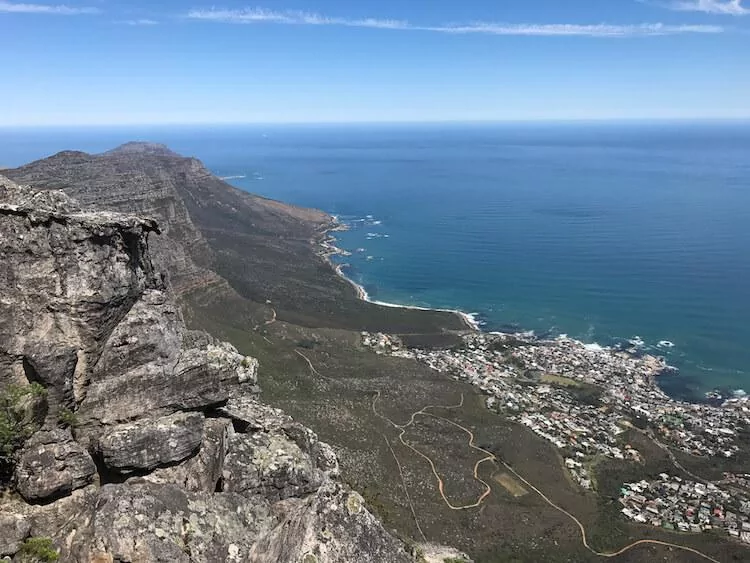 1. Table Mountain is the Perfect Way to Kick Off a 3 Day Itinerary in Cape Town.
On your first day in Cape Town, you should definitely hike up Table Mountain. This is obviously weather permitting. If it is a cloudy/foggy day, chances are the cable car will be closed and they will recommend not hiking.
However, if you wake up on a sunny day, 100% try the hike! There are many routes that you can take, but the most popular one by far is Platteklip Gorge. It is also close to the cable car station. From there follow signs for Platteklip and start your hike.
I'll be honest with you; Chris and I are pretty physically fit people. We run marathons/half-marathons and still felt like this hike was a challenge. To be fair, we were also vastly underprepared and have humorous stories from our hike both here on the blog and on a podcast episode!
It is a winding hike with a lot of stone-like steps. So if you are a master of the stair-master, you've got this! Either way, the hike can take 1.5-3 hours depending on your physical fitness, if you stop and take photos, etc. For us, it took about 2 hours.
And the whole hike was absolutely stunning with amazing views of Cape Town! As much as that hike was a challenge, it was definitely worth it for the great views. Had we been more prepared, it would've helped.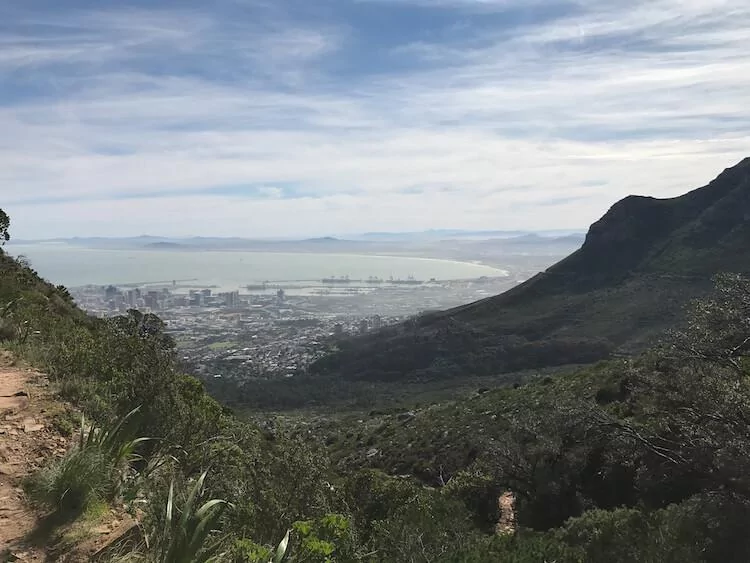 No matter how long your hike takes, here are some key things to note:
PACK ENOUGH WATER. Y'all, I cannot stress this enough. We packed a 16 oz. water bottle to share between the two of us. We were stupid. It was a hot day and we ran out of water a quarter of the way up. This hike deserves at least 2 liters of water per person.
Bring a small hiking backpack to carry your water and you'll be fine. Seriously, we were so thirsty and feeling dehydrated halfway through, and thank goodness a kind stranger gave us a liter of water to drink.
And once we got to the top we ran to the snack stand and purchased a ton of water and sports drinks. This hike would've been so much better had we been prepared.
Bring snacks. Also, bring some snacks! It's a 2-hour hike and it is all uphill… snacks are a must to refuel your body and give you energy for the hike.
Don't pack too many layers. I thought the temperature was going to be much cooler at the top. It wasn't. We hiked it in the springtime and tennis shoes, leggings, and a t-shirt was plenty to wear.
Don't forget the sunscreen! If it is a sunny day, this is a must. Pack

sunscreen

to prevent getting burnt.
That being said, if you are prepared for the hike, the views are totally worth it!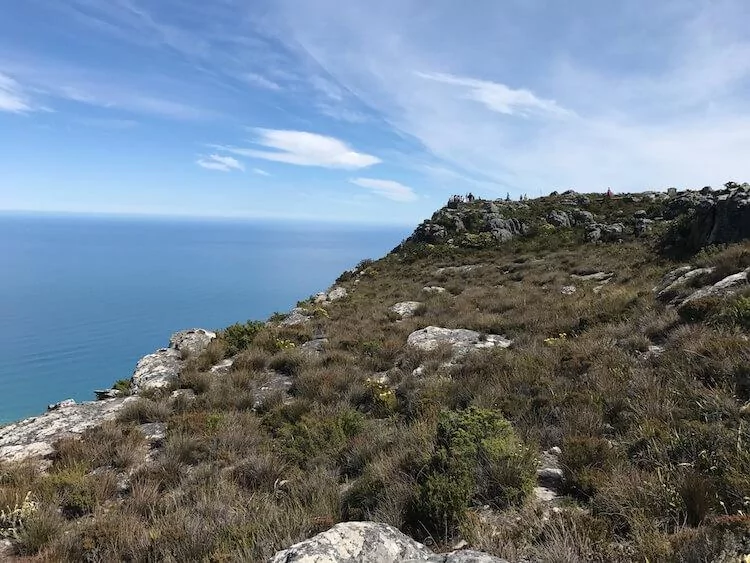 Not feeling the hiking? Check out the cable car instead. You'll still be rewarded with great views but without the difficult hike! And most people (including us) tend to hike up and then take the cable car down.
Table Mountain Cableway Address: Tafelberg Rd, Gardens, Cape Town, 8001, South Africa
Table Mountain Cableway Hours: Hours vary by season but the first car up is typically around 8-8:30 am and the last car up is around 5-8:30 pm. The last car down varies between 6-9 pm.
Cable Car Prices: R200 ($13) for a one-way adult ticket in the morning or R360 ($23.50) for a round-trip ticket. R300 ($20) for a round-trip in the afternoon.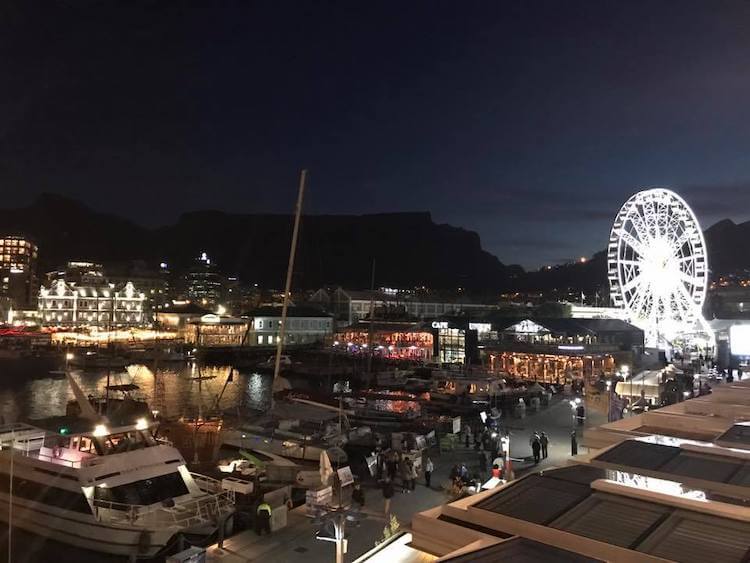 2. V&A Waterfront
If you want to check out where a lot of the action is in Cape Town, the V&A Waterfront is the place to go. With a lot of shopping, restaurants, and attractions, you could spend a lot of time exploring this beautiful area of Cape Town.
Our favorite thing to do at the V&A Waterfront was shopping for arts and crafts at The Red Shed and Waterfront Craft Market. We loved the beaded animals and intricately woven goods here. If you are souvenir shopping, this is a great spot!
We also recommend the V&A Food Market with over 40 food stalls selling anything from sushi to gelato and more! If you are hungry after the Table Mountain hike, this is the place to go to stuff your face with delicious food from local vendors.
Plus, if you're a coffee-lover, one of our favorite coffee shops has a stand on the V&A Waterfront. Grab a delightful cup of coffee over at Truth Coffee.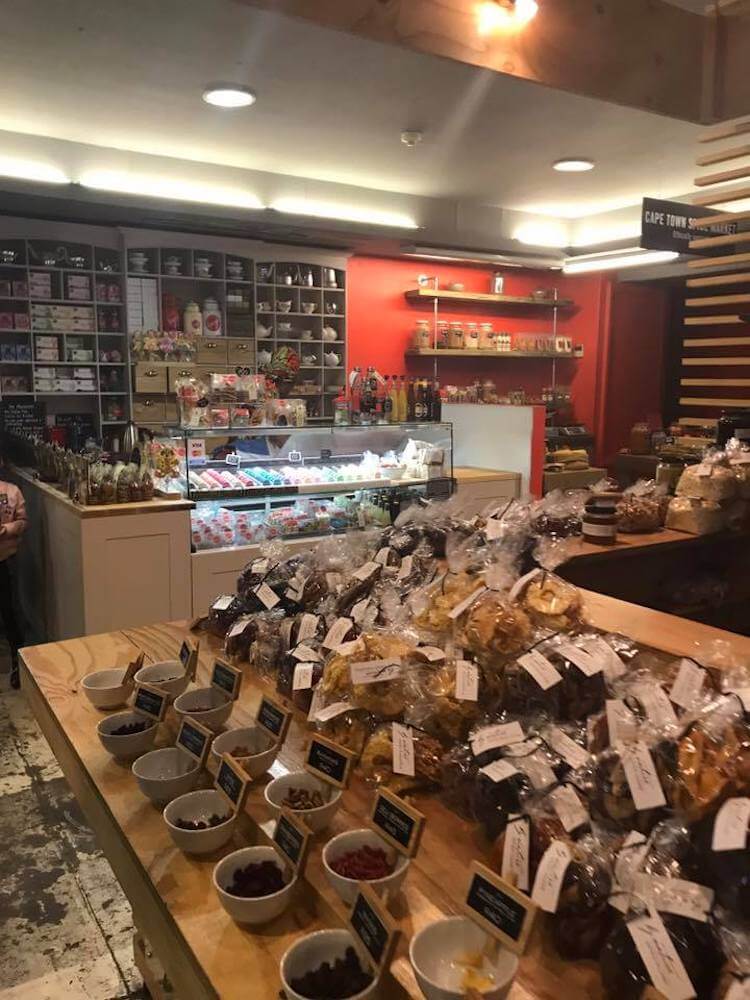 While you're in the area, other major attractions include the Two Oceans Aquarium, Zeitz Museum of Contemporary Art, the Cape Wheel Ferris wheel, and the Cape Town Diamond Museum.
And if it is a sunny day, and you're not too afraid of heights, a helicopter over Cape Town is a must. See the city from above in this 12-minute flight over the town! The tour starts at the V&A Waterfront.
Lastly, for the history buffs and those who are interested in learning more about the life of Nelsen Mandela, take the cruise over to Robben Island from the V&A Waterfront to see where he was held prisoner for many years before becoming president of South Africa.
V&A Waterfront Address: 19 Dock Rd, Cape Town, 8001, South Africa
The Red Shed and Waterfront Craft Market Hours: Monday-Saturday 9 am-9 pm. Sunday 10 am-9 pm.
V&A Food Market Hours:
Summer (November-April): Sunday-Thursday 10 am-8 pm. Friday-Saturday 10 am-9 pm.
Winter (May-October): Sunday-Thursday 10 am-7 pm. Friday-Saturday 10 am-8 pm.
Helicopter over Cape Town Price: $102 per person.
Robben Island Cruise and Tour Price: $36 per person.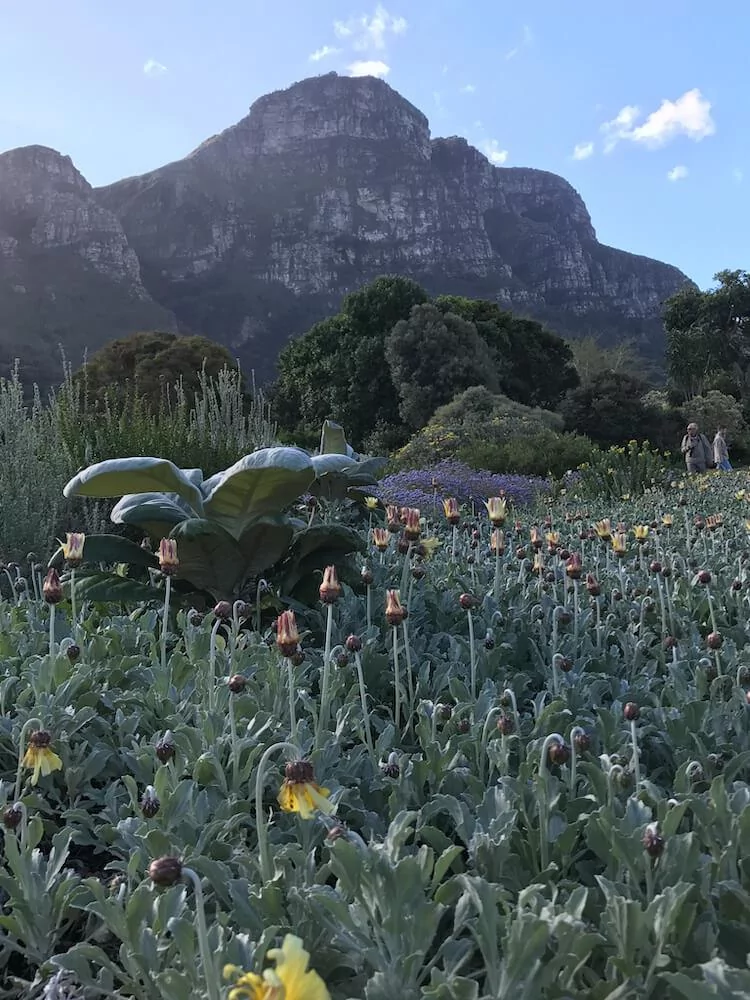 3. Kirstenbosch Gardens
The Western Cape of South Africa has a huge diversity of plant life. From the stunning King Protea (South Africa's national flower) to Bird's of Paradise, there are plenty of beautiful plants to see in this gorgeous garden.
Take a couple of hours to explore this stunning landscape at the base of Table Mountain. Admire the herb gardens, tucked away ponds and creeks, and more. We had a great time walking around and seeing some of the most beautiful flowers.
Plant lovers, this is the place to be!
Kirstenbosch Garden Address: Rhodes Dr, Newlands, Cape Town, 7735, South Africa
Kirstenbosch Garden Hours: Summer (September-March) 8 am-7 pm. Winter (April-August) 8 am-6 pm.
Admission Fee: R75 ($5) per adult.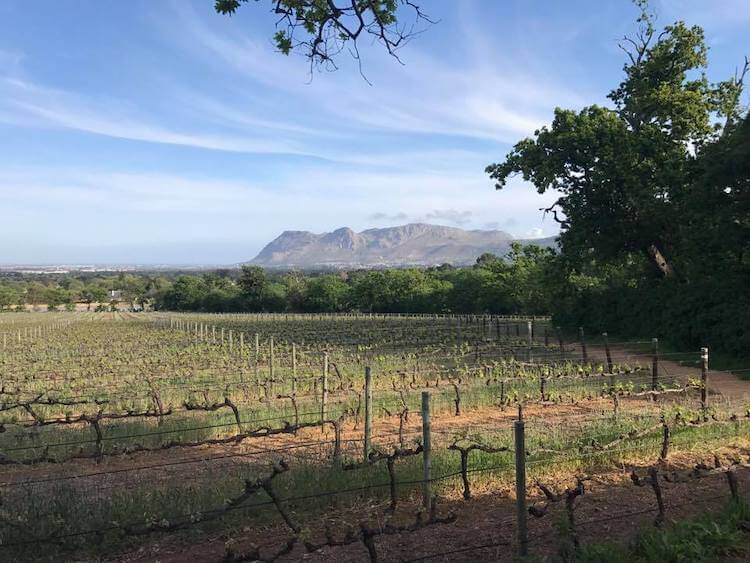 4. Groot Constantia.
I think by now we know that South Africa has some phenomenal wine. With the Western Cape having a similar climate to that of southern California, the grapes grow superbly here, especially Chenin Blanc, Cabernet Franc, and their own wine called Pinotage (a cross between Pinot Noir and Cinsaut grapes).
And if there is a great spot to check out a typical South African winery and test some delightful wine, Groot Constantia is the place.
Founded in 1685, it is the oldest wine-producing farm in South Africa. And with lovely Cape Dutch architecture, you'll fall in love with the charms of this estate.
Head to Groot Constantia for a wine tasting and tour and perhaps maybe upgrade for a chocolate and wine pairing.
And after that, be sure to grab dinner at the tasty Jonkershuis Restaurant. We loved their Cape Malay curry washed down with some Chenin Blanc. It was the perfect introduction to life in Cape Town.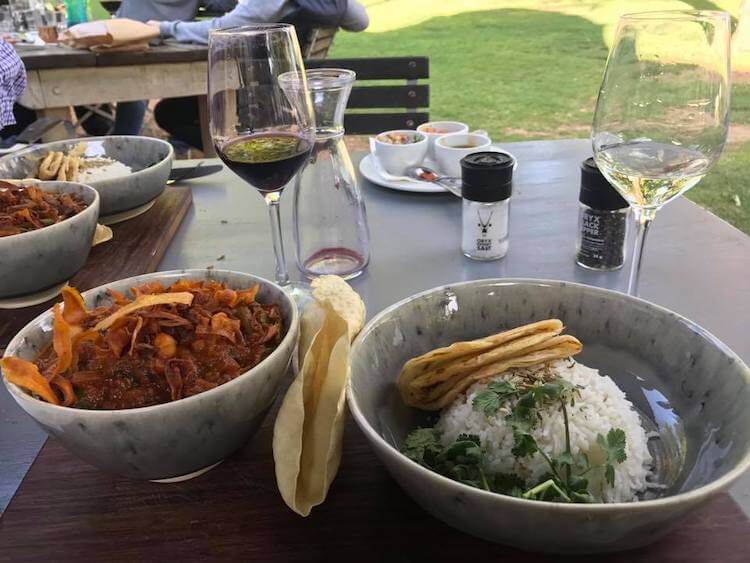 Groot Constantia Address: Old Constantia Main Road, Constantia 7806, Cape Town, South Africa
Groot Constantia Wine Tasting Hours: Production & Cloete Cellars 10 am-5 pm daily. Bottom Cellar 9 am-6 pm daily.
Groot Constantia Museum Hours: 10 am-5 pm daily.
Jonkershuis Restaurant Hours:
May-August: Sunday-Thursday 9 am-5 pm. Friday-Saturday 9 am-7 pm.
September-April: Monday-Saturday 9 am-7 pm. Sunday 9 am-5 pm.
Wine Tasting Cost:
Including Museum and Self-Guided Tour: R115 ($8).
Same as Above Plus Chocolate Tasting: R165 ($11).
Wine Tasting Only: R100 ($6.50).
Wine & Chocolate Pairing Only: R150 ($10).
This is plenty to fill up the first day of your 3-day itinerary of Cape Town!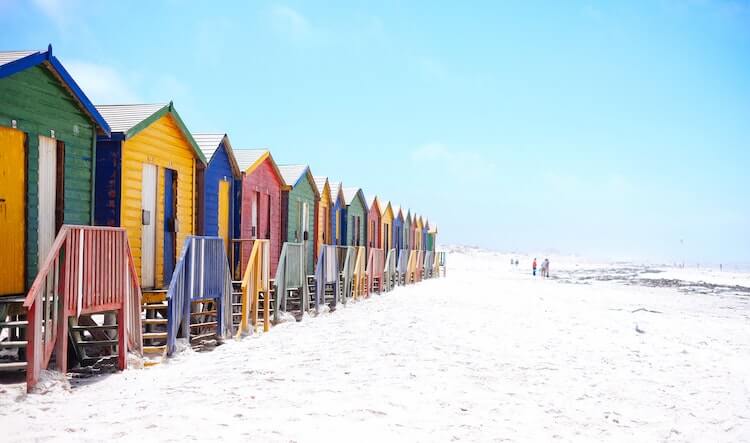 Day 2: The Perfect Day Trip From Cape Town
Cape Town is an incredible city. It is also the perfect spot to select a day trip to get out and explore more of the Western Cape. There are plenty of amazing spots to explore, so here are our favorites!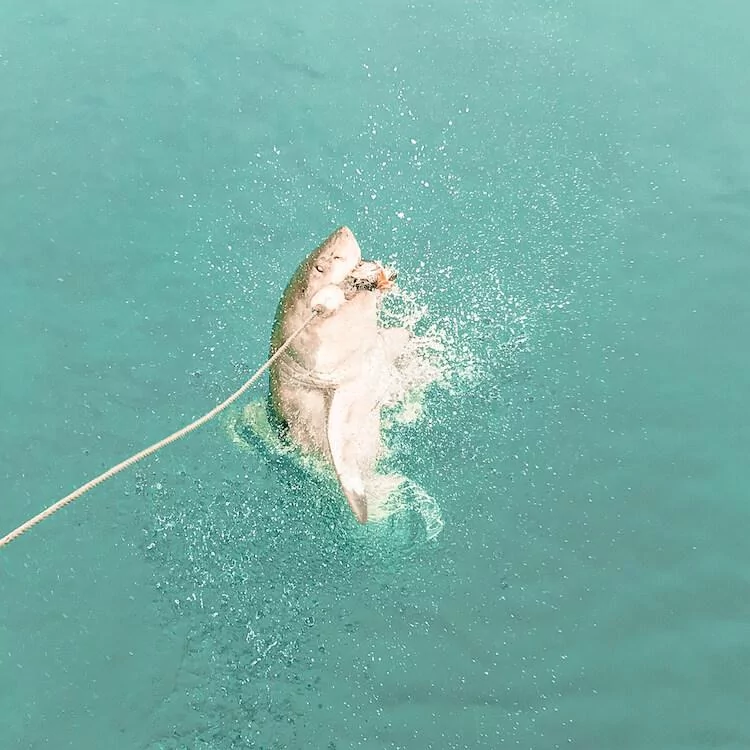 1. Shark Cage Diving in Gansbaai.
Definitely an early start to the day, but there are few places where you can get up close and personal with many Great White Sharks in the wild. If you choose to go to Gansbaai, you'll be taken out to Shark Alley, home to the spot where these magnificent creatures are famous for breaching (or jumping straight up from the water).
I highly recommend going with Marine Dynamics for this trip. This eco-friendly shark cage diving experience is known for its safety, and they have a marine biologist on board to talk about shark conservation and how you can help.
We wrote all about our experience shark cage diving (and how it really isn't as scary as it sounds). It was a great day trip from Cape Town, and while it is an earlier day, it was beyond worth it. I learned a lot about this creature and have a newfound respect for it.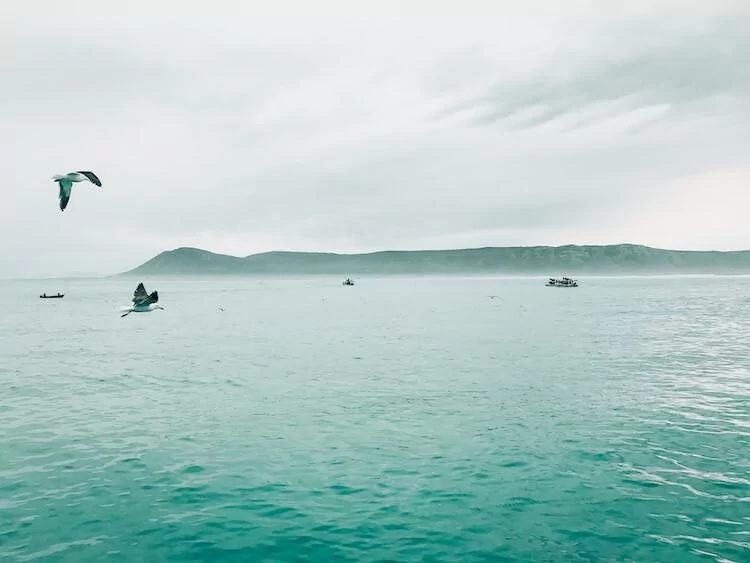 Pro-tip: While Marine Dynamics has all of the essentials you'll need, be sure to pack a swimsuit, quick-dry towel, and a GoPro to capture your experience!
Marine Dynamic Shark Cage Diving Cost: $200 per person. Includes Cape Town hotel pick-up/drop-off, all dive equipment, and breakfast/lunch.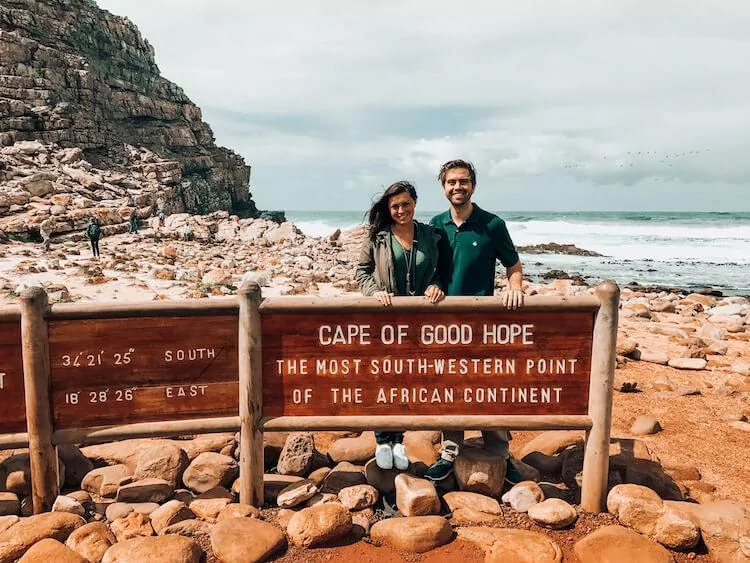 2. Cape Peninsula Tour
To see more wildlife and beautiful landscapes, this Cape Peninsula tour is magical. From Boulders Beach to see adorable penguins to visiting the Cape of Good Hope, this is a great drive along the coast.
With stops at the 12 Apostles, Hout Bay, Chapman's Peak, Boulders Beach, and then Cape Point to see the Cape of Good Hope, this full-day tour is packed with adventure. Be sure to keep a lookout for wildlife like penguins, seals, ostriches, and plenty of baboons!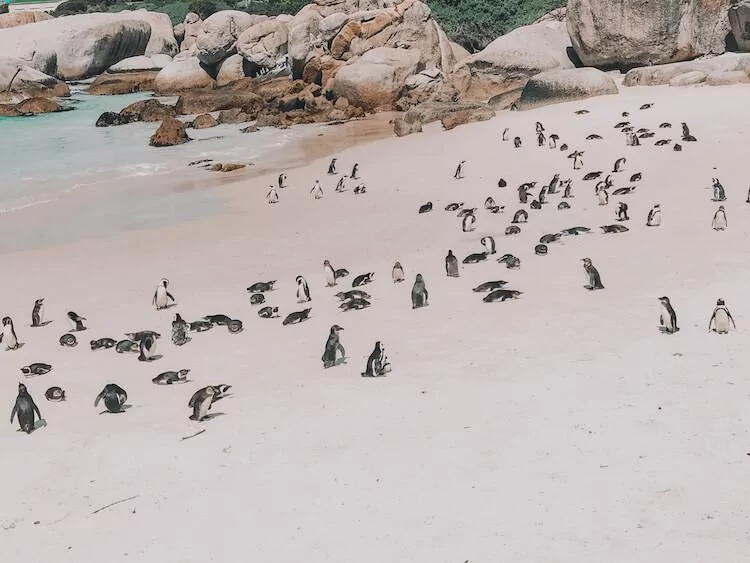 Also, this tour, in particular, has a final stop at Kirstenbosch Gardens, so if you'd prefer to slow things down during your first day in Cape Town, you can visit the gardens this day of your tour.
Cape Peninsula Tour Price: $88 per person and includes hotel pick-up/drop-off, a guide, and entrance fees to Cape Point and Kirstenbosch Gardens.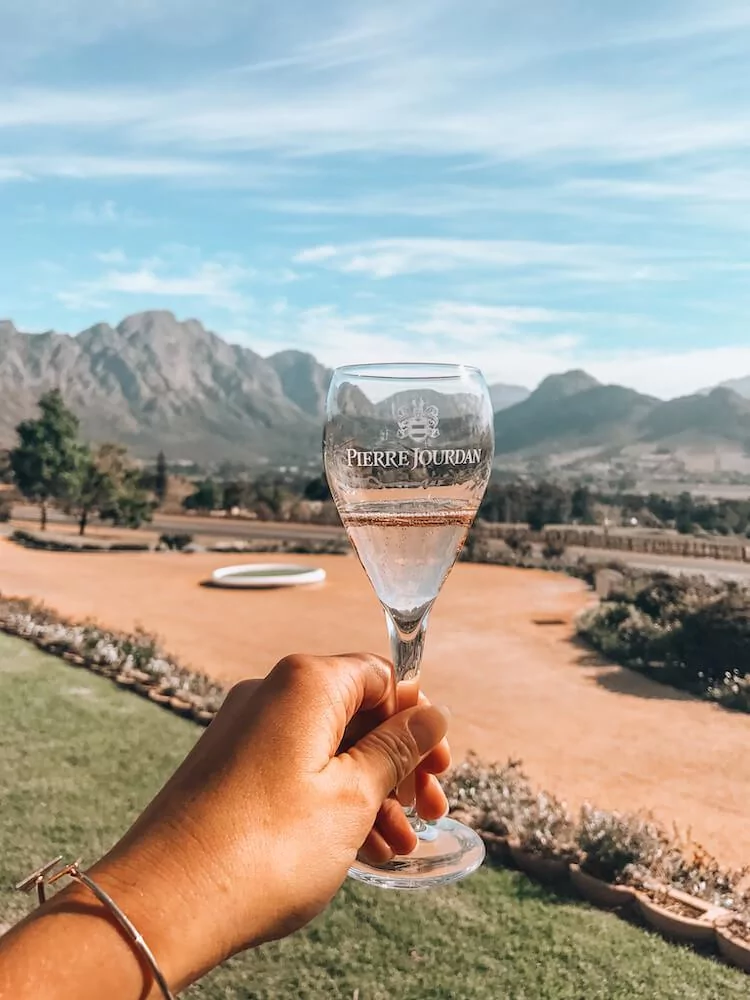 3. Cape Winelands Private Tour
Stellenbosch, Franschoek, and Paarl. When you get to Cape Town, you'll quickly learn that these are the three famous wine regions in the Western Cape. With fertile soil and great growing conditions, these lands have been producing world-class wine for centuries.
While you definitely could do this cheaper with a group tour, I recommend hiring your own driver. For starters, if you plan to drink wine all day you'll need a designated driver. Second, having your own private driver means that you can customize your own tour!
That is what we did, and we managed to visit 5 wineries within our 9-hour day of exploring both Stellenbosch and Franschoek. We sipped the best Pinotage at Kanonkop, tried a wine and cupcake pairing at Delheim Wines, and even sipped bubbly with a backdrop of the stunning Franschoek Mountains at Haute Cabriere.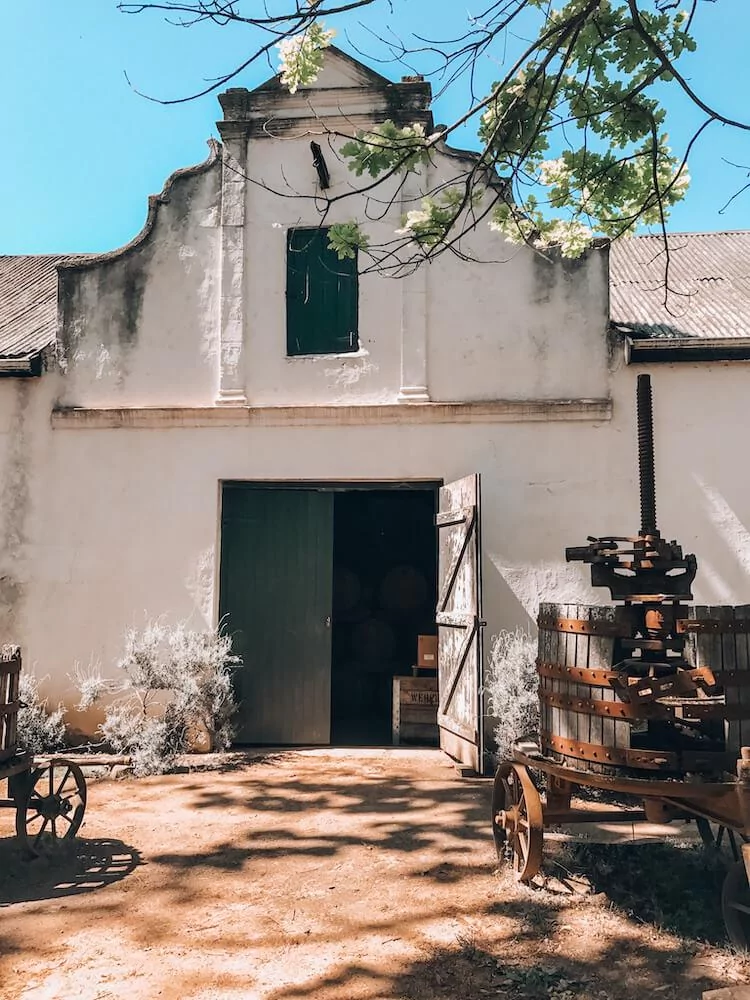 Read more about how to plan the perfect 1 day in the Cape Winelands!
If you love wine and have a 3 day Cape Town itinerary, then visit one of the most beautiful (and inexpensive) regions in the world for it!
Winery Group Tour Price: $76 and includes a cellar tour, 3 wine tastings, and transportation.
Private Guide: $179 per person and includes transportation, visits to 3-4 estates, and a guide.
Those are the best day trips to take during your 3 days in Cape Town itinerary, leaving you enough time for a great dinner upon your return to the city!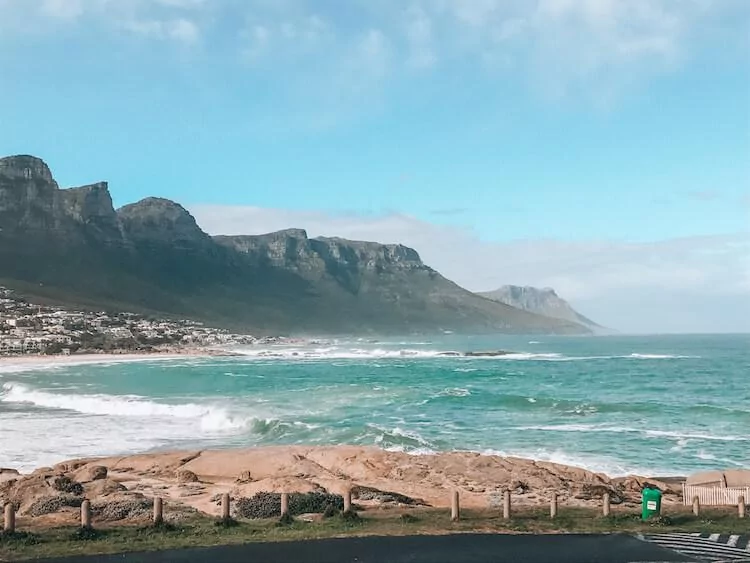 Dinner at The Codfather
As Cape Town is located on the coast, the seafood here is a must to try. And the best place is The Codfather. Located in the beautiful Camps Bay neighborhood, you can walk along the beach before going to this delicious restaurant.
This place is known for some great sushi, fresh seafood dishes, and a lovely wine menu. They have a seafood counter where you can "create your own feast" of seafood and they will prepare it to your liking.
We ended up picking a few plates of sushi to split and ordered an array of shrimp, kingklip, and sole that we feasted on and washed it down with some Byerskloof Pinotage.
It was also a great spot to catch the sunset on another perfect day in Cape Town.
The Codfather Address: 37 The Drive, Camps Bay, Cape Town, South Africa 8040
The Codfather Hours: 12 pm-until late daily (usually around 11 pm).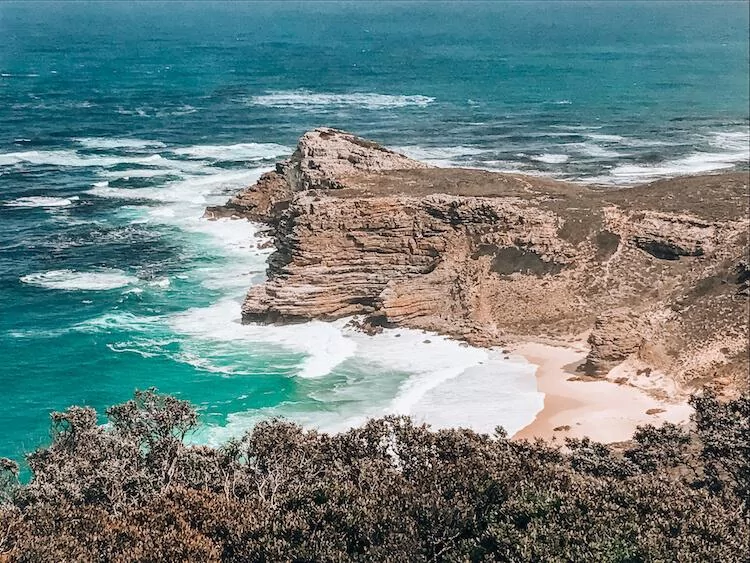 Day 3 of Your Cape Town Itinerary in 3 Days: Explore Unique Neighborhoods
On your final day in Cape Town, you've got to experience some of the best neighborhoods in the city! From the colorful Bo-Kaap neighborhood to the up and coming Woodstock, let's dive into the coolest day in Cape Town!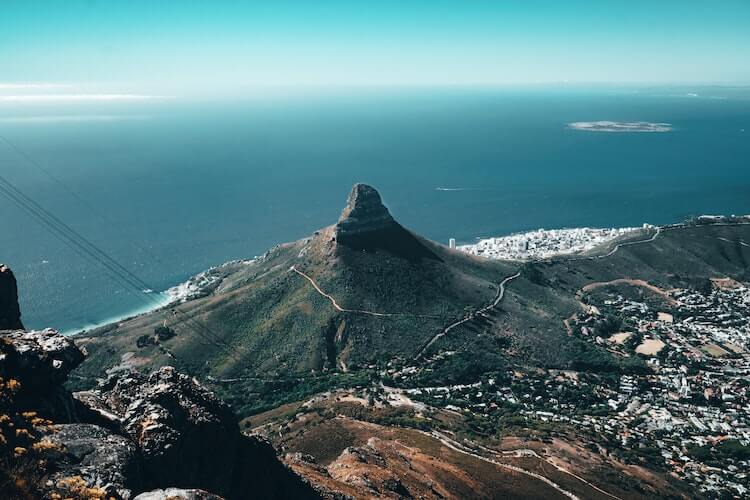 1. Hike Lion's Head
Lion's Head is another notable mountain in Cape Town. With a city that is so close to the perfect hiking trails, you can't have a Cape Town itinerary without some hiking!
To get there, take Kloofnek Road and then take the Lion's Head/Signal Hill turn. There is a parking lot at the entrance to the hike. In total, the hike is around 1.5 hours long with amazing views from the top!
For an added challenge, close to the top, you can either choose to take the ladders and chained path or just take an extra 5 minutes for the easier path.
Be sure to heed the advice that I provided earlier about Table Mountain. Water, snacks, and sunscreen are absolute musts. Also, the earlier in the day the better as it can get quite hot. Some people even go for a sunrise hike!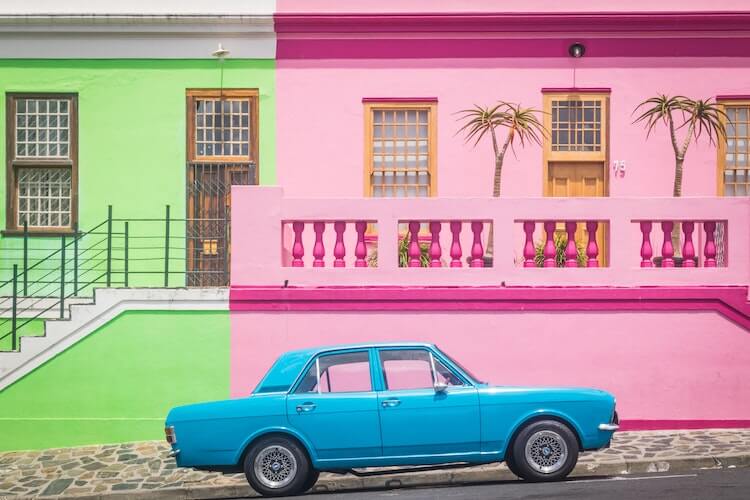 2. Bo-Kaap
After your hike, and after getting freshened up, it is time to head into Cape Town's most Instagramable neighborhood: Bo-Kaap.
With bright and colorful buildings, this neighborhood was formerly known as the Malay Quarter. The buildings were built as slave housing for the Cape Malay people, who were originally from Malaysia, Indonesia, and other parts of Africa.
While they were originally painted white while they were being leased, once they were free and could purchase their homes, they painted their houses to show their self-expression.
And they are still brightly painted to this day, with the community having a significant part of the heritage of Cape Town.
Aside from wandering along the beautiful streets, be sure to grab some Cape Malay cuisine at one of many restaurants in the area! Some notable things to try include samosas, Cape Malay curry, and dhaltjies (deep-fried dough balls made with chickpea flour, spinach, onion, and turmeric).
Bo-Kaap Area Address for GPS: 71 Wale St, Schotsche Kloof, Cape Town, 8001, South Africa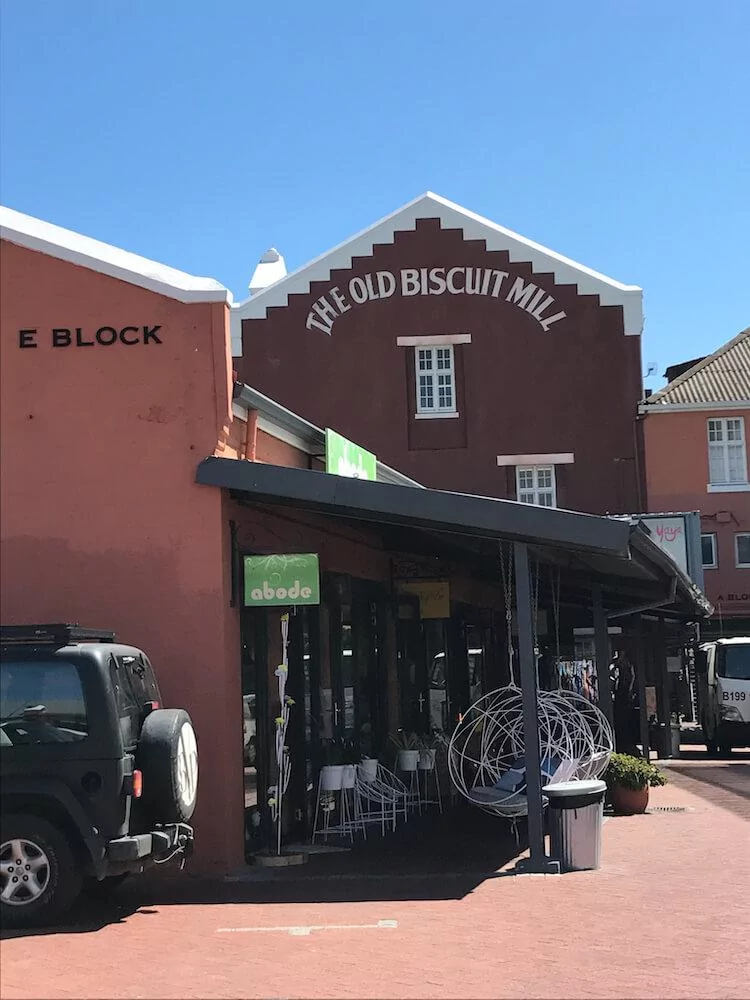 3. Old Biscuit Mill
After enjoying the lovely Bo-Kaap neighborhood, it is time to head over to the Woodstock neighborhood.
This old biscuit mill has been transformed into a retail center with craft shops, great restaurants (including famed restaurant The Test Kitchen), and it even hosts the best farmer's market each Saturday: Neighbourgoods Market.
As we visited on a Friday, we sadly missed the farmer's market. However, if you happen to be here on a Saturday, definitely check this place out! With fresh fruits and veggies, flowers, and snacks to sample, it is the perfect market to visit on a Saturday.
But if you don't make it to Neighbourgoods Market, it is a great spot to check out many awesome shops including several art galleries and craft stores. Also, if you're still hungry, they have a lot of great restaurants. Plus there is also a wine bar selling South African wine!
And if you're lucky enough to snag a reservation at The Test Kitchen, you'll be in for a treat!
Old Biscuit Mill Address: 375 Albert Rd, Woodstock, Cape Town, 7915, South Africa
Old Biscuit Mill Hours: Monday-Friday & Sunday 10 am-4 pm. Saturday 9 am-2 pm.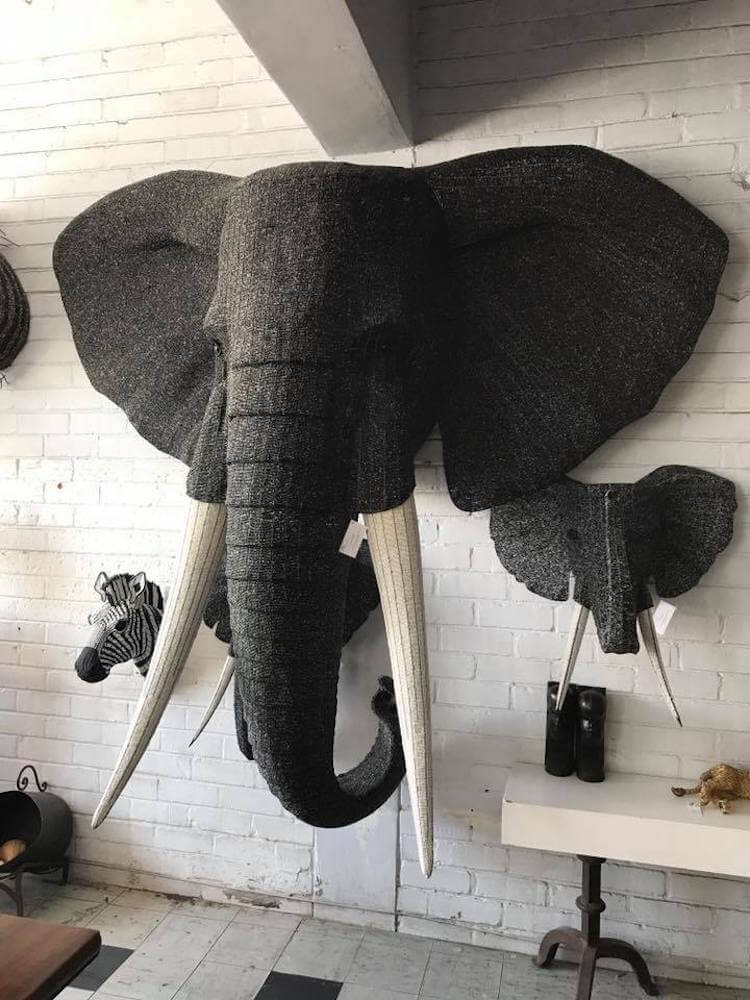 4. Streetwires Artist Collective
Also in the Woodstock neighborhood and across from the Old Biscuit Mill is this awesome studio. Streetwires is a great shop that has classes to teach people to make the famous beaded wire animal sculptures for which South Africa is known.
The people, in turn, can sell their beaded art as souvenirs and make their own businesses. You can shop around in their store and see some of the most intricate and huge sculptures including beaded elephant and giraffe heads to hang on your wall, a large lion, and even smaller beaded animals to take home with you.
Streetwires Artist Collective Address: 1st Floor, Maxton Centre, 354 Albert Road, Woodstock, Cape Town, 7915, South Africa
Streetwires Artist Collective Hours: Monday-Friday 9 am-5 pm. Saturday 9 am-1 pm. Closed on Sunday.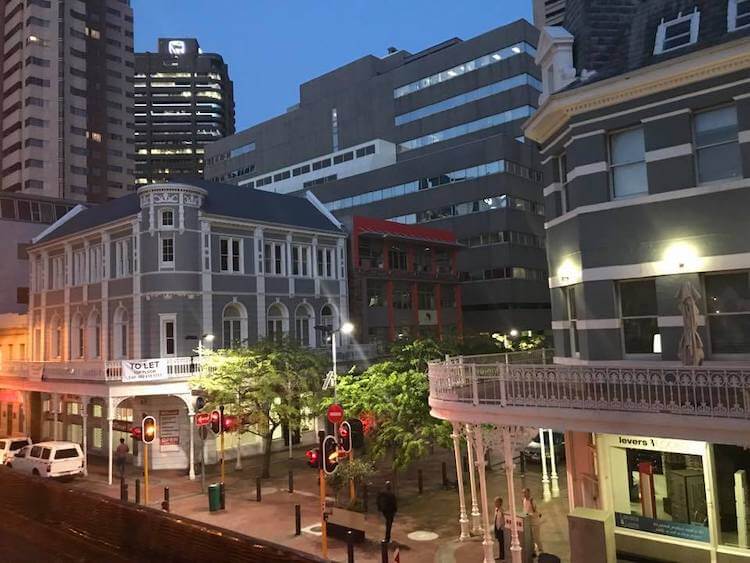 5. Drinks and Dinner in the City Bowl
Now that your 3 days in Cape Town is coming to an end, it is time to grab dinner and drinks on the town!
And the City Bowl area is the perfect spot to do that! Get all cleaned up and head to The Village Idiot for some cocktails, beer, and wine! This place has a lovely balcony for views of the City Bowl too.
Have some more South African wine or a fun cocktail like the John Deere (cane, cream soda, cucumber, and lime) and enjoy the quirky atmosphere including a giant stuffed ostrich behind the bar.
Once you've finished your drinks, it is time to head to dinner at the much more affordable sister restaurant to The Test Kitchen: The Shortmarket Club.
Chris and I had dined on fresh oysters, locally sourced fish, springbok, shared a tasty chocolate dessert, split a bottle of wine, AND each tried a local gin with tonic from their bar cart and our whole dinner was around $80.
And I have to mention it was ALL super tasty! Everything was cooked to perfection and the gin and tonic was phenomenal. On your last night here, this is the perfect date night spot to visit!
Just be sure to get a reservation in advance!
The Village Idiot Address: 32 Loop St, Cape Town City Centre, Cape Town, 8005, South Africa
The Village Idiot Hours: Tuesday-Thursday 3 pm-late (usually 2 am). Friday-Saturday 12 pm- late (usually 3 am).
Shortmarket Club Address: 88 Shortmarket St, Cape Town City Center, Cape Town, 8000, South Africa
Shortmarket Club Hours: Wednesday-Friday 12:30-2 pm, 7-10 pm. Saturday-Tuesday 7-10 pm.
That wraps up the perfect 3 days in Cape Town itinerary! This gives you a mix of history, adventure, food, and drinks!
To sum up your 3 days in Cape Town, here is a bulleted list to reference: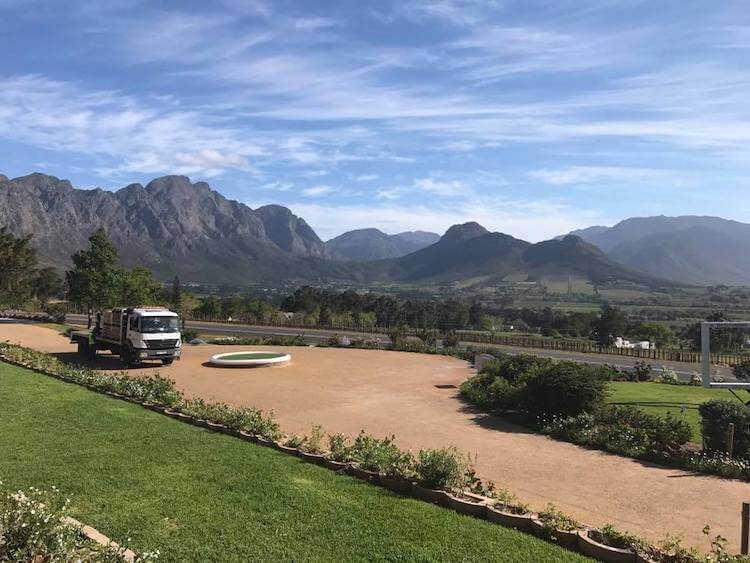 Summary of the Perfect 3 Day Cape Town Itinerary
Day 1: Table Mountain, Kirstenbosch, and V&A Waterfront
Hike or take the cable car to Table Mountain
Explore the V&A Waterfront
Learn about the beautiful flora of the Western Cape at Kirstenbosch Gardens
Taste your first sips of South African wine at Groot Constantia
Day 2: The Perfect Day Trip From Cape Town
Pick the perfect day trip from the following:

Be adventurous and learn more about Great White Sharks on a shark cage diving trip to Gansbaai
See penguins, baboons, and the Cape of Good Hope on a tour to the Cape Peninsula
Sip South Africa's best wine at many estates across Stellenbosch and Franschoek

Have a seafood dinner at The Codfather in Camps Bay
Day 3: Explore Cape Town's Unique Neighborhoods
Hike Lion's Head for fantastic Cape Town views
Visit the colorful neighborhood of Bo-Kaap
Explore Woodstock and the Old Biscuit Mill
Be inspired by the beaded art at Streetwires
Have dinner and drinks in the City Bowl at The Village Idiot and The Shortmarket Club
Three Days in Cape Town Map
Best Hotels in Cape Town
Cape Town can be a super affordable city to visit as far as hotels go, but to save even more money (and have a more local experience) check out Airbnb!
Not sure which area to stay in? We stayed at the V&A Waterfront and there are plenty of great hotels in the area. It is also centrally located and perfect for exploring the city. Other great areas to stay at include Camps Bay and Sea Point for awesome beach views!
For the best hotels in Cape Town, check out these spots based on your budget: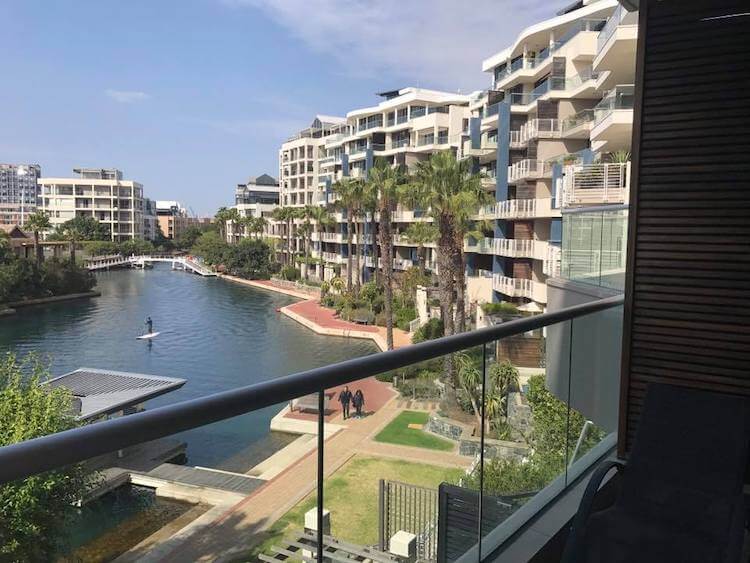 Located in the Camps Bay neighborhood with gorgeous views of the sea, this place has free parking, a pool, and you are within walking distance to the beach! Prices start around $140 per night.
Read TripAdvisor reviews and book!
This is where we stayed during our visit to Cape Town, and these are more like apartments than a hotel. We had a fully equipped kitchen, a balcony overlooking the marina, and we were located centrally at the V&A Waterfront. Prices vary by season, but you can find prices between $150-200 per night.
Read TripAdvisor reviews and book!
For the ultimate luxury, this is the place. Located high above the V&A Waterfront with fantastic and unencumbered views from Table Mountain to the ocean, you'll love the gorgeous rooftop bar, pool, spa, and close proximity to the major attractions at the waterfront.
Plus, it is on top of the Zeitz Museum of Contemporary Art!
Prices are hefty at around $1,200 per night.
Read TripAdvisor reviews and book!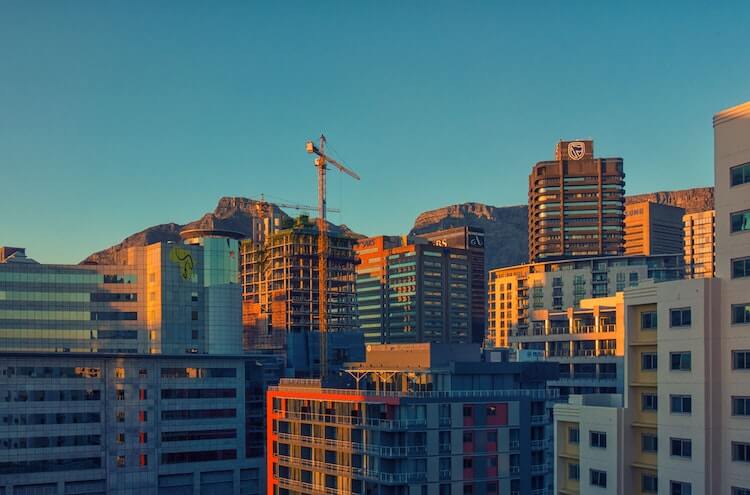 Top Things to Know Before Visiting Cape Town
Before you travel to Cape Town for 3 days, here are some things to know:
Be vigilant. I feel like I say this all the time, but pickpocketing and theft do happen. Just keep an eye on your things and carry your purse in front of you. I always carry my

anti-theft crossbody bag

to prevent getting pickpocketed.

Don't wear flashy things. Same as above: don't wear fancy jewelry. This will make you more of a target for muggings or pickpocketing.
Is Cape Town safe? Yes and no. Is it totally crime-free? No. But if you take the normal precautions of a big city and avoid walking around at night, avoid wandering by yourself in unfamiliar places, trust your gut, and use common sense, you should be fine. Check out our post about

whether South Africa is safe to visit

.

Always match the license plate on Uber to the car. You should be doing this every time you use Uber, but definitely do it in Cape Town.
South Africa uses the South African Rand. Currently, that equates to about R15.30 per $1 USD, R11.40 to $1 CAD, R10 to $1 AUD, R19.70 per £1, and R15.30 per €1. While withdrawing cash, we like to do this at the airport and keep most of it in the safe at our hotel.

If you plan to see a lot, check out the

Cape Town Official City Pass

. It includes free entry to over 90 of Cape Town's top attractions, the Hop-On, Hop-Off bus, and more!
When to visit Cape Town: You could visit year-round, but the most popular time is the summer (October-April). The weather is warm and sunny! The winter/spring (May-September) isn't that cold at all but can be rainy and cooler. We visited in September, as we wanted to go on safari while it was cool and dry near Kruger and we had some very warm and sunny days too in Cape Town!
Check out more of South Africa while you're there! I have a whole guide up about spending

2 weeks in South Africa

including the

perfect South African safari

, why a

South Africa safari is perfect for your honeymoon

, and more!

Want ideas for an African honeymoon? We've got

20 destinations to check out here

! Be sure to check out our Cape Town Honeymoon Guide too!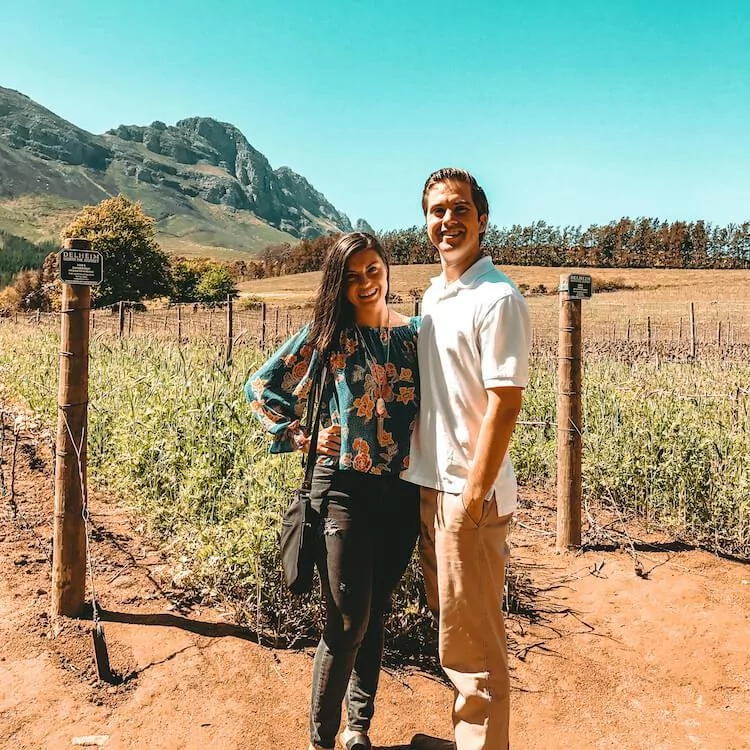 What to Pack for 3 Days in Cape Town
Guys, we managed to pack for South Africa for 2 weeks in JUST a carry-on. Needless to say, it was a struggle. However, here is what you need to include on your packing list for a 3 day Cape Town itinerary.
For Hiking Table Mountain/Lion's Head
Hiking boots or tennis shoes should be fine! I hiked in my running shoes without any problems. If you do choose hiking boots, then I love my

Merrel Moabs

that I used in Peru.

Leggings and a

sweat-wicking shirt

should do the trick just fine. Don't forget to pack a sports bra or two as well!

Also, be sure to pack water, snacks, and sunscreen. I love this

small backpack

for easy day hikes to carry my things.
For Shark Cage Diving:
Be sure to bring your

swimsuit

that you can wear under their thick wetsuit.

A

quick-dry towel

is a good idea to towel off with when you're finished.

Pack warmer clothes! Even if Cape Town is nice and warm, it is cold in that water! So pack layers. I wore leggings, a t-shirt, and a jacket to stay warm. They will provide a thicker coat and the rest.

Don't forget a

GoPro

to record your experience!
For City Exploring:
Wear comfortable shoes! I love my

Keds

for exploring cities during the day.

Sandals

for evening/nice dinner.

Jeans are a good idea as it can get cold depending on the time of year that you visit Cape Town.

Cute tops for your jeans.

Sundresses

are always fun for exploring wineries or for your final dinner in Cape Town.
Also, for taking incredible photos, I love just using my iPhone with these awesome iPhone clip-on lenses. I also love our lightweight tripod to get better photos of the two of us.
And if you plan to pack carry-on only like us, we love our Osprey Farpoint 40 backpacks and I swear by these packing cubes to keep my stuff organized! And you'll need outlet adapters to plug in your things while you're there!
So there you have it: the perfect 3 days in Cape Town itinerary with a mix of everything! While you could certainly spend a lot more time exploring the depths of this city, this is a great introduction. We hope you enjoy Cape Town as much as we did!
What tips do you have for a 3 day Cape Town itinerary? Would you love to see Cape Town?
Want more Africa travel ideas? Check out these posts:
Pin it here!