Some posts on this site contain affiliate links, meaning if you book or buy something through one of these links, I may earn a small commission (at no additional cost to you!). Read the full disclosure policy here.
---
If you're currently planning your dream vacation to Uganda for the magnificent gorilla trek, you're probably asking yourself, "how much does gorilla trekking cost in Uganda?"
Don't worry, we've got you.
That's because we have been gorilla trekking in Uganda and know each and all of those details including the gorilla trekking permit cost, lodging costs, and more.
So, as a former accountant and spreadsheet/numbers nerd, let's get into what you can expect to pay for your gorilla trek in Uganda.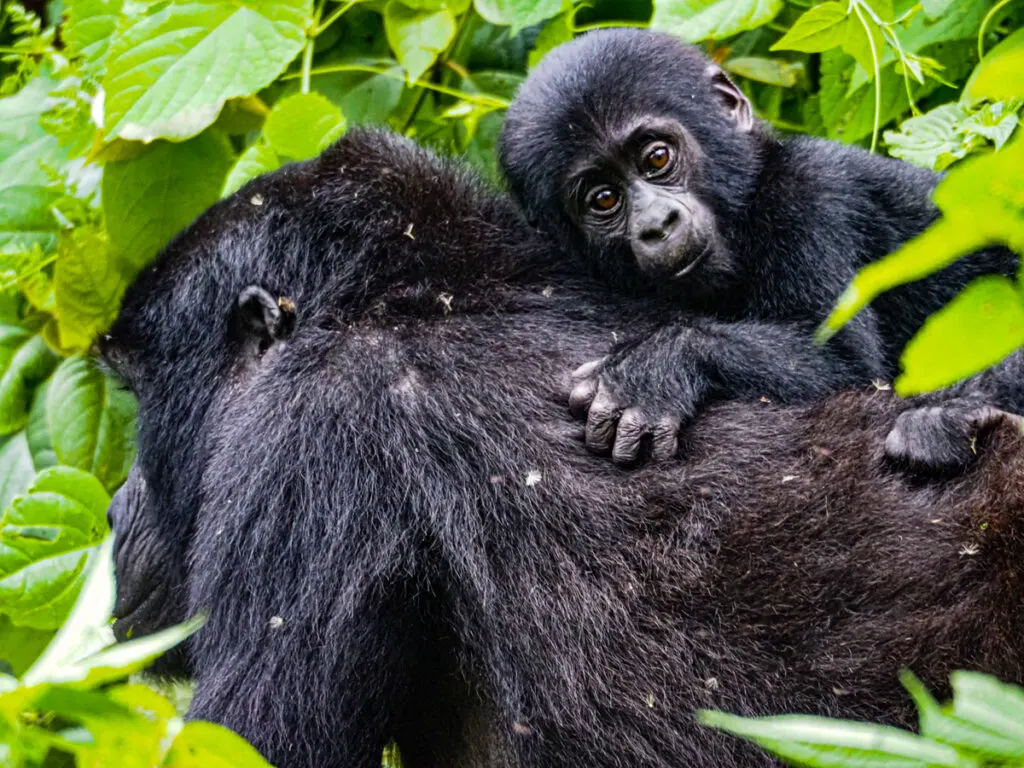 Where Can You Go Gorilla Trekking in Uganda?
Did you know that there are actually a couple of places to go gorilla trekking in Uganda? That's right. While Bwindi Impenetrable National Park is easily the more popular and frequented national park, you can also experience the gorilla trek in Mgahinga Gorilla National Park.
Bwindi Impenetrable National Park is located in the western part of Uganda next to the Democratic Republic of the Congo. This larger national park has several mountain gorilla families, split between 4 sectors of the park: Ruhija, Buhoma, Nkuringo, and Rushaga.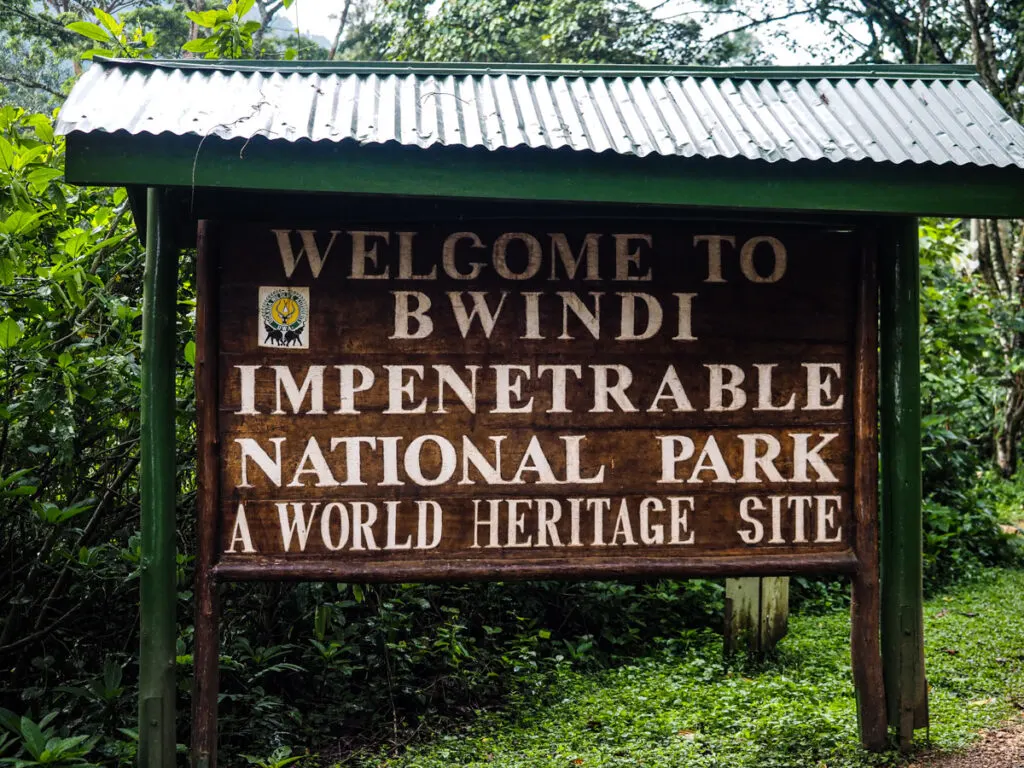 More specifically, the most amount of lodging options, and the more luxurious options, are located next to the Buhoma sector of the park.
Pro-Tip: Book your gorilla permit before your lodging so you choose the right lodging closest to the sector you'll be trekking in. I.e. if you want to stay in Buhoma, be sure to get a permit for the Buhoma sector, then book your lodge.
Mgahinga Gorilla National Park is located in the southwest, along the borders of Rwanda and the Democratic Republic of the Congo. In this park, you can go both gorilla trekking as well as find the golden monkeys.
This national park is definitely lesser visited, so accommodations are fewer than Bwindi. So keep that in mind.
How Much Does the Uganda Gorilla Trekking Permit Cost?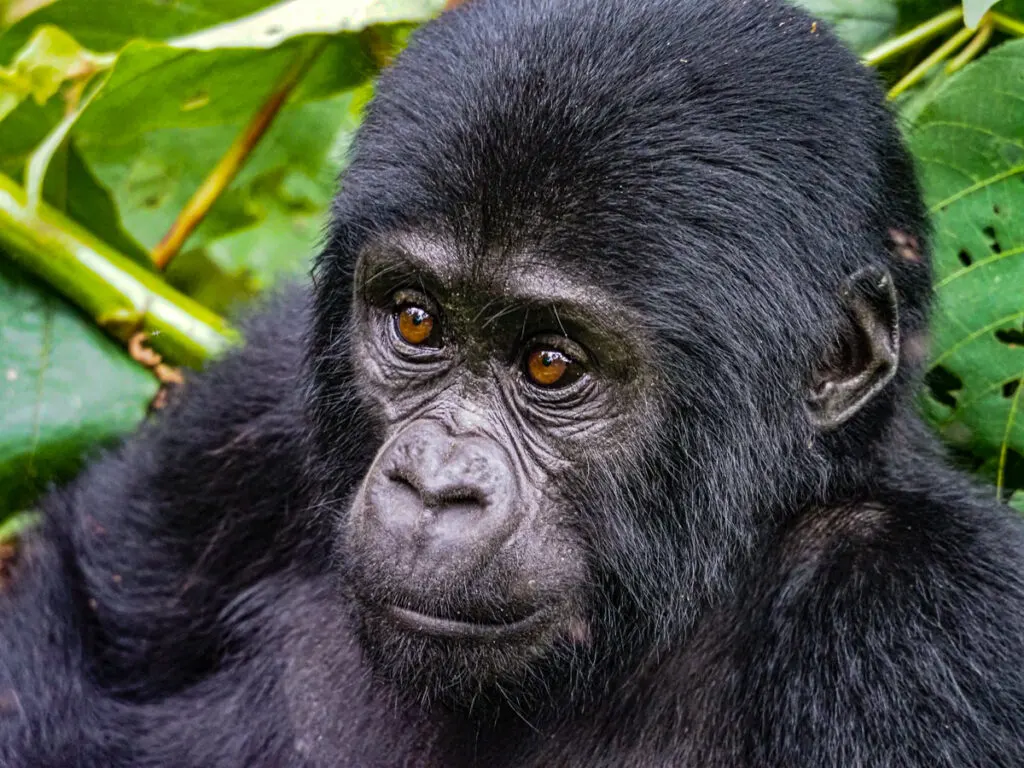 First and foremost, to see the mountain gorillas in the wild, you'll need a permit. The gorilla trekking in Uganda price for the permit is $700 per person for either national park.
Also, you'll want to book this months/up to a year in advance. If you plan to visit during the busy, dry season, you definitely want to book well ahead of time, as spots are limited.
For the gorilla permit, you'll be granted 1 hour with the gorillas once you reach them.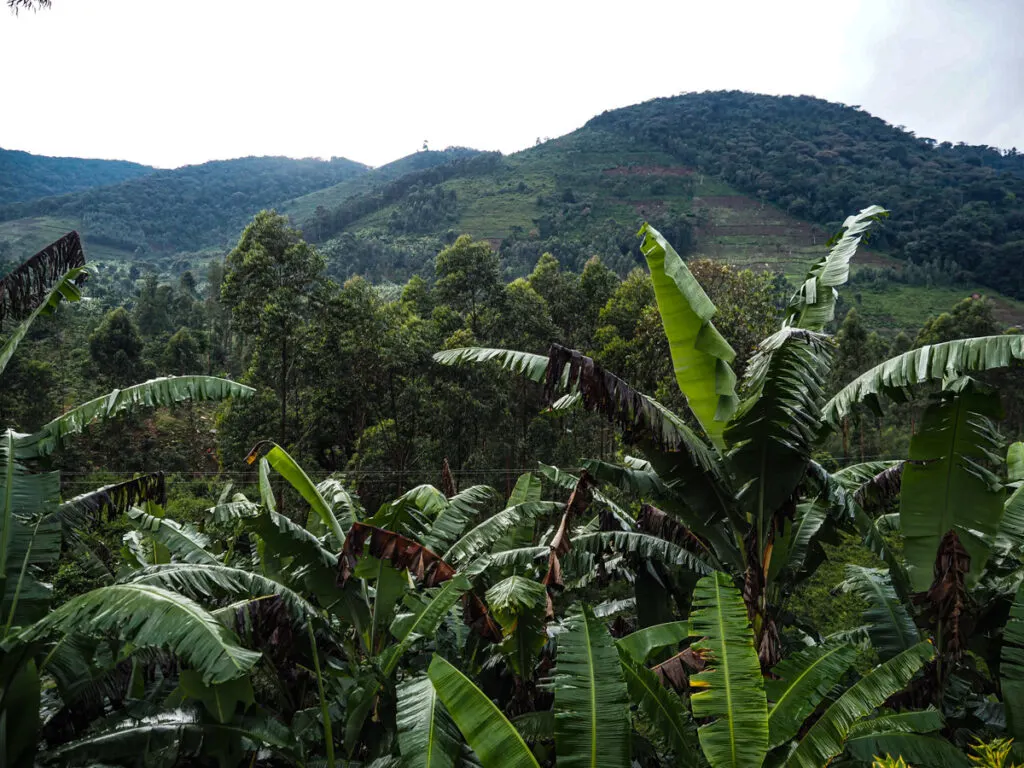 There is also the option to book the gorilla habituation, which allows 4 hours with the gorillas and costs $1,500 per person. This is done in the Rushaga sector of Bwindi and spots are even more limited, so booking far out is your best option.
However, we did the standard gorilla trek and it was absolutely incredible! It was worth every penny, and we highly recommend it.
How Much is a Gorilla Permit in Uganda: $700-1,500 per person.
Why Are Permits So Expensive?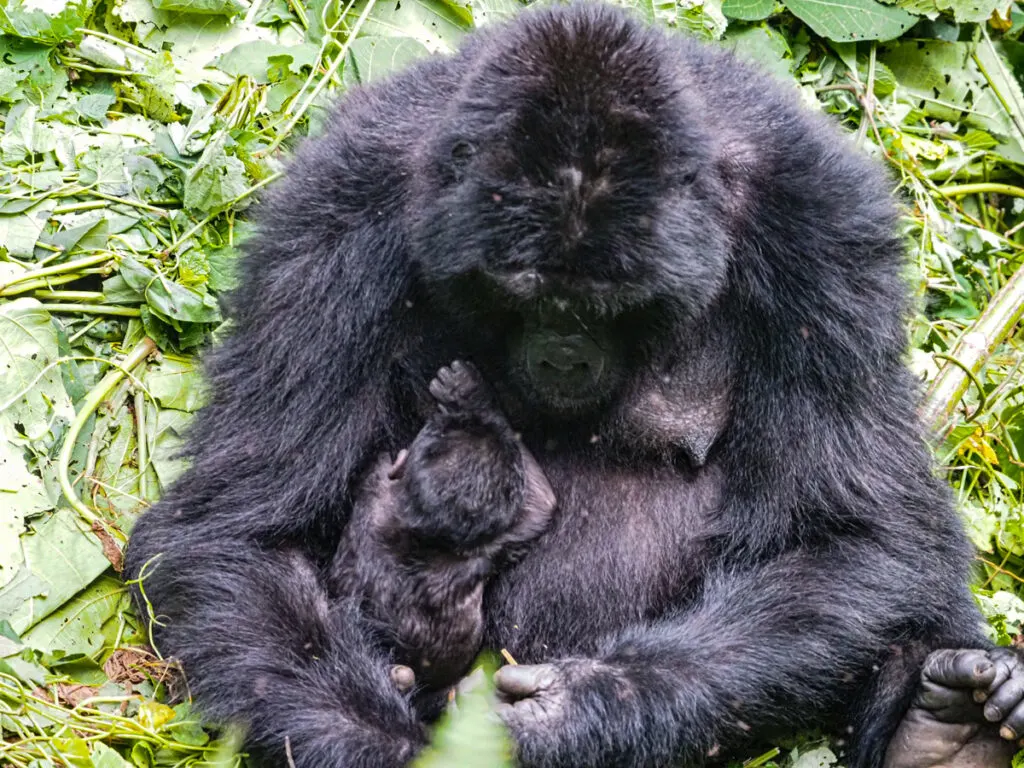 No matter where you try to see mountain gorillas, it is expensive. Why is that?
Well, mountain gorillas are endangered, and a huge chunk of this fee goes toward conservation efforts.
Not to mention the fact that when you go gorilla trekking, there are quite a few people involved. There is your guide, but there is also an armed guard at the front and back of the group as well as trackers who find the gorillas and radio the guide to tell them where they're at.
They all need to be paid for their work, so part of the fee goes to this too. Although, you should definitely leave them a tip as a thank you for their hard work! We'll talk about tipping later.
Lastly, the money goes to help the surrounding villages and communities outside of the park. This helps fund schools, hospitals, and roads in nearby areas. So really, it is a fair price to pay for all the people involved and the help it provides the communities.
How to Book a Gorilla Trek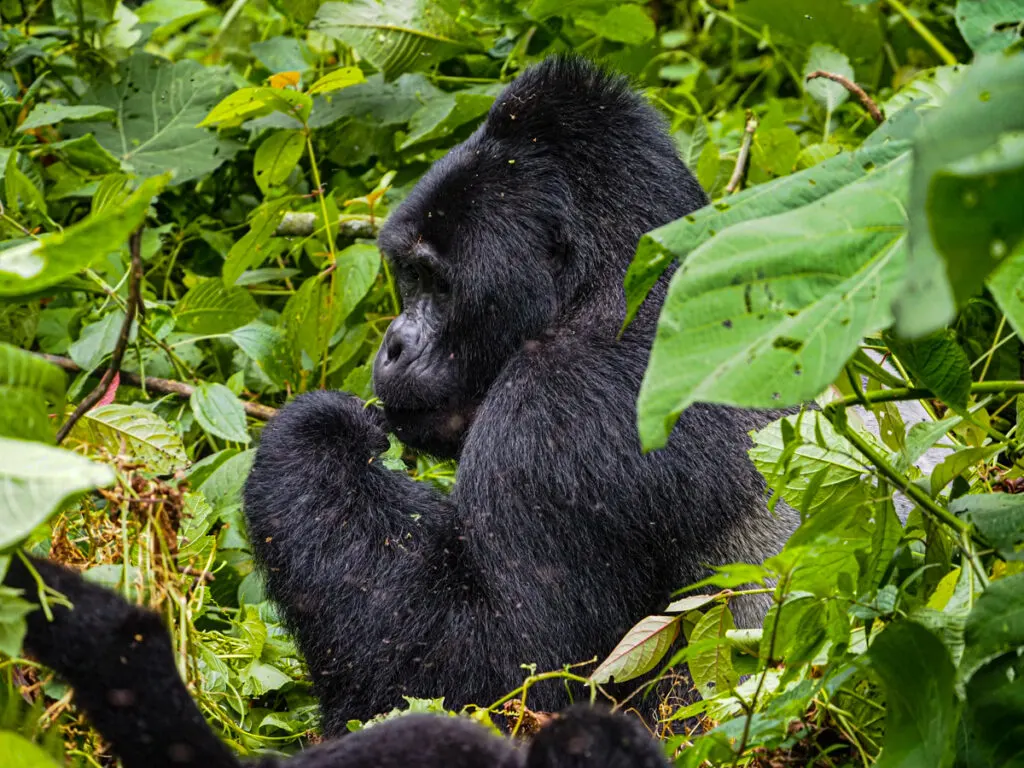 While you can do this in person at the Uganda Wildlife Authority, I don't recommend it. Go with a reputable tour group so they can arrange all the permits for you. We ended up booking our permit through Go2Africa, which handled all of our trip to Uganda and Kenya.
As I said, be sure to book the permit before your lodging, and have a discussion with the tour planner about where to stay in regards to where your trek is.
And book well in advance. Honestly, a year plus out is a great idea to ensure you get the permits you want!
Hiring a Porter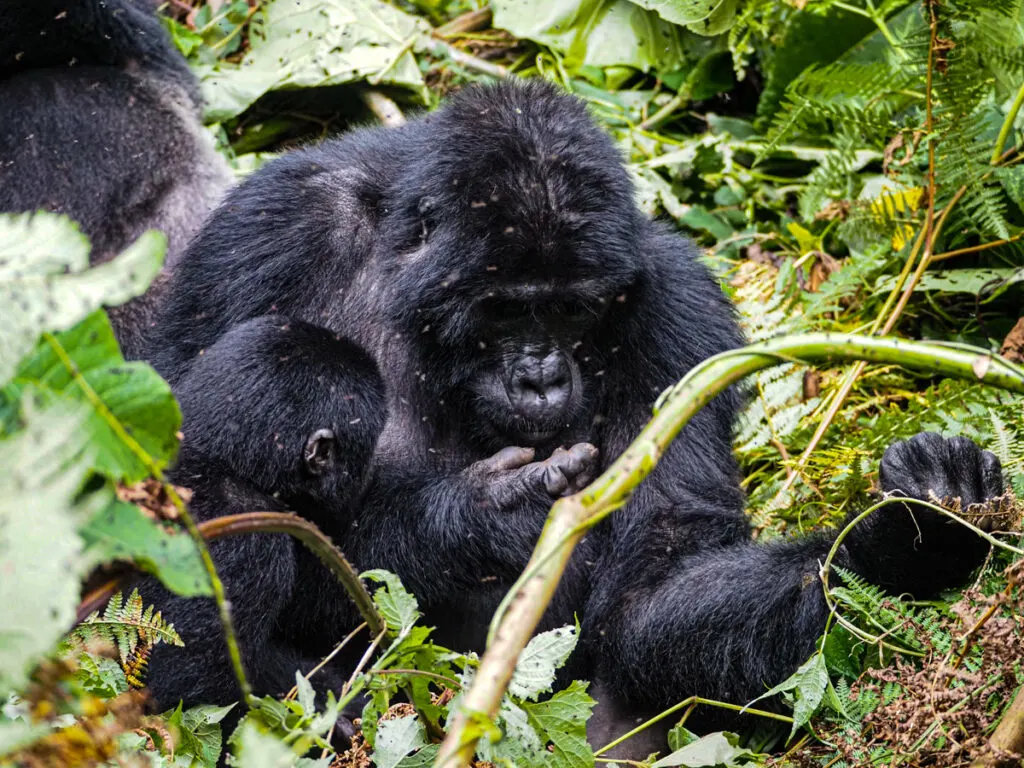 During your gorilla trek, there is an option to hire a porter. As you usually want to bring a lot of stuff with you including plenty of water, a packed lunch, a jacket, a camera, etc., you'll most likely have a backpack.
A great thing about hiring a porter is that they will carry your stuff and give you a boost when needed. And yes, you may need it.
I hike quite a bit around the national parks here in the US, and when I say there were many times I was slipping and sliding on those trails, I mean it. Oh, and don't forget that after a short while, there aren't any trails and they are just hacking with a machete through the forest.
Being a rainforest, it is muddy and slick on the trails and then when you get off the trail there are vines everywhere. Having a helping hand to steady you or help pick you up when you fall is great, and I highly recommend it.
Also, porters are locals, and hiring them for the day supports them and their families, so it's great to do regardless if you think you need a porter or not.
Now porters cost between $15-20 to hire for the day, before tipping. So keep this in mind as you make your gorilla trekking in Uganda budget.
Cost to Hire a Porter: $15-20 per person.
How Much Do You Tip For a Gorilla Trek?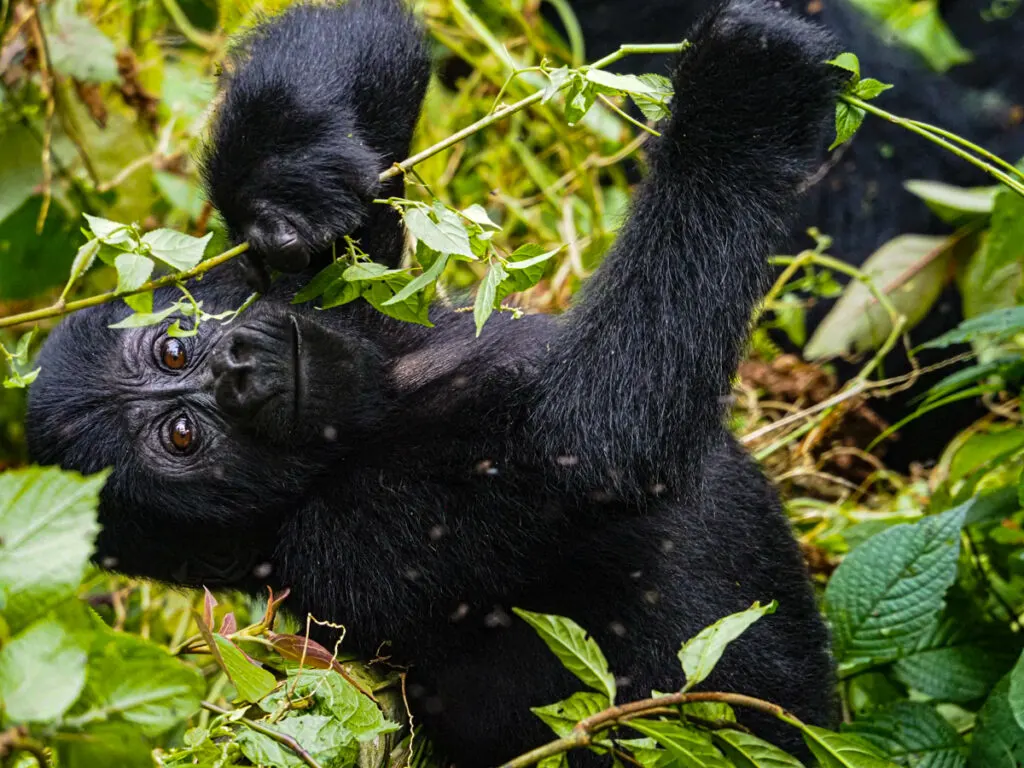 This is super helpful to know before you head out on your gorilla trek. There are a lot of people that come along to help you during your time trekking, so you'll want to make sure you bring enough to tip them.
Bring plenty of denominations of USD, which is preferred for tipping in Uganda. Also, due to fraud issues in the past, the bills must be made after 2006.
Okay, now that you know these tidbits of information, let's talk about each person involved and what to tip. Obviously, this is all discretionary, so you can tip more or less based on your experience!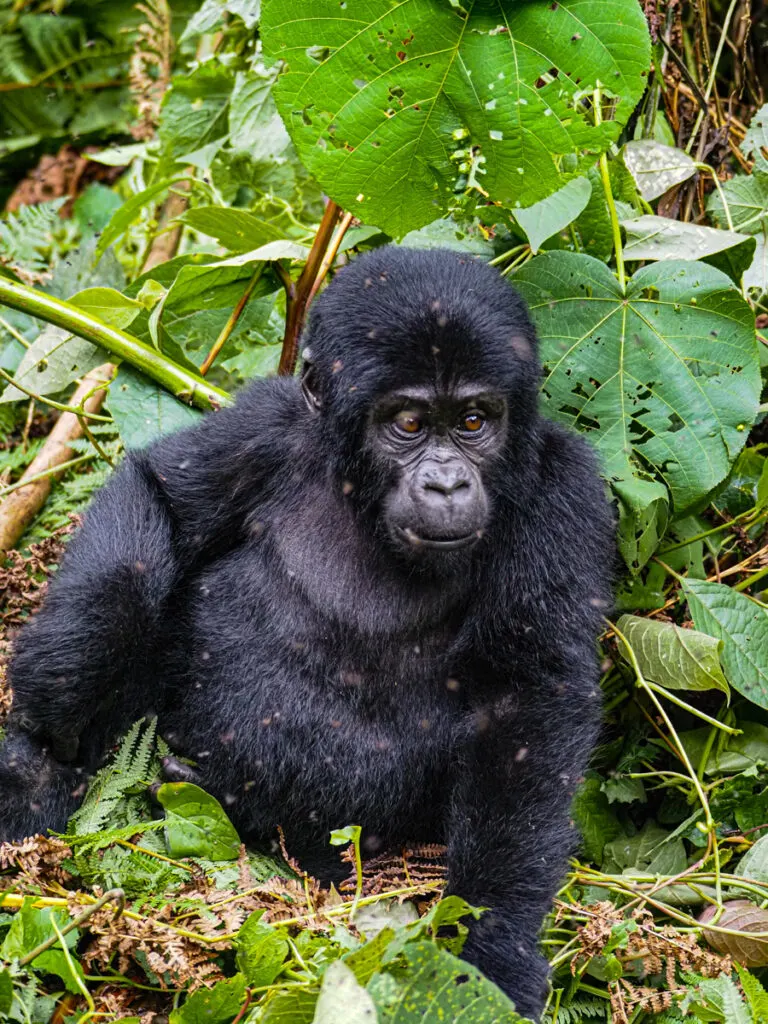 Guide: This person will be with you all day as they lead you to the gorillas, answer your questions and more. As such, it is a good idea to tip about $15 per person or $30 for a couple.
Porters: If you hire a porter to carry your stuff, it is always a great idea to tip them well, especially if they really helped you out. At least $10 per porter is good. We had 2 porters and paid $20 in tips.
Guards: Tipping about $5 each per person works well. As there are usually 2 guards, this is $10 per person trekking. For a couple, this is $20 total.
Trackers: We tipped about $5 each per person for trekking. As there were 3 trackers, this is $15 per each of you trekking. This means for us, we ended up tipping each tracker $10, or $30 total as a couple.
Hotel Staff: You'll want to budget for tipping the hotel staff as well. This is typically between $7 per person, per night. For a couple, about $15 per day is sufficient. So for 2 nights, this is $14 per person or closer to $30 for a couple.
Total Cost of Gorilla Trek Tips: $64 per person, or $130 for a couple.
Cost of Lodging Near Gorilla Trekking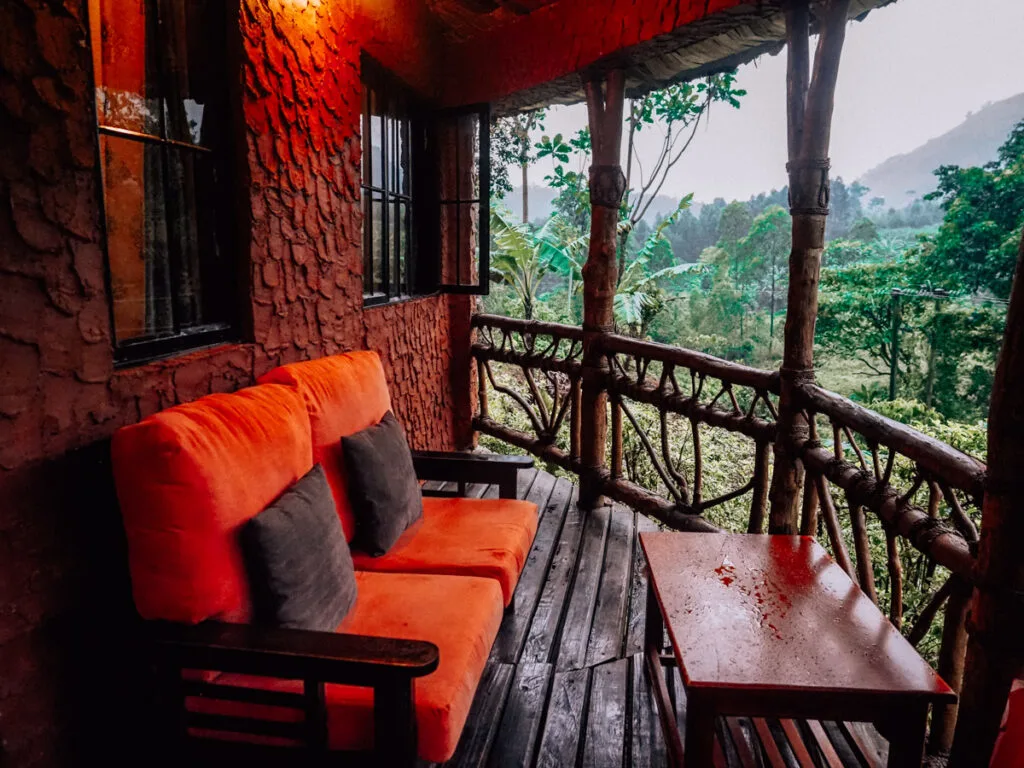 When you go gorilla trekking, you'll need a place to stay nearby. Most people trekking tend to stay at their lodge for 2 nights: the night before and the night of the trek.
I actually recommend spending 3 nights if you go to Bwindi, as there is a lot to see and do near Bwindi, especially if you plan to visit Buhoma. But for gorilla trekking purposes, 2 nights is what you'll need.
Here are accommodation options:
Mount Gahinga Lodge: If you're going gorilla trekking in Mgahinga Gorilla National Park, this is the place to stay. It is close to the gorilla trek starting point, and the lodge itself has beautiful accommodations! Prices here start around $880 per person per night for the high season and $530 per person per night during the low season. This is an all-inclusive rate with food and drinks.
Mahogany Springs Lodge: Located in the Buhoma Sector of Bwindi, this is where we stayed. We had our own lovely cottage with a view of the mountains, and the lodge was so stunning. I loved this place so much! Rates here start at $315 per person per night for high season and $240 per person per night for low season. This includes all meals.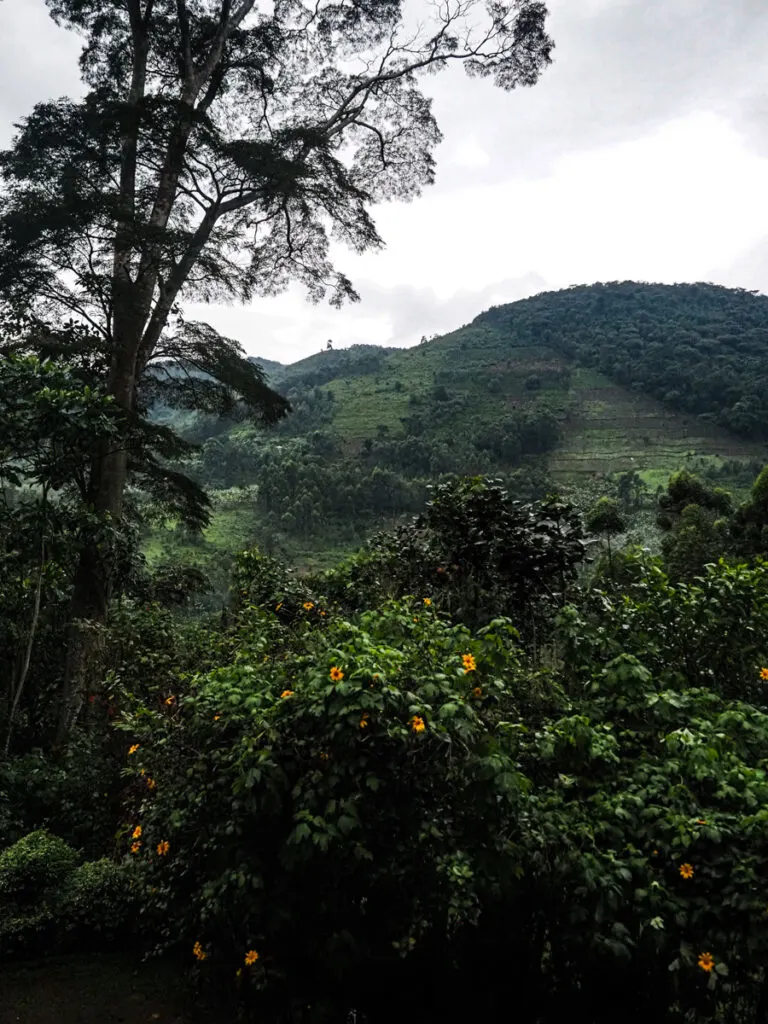 Sanctuary Gorilla Forest Camp: Probably the most luxurious camp and next to the start of the gorilla trek in the Buhoma sector is this place. This exclusive camp has luxury tents with wonderful views of the national park. Rates here start at $930 per person per night during high season and $495 per person per night during low season. This includes all meals and drinks.
How Much Does Lodging Cost For a Gorilla Trek? Between $240-930 per person, per night. So for a 2-night stay, that is between $480-1,860 per person or $960-3,720 for a couple.
Note that there is a single supplement in addition to this as well of about $100-300 per night.
These lodging prices do not include gorilla trek permits.
So How Much Does Uganda Gorilla Trekking Cost?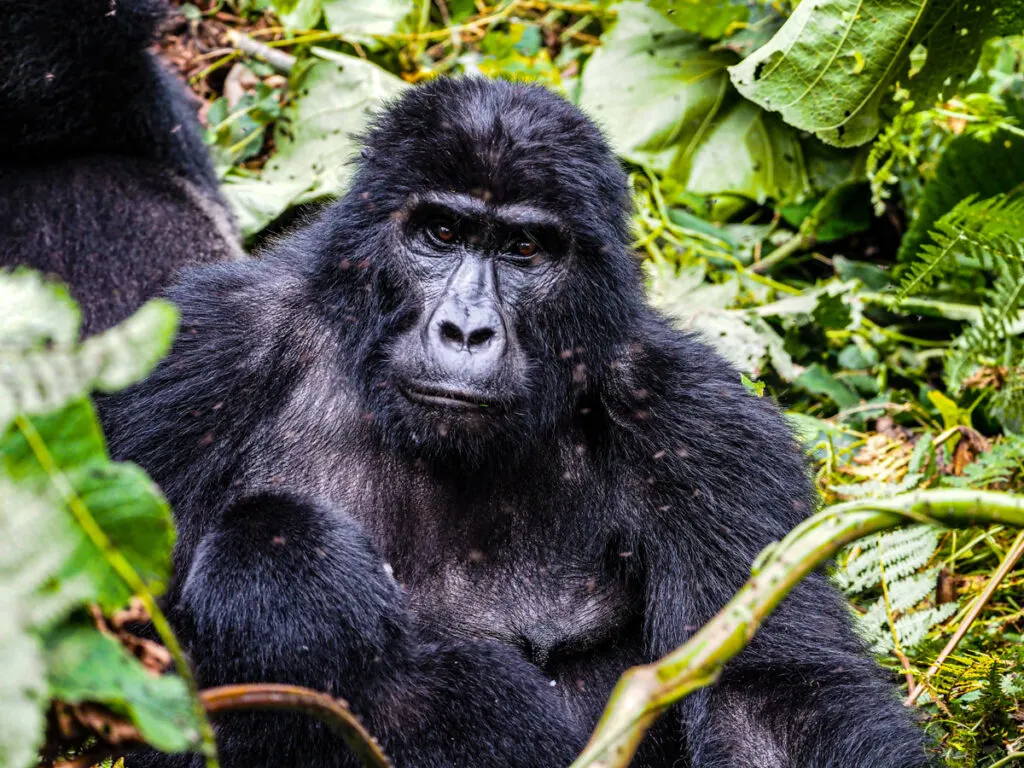 If you add up everything from above, a gorilla trek in Uganda can cost between $1,259-2,644 per person or $2,520-5,290 for a couple.
This includes the standard trekking permit, hiring a porter, tipping, and lodging (which includes at least your meals).
For a gorilla habituation trek, this would be even higher. We're talking at least $800 per person in addition to the totals above. And, as this is typically a longer day, you may want to increase the tip.
Other Costs You May Encounter For Your Uganda Gorilla Trek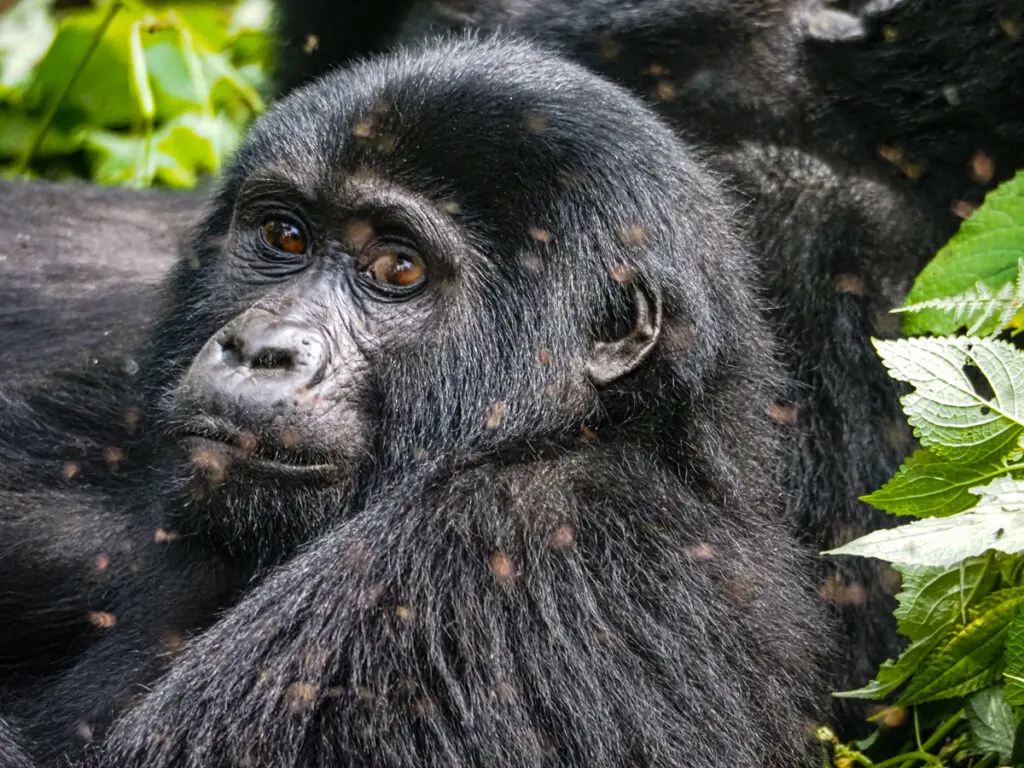 Aside from the actual gorilla trek itself, let's talk about other costs to factor into your budget.
Airfare: This is going to add up depending on where you're coming from. In addition, it is a good idea to fly to the gorilla trekking locations as well.
Transportation: If you have a driver, this is an added cost, as is tipping.
Insurance: Travel insurance is usually necessary, especially if you're booking through a safari company. This cost will vary depending on where you live, your age, and how much coverage you buy. I like Seven Corners as they have Cancel For Any Reason Insurance.
Vaccines: To visit Uganda for your gorilla trek, you'll need to head to a travel clinic to get some vaccines and medications, such as antimalarials. The Yellow Fever vaccine is mandatory to enter the country for all people 1+ years old. We go with Passport Health travel clinic as they have locations all over the US and specialize in making sure travelers have all they need to travel.
Visa: For US citizens, you need a visa to get into Uganda. For a single entry visa, it is $50 per person. If you also plan to visit Rwanda and/or Kenya, then you can get the East African Tourist Visa which covers all three countries. This is $100. Check for up-to-date information here.
Other Supplies/Clothing: Before you embark on your gorilla trek, there are things you'll want to take along with you and wear. From hiking boots and long hiking pants to a hiking backpack or jacket, there are tons of things you may need to purchase for the trek that'll add up.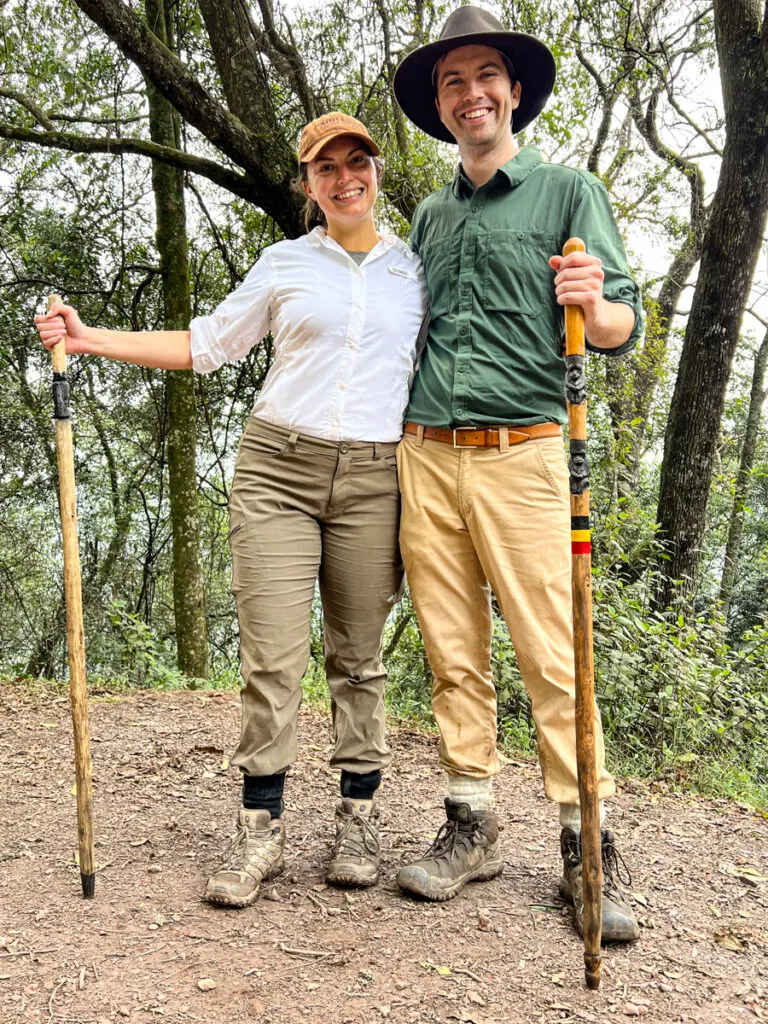 Bear in mind that we are just talking about all things related to the gorilla trek in Uganda as far as budgeting. This does not include if you want to visit other parts of Uganda on your trip like Kibale National Park for chimp trekking or Queen Elizabeth National Park for a safari and tree-climbing lions.
Those will all add up. We have a whole guide on how much an African safari costs if you're interested in learning more to plan your trip!
I know this is a lot of information, but this is what you'll want to budget for when it comes to your gorilla trek in Uganda.
Which costs surprised you?
Want more African travel ideas? Check out these posts:
Pin it here!