Some posts on this site contain affiliate links, meaning if you book or buy something through one of these links, I may earn a small commission (at no additional cost to you!). Read the full disclosure policy here.
---
South Africa is a country full of adventure, exciting cities, and romance. Between places like Cape Town, Kruger National Park, and the Winelands, you'll fall in love with this dynamic place. And yes, you can cover this in just a 10 day South Africa itinerary!
After having visited South Africa twice, we have the perfect 10 days in South Africa trip for you!
This 10 days in South Africa itinerary involves spending time on a luxury camping safari, exploring Cape Town, taking a couple of day trips from Cape Town, and ending in the Winelands.
This will show you the best this country has to offer and more! So whether you are a fan of wine or wildlife, your South Africa travel route will be full of excitement!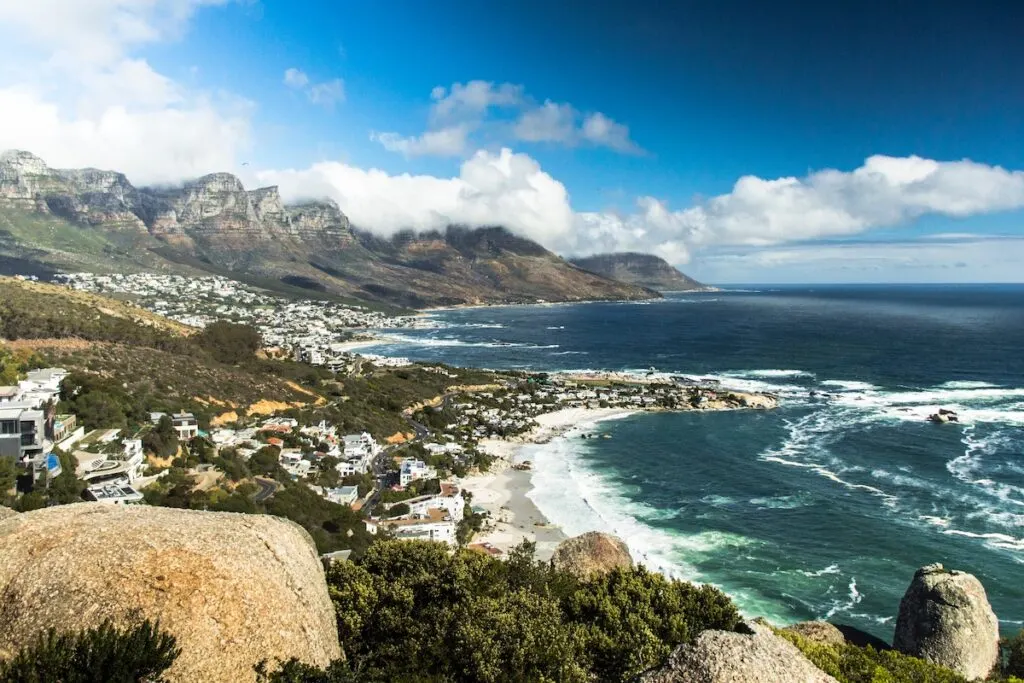 10 Day South Africa Itinerary Breakdown
Here is a quick South Africa itinerary in list form to refer back to while planning your trip. For all the details, keep reading below!
Day 1: Arrive in Johannesburg
Day 2: Fly to Hoedspruit and head to Simbavati River Lodge for an evening game drive
Days 3-4: Twice daily game drives at Simbvati River Lodge
Day 5: Last game drive and fly to Cape Town
Day 6: Day trip to Gansbaai for shark cage diving or whale watching
Day 7: Cape of Good Hope and Boulders Beach day trip
Day 8: Full day in Cape Town
Day 9: Head to the Winelands and enjoy the Franschhoek Wine Tram
Day 10: Private tour of the Winelands from Franschhoek
10 Day South Africa Vacation Itinerary
Without further ado, let's get into the perfect South Africa itinerary in 10 days for you!
Day 1: Arrive in Johannesburg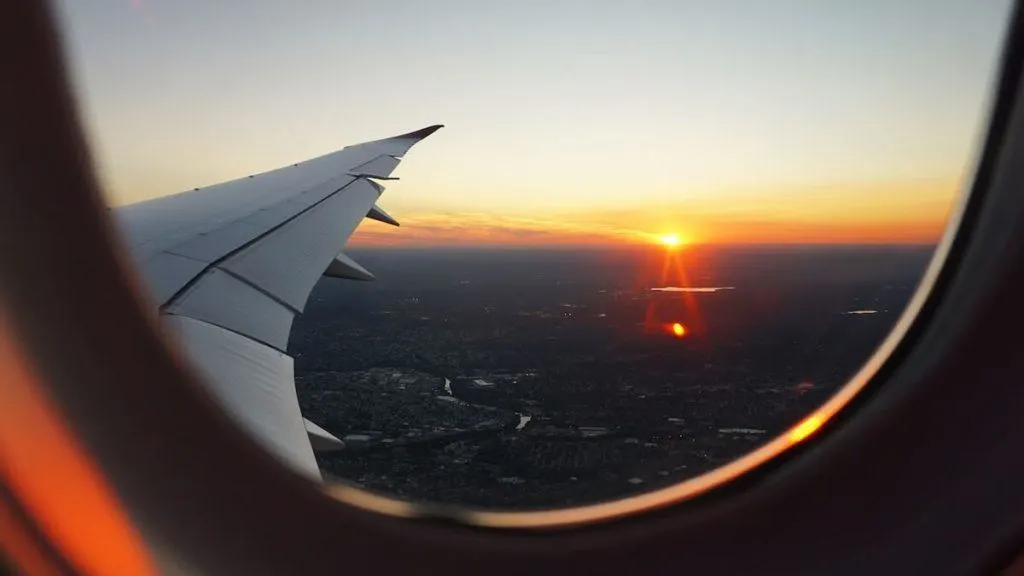 To kick off the itinerary you have to get to South Africa. Luckily, there are quite a few direct flights from places like the US, Europe, etc. that will get you here. So I recommend flying out the evening before so that you can arrive this day.
For us, we ended up flying out from Cleveland to NYC and from NYC all the way to Johannesburg. Yes, it was a long 15-hour flight but it was nice to have a more direct route than flying through Europe or the UAE to get here. Check flight prices on Skyscanner!
Anyway, once you arrive, it'll likely be fairly late in the afternoon/early evening. Our flight was scheduled to arrive around 5 pm. So, you'll then go through customs and security, and be off to your hotel.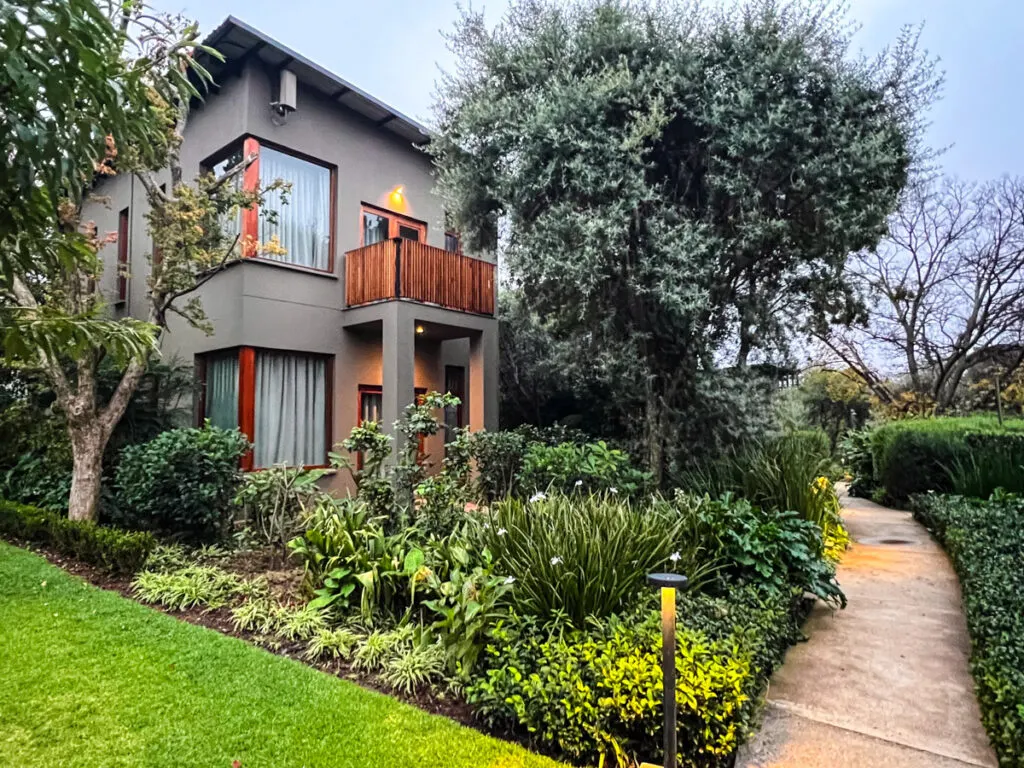 We booked our whole trip with Safari365 so they made sure to handle the logistics of getting from the airport to the hotel. I recommend having your ride to the hotel booked ahead of time, whether that is through a safari planning company or the hotel.
After that, you'll arrive at your hotel and have dinner before going to bed and getting on South African time.
I know in our 2-week itinerary for South Africa, we discuss having a couple of days in Johannesburg to explore. If you have the time, great, but if you only have a 10 day trip to South Africa planned, I would land here, spend the night, and then be on your way.
Where to Stay in Johannesburg:
Here are some fantastic hotels to book during your time in Johannesburg.
The Peech: This is where we stayed during both visits to South Africa. This hotel isn't too far from the airport, and the property is gorgeous. There is a pool, a lovely restaurant to eat dinner at when you get in, and gorgeous rooms with a balcony or terrace.
African Pride Melrose Arch: Located at Melrose Arch, this place has spacious rooms, a pool, and is close to many restaurants to dine at when you get in. There are also some fun bars at the hotel to visit if you're not too tired.
Sandton Sun: Located in Santon, this 5-star hotel has a great sundeck, restaurant, bar, and spa. They also have a pool and a gym if you want to get a workout in post-arrival.
Day 2: Fly to Hoedspruit and Arrive at Safari Lodge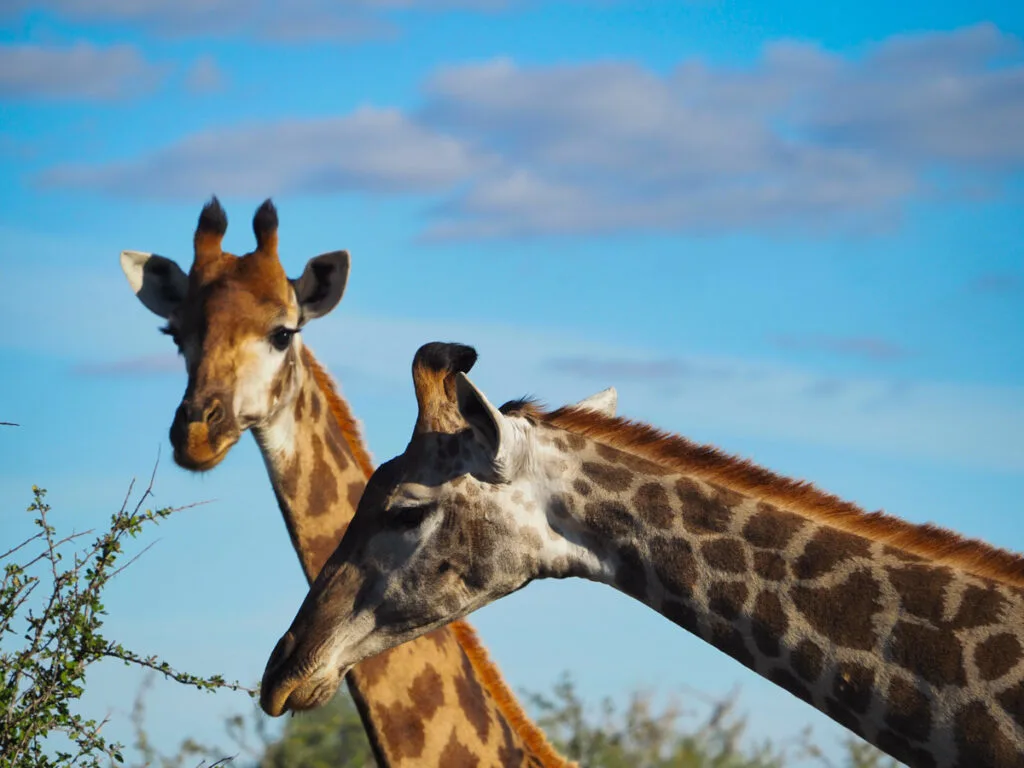 Sadly due to time constraints, you won't be able to do much in Johannesburg other than arrive, have dinner, and go to bed. And this morning, you'll have breakfast and then be on your way back to the airport.
Only this time, you have a quick flight over to Hoedspruit, where your lodge, Simbavati River Lodge will collect you and your belongings. You'll then have about a 1-hour drive to the lodge itself.
But don't worry, it is an exciting 1-hour drive as there are plenty of animals out and about! On our first visit here, we had to back up for an entire herd of elephants to cross! This past visit, we stopped and saw lions feasting on a deceased hippo.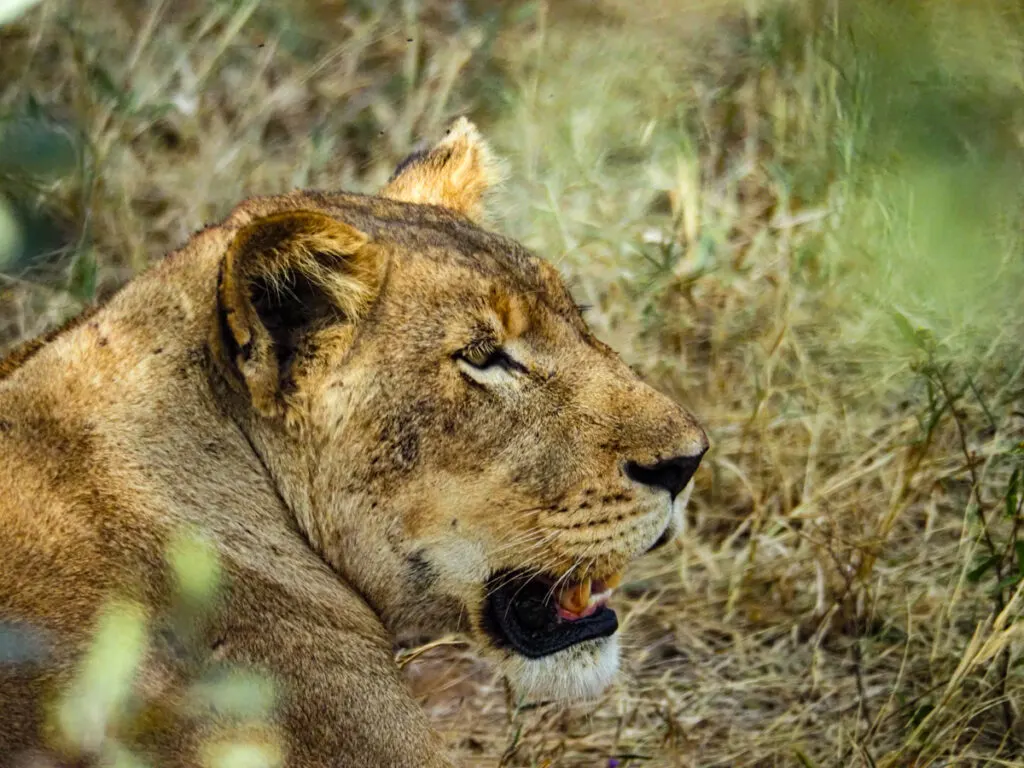 Then, you'll arrive and check into your safari lodge, Simbavati River Lodge, and settle in before your first evening game drive!
Evening game drives are exciting to experience! Spend the next 3 hours trying to spot the Big 5 (lion, leopard, elephant, buffalo, and rhino) and seeing various animals from herds of impala to a pack of hyenas.
Game drives are typically 3 hours long and evening drives begin between 3:30-4 pm. About halfway through the drive, you'll stop at a scenic spot where you'll watch the sunset and have a sundowner. This is what they call a drink around sunset.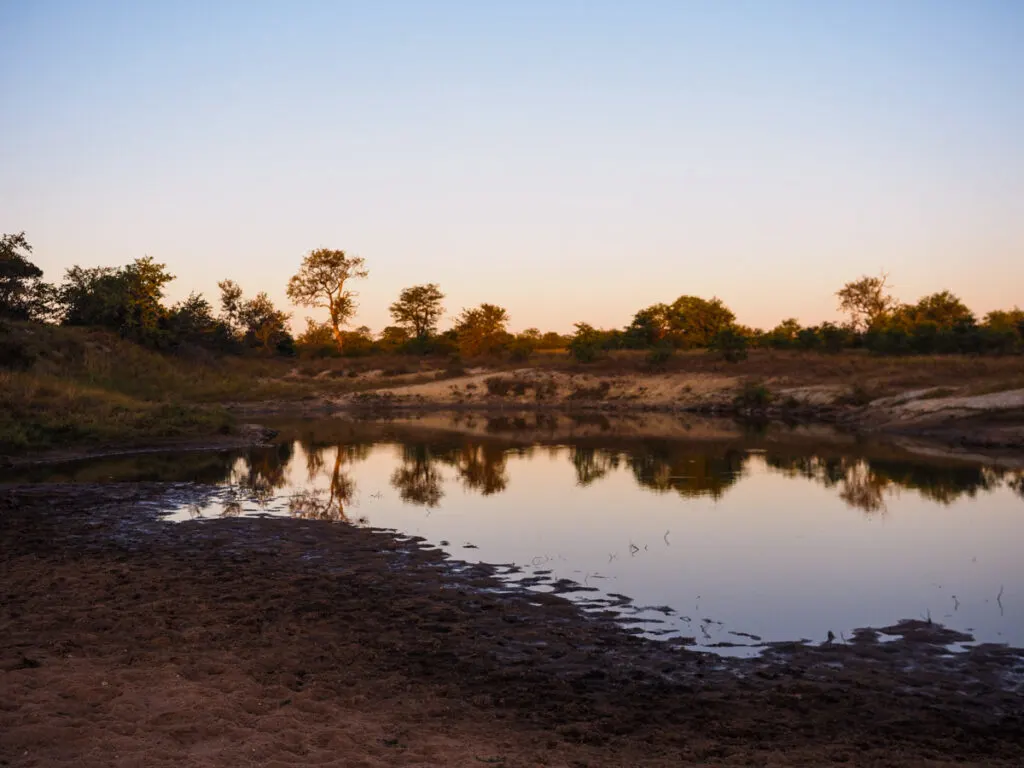 Here you have the chance to stretch your legs, admire the scenery, perhaps see some animals in the distance, and have some snacks and a drink.
After your sundowner, the spotlight comes out as you try to spot animals in the dark. Then, you end up back at the lodge for dinner.
At Simbavati River Lodge, you spend every other night at a sit-down meal with just your party and every other night at the boma. This is a buffet meal where you sit around the fire and socialize with your game driver and the people in the vehicle with you.
Post dinnertime, it is time for bed, as you have an early morning game drive tomorrow.
Where to Stay Near Kruger National Park: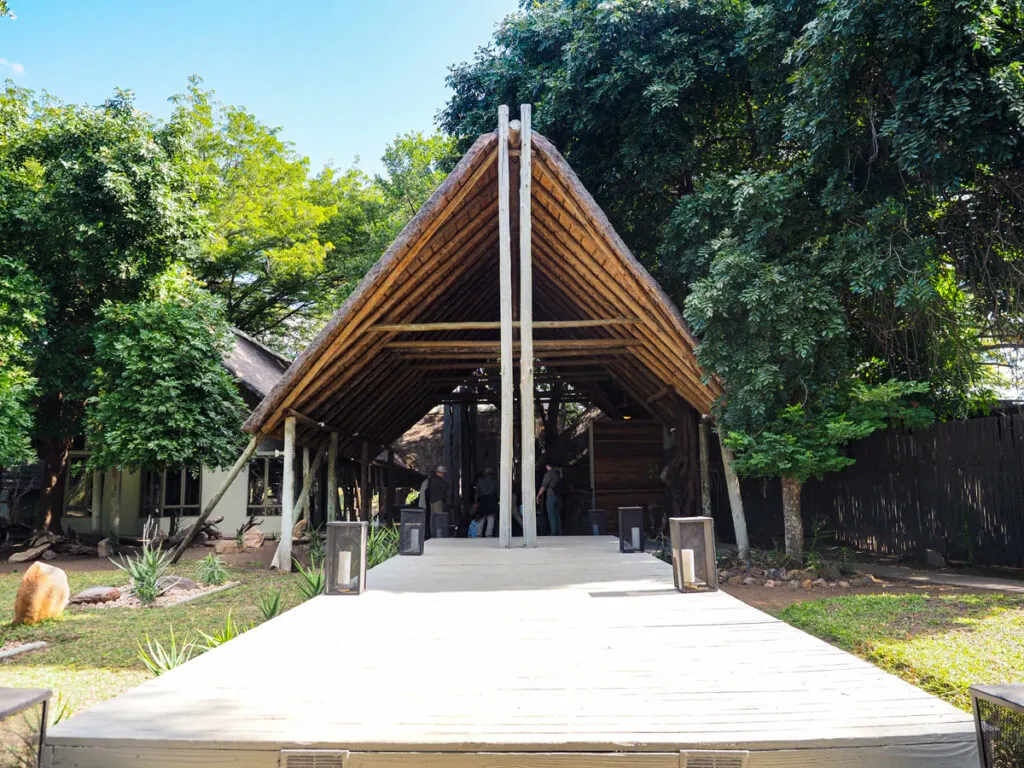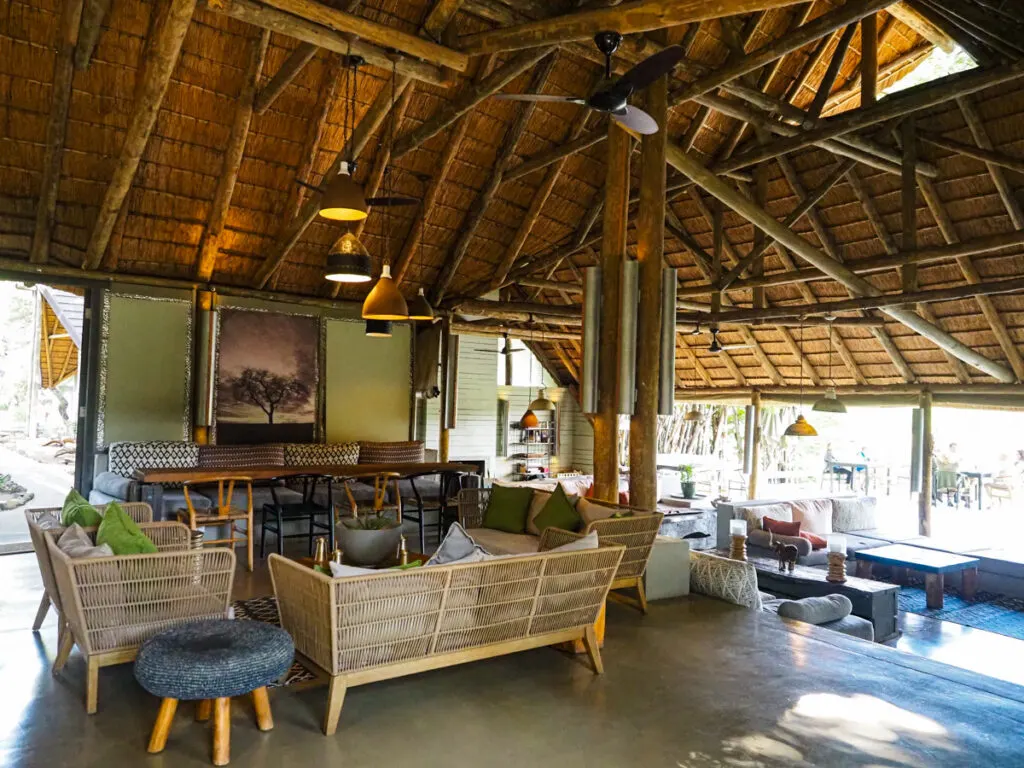 Simbavati River Lodge: Chris and I have stayed at Simbavati River Lodge both times we've visited South Africa and cannot recommend it enough! This place is located near Kruger National Park in the private Timbavati Game Reserve.
As it is a private reserve, you can go off-roading on safari here, and there are far fewer people than in Kruger.
Also, there are no fences so animals come and go from Kruger as they please.
The lodge itself is stunning. The main part has great seating areas, a big viewing deck to see the river, and tons of games for people to play in between game drives. This place also has a pool and spa to pamper yourself and cool off midday.
And the best part is the luxury glamping tents you get to stay in. These canvas tents are just above the ground and have a lovely deck for viewing the river, A/C, a full bathroom and indoor and outdoor shower, plus very comfortable beds.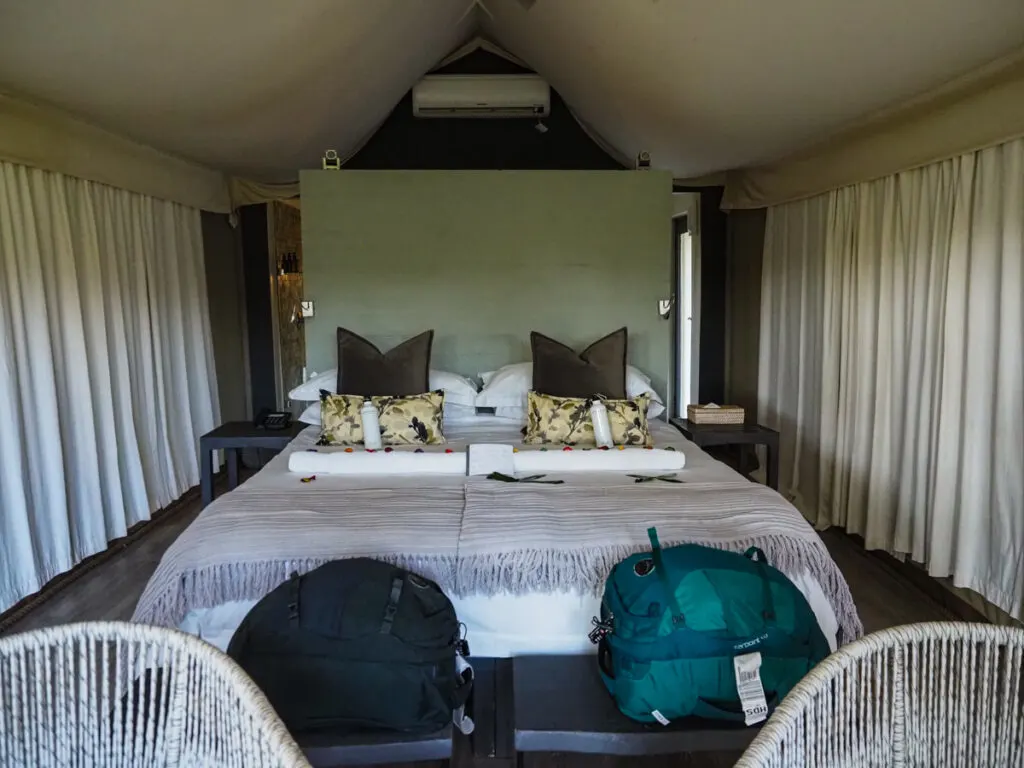 This is definitely where you'll stay in comfort but also up close to nature and wildlife viewing.
Days 3-4: Safari Game Drives at Simbabati River Lodge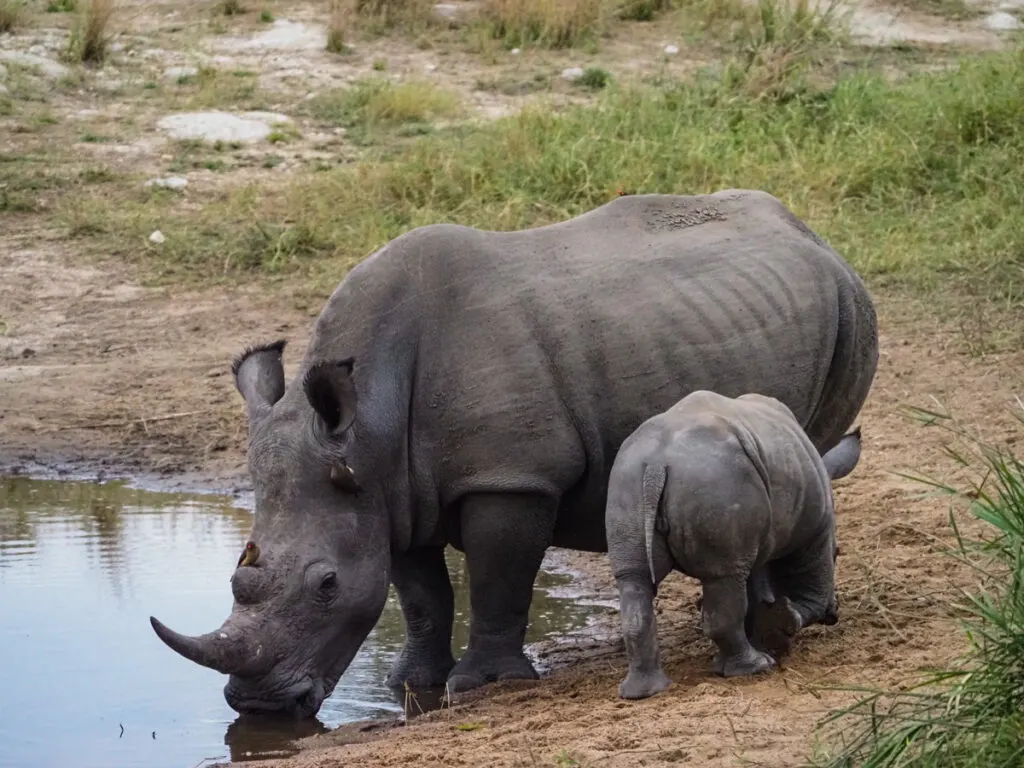 Days 3-4 are pretty much the same with early morning wake-up calls and early game drives. Game drives typically begin around 6 am, just as the sun rises, but the time of year dictates this.
So wake up early, grab a cup of tea or coffee at the lodge, and then be on your way for more wildlife spotting! I find that the early morning hours are ideal for bird watching, with many birds out and about.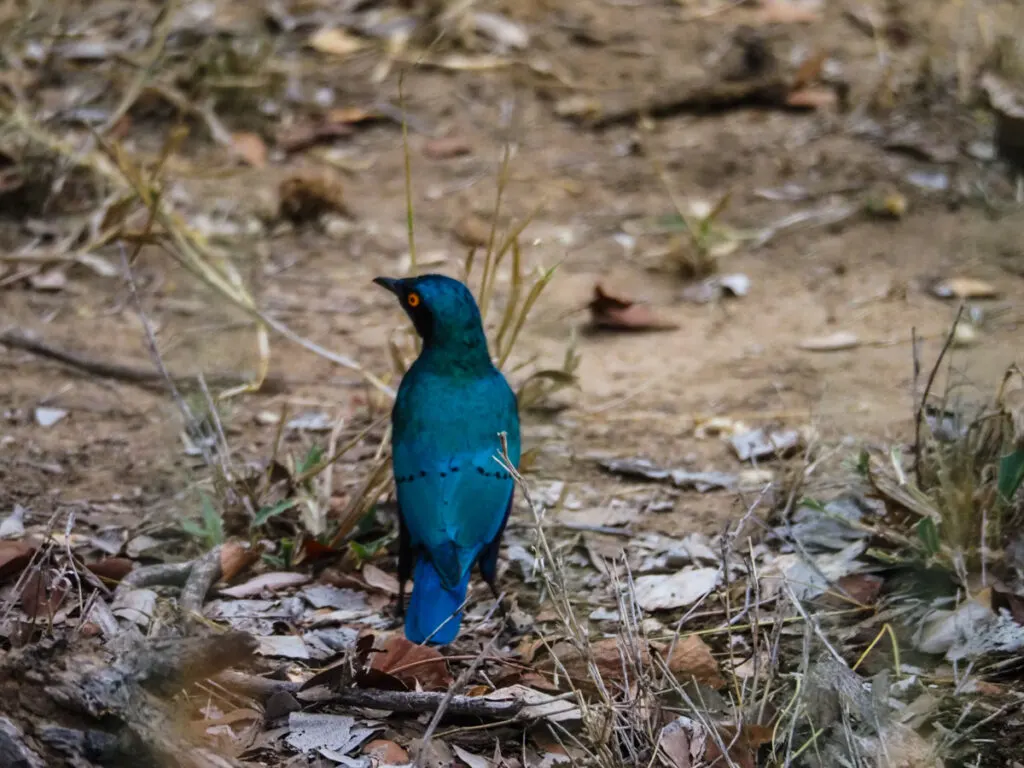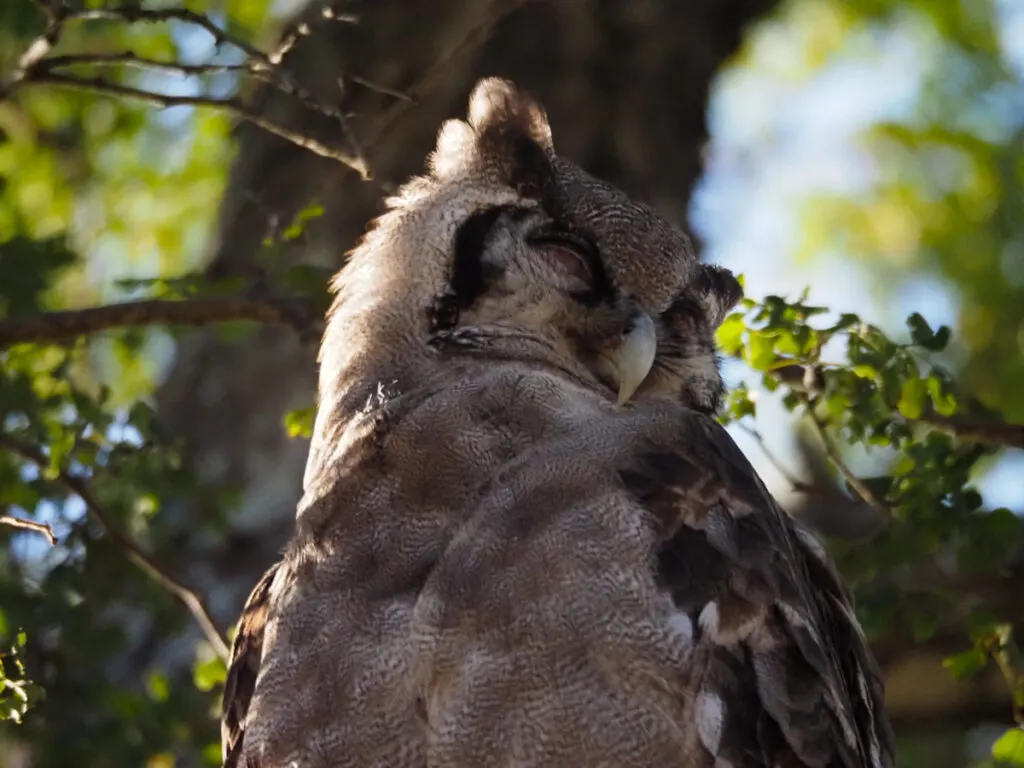 Once it gets a little later in the morning, you'll spot more wildlife! You may even spend a great deal of time tracking an animal with your guide and tracker before finding it. We spent a good amount of time during one morning game drive trying to find a lion and finally spotted him at the end!
It was an exciting moment!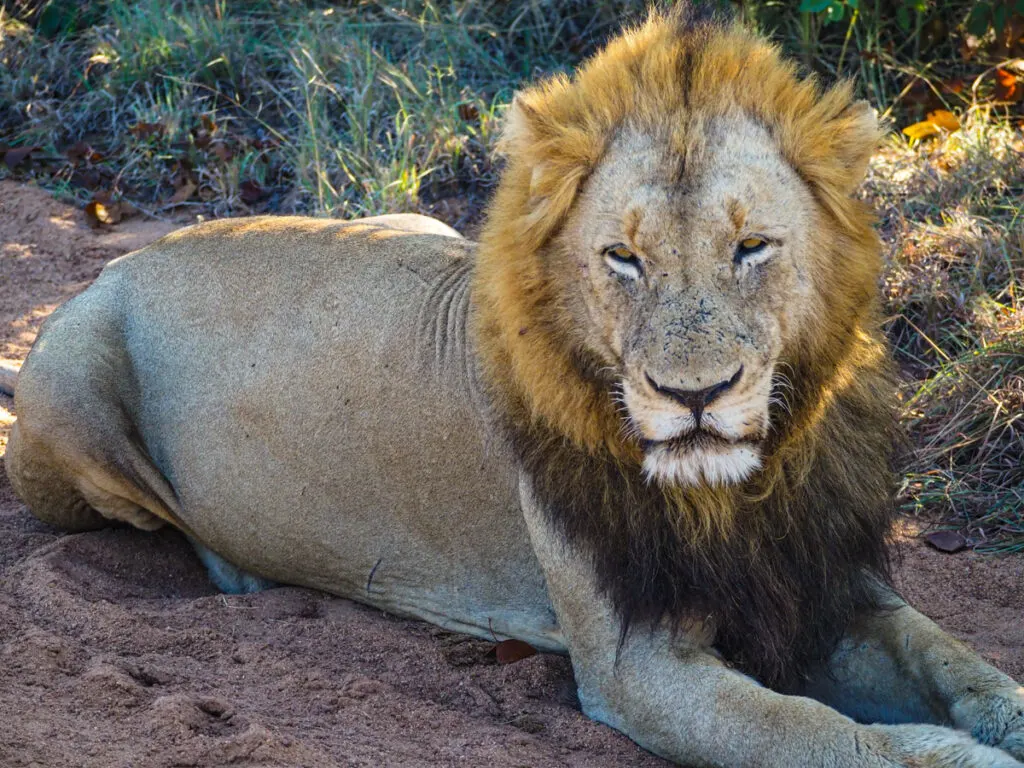 About halfway through your morning game drive, you'll have a coffee stop to stretch your legs. Enjoy a couple of biscuits/butter cookies and coffee before embarking back to the lodge for breakfast.
After breakfast, you've got plenty of time to read, relax, take a nap, swim, or even get a massage or facial before the evening game drive.
Lunch is served at midday and then you go back on safari in the midafternoon.
And just before your game drive, there is time for tea if you'd like it.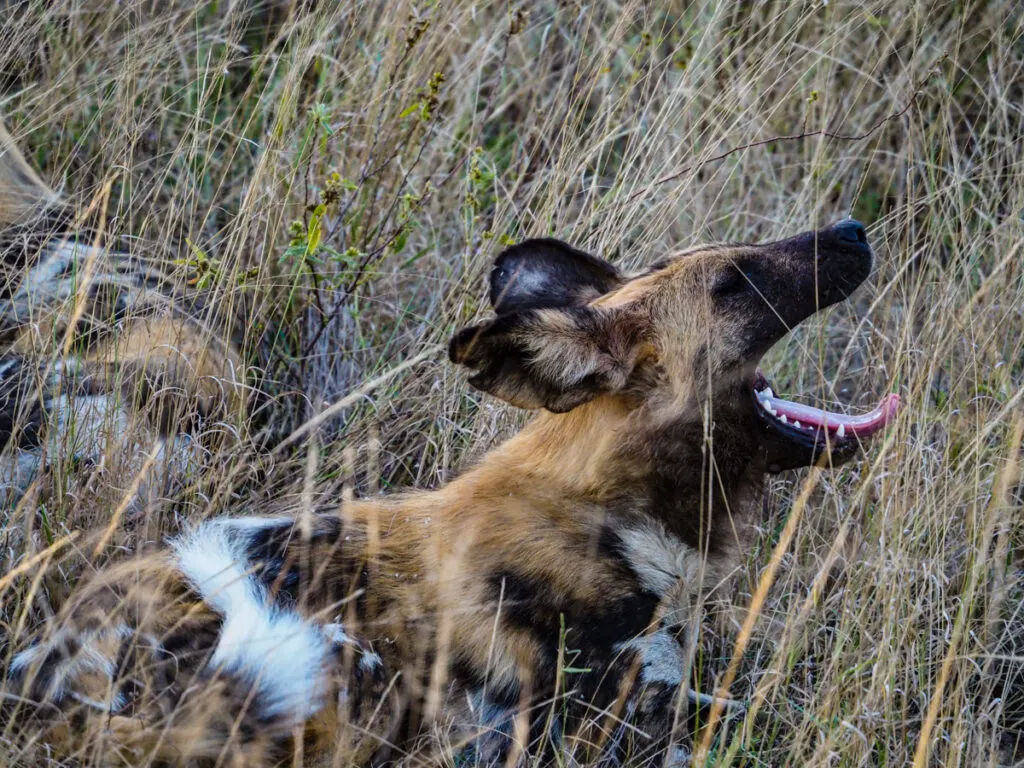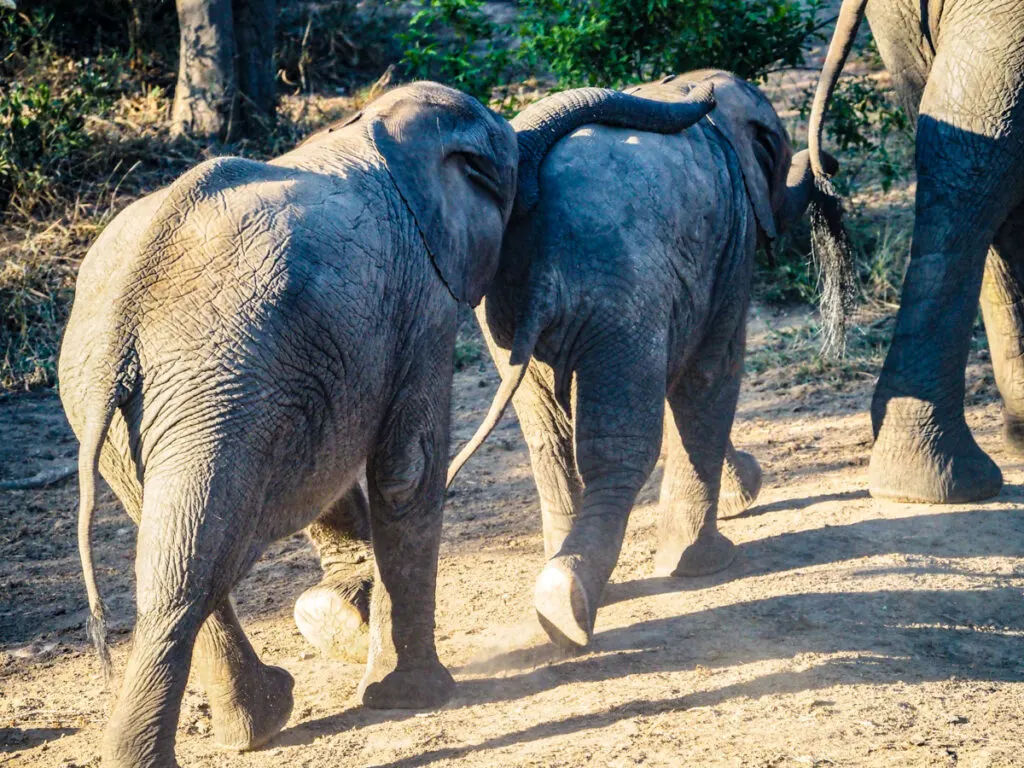 I highly recommend spending a few days out on safari during your 10 day safari and city South Africa itinerary. There is something new to find during each game drive! Try to spot the big 5 and see baby animals, birds, and more!
Then, you have dinner and repeat the process on day 4.
Pro-tip: Be sure to pack sunscreen and bug repellent!
Day 5: Fly to Cape Town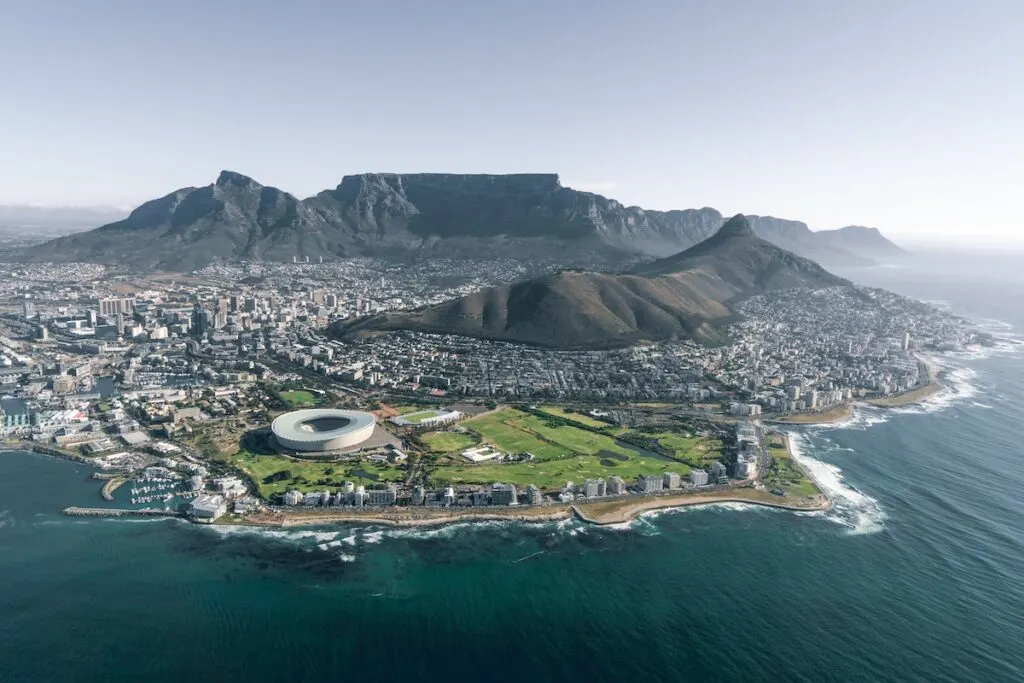 After 2 full days on safari, plus an evening on day 2, it is time to wrap up your stay at the Simbavati River Lodge.
However, you will have the chance to go on one last game drive and have breakfast before driving back to the Hoedspruit airport and flying down to Cape Town.
This is a longer flight, about 3 hours or so, and then you'll arrive in Cape Town in the late afternoon.
So this is a good opportunity to get settled into your hotel, and perhaps grab dinner near the V&A Waterfront. We loved Harbor House on the V&A Waterfront for its scrumptious seafood and delicate wine.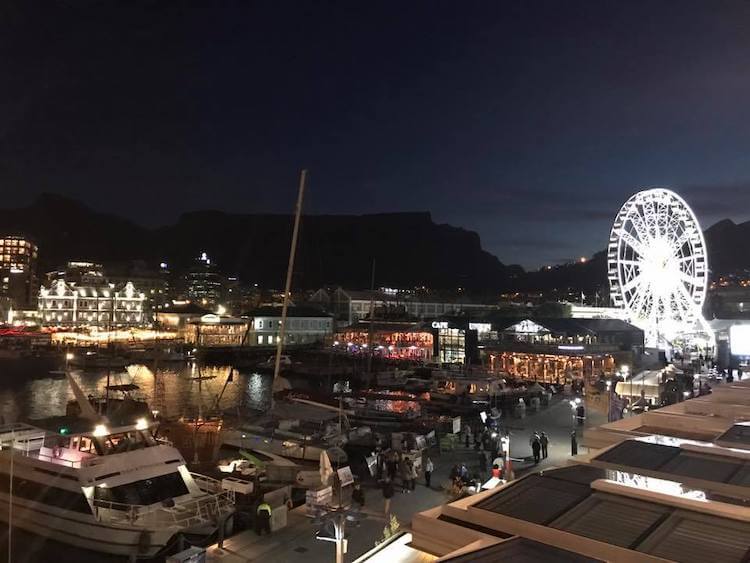 After dinner, you'll want to get to bed as tomorrow is an earlier day.
Note that you'll be basing yourself in Cape Town for the next few days and taking a couple of day trips and exploring the city.
Where to Stay in Cape Town: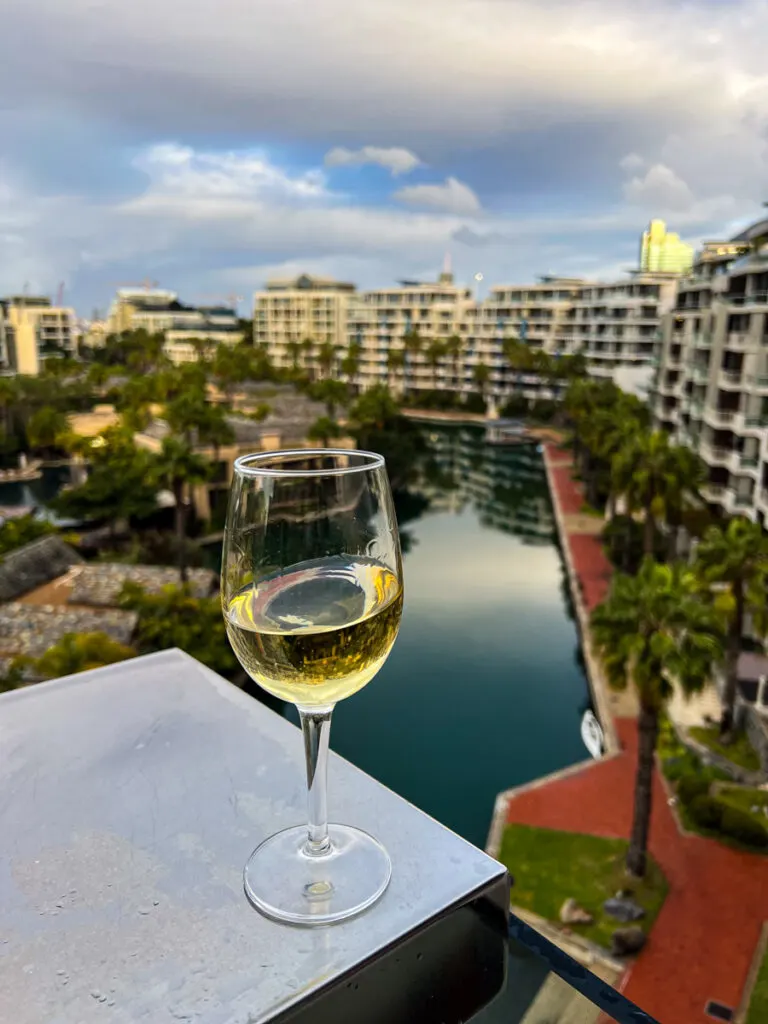 Since you have a shorter amount of time in Cape Town, it isn't a bad idea to stick to the more central part of the city. I recommend the V&A Waterfront Area and Green Point versus Camps Bay for this. Here are some hotels in that area to check out:
One&Only Cape Town: This hotel is on the V&A Waterfront and tucked away, so it is nice and quiet. This place has some of the largest hotel rooms in the city. Plus, they have a spa and gym as well as Africa's only Nobu.
Radisson Blu Hotel Waterfront: Located in Green Point and close to the V&A Waterfront, this place overlooks the ocean and has a great pool with ocean views too. It is also close to the Sea Point Promenade if you want to go for a walk along the ocean during your stay.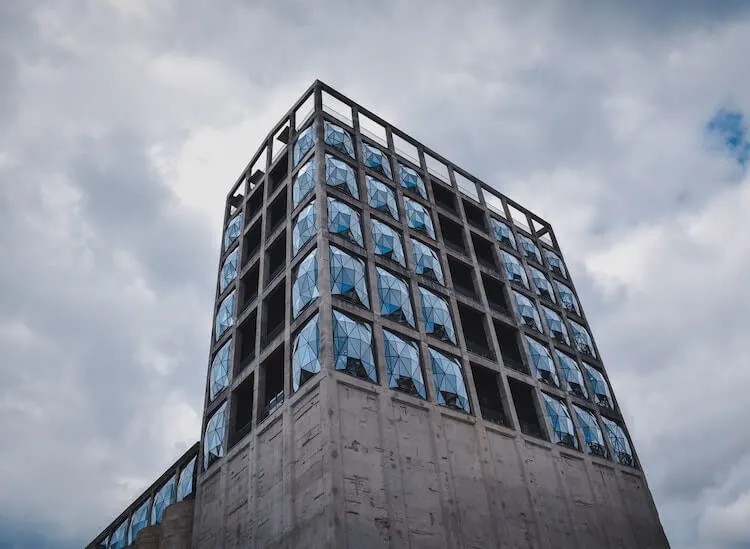 The Silo Hotel: Okay, this place is definitely one of the most (if not the most) expensive hotels in Cape Town. So if you are looking to splurge, this is the place. The rooms here are nice and spacious with floor-to-ceiling windows, there is a rooftop bar and terrace, a spa, and its own art gallery. Plus, it is conveniently located on the V&A Waterfront and is above the Zeitz-MOCAA museum.
Day 6: Shark Cage Diving or Whale Watching in Gansbaai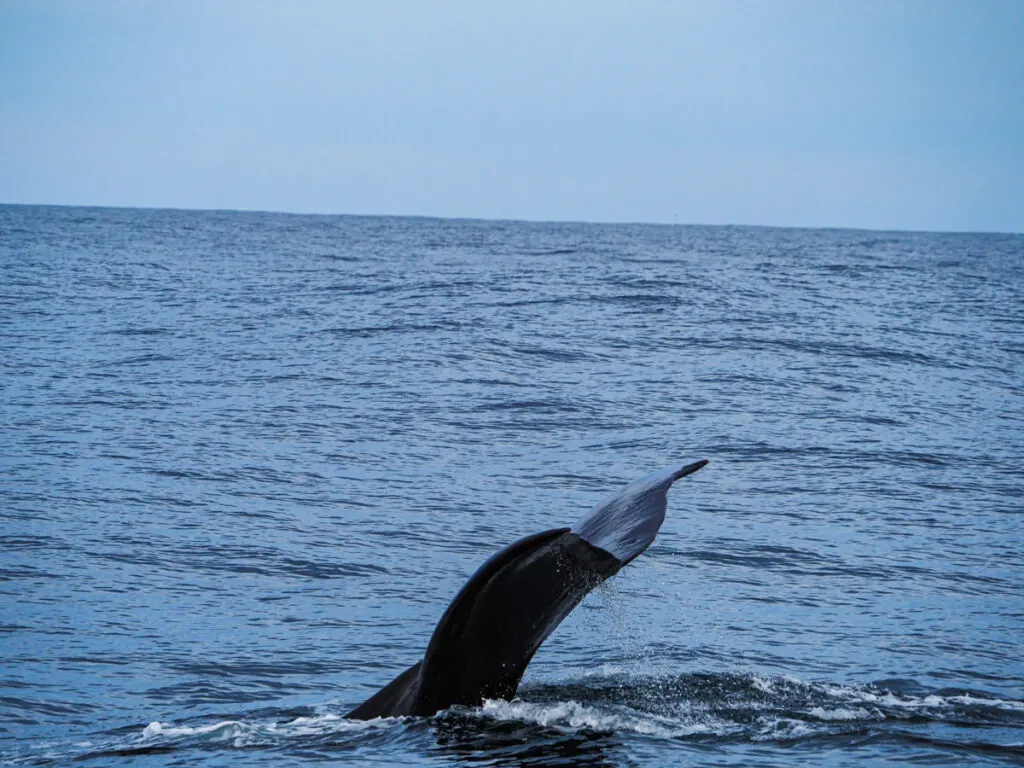 On this day, be prepared for an early wake-up and you'll be whisked off to Gansbaai to either enjoy a morning of shark cage diving or Marine Big 5 spotting/whale watching.
I highly recommend Marine Dynamics for either tour, as they include a marine biologist on every boat, do a great job educating about the environment and conservation, and just always do a great job.
Book your shark cage diving tour here!
Book your whale watching/Marine Big 5 tour here!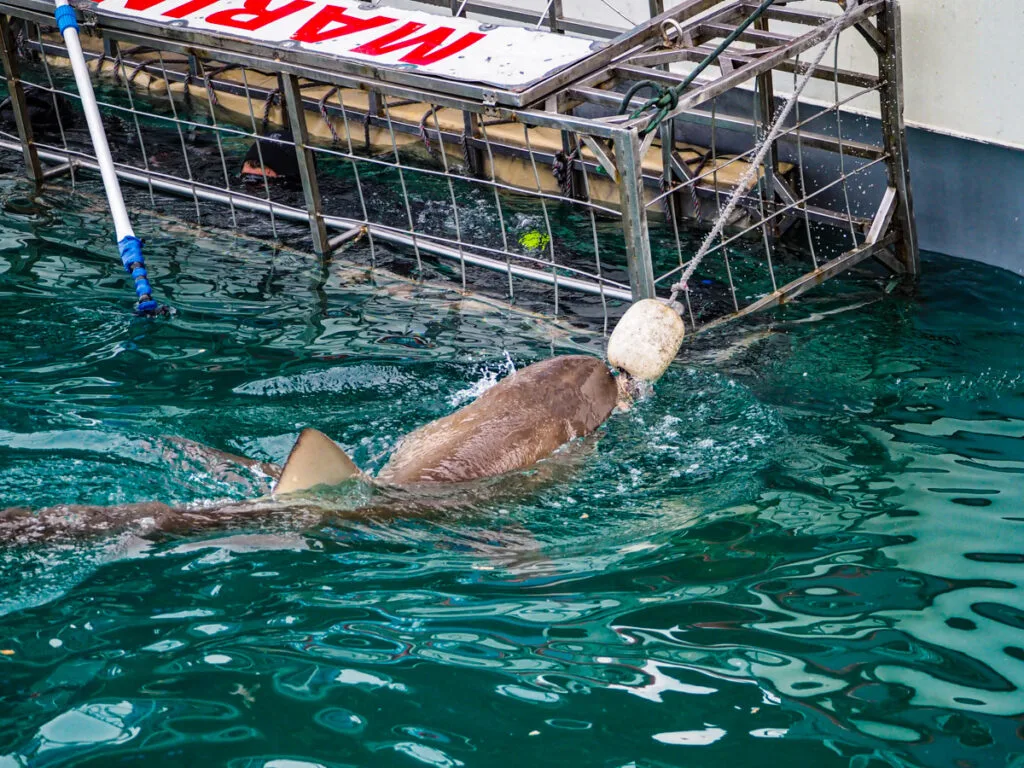 On our first visit, Chris and I both went shark cage diving and had the chance to spot a few great white sharks as well as a giant stingray. However, this isn't a guarantee these days as orcas have been hunting and driving out the great white sharks in the area.
Chris and my dad went shark cage diving this time around and managed to see both bronze whaler sharks and a great white shark!
My mom and I decided to do the Marine Big 5/whale-watching tour instead. The Marine Big 5 includes sharks, whales, dolphins, seals, and penguins. This also includes a stop to Dyer Island, where you'll spot the 60,000 resident cape fur seals.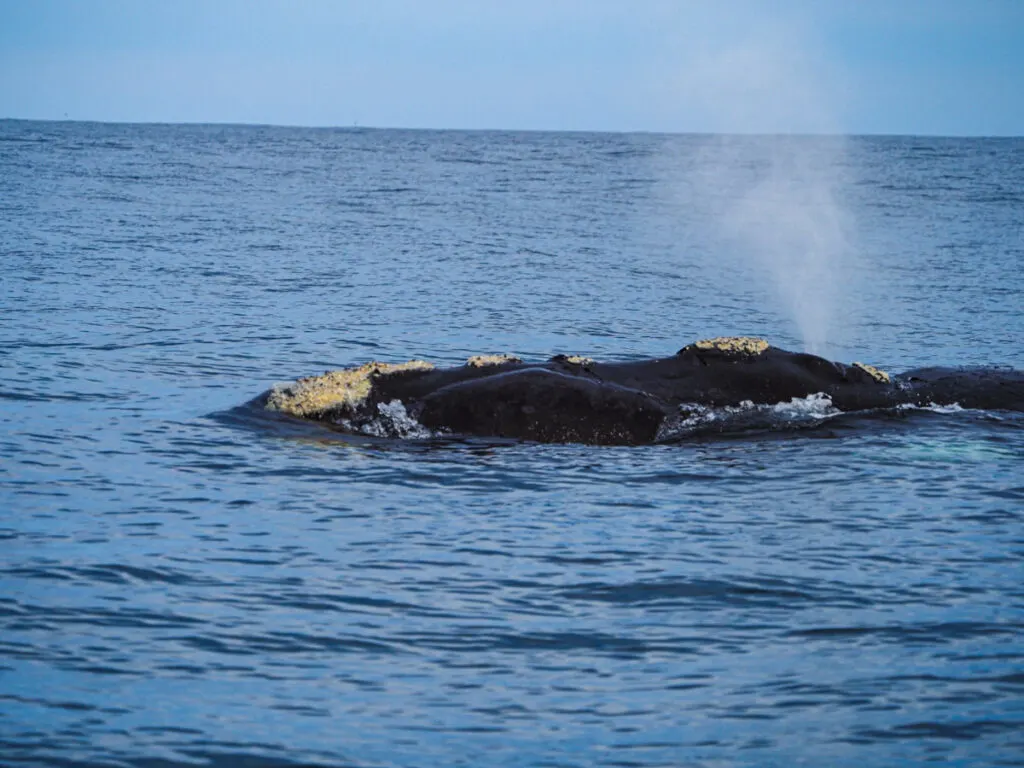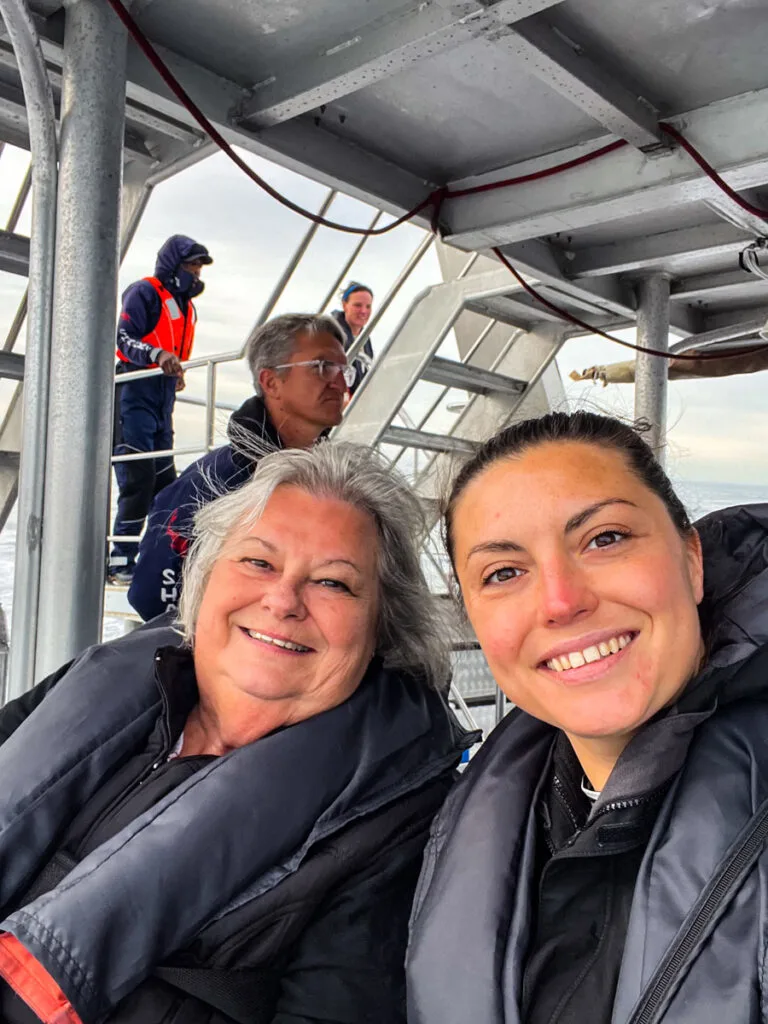 We were able to closely view southern right whales, a Bryde's whale, bronze whaler sharks, penguins, and seals.
It was such a fun experience to get so close and admire them as they gracefully swam around.
I really enjoyed both after having done both tours during my visits to South Africa, but you'll likely only have time for 1. I will say that if seeing sharks up close has been a bucket list thing for you, then do the shark cage diving.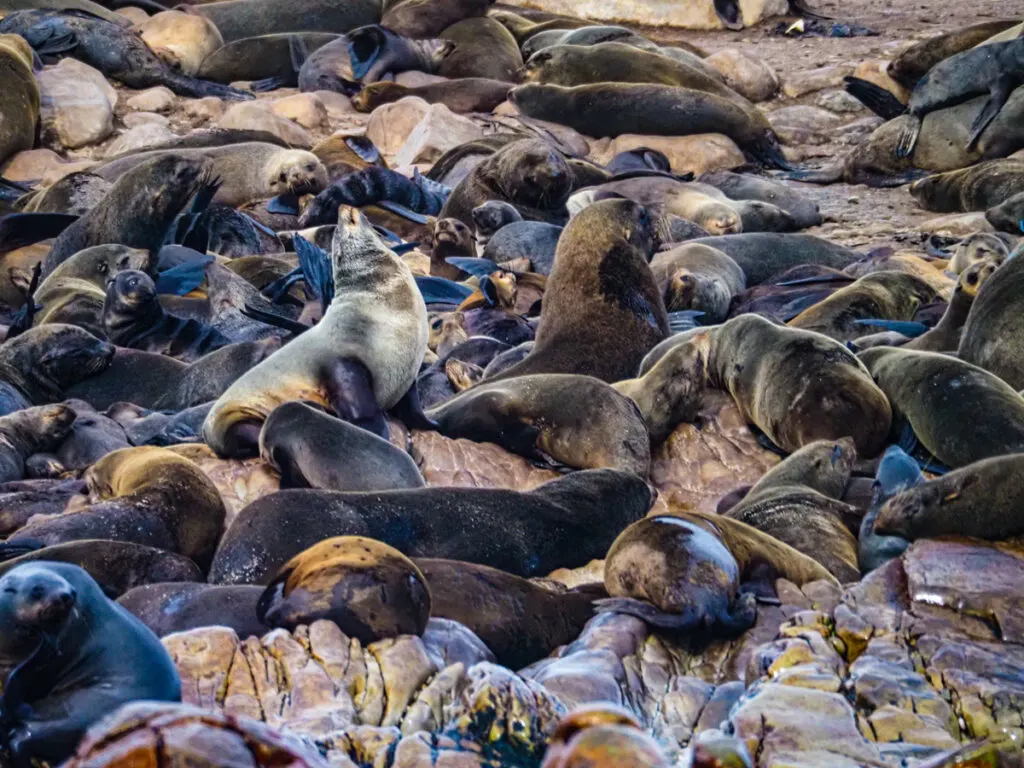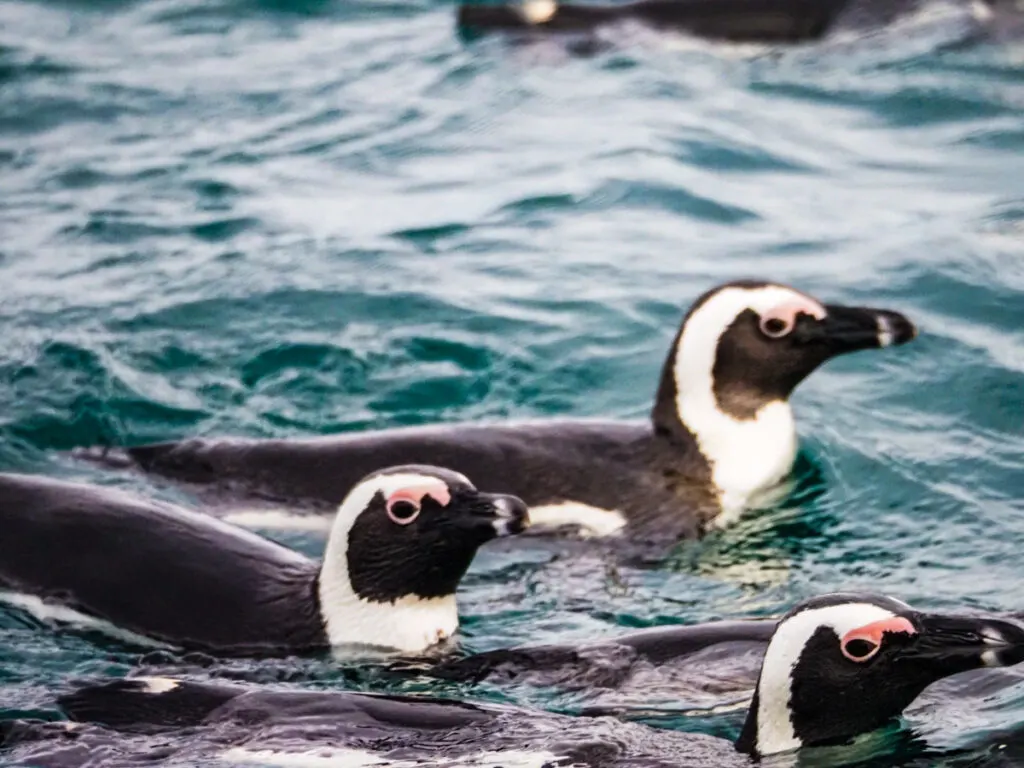 However, if you want to view more wildlife and get close to Dyer Island and the seals, then the Marine Big 5 tour is for you!
Either way, you'll want to pack something for seasickness if you are prone to it. Chris tried out these wristbands and thought they worked well.
After spending the day in Gansbaai, you'll make the journey back to Cape Town for dinner.
Depending on the time of the day you return, you could take an Uber Black out to Groot Constantia and have dinner at the delicious Jonkershuis. This place has amazing Cape Malay cuisine and other local dishes.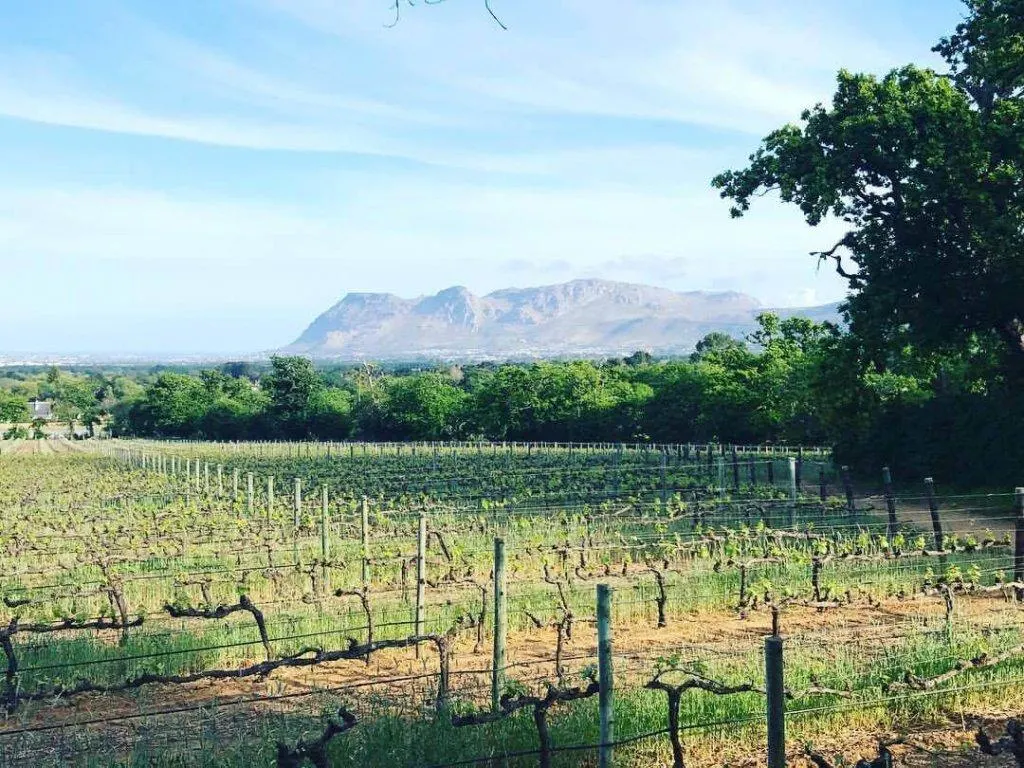 Now this place is only open for dinner on Friday and Saturday, so you won't be able to have dinner here if you get back too late or during the week.
If you're getting back late, it is a great time to maybe split a bottle of wine at the hotel and perhaps order in a Gatsby sandwich from Uber Eats.
This is a Cape Town classic sandwich and it is huge! You only need to order 1 for 2-4 people depending on how hungry you are.
This sandwich is comprised of fries, veggies, and either chicken or steak covered in sauce. There can be any number of meats that you may be able to have in it, but either way, this is a delicious thing to try while in Cape Town.
Day 7: Day Trip to the Cape of Good Hope & Boulders Beach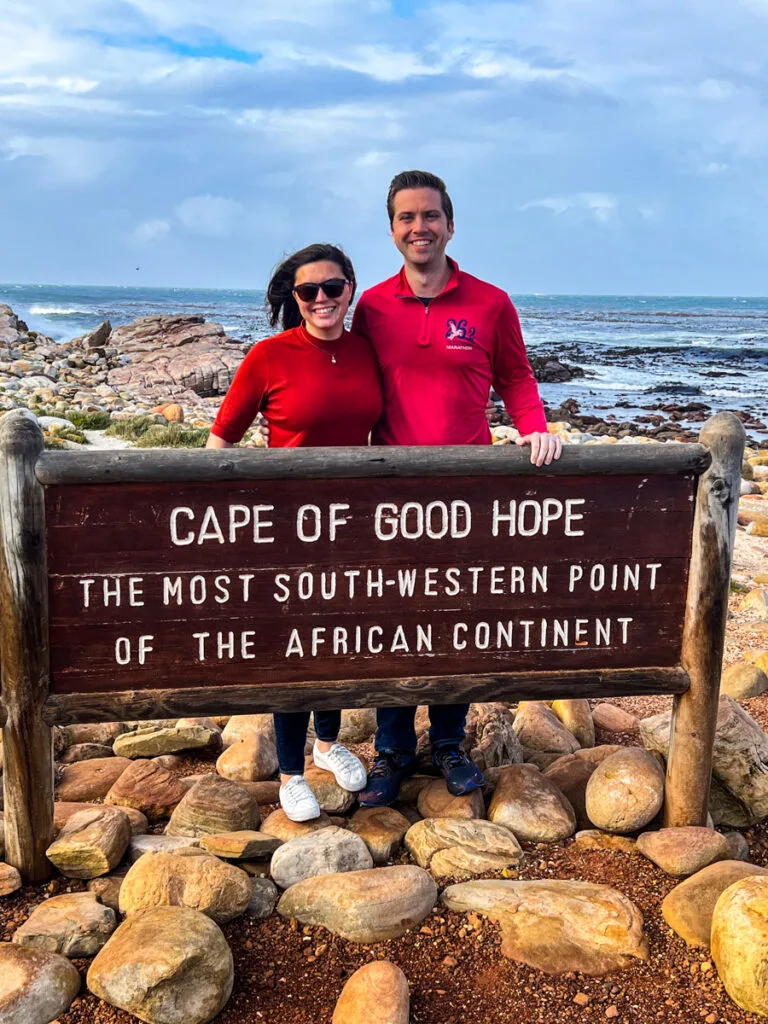 Today you'll want to get up and grab a cup of coffee at one of the best coffee shops in Cape Town: Origin Coffee.
I know Truth Coffee gets so much attention, and it is good, but we love Origin Coffee. It isn't too far of a walk from the V&A Waterfront either, depending on where you're at.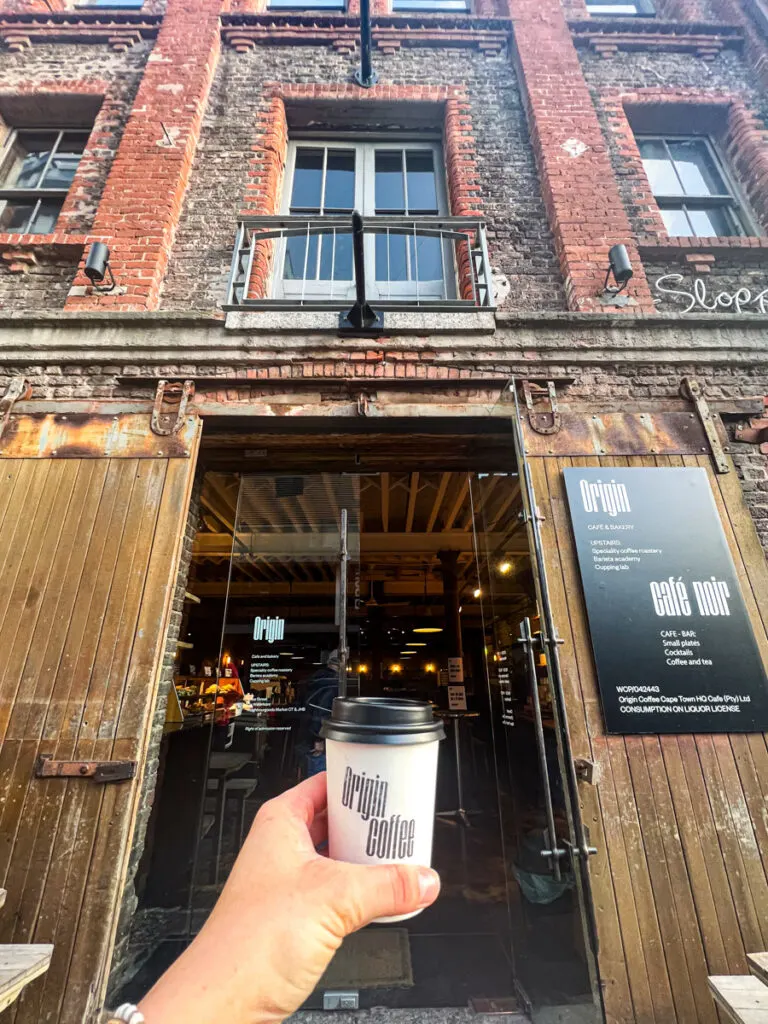 I recommend getting a pastry and flat white before getting picked up for your Cape of Good Hope Tour.
You'll get to admire the mountains as you drive out to the Cape of Good Hope Nature Reserve, and you may perhaps spot some ostriches on the way!
Take a photo at the Cape of Good Hope sign, then head to the Cape Point Lighthouse. Here, you can either hike up to the top or take the funicular most of the way up. The views of the sea and surrounding nature reserve are breathtaking!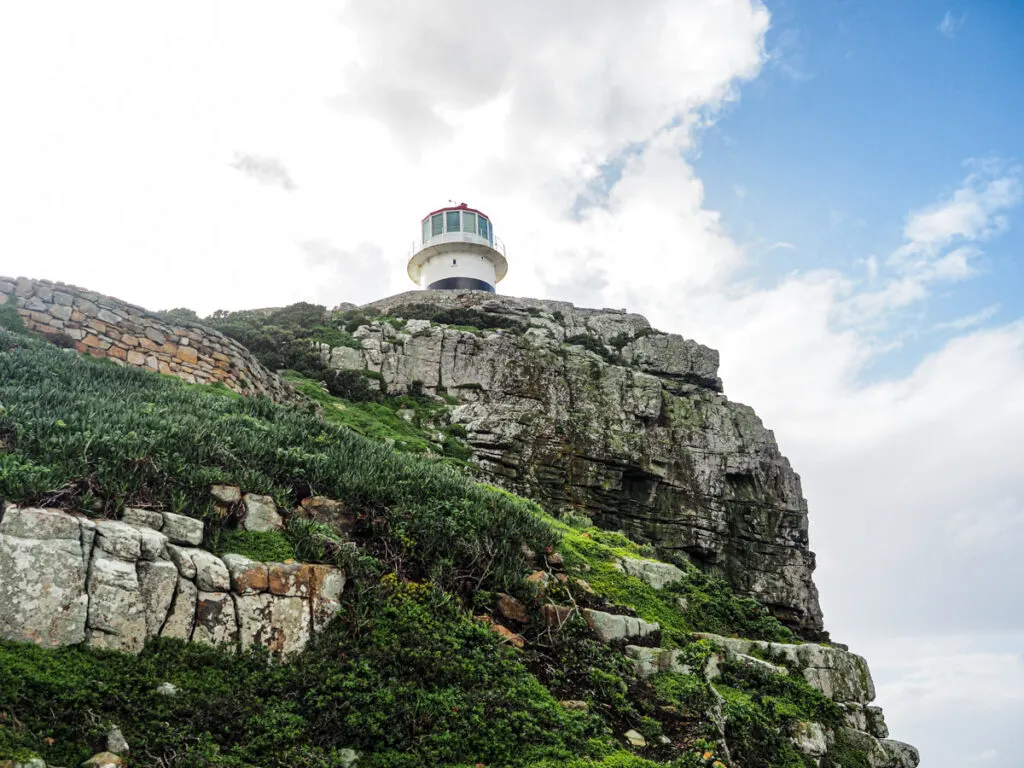 From there, you'll hop back in the van and head over to Boulders Beach in Simon's Town. Here is where the adorable colony of African penguins is located.
Admire the views of the beautiful beach and its boulders, the crystal clear water, and the cute little penguins either waddling, napping, or swimming nearby.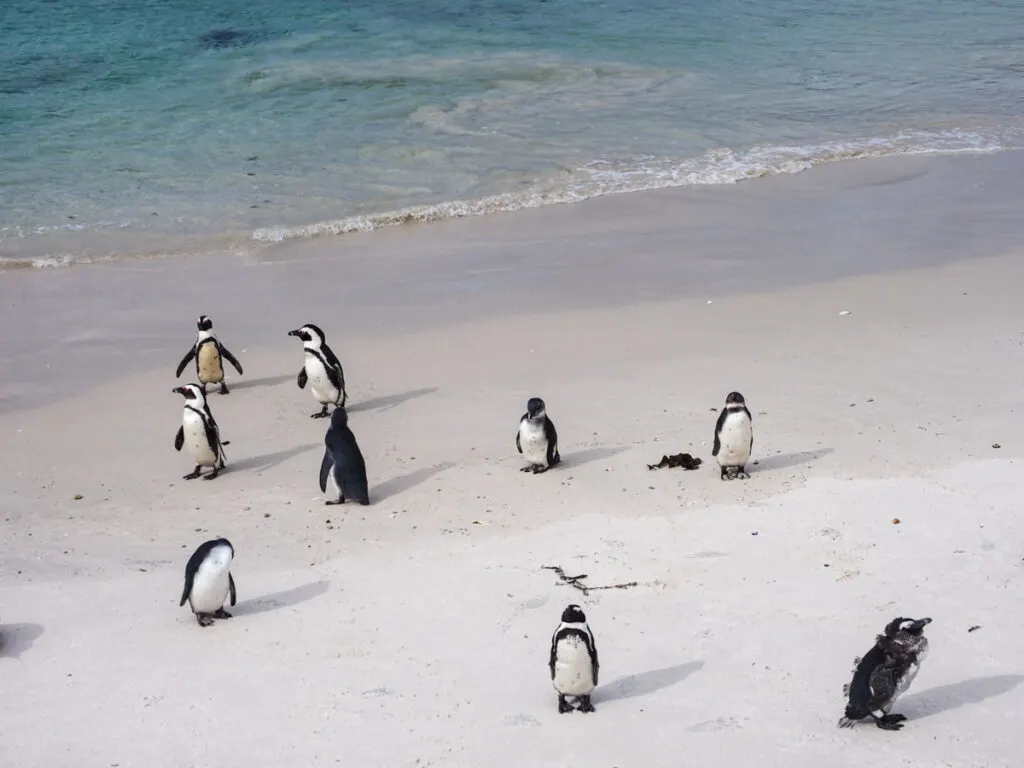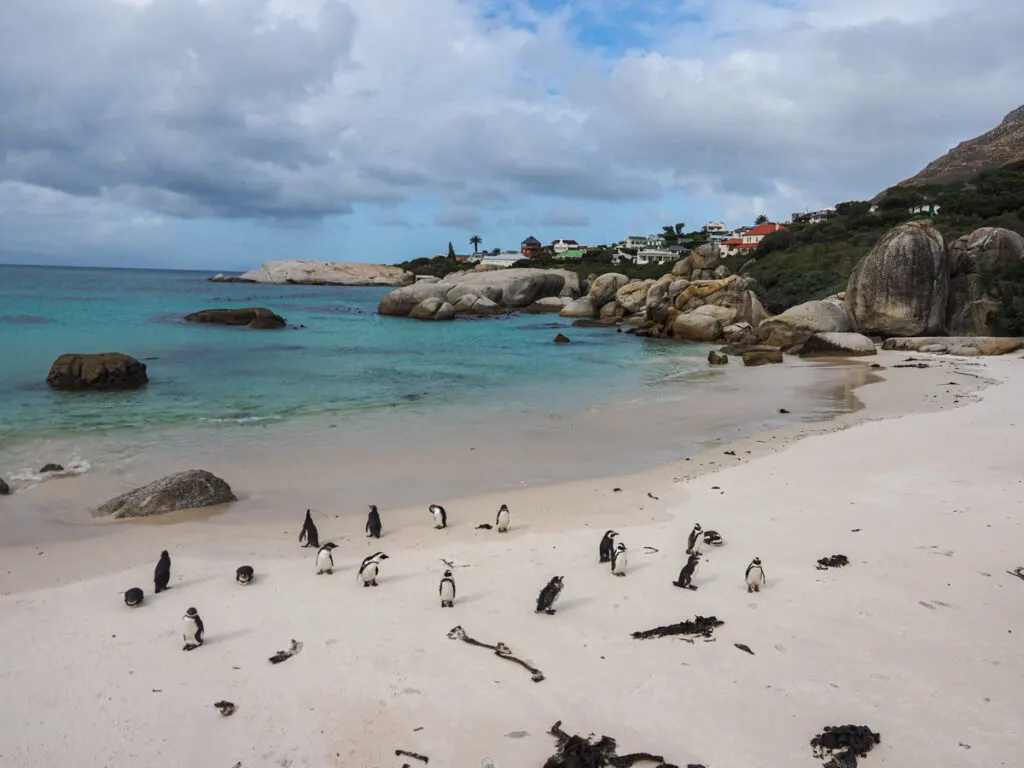 Then, you'll grab lunch in Simon's Town before heading back to Cape Town in the afternoon.
Many tours and drivers actually offer a visit to Kirstenbosch Gardens on the way back, which I highly recommend. If they do not, I recommend getting an Uber Black over there to check it out after the tour.
This is a stunning area at the base of Table Mountain with so many colorful flowers and other flora and fauna. If you want to really see it shine, go in September when the spring flowers are blooming.
However, if you're here during the winter months of May, June, and July, it could likely be raining and not as pretty. Then, I suggest going to Steenberg in Constantia for a wine tasting.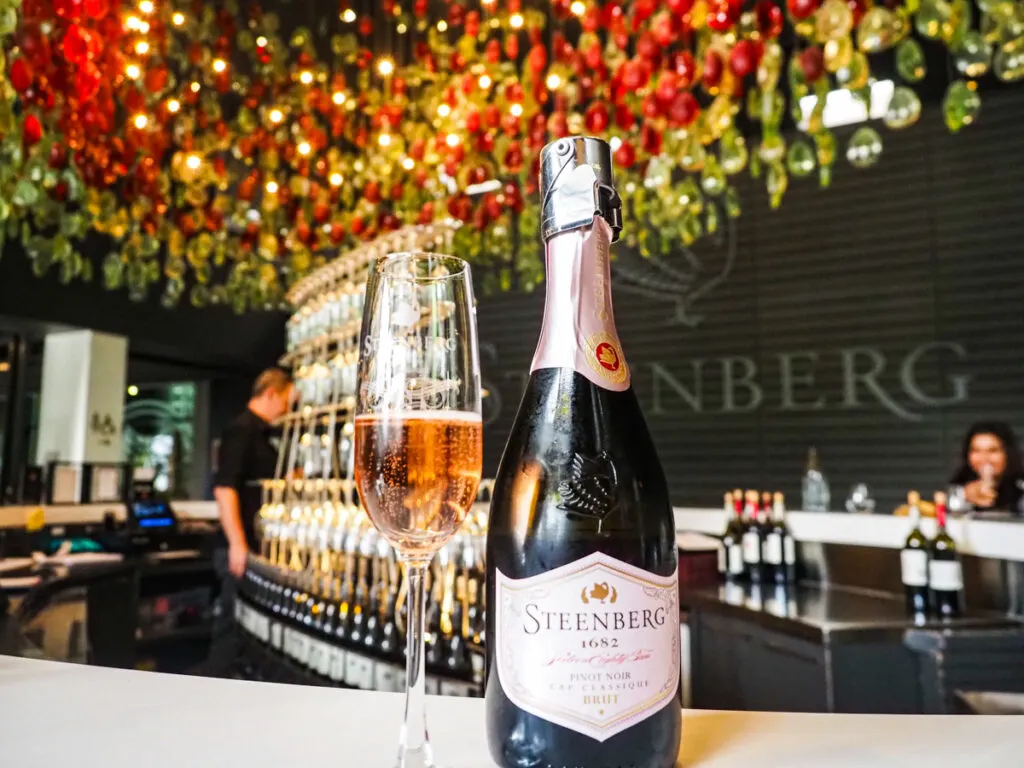 This vineyard has some delicious wines, especially their Cap Classique sparkling wines. So you can spend the afternoon enjoying a tasting before heading back to the hotel.
For dinner, I highly recommend making a reservation at the CodFather in Camps Bay. This is a great opportunity to see a little of Camps Bay and this is my favorite seafood spot in Cape Town.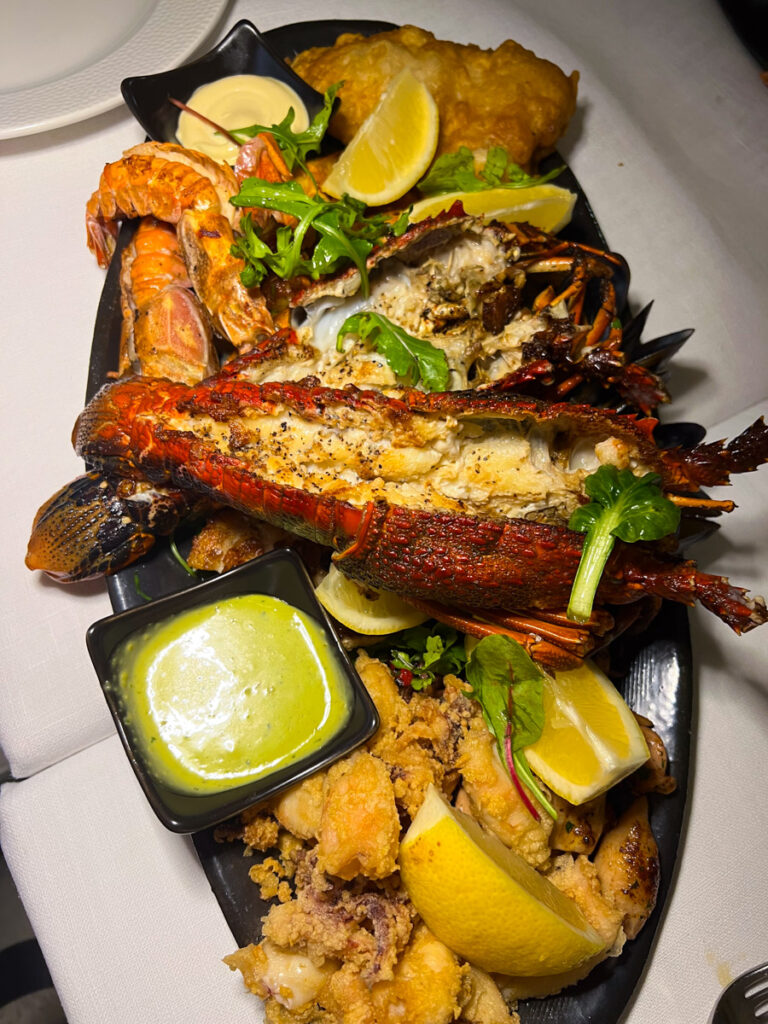 There aren't any menus here! You just go to the fish counter, order up what you'd like, and they cook it and serve it with dipping sauces and sides.
There is also a revolving sushi bar with great sushi to try too. This makes for a great place to eat during your 10 day South Africa tour!
Day 8: Full Day in Cape Town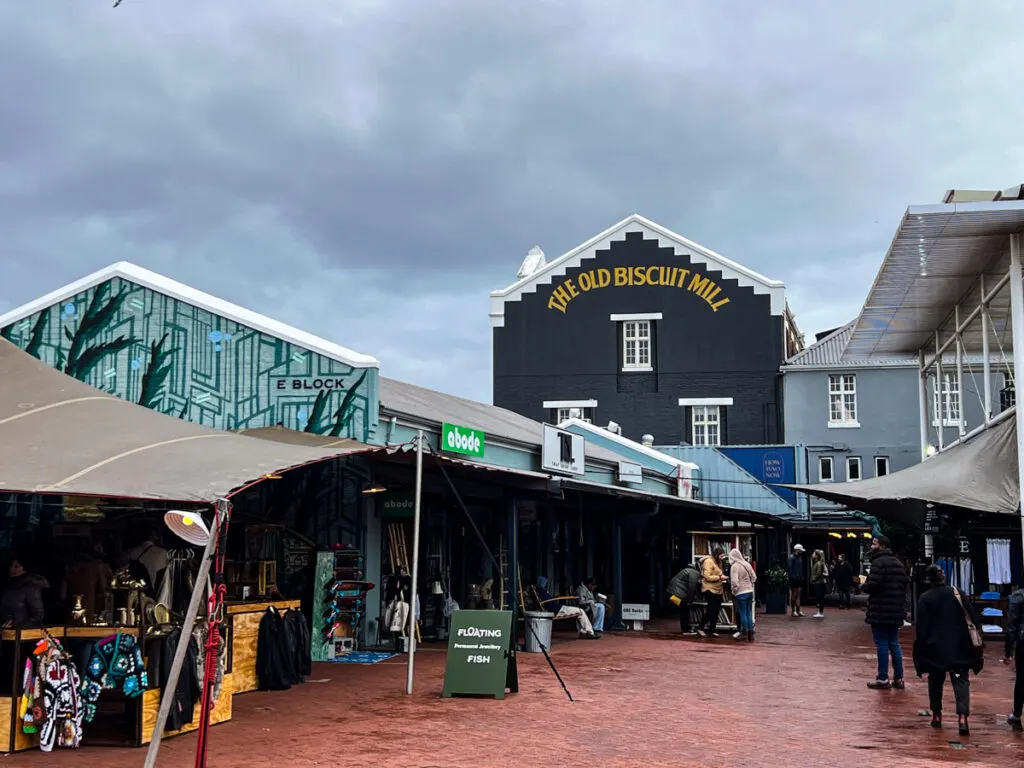 Today is your last day in Cape Town and you'll actually be able to really enjoy the full day here!
If it is a nice day, you can start your morning off by hiking up Table Mountain or Lion's Head! However, this is weather dependent. We managed to hike up Table Mountain on our first visit in September of 2017, but on our recent visit in May, the free day we had in Cape Town was foggy and windy.
This takes quite a bit of time to hike up, so most of your morning will be spent doing this. Just be sure to pack plenty of water (at least 2 liters a person) and snacks for the hike. It is well worth the stair-step-like ascent to enjoy the views of the city and ocean from the top.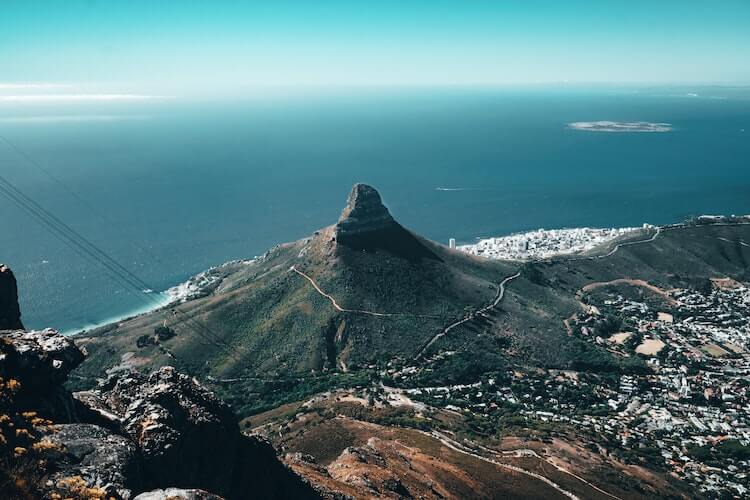 If you would like, you can either hike down or give your legs a rest and take the cable car down. Or if you prefer, you could just take the cable car up and down the mountain.
After your time at Table Mountain, it is time to get cleaned up and head over to the Old Biscuit Mill. I highly recommend timing your visit and full day in Cape Town for a Saturday or Sunday (preferably a Sunday) so that you can enjoy the awesome Neighbourgoods Market at the Old Biscuit Mill.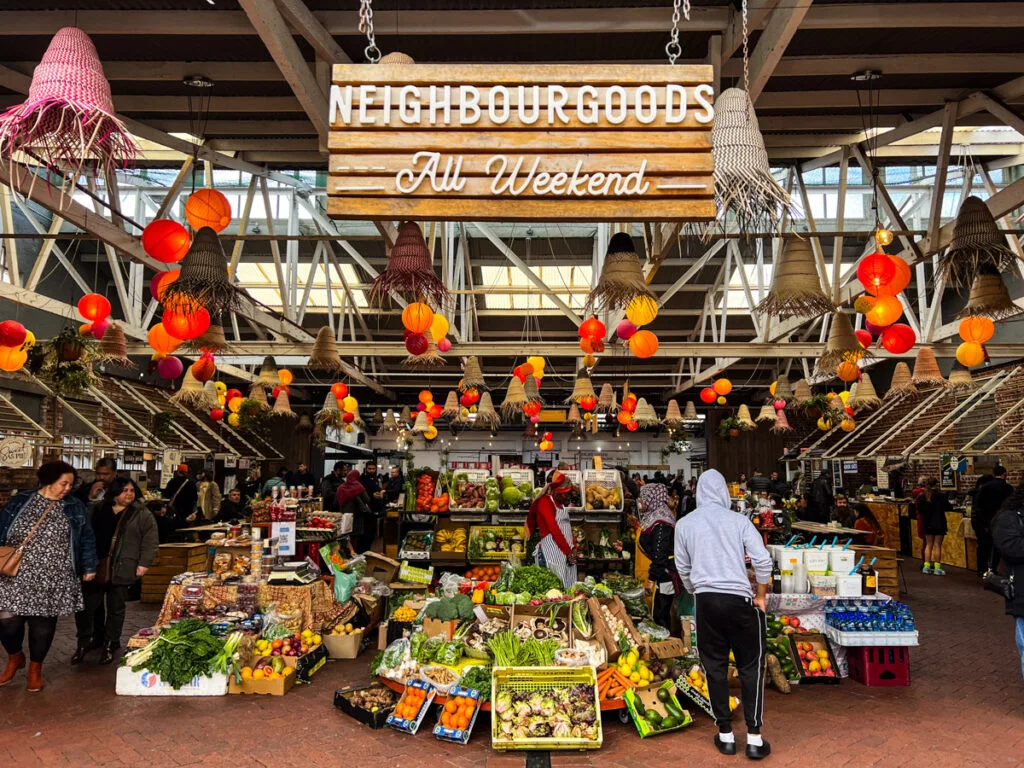 It is only open on Saturday from 9 am-5 pm and Sunday from 10 am-4 pm. But this place is full of fantastic stands selling all kinds of food from around the world. We tried Cape Malay curry, a kudu sandwich, tteokbokki, and more!
Plus, they have a couple of bars set up selling local beer and wine, and there is live music or a DJ playing.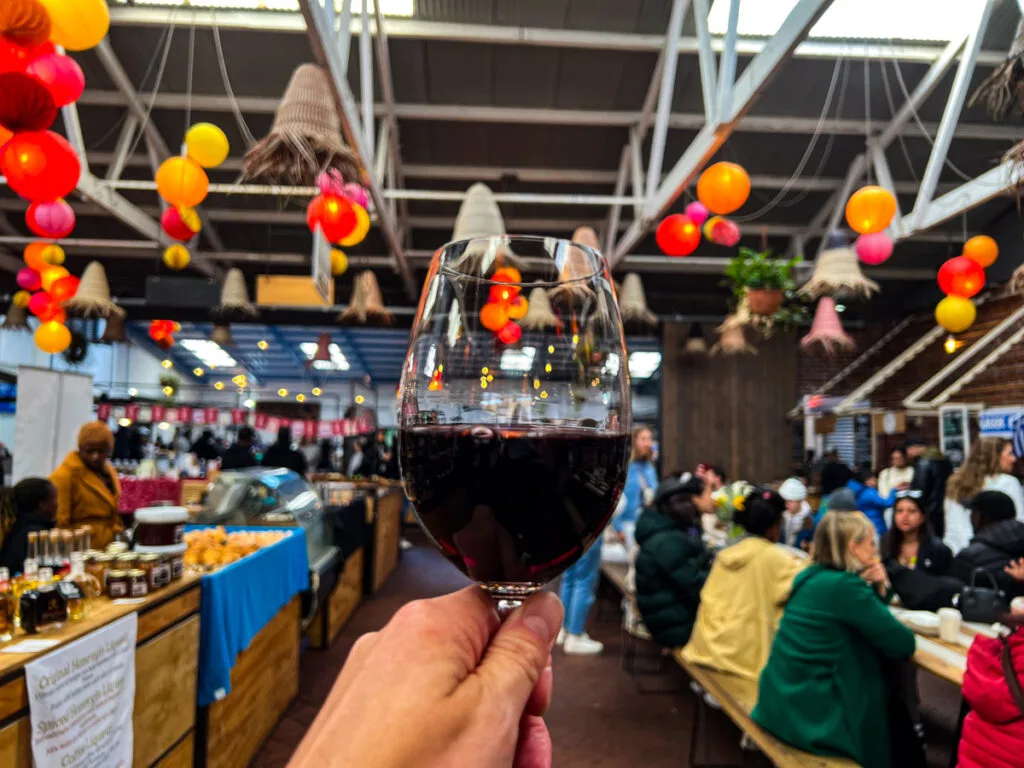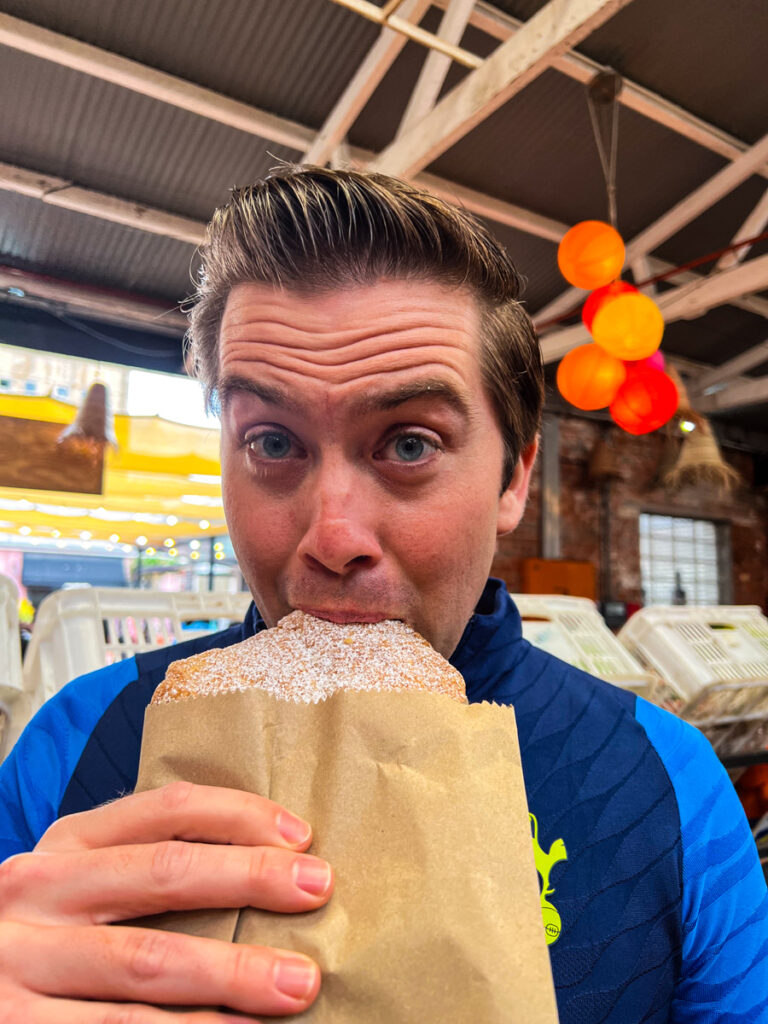 So this is a great spot to grab some lunch, wander around, and even do a little shopping at the craft and clothing stands set up.
After that, you may want to wander around the V&A Waterfront as well to get a souvenir at the Watershed Market or see the sea lions on the sea lion platform next to the aquarium.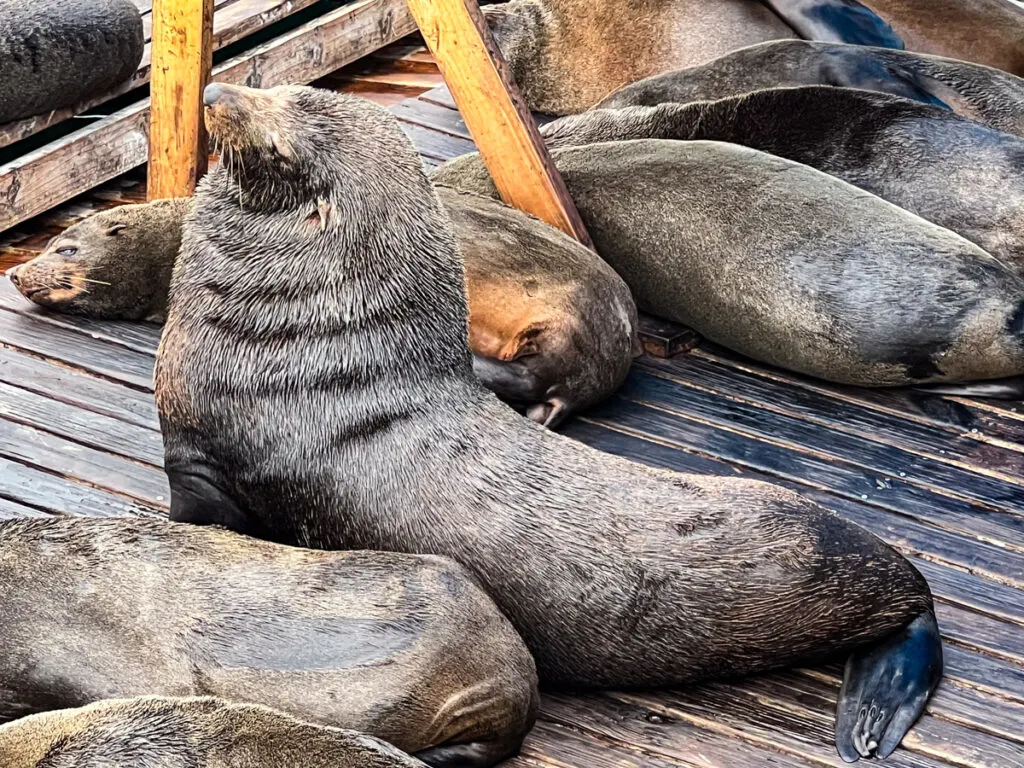 And if you've got the time, definitely walk around Bo-Kaap. This neighborhood, formerly known as the Malay Quarter, is home to several beautifully painted buildings.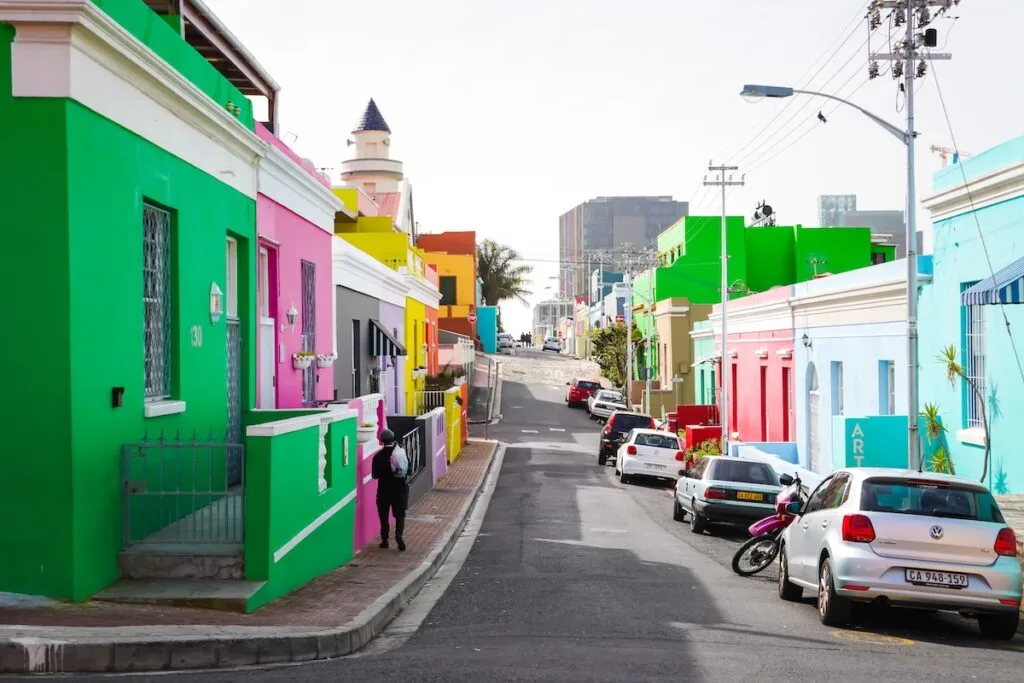 Then, for dinner, definitely check out Belthazar on the V&A Waterfront. This is a great place to try game meat like kudu, ostrich, and impala as well as get a great steak.
This restaurant also has the largest "wine by the glass" bar in the city with over 250 wines you can try by the glass.
After that, it is time to have your final evening in Cape Town before leaving for the Winelands the following day.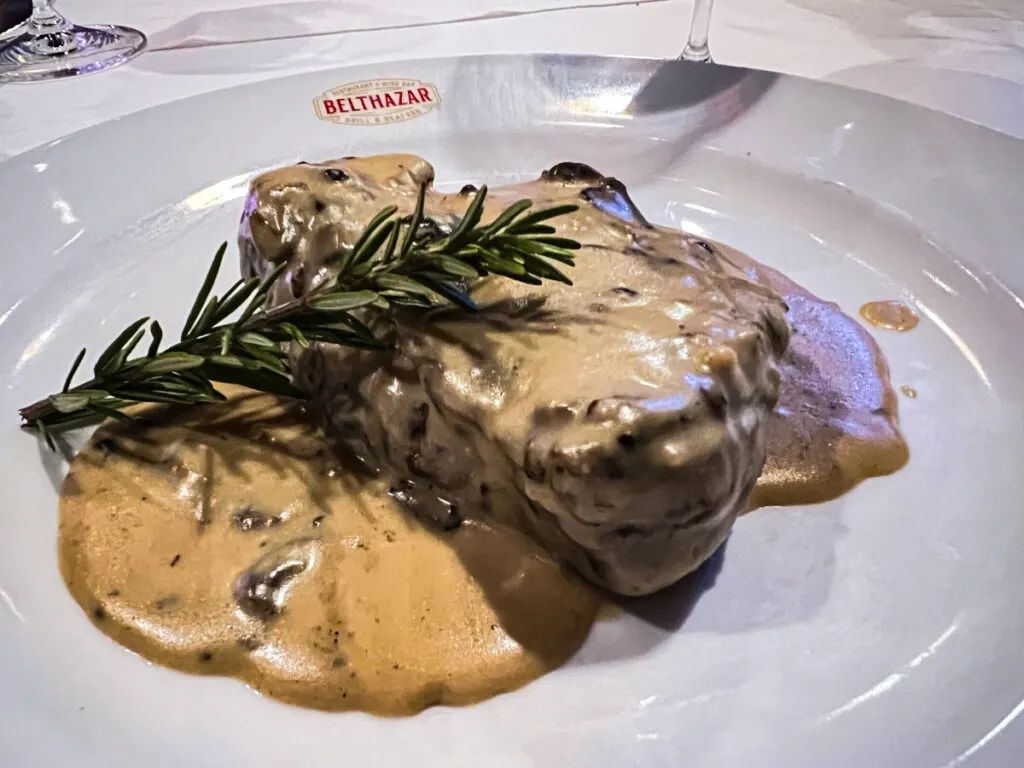 Day 9: Head to the Winelands and Enjoy the Franschhoek Wine Tram
The final 2 days of your South Africa travel itinerary in 10 days will be in Franschhoek in the Cape Winelands.
To begin, you'll get a ride (Safari365 arranged this for us) to your hotel in Franschhoek to drop off your luggage before going to the Franschhoek Wine Tram stop.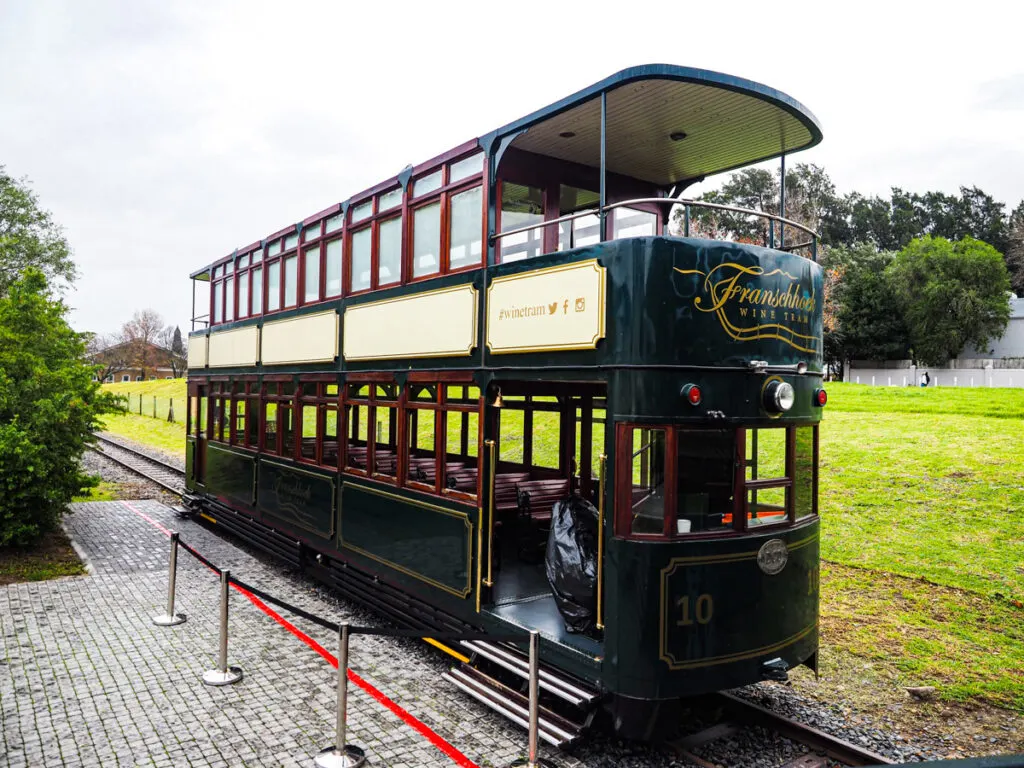 The Franschhoek Wine Tram is the most adorable tram with several lines to choose from depending on which wineries you'd like to visit. Each line has more wineries than you could possibly visit in a day, so pick a few to try and go.
I suggest booking your tram line ahead of time, as this can be busy depending on when you visit. We ended up picking the orange line during our time there and booked online.
They will either give you a time schedule or you can get it online to keep track of when pickups and dropoffs at wineries are. Just be sure to be on time! Most stops are timed for an hour so you can either choose to stay longer and have more wine and lunch, or you can go to the next place.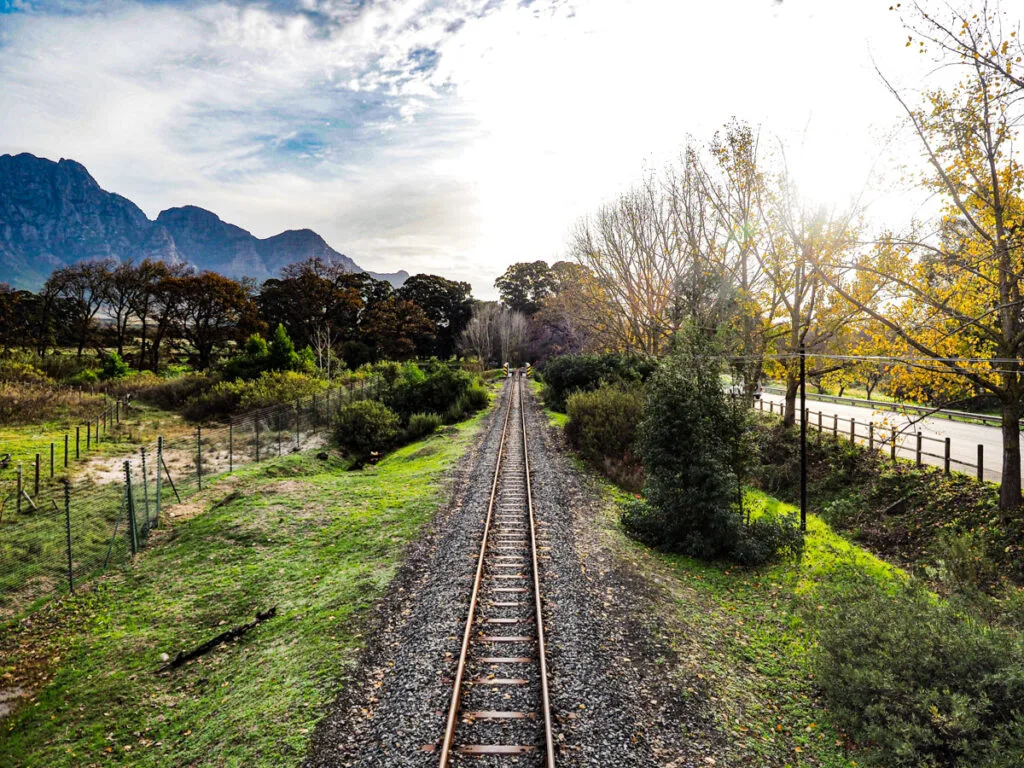 Once you initially get picked up, you get a free tasting of wine on board and you're off on the tram, where you can sit on the cute benches and take photos of the surrounding vineyards and mountains as you move along the tracks to the first stop.
Note that at some stops you'll need to switch to a bus (it looks just like the tram but in bus form), and it'll take you to the winery. They tell you all about it on the bus too.
We ended up stopping at Plaisir, Noble Hill, Bacco, and Solms Delta during our time on the orange line of the tram. These all had delicious wines, and I loved the cozy atmospheres at Plaisir and Noble Hill.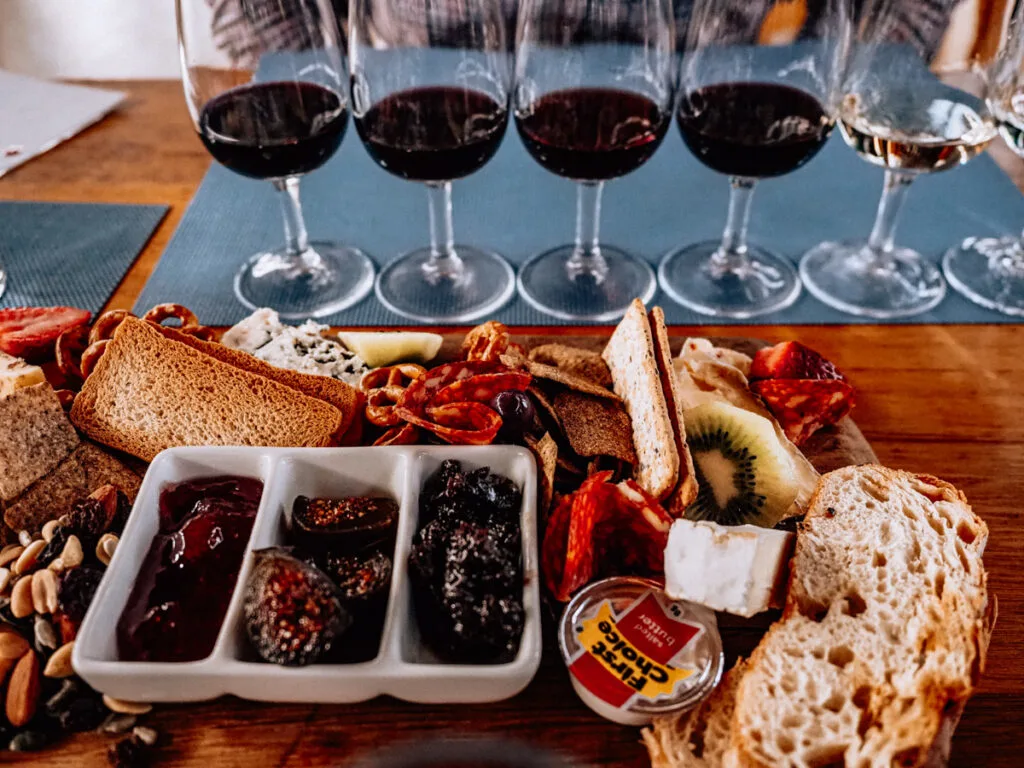 Bacco is known for its Italian-style wines, and Solms Delta has delicious red wines and an appetizer platter.
The great thing about the Franschhoek Wine Tram is that it includes wineries all over the Winelands including Stellenbosch and Paarl!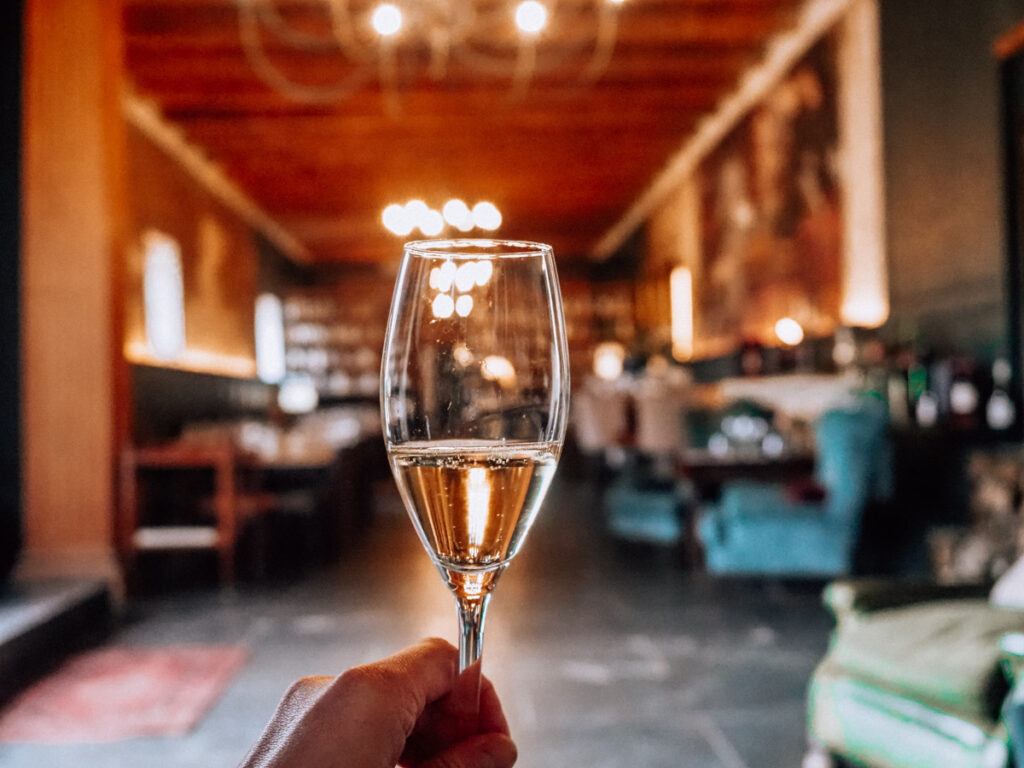 After a full day of stopping at various wineries along the tram, it is time to take it back to Franschhoek and grab dinner at a local restaurant.
Definitely make reservations in advance, as Franschhoek is the foodie capital of South Africa! Some great places include Reuben's Restaurant and Bar, Le Coin Francais Restaurant, The French Connection Bistro, La Petite Colombe, Le Bon Vivant, and more!
Where to Stay in Franschhoek: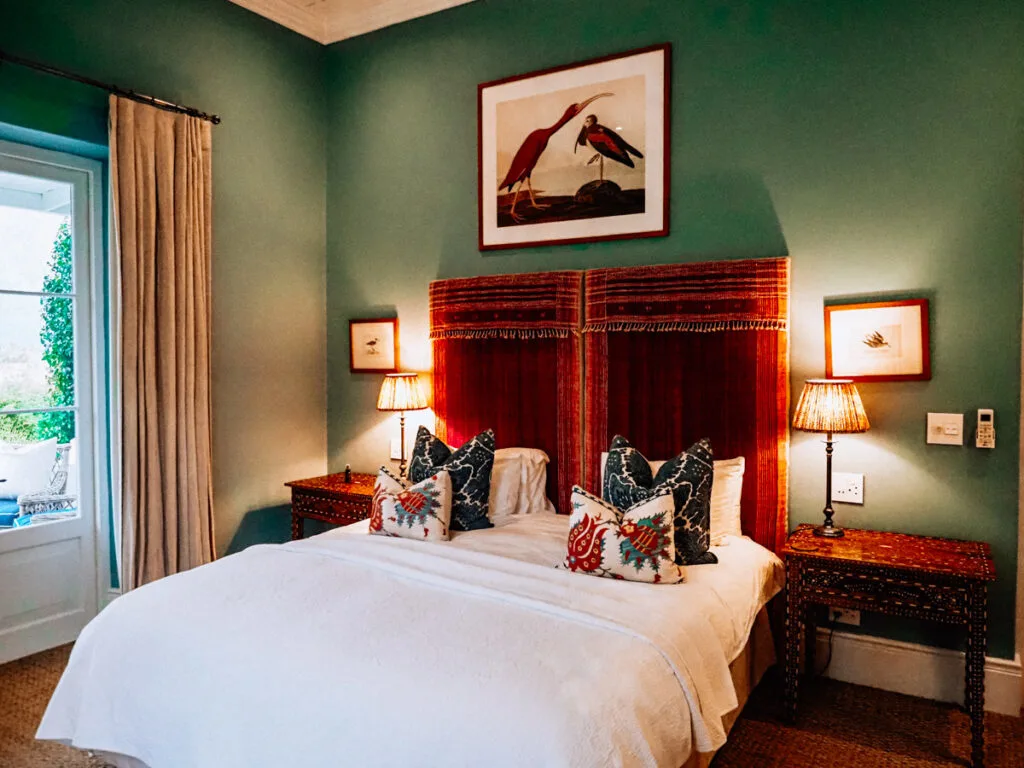 Franschhoek is a great place to base yourself for epic mountain views, great food, and amazing wineries. Here are places to stay in the area.
La Cotte Farm: This is where we stayed during our recent visit to the Winelands and loved it! They have an adorable vintage manor house to stay in as well as self-catering cottages. Some cottages even have a pool which is great for summer! This is a working wine farm as well. We ended up staying in their orchard cottage with amazing views of the mountains!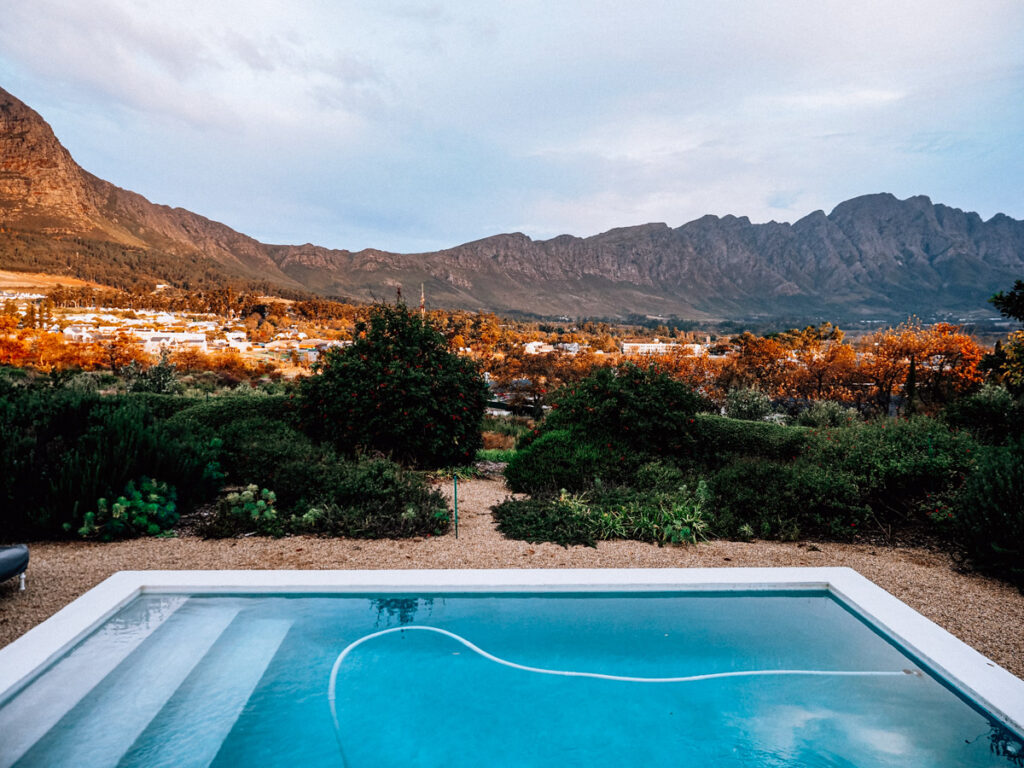 Mont Rochelle: At the foot of the Klein Dassenberg Mountains, this place has spectacular views. With 26 rooms and a vineyard, you can either stay at their main hotel or book the private villa. They have restaurants here as well as a tasting room and spa.
Leeu House: This lovely boutique hotel has gorgeous rooms and suites, a spa, a restaurant, and a wine boutique where you can enjoy a nice tasting.
Day 10: Private Wine Tasting From Franschhoek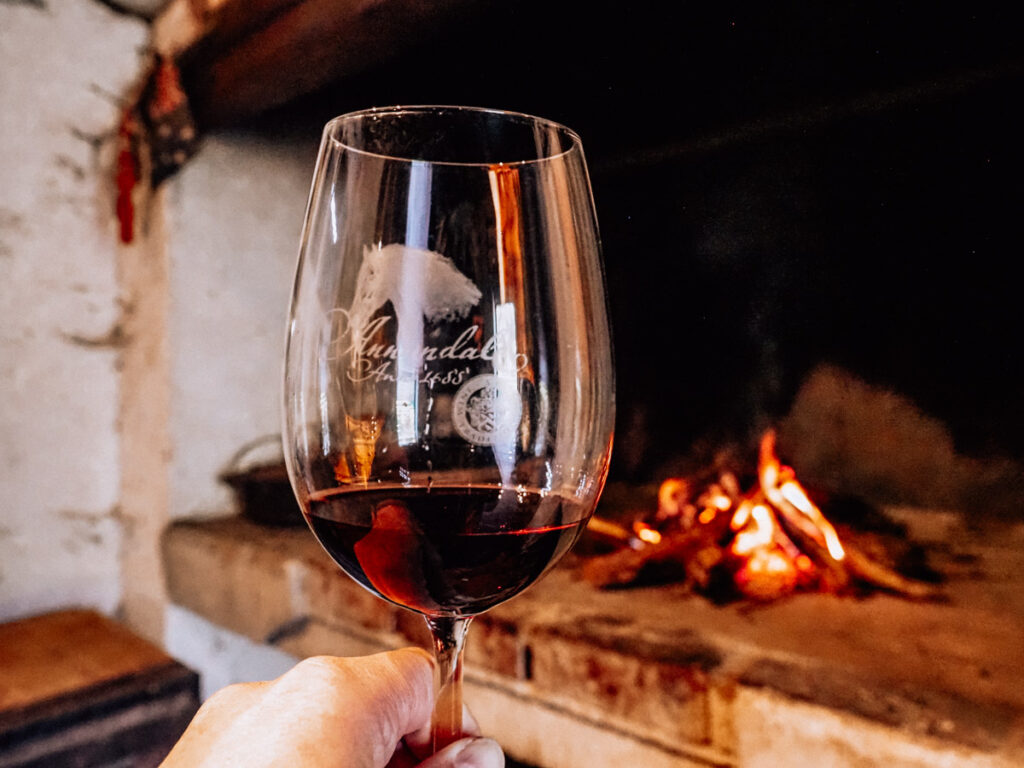 On this day, I recommend hiring a driver (Safari365 arranged this for us with Ilios Travel) and having them book your tastings for the day.
Now they can either figure out all the tastings for you, or you can give them a list of places you'd like to go/experiences you'd like to have and they can handle that. Here is our itinerary for the day.
We started our day out with a stop in Stellenbosch to Annandale. We visited this winery on our first South Africa holiday itinerary and loved it. They have fantastic Cabernet Franc and Shiraz to enjoy.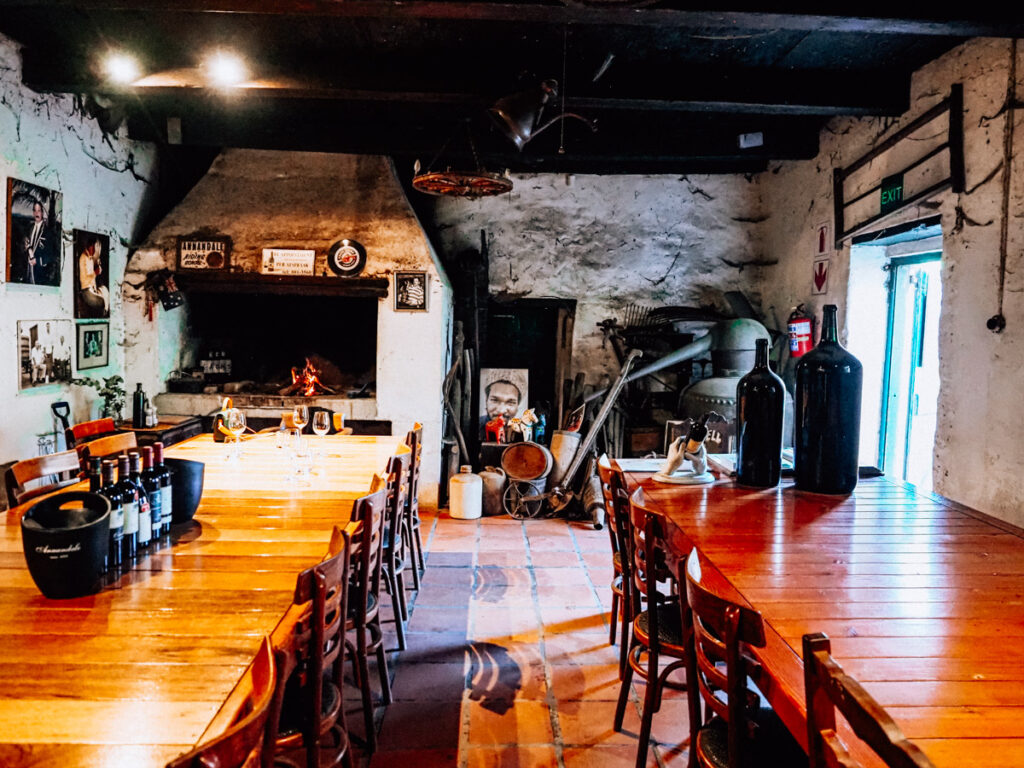 Plus, this laid-back winery has lovely little cats and dogs wandering about, and the jolly Hempies du Toit (the owner) walking around. He was a former rugby player and there are memorabilia all around the tasting room.
The tasting room is cozy with its small fireplace, and you can even grill meats on it if you wish. Again, it's super laid back and fun here. The wine is also really great and inexpensive.
Now, it may be a little early when you arrive here, so I recommend getting some food here and perhaps a coffee before the wine tasting.
After that, we visited Boekenhoutskloof near Franschhoek. This place does require a reservation for a tour and tasting.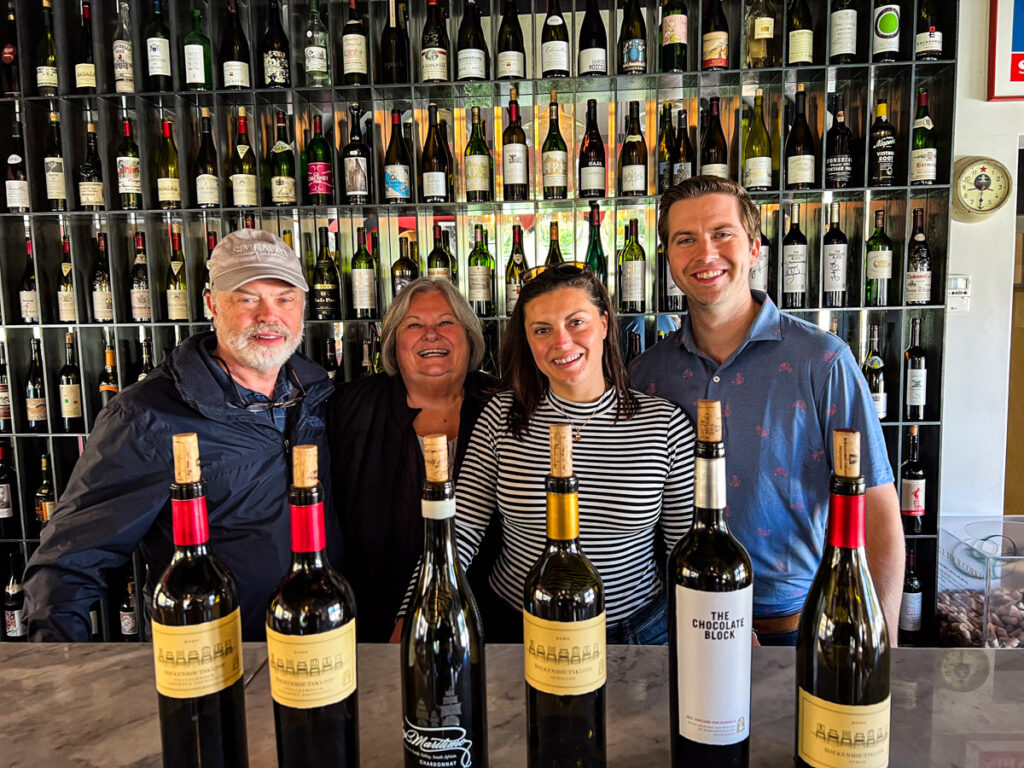 Try to time your visit here for a Tuesday when they offer tours at 11 am. This place is stunning with vineyards butting up against the mountains, and they are known for growing grapes in various places across South Africa.
I particularly enjoyed comparing a Stellenbosch Cabernet Sauvignon to a Franschhoek one during the tasting.
After that, you'll get to try some bubbly at Colmant. This place is known for its Cap Classique sparkling wines. Here, you'll try things like the Cap Classique Brut, Blue Label Brut Reserve, and the Brute Rose. All are very delicious.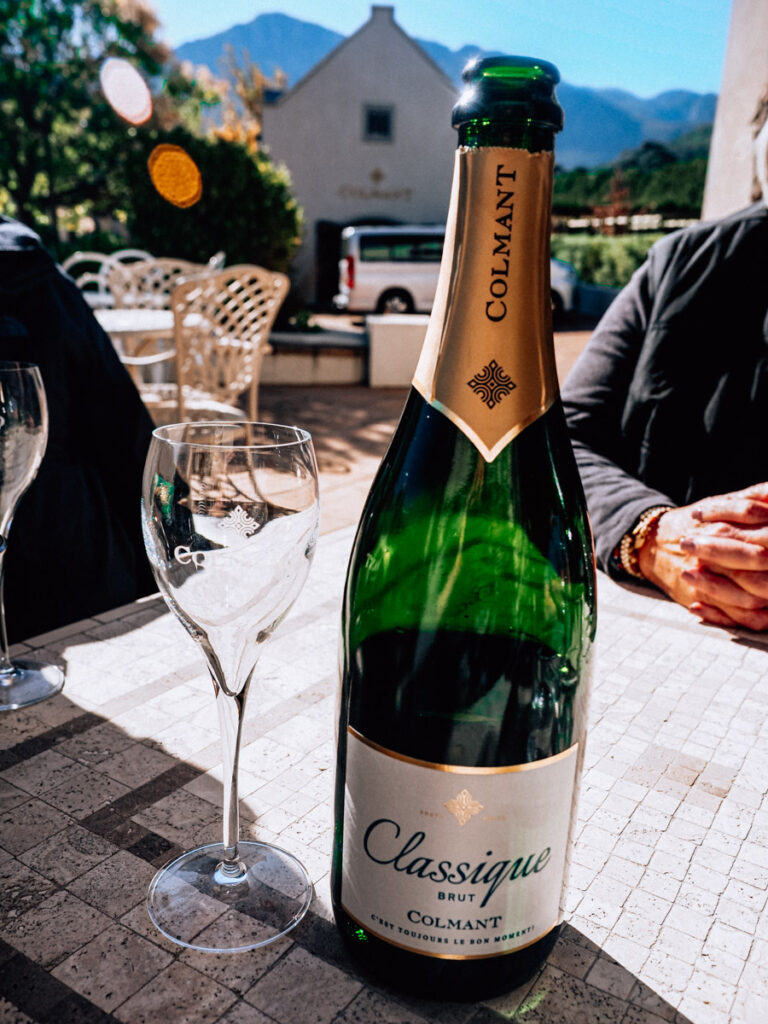 I recommend having a late lunch after that at Protege. This place has a fantastic tasting menu that you can get paired with wine or just on its own (you may want a small break from wine at this point).
Lastly, you'll stop at Mullineux & Leeu for their Leeu Passant Tasting. I enjoyed their white wines including their Semillon and Chardonnay.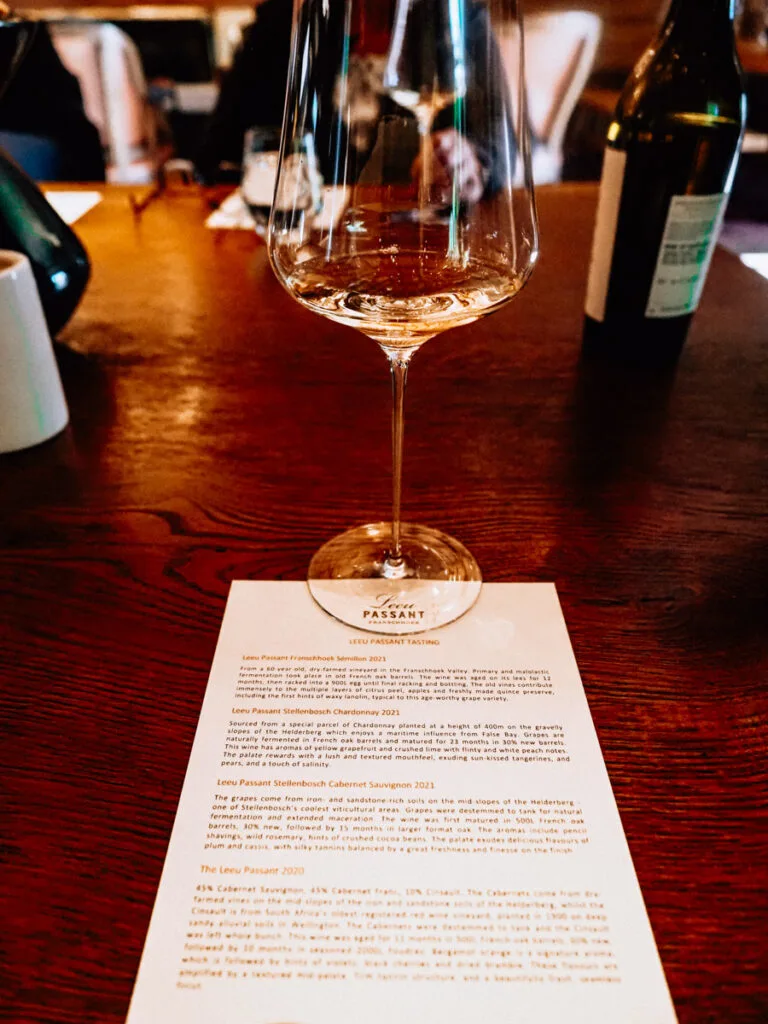 Then, you'll head back to your hotel, where you can relax and either order dinner in or go out depending on how much wine you've had and how tired you are.
We ended up ordering food and enjoying the wine we had purchased to wrap up our final day, but you could make a reservation at the restaurants I mentioned earlier if you wish.
This sadly wraps up your 10 days in South Africa itinerary, as you'll be driven back to Cape Town, where you'll fly home the next day.
If You Have More Than a 10 Day South Africa Itinerary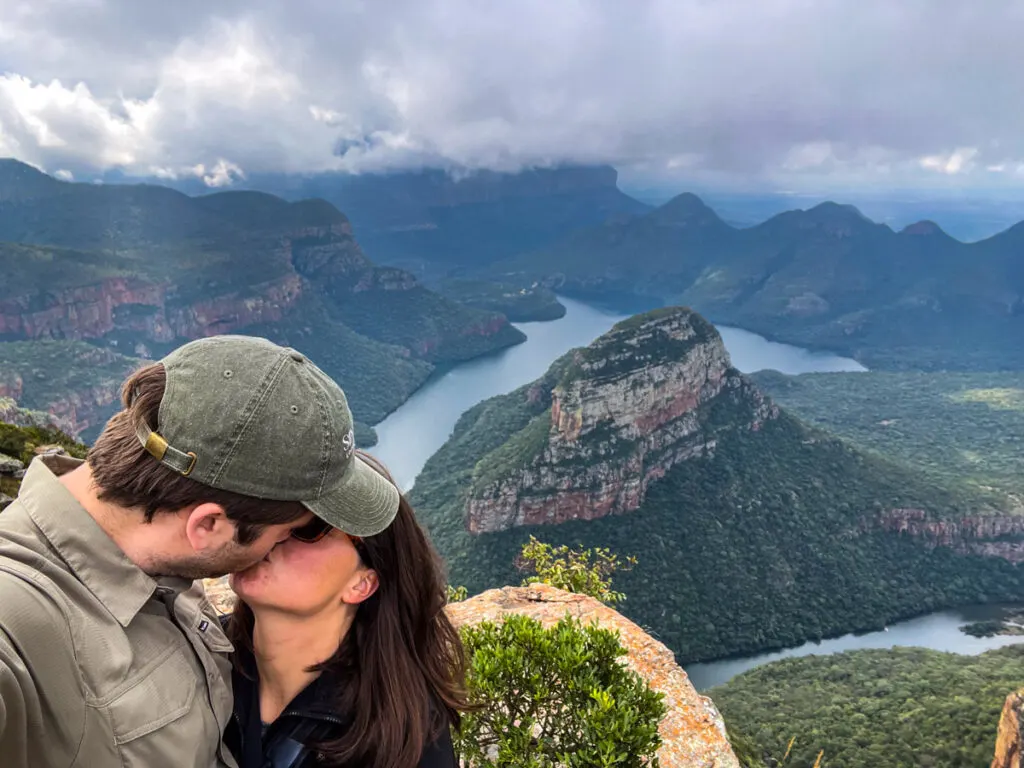 If you're lucky enough to have more time to spend in South Africa, then I highly recommend checking out our 2-week South Africa itinerary.
Aside from that, I recommend spending an extra day or two in Cape Town to explore further, an extra couple of days on safari in a different location, or even some time on the Panorama Route.
But if you have quite a bit more time in South Africa, definitely check out the Garden Route. This scenic drive stops by fun villages and great attractions as it goes from Mossel Bay in the Western Cape to Stormsend in the Eastern Cape.
Or, if you want to explore more of Southern Africa, then you'll like checking out Victoria Falls in Zimbabwe!
Whether you're visiting for a South Africa honeymoon or a romantic getaway, this is a great South Africa round-trip itinerary for you!
When to Visit For This Itinerary For South Africa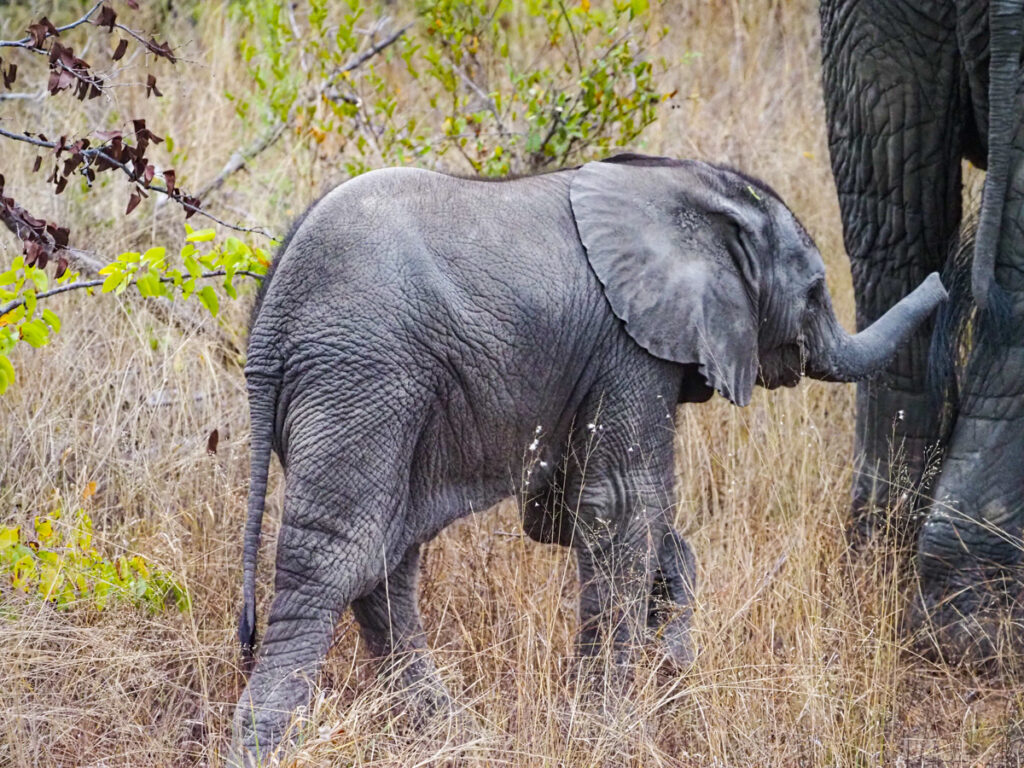 The best time to visit South Africa is in September, at least in our opinion. We visited South Africa in September during our first trip and it was great!
It was springtime, and we enjoyed the sunny weather in Cape Town as well as sunny days on safari without the rain as it was still the dry season.
It is a great time to go on a safari! However May through September are great months for a safari, whereas for beach days and warmth in Cape Town and the Winelands, you may want to come between November through February.
However, overall, I'd say March through May or September are great times to visit this country for your South Africa trip itinerary.
Other Tips For Visiting South Africa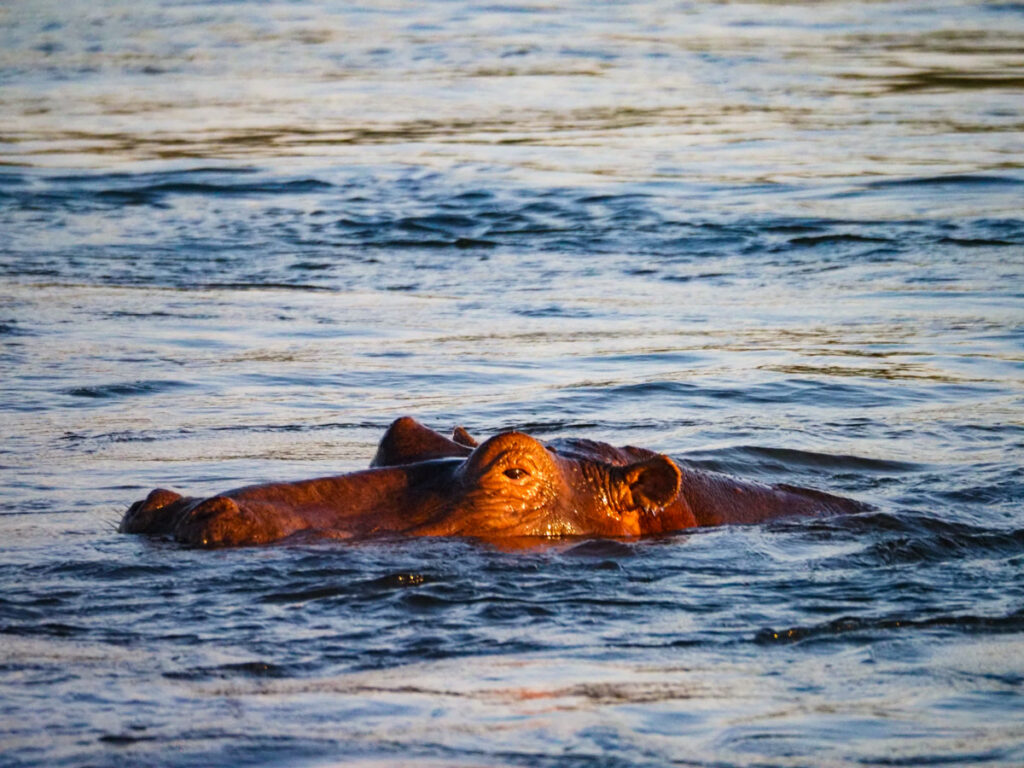 Here are a few tips for your South Africa itinerary in 10 days!
What languages are spoken? There are several languages used across South Africa, but many people do speak English. You'll likely be fine with English, but here are other languages spoken around the country: Afrikaans, Zulu, Swati, Northern and Southern Sotho, Tswana, Xhosa, Tsonga, Ndebele, Venda, Pedi, and more.
What is the currency? The currency of South Africa is the South African Rand. It is worth about $0.05 USD for 1 rand. So 19-20 rands are equal to about $1 USD.
Use Uber Black in Cape Town: If you're planning to use Uber in Cape Town, definitely order Uber Black. Locals told us to do this as it ensures you have a nicer, more reliable car. It is still very inexpensive to use Uber Black.
You need to know about load shedding. Load shedding is the name for the rolling blackouts all across the country. These last for a couple of hours at a time and multiple times per day sometimes. It has gotten worse over the years, and for updates, you'll want to download the EskomSePush App. Also, hotels will have schedules too. Note that many hotels and restaurants have generators in the city, but some don't.
Check passport requirements ahead of time. As always before international travel, you'll want to check passport requirements as it could change anytime. As of writing this, US citizens do not need a visa for a short stay like 10 days in South Africa.
Need help planning? While we typically are independent travelers when it comes to our trips, when it comes to anything with safaris, we like to have an expert. There are just a lot of logistics for safaris, and it helps to have a local with knowledge of the area handle it. We've worked with Safari365 on both of our trips to South Africa, and they're fantastic! They're also based in Cape Town!
This wraps up the ultimate 10 day South Africa itinerary! Between time spent on safari tracking the Big 5 and sipping wine in the Winelands, you'll absolutely love this country and dream of returning!
Want more African travel inspiration? Check out these posts!
Thanks to Safari365 for a discounted trip to South Africa on our most recent visit. As always, all opinions are our own.
Pin it here!