Some posts on this site contain affiliate links, meaning if you book or buy something through one of these links, I may earn a small commission (at no additional cost to you!). Read the full disclosure policy here.
---
Searching for the ultimate Piedmont Italy itinerary in 2 days? You've come to the right place!
If you're looking for a Piedmont itinerary, chances are you've either been to Italy a time or two and want to visit a new region, are searching for Italy off-the-beaten-path itineraries, or are a fan of the "King of Wines" (AKA Barolo).
While many lovers of Italian wine will often flock to Tuscany for those Super Tuscans or Chiantis, there are actually quite a few wine regions in Italy. One of the best wine regions is Piedmont, which is home to some incredible wines, especially Barolo and Barbaresco made from the Nebbiolo grape.
As a bonus, this region is also known for its hazelnuts and truffles! So you know the food is amazing.
If you love great wine and amazing food, then I highly recommend an itinerary including Piedmont, Italy!
In this guide, we're going to give you all the details to plan your perfect 2 days in Piedmont, with Alba as your home base. So keep on reading to find out how to have an amazing weekend in Piedmont!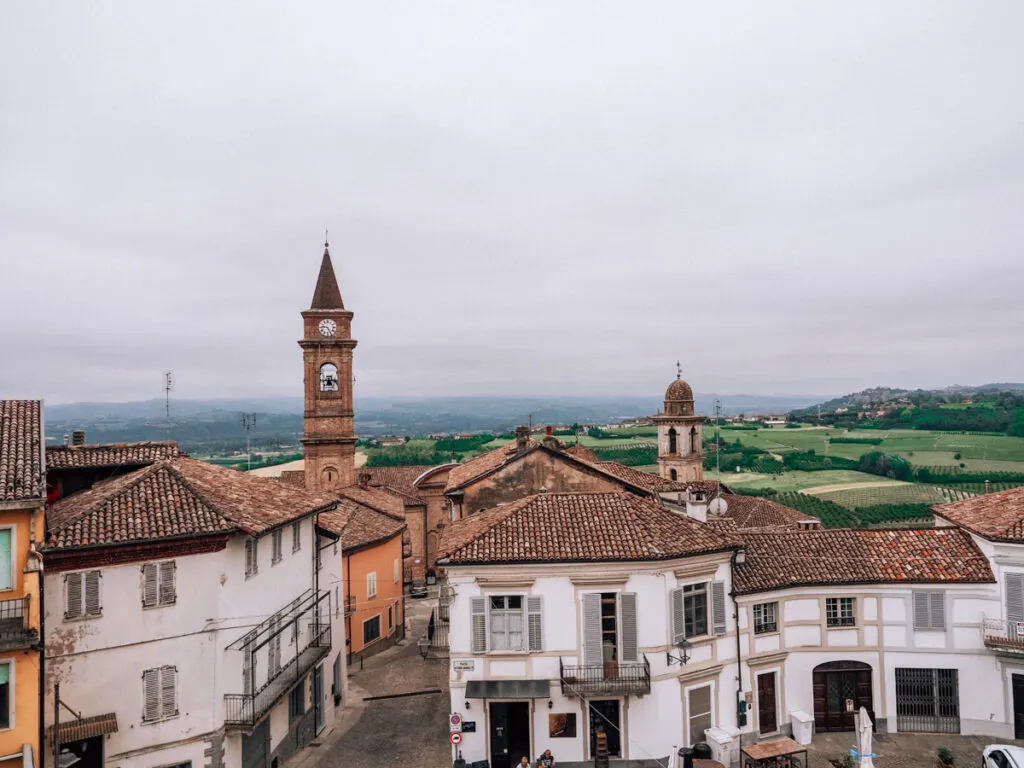 Ultimate Piedmont Italy Itinerary in 2 Days
For a quick reference to these 2 days in Piedmont, check out this guide below.
Day 1: Explore Barbaresco
Visit Govone Castle
Coffee & Gelato
Wine Tasting at Poderi Gallino Winery
Lunch
Visit Village of Barbaresco
Wine Tasting at Grasso Brothers Winery
Dinner at Osteria dei Sognatori
Day 2: Explore Barolo & Alba
Breakfast and Explore Alba
Visit Barolo
Visit Grinzane Cavour Castle
Wine Tasting at Pira Winery
Lunch at Iride Agriturismo
Visit La Morra
Wine Tasting at Stroppiana Winery
Apertivo at Vin Cafe
Dinner at Ventuno.1
For all the details on this trip, check it out below!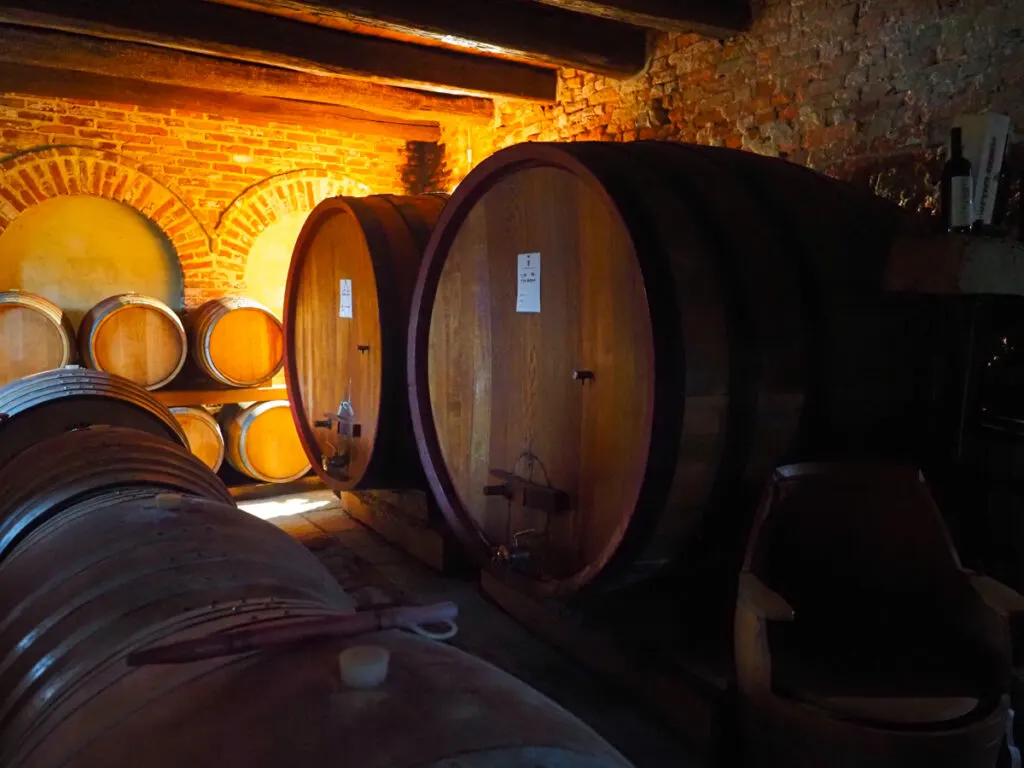 Piedmont Italy Itinerary in 2 Days For Wine Lovers
Now that you know the gist of what we'll be discussing, let's get into the details! For starters, we booked our trip through Alba Wine Tours. The guide and owner of the tour company, Stefano, was wonderful and arranged all the winery visits and lunches.
He also drove us, which is key if you plan to go wine tasting. He is also local to the area, so he showed us some incredible local spots!
Another thing to note is that you'll be staying in Alba during this short trip, as it is closer to the wineries than Turin. While Turin is the largest city in the region, for exploring the smaller villages and sipping wine, Alba is the place to be.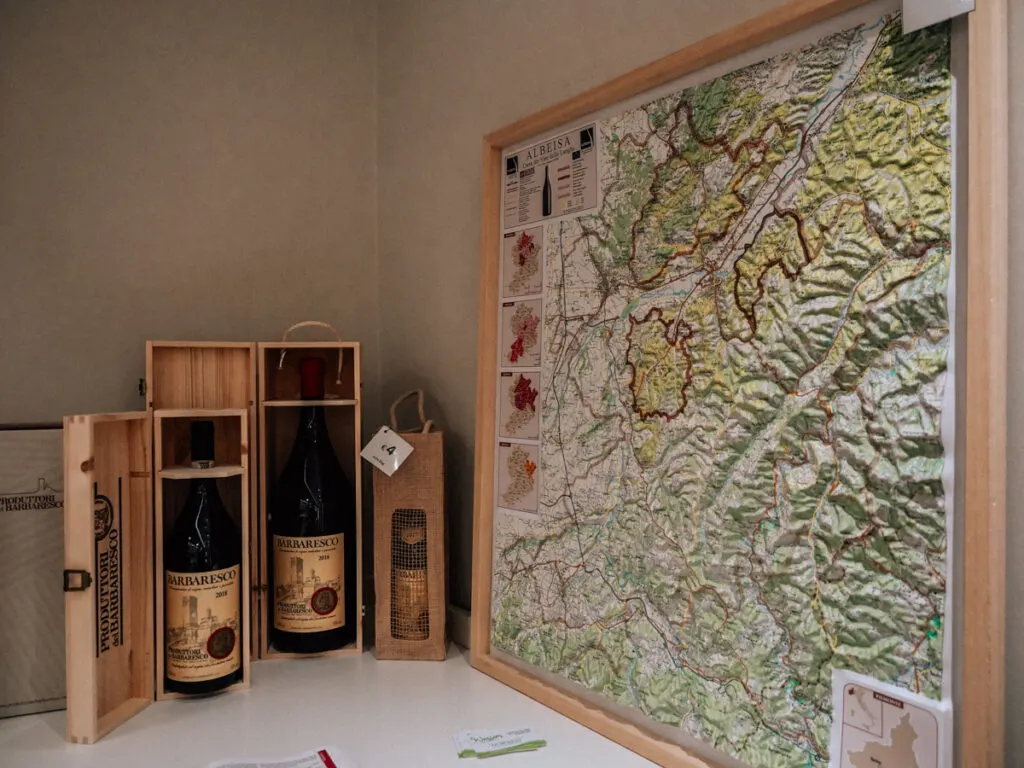 Day 1: Explore Barbaresco
Either start the day already in Alba, or you can take the train in early as we did from Milan. The train from Milan is about 2.5 hours with a quick layover in Turin. Once you're in Alba, your guide will pick you up for a day of sightseeing around Barbaresco and sipping wine.
The first stop on your Piedmont itinerary is the Castle of Govone. Govone is a charming little hilltop town with this beautiful Baroque castle. The land it is built on has housed a castle since Medieval times.
We didn't have time to actually go inside the castle to admire the art and decor, but if you want to go inside, it costs €5 to visit.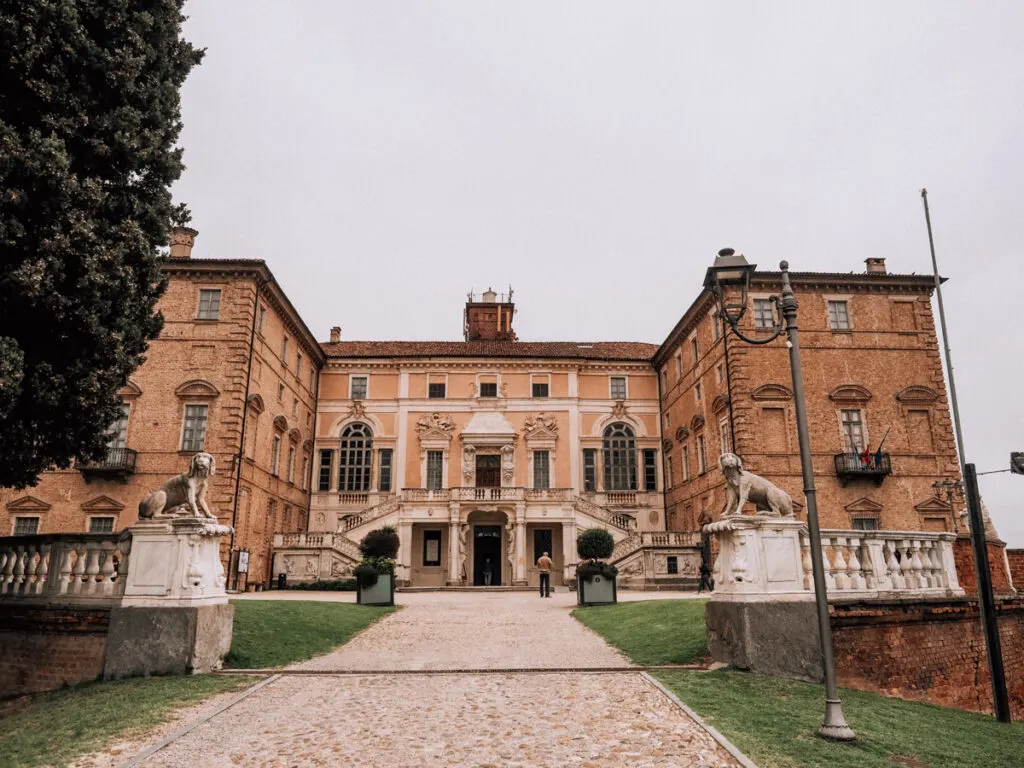 After that, you'll grab a coffee at a local bar (hint: a bar is a coffee shop in Italy). You can drink it like the locals do standing up at the bar or you could sit and enjoy it tableside.
Then, our guide recommended a great place to grab a gelato on the way to our first wine tasting. Al Rhondo Gelateria has some incredible gelato flavors, including cassata, hazelnut, apricot, strawberry, and more! Plus, they make their own nougat in-house so snag some of that for later.
After all that gelato, it is time to be whisked away to your very first winery: Poderi Gallino Winery.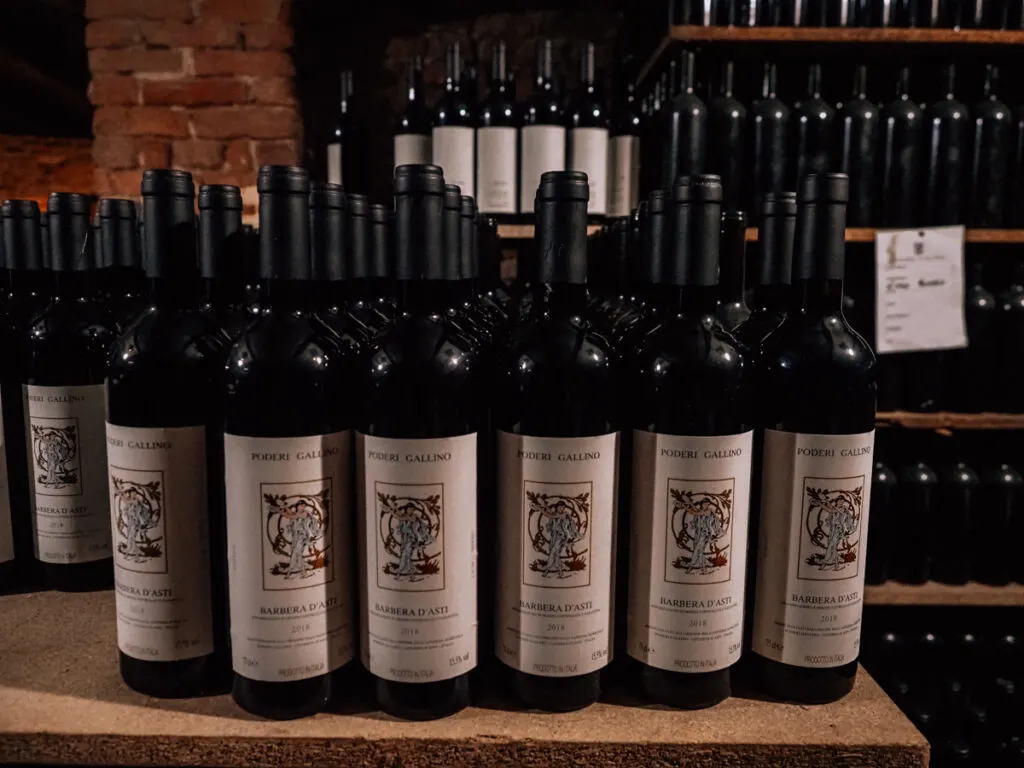 I don't think this place could be more authentic if it tried. Complete with the coziest tasting room with family photos all over the place, the father and son owners rapidly arguing in Italian about wine-making methods at the table, and everyone enjoying ample tastings of Arneis, sparkling Arneis, Barbera d'Asti, and Nebbiolo wines, it was perfection.
Oddly enough, we felt right at home for not understanding a lick of the Italian exchange happening on the other side of the table. Luckily, Stefano, our guide, was there to translate and discuss all the wine we were trying.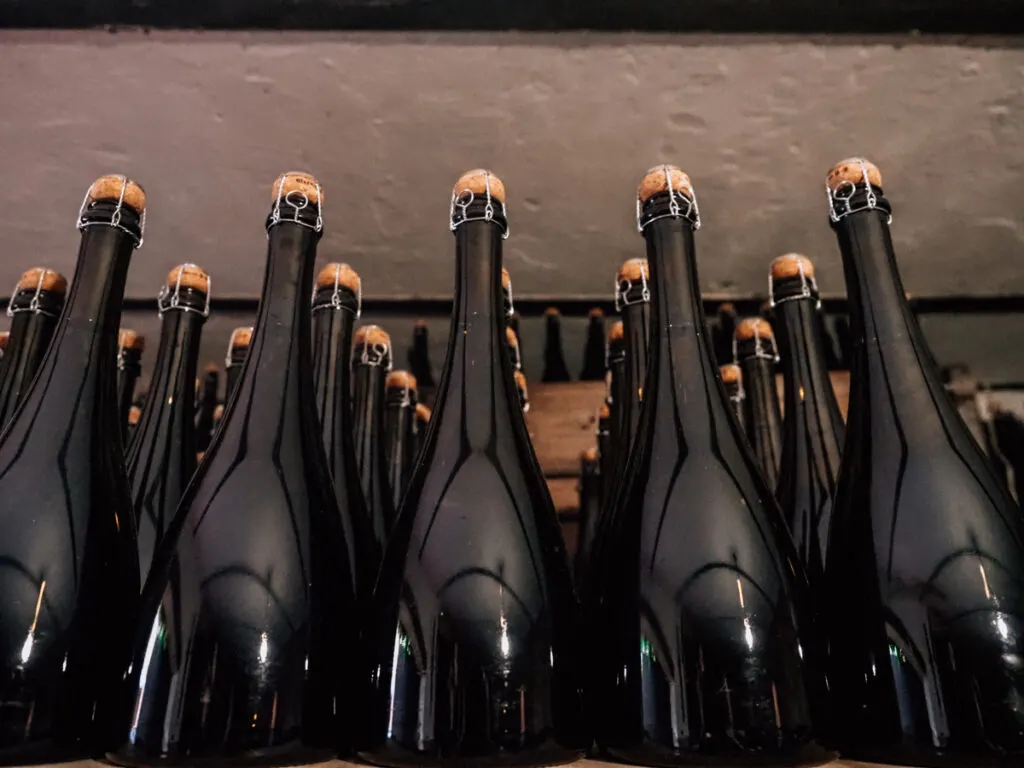 Pro-Tip: I'll take some time here to discuss wine tasting in Piedmont. I haven't been wine tasting in other parts of Italy, but in Piedmont, try not to book more than a couple of tastings a day. Here in the US, you could get by with 4-5 tastings in a day in many destinations as tastings are generally much smaller.
This is NOT the case here. I lost count as to how many wines we tried at each place. And many gave healthy pours of wine. So 2 tastings a day is more than enough to taste the wine and still enjoy it. Any more than that and you'll be under the table.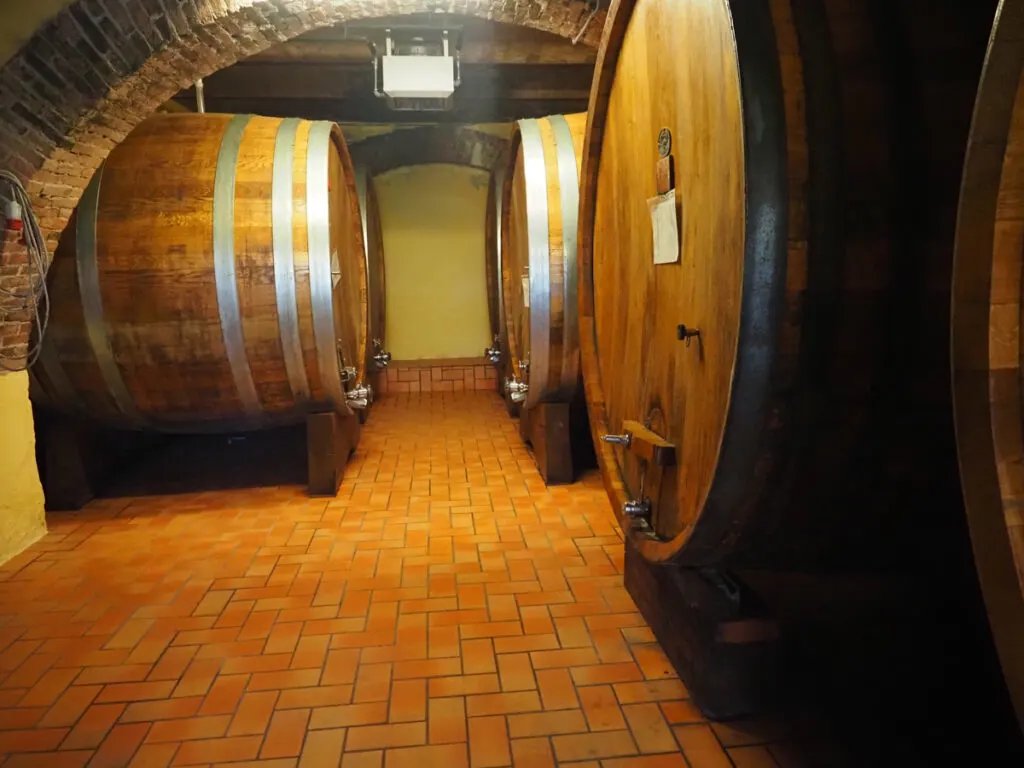 It is also completely acceptable to spit or dump out your wine after tasting it in the spit bucket. It's a marathon and not a sprint, y'all. Okay, back to our regularly scheduled programming.
Lunch and More Wine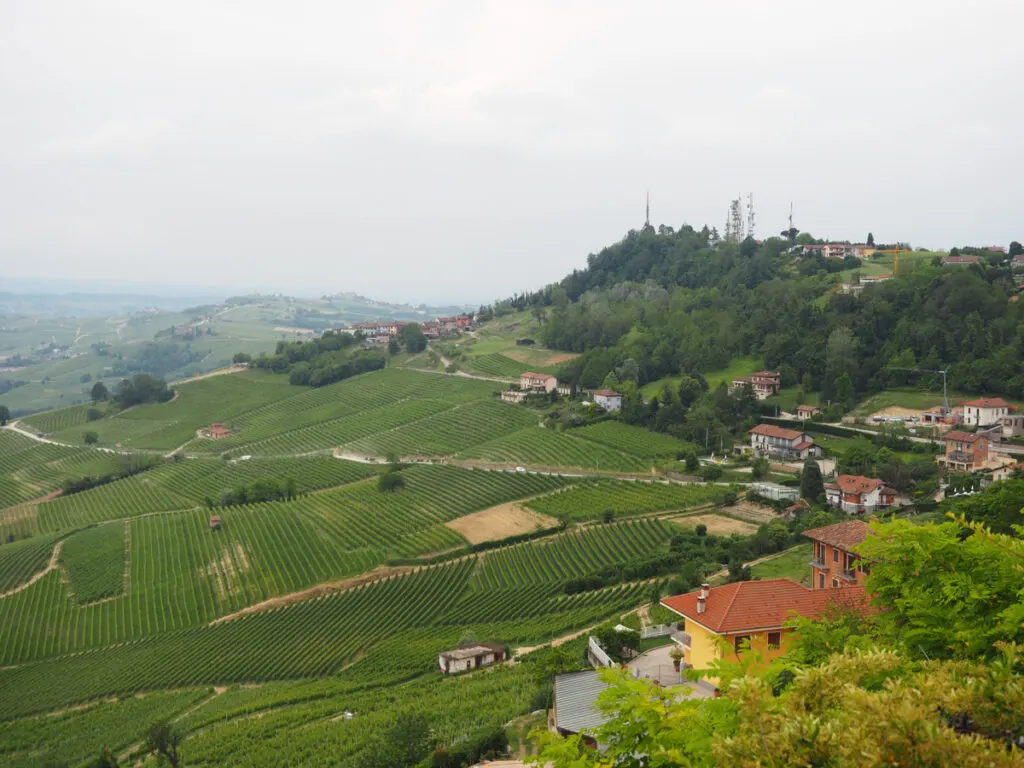 After an incredible time tasting wine, it is time for some lunch. If you book your wine tour through Alba Wine Tours, definitely choose to have lunch at his home. You'll have the chance to meet his wife, Manuela, and spend time with his family.
It was so charming to have lunch in a gorgeous Italian countryside home, chatting with our guide and petting his dogs. And the food was so good! We enjoyed cheeses, sausages, pasta, and some more wine in a fun and filling meal.
Post lunch it is time to climb back into the car and actually visit the village of Barbaresco. This charming town is well known for its wine. You can even taste wine in the village, which we did.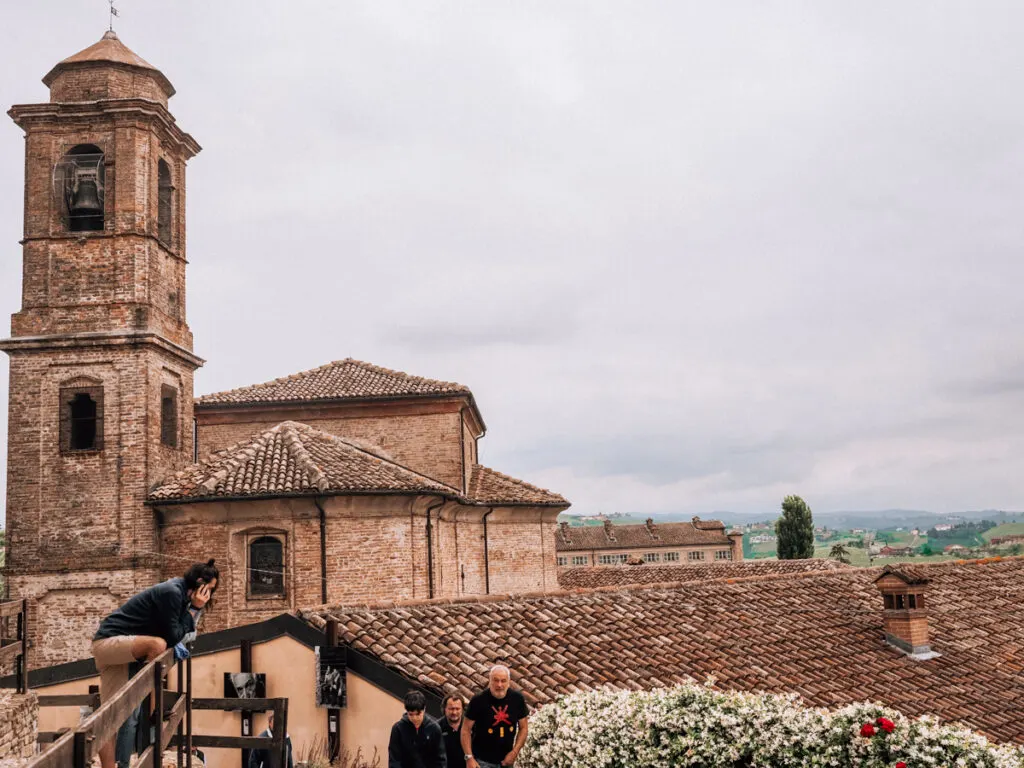 There is also a beautiful tower you can go up to admire the views of the region, and, if you show up on a Sunday, you'll be able to witness the gorgeous market in the town.
After your visit to Barbaresco, you'll head to the second winery of the day: Grasso Brothers Winery.
This wine was seriously incredible. We tried both oaked and unoaked Chardonnay, Dolcetto, and plenty of Barbaresco. We spent so much time here sipping wines, chatting with the brothers thanks to our guide Stefano who translated, and we also hung out with a group of Swedish couples on their friend trip.
Chris and I have been wine tasting in many places around the world, and Piedmont instantly stole our hearts this day between these down-to-earth wineries and knock-out wines.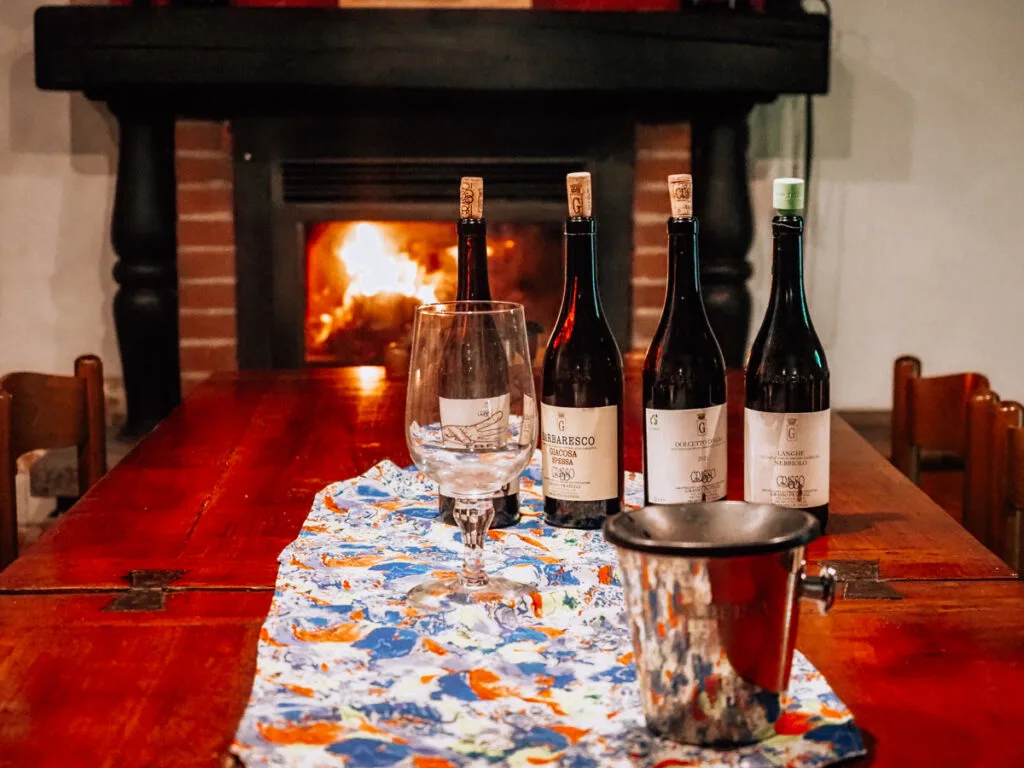 But after tasting wine here, it is time to head back to Alba for a scrumptious meal.
We ended up checking in to our hotel at Casa Agnese and going to dinner at Osteria dei Sognatori. This came highly recommended by Stefano so we walked on over and enjoyed a hearty Italian comfort food meal of asparagus and potatoes with anchovy sauce, gnocchi, ravioli, and, of course, tiramisu.
What I loved is that the menu is handwritten and changes all the time! It was such a cozy spot to enjoy a bottle of wine and a great meal in Alba.
From here, it is time to head to bed for another exciting day of your Itinerary for Piedmont Italy!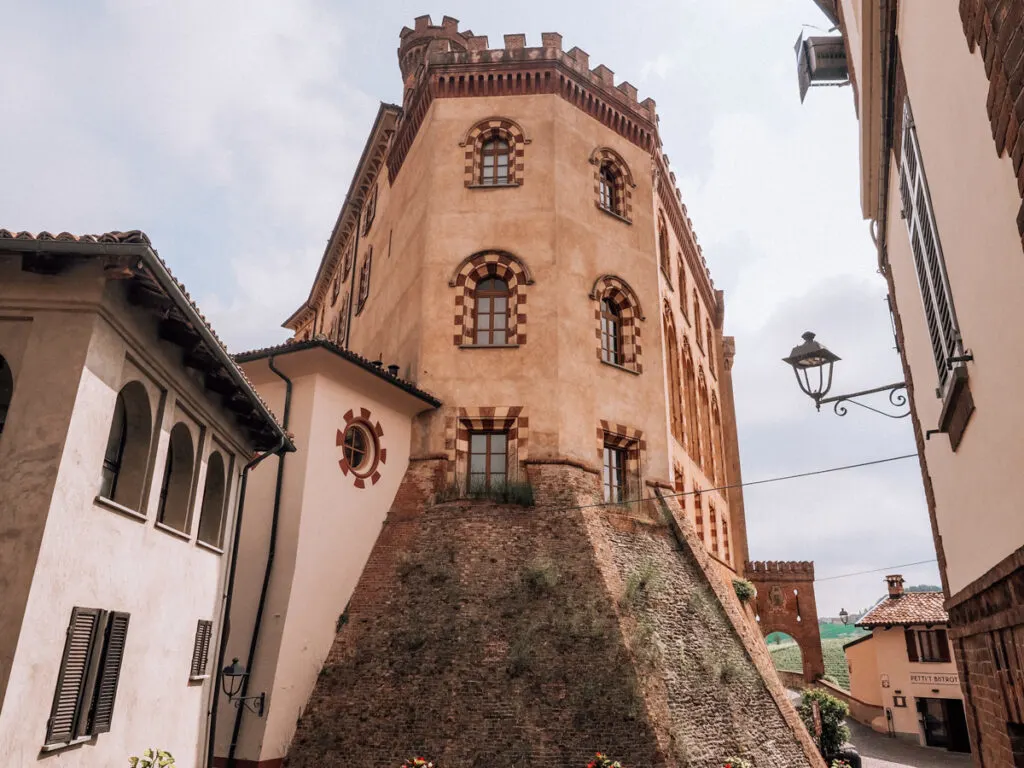 Day 2: Explore Barolo & Alba
Start your day with a large breakfast at Casa Agnese if you're staying there! The owner is so sweet and will prepare your coffee and give you a rundown of all the freshly prepared provisions for breakfast.
We ate some incredible croissants and tarts as well as some cheese and charcuterie. It was the perfect fuel to get out and explore Alba a bit that morning before our wine tour continued.
From here, we wandered around the old city, down the shopping street called Via Vittoria Emanuele II, and even popped over to the main square to see Cattedrale di San Lorenzo.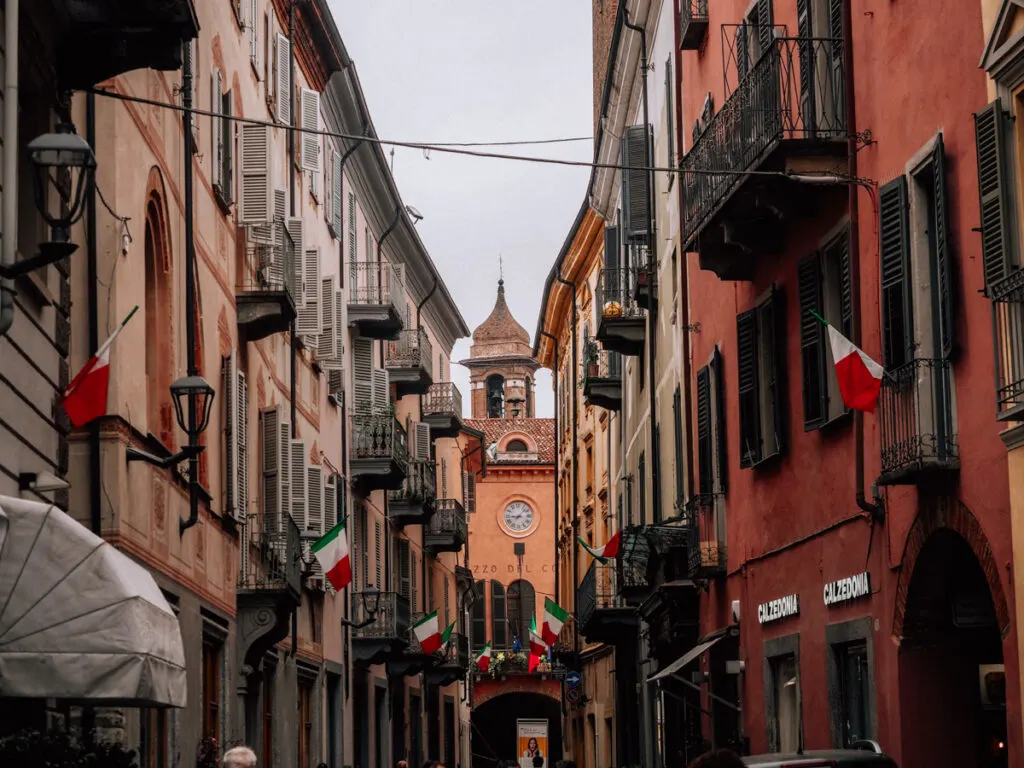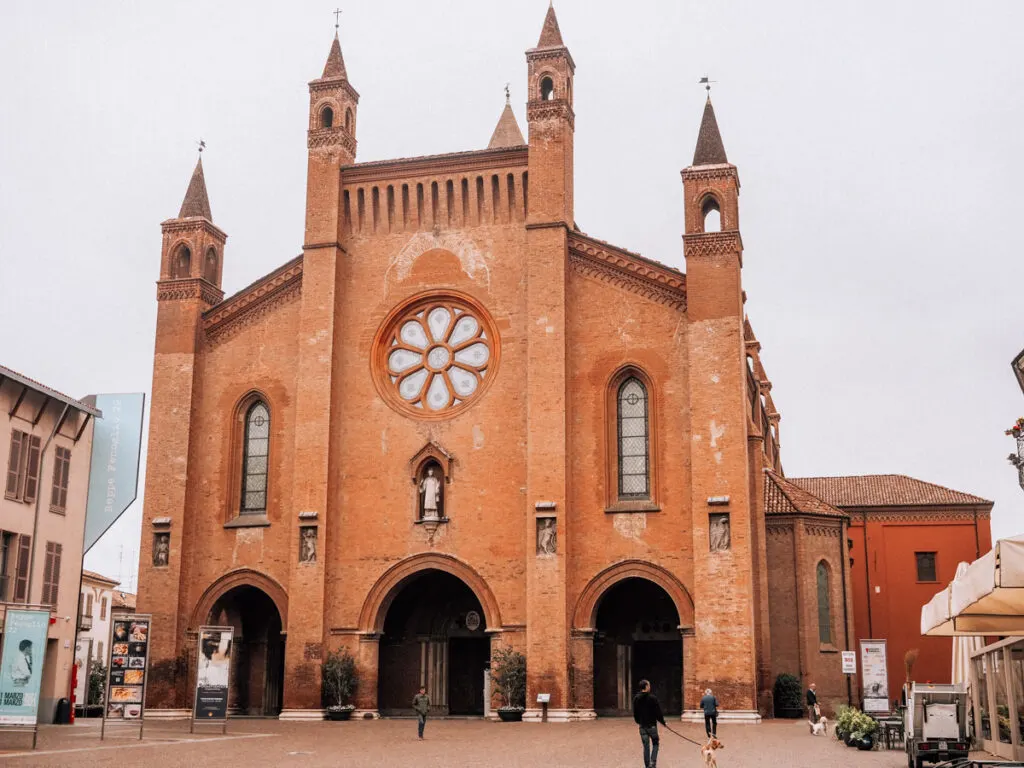 It was a lovely morning exploring Alba, but at around 9-9:30 am, you'll be picked up by Stefano to explore the town of Barolo and experience even more delicious wine.
We started our day by visiting the absolutely gorgeous town of Barolo, which is most famous for its wine made from Nebbiolo grapes.
True to many of these hillside towns, there was a castle. The Barolo Castle is now a museum dedicated to wine, so if you want to enjoy that you can! It is €9 to visit.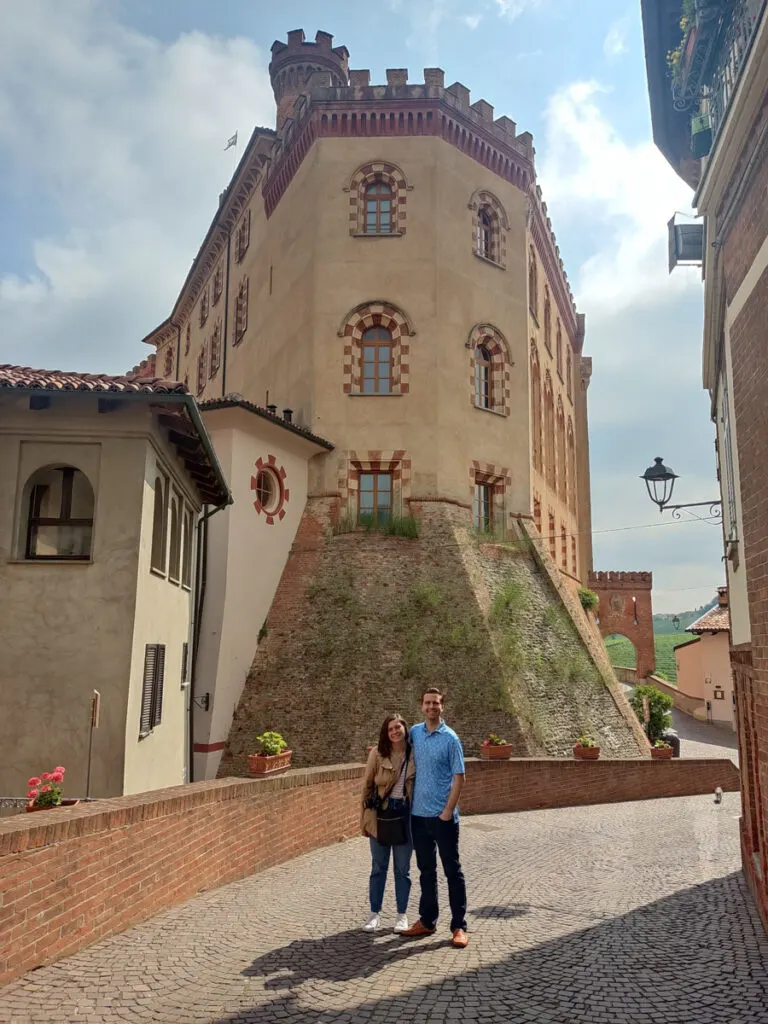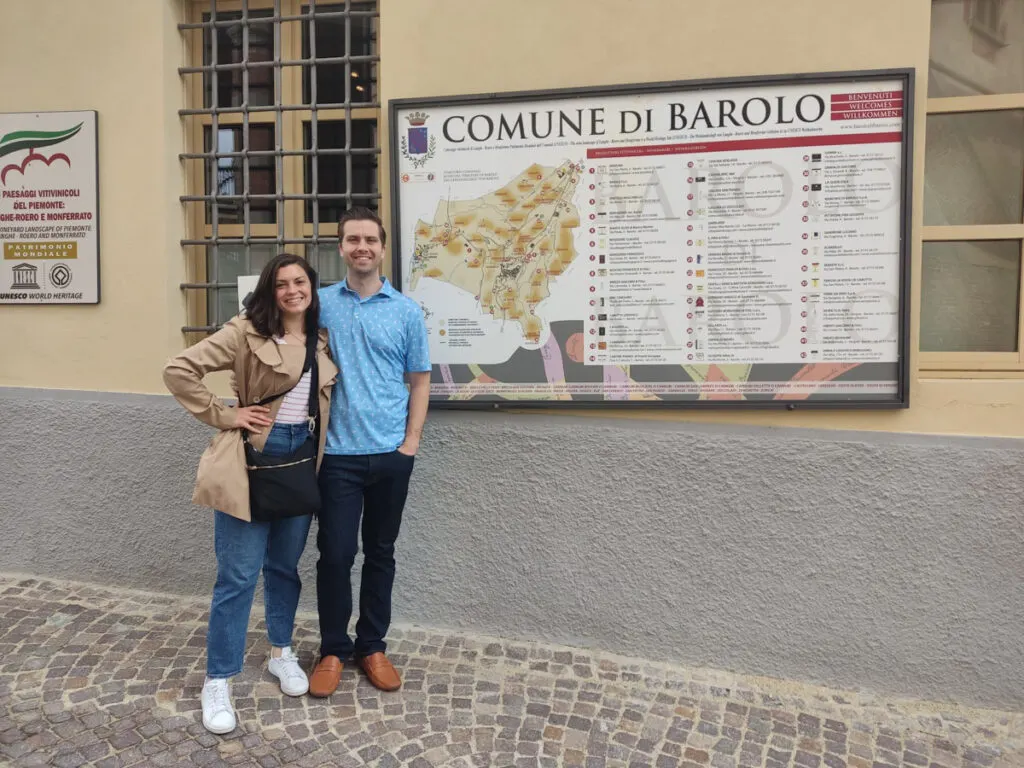 We ended up wandering over to Museo dei Cavatappi, a wine shop where you can taste multiple wines, including from some more prestigious winemakers like Gaja and Cannubi for around €10-13 for a tasting!
After that, we grabbed another coffee in the town before stopping by another castle to taste a famous Italian after-dinner drink: Chinato.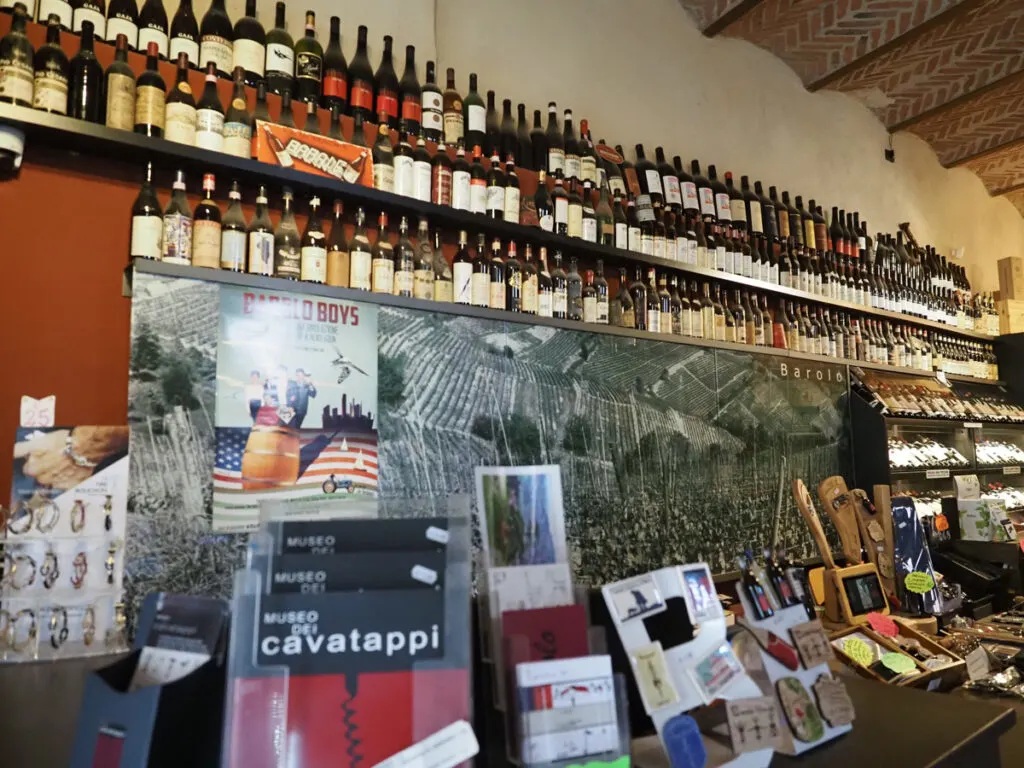 The Castle of Grinzane Cavour is a Medieval castle that now houses a lovely restaurant and wine cellar. This is where we tried Chinato and got to see the extensive cellar with many wines you could purchase.
While those were pretty small and casual tastings, after this, we ended up at Pira Winery to actually have a tasting of Barolo wines.
Let me tell you these were definitely some punchy wines. They were so good, but definitely something to put in the cellar for a bit to age. We enjoyed learning about how this wine is made and we had such a great time sipping the various Barolo wines they had on offer.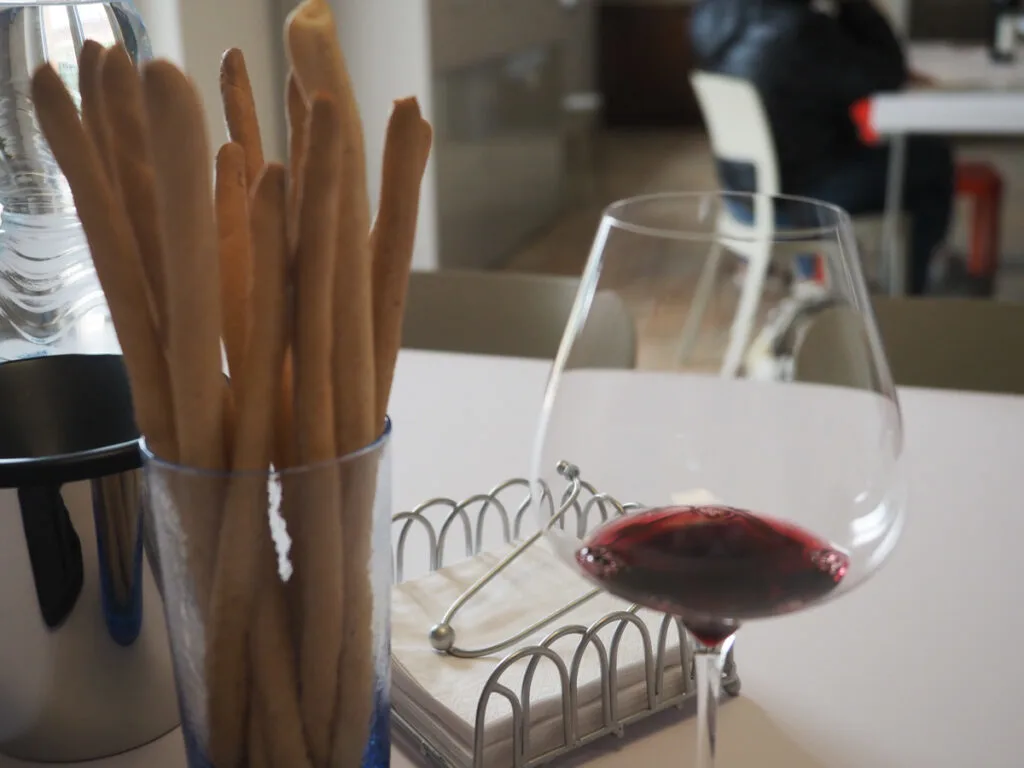 Lunch at an Agriturismo and Final Wine Tasting
Once our wine tasting was complete at Pira Winery, we got to have a full lunch tasting menu at Iride Agriturismo.
If you haven't heard of an agriturismo before, it is a working farm where you can eat, stay, and enjoy the Italian countryside.
This place does have rooms to stay in if you'd prefer to stay in the hills of Barolo, but the star of the show here is its restaurant. We had a huge tasting menu while we were here with dishes including fish, ravioli, smoked eggs, steak, and so much more. But the best thing was definitely the dessert: a hazelnut nougat incredible creation covered in chocolate. It was so good.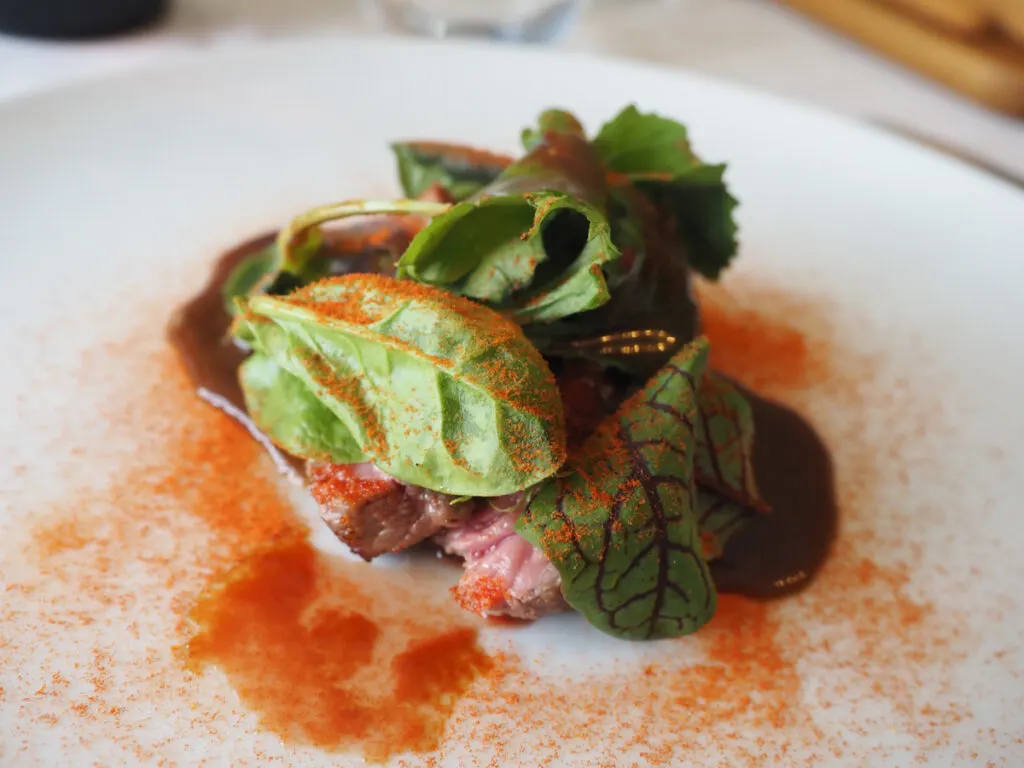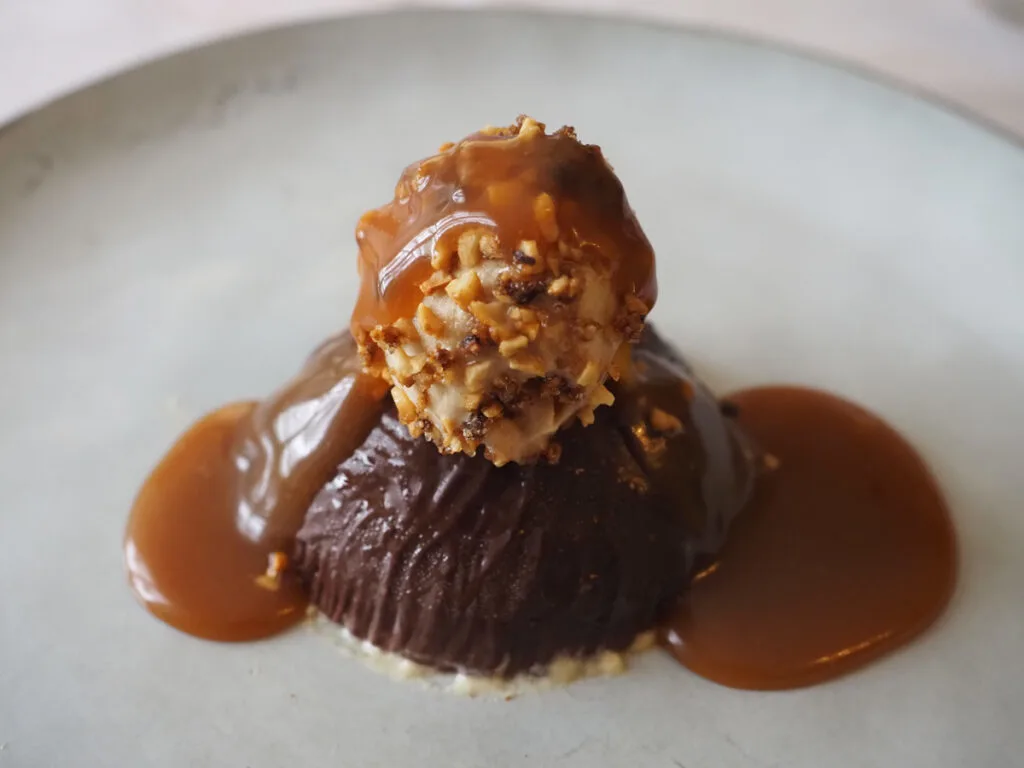 To work off some of that scrumptious meal, we then went over to La Morra to walk around the town and explore its church filled with many secrets and conspiracy theories.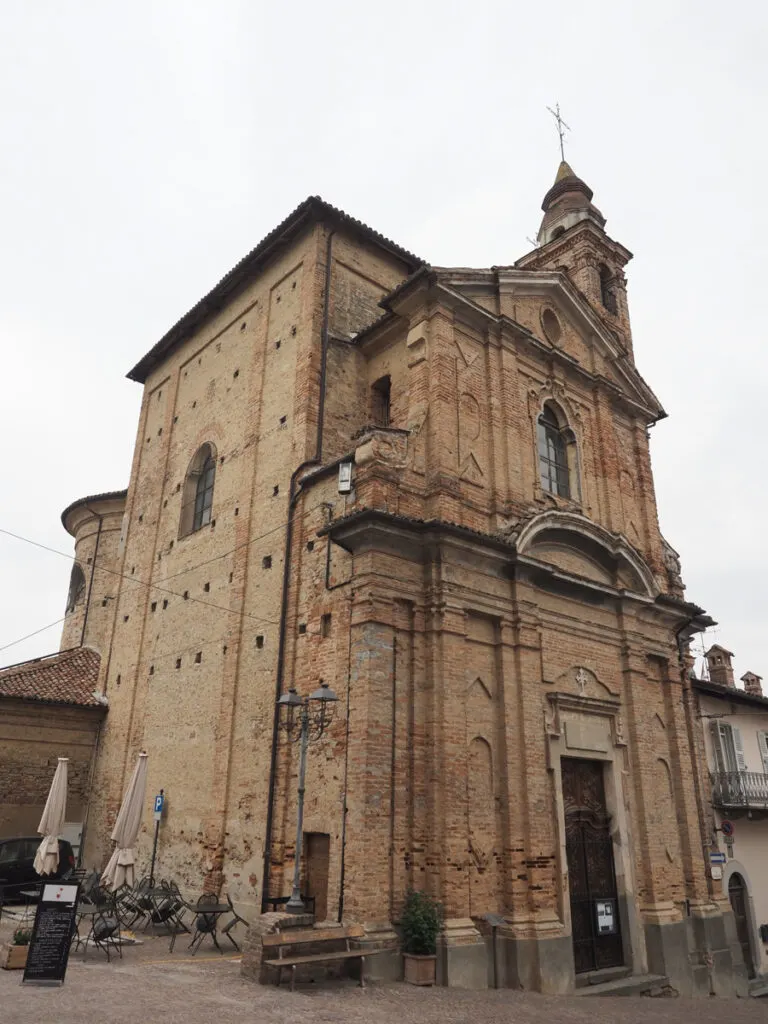 And for the final stop on our tour of wine tastings in Piedmont, Italy, we had to end at Stroppiana Winery. This place delivers when it comes to world-class Barolo. Each sip was better than the last, and the people at the winery were super knowledgeable.
This is a fabulous place to taste Barolo before heading back to Alba for the evening.
Alba is a pretty small town, so spend some time walking around and stop at Vin Cafe for apertivo. What I love about Italian apertivo is that you won't go hungry. And this place will definitely bring the snacks. We ordered a glass of Barolo each at this wine bar and got a huge plate full of cheese, bread, mini sandwiches, and more. It was delectable.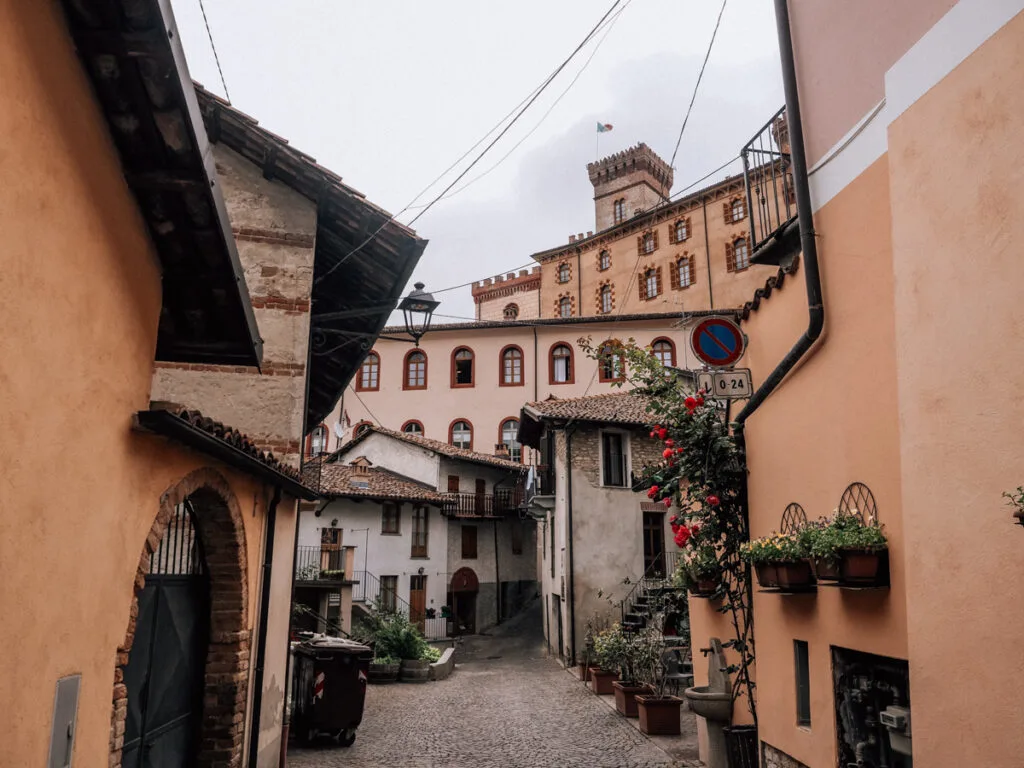 It is also located right on the shopping street and ideal for people watching.
Then, to wrap up your Piedmont itinerary, head to Ventuno.1 for their incredible seafood. Tuck into the best roasted octopus, squid-ink pasta, and roasted codfish for dinner.
After all of that, it is time to head to bed for your further adventures in Italy tomorrow.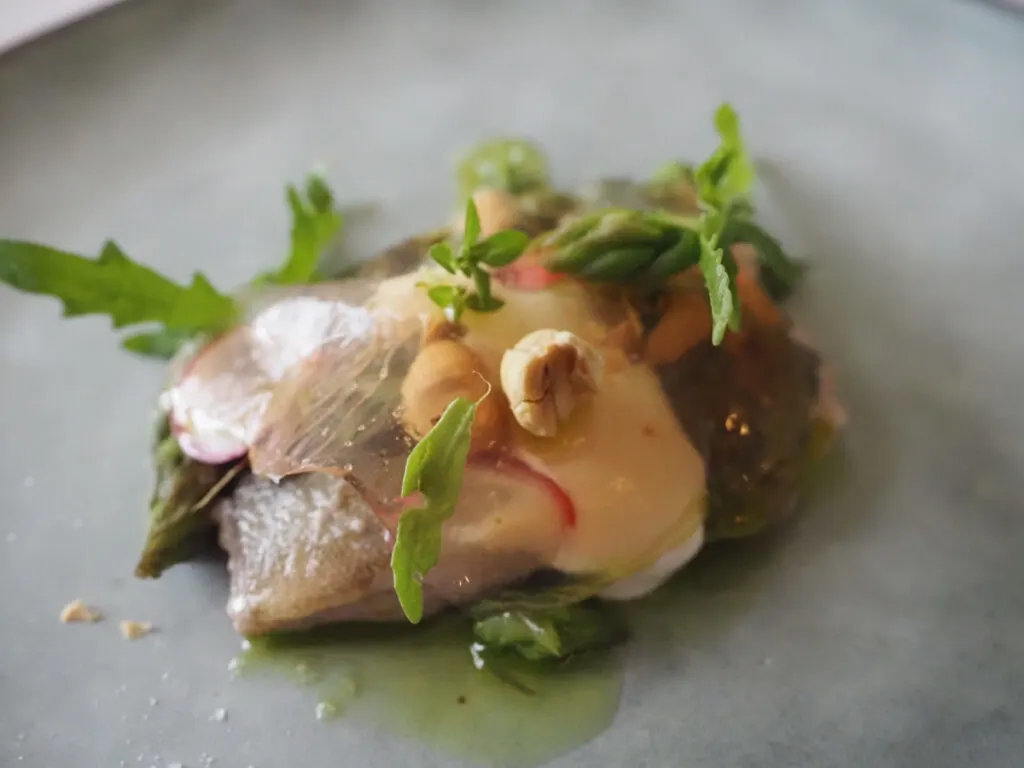 We absolutely fell in love with Alba and the Piedmont region during our time there. While we didn't get the chance to visit Turin, the countryside is the real reason to come to Piedmont. Between the vineyards and hazelnut orchards, it is truly stunning.
If You Have More Than 2 Days in Piedmont
If you happen to have even more time during your itinerary for Piedmont Italy, definitely opt to go truffle hunting, especially if you're here in the fall! That is white truffle season.
Also, with more time you can explore more wineries, or you can explore the city of Turin.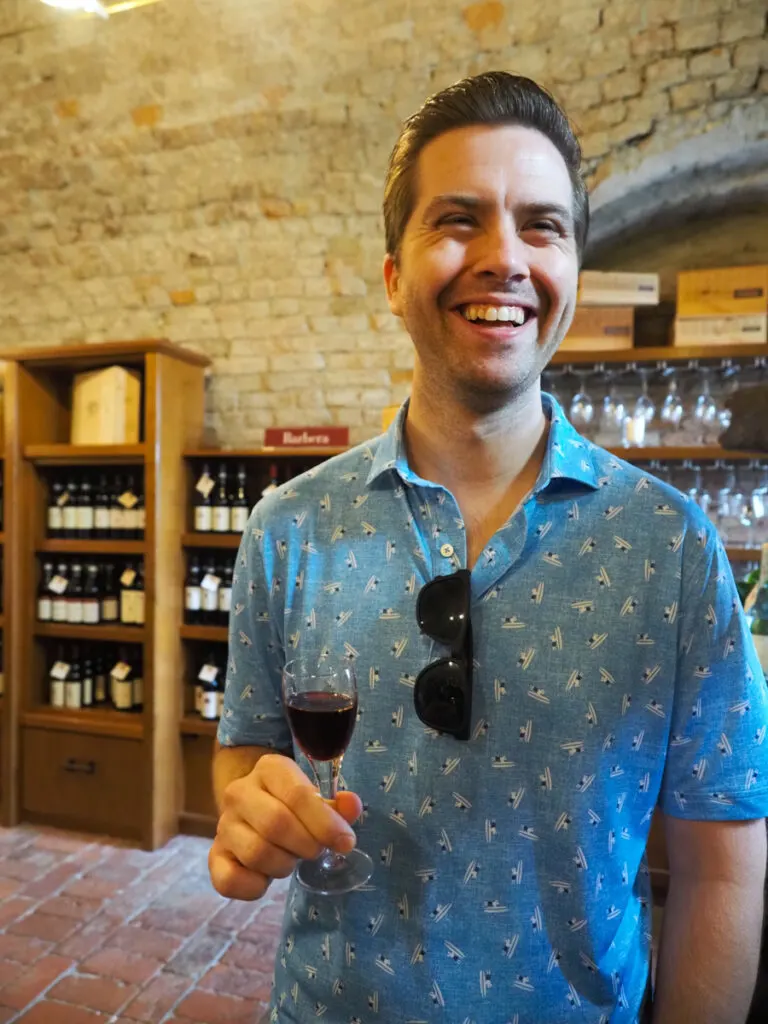 Why We Chose Alba Wine Tours
We loved Alba Wine Tours for our Piedmont wine tasting tour. Stefano and Manuela are a husband and wife team that run the company and are locals to the area. Being born and raised in Piedmont, they know all about the wine, cuisine, and culture of this region.
They also know the best places to drink wine and admire the views. So it was great to have Stefano as the guide. I also loved having lunch at their house. Manuela is a phenomenal cook!
The prices are also super reasonable and you get a private driver and tour of the area. You can also customize it based on your preferences including wineries, restaurants, etc. as well as the duration of the trip.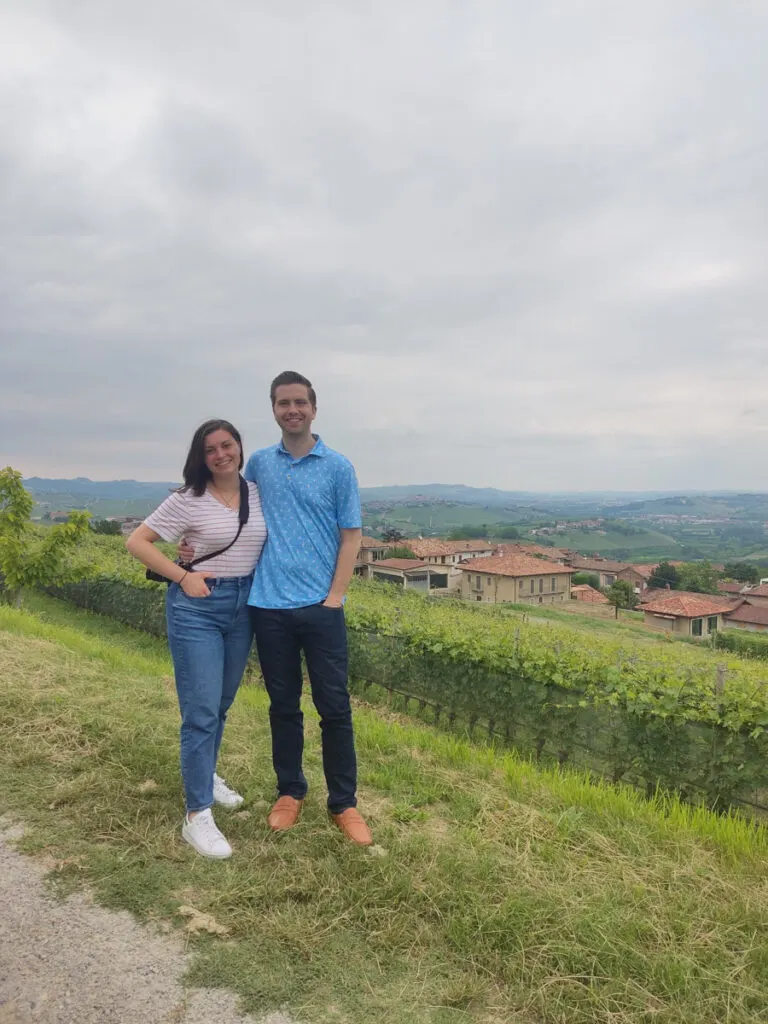 Where to Stay in Piedmont
During the wine tasting in Piedmont, Italy itinerary, we loved staying in Abla. This charming town is small enough to explore and fall in love with in between wine tasting in other villages.
But there are incredible places to stay all around the area based on your budget.
Here are some places to stay based on your budget.
Budget: Agriturismo Cascina Bellonuovo
Want to stay at a beautiful old farmhouse outside of Alba? This place is idyllic. With views of the surrounding countryside, you'll be immersed in Piedmont with its hazelnut trees and vineyards. Prices start at around $110 per night.
Mid-Range: Casa Agnese
This is where we stayed and it is in the heart of Alba. This small bed and breakfast is within walking distance to everything in Alba, and the owner is super sweet and has great recommendations. The rooms are spacious and lovely, and the breakfasts are homemade and delicious. Prices start at around $135 per night.
Luxury: Hotel Castello di Guarene
There are ample castles in Piedmont. And while some become restaurants or museums, this one is a 5-star hotel. Enjoy a luxurious stay in a castle in Piedmont at this dreamy hotel. You can enjoy its culinary delights at the restaurant or have some much-needed rest and relaxation at the spa. Prices start at around $335 per night.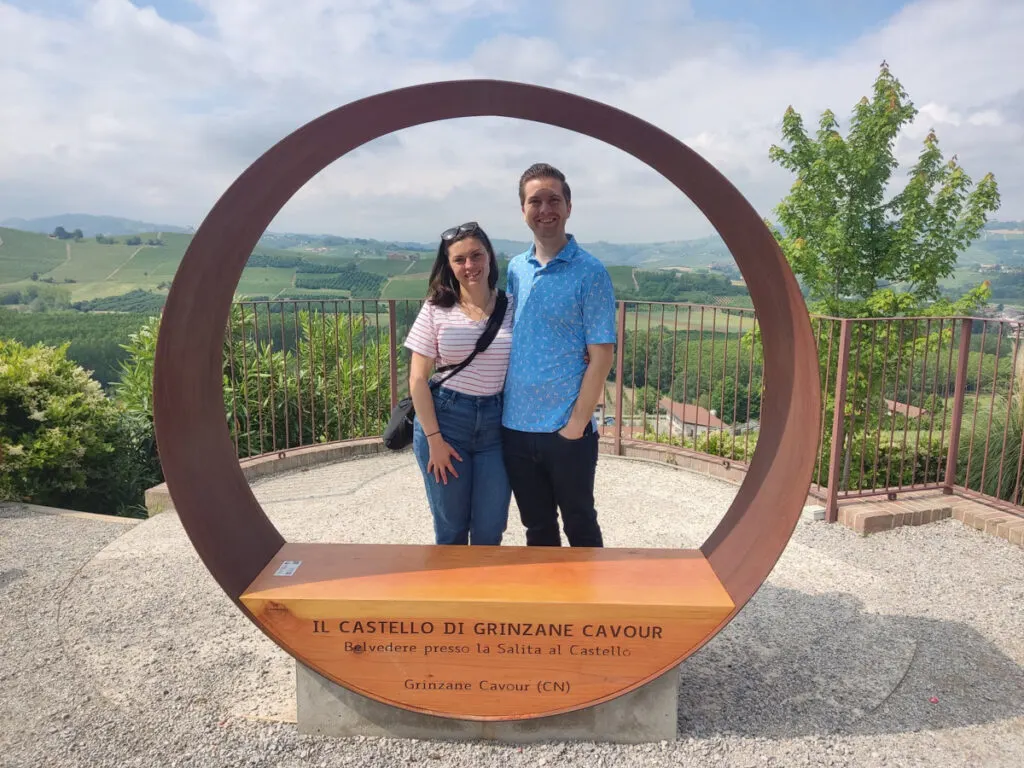 Best Time to Visit Piedmont
For the best Piedmont itinerary, October through November are perfect months. It is harvest season for the vineyards, and white truffle season is in full swing. So you could either go truffle hunting or just taste all the delights at local restaurants.
However, this is also a busy time of year with many people wanting to visit during harvest and truffle season.
We ended up visiting in late May and enjoyed it. There were next to no crowds in Alba, and we went to smaller vineyards, meaning we had few other tourists in sight.
This isn't a terribly touristy area year round, so visiting between April through October is a good time for better weather and great wine tasting. Just be sure to book tours and accommodation well ahead of time no matter when you visit.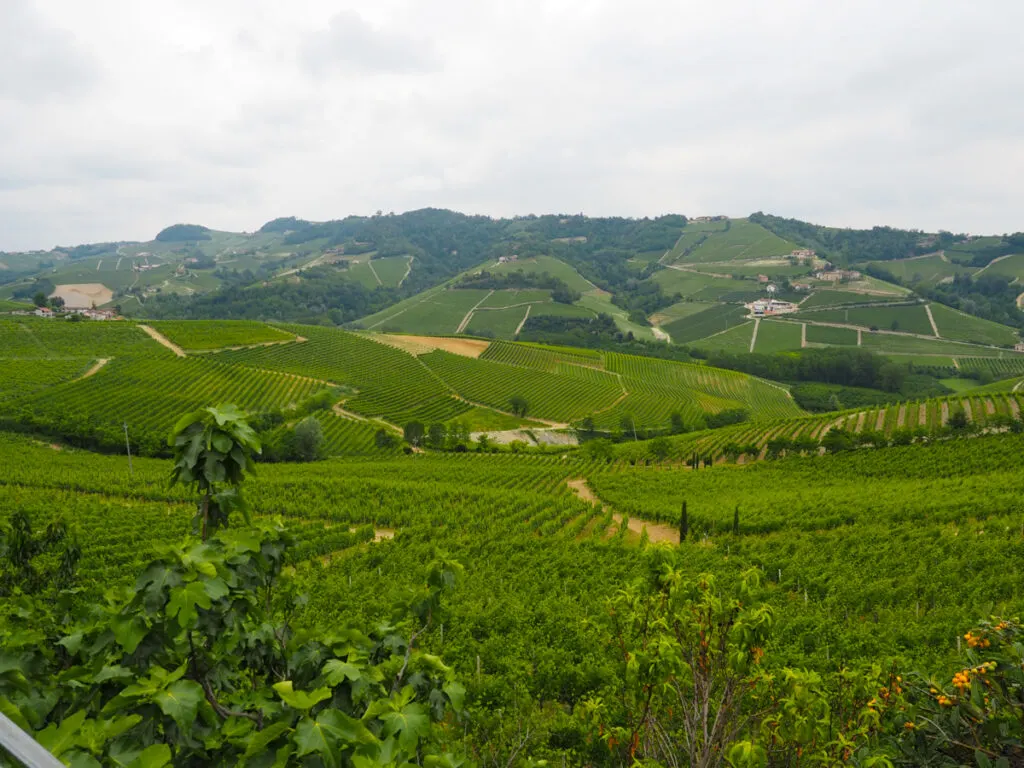 How to Get to Alba & Getting Around
The easiest way to get to Alba is via train. Fly into Milan and take the 2.5-hour train ride from Milan to Alba. From there, you can walk around the city. We booked via Trenitalia for our train to Alba.
For wine tasting, I highly recommend booking a tour and driver, as we did with Alba Wine Tours. But, if you prefer to drive, check out Rentalcars.com for options.
An itinerary for Piedmont, Italy is always a delight. Between its hazelnuts and truffles and delectable wine, Piedmont utterly captured our hearts. We hope you enjoy this 2 days in Piedmont itinerary and fall in love with this gem in Italy too.
Would you visit Piedmont? Let us know in the comments!
Want more Italy ideas? Check out these posts!
Want more wine travel inspiration? Check out these posts!
Pin it here!