Some posts on this site contain affiliate links, meaning if you book or buy something through one of these links, I may earn a small commission (at no additional cost to you!). Read the full disclosure policy here.
---
Travel to Halong Bay is seriously the most incredible experience. And when you find the best Halong Bay cruise, it is even better. Cruising along the vast mountains jutting from the water, exploring hidden caves, and relaxing on a beach while admiring the views was seriously the most amazing thing.
We fell in love with Vietnam during our time there, and we absolutely loved traveling to Halong Bay.
So on this podcast episode, aside from us musing about how lovely Halong Bay is, we discuss all you need to know about travel to Halong Bay including the best Halong Bay cruise, what to expect, things to do during your Halong Bay cruise, the perfect Halong Bay itinerary, and so much more! Sit back, relax, and imagine yourself in one of the world's most beautiful places.
Would you take a Halong Bay cruise? What are your thoughts? Let us know on Twitter @wwhoneymoon, Instagram @worldwidehoneymoon, or email me at [email protected].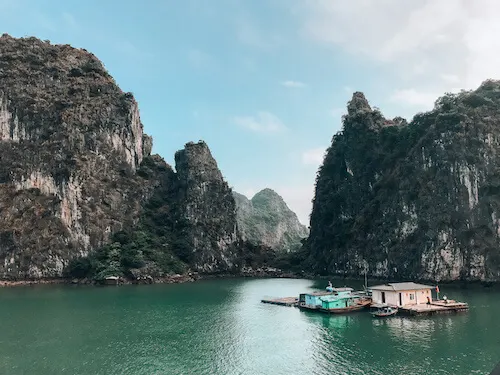 Time Stamps for Travel to Halong Bay & The Best Halong Bay Cruise:
0:16- Intro
0:32- Topic
1:47- Updates and chat
6:17- Thoughts prior to arriving at Halong Bay
11:33- First impressions of Halong Bay and our Halong Bay cruise
15:11- When to visit Halong Bay
17:18- Why visit Bai Tu Long Bay over the traditional Halong Bay route
22:09- The best Halong Bay cruise and features of the ship
28:00- Itinerary of our Halong Bay cruise
37:51- Food and drink on the best Halong Bay cruise
41:17- What we loved about travel to Halong Bay and the cruise
42:23- Would we go back?
42:39- What was something that we look back and reflect on as the best part of travel to Halong Bay?
45:18- Why we recommend a 3-day Halong Bay cruise instead of 2 days or a day trip from Hanoi.
47:45- Wrap up
Helpful Links & Further Reading:
Related articles and reading:
Related podcast episodes:
The best Halong Bay cruise: Indochina Junk Dragon Legend Cruise
We made our honeymoon fund to pay for this cruise on BluePrint Registry. It allowed us to make our own categories, upload photos, etc. to make our honeymoon registry fully customizable! You can also create a gift registry from any store and upload it to BluePrint using their handy bookmark tool.
Tips for Bai Tu Long Bay and Travel to Halong Bay:

Travel insurance is a great idea. We went with World Nomads for our 3 weeks in Southeast Asia and buy it every time we travel internationally. With comprehensive plans and a great price, we don't leave the country without it.
For flights to Vietnam, we love checking Skyscanner. It combines several flights and comes up with the best price!
What to pack:

Definitely pack a camera. We love our Nikon Coolpix A900 that has a great zoom and takes fantastic shots!
Get that Go Pro for amazing kayaking shots and up close and personal videos of the mountains.
For bugs, Badger Balm is our go-to. It's all-natural and DEET free and actually works! We've used it all over from Peru to Southeast Asia!
Warm weather plus being on a boat= sunburns. Stay protected with a great, environmentally-safe sunscreen like Alba sunscreen.
Pack those swimsuits for kayaking, lounging by the pool, or even swimming in the bay! I'm obsessed with this one-piece that I wear any chance I get and Chris loves these swim trunks.
Sunglasses are key while exploring too! Here are some great no-slip ones that are perfect for days on the kayak.
And don't forget your travel outlet adapter! Chris and I love this one that has 2 USB chargers and a regular plug so we can plug in 3 things at once!
How You Can Help:
Pin it here!