Some posts on this site contain affiliate links, meaning if you book or buy something through one of these links, I may earn a small commission (at no additional cost to you!). Read the full disclosure policy here.
---
Copenhagen in 3 days is a delight to experience. Gorgeous canals and a stunning harbor, world-renowned restaurants, and so many quirky and lovable places to enjoy make one have no doubts as to why this city is located in one of the world's happiest countries.
This lovely city on the water is easy to navigate, making 3 days plenty of time to enjoy the main sights and attractions. I fell in love with this unique city during my visit, and I'm here to show you how to have the best 3 days in Copenhagen!
Copenhagen in 3 Days Itinerary | Things to do in Copenhagen in 3 Days
From one of the oldest amusement parks in the world to stunning palaces, here are all of the things to do in Copenhagen in 3 days!
Day 1 of Your Three Days in Copenhagen Itinerary: Explore the Main Sites of the City!
There are plenty of incredible places to see in Copenhagen in 3 days, and for your first day in the city, I highly recommend wandering around to see the main sights.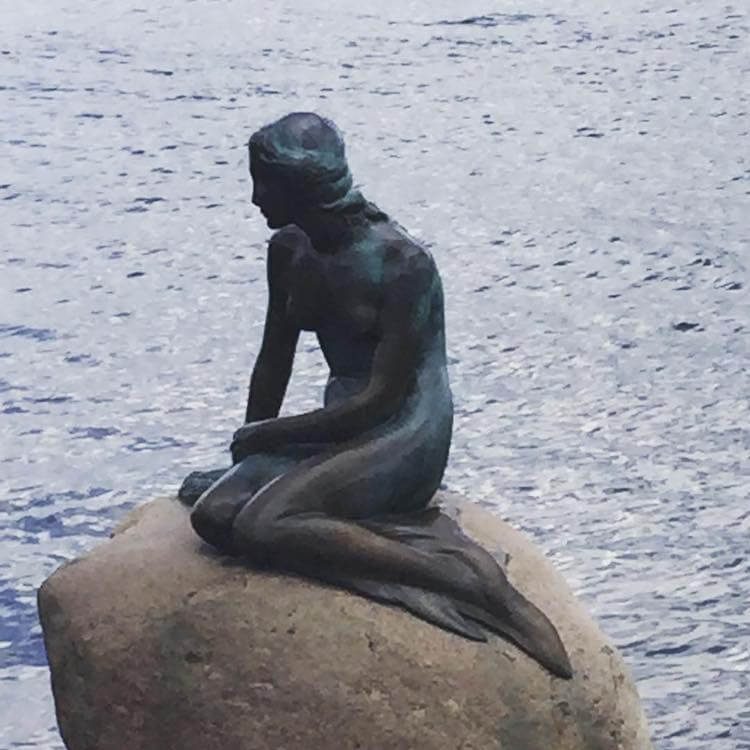 Little Mermaid and a Fortress
Start off your morning exploring this pedestrian and bike friendly city on foot.
Walk up to see the Little Mermaid up close. This petit statue depicts the little mermaid as she transforms into a human, based on the fairytale by the same name written by Dane and former Copenhagen resident Hans Christian Andersen.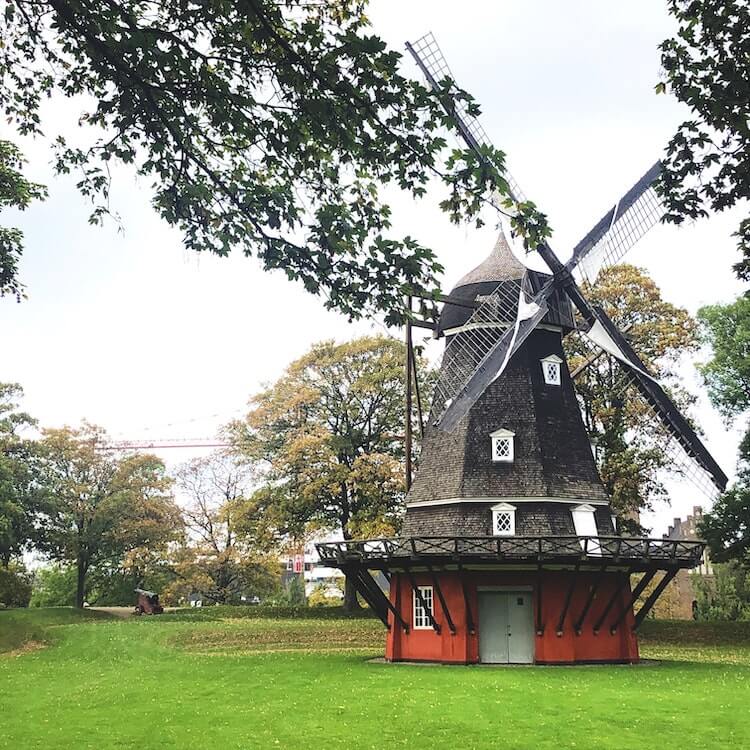 On your way back toward downtown, you'll pass by Kastellet, a star-shaped fortress built in the 17th century. I recommend stopping inside to walk along the ramparts and spot the windmill! Entrance is free and opening hours are daily from 6 am-8 pm in the winter and 6 am-10 pm in the summer.
Then Explore Via Canals!
Next up, continue on your Copenhagen itinerary with a delightful canal tour. I love this Copenhagen canal tour that is small to ensure a personalized experience! It also allows you to see the main sights of the city from the water plus hidden gems!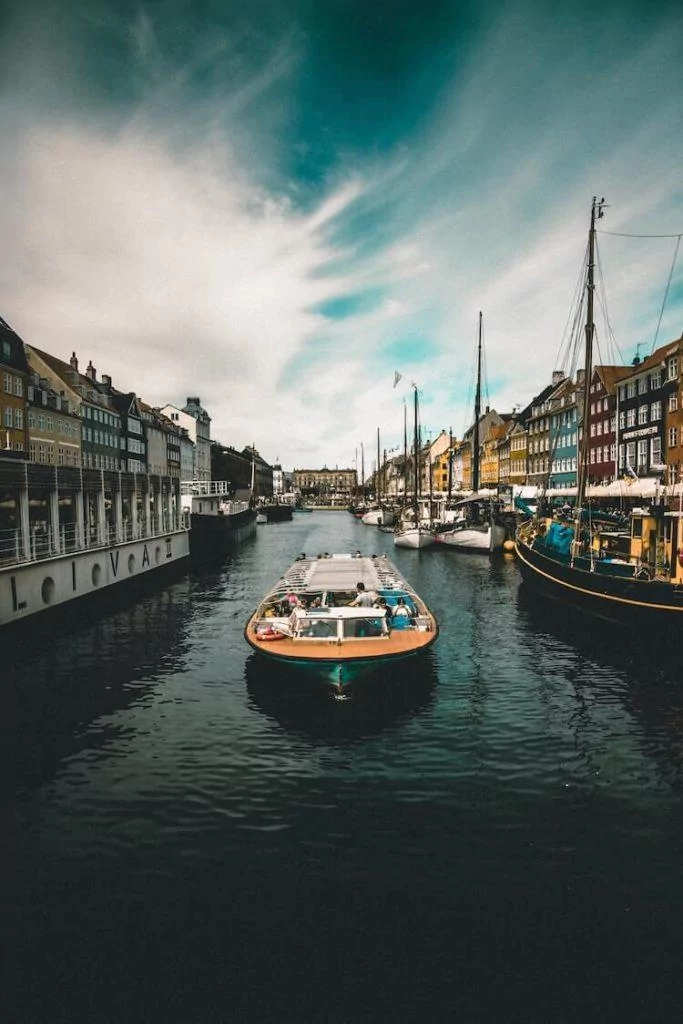 Sail past the architecturally stunning Copenhagen Opera House, Little Mermaid Statue, the colorful harbor of Nyhavn, the freetown of Christiania, Our Savior's Church, and so many more popular spots as well as lesser known areas.
This canal tour departs at 12:50 or 1 pm daily at Ofelia Plads, which is on water across the canal from the Copenhagen Opera House.
Feel Like Royalty at a Palace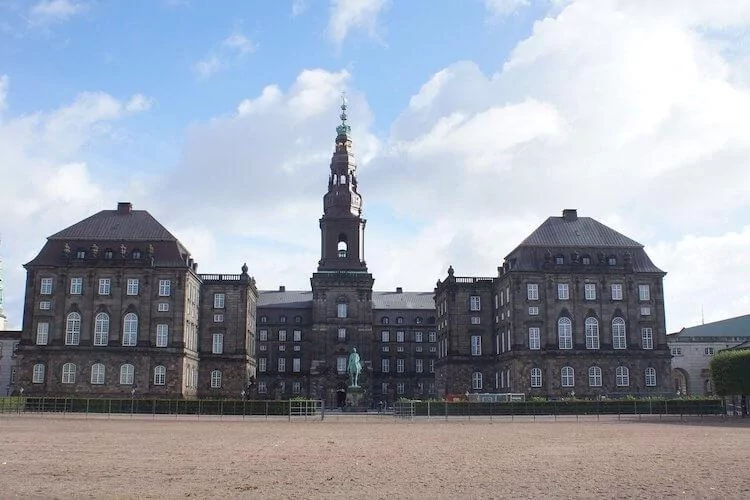 After that, wander down to Christiansborg Palace. This is where the Queen, parliament, and the prime minister's office are located. While the royal family is not at the palace, you can visit the Royal Reception Rooms, the Royal Stables, the Royal Kitchen, ruins under the palace, and even the Christiansborg Palace Chapel.
Admire the art, architecture, tapestries, and delightful horses as you wander around the palace. Learn all about the Danish royal family and their history during your time visiting this large castle.
Tickets are DKK160 or $26 for a combination ticket to see all of these rooms. I recommend purchasing your ticket in advance! The parliament and chapel are free to visit. The palace is open from 10 am-5 pm most days, with it being closed on Mondays from November through March. Stables are open daily April-October from 1:30-4 pm, 10 am-5 pm in July, and November-March 1:30-4 pm and closed on Mondays. The chapel is open from 10 am-5 pm on Sundays August-June and open daily 10 am-5 pm in July.
A Scenic Harbor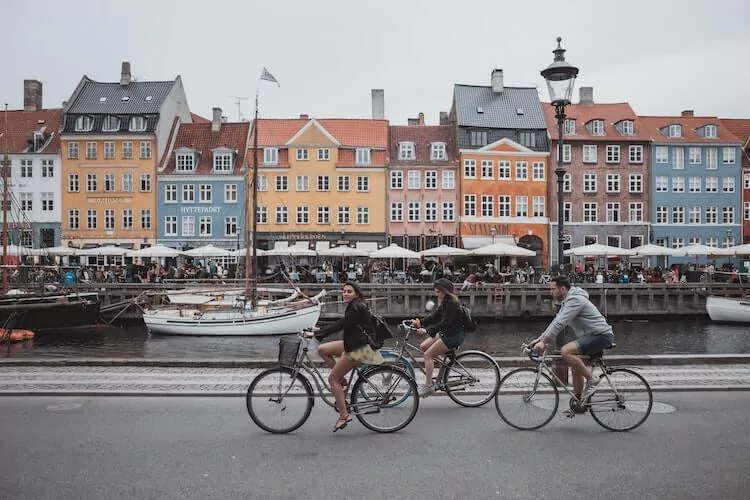 From the palace, walk to the most iconic spot in Copenhagen: Nyhavn. This 17th century waterfront is complete with a canal lined with boats as well as bright and colorful townhouses.
Way back when it was known as hosting rambunctious sailors and many sex workers. It was also where Hans Christian Andersen lived in the 1800s.
Today it is home to the Veteran Ship and Museum Harbor, where restored ships reflect the heritage of this harbor, the Memorial Anchor commemorating the Danish officers and sailors during WWII, and several bars and restaurants.
Walk along the harbor admiring the boats before sitting down at a bar for a much deserved pint of beer. It has been a long day of walking and exploring this exciting city- you've earned it!
End…at a Jazz Club?
But the day isn't over! End your first of 3 days in Copenhagen at none other than a jazz club! Many would be surprised to know that there are in fact several jazz clubs throughout the city of Copenhagen!
Copenhagen has quite the rich history of jazz music, starting around the 1920s and throughout WWII, and even in the 1950s and 60s, many of the jazz greats like Louis Armstrong and Ben Webstew made this their home for a time.
They felt at ease with life in Copenhagen versus the racial tensions in the US, and enjoyed performing at venues across the city.
So wrap up your first day in Copenhagen at a jazz club like Jazzhus Montmartre or La Fontaine to listen to the music, enjoy a meal, and have a cocktail or two.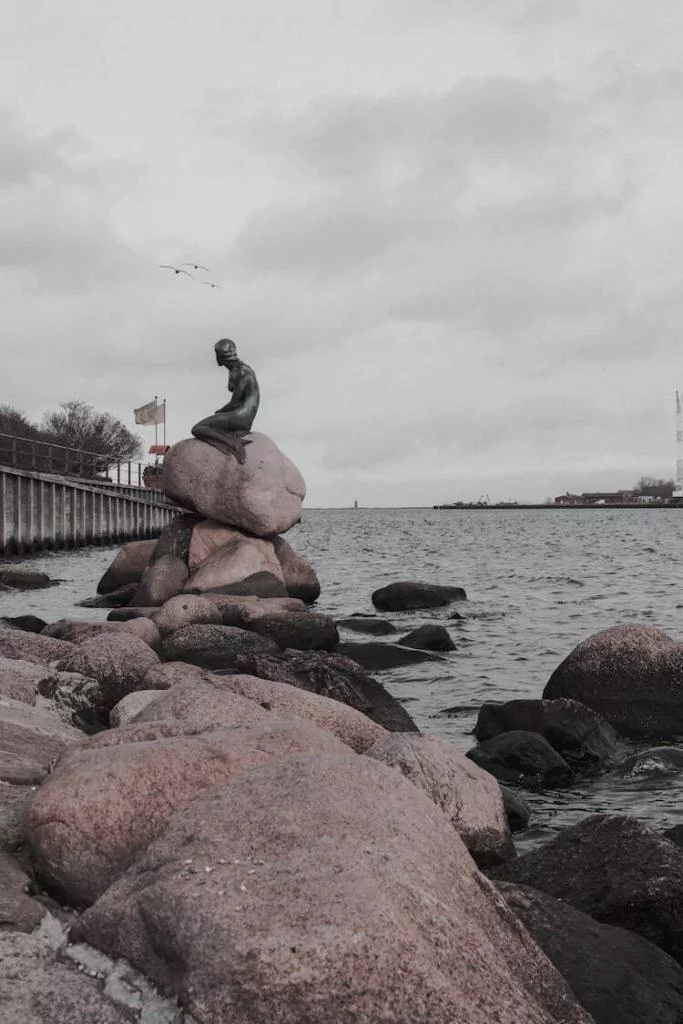 ---
Read more about European destinations:
---
Day 2 of the Perfect Itinerary for Copenhagen: Enjoy the Food & an Autonomous District
After a fun-filled first day in Copenhagen, it is time to explore the best food, views, and a unique autonomous district within the city.
Take in Copenhagen By the Stomach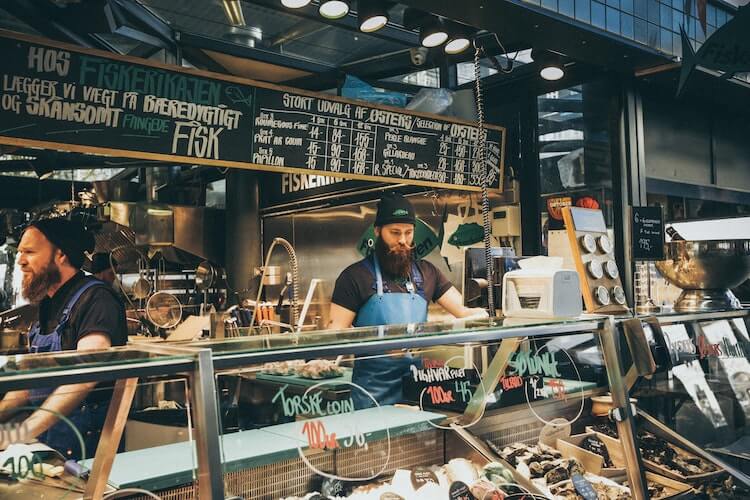 Wake up and start the day hungry, as you'll be spending the late morning and early afternoon enjoying the culinary delights that this city has to offer!
Home to several world-renowned chefs, including famed Noma's Rene Redzepi, Copenhagen is host to several farm-to-table restaurants, innovative recipes, and locally loved spots. Which is what makes this city a perfect place for foodies!
Artisan cheese, organic hot dogs, the famous smorrebrod, and so much more await you as you walk around Copenhagen and stop into some of its best shops and restaurants on this fabulous food tour.
Plus, you'll also have the opportunity to check out the Copenhagen Botanical Gardens, take photos of the beautiful Rosenborg Castle, a chance to take a photo with a 10,000-year-old meteorite at the Geological Museum, and learn about the history of the gorgeous Rundetaarn, or Round Tower, a 17th-century tower located in central Copenhagen.
Basically, you get to spot more famous sights around Copenhagen while eating the best food. That sounds like a great way to spend 4 hours in Copenhagen! The tour starts around 10:30 am each day at Torvehallerne.
Visit Church of Our Savior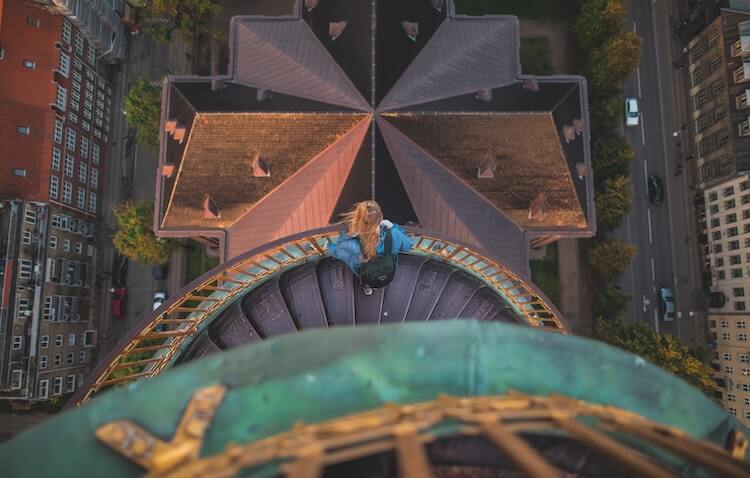 For one of the best views over Copenhagen, a climb up the 400 stairs to the Church of Our Savior's serpentine spire is a must. Admire the Baroque cathedral, a rarity of its kind in Denmark and the beautiful altar before ascending the many stairs to the top!
Entrance fee is 35 DKK ($5.50 USD) for adults from the end of February-end of April and October-December 15. The fee is 50 DKK ($8) for adults from May 1-September 30.
Hours are end of February-April 30 and October 1-December 15 from 10 am- 4 pm daily (opens at 10:30 am on Sundays and holidays). May 1-September 30 it is open from 9:30 am-7 pm daily (opens at 10:30 am on Sundays and holidays).
Explore the Autonomous District of Freetown Christiania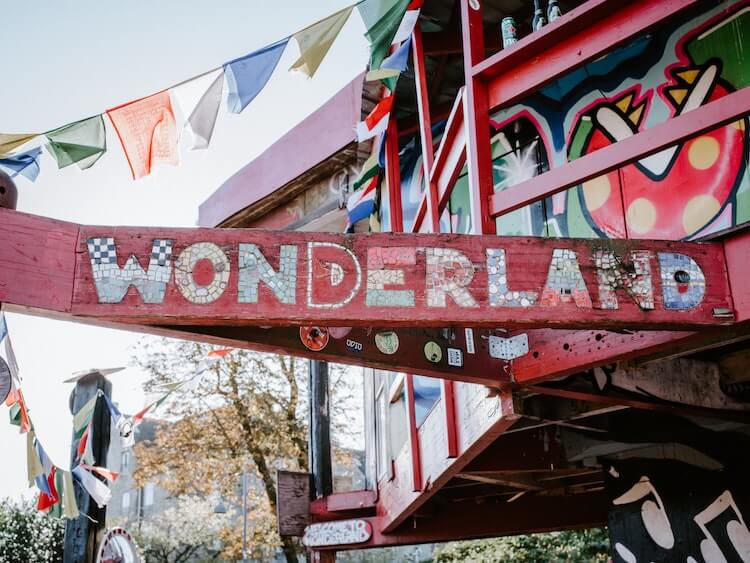 From the Church of Our Savior, it is a quick walk to the autonomous anarchist district of Christiania. This district was once home to a military base. However, in 1971, several hippies broke in and squatted here, creating their own commune that is now home to over 1,000 people!
They have bars, restaurants, schools, and so much more run by their own community. Of course, what most people have recognized it for in the past is the Green Light District (or Pusher Street).
This place was once very popular for tourists as it was the spot to buy weed because it is illegal in Denmark. However, they've been more strict with it in Christiania, so maybe skip the hash purchases in favor of the many other things to do there.
There are ample places to hear live music, fantastic cafes and restaurants (including several vegetarian and vegan spots), a thriving street art scene, second-hand stores, a gorgeous canal, and even a fantastic Christmas market during the holiday season.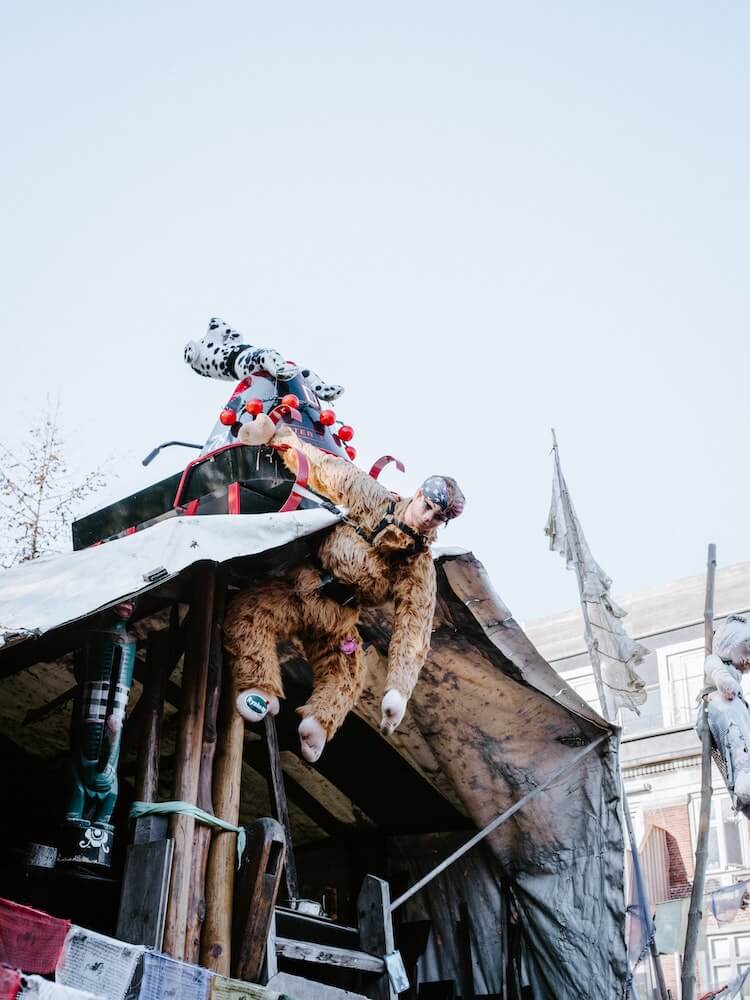 It is a unique place to visit during a trip to Copenhagen. You can either visit on your own or with a group tour to see the hidden gems of Christiania. The group tour also goes to 2 other alternative neighborhoods in Copenhagen.
Pro-tip: Check the news prior to visiting to see what's going on there. While most visits are peaceful, there is occasional criminal activity. Also, do not take photos on Pusher Street or run in the area. Just be respectful and don't attract attention and you'll be fine. And opt to visit during the day versus at night.
Splurge on the Delights of the World's Best Restaurant: Noma
Did you know that the best restaurant in the entire world is located in Copenhagen? That's right, Noma is well-known for its unique and innovative menu. The tasting menu is always changing based on what is available, using only Scandinavian ingredients.
But don't expect a fussy upscale snooty spot. This place is known for turning things upside down, so expect a warm and friendly atmosphere.
The only types of menu on offer is the Summer Season, Game & Forest Season, and Vegetable Season based on the time of year.
While this sounds delightful and exciting to eat at the world's best restaurant, it isn't cheap. A menu will set you back at least $425 without wine and $650 with wine per person. If you are visiting Copenhagen in 3 days as part of a honeymoon or you love luxury travel, this is the spot to go!
As a pro-tip, Noma isn't an easy place to get into either! So this will take some planning in advance. Spots open a few months in advance and get snagged up quickly, so know when you'd like to go well ahead of time and book as soon as it's available (and not a minute later!).
And If You Can't Get in to Noma (Or Frankly Can't Afford It)….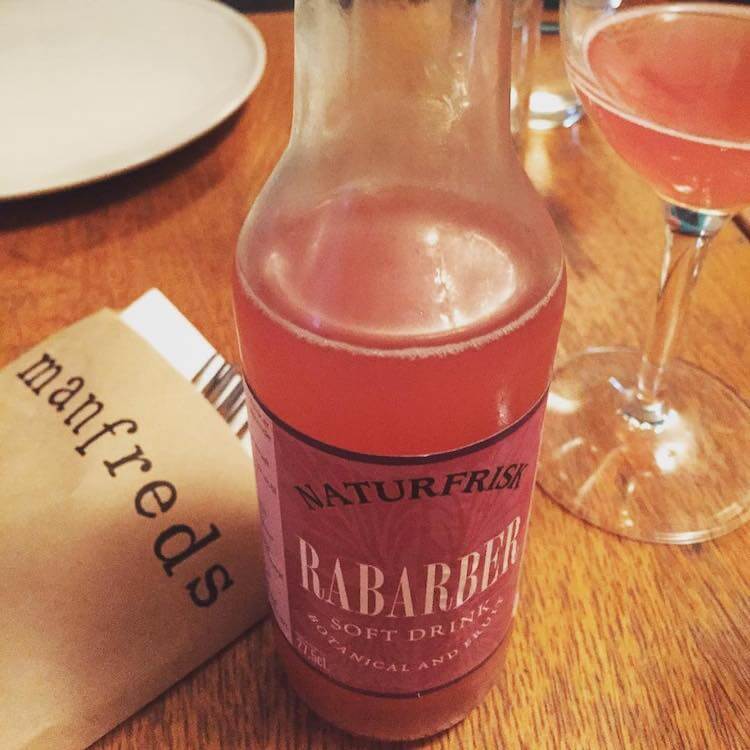 Noma has produced many chefs that are all over the world, including several in Copenhagen itself. If you can't get into the famed Noma, you can certainly find a restaurant with an alumnus to create many Noma-inspired dishes at a fraction of the cost.
At the time I was visiting Copenhagen, I was on a pretty strict budget, meaning no $400+ meal for me. However, we did end up making reservations and enjoyed Manfreds, a restaurant created by Christian F. Puglisi, a notable Noma alum.
This is a casual spot with an organic and locally sourced menu. Also, a chef's choice veggie-based menu will only set you back about $47 per person, or $67 with meat. Pair that with a bottle of wine and you'll have a high-quality meal without the crazy high prices.
Day 3 to Wrap Up Three Days in Copenhagen: City Hall Square, Stroget, & Tivoli
On your last day in Copenhagen, it is time to stroll around and have fun at the world's second oldest amusement park! Here is what you'll want to do on the last of 3 days in Copenhagen!
Wander the Shops Along Stroget and Admire City Hall Square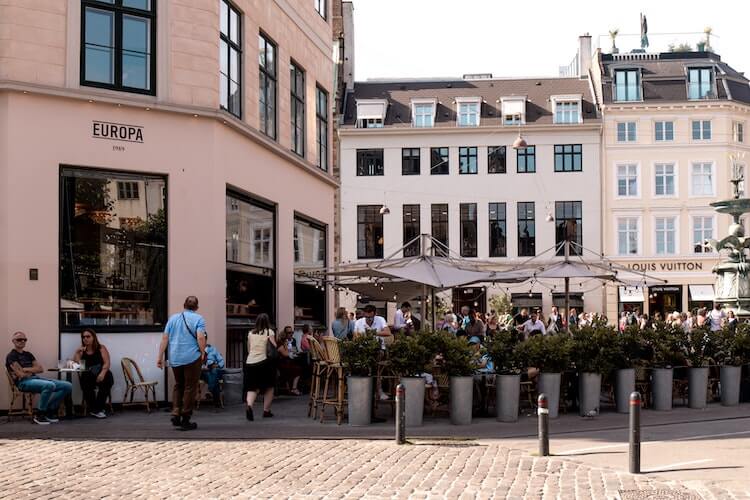 Spend the morning exploring along Stroget, one of the longest pedestrian shopping streets in Europe. This street is perfect for shopping (or window shopping), people watching, and listening to musicians.
This street has a mix of both luxury and budget brands that you can get almost anywhere, so while it is a lovely street to wander, you can also stroll around the side streets for more boutiques and unique finds.
Keep walking along Stroget until you reach City Hall Square. This is a large public square and is home to the city hall, Politiken national newspaper, headquarters for the Confederation of Danish Industry, and many other beautiful, historic buildings. It is well worth a stop to admire before continuing onto the best place in Copenhagen.
Play and Enjoy Tivoli Gardens!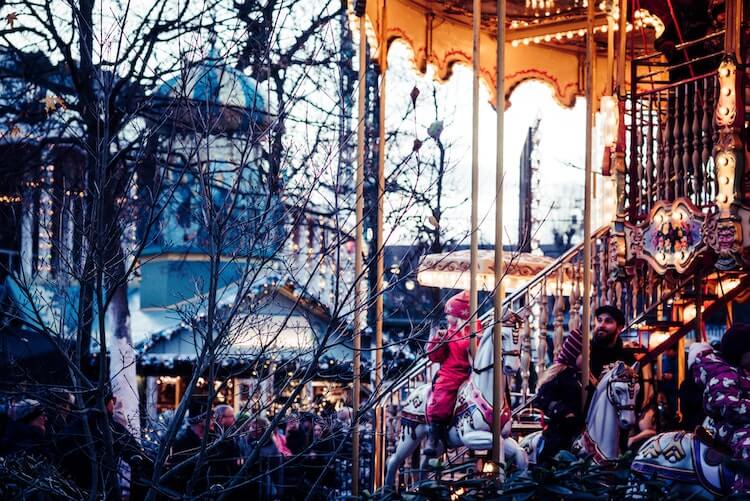 The rest of your day can be spent at the oldest amusement park in Denmark: Tivoli Gardens! This place is older than even Disney!
As far as what to see and do at Tivoli Gardens, here is a short list:
All the rides! Purchase the unlimited ride tickets for 245 DKK ($39 USD) as rides can require several tickets. Check out The Demon, The Roller Coaster, and The Flying Trunk while you're there.
The Tivoli Aquarium. For 30 DKK ($4.75 USD) you can visit the 100 different fish species, sharks, rays, eels, and more!
Gardens! Check out the Hanging Gardens, Concert Hall Gardens, Pergola Gardens, Chinese-Inspired Bamboo Forest, Vintage Car Gardens, the Parterre Gardens,and many more as you wander around Tivoli.
Enjoy dining ranging from casual hotdogs and ice cream to upscale sushi, lobster, and even wine! Check out the Tivoli Food Hall to try several stalls!
Entertainment: Check out ballet, music, theatre, and more!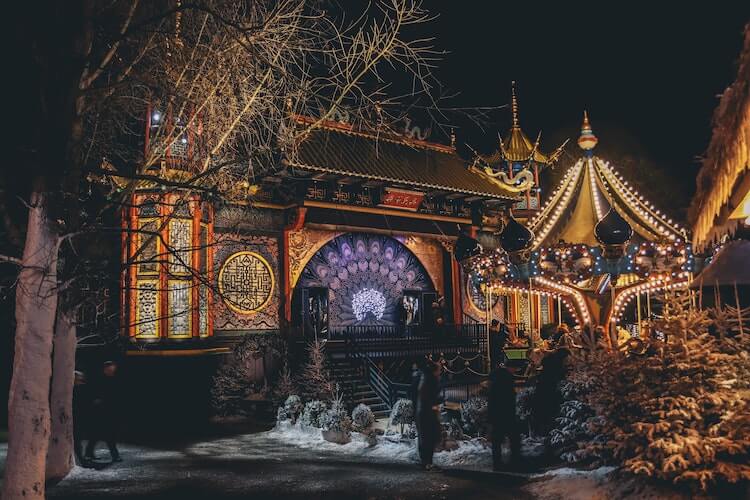 Essentially, you could spend a long time at Tivoli, so I recommend spending most of the day here in Copenhagen.
Opening times are from 11 am-10 pm on Sunday-Thursday and 11 am- 11pm on Friday and Saturday. Opening dates are June 8-October 4, October 9-November 1, and November 13-January 3.
The entrance ticket starts at 135 DKK for people 8 and up ($21.50 USD). This is just entrance to the park and not unlimited rides. I recommend purchasing skip-the-line tickets in advance.
After a fun filled day at Tivoli, it is time to say farewell to your amazing Copenhagen in 3 days itinerary.
Copenhagen in 3 Days Map
If you have 4 or more days in Copenhagen
If you are staying in Copenhagen for 4 or more days, you'll easily be able to squeeze in more sightseeing of Copenhagen's unique museums and even pay a visit to Carlsberg Brewery!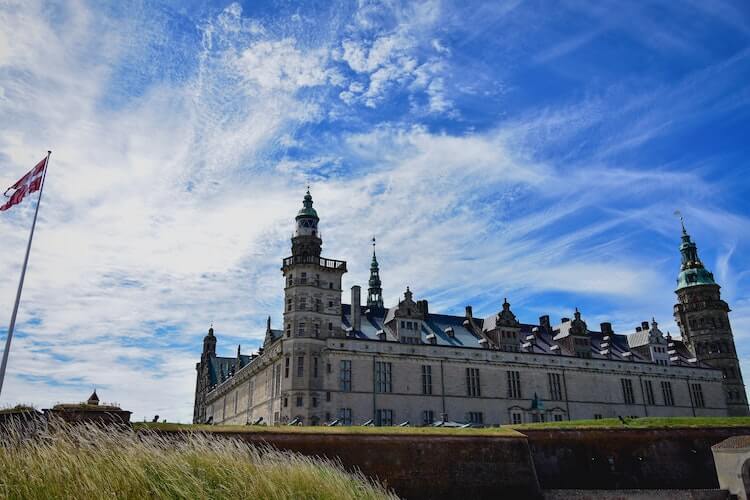 While you could hang out and explore in Copenhagen for the 4th day, I actually recommend taking a day trip or a longer tour to see more of Denmark (or perhaps Sweden): Here are a few options to choose from:
Visit the exciting and historic city of Malmo in Sweden plus Kronborg Castle, which inspired Shakespeare's Hamlet on this Hamlet and Sweden Tour

.

Explore more of Sweden with Malmo and Lund on this tour

.

Take a guided tour

around famous sights like Frederiksborg Palace, and Kronborg Castle.
---
Discover more of Europe's best cities!
---
Best Time to Visit Copenhagen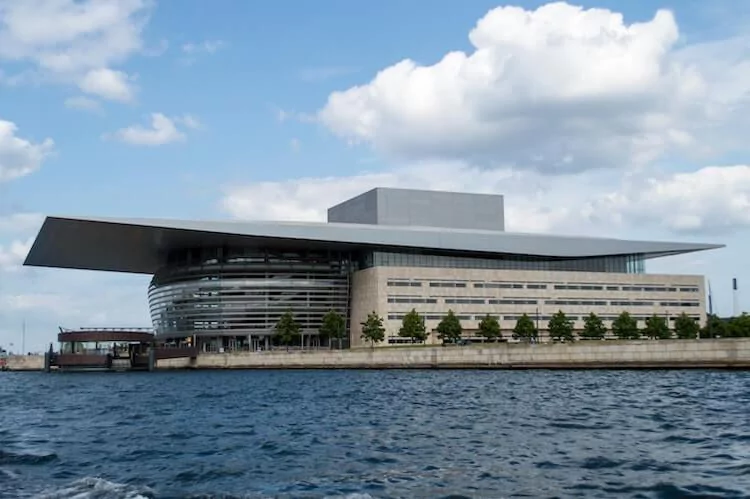 Copenhagen, like many popular destinations in Europe, has a typical tourist season in the summer as well as around the holidays for the famed Christmas markets. Temperatures are pleasant and not too hot in the summer (around 70ºF in June and July), and winters can be quite cold. Spring and fall can be also chilly at times.
I visited in late June and it was perfect temperature-wise. Not too hot or cold, but there were a lot of other tourists. If you don't mind bundling up a bit more, it is well worth visiting in the spring and autumn for lovely flowers or fall foliage and fewer crowds. And, of course, the Christmas markets are divine, especially around Tivoli. Many Christmas markets open between mid-late November and close right before Christmas with Tivoli closing after the New Year.
To avoid the most crowds around the holiday season, I recommend visiting in late November or early December.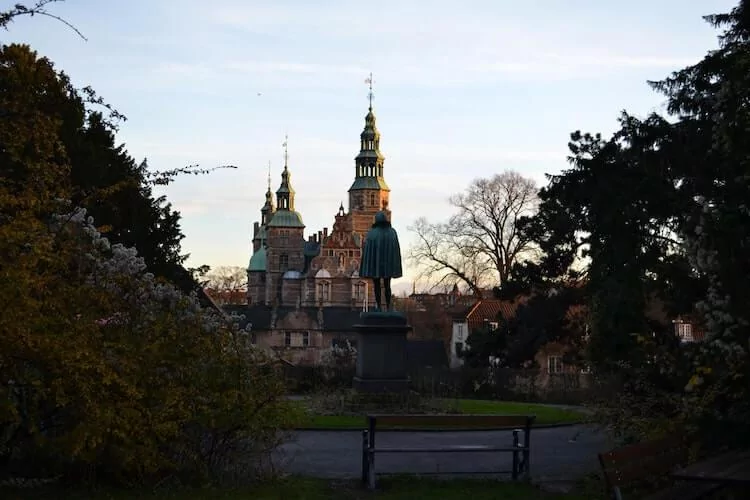 Where to Stay During Your 3 Days in Copenhagen, Denmark
There are plenty of options for where to stay in Copenhagen. However, as it is an expensive city, prices may be a bit higher than several other places in Europe.
To save extra money, be sure to check out great options on VRBO! Many places can be found for less than $100 per night.
As far as hotels, here are some options based on your budget:
Budget: CitizenM Copenhagen Rådhuspladsen
For a great budget option located near Tivoli Gardens, this is the place. Complete with a top level bar with great views, beautifully cozy rooms, and easy walking distance to many attractions, this is a wonderful base for your 3 days in Copenhagen. Prices start around $125 per night.
Read reviews on TripAdvisor and book here!
Mid-Range: 71 Nyhavn Hotel
Located on Nyhavn in 2 newly renovated warehouses from the early 1800s, this place offers incredible views of the harbor! It is also right in the thick of the action so you can pretty much walk everywhere. Rooms are super charming with that Scandinavian look. Prices start around $200 per night.
Read reviews on TripAdvisor and book here!
Luxury: NIMB Hotel
This luxury boutique hotel is perfect for a romantic getaway to Copenhagen. With only 38 rooms with unique designs, a fairy tale feel, and right next to Tivoli, you'll feel spoiled in this incredible spot. Prices start around $575 per night.
Read reviews on TripAdvisor and book here!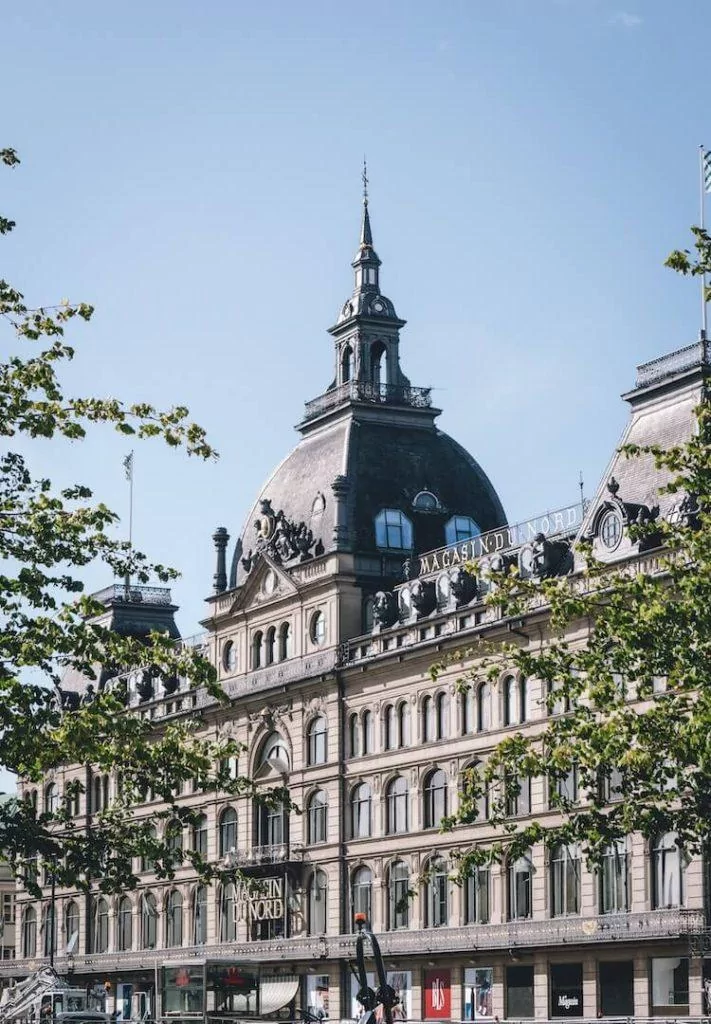 ---
Planning a trip to Europe around the holidays? Check these posts out!
---
Getting To & Around Copenhagen
Copenhagen is really easy to get to thanks to its airport. The airport has several flights a day from both domestic and international destinations. Airlines like British Airways, Air Canada, and Delta as well as discount airlines like Eurowings, Easyjet, and Ryanair fly here. For the best flight deals, I love checking Skyscanner!
When it comes to navigating Copenhagen, there are plenty of options! It is a very walkable city, so you can get around on foot just fine in most cases. It is also super bike friendly, so you can rent a bike for a day or rent a Donkey rental bike on the street. Plus, there are ample electric scooters and bikes to rent around the city.
Copenhagen also has a clean and organized metro system to easily get around. And to get to the islands nearby, take a ferry!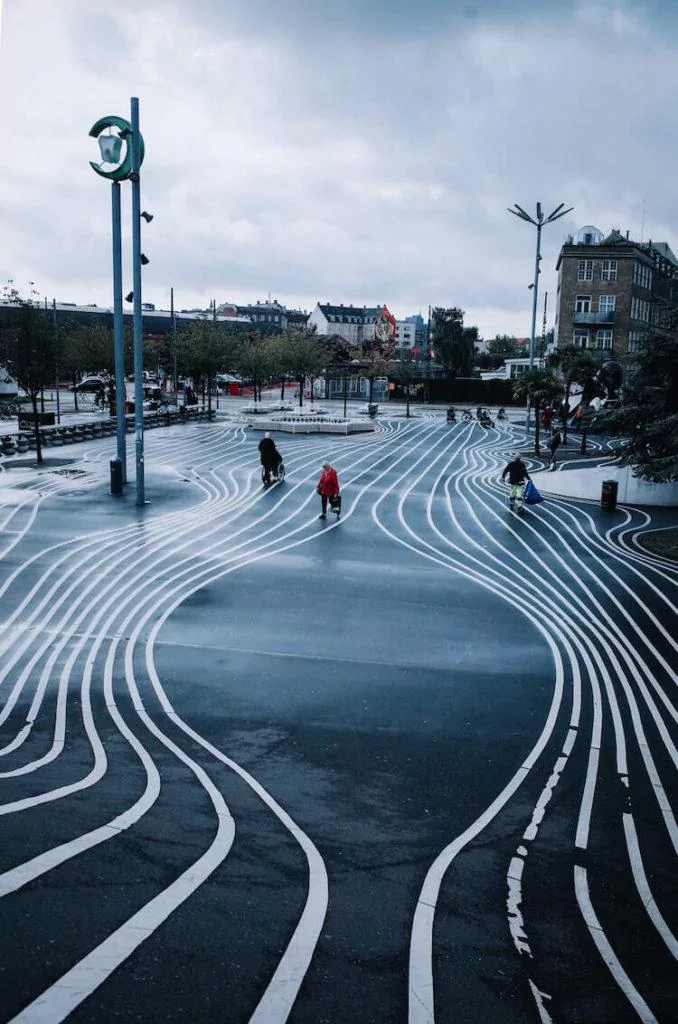 What to Pack for a Copenhagen Three Day Itinerary
Packing for Copenhagen can be a challenge, especially in the summer. It isn't the place to only pack up shorts and short sleeved tops. It does get chilly in the mornings and evenings and the days aren't terribly warm.
I recommend packing jeans, lightweight scarves, comfortable walking shoes (I love my Keds), and a jacket/cardigan in the summertime. For winter, I recommend comfortable boots, jeans with a layer underneath, cute sweaters (I loved wearing these in Europe last winter!), a heavy scarf, and this warm winter jacket from The Northface.
Don't forget to pack an umbrella as it could rain at any time, and perhaps on hot days a swimsuit is great for swimming in the water!
For taking great photos, I love using our iPhone and this tripod. And if you are in need of a new backpack we love our Osprey Farpoint 40 carry-on backpacks plus these packing cubes! And lastly, always bring an outlet adapter so you can plug in your things!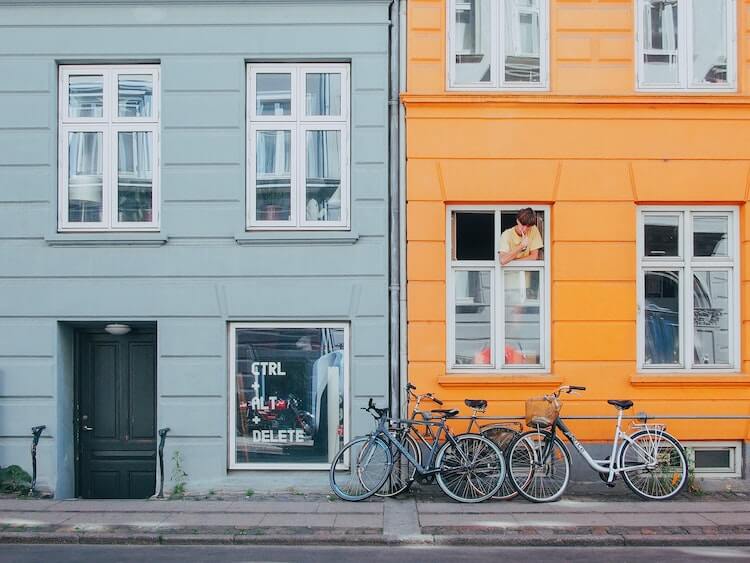 Tips for the Perfect Copenhagen 3 Day Itinerary
Here are some tips to make the most of your itinerary for Copenhagen:
If you plan to see a lot in Copenhagen in 3 days, opt for the Copenhagen Card. Choose from 24-120 hour passes, and it includes free public transportation, a map, and discounts at museums, restaurants, and other attractions.

As it is a large city, be vigilant with your things. I love my Travelon anti-theft purse that keeps my stuff safe while out and about during the day. I also leave my passport, most of my cash, and all but one credit card in the hotel safe locked away while out.

Always get travel insurance. If your passport gets lost or stolen or you get sick and need help, World Nomads is our go-to travel insurance. We don't travel internationally without it.

It is expensive. The Danish Krone is about $0.16 USD but the cost of living is really high. So expect to budget a bit more while visiting this city from food and drinks to attractions. It is possible to do this trip on the cheap of course, but not as easy as many other places.

English is widely understood and spoken. Learning a few words in Danish is great too! But if you feel lost, Danes are pretty much fluent in English.
We hope you have the most incredible three days in Copenhagen! From palaces and food to alternative districts, Copenhagen is a city people love to visit time and again!
Would you visit Copenhagen? What is your favorite thing if you've been?
Read Next: 7 Day Italy Itinerary For Food & Wine Lovers, How to Spend 2 Days in Bologna
Pin it here!