Some posts on this site contain affiliate links, meaning if you book or buy something through one of these links, I may earn a small commission (at no additional cost to you!). Read the full disclosure policy here.
---
Spending time in Prague is magical. From the historic Charles Bridge to the charming Prague Castle, there are so many things to awe and inspire you during a full 2 days in Prague itinerary. And while you may be asking yourself, "Is 2 days in Prague enough?" We're here to tell you, "YES!"
I've visited Prague twice and while there is always something new to discover in this romantic city, 2 days here is plenty of time to soak in the culture, cuisine, and fun.
So whether you are making a stop in Prague to wrap up your time exploring the gems of Central Europe, or you're making a stop for the Christmas markets, we're here to show you the best places to visit in Prague in 2 days!
Check out our Prague podcast episode!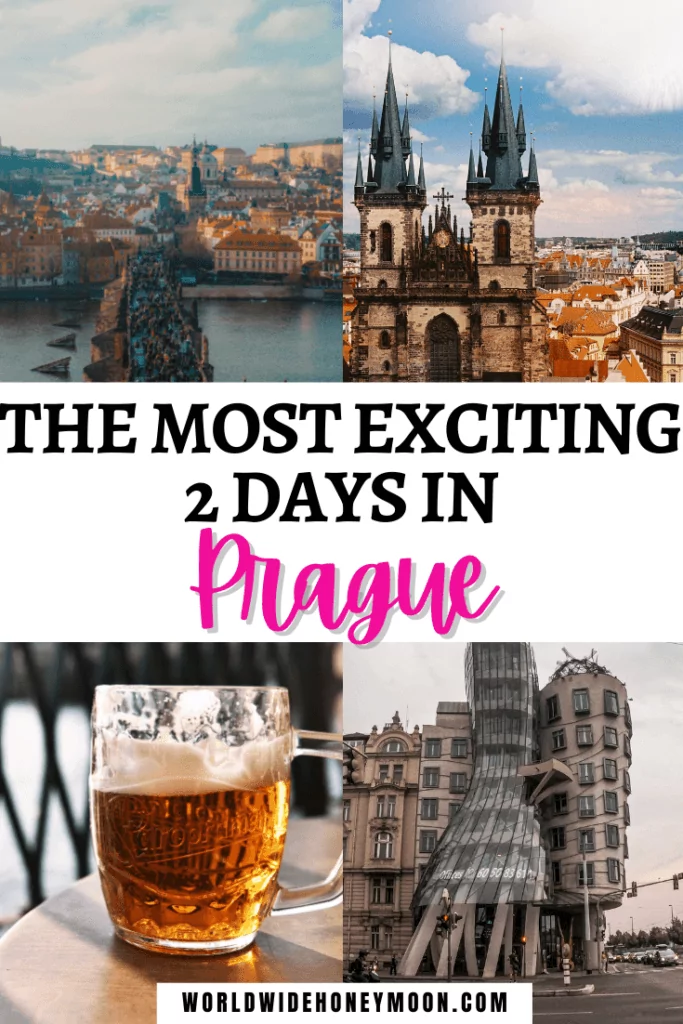 Getting There For Your 2 Days in Prague Itinerary
On our last trip to Prague, it ended up being our last stop on our Christmas market tour across Europe including visiting Cologne's Christmas markets, a day in Antwerp and Bruges, plus 4 days in Budapest, 2 days in Vienna, and a day trip to Bratislava. So we ended up flying home from this city.
Within the two times that I have visited Prague, I have flown, taken a train, and also a bus to get to/from this place. All of them are pretty convenient and easy options. For finding train and bus times and prices I love checking The Trainline and you can reserve your tickets in advance to make sure everything is ready to go so your trip to Prague goes smoothly.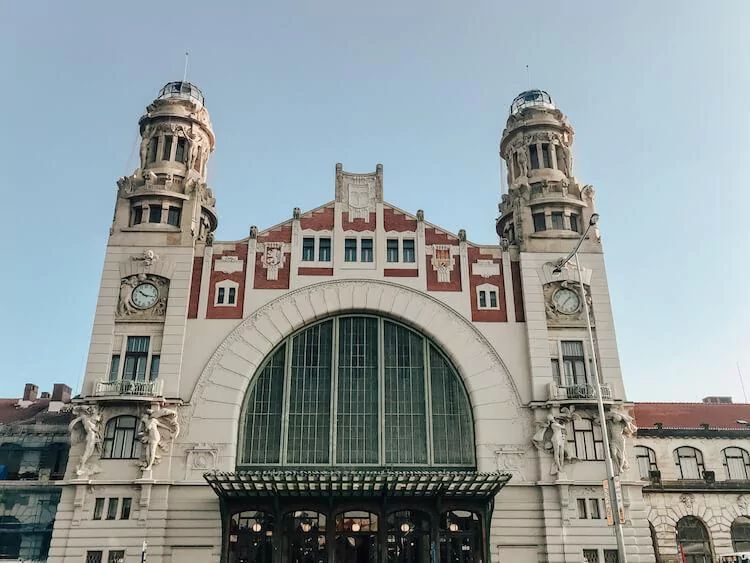 As far as finding flights to Prague, we love Skyscanner to compare flight prices and set alerts so that we can book when the prices drop.
The main train station (Hlavni Nadrazi) is only about 15-20 minutes from central Prague by car or public transport, the airport is around 25-40 minutes away, and the main bus station (Florenc) is about 10-20 minutes to central Prague by car or public transportation.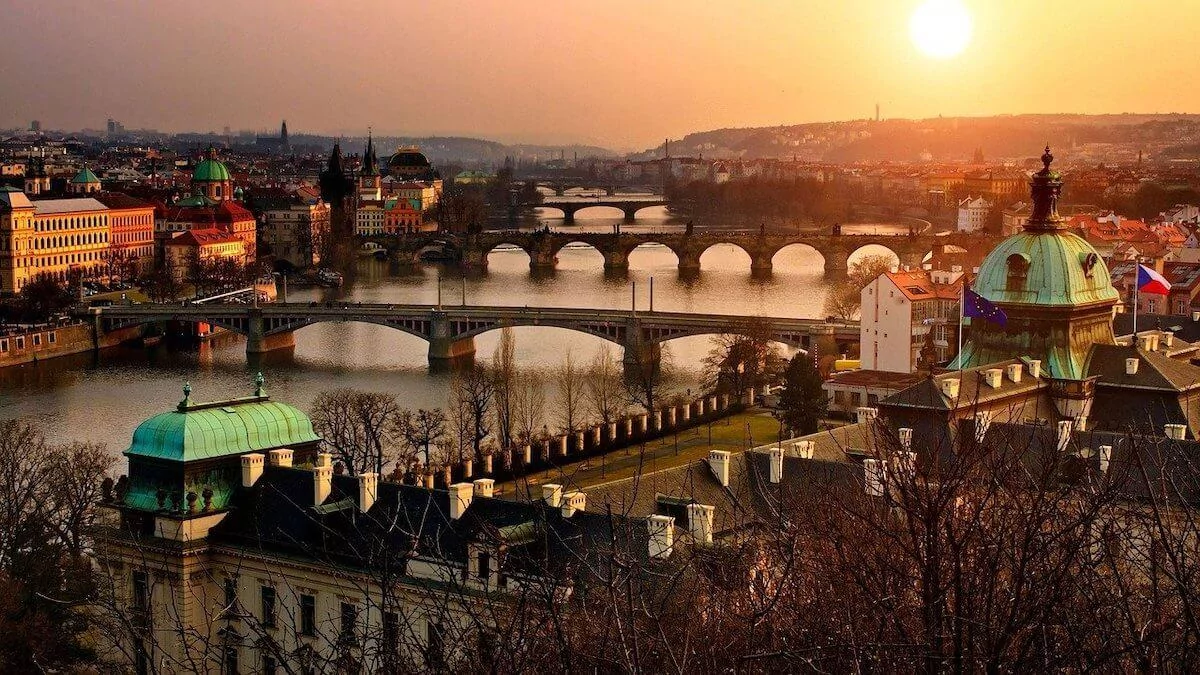 What to Do in Prague for Two Days
When it comes to spending two days in Prague, you'll definitely want to catch some of the classic sights. But there are also some pretty cool things to do in Prague outside of the main tourist attractions that you'll want to see while you're there! So let's dive into the perfect Prague 2 day itinerary, whether this is for a European honeymoon or a fun getaway.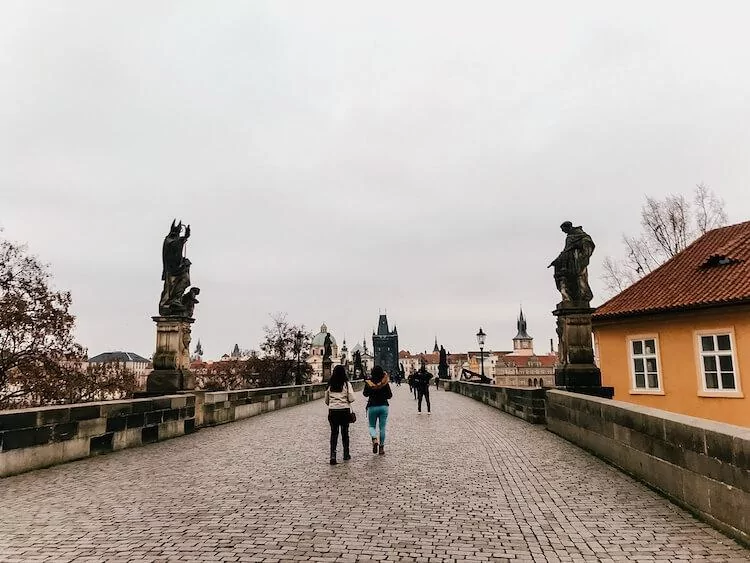 Day 1 of Your 2 Days in Prague Itinerary: Old Town Plus a Classic Beer Hall
During your 2 day trip to Prague, here are the top things to do on Day 1.
Charles Bridge & Tower
If there is one must-see during your 2 days in Prague itinerary, this is it. When most people picture Prague, this iconic bridge is the first thing that comes to mind.
The bridge dates back to 1357 where construction began under King Charles IV and crosses the Vltava River. And while the history of this bridge is significant as it was the only way to cross the river up until the 1800s, the 30 Baroque-style statues lining the bridge make it iconic.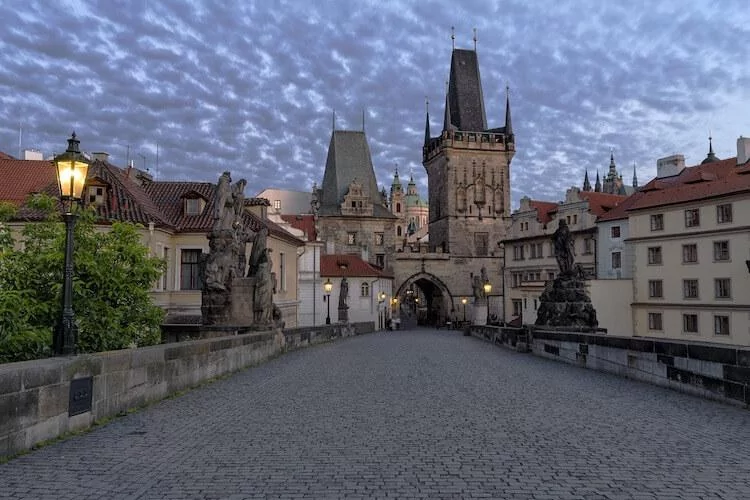 This dreamy bridge is one of the most romantic things to do in Prague. Wandering along the bridge is best done in the morning. By late morning and in the afternoon, this bridge is packed with tourists year-round. Prague, while once a lesser-known gem of Europe, is definitely on everyone's radar now, and so is Charles Bridge.
So if you want those perfect Instagram-worthy shots or just a quiet stroll along the bridge with your love alone, the earlier in the day the better.
And once you've crossed the bridge, I recommend getting some fantastic views from one of the towers. We ended up climbing the Lesser Town Bridge Tower (or Malastranske Mostecke Veze) as it was next to our hotel (Hotel Pod Vezi) and our stay included free entrance to the tower. You could also climb the Old Town Bridge Tower (Staromestska Mostecka Vez). These are located on either side of Charles Bridge.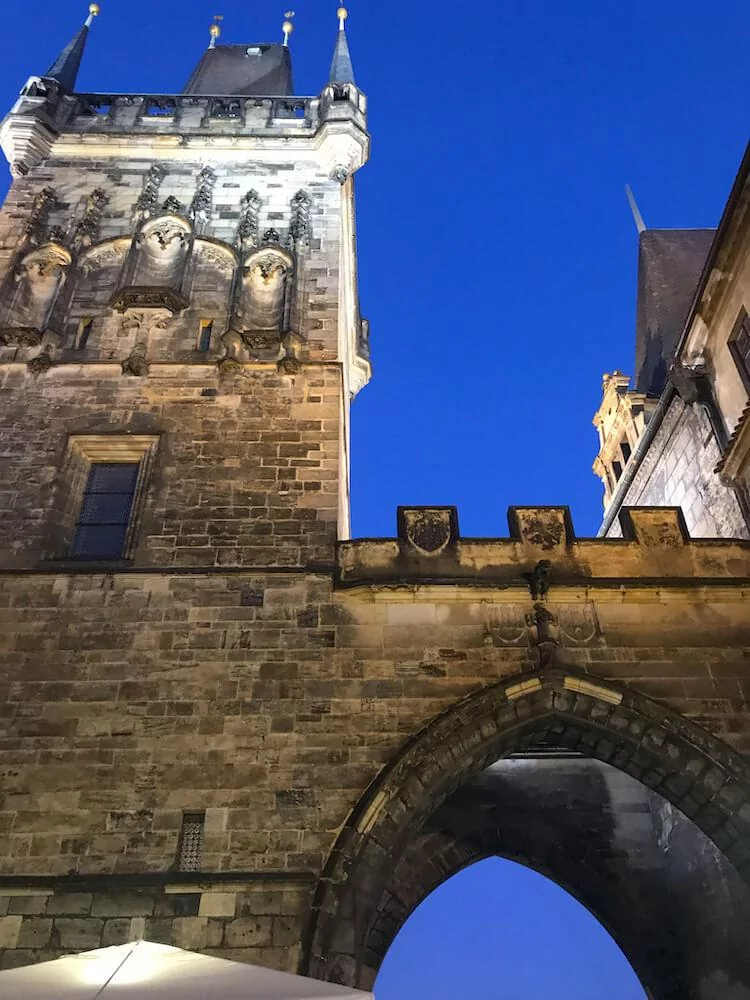 I actually recommend climbing the Lesser Town Bridge Tower as you get fantastic views of the Old Town while facing that direction!
Address: Charles Bridge, 11000 Prague 1 – Old Town (or Lesser Town).
Charles Bridge Towers Hours: Opens at 10 am daily, but opens at 9 am in July and August. Closes at 6 pm from October until June, 7 pm in September, and 9 pm from July-August.
Admission: 150 CZK or $4.30 USD for adults.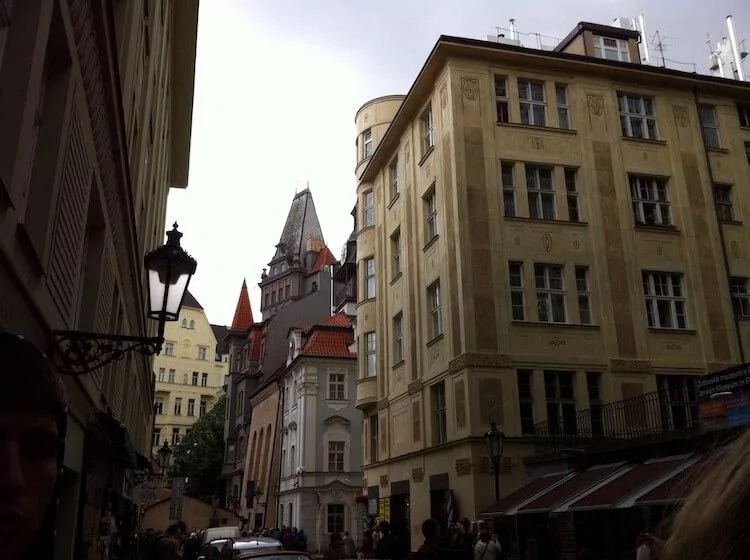 Jewish Quarter
Next up on your itinerary is exploring the many interesting and historical places within the Jewish Quarter.
If you aren't sure where to go in the Jewish Quarter, I highly recommend taking a tour of the area. This 2.5 hour Jewish Quarter tour includes a professional expert to show you around. Plus, you get to visit the iconic Maisel Synagogue, learn about Jewish history in Prague, remember those lost in the Holocaust, visit the Old Jewish Cemetery, learn about Jewish customs and holidays at Klausen Synagogue, and finally, wander along Josefov's Art Nouveau buildings in the area.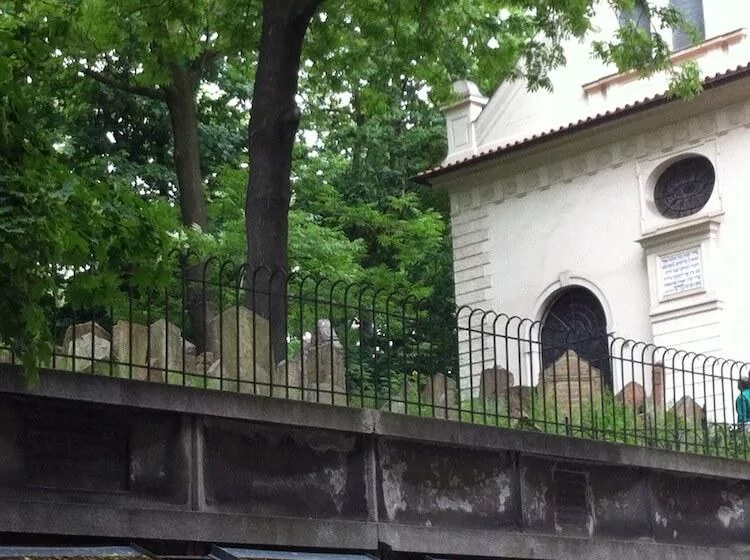 This is a great way to spend a morning of exploring the history of this area that dates back to the 12th century.
Jewish Quarter Tour Starting Point: nám. J. Palacha 1, 110 00 Staré Město, Czechia
Jewish Quarter Tour Price and Start Time: Price is $46.50 per person and starts at 10 am.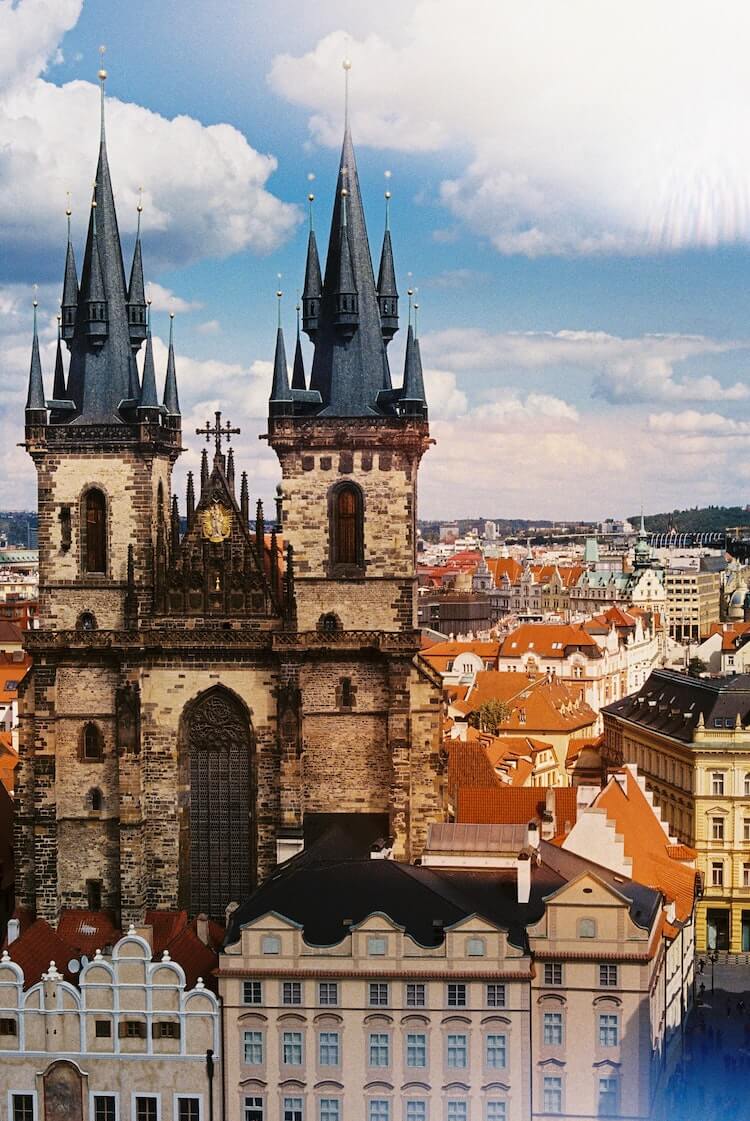 Old Town Square
After your Jewish Quarter tour, I recommend heading to Old Town Square. This cobblestone covered square is romantic on its own, but the architecture of the surrounding buildings is absolutely perfect. Not only is there the Old Town Hall that is home to the iconic Astronomical Clock, but there are two churches right in the square: Church of Our Lady Before Tyn and St. Nicholas Church.
Of course, you could visit here year-round and have a lovely time. However, I highly recommend visiting the Old Town Square around the holidays in December, as this area has the most beautiful Christmas market complete with gorgeous stands selling sausages, mulled wine, Christmas baubles, and plenty of trdelnik, a delicious chimney cake baked over a fire and covered in cinnamon and sugar.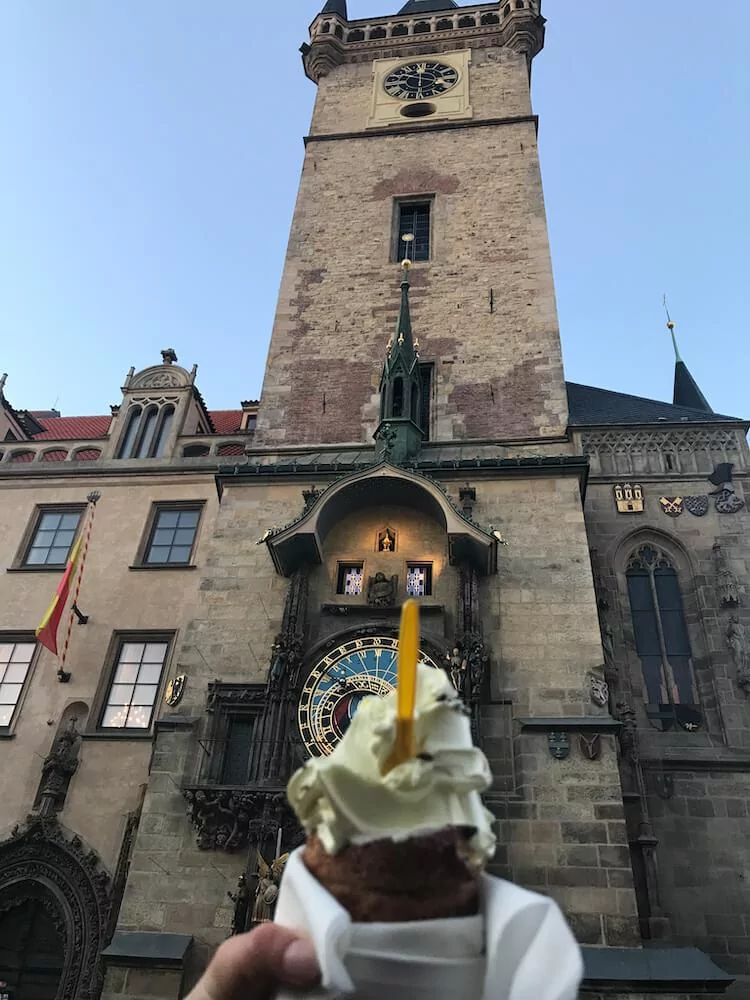 This area is also magical around Christmastime for the stage on the square that has choirs, dancers, and more showing the Christmas traditions of Prague!
We were lucky enough to visit during St. Nicholas Day (December 5) in 2019 and particularly enjoyed the people dressed as Santa, devils, or angels. They ask children if they were well behaved this year and if they say, "yes," and sing a song or recite a poem, they get a treat, if not, they will get a lump of cold or potato, and if they are very bad, they'll be sent to hell in the devil's sack. It is easy to understand why most children will sing loudly as Santa approaches in hopes of a treat instead!
But no matter the time of year you visit, definitely wander along the Old Town Square and have a trdelnik with ice cream. They're famous here!
Old Town Square Address: Staromestske nam, 11000 Stare Mesto, Czechia
Hours and Admission: 24/7 and free.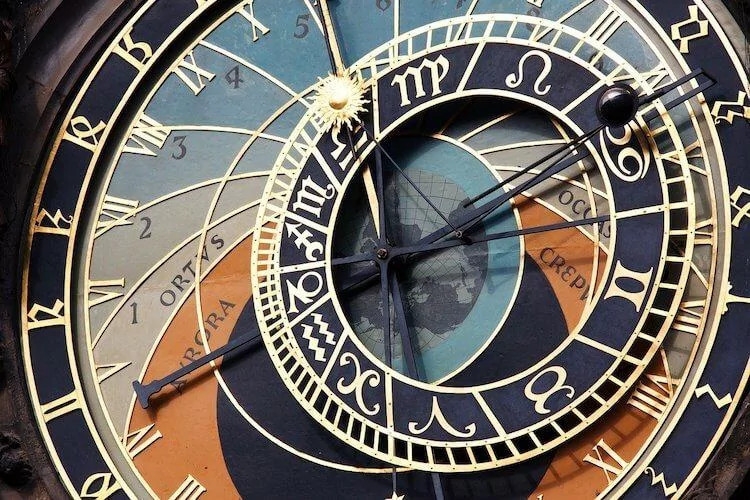 Watch the Astronomical Clock During Your 2 Days in Prague Itinerary
If you wander all the way to the Old Town Square, then catching the Astronomical Clock is a must during your Prague two day itinerary.
Located on the Old Town Hall, this clock is the third-oldest astronomical clock in the world and was built in 1410. The clock itself has so many incredible features like a zodiac calendar, revolutions of the moon, sun position, ancient Czech time, modern day time, and more! Plus, there is a plate with a church calendar with names of 365 saints and church holidays below the clock.
It is really cool to see and every hour of the day, the clock goes into motion with animated figures moving about. The 4 statues on each side of the clock represent vanity, greed, death, and lust, and above the clock the windows open to the 12 apostles sliding past.
While it is pretty anti-climactic to see in real life, especially as you'll always catch huge crowds standing around during that time, it is something to do at least once during your 2 days in Prague.
Prague Astronomical Clock Address: Staroměstské nám. 1, 110 00 Josefov, Czechia
Hours and Admission: Clock chimes every hour and is free.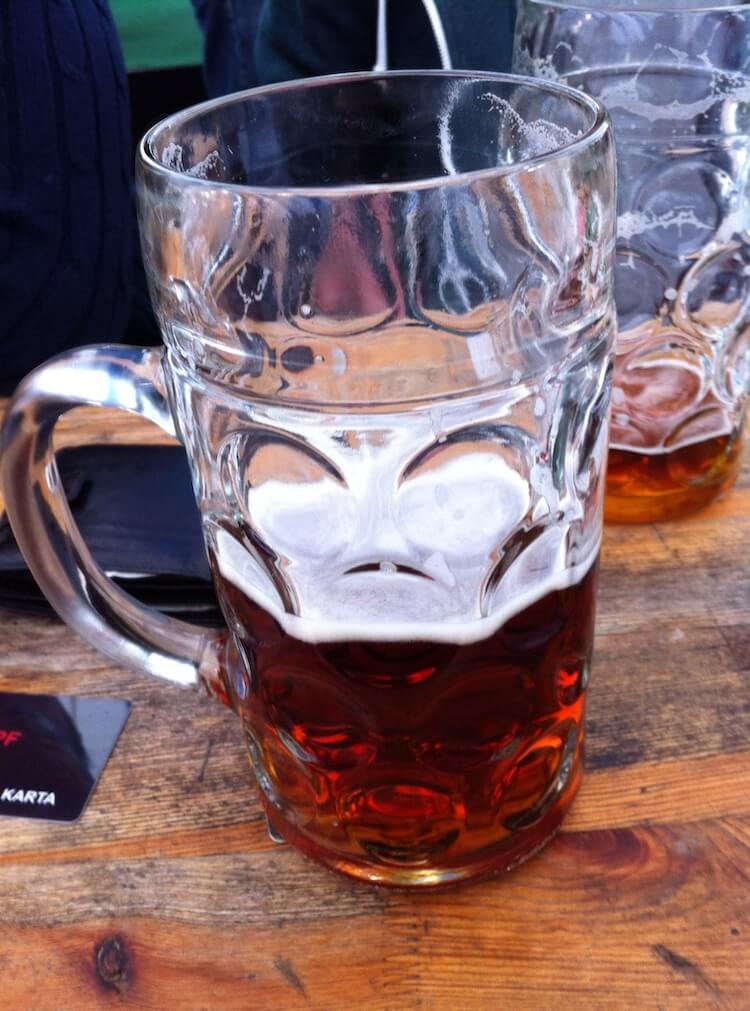 Prague Beer Spa
After all of that walking, it is time to rest those tired feet…and maybe grab a beer. And where else can you possibly do that than at a spa…for beer?!
That's right, Prague has TWO beer spas where you sit and soak in a tub full of beer all while drinking Czech beer and eating beer bread. There is even a beer sauna to sit in and enjoy during your time there too. So sit back, relax, enjoy some famous Czech beer and enjoy one of the most unique things to do during your Prague 2 day itinerary.
I highly recommend booking a reservation in advance as this place books up fast!
Prague Beer Spa Address: There are two beer spas in Prague, I recommend going to the Beer Spa Zitna at 9, Žitná 658, Nové Město, 110 00 Praha, Czechia, but there is another location at Rybná 3, 110 00 Staré Město, Czechia.
Beer Spa Hours: 10 am-10 pm daily.
Admission Prices: Prices rented typically by the hour.
1 person/1 tub is 2,000 CZK or $94
2 people/1 tub is 2,700 CZK or $126
2 people/2 tubs is 3,300 CZK or $154
3 people/2 tubs is 4,300 CZK or $201
4 people/2 tubs is 5,000 CZK or $233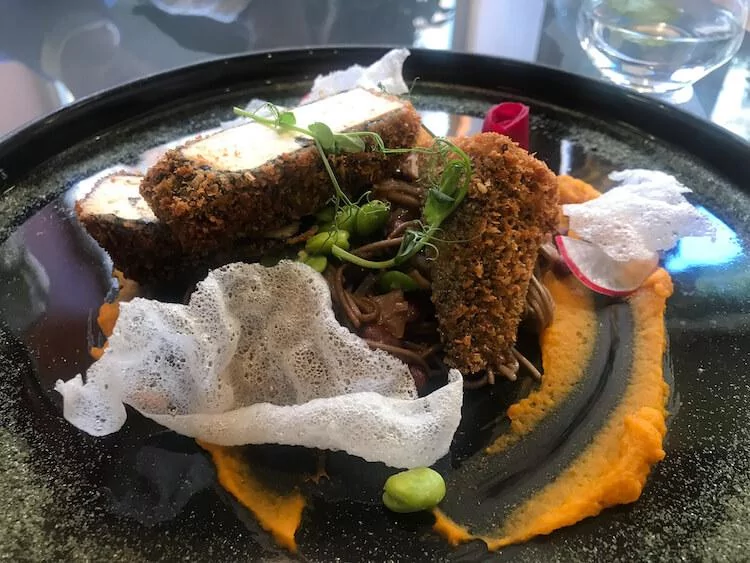 Dinner at Spojka Karlín
Fun fact: did you know Prague has an AMAZING vegan and vegetarian food scene? And if you are interested in trying some of their delicious veggie food, Spojka Karlín is the place to go.
Spojka Karlín is known as Prague's first flexitarian restaurant, meaning you'll find something for everyone!
Pretty much, if you want to grab some delicious vegetarian/flexitarian food, this spot is the place to go and was even recommended to us by a Prague local!
Spojka Karlín Address: Pernerova 697/35, 186 00 Praha 8-Karlín, Czechia
Hours: Monday-Friday 8 am-11 pm. Saturday 9 am-11 pm. Sunday 9 am-4 pm.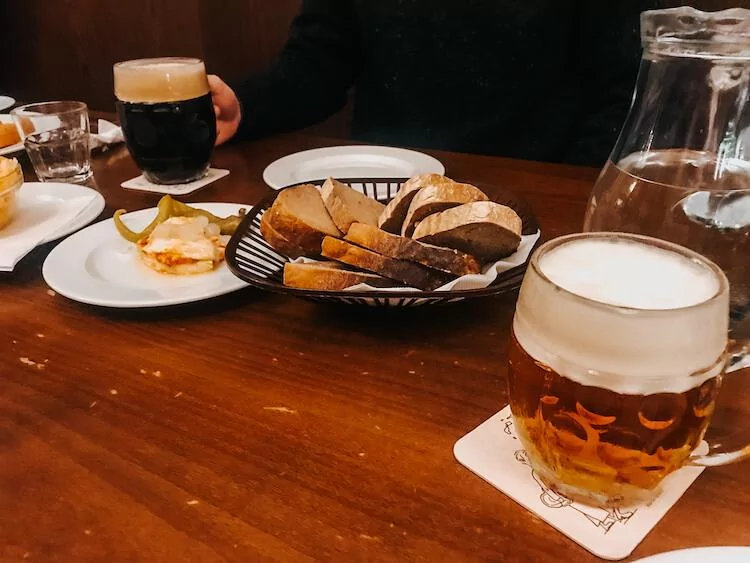 Learn to Drink Czech Beer at Lokal
And to wrap up your first of 2 days in Prague, you've got to check out a famous beer hall. The Czech Republic is known for their pilsners, and if you want to feel like a Czech local, Lokal is a great spot to go.
There are many of these pubs across the city all with their own charm, but I recommend visiting the one in Lesser Town Prague, just across from Charles Bridge for its cozy atmosphere (plus you may or may not visit their larger location on Day 2).
Here you are given the choice between light or dark beer (or mixed) and whether you'd prefer a small or large glass of beer. Then, they want to know how you like your beer. While a strange question, there are 3 ways to order a Czech beer: hladinka, snyt, or mliko. Hladinka is the standard Czech pilsner pour with one quarter of the pour being foam. As you've probably learned in our Beer Guide to Belgium, foam on beer is actually a great thing to add flavor and protect it from oxygen that can make it stale faster.
The next style is snyt, which is almost a half-foam/half beer pour where half of your glass is foam. Basically, if you want to keep drinking beer but not too much, this is a great pour. And the final type of pour is mliko, where you mostly have foam and just a little bit of beer at the bottom. If you are about to finish your night of drinking and only want a little more, this is the right one to order.
This place also serves Czech comfort food like Prague ham, goulash, potato dumplings, and more.
Chris and I wandered over here one night in Prague from our hotel and had the best time ordering beers, trying the different pours, and even made friends with other travelers… that's what beer halls are all about right?
Lokal Lesser Town Address: Míšeňská 12, 110 00 Malá Strana, Czechia
Lokal Lesser Town Hours: Monday-Sunday 11 am-12 am.
Day 2 of Your 2 Days in Prague Itinerary: Prague Castle and Food Tour
Now that you've seen the iconic sights of Old Town Prague on your first day, let's complete your Prague itinerary in 2 days with some unique spots and a food tour!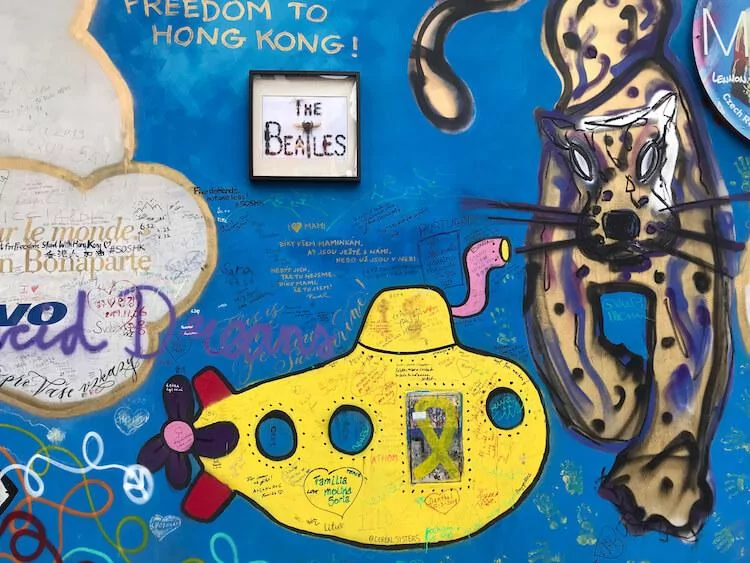 Lennon Wall
Located in the Lesser Town, this wall has been around since the 1960s with love poems and anti-regime graffiti. In 1980, after John Lennon was assassinated, someone painted a photo of the singer and song lyrics.
The wall sits across from the French Embassy and while citizens could not display their grievances in the open without severe punishment during the communist regime, they knew that they were unlikely to be harmed in front of the embassy, thus exposing the communist regime's cruelty.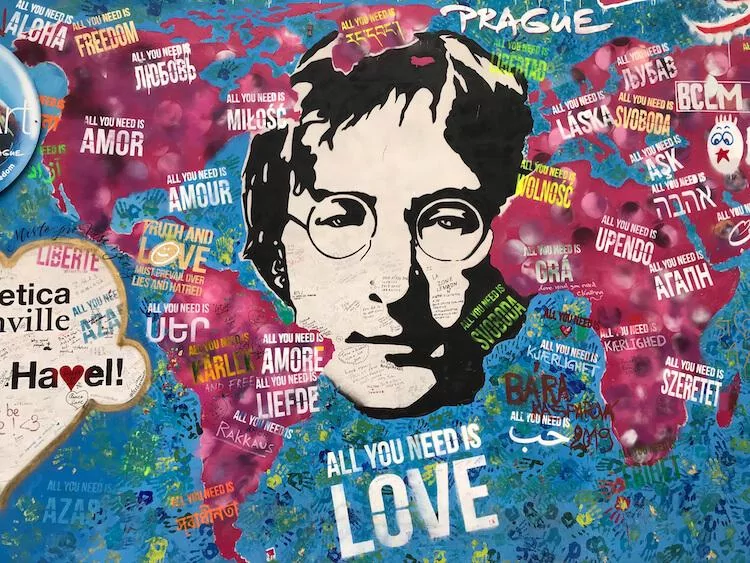 So they would visit this wall and post grievances, and while authorities would repaint it white, they would find it decorated again the following day.
Today it is still a place that represents love and peace and is constantly changing. When we visited in December 2019, various artists had cleaned it up a lot with new paintings all over. And while spray painting is no longer allowed, you can still leave your mark on it in the white free zones in less permanent mediums like pencil, chalk, or pen.
We loved visiting this place first thing in the morning and enjoyed reading the messages and admiring the artwork on this significant wall.
Lennon Wall Address: Velkopřevorské náměstí, 100 00 Praha 1, Czechia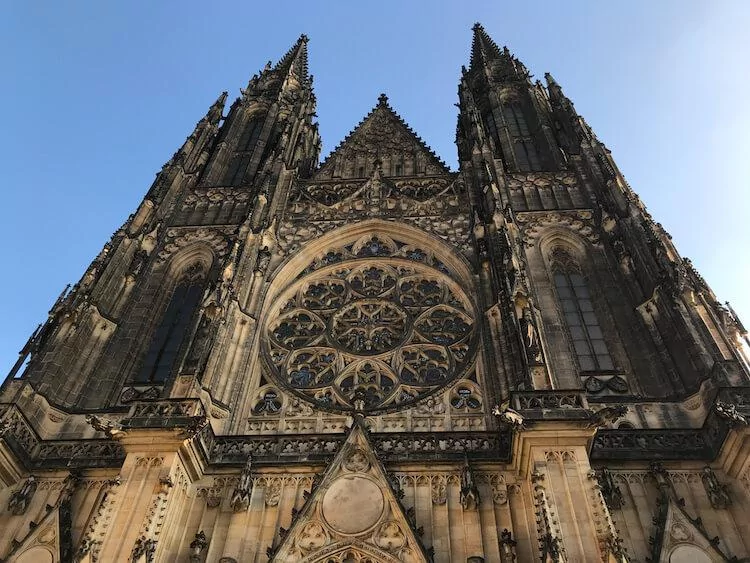 Prague Castle
After admiring the Lennon Wall, I recommend wandering up to Prague Castle. This castle is perched atop the hill with fantastic views of the city. It is full of interesting things to see such as the Old Royal Palace, St. Vitus Cathedral, St. George's Basilica, Golden Lane, Rosenburg Palace, and more.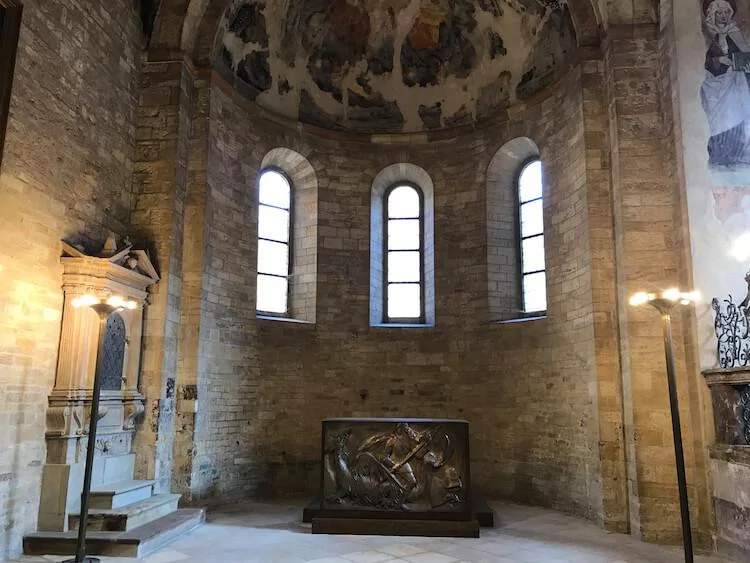 You could spend a whole day exploring this giant castle complex, but we felt like 2-3 hours was more than enough to see the highlights including a visit to the ancient St. George's Basilica founded in 920. We also enjoyed wandering the Golden Lane, full of colorful houses and even a 16th-century dwelling!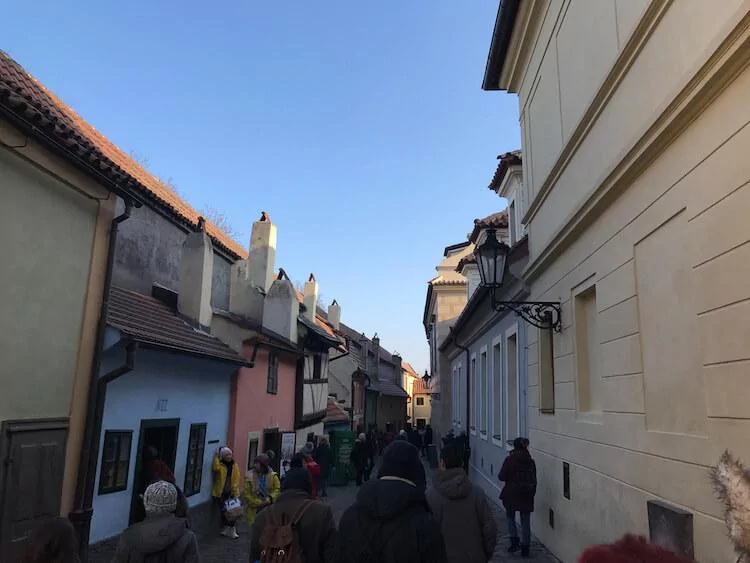 And if you get the chance, definitely explore the Old Royal Palace and the St. Vitus Cathedral, the largest and most important church in Prague. It is where the coronations of Czech royalty were held among many other historical events!
Prague Castle Address: Hradčany, 119 08 Prague 1, Czechia
Prague Castle Hours
Summer Hours (April-October):

Prague Castle Complex: 6 am-10 pm.
Historical Buildings: 10 am-6 pm.

Winter Hours (November-March):

Prague Castle Complex: 6 am-10 pm.
Historical Buildings: 9 am-4 pm.
Admission: 250-400 CZK or $12-19 for adult admission depending on the circuit you choose. Check for reduced rates and other rates on the castle website.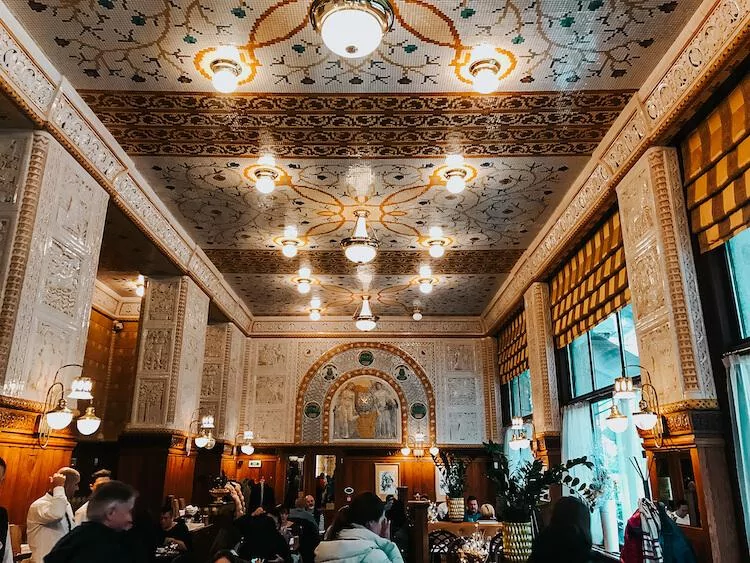 Prague Food Tour
This was probably one of my favorite things that we did this last time in Prague, and that is a food tour.
If you can't tell by now, we LOVE taking food tours. Whether it was a food tour of Lima or a street food tour during our day in Hanoi, food tours are a great way to learn more about the local life and culture of the city through food.
And this food tour was no exception.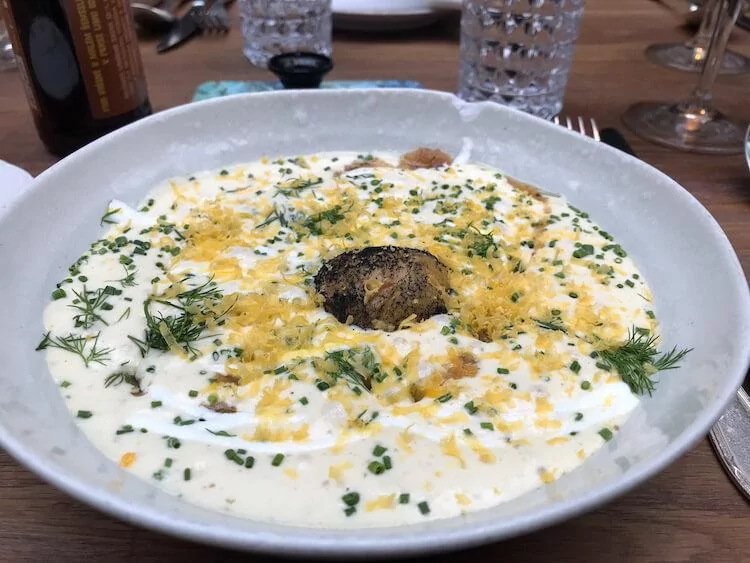 This smaller tour company founded by local Czech husband and wife duo George and Leona is incredible. We spent a lot of time searching for the perfect food tour in Prague, especially as we had a group of 6 of us with a mix of dietary preferences. They were super accommodating!
Plus, they offered a unique take on the food tour that takes you to more off the beaten path spots and local treasures that you'll fall in love with. We chose the Delicious Food Tour of Prague that took us through 4 amazing stops where we visited a modern Czech restaurant, a traditional and delightful café, the Lokal beer hall on the other side of town where we tried plenty of beer snacks, and even a fancy café for a tasty dessert and coffee.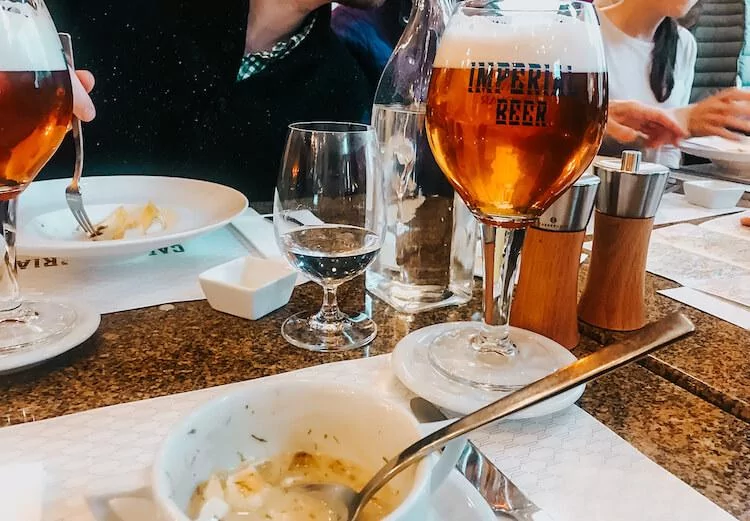 Leona was our guide for this tour and she loved explaining the history of Prague and the unique neighborhood we started in (Karlin), about how the proper Czech meal always begins with soup, and how to order the perfect Czech beer. We absolutely loved getting to know Leona, and her passion for travel and knowledge of Czech food really made our tour worth it!
Meeting Point Delicious Food Tour of Prague: Starbucks Coffee, Thámova 32, Prague 8
Prague Food Tour Start Times: 11:30 am, 12:15 pm, 3:30 pm, 4 pm, 5 pm, or 6 pm. Contact them for specific times.
Food Tour Price: 2,600 CZK or $122 per person.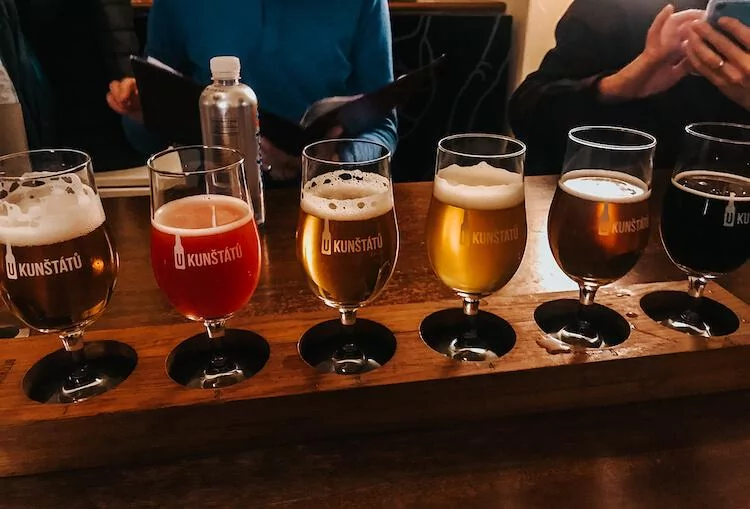 Once you've had your fill of delicious Czech cuisine and a guided tour around Prague, it is time to enjoy the craft beer that this amazing city has to offer! Think Prague only has pilsner? Think again!
During your visit to Prague in 2 days, I'm sure you've noticed that this place is known for beer. And a visit to a craft brewery is always a good idea. We loved this place as it had flights of beer on offer where you could either choose your own or have them make a selection based on the types of beer you enjoy.
I really enjoyed my flight, as did Chris, and it was neat to explore a more local establishment for beer lovers in Prague.
U Kunstatu Address: Řetězová 222 3, 110 00 Staré Město, Czechia
U Kunstatu Hours: 4-10 pm daily.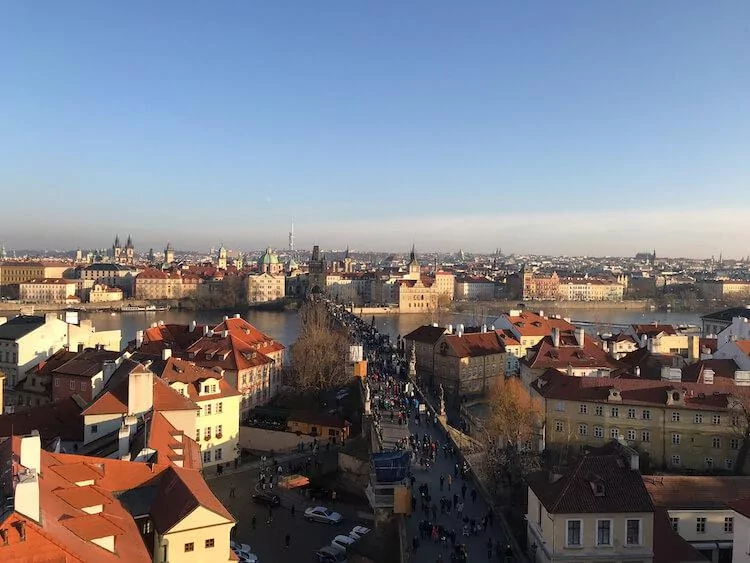 Catching a Sunset in Prague is the Perfect End to Your 2 Days in Prague Itinerary
Now that your 2 days in Prague is coming to an end, it is time to catch one last sunset. And while that could mean climbing the steps up to one of the Charles Bridge towers, it is also just lovely to watch from Charles Bridge, along the Vltava River, or even in the Old Town Square.
What better way to enjoy your last hours in one of Europe's most romantic cities than by gazing out at the sunset together?
This wraps up your Prague 2 day itinerary, but here is a great summary to jump to for a quick reference: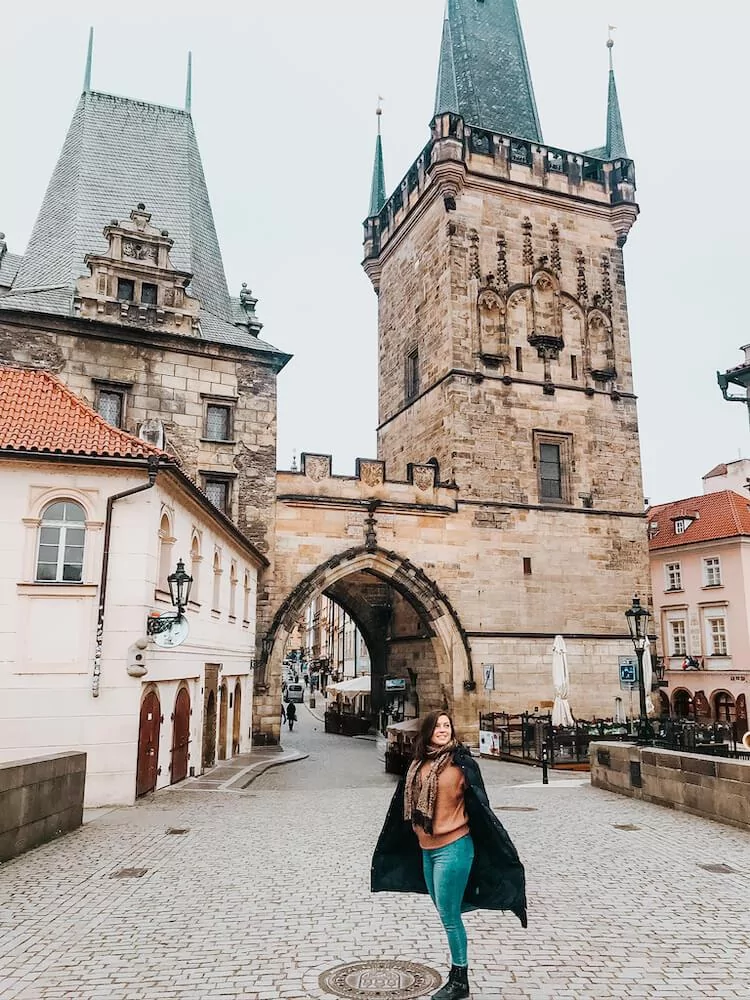 2 Days in Prague Itinerary Summary
Day 1: Explore the Old Town
Wander along Charles Bridge and potentially visit one of the towers
Take a tour of the Jewish Quarter
Explore Old Town Prague
Watch the Astronomical Clock on the hour
Visit the famous Beer Spa
Have dinner at Spojka Karlin
Drink Czech beer at Lokal
Day 2: Prague Castle and Food Tour
Visit Lennon Wall
Explore Prague Castle
Enjoy Czech cuisine on the Prague Food Tour
Visit a craft brewery
Enjoy one final sunset in Prague
Map of Where to Visit Prague in Two Days
Best Hotels in Prague
There are some fantastic places to stay in Prague! And if you really want to save money, there are great VRBOs too.
If you want to stay in a hotel, here are some lovely ones based on your budget:
Budget: Hotel Merkur
Located near the city center, this is a great spot to stay in central Prague and close to everything! They also have free breakfast, airport transportation, and clean and comfortable rooms for your stay. Starting around only $75 per night, it is a great deal for your budget in Prague.
Read reviews on TripAdvisor and book!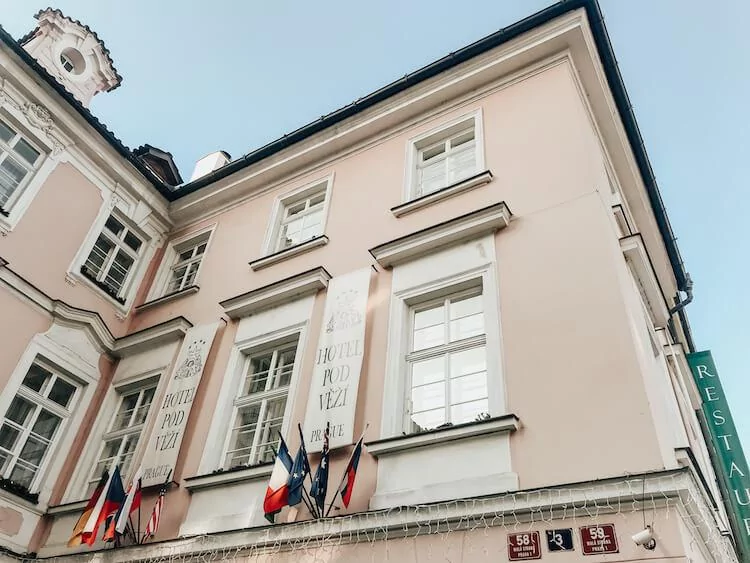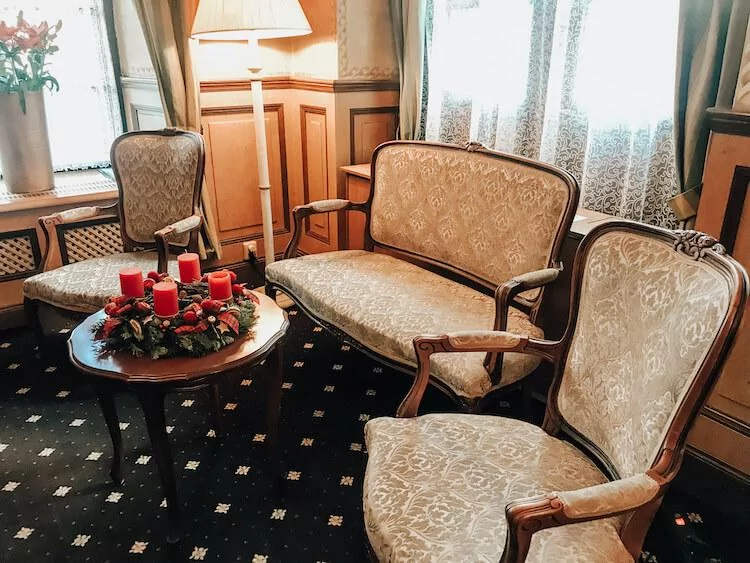 Mid-Range: Hotel Pod Vezi
This is where we stayed and LOVED it! They had easy and convenient transportation that we could arrange through them, an excellent breakfast buffet each morning, beautiful rooms with a new gift each evening upon our return (even a mini bottle of champagne the last night!), and the best part is hands-down the view. They have a rooftop terrace with views of the Lesser Town Tower and it is stunning. We took so many photos there and even spent an evening drinking wine and looking out at the tower.
The staff here was also incredible. They tended to our every question and need with such kindness and were thoughtful enough to make us a breakfast to go on our last day. Prices start around $150 per night.
Read reviews on TripAdvisor and book!
Luxury: Hotel Kings Court
Complete with a spa, close proximity to everything in the Old Town, and gorgeously designed rooms, you'll fall in love with this luxury hotel. This boutique hotel is decorated in the neo-Renaissance style and even has a fantastic bar. Prices start at $300 per night.
Read reviews on TripAdvisor and book!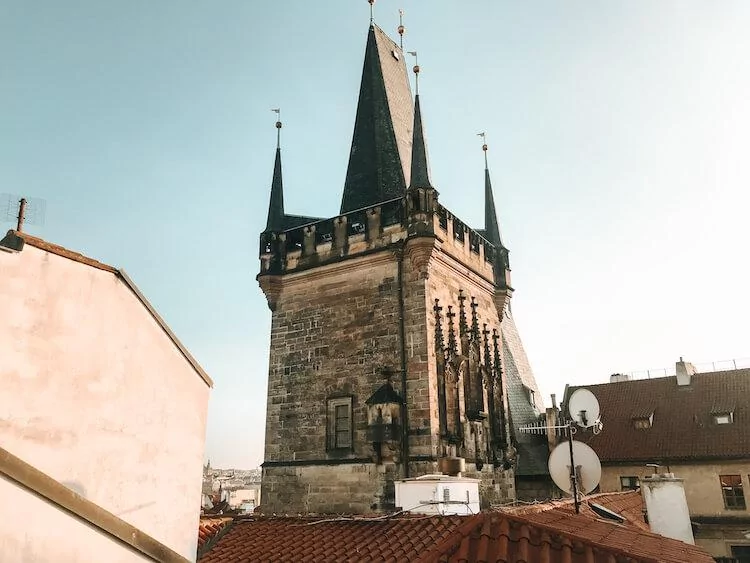 Top Things to Know Before Visiting Prague in 2 Days
Before your 2 day trip to Prague, here are some top things to know:
Prague is on the Czech Koruna. It is about 21 CZK to $1 USD, 30 CZK to £1, 17 CZK to $1 CAD, and about 16 CZK to $1 AUD.
Stay vigilant! Like most places in Europe, it is a good idea to keep an eye on your things. Many touristy spots in Prague are prime for pickpocketing, so keep your hand on your bag in busy areas and don't let your belongings leave your sight. I carry my cross body anti-theft purse in front of me even when sitting in restaurants.
Prague is super walkable if you are in the city center. However, if you are short on time during your 2 days in Prague, there is a fantastic tram system. Tram 22 heading for Prazsky hrad will take you to Prague Castle and Tram 17 will help you get up to the Old City at stop Staromestska. Tickets are 24 CZK or $1.12 for 30 minutes, 32 CZK or $1.49 for 90 minutes, or even 110 CZK or $5.13 for 24 hours.
Tipping Culture: Tipping isn't as big here but 5-10% or rounding up to the closest 10 CZK is normal.
Czech out more Czech liquors! No, I'm not talking about absinthe! We loved the Christmassy taste of Becherovka! It was very sippable and delicious.
Prague is fantastic to visit year-round: I've visited Prague in both the summer and winter and both are fantastic times to visit! While summer is very popular with tourists, the weather is much better with warmer days. December is also a fantastic time to visit for the magical Christmas markets in Prague! Outside of these times though, prices are really cheap in Prague and it isn't nearly as crowded in the spring or fall.
Have more time? Check out a great day trip! There is a fantastic self-guided day trip option to Cesky Krumlov, another great Czech city.
Definitely get trip insurance. Whether you're visiting Prague in 2 days or gallivanting around Europe for months, I recommend getting travel insurance in case of illness, delays, and more. We go with World Nomads for their great plans!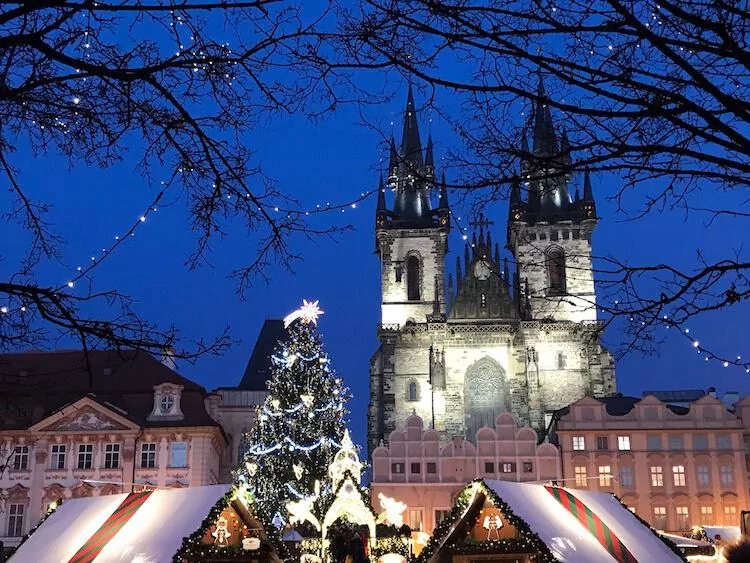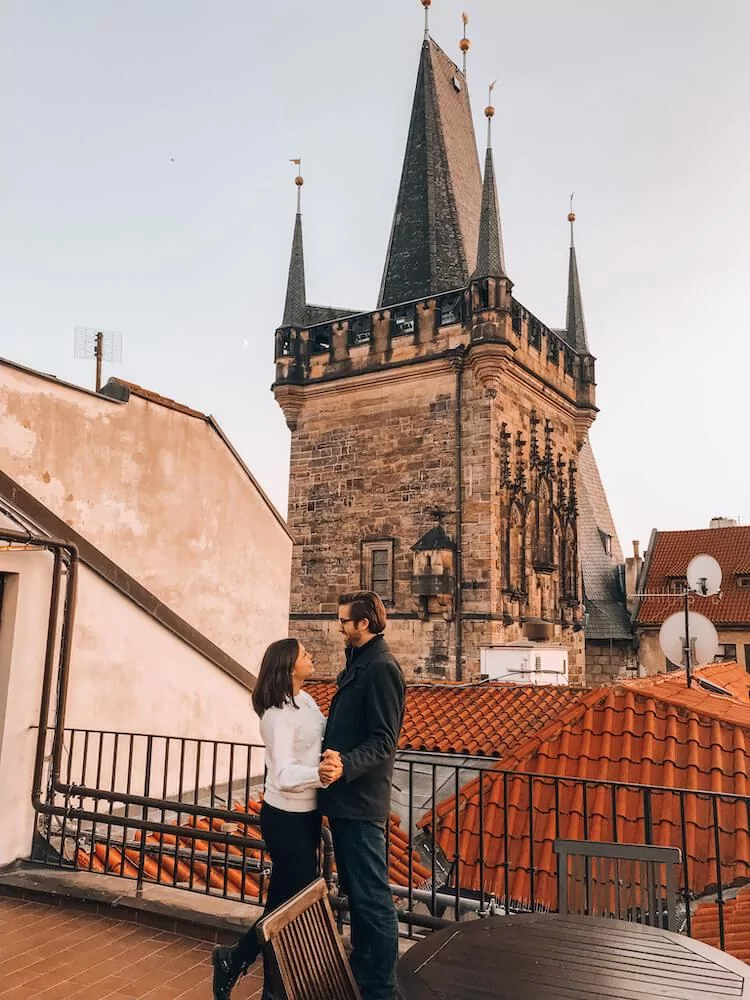 What to Pack for Prague
Prague doesn't typically get too hot throughout the year, so jeans are a great idea all the time, especially as evenings can be cooler. I also recommend a lighter coat in the spring and summer months as well as a mix of tops and scarves.
In the winter, I definitely made sure to pack in layers (we have a whole Europe winter packing list too for more info)! Bring waterproof boots, a thick jacket (I love my Miss Metro Parka by The Northface), and thick sweaters. Plus, I packed thicker socks and wore tights under my jeans on the colder days in December.
In the winter, it is also necessary to have a thick scarf, gloves, and earmuffs as temperatures can be quite chilly.
And no matter the time of year, it can rain. So be prepared with a small umbrella.
If you want to pack carry-on only like us, we love our Osprey backpacks and I swear by these packing cubes to keep me organized. Plus, you'll need outlet adapters as they use Euro plugs here.
We have taken plenty of photos on our iPhone with these awesome phone lenses. And to take a great photo together, we love our portable tripod that is perfect for smaller cameras and phones.
If you are wondering how many days in Prague is needed to have a great time, a 2 days in Prague itinerary is pretty much perfect. From the history to the cuisine, a Prague 2 day itinerary is a great way to see the best of this romantic city.
Would you visit Prague in 2 days? What would you add to this 2 days in Prague itinerary? Let us know in the comments!
Read Next: 7 Day Italy Itinerary For Food & Wine Lovers, How to Spend 2 Days in Bologna
Pin it here!