Some posts on this site contain affiliate links, meaning if you book or buy something through one of these links, I may earn a small commission (at no additional cost to you!). Read the full disclosure policy here.
---
Christmas in Prague is a delightful experience. You have the best Christmas markets in Prague to explore, dreamy cobblestone streets to wander around, and charming places to visit around the city.
If you are searching for a romantic and dreamy holiday experience, then Christmastime in Prague is definitely for you!
We were lucky to spend a few days exploring this city, visiting as many beautiful Prague Christmas markets as we could, and making memories that will last a lifetime. So we're showing you all the details so you can enjoy Prague at Christmastime too!
Check out our podcast episode all about the Prague Christmas markets too!
Best Christmas markets in Prague
To kick off your Christmas in Prague visit, here are all of the amazing Prague Christmas market details you'll need to know! These are hands down the best Christmas markets in Prague you'll want to check out during your stay.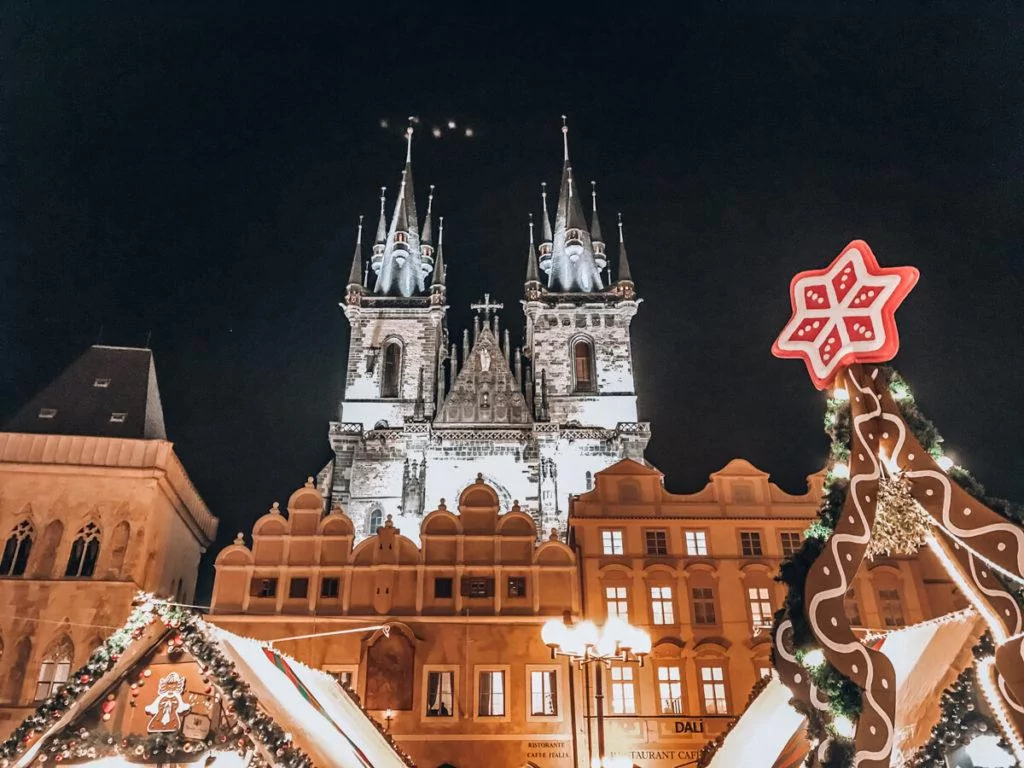 1. Old Town Square Prague Christmas Market [Staroměstské náměstí]
Located on the Old Town Square in Old Town Prague, this market is by far the most scenic and popular Prague Christmas market. It is also known as one of the best Christmas markets in all of Europe!
The Prague Old Town Square Christmas Market is truly iconic with the astronomical clock chiming on the hour, the giant Jan Hus statue, and the lights reflecting off the beautiful buildings.
This market also has a stage for live performances, lots of food and drinks, and plenty of crafts to purchase as souvenirs during your time exploring the Christmas markets in Prague.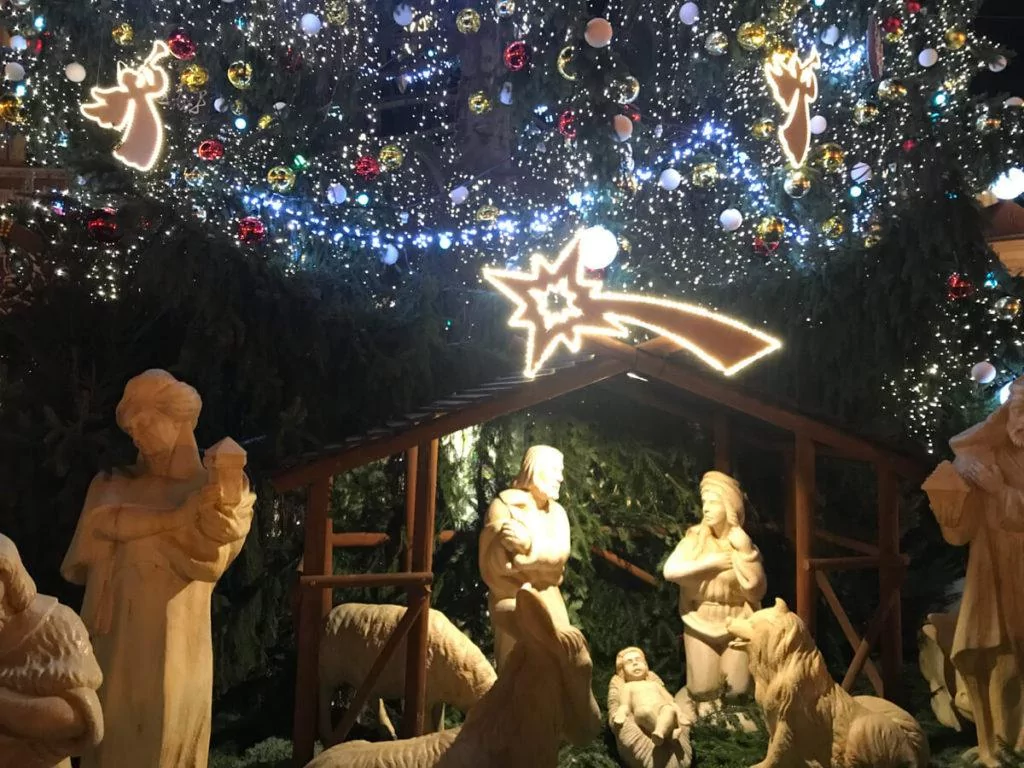 You'll definitely want to check out the giant Christmas tree as well as the elevated platform to go up and take photos over the market.
Some must-try food items here include roasted chestnuts, herb sausage in a baguette with mustard and ketchup, chimney cake (known as trdelník) with ice cream, and cinnamon covered nuts. Wash it all down with a cup of soul-warming mulled wine.
Also, try to be here on the evening of December 5. This is the eve of Saint Nicholas day where you'll see people dressed up as angels, devils, and Saint Nicholas. They will ask children whether they've been good this year, and if they have, the children will sing a song or recite a poem for a treat.
If not, then legend has it that the devil will take them away in his sack or they'll get potatoes or coal. That never happens, but it is cute to see the kids reciting poems and songs for treats.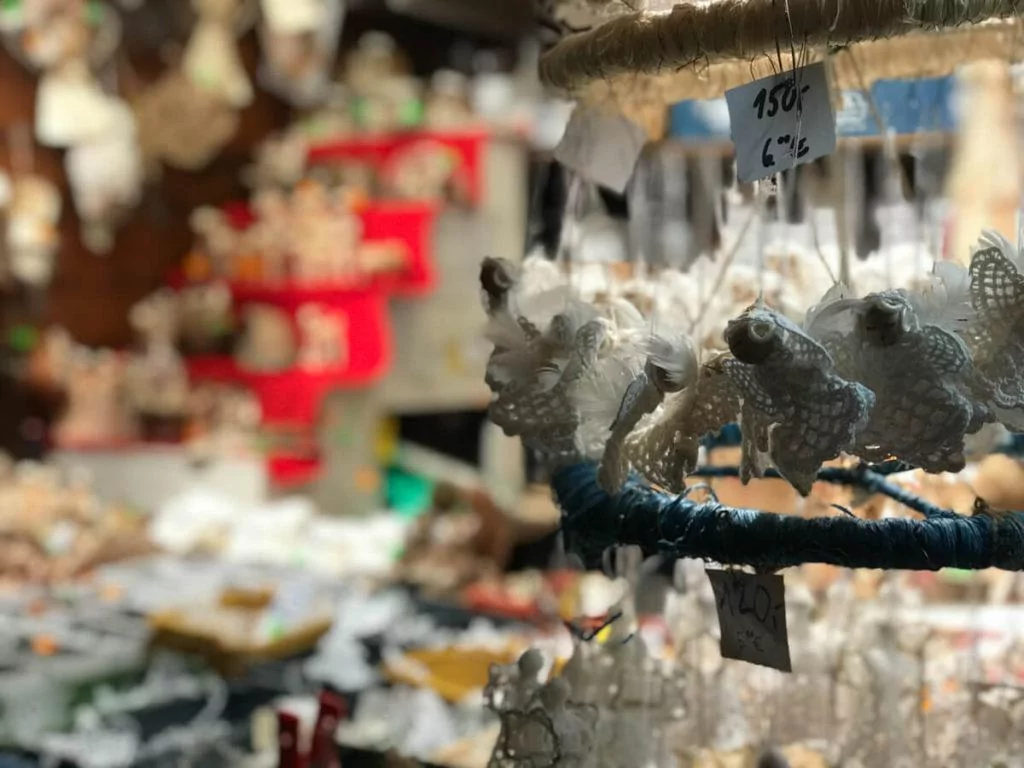 2022 Old Town Prague Christmas Market Dates: November 26, 2022-January 6, 2023.
Old Town Prague Christmas Market Hours: Daily 10 am-10 pm.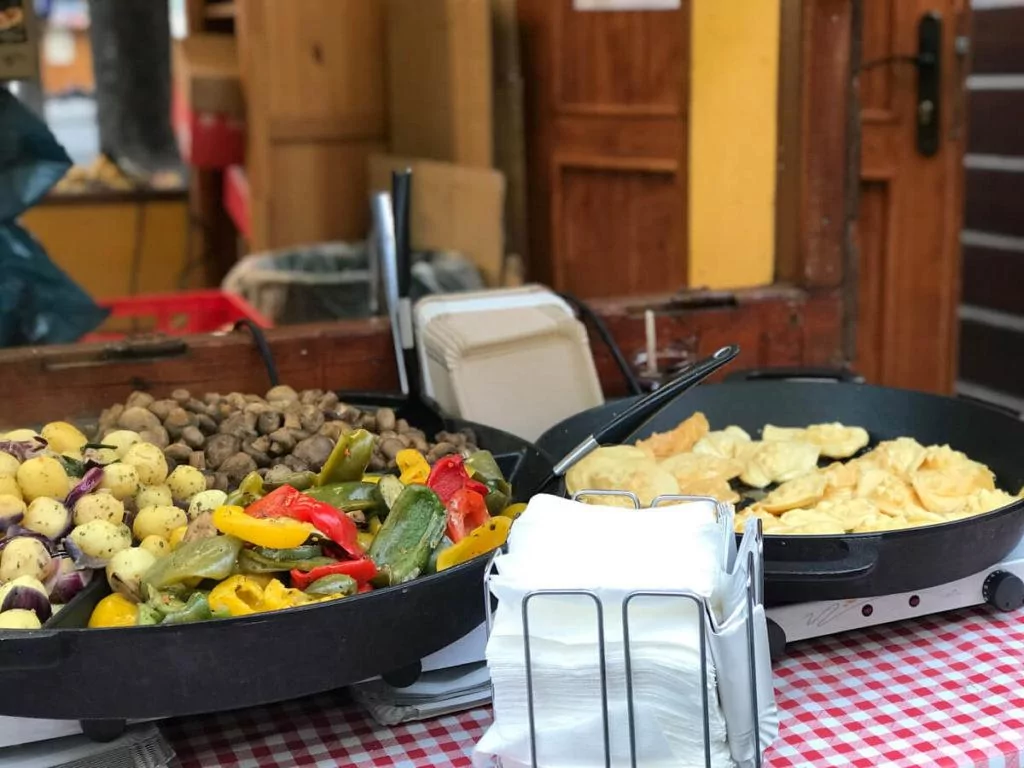 2. Christmas Market in Wenceslas Square [Václavské náměstí]
Just a short walk from the Old Town Prague Christmas Market is the Wenceslas Square Christmas Market in Prague. It definitely isn't as scenic as the Old Town Square, but it is filled with charming wooden booths. Plus, while touristy, it isn't nearly as crowded as the Old Town Square Christmas Market can be.
Wenceslas Square also has great wooden, steel, and glass gifts to purchase as well as some stands selling food and more mulled wine. Be sure to check out their tree lighting at 5 pm each night.
We loved wandering this market in the morning…which means yes, we definitely drank mulled wine at 10 am while we wandered around the market and took photos!
2022 Christmas Market in Wenceslas Square Dates: November 26, 2022-January 6, 2023.
Christmas Market in Wenceslas Square Hours: Daily 10 am-10 pm.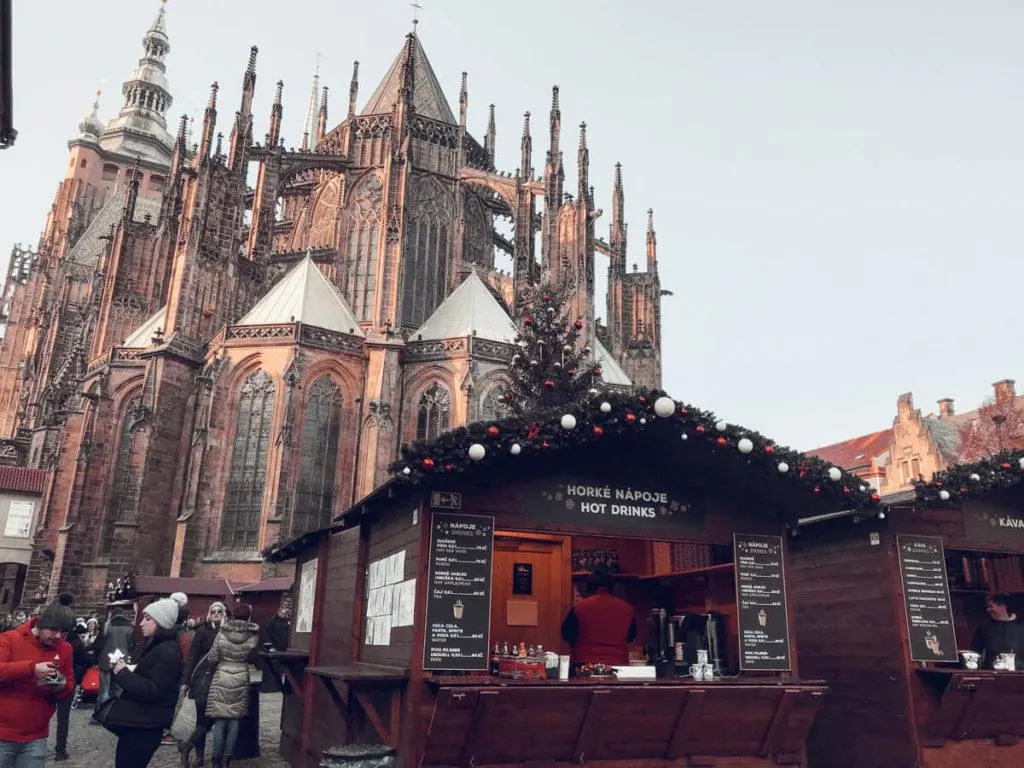 3. Prague Castle Christmas Market [Pražský hrad]
If you wander around Prague long enough, you'll definitely spot Prague Castle up on the hill. This giant complex is full of things to explore including the Old Royal Palace which has origins dating back to the 9th and 10th centuries, St. Vitus Cathedral which was where the coronation of Czech kings and queens took place and where saints have been buried, St. George's Basilica which is the oldest church in Prague dating back to 920 AD, and Golden Lane, a reconstructed version of the living quarters of many of the castle's servants and defenders.
Plus, the views over the Vltava River are truly stunning from the castle complex!
Aside from the immense history this castle complex holds, the Prague Castle Christmas Market is one of a kind. It is situated right on St. George's Square in the midst of the complex. There are a lot of great food and drink options including hot apple cider and pear cider.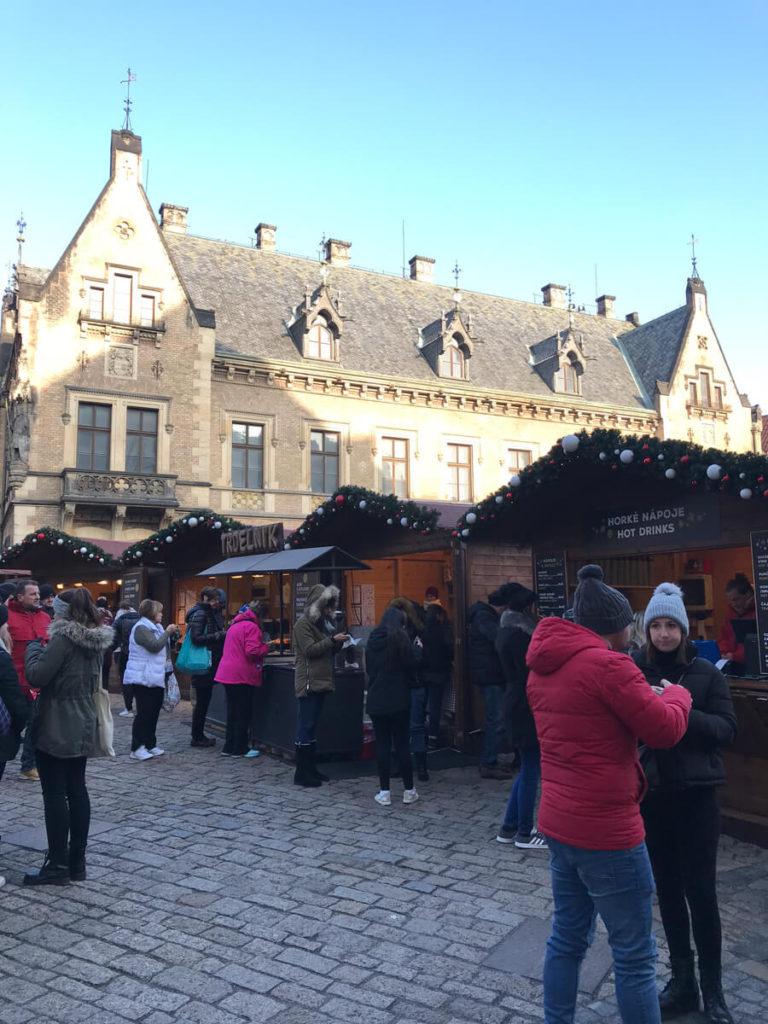 There are also more unique gifts here as well. These markets are in a great location and perfect for exploring the Prague Castle complex while enjoying the Prague Castle Christmas Market.
2022 Prague Castle Christmas Market Dates: November 26, 2022-January 6, 2023.
Prague Castle Christmas Market Hours: Monday-Thursday 9 am-6 pm, Friday-Sunday 9 am-7 pm.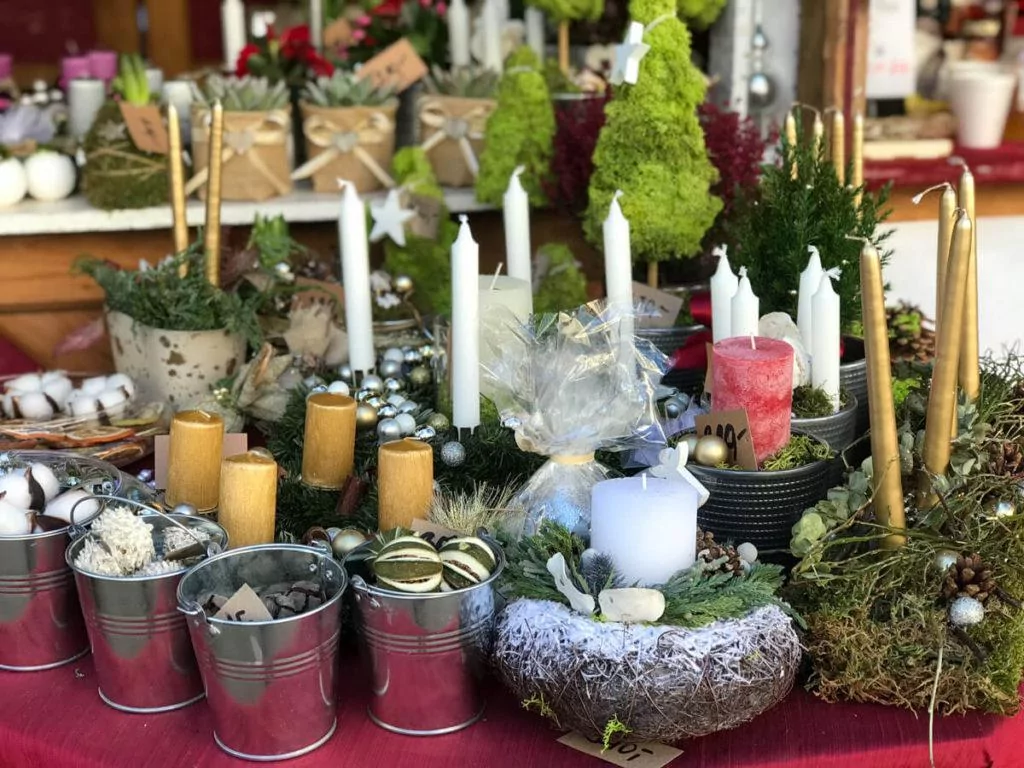 4. Christmas Market at Republic Square [Náměstí Republiky]
Filled with perfect Christmas decor like mistletoe, Advent wreaths, and candles as well as local holiday treats, this little but mighty Christmas market is always worth a visit.
It is also not far from the Old Town Square Christmas Market in Prague and far cheaper! Get better deals and fewer crowds at this smaller Christmas market in Prague.
Be sure to try some ham roasted on a spit, chimney cake, and a local Czech beer.
2022 Christmas Market at Republic Square Dates: November 26-December 26, 2022.
Christmas Market at Republic Square Hours: Daily 10 am-10 pm.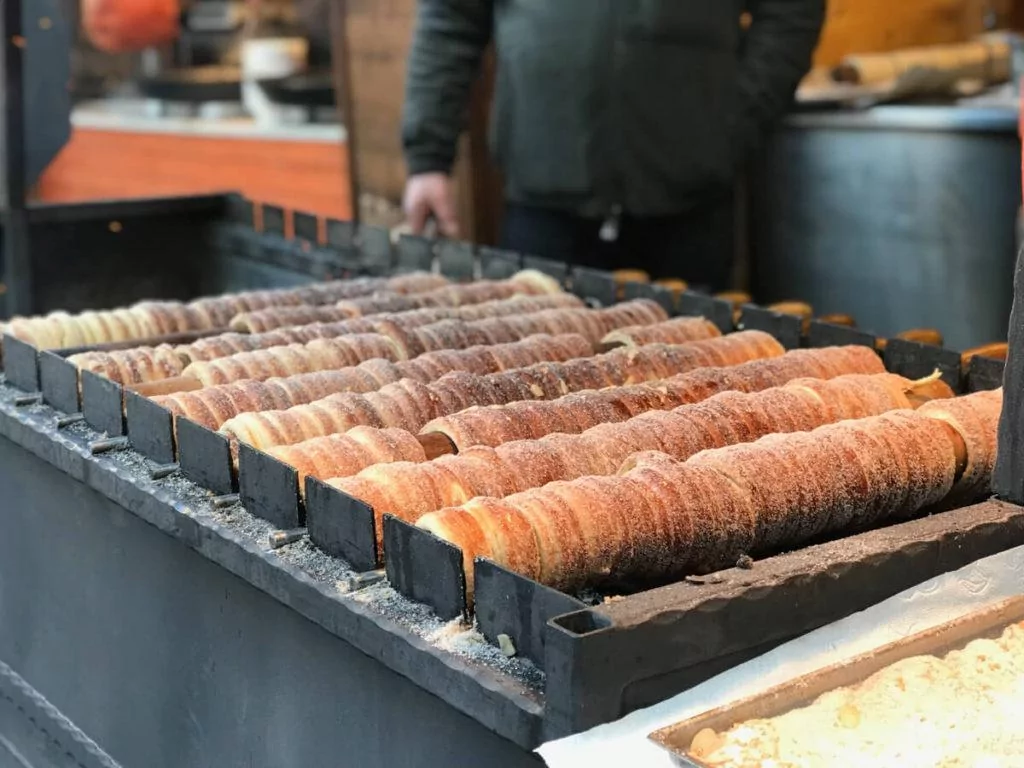 5. Christmas Market at Peace Square [Náměstí Míru]
Located further away from the Old Town and in the Vinohrady district, this market is much more local than the more popular markets above.
We happened upon this market while in the area grabbing lunch at a vegetarian restaurant recommended to us by our food tour guide the day before! We're so glad we did, as there were two markets in the area we checked out after that, and they were amazing. This is one and the one below is the other.
Expect to find fewer crowds and lots of traditional Czech food, drinks, and decorations. There are ceramic and wooden crafts as well as Christmas wreaths, candles, and more.
As much as we wanted to buy up all the adorable Advent decor, being that we were traveling carry-on only during our trip, we couldn't. However, this place has some amazing mulled wine!
2022 Christmas Market at Peace Square Dates: November 20-December 24, 2022.
Christmas Market at Peace Square Hours: Daily 10 am-7 pm.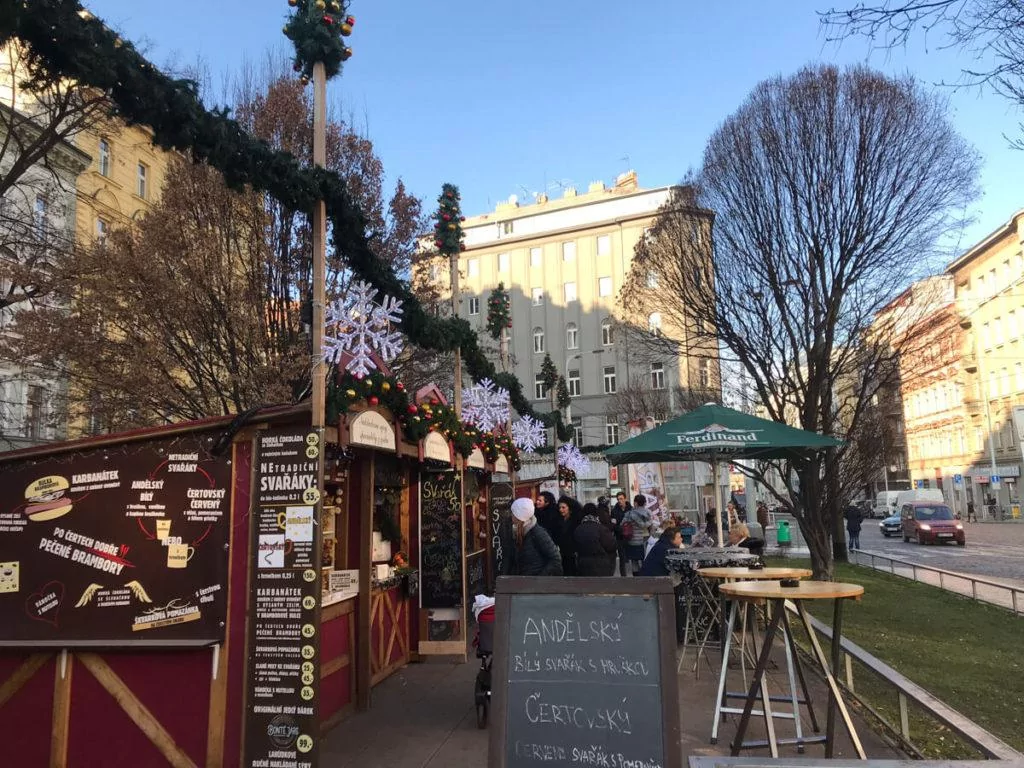 6. Tyl's Square Christmas Market in Prague [Tylovo náměstí]
Just around the corner from Peace Square is this quaint little Christmas market in Prague. Expect to find great toys for kids, garnets and crystals, and traditional Czech treats at a fraction of the cost of the more touristy markets.
This is also a more local market, with plenty of decorations, lights, and it is one of the tiniest markets in the area. Definitely try the Medovina or honey wine and lots of delightful cakes.
2022 Tyl's Square Christmas Market in Prague Dates: November 26-December 24, 2022.
Tyl's Square Christmas Market in Prague Hours: Daily 10 am-7 pm.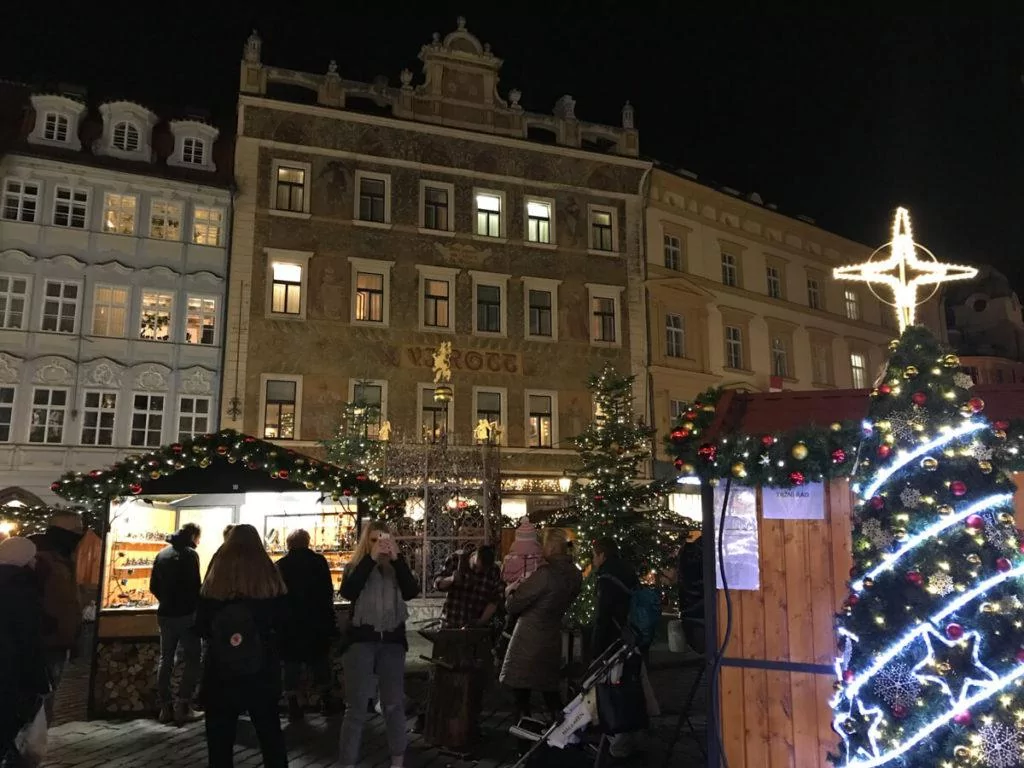 7. Christmas Market at Male Namesti in Prague
This super small Christmas market in Prague is really charming. Located right before you approach the Old Town Square Christmas Market, this place has a petting zoo, and several little stands selling treats like ham roasting on a spit, chimney cakes, and more.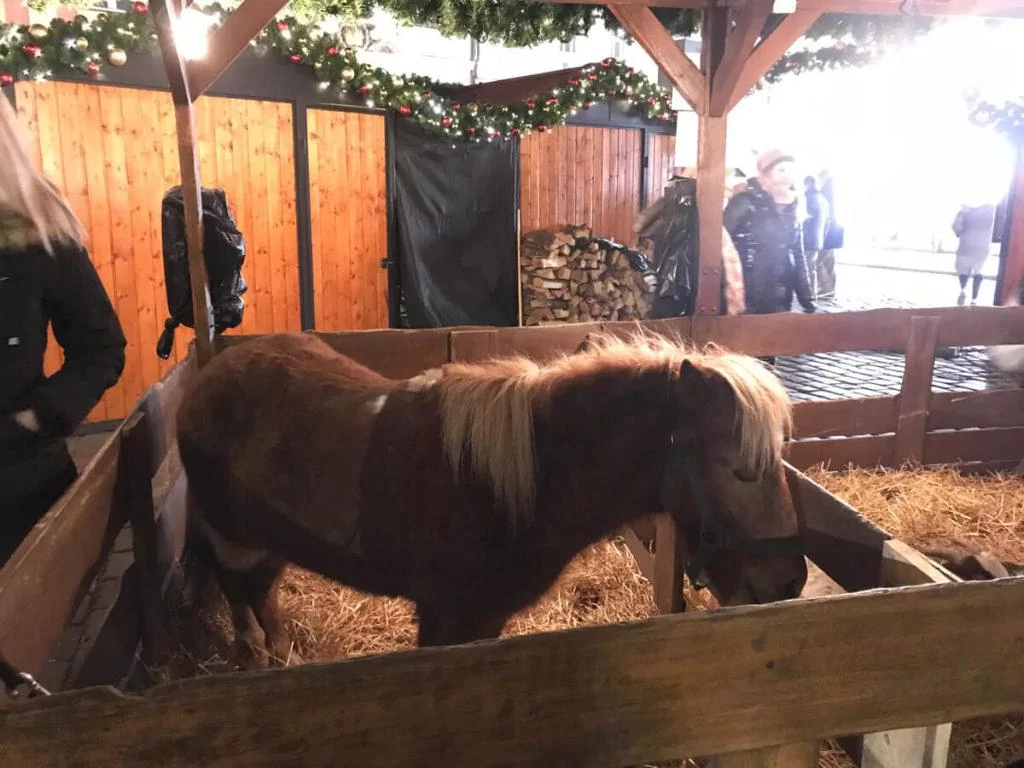 While you're wandering to the Old Town Christmas Market, you'll definitely want to stop by here for a treat and to see the animals.
Dates and times are not published online, but expect similar dates and times as the other markets.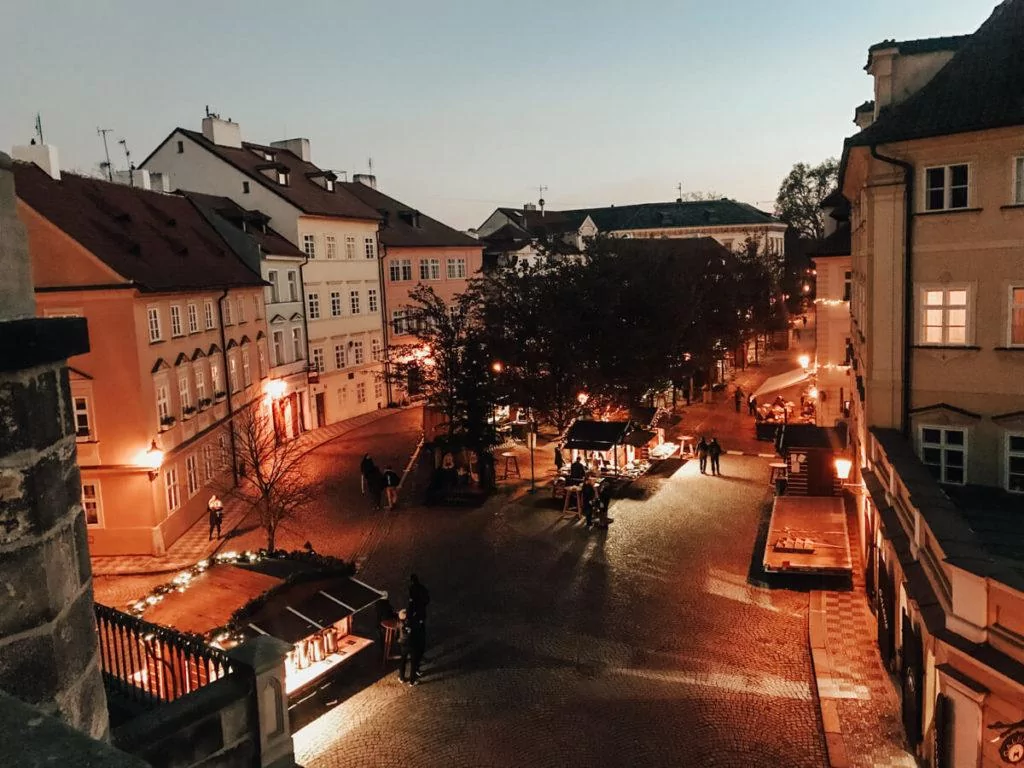 8. Christmas at Lesser Town Under Charles Bridge
Last, but not least, this market is nearly hidden in plain sight. Inevitably, if you're in Prague, you'll cross the Vltava River on the famous Charles Bridge. It is one of the most iconic sights in Prague and is a must to visit. And if you're staying on the Lesser Town side of Prague like we were, you'll be situated right next to the bridge.
We happened upon this market simply by walking along the bridge and seeing that there is a little place to take the steps down prior to crossing the river to Old Town Prague. If you take the steps down you'll immediately be delighted by this tiny little Christmas market.
It offers mostly food and drinks, but is a beautiful spot to relax, as Charles Bridge can be quite chaotic and crowded most days. Plus, many people completely forget about this place so it has a more local feel or is at least a bit off-the-beaten-path.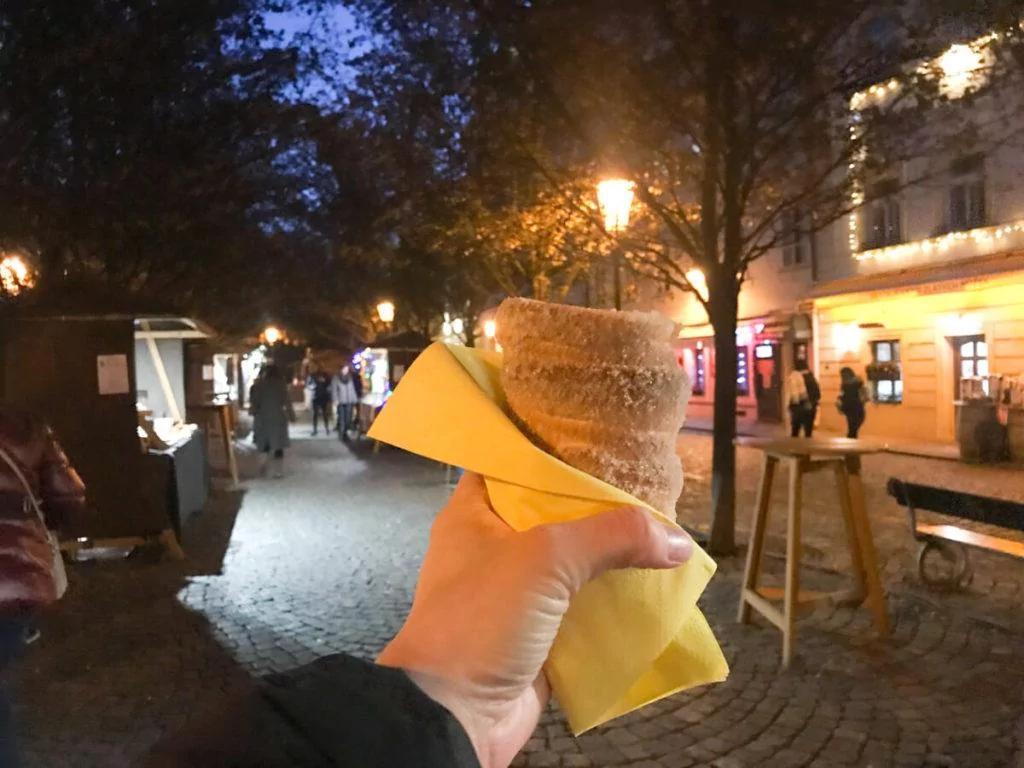 We recommend trying the Medovina either with almond or cherry in it and, of course, a chimney cake.
Also, as there isn't much information about this market, the hours are dates are pretty much similar to the other markets in Prague. This does close a bit earlier than the bigger markets, though.
Prague Christmas Market Map
Best Prague Christmas Market Food to Eat
Now that you know the best Christmas markets in Prague, let's talk about the tasty treats you're going to want to eat while you're there.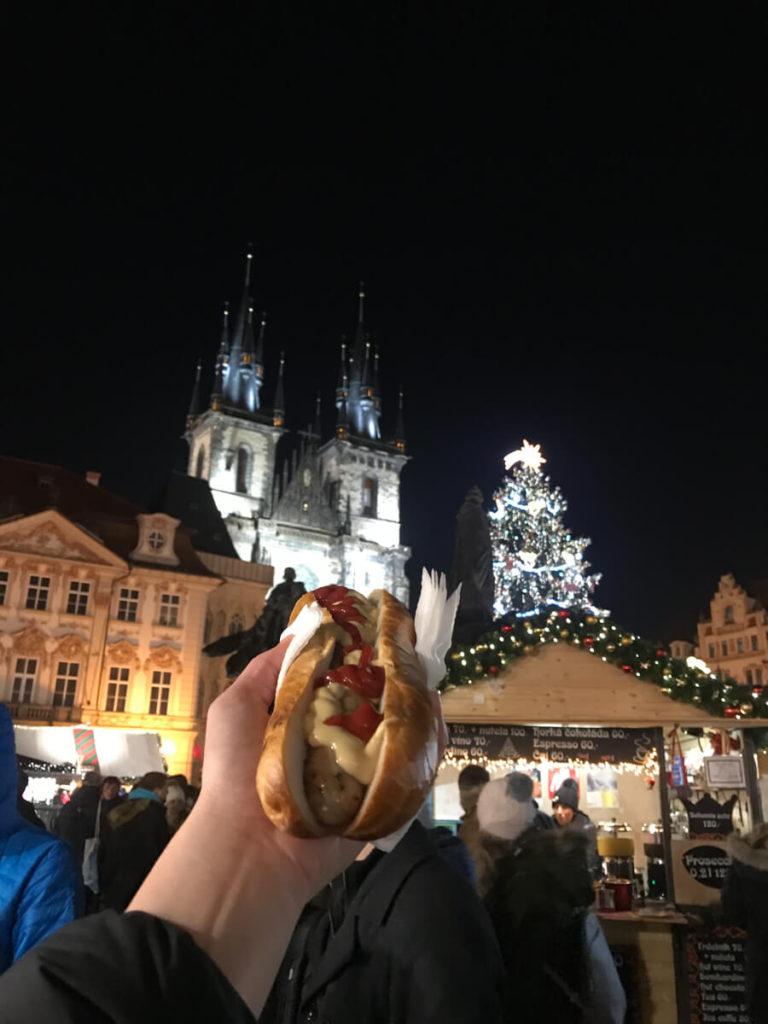 Prague ham is a must-try. You can smell it from quite a distance roasting on a spit over hot coals. It is mouth-watering and perfectly juicy.
Klobasa sausages are great served with mustard and in a baguette. You'll spot stands selling this all over.
Trdelnik is similar to chimney cake in Budapest and is dough wrapped on a spit and cooked over hot coals until it is crispy and crunchy on the outside and warm and chewy on the inside. It is covered in cinnamon sugar but you can also get other flavors on it too. You can also have it served with ice cream in some places.
Medovina is a honey wine and is served nice and warm. It can also be served with flavors like almond or cherry.
Mulled wine is the most popular drink at Christmas markets worldwide. You're going to want to have some more in Prague too! It's warmed up wine that has been stewed with mulling spices and tastes like Christmas in a cup.
Becherovka is a popular Czech digestive and is served as a shot that you sip. It has a secret recipe but there are lots of herbs and things that give it a holiday taste.
Palacinky is a crepe that can be savory or sweet.
Gingerbread is always a great treat to enjoy.
Moravian cake is kind of like coffee cake and super tasty.
Goulash is a popular Central European beef and veggie stew that'll warm you up on the coldest nights!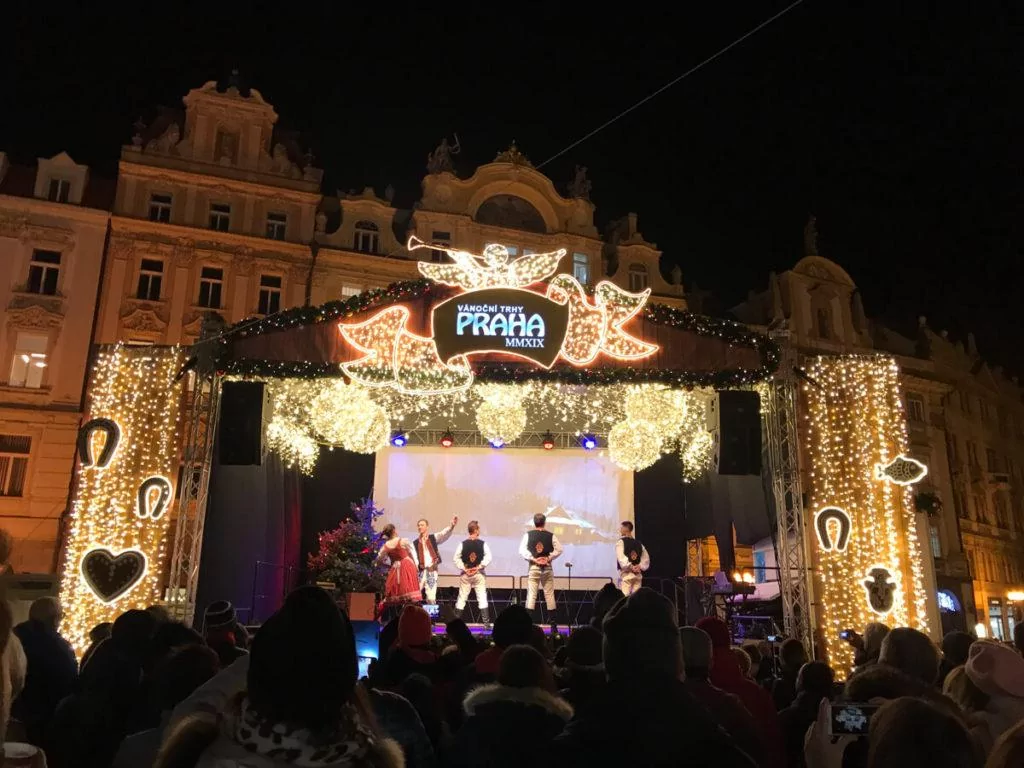 Tips for Visiting the Christmas Markets in Prague
Before you book your future trip to visit the best Christmas markets in Prague, here are some tips prior to your visit!
Not all markets are open on Christmas. You'd think that most Christmas markets would be open on Christmas, but many European Christmas markets actually close right before the holiday. This holds true for some of the smaller markets in Prague, but the Old Town Square Prague Christmas Market, Christmas Market in Wenceslas Square, and the Prague Castle Christmas Market are open through the New Year.
Check out other celebrations this time of year. I already mentioned St. Nicholas Day, but don't forget about New Year's Eve too! Plus, on January 5, the Three Kings Procession takes place where you'll spot kings on their camels riding their way to Old Town Square.
Know the weather ahead of time! It is not uncommon to get some snow during your time at the Prague Christmas markets! Average temperatures during the month of December in Prague are 36ºF (2ºC) during the day and 28ºF (-2ºC) at night. So pack warm clothes (we have tips below) and be prepared for the cold.
Definitely get travel insurance. We don't travel internationally without World Nomads. With coverage for lost/stolen luggage, help if you get sick, and more, it is a good idea to have any time you travel.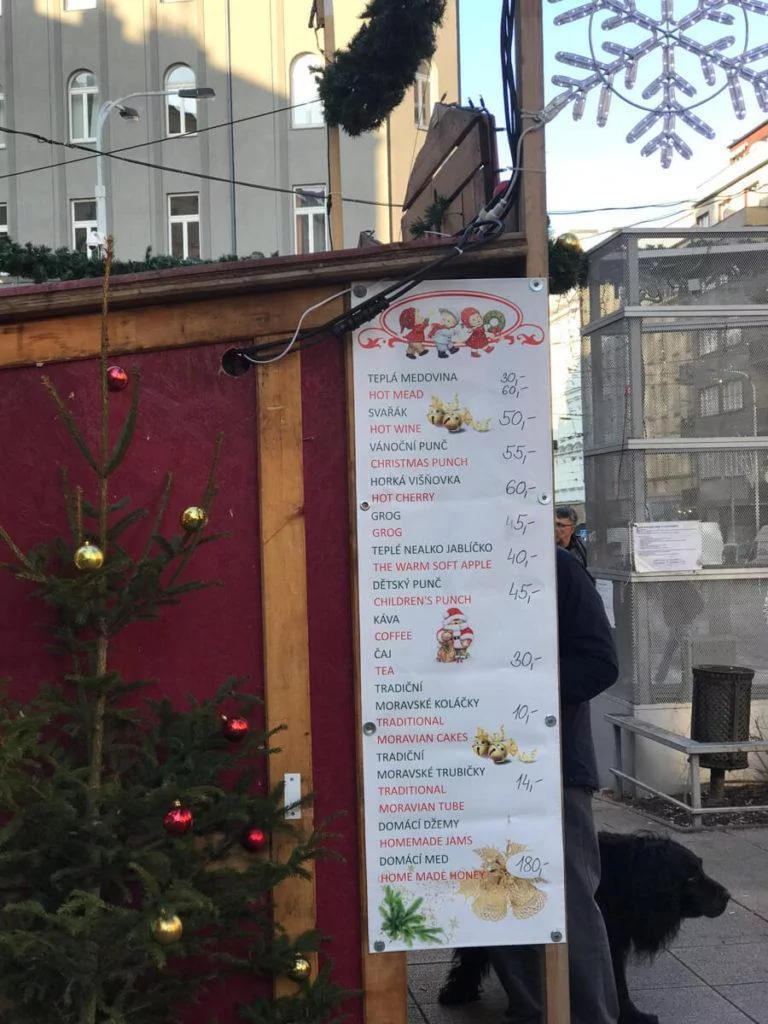 Best Hotels in Prague for Christmas Markets
When it comes to the best hotels in Prague for Christmas markets, here are a few places to choose from based on your budget:
VRBO is always an option too! You can often find places close to the markets that are under $100 per night! Check out VRBO options for Prague here!
Budget: Grand Hotel Praha
Located right next to Old Town Square, this hotel in a 14th-century old building is charming and a steal starting at around $100 per night!
Enjoy the traditional decor and a free delightful breakfast each morning at this place.
Read reviews on TripAdvisor and book here!
Mid-Range: Hotel Pod Vezi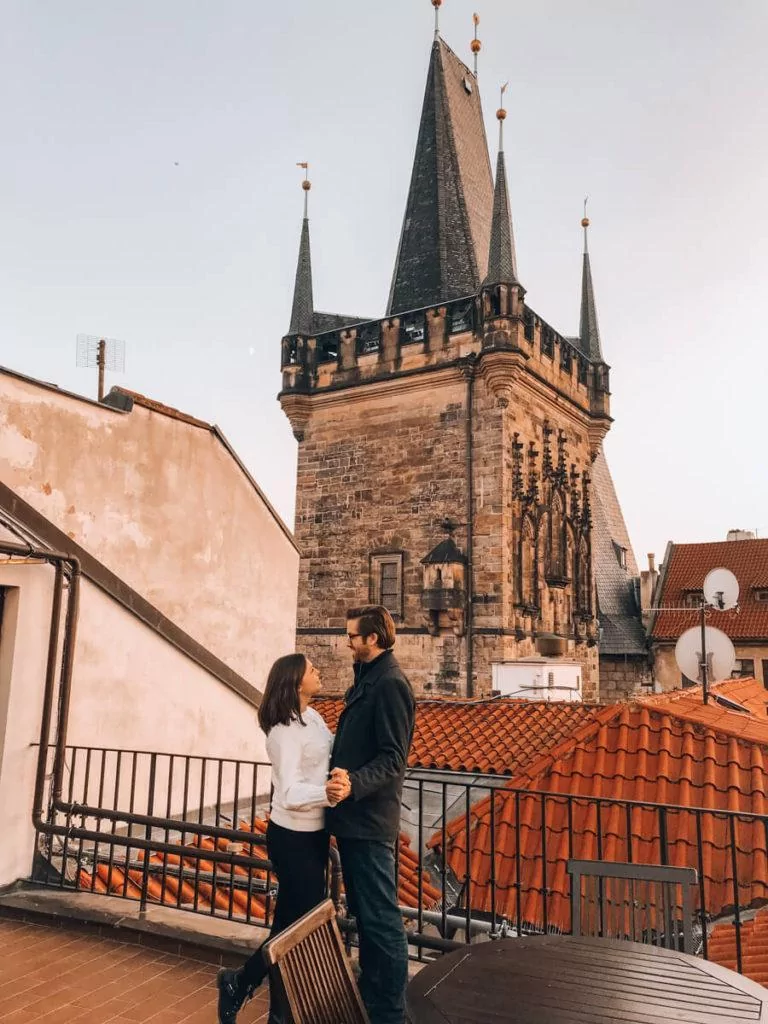 We stayed here during our trip to Prague at Christmastime and loved it! Attention to detail is huge here, and they gave us treats each night from cookies to a mini champagne bottle! Plus, they have a balcony for guests to use that overlooks Lesser Town and you can see the Lesser Town Tower from it!
They also have a huge breakfast spread included, and they offer free tickets to the Lesser Town Tower during your stay as well. We absolutely loved our experience at this hotel and the rooms were quaint and lovely.
Also, at around $150 per night, it's a great spot to base yourself to explore the city.
Read reviews on TripAdvisor and book here!
Luxury: Hotel Kings Court
Located in the Old Town on Republic Square, you're steps away from Christmas markets here! Plus, this gorgeous building has a traditional exterior with modern and beautifully spacious hotel rooms.
There is also a sauna, indoor pool, spa, and bar/lounge for relaxing after exploring markets all day. This is a great spot to stay and is around $300 per night.
Read reviews on TripAdvisor and book here!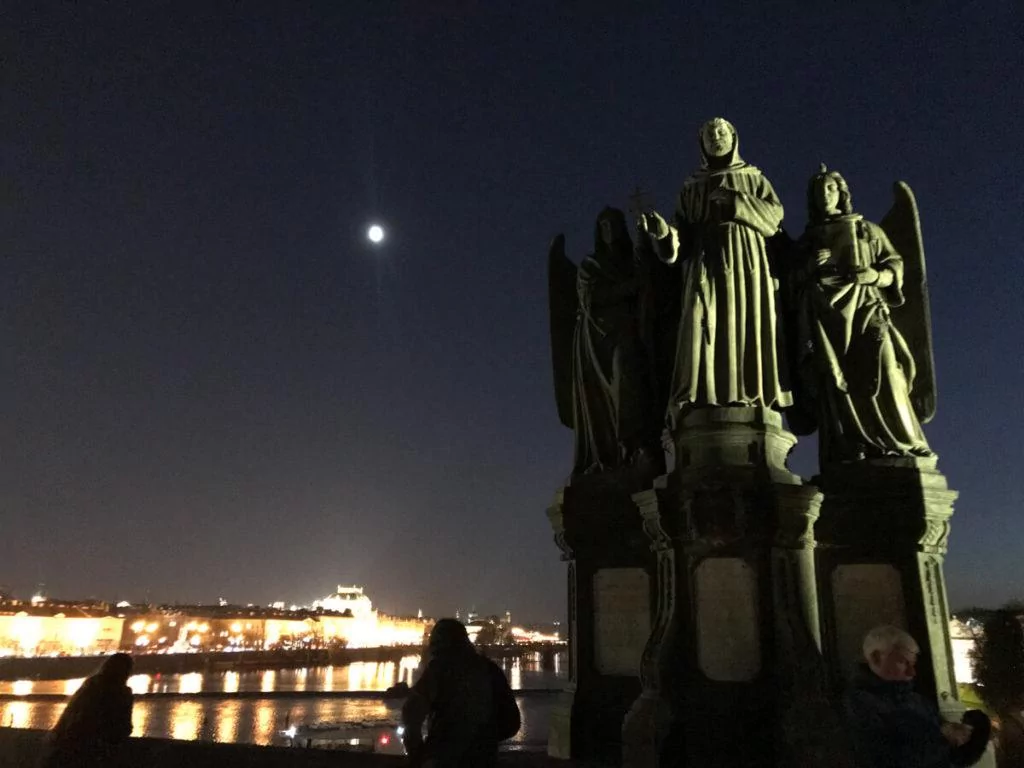 Best Time to Visit Prague Around Christmas
The best time to visit Prague at Christmas for the markets has to be early December. I recommend visiting most Christmas markets around this time as it will be much less crowded than later in the month.
The Christmas markets get a lot more packed the closer you get to the holidays as you'll have locals on vacation as well as more families coming in for their Prague Christmas trip.
Also, avoiding weekends and later in the evening is a good idea to steer clear of crowds. We were lucky enough to visit from a Wednesday-Friday in early December with few crowds!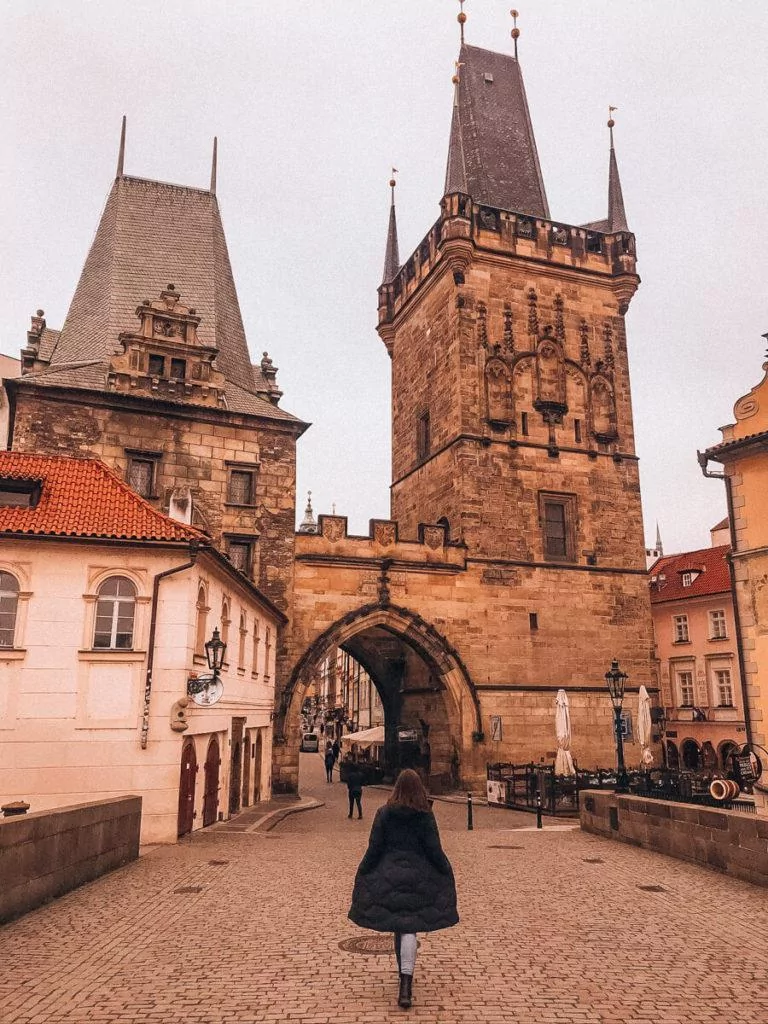 What to Pack for Christmas in Prague
As I said above, Christmas in Prague is cold. While our trip across Central Europe for the Christmas markets ranged in temperatures, it definitely got colder in Prague. So much so that I ran out of my nicer, thick wool socks and had to buy socks at a market because my thin running socks weren't cutting it! While I have a full Europe in winter packing guide here, here are some things to definitely bring below.
Bear in mind that Christmas markets in Prague are outside, meaning you'll spend hours outside even during the cold weather. So packing accordingly is super important. Don't let not being prepared for the weather impact the quality of your Prague Christmas trip.
So as far as what to pack for the Christmas markets in Prague, you'll definitely want those warm socks, comfortable and warm boots, either tights or thermal underwear to wear underneath jeans or trousers during a chilly day, and some cute and warm sweaters.
I also recommend wearing a nice, thick parka (like The NorthFace here that I wear all winter in Cleveland), a scarf, gloves, and earmuffs.
For packing in a carry-on as we did during our Prague Christmas trip, I love these packing cubes and bringing along our Osprey Farview backpacks!
And to prevent pickpocketing and theft, I always bring my Travelon anti-theft over-the-shoulder bag to carry my money and camera in.
For taking incredible photos, be sure to pack this tripod to get some good shots. You'll also want to be sure to pack an outlet adapter to charge your things.
And for potentially rainy or snowy days, be sure to pack a small umbrella.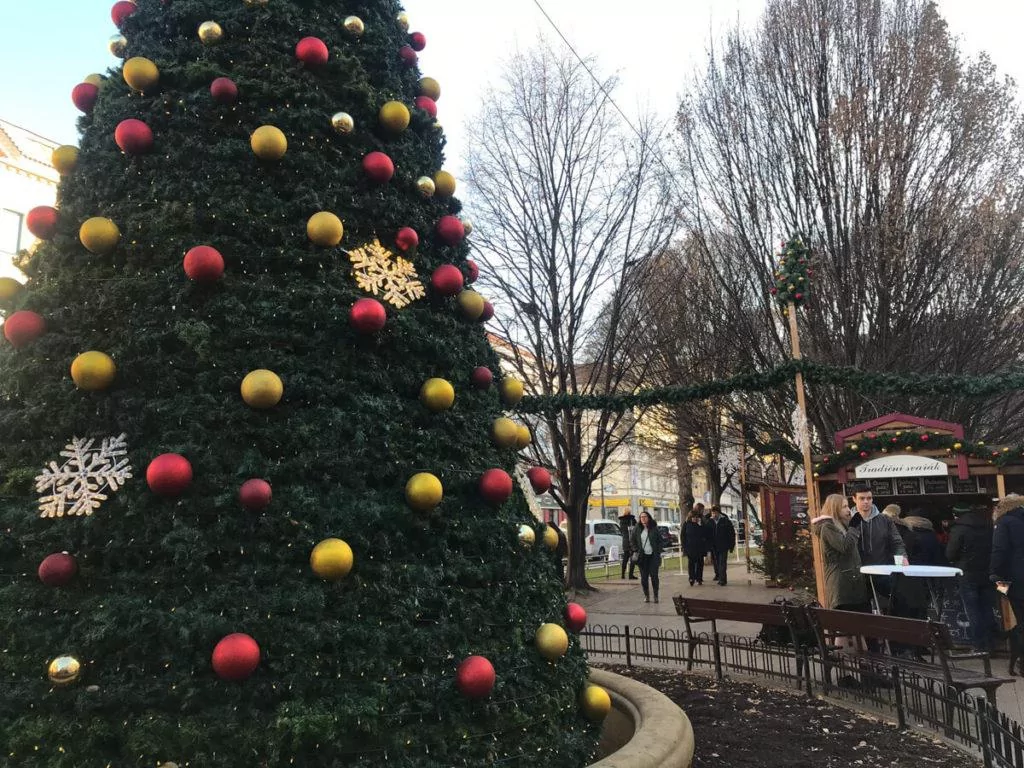 Other Things to do in Prague Around Christmas
Christmas in Prague is fantastic! While of course you could spend all day every day just checking out the markets, there are more things to do in Prague! We have a whole 2 day itinerary to check out for details, but here are a few things to see while you're there:
Watch the Astronomical Clock
Take an incredible food tour with Prague Food Tours
Take a tour of the Jewish Quarter
Visit Prague Castle, Charles Bridge, and Old Town Square (you'll definitely do this one regardless)
Drink Czech beer at Lokal
Snap photos of the Lennon Wall
Relax and drink beer in a beer spa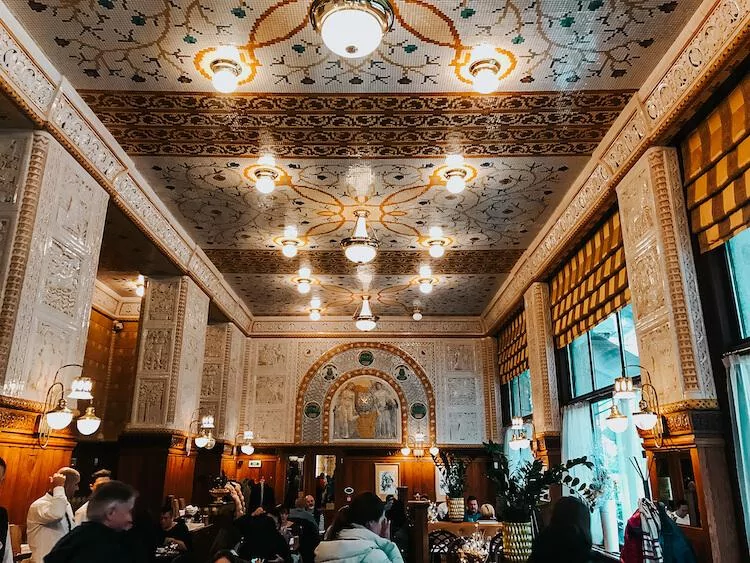 Want to Visit More of the European Christmas Markets? Check Out These Posts!
We have a bunch of European Christmas market posts as we spent quite a bit of time exploring the continent searching for amazing markets!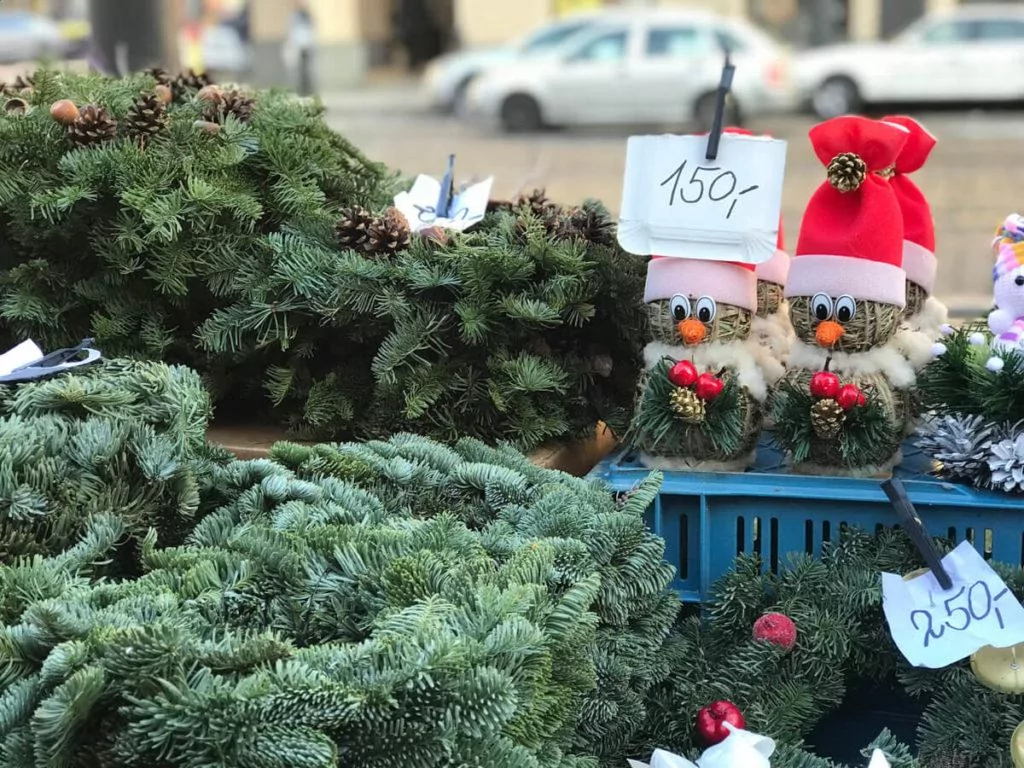 Christmas in Prague is a delight to the senses. Tasty food and rich mulled wine fill the air, the Christmas lights twinkle in the cool, crisp evenings, and the joy of the best Christmas markets in Prague will have you feeling as giddy as a child on Christmas all over again!
Would you visit Prague at Christmas? Which market would you most like to see?
You may also like:
Pin it here!