Some posts on this site contain affiliate links, meaning if you book or buy something through one of these links, I may earn a small commission (at no additional cost to you!). Read the full disclosure policy here.
---
Looking for ultimate romantic staycation ideas for couples?
Y'all we've got you! While we may not be able to travel all the time, that doesn't mean that you can't have a fantastic staycation.
As we really only travel about 25% of the year, we love creating little romantic staycation ideas to satisfy our wanderlust while at home. How do we do this? By creating a "destination theme" and "traveling" there from the comfort of our apartment, whether via a virtual tour or an activity.
We typically pick a destination and then choose a meal, drink, and activity in theme with that place. Then, we either dream of the place we'd like to visit or reminisce on prior trips! It is one of many ways to bring travel to you while stuck at home.
So, we're going to show you the ultimate staycation ideas for couples who love travel and show you the top 10 places you can "visit" while at home!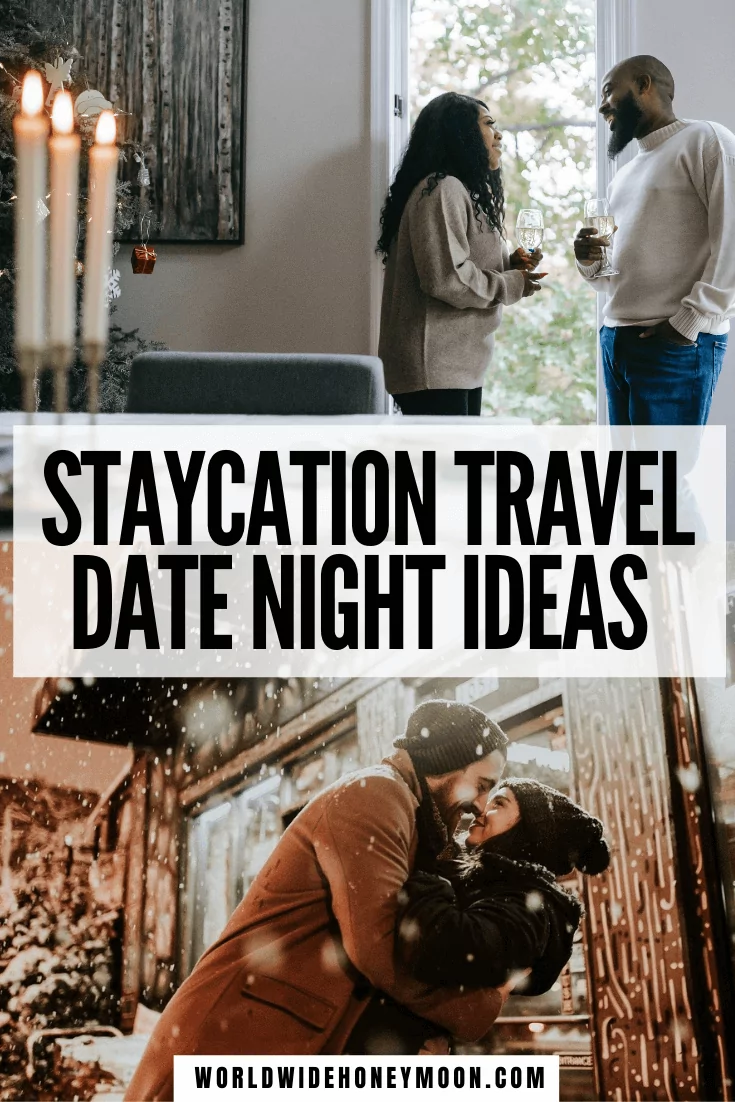 Top 10 Romantic Staycation Ideas for Couples Who Love Travel: Perfect Destinations to "Visit" While at Home
Want to travel while at home with your love? Let's check out the best destinations to "visit" during a staycation.
1. Travel to Italy
Dreaming of riding in a gondola along the canals of Venice? What about soaking in some sunshine and embracing the aromas of fresh lemons in Capri? Italy is a place that I loved to visit years ago and hope to bring Chris to eventually. But in the meantime, let's check out some great ideas for an Italian date night staycation.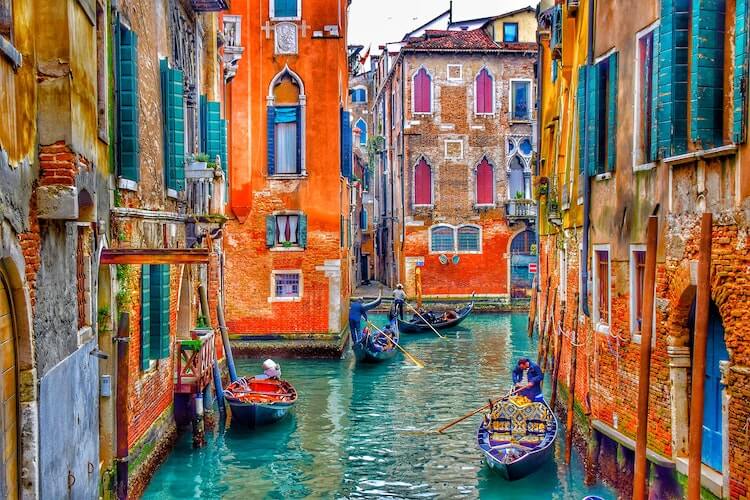 Food:
First of all, there are SO many great meal ideas for Italy. From the risotto in the Lombardy region to pizza in Naples, there are several options to enjoy during your romantic staycation.
For this guide, we'll include both a vegan and non-vegan meal to enjoy!
Roman Spaghetti Alla Carbonara: From crispy pork cheek to the creamy combo of pecorino romano cheese and eggs, if you are dreaming of throwing a coin into the Trevi Fountain and visiting the Colosseum, this recipe will transport you to the perfect Roman holiday.
Creamy Vegan Mushroom Risotto: Be transported to northern Italy with this "veganized" risotto. Made with crisp white wine and juicy veggie broth, it will leave you wondering why you ever used butter or cream!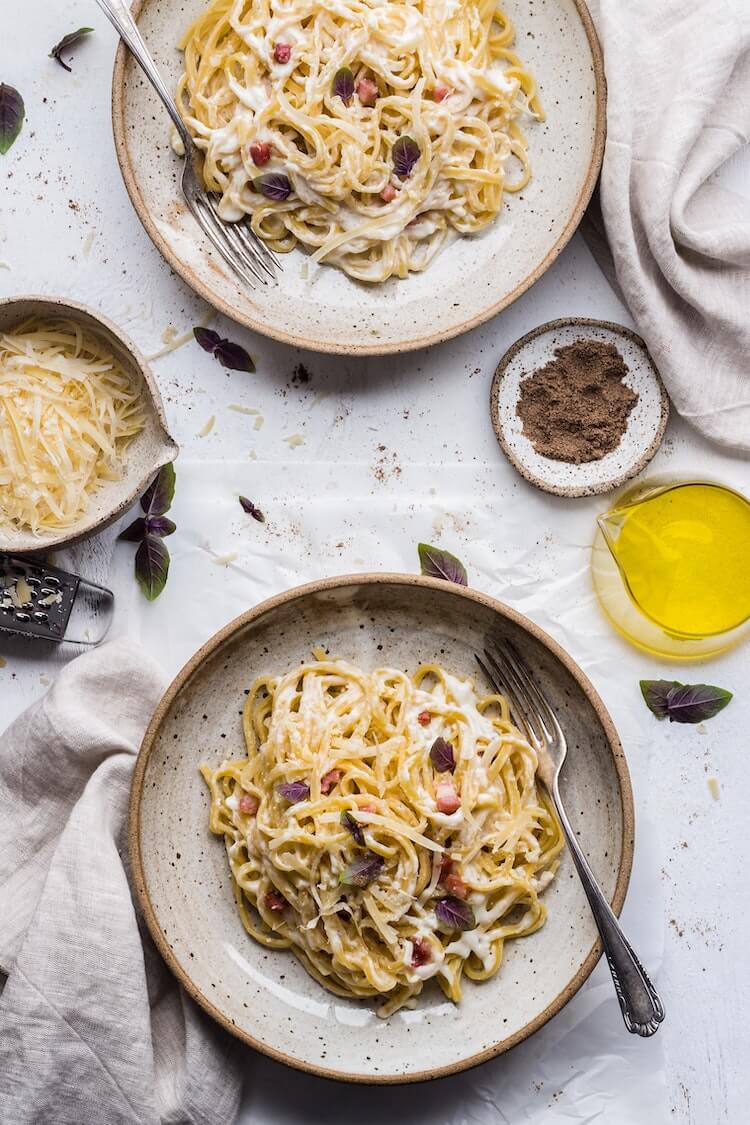 Drink: Chianti
Each of these hearty dishes needs an equally robust wine to accompany it, and Italian wine is a no-brainer. Bring the flavor of Tuscany home with a delightful Chianti Classico (a more upscale but affordable level of Chianti). A great producer of this is Castellare di Castellina.
Also, if you nerd out over wine like we do, now is the time to pick up our favorite wine book Windows on the World Complete Wine Course. It includes everything you need to learn about wine as well as advice for DIY wine tasting! Cheers to that!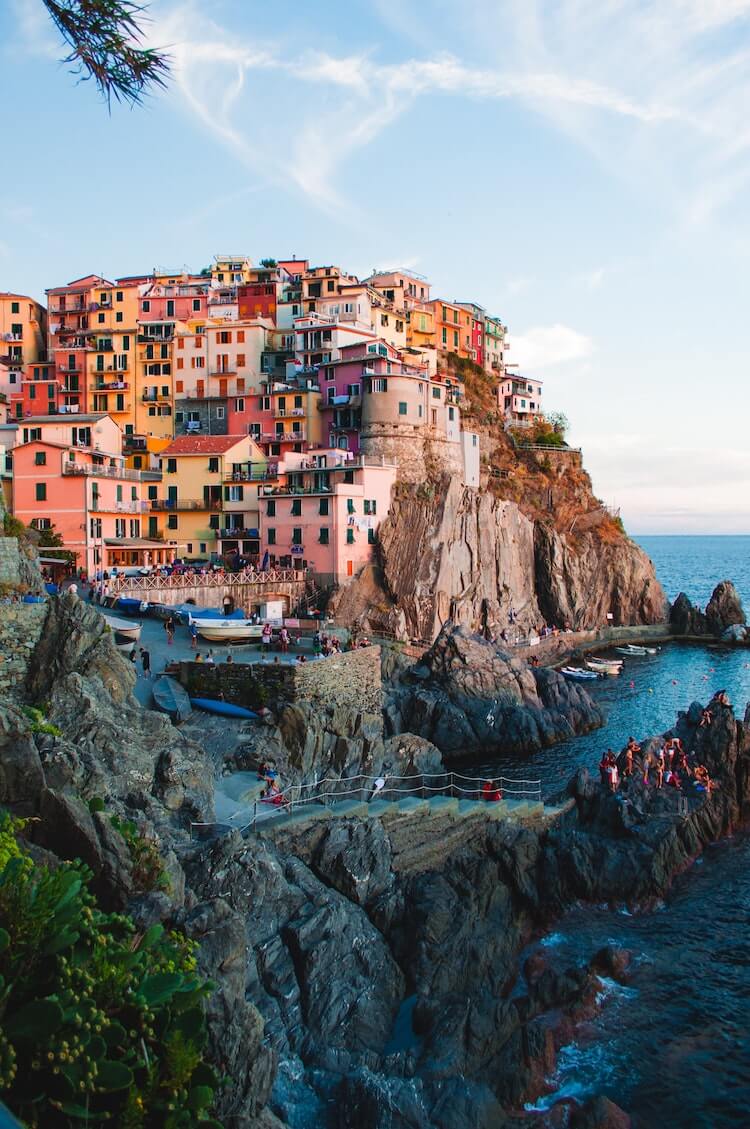 Activity: Admire Italian Art… From Home!
There are plenty of museums that offer free virtual tours, and Italy has quite a few! If there is one country that people literally enjoy visiting for art, this is it.
The Vatican Museums are free to virtually tour online, as is the Uffizi Gallery. If you want to sip Italian wine while admiring famous Renaissance works, this is the perfect romantic staycation date night idea!
Oh, and if you'd prefer to stare in awe at the ancient architecture and artifacts from Roman times, check out the Trajan's Market in Rome!
2. Another Fantastic Staycation Idea for Couples: Visit Thailand From Home
Thailand may be one of our favorite countries to visit. From the beautiful, crystal-clear water surrounding Koh Lipe, to the lush forests and delightful cuisine of Chiang Mai, Thailand has it all in terms of food, adventure, and romance!
Dreaming of a romantic trip to Thailand? Let's check out how to bring Thailand to you!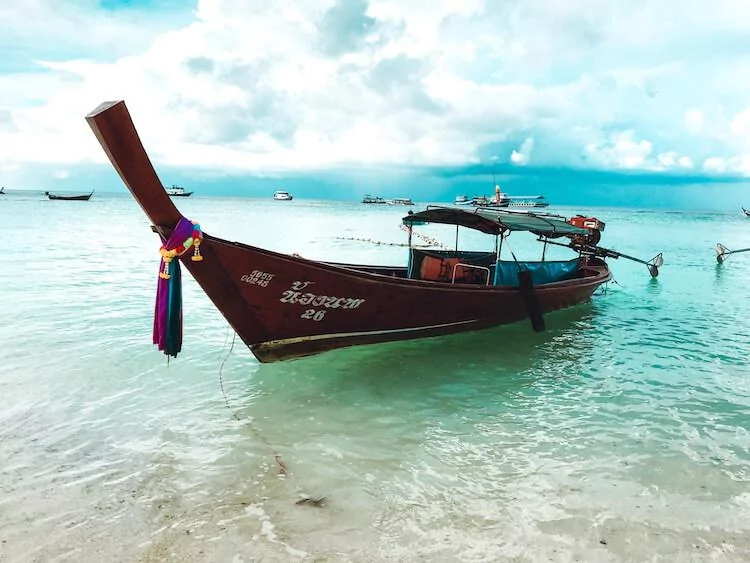 Food:
Again, when it comes to amazing destinations for food, Thailand is near the top of the list (if not #1 for us)! However, if there is one dish that you MUST try while visiting Thailand, it is khao soi.
Yes, pad thai is super tasty, and there are SO many amazing dishes you can make from Thailand, but khao soi is actually pretty easy to make at home and probably the greatest dish of all time. Here is both a chicken khao soi recipe as well as a vegan tempeh khao soi that we swear by. Seriously, this dish is life-changing.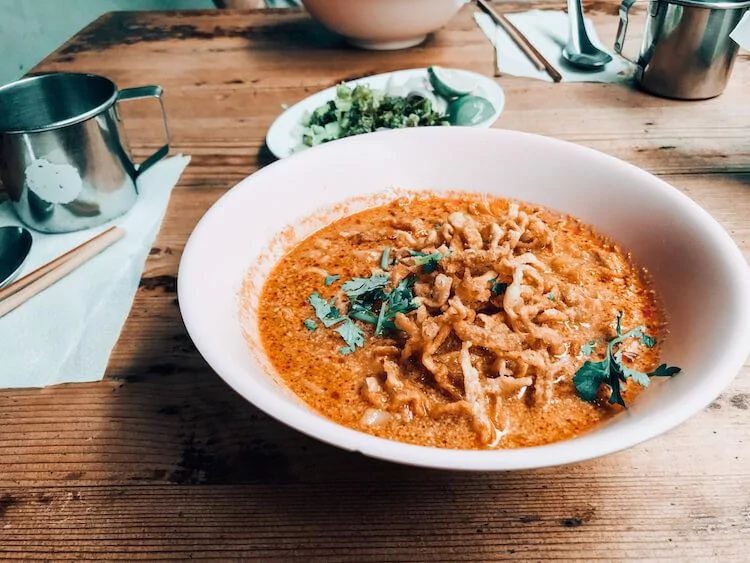 Drink: Singha Beer
Did you even visit Thailand if you didn't have a beer? Maybe this is controversial, but Chris and I were not big fans of Chang beer while in Thailand. Instead, we really enjoyed Singha. Luckily, you can get some at various liquor stores across the US too! Sip a Singha beer and enjoy that khao soi- it certainly brings us back to Thailand!
Activity: Watch Somebody Feed Phil Bangkok Episode
Thankfully, Netflix is a great source to turn to in times of isolation. If you can't get to Thailand right now, why not watch Phil Rosenthal, the hilarious host of Somebody Feed Phil, taste the best cuisine in Thailand from crab omelets in Bangkok to khao soi in Chiang Mai.
This episode shows many great things to do in Thailand, including a visit to a floating market in Bangkok, beautiful jungles in the north, and plenty of food!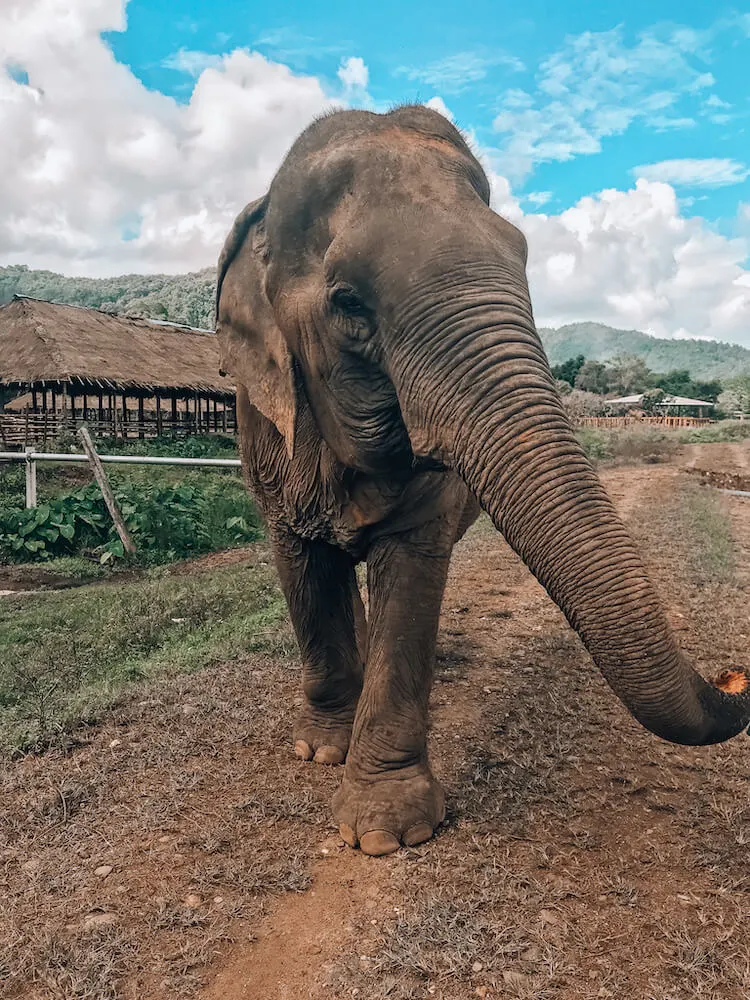 Plus, at minute 52, you'll watch Phil hanging out with elephants at Elephant Nature Park, almost get squished between two elephants while walking, and then while backing up get hit in the face with a tail. It's really hilarious to watch and worth rewinding and rewatching again. You're welcome.
3. France is a Great Romantic Staycation Theme!
If you know us, you know that we love France. I lived in France back in 2012, visited various spots around the country, and have since revisited many times. Paris is one of my favorite cities in the world! Whether you plan to visit Paris in January, Paris in May, or have 4 days to spare in the city of lights, you can't go wrong visiting Paris…only this time you can visit from the comfort of your home!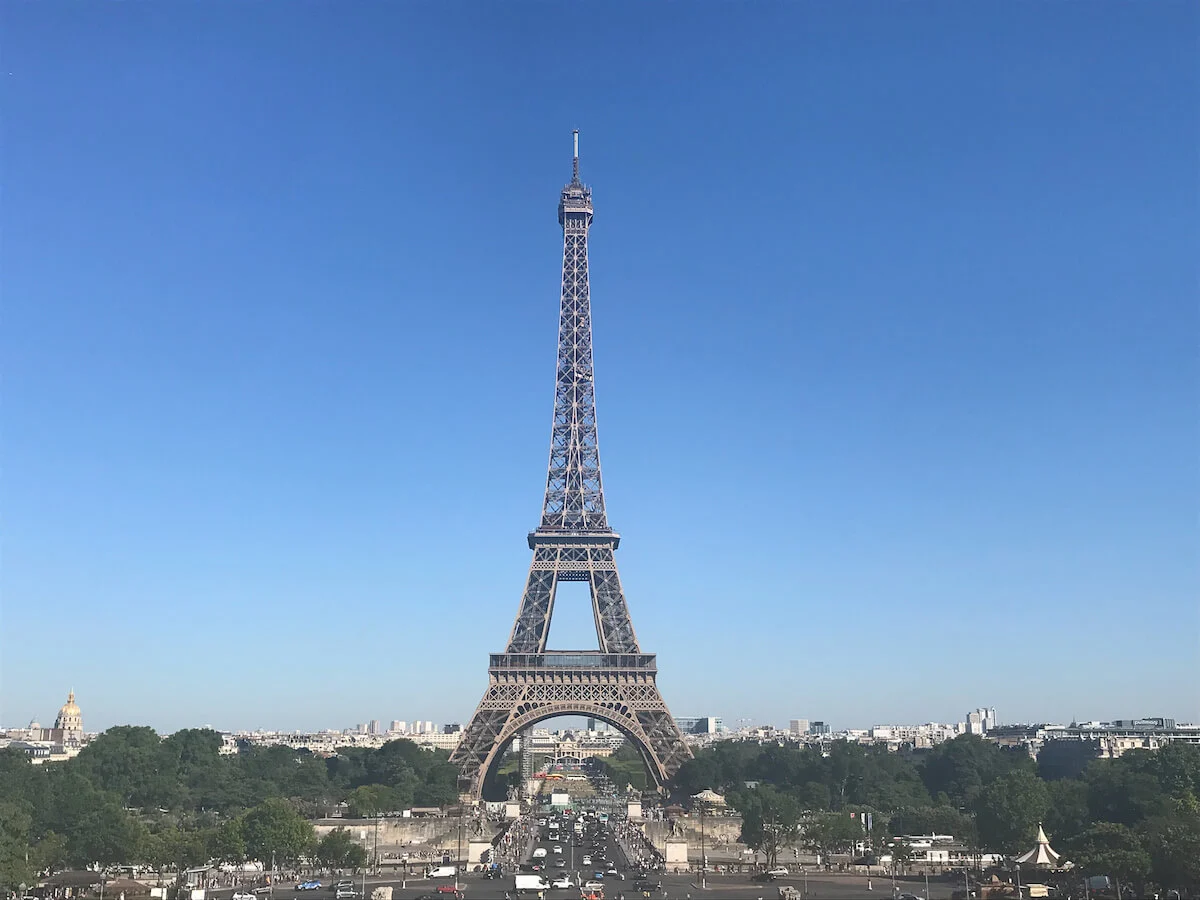 Can't spend a week exploring the sights of France? Check out what to do instead:
Food:
Bread, cheese, escargot, roast chicken… I could go on. French food is world-renown. From the simple elegance of a chocolate croissant to the over-the-top coq a vin, there are many recipes you could choose during your staycation.
If you want to bring the delights of Paris to you, you'll enjoy this tasty cassoulet recipe full of white beans and chicken thighs. For a vegan twist on French cuisine (and believe me, it is difficult to find vegan French recipes), definitely check out this tempeh and mushroom bourguignon. It has all of the traditional flavors without the meat!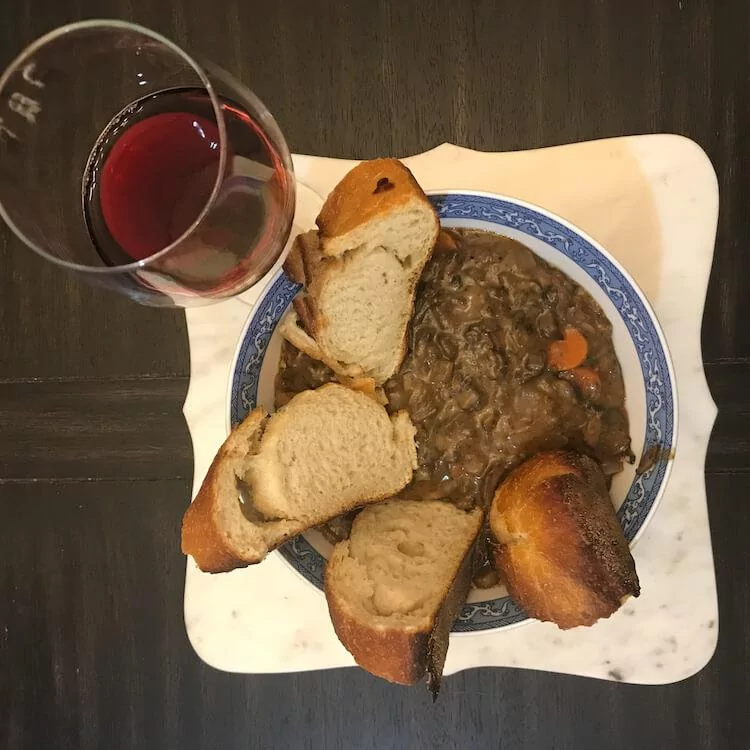 If you wish, pair these dishes with a great cheese plate and enjoy!
Drink: Bordeaux
French wine is pretty incredible. There is rosé in Provence, champagne from the Champagne region, Sancerre from the delightfully gorgeous castle-filled Loire Valley, and, of course, the perfect red blends that come from one of the best wine regions of the world: Bordeaux.
To balance out these thick, creamy dishes above, a Bordeaux wine will do the trick! And according to Windows on the World, for great value and quality, aim for a Bordeaux from a producer like Chateau Chasse-Spleen with the Cru Bourgeois classification. It will definitely be worth it!
Activity: Watch a Parisian-Themed Movie
There are so many movies that feature the city of lights. From the whimsical Midnight in Paris to a classic French film like Amelie and even a collection of stories like in Paris, Je T'aime, you'll see the sights and sounds of this always romantic city.
Warning: it may inspire you to book a trip as soon as you can!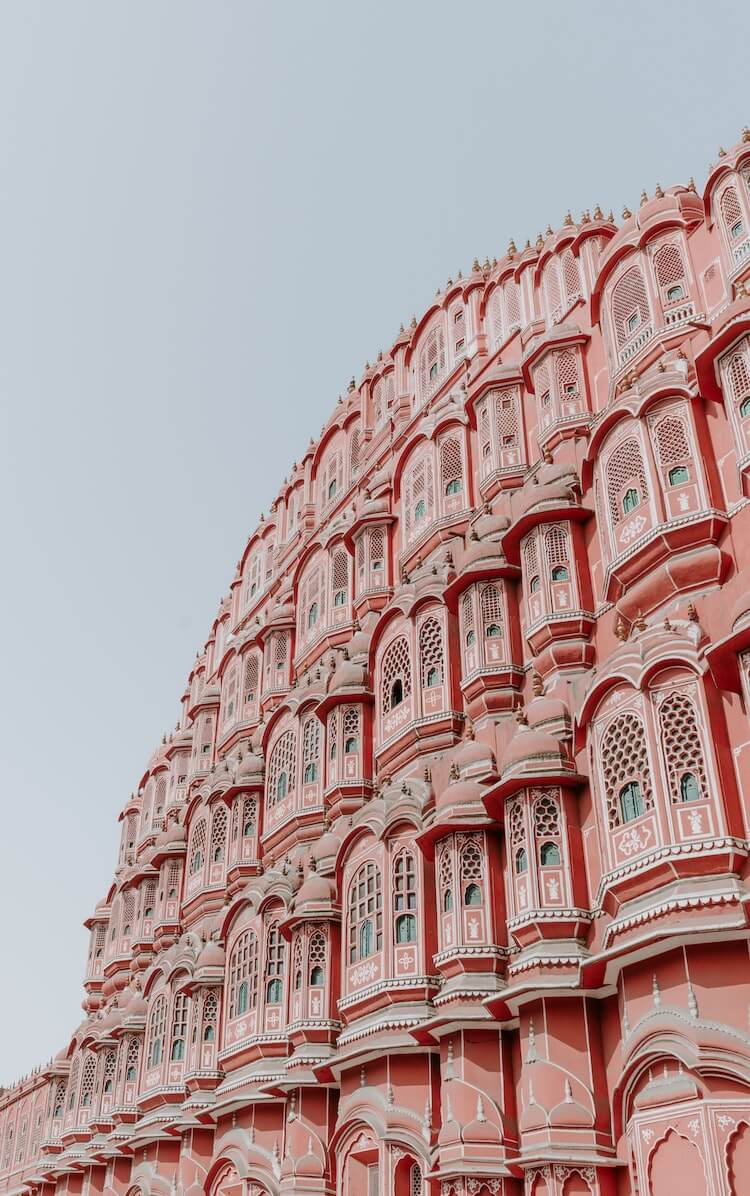 4. Perfect Staycation Ideas for Couples: India
India is a place that awakens the senses. With bold flavors, exciting cities, and beautiful scenery, a trip here is definitely on our bucket list. While we hope to visit this wonderful country in the near future, if you are stuck at home like us, here is how you can visit without getting on a plane.
Food:
Indian food can be pretty complicated to make. But there are some more simplified versions to make from home that you'll definitely enjoy! Personally, we used to make and enjoy the chicken tikka masala recipe from Cooking Light's Global Kitchen cookbook. For a great vegan recipe, we love this vegan slow cooker tofu tikka masala! Pair either recipe with some basmati rice, and enjoy the flavors of India right at home!

Drink: Mango Lassi or Chai
I can think of fewer things more refreshing than a mango lassi on a hot day. Here is a simple recipe for this delicious drink. Or, if you want to warm up a bit, definitely check out this vegan masala chai recipe. Both are fantastic semi-sweet treats to enjoy after the flavorful dinner.
Activity: Watch a Bollywood Movie
India is famous for its Bollywood films. From romantic comedies to dramas, there is something to enjoy no matter which genre you prefer. Some great films we love include the coming-of-age hit 3 Idiots, the self-discovery film Queen, the feel-good film Zindagi Na Milegi Dobara, and romantic-drama Jodhaa Akbar.
The best part: they are all on Netflix! Happy streaming during your romantic staycation!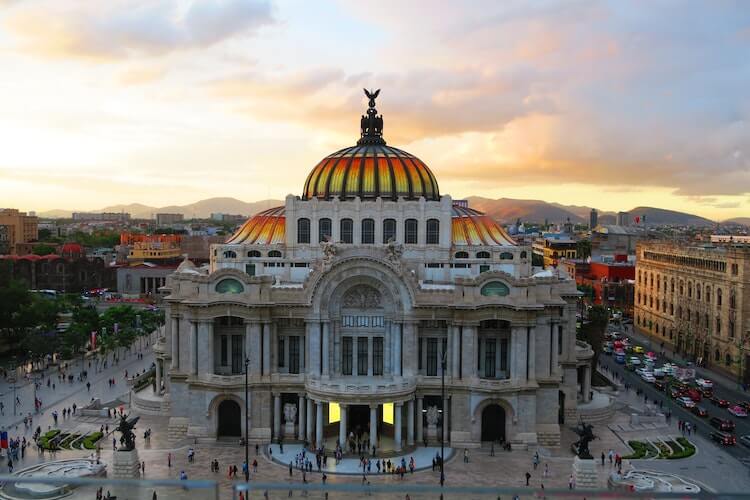 5. Explore Mexico at Home
What is next up for fantastic staycation ideas for couples who love travel? Visit Mexico from the comfort of home! From delicious tacos to beautiful beaches, even if you can't make it down to Mexico, you can certainly bring the spirit of this delightful country home!
Food:
I mean, if you plan to cook Mexican cuisine, you've got to try making tacos. We're talking like Mexican street tacos like these steak tacos or these incredible roasted cauliflower tacos. Combine that with some corn tortillas and easy guacamole, and you've got a winning meal that is perfect for your romantic staycation date night.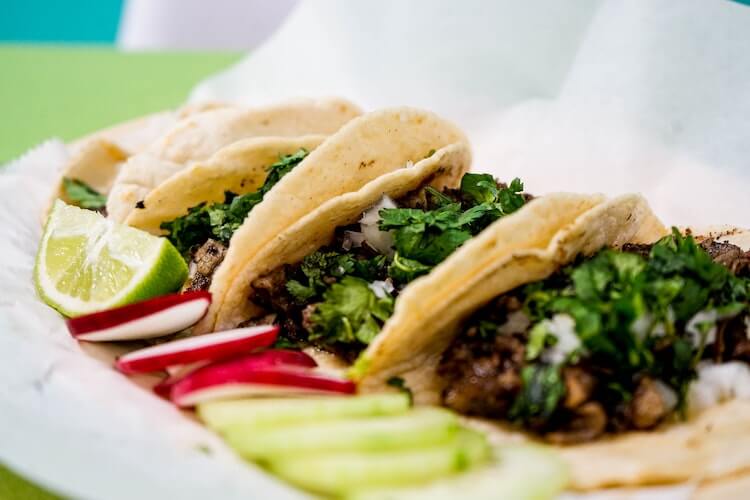 Drink: Mezcal or Margaritas
Continue the spirit of Mexico at home with delicious mezcal or a margarita. Here is a really easy margarita recipe to make this delicious beach-vibe drink at home. It is almost like being at the beach, right?
Activity: Watch Awesome Youtube Videos!
From Lucha libre wrestling matches to the beautiful beaches of Isla Holbox, there is so much Mexico content on Youtube that you could easily spend hours enjoying the sights, sounds, and entertainment in Mexico!
6. The Ultimate Staycation Idea: Visit Peru!
Peru was easily one of our favorite trips from end to end. With the incredible day in Lima, gorgeous nature at Tambopata Research Center, the jaw-dropping views of the Sacred Valley, Machu Picchu, and Rainbow Mountain, and even the tasty delights in Cusco, this country is an amazing place to visit whether you have 10 days in Peru or 50.
Find out the perfect staycation ideas for couples who want to travel to Peru.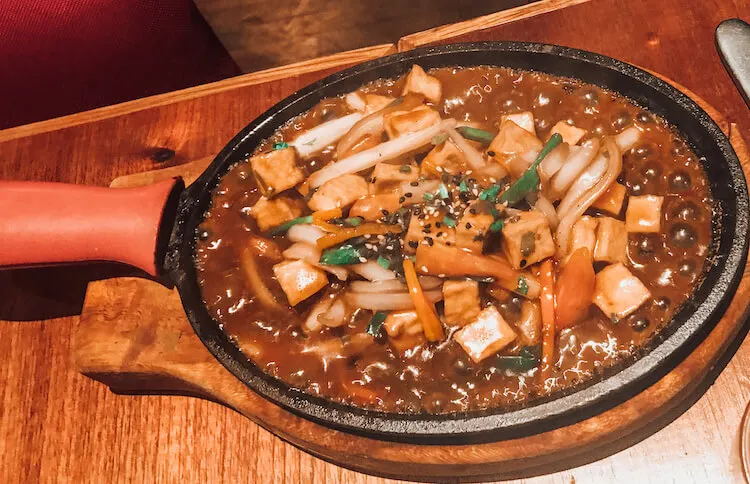 Food:
If you haven't discovered the culinary delights of Peru yet, now is a perfect time. Many recipes you can make from the comfort of home- no plane ticket necessary.
Ceviche, Peru's national dish, is a no-brainer to make for a staycation date night. This easy recipe will give you the flavor of Peru at home. Pair it with some tostones or tortillas for a tasty meal.
For a vegan Peruvian recipe, we have the perfect one: tofu lomo saltado. This dish is full of peppers, yummy sauce, and layered on fries for the perfect comfort dish.
Drink: Pisco Sour or Chicha Morada
Even though both of these beverages topped our list of best beverages of 2019, it is probably much easier to make a pisco sour than the super tasty chicha Morada. This is mainly because finding purple corn can sometimes be a challenge.
If you're lucky enough to find it, this is a delicious recipe to brew your own chicha morada at home. However, if you prefer a tasty cocktail, definitely opt for this classic Peruvian pisco sour. Pro-tip: you can sub out the egg white for 1oz of chickpea water for the same result but vegan.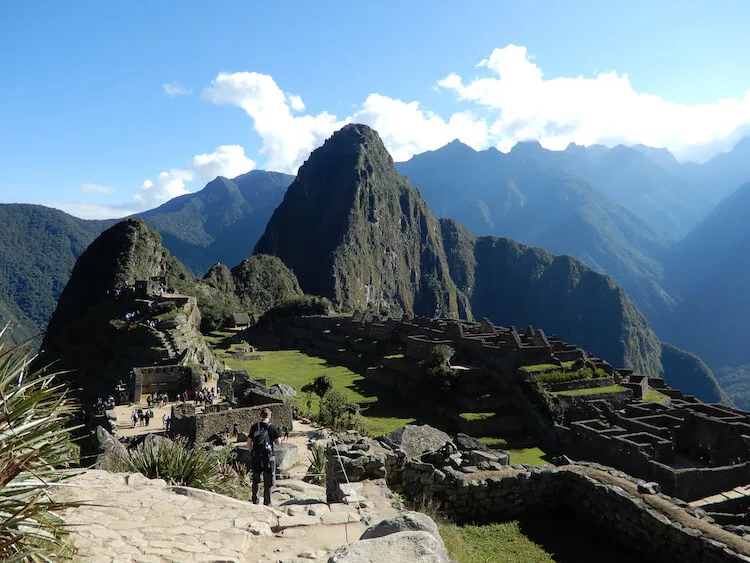 Activity: Visit Machu Picchu Virtually!
Yup, you can visit one of the 7 wonders of the new world in this virtual tour! While it isn't the same as hiking it yourself, it definitely brings the calm serenity of this majestic mountain to your living room!
7. The Most Romantic Staycation Idea: Enjoy the Flavors of Greece!
I think it is safe to say that Greece stole my heart a long time ago. The stunning islands, the fresh food, and the ancient, historical spots across Athens will leave you inspired and breathless.
After visiting Greece for a week during my solo travels across Europe, I know this is a place I have to take Chris to one day. And while we can't get there now, we can certainly plan one of the best staycation ideas for couples and enjoy Greece at home!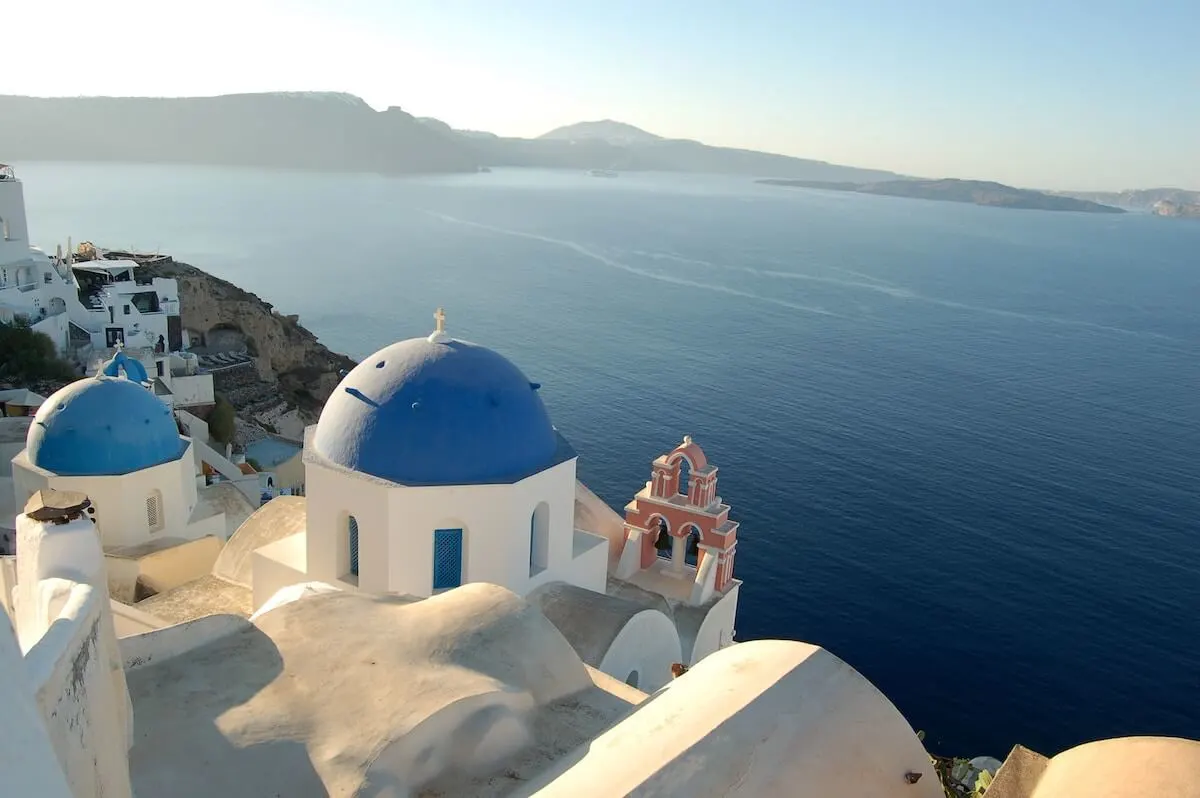 Food:
One of the first cookbooks Chris and I purchased together was The Islands of Greece. With the best recipes from Greece, you'll feel like you've just stepped onto a lovely terrace overlooking the caldera in Santorini. Some easy recipes we love from this book include the fava bean dip, burghul salad, octopus pasta, and, of course, moussaka.
Drink: Ouzo
I remember my first day in Greece. I walked up to my hostel and was offered a shot of Ouzo… it wasn't even noon! But this anise-flavored apertif is definitely popular in Greece, and worth giving it a try while at home.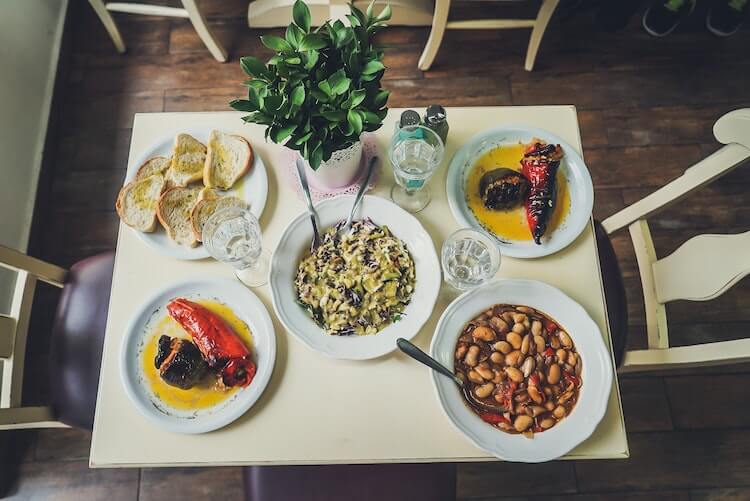 Activity: Toga Party!
Have some old sheets lying around? Make a fun staycation date night into a toga party for two! Feed each other grapes, dance to some greek songs, and have fun being silly in your togas!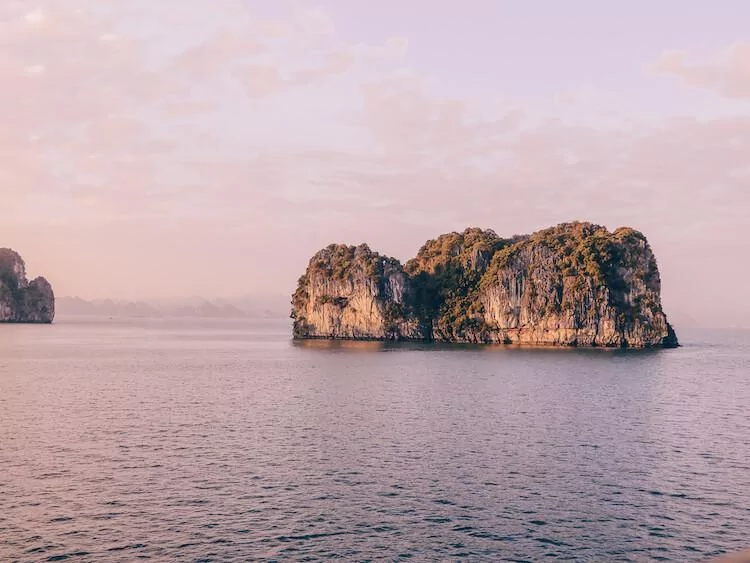 8. Visit Vietnam
Visiting Vietnam was on my bucket list for a long time before our honeymoon. We were so lucky to spend a little bit of time in Hanoi before embarking on the most perfect (and super romantic) Halong Bay cruise.
We definitely want to get back there someday and visit many more special spots in this beautiful country, but for now, we're creating an awesome staycation idea for couples to Vietnam!
Food:
Vietnamese food is incredibly tasty. While it can be difficult and time-consuming to make some dishes, others are simple and just as great! However, if you are stuck at home for an extended period like ourselves, why not try to make your own beef pho? It definitely is a lengthy process, but so worth it for the final result.
For those eating vegan, we absolutely enjoy the tofu bahn mi from Global Kitchen's cookbook. I know we talk about this cookbook a lot but we have been in love with it since we purchased it years ago. We've made so many of these recipes and each one is a hit.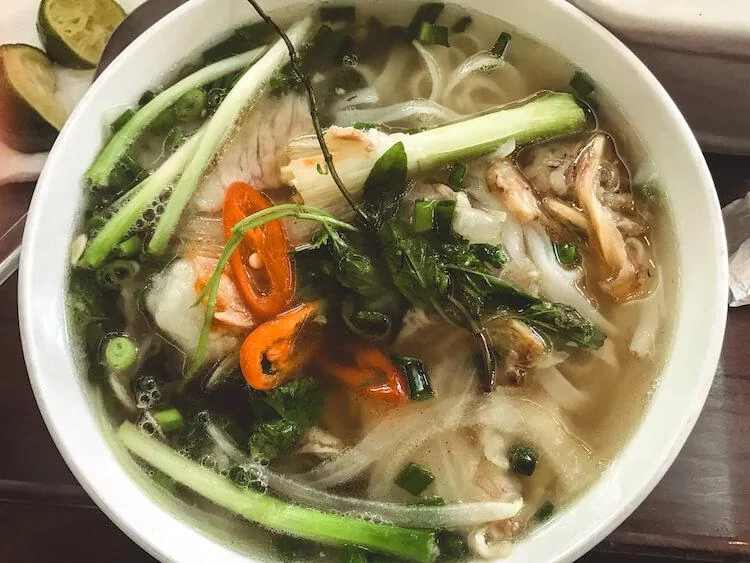 Drink: Vietnamese Coffee
There is coffee, then there is Vietnamese coffee. First, this coffee has its own coffee filter. It's really cheap and makes a powerful cup of joe. Once it is made (we used the instructions on brewing Vietnamese coffee from the World Atlas of Coffee book), you can add condensed milk for the traditional method or drink it black.
I personally love to add in the condensed milk for a bit of sweetness! You can also put it over ice for an iced coffee!
Activity: Watch Dragon Legend Cruise's Videos of Bai Tu Long Bay
We stayed with Dragon Legend Cruise for our trip to Bai Tu Long Bay (the northern part of Halong Bay) and loved it! To reminisce on fond memories of our cruise, we love watching Dragon Legend's Youtube channel for their videos of this majestic area.
It really is beautiful, romantic, and all of the things the videos show! We can't wait to go back!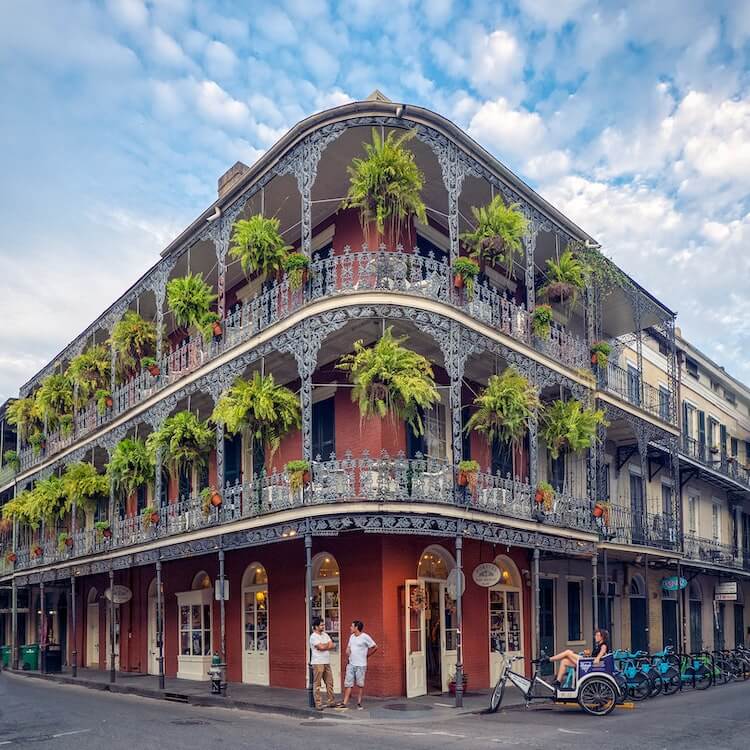 9. Ultimate Staycation Ideas for Couples: New Orleans
Sometimes travel doesn't have to involve getting on a 15-hour flight across the world. It can also be a city you've never visited back home! For us, that is New Orleans.
Funny enough, I was supposed to visit for a travel conference in May, but I'm excited to potentially go later this year for that same conference. In the meantime, you better believe I'm getting ready for the Big Easy at home with these staycation ideas!
Food: Po'Boys
Fried deliciousness on a bun? Sign me up! When I think of New Orleans, these sandwiches are one of the first things I want to try when I get there! But you can make it from home too! Try out this shrimp po boy or this vegan oyster mushroom po boy!
Spicy, creamy, and delicious, this will have you enjoying the flavors of Nola right at home!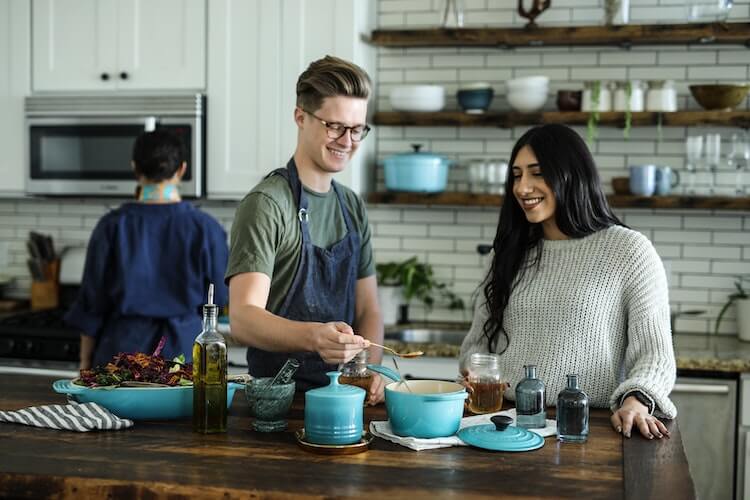 Drink: Hurricane
Sweet and possibly too good, this hurricane recipe will give you all the Mardi Gras feels. Just beware: this drink is potent even if you can't taste the alcohol! Take it a sip at a time!
Activity: Have a Jazz Dance-Off
Jazz music is king in New Orleans, and even if you can't listen to it live, you can certainly put up a playlist on Spotify or Pandora. Have a hurricane (or two) enjoy your po boy, and dance it off while listening to jazz!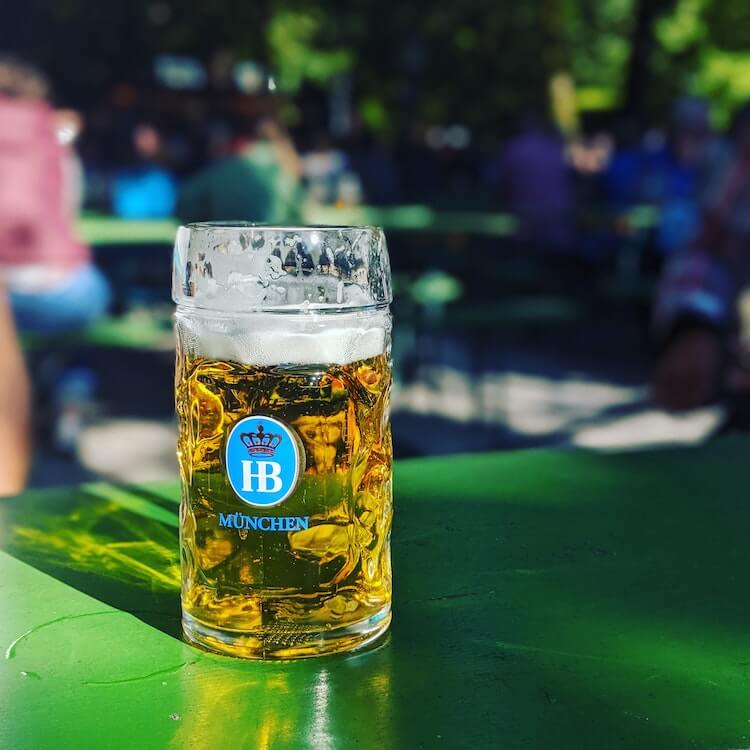 10. Prost! The Last of the Staycation Ideas for Couples Who Love Travel: Germany
I'll admit, when I planned my parent's trip to Europe last fall, I was totally jealous that they were going to Oktoberfest. If you can't make it to one of the biggest festivals in Germany, you may as well celebrate at home!
Food:
I'll be the first to admit that Germany has some heavy, non-vegan food. But we managed to find this awesome vegan German cheese spaetzle that is oh so tasty. Also, for a more traditional German recipe, check out this sausage and sauerkraut recipe. Add a side of potato pancakes to get into the Oktoberfest spirit!
Drink: German Beer
I mean… you can't mimic Oktoberfest at home and not have a stein or two of German beer. Back home, we can get Hofbrau and Paulaner in many liquor stores!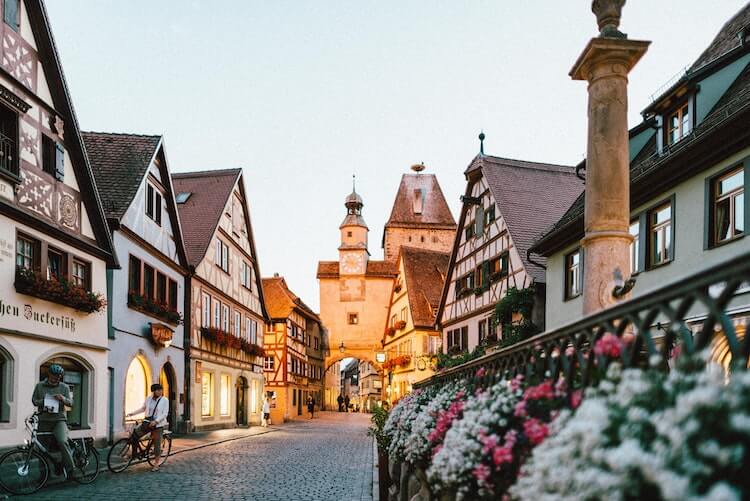 Activity: Dance Around to an Oktoberfest Playlist
Maybe you want to have another dance-off, or maybe you want to stand in your chair trying to sing the words to Ein Prosit. Either way, if you are looking for a romantic and funny date night idea, this definitely is it. Extra points for dressing up in costume for your staycation!
While we all wish we could be traveling to these amazing destinations right now, sometimes staying home makes the most sense. We also have so much to be thankful for during this time. So instead of the usual date night ideas, we hope you enjoy these staycation ideas for couples who love travel and use these to get excited about your next romantic vacation!
What staycation ideas for couples do you have? Let us know in the comments!
Have questions on changing your flight? Check out our post all about it!
Pin it here!