Some posts on this site contain affiliate links, meaning if you book or buy something through one of these links, I may earn a small commission (at no additional cost to you!). Read the full disclosure policy here.
---
Spending 2 days in Budapest is a great amount of time to see the city! I've been to Budapest a few times and it is one of my favorite cities in the world to visit. While during my most recent trip I stayed for 4 days in Budapest, the time before that I was short on time and managed to squeeze in a lot of sightseeing and show my friend around in just a 2 day Budapest itinerary.
Trust me, it's totally possible to get a feel for the food, culture, and iconic sights this city has to offer in that amount of time.
So let's talk about what to do in Budapest in 2 days and everything you need to know to plan an exciting trip to this Hungarian city!
Psst- Check out our Budapest podcast episode!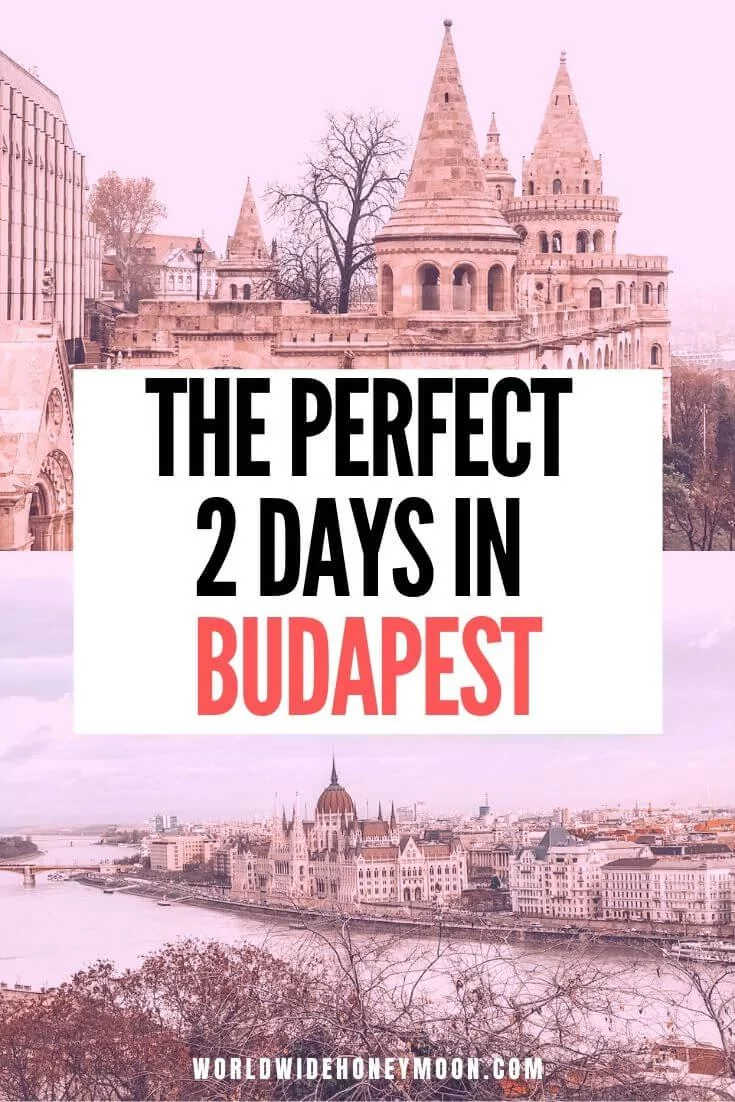 Getting There For Your 2 Days in Budapest
Budapest, like many larger European cities, is easy to reach via plane, train, or automobile! Budapest airport has plenty of incoming and outgoing flights each day. And for finding cheap flights to Budapest, we check with Skyscanner and set price alerts to book when prices drop. We did this to fly from Dusseldorf to Budapest this past year and were able to snag flights for $50 per person!
Also, Budapest is easy to get to from surrounding cities like Vienna and Prague by either train or bus. I like to check The Trainline to see which option is cheaper and get the best times. We ended up taking the train from Budapest to Vienna and Prague during our most recent trip.
And, if you plan to take a road-trip around Europe, check out deals on rentalcars.com for the best options!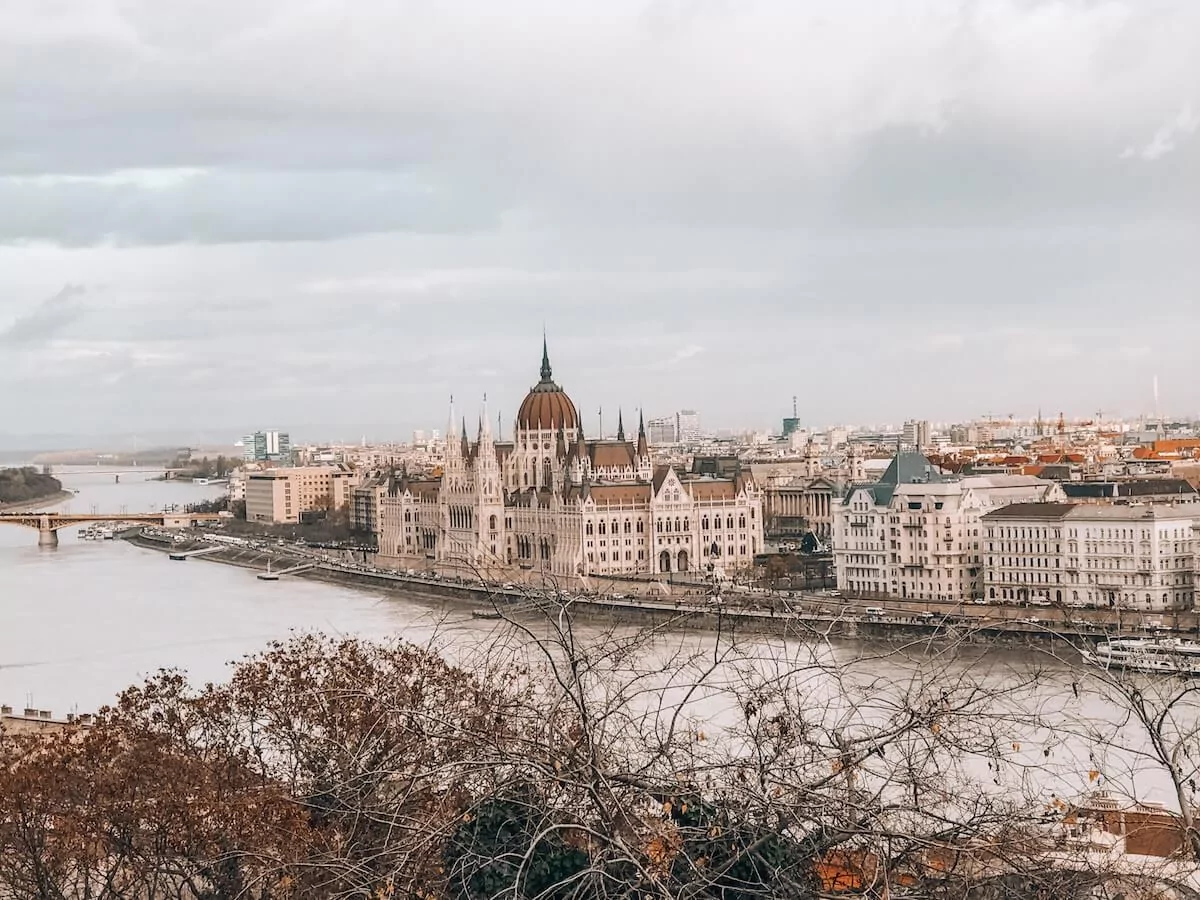 Top Things to do in Budapest in 2 Days
If you are spending 2 days in Budapest, I recommend giving yourself a good balance of sightseeing and relaxation where you can really soak in the culture. So let's dive into what to see in Budapest in 2 days.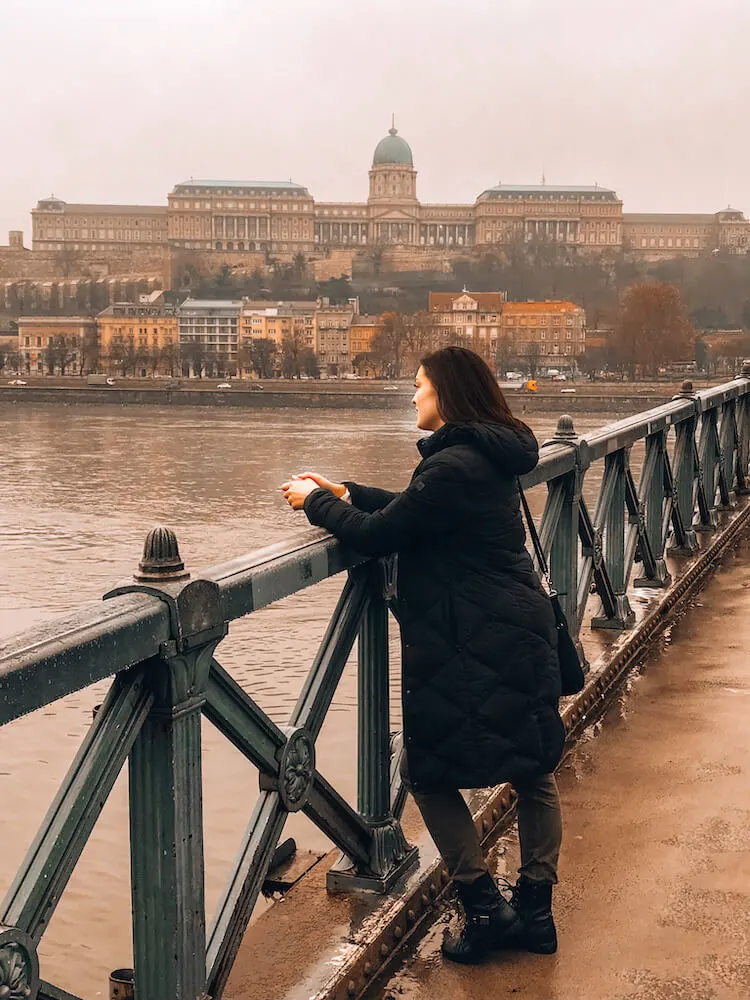 Day 1: Exploring the Buda Side
On your first day in Budapest, I recommend checking out the Buda Side. Budapest is actually split in 2 by the Danube River, with Buda on one side and Pest on the other. The Buda side is hillier and sometimes known as the fancier side of Budapest. It also is home to some fabulous sights! Check out what to do on Day 1 of your Budapest itinerary.
First and Foremost, Coffee to Start Your Budapest two day itinerary.
Because you only have a limited amount of time in Budapest, you may want to get an earlier start to the day. This means coffee may be necessary. We stayed on the Pest side and loved Aran Bakery so much we visited twice last time! Grab a latte and breakfast to go. They have the best egg and cucumber sandwiches and cinnamon swirl pastries that'll keep you full and ready to go for a day of exploring!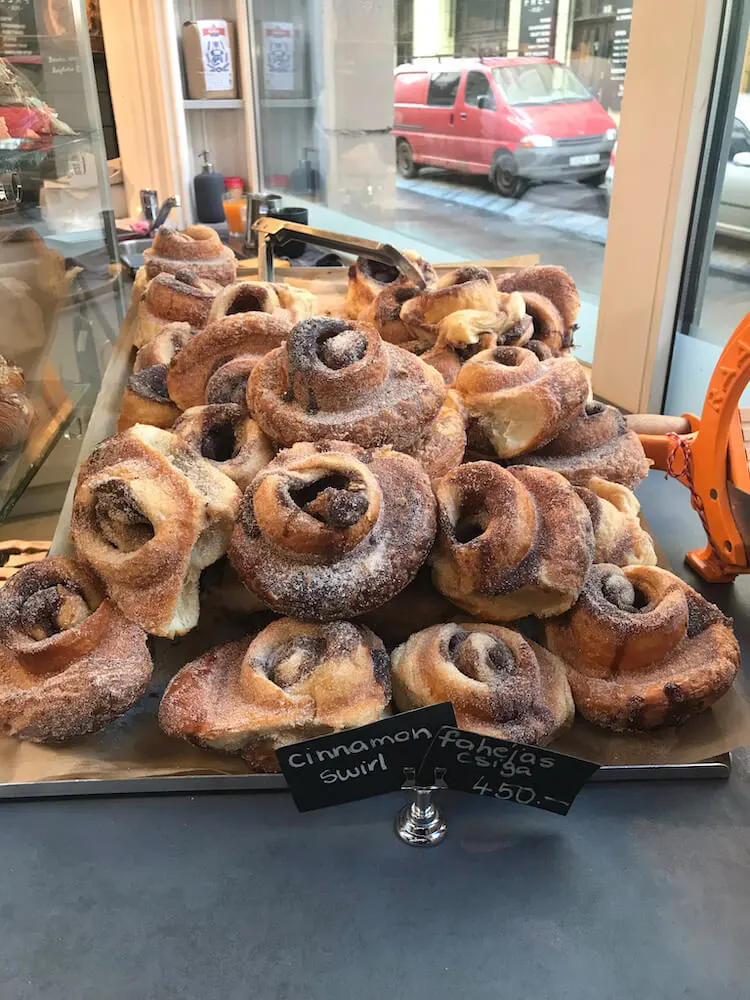 Aran Bakery Address: Budapest, Wesselényi u. 23, 1077 Hungary
Aran Bakery Hours: Monday-Friday 8 am-6:30 pm. Saturday 8 am-5:30 pm. Sunday 8:30 am-3 pm.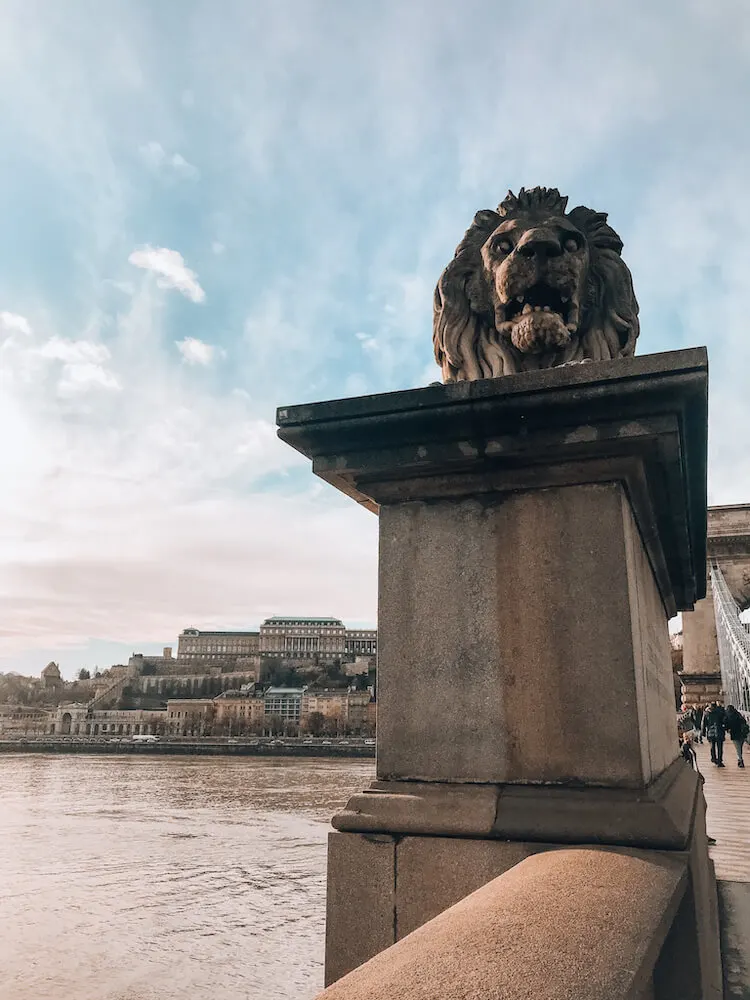 Cross the Chain Bridge
If you're able to, I totally recommend walking from the Pest side and cross over the Chain Bridge to the Buda side. This bridge is absolutely stunning with lion statues, and you'll have great views of the Buda side and the Danube as you cross it.
The earlier in the day you get started the better, as this bridge can be quite crowded by the later morning and early afternoon. It also leads to a direct path up to the main attractions on the Buda side.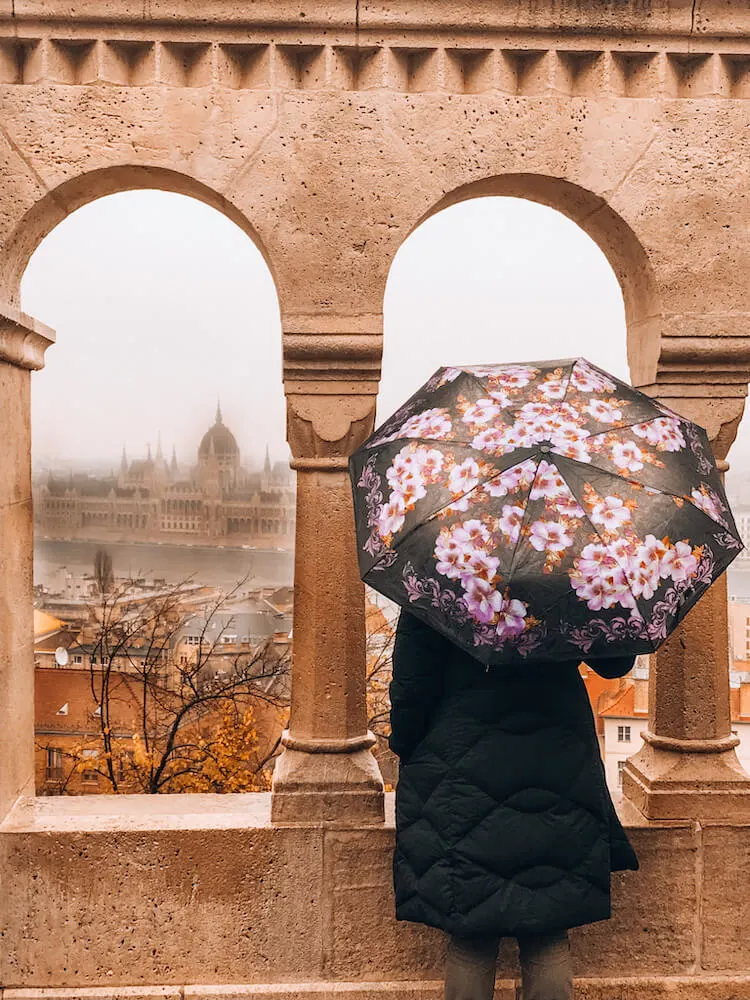 Head to Fisherman's Bastion
During your Budapest two day itinerary, I recommend heading right up to Fisherman's Bastion for the best views of the city! Once you cross the Chain Bridge, you can either take a slight right and take the walking path up to Fisherman's Bastion or take the funicular up.
The funicular is a lot of fun, but if there is a line, I recommend just walking instead. Then, once you're at the top of the hill, head toward Fisherman's Bastion. This place gives you the best panoramic views of Budapest, especially as it overlooks the Parliament Building. And if you get here earlier in the day, you won't see many crowds…and this place definitely gets crowded throughout the year.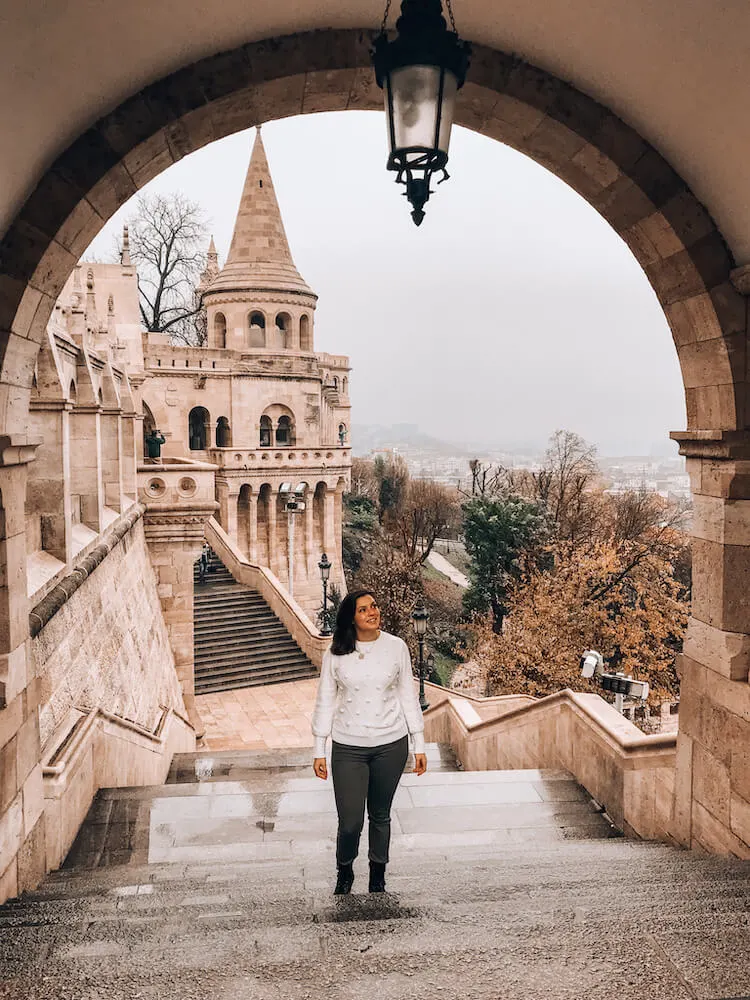 If you arrive before 10 am you should be in great shape to get lovely photos and admire the views.
Castle Hill Funicular Hours: Open every day at 10 am and closes at 3:30 pm during November-January, at 4 pm in February and October 30-31, at 5 pm in March and October 1-29, at 6 pm in April and September, and at 7 pm in May-August.
Castle Hill Funicular Cost: 1,400 HUF ($4.75) for a single one-way ticket or 2,000 HUF ($6.75) for a round-trip. With the Budapest Card, it is included!
Fisherman's Bastion Address: Budapest, Szentháromság tér, 1014 Hungary
Fisherman's Bastion Hours: Daily 9 am-11 pm.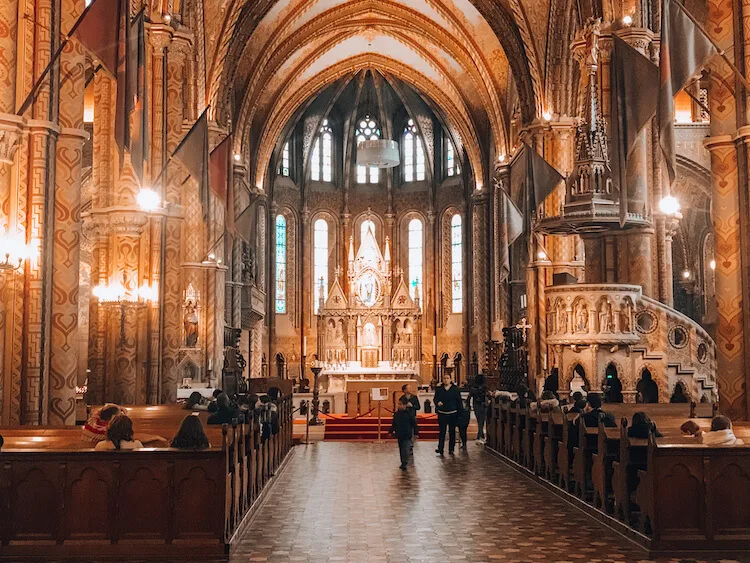 Matthias Church
Right next to Fisherman's Bastion is Matthias Church, an iconic and gorgeous church where coronations for Hungarian kings were held. This is a smaller church so it doesn't take a lot of time to explore before continuing onto your next stop.
Matthias Church Address: Budapest, Szentháromság tér 2, 1014 Hungary
Matthias Church Hours: Monday-Friday 9 am-5 pm. Saturday 9 am-12 pm. Sunday 1-5 pm.
Adult Admission for Matthias Church: 1,800 HUF ($5.80) to get in the church or tower, 3,600 HUF ($11.60) for a combination ticket.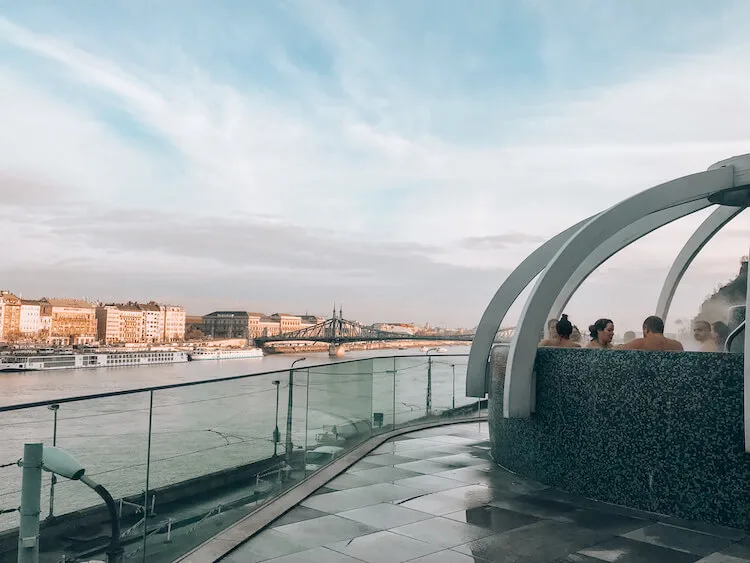 Rudas Baths
This is my absolute favorite bathhouse in Budapest! If you only visit one bathhouse, this is definitely the one to go to! I have a whole post about Rudas Baths to get more information on it, but this place has a traditional Turkish bath from 500 years ago plus it has the coolest rooftop hot tub that overlooks the Danube and many sites of Budapest.
They also have many other things like saunas, a steam room, lap pool, and more. I totally recommend spending some time here after visiting Fisherman's Bastion and Matthias Church to sit and relax for several hours.
And I mean several hours. We spent around 4 hours here and still wish we had more time. I truly loved this bathhouse and was so glad that we ended up going here. If you only have 2 days in Budapest, this is totally worth it to get a feel for the culture, as you'll see many locals and tourists alike hanging out here.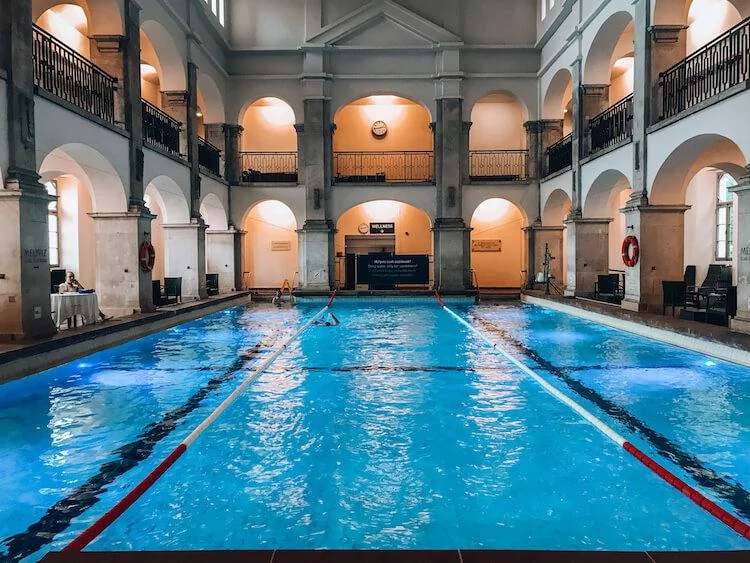 Bathhouses are great places for friends and family to gather and spend time together, so you definitely need to check it out during your time in Budapest.
Pro-tip: The Turkish Baths are not coed all the time. They are coed starting at 1 pm on Friday through the weekend. So if you are visiting Budapest on a weekend, then you'll be able to access it no matter your gender.
Rudas Baths Address: Budapest, Döbrentei tér 9, 1013 Hungary
Rudas Baths Hours: 6 am-10 pm. Wellness and Sauna World open from 8 am-10 pm. Turkish bath open from 6 am-8 pm and is male-only on Mondays, Wednesdays, Thursdays, and Fridays until 1 pm. Women are able to use the Turkish baths on Tuesdays, and it is coed starting at 1 pm on Friday through the weekend. Night bathing is available from 10 pm-4 am on Fridays and Saturdays.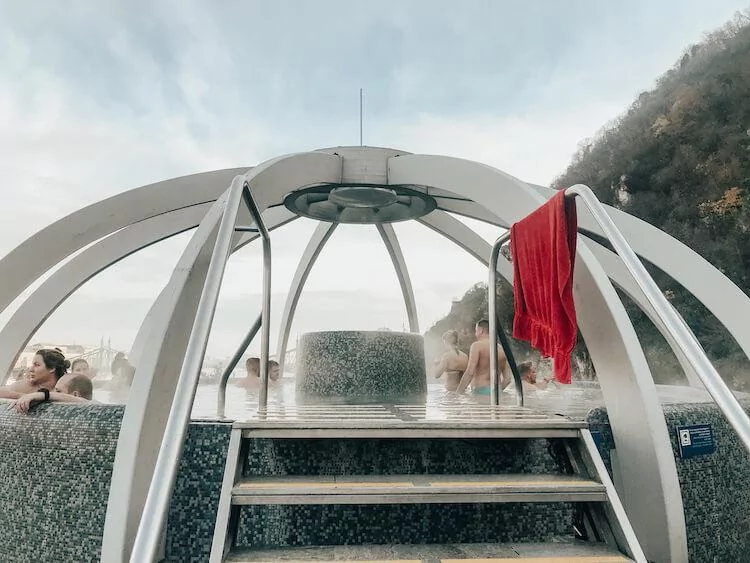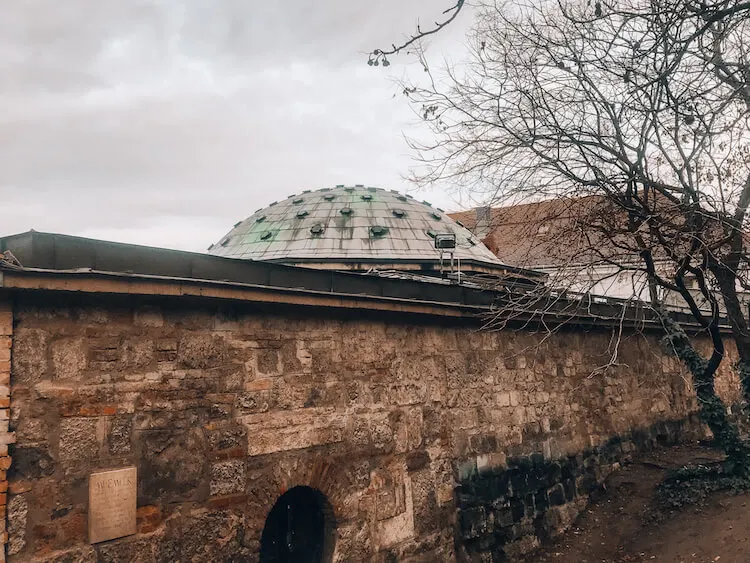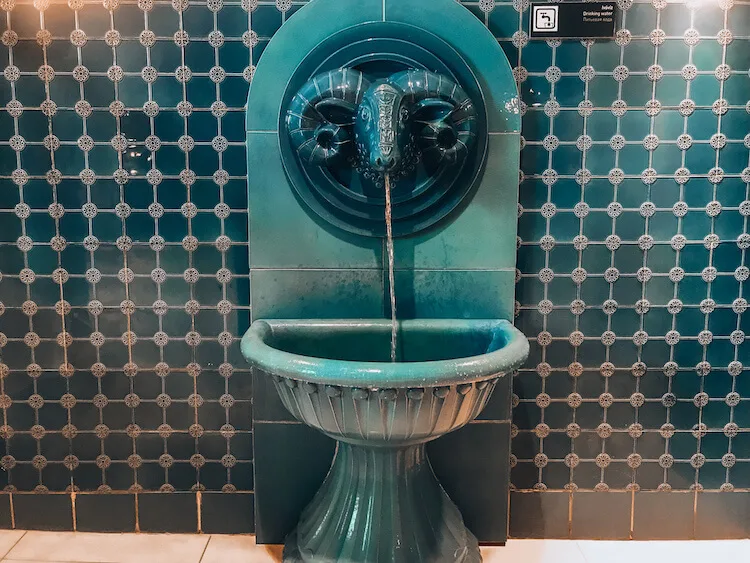 Admission for Rudas Baths: Ticket prices vary based on day and activity. Check out our Rudas Baths article for more information. Also, if you have the Budapest Card, you'll save 20%!
Gellert Baths
And if you aren't finished with Budapest bathhouses yet, I recommend taking a short walk to Gellert Baths and seeing that too. Even if you only have two days in Budapest, you still have time to appreciate the differences that a couple of bathhouses have.
For example, Gellert is much larger and a bit more touristy than Rudas. However, it is coed every day in all baths and is known for its art nouveau architecture versus the mix of modern and Turkish architecture of the many baths in Rudas.
Spend a couple of hours getting to know this bathhouse on your first day in Budapest before heading to the next awesome thing to do!
Pro-tip: Save time by purchasing a ticket ahead of time for the baths!
Gellert Baths Address: Budapest, Kelenhegyi út 4, 1118 Hungary
Gellert Baths Hours: 6 am-8 pm daily.
Admission for Gellert Baths: Full day admission with skip the line is $24 if purchased online.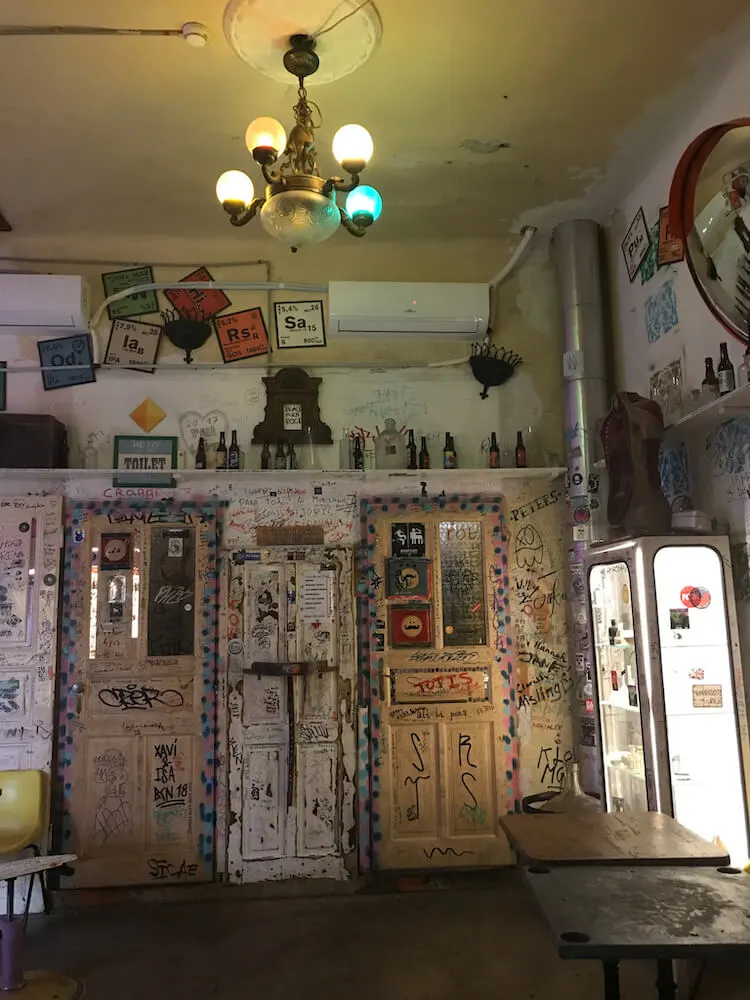 How to Wrap Up Your First Day of Your Budapest in Two Days Itinerary: Ruin Pubs
Mainly located in the Jewish Quarter, these ruin pubs are made from older buildings that people have since reclaimed and decorated with quirky memorabilia, art, and more. From the random bathtubs in Szimpla Kert to the more grown-up Instagram-worthy Mazel Tov, you'll love the atmosphere of these awesome pubs.
And if you go during the evening for dinner, it is much less crowded and crazy as it gets around midnight. You can get dinner at Szimpla Kert, which has a great vegan menu plus traditional Hungarian fare. Then, I suggest finishing your night at Mazel Tov for some snacks and cocktails to wrap up your first day in Budapest.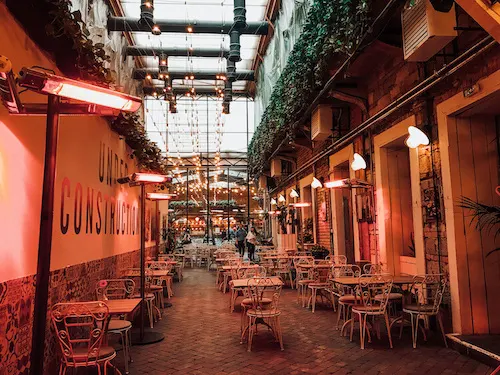 Szimpla Kert Address: Budapest, Kazinczy u. 14, 1075 Hungary
Szimpla Kert Hours: Monday-Saturday 12 pm-4 am. Sunday 9 am-4 am.
Mazel Tov Address: Budapest, Akácfa u. 47, 1072 Hungary
Mazel Tov Hours: Sunday, Monday, Wednesday, Thursday 11 am-1 am. Tuesday 11 am-12 am. Friday and Saturday 11 am-2 am.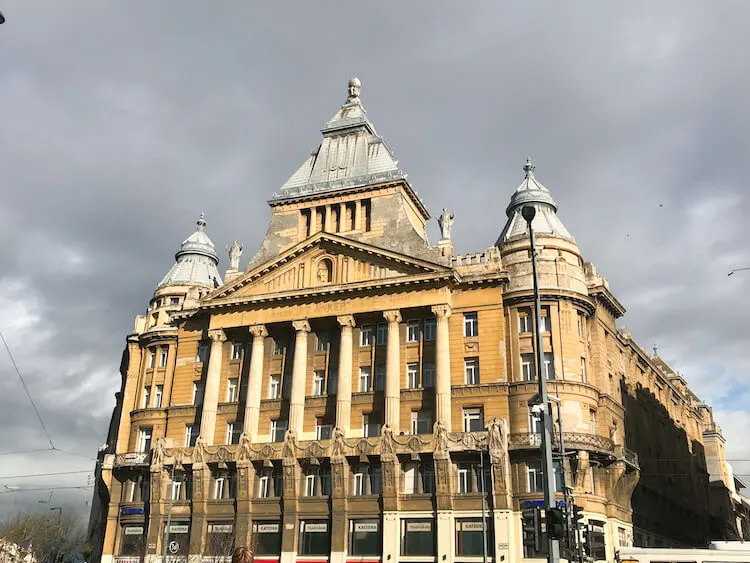 Day 2 of Your Two Days in Budapest: Pest Side and Danube Cruise
Now that you've thoroughly explored the Buda side in a day, it is time to finish your 2 day Budapest itinerary with a visit to the Pest side. Here is the perfect day in Pest.
Brunch at London Coffee Society
We loved this place during our last visit. With great coffee and fresh food, you'll enjoy getting brunch here. But as a heads up, it is pretty small so go when it opens to snag a table!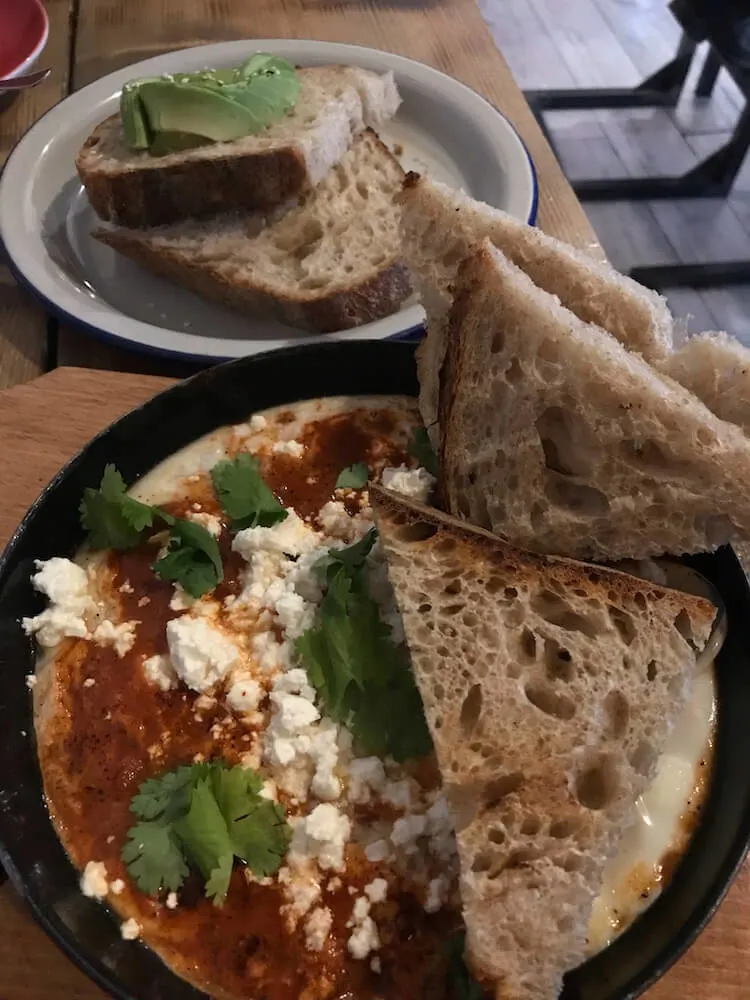 We loved their avocado toast and shakshuka! Seriously, it was one of my favorite things that I ate in 2019!
London Coffee Society Address: Budapest, Dohány u. 27, 1074 Hungary
London Coffee Society Hours: Monday-Friday 8:30 am-6 pm. Saturday 9 am-6 pm. Sunday 9 am-5 pm.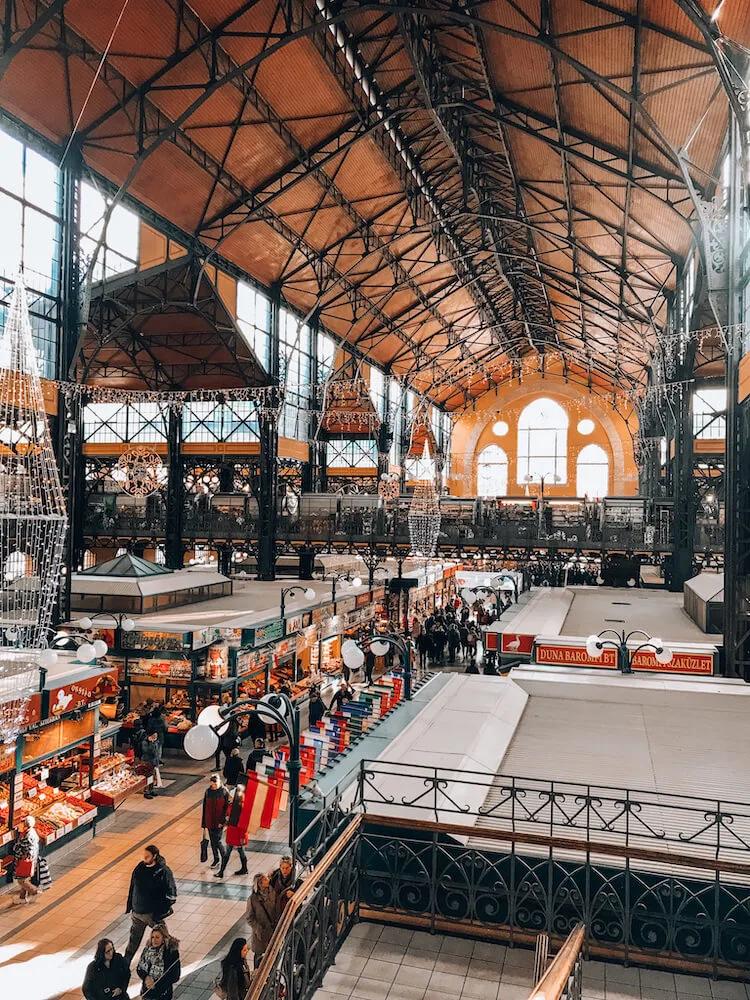 Central Market Hall
After you've filled up and are ready for the day, I totally recommend heading to Central Market Hall to check out the coolest market! This place is massive with fresh produce, spices, Hungarian wine, pickles, souvenirs, and more.
And, if you're still hungry, you should definitely snag a langos, or fried dough traditionally topped with sour cream and cheese. But the stand on the top floor has so many options for things to put on your langos!
This place is perfect for picking up a souvenir, whether it is the famous Hungarian paprika or a handcrafted item!
Central Market Hall Address: Budapest, Vámház krt. 1-3, 1093 Hungary
Central Market Hall Hours: Tuesday-Friday 6 am-6 pm. Saturday 6 am-3 pm. Monday 6 am-5 pm. Closed on Sunday.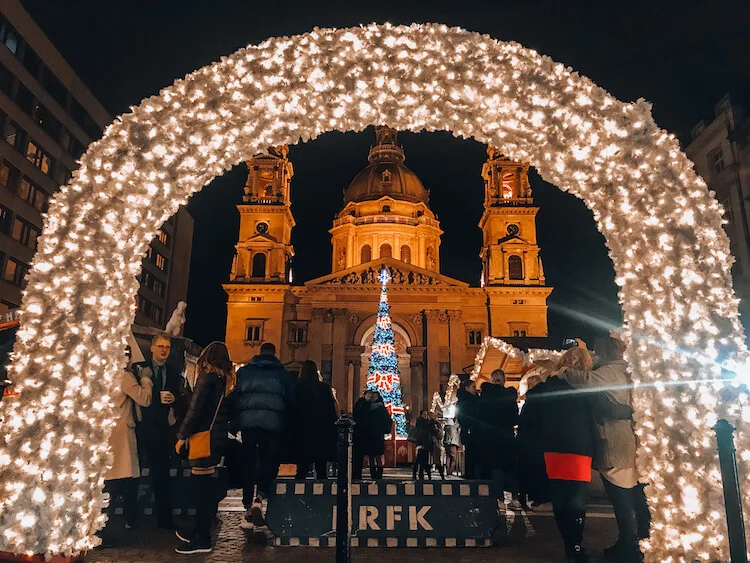 St. Stephen's Basilica
Named for Hungary's first king, this cathedral is located in the heart of the Old Town in Budapest. It is also where one of Budapest's famous Christmas markets is located in December! But the basilica itself is truly stunning with beautiful domes and marble columns. Plus, you can climb the steps in the basilica to get a great view of the city!
St. Stephen's Basilica Address: Budapest, Szent István tér 1, 1051 Hungary
St. Stephen's Basilica Hours: Monday-Friday 9 am-5 pm. Saturday 9 am-1 pm. Sunday 1-5 pm.
Admission for St. Stephen's Basilica: Free to visit but 600 HUF ($2) to visit the tower and 400 HUF ($1.30) to visit the Treasury. For guided tours, it costs 2,000 HUF ($6.46).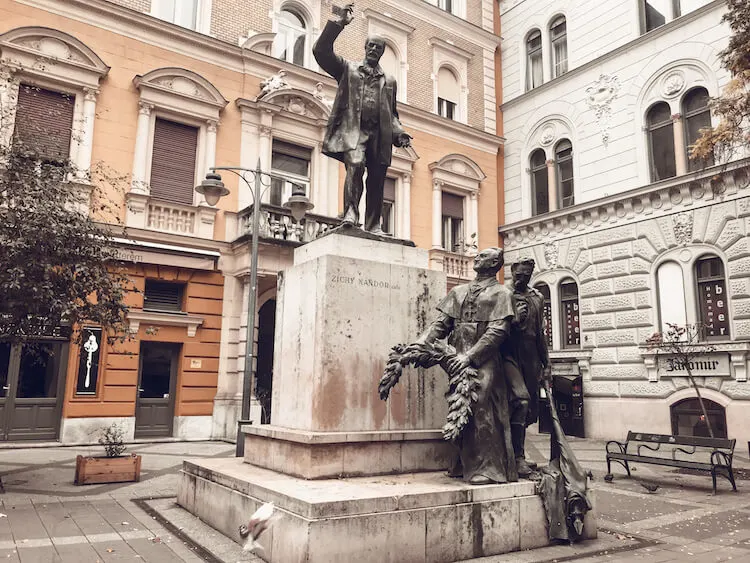 Explore More of the Old Town
After visiting St. Stephen's Basilica, I recommend wandering around the old part of the city, including a stop at the Hungarian Parliament Building. If you'd like to go inside, be sure to book a tour in advance! It is a gorgeous building and one of the most iconic places in Budapest.
Then, head over to the Shoes on the Danube Memorial to pay respect to the Jewish Hungarians who were shot and killed into the river during WWII.
Hungarian Parliament Building Address: Budapest, Kossuth Lajos tér 1-3, 1055 Hungary
Hungarian Parliament Building Guided Tour Cost & Start Time: $29 and starts at various times.
Shoes on the Danube Memorial Address: Budapest, Id. Antall József rkp., 1054 Hungary
Dohany Street Synagogue (Or the Great Synagogue)
Once you've seen the Old Town, I recommend heading back to the Jewish Quarter and visiting Europe's largest synagogue. Visit the Holocaust Memorial at the Synagogue, admire the Moorish architecture, and explore the Hungarian Jewish Museum.
Dohany Street Synagogue Address: Budapest, Dohány u. 2, 1074 Hungary
Dohany Street Synagogue Hours: Winter: Sunday-Thursday 10 am-4 pm. Friday 10 am-2 pm. Closed on Saturday. In spring and autumn, it is open until 6 pm Sunday-Thursday and 4 pm on Friday. In the summer they remain open until 8 pm Sunday-Thursday.
Adult Admission to Dohany Street Synagogue: 5,000 HUF or $16.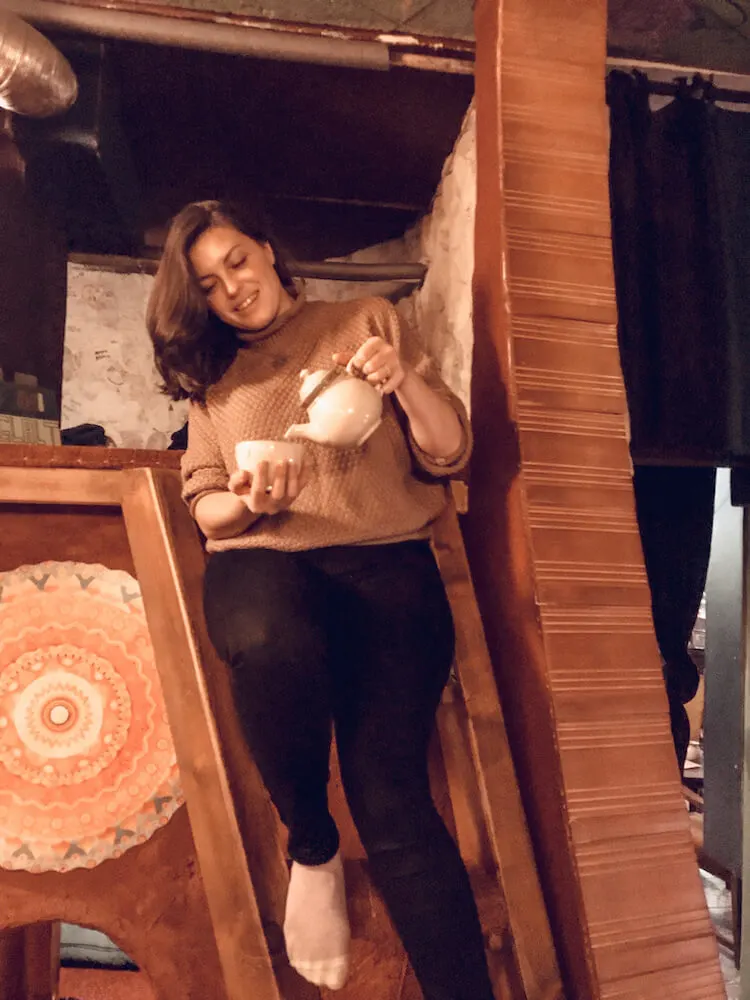 Grab Some Tea.
Whether you need a pick me up, or want to see more of Budapest's quirky culture, I recommend heading to Sirius Tea House and enjoying a hot cup of tea.
This place is hard to find, as it is on a side street with a small door and tiny plaque that indicates what it is. Once inside, it looks like an ordinary café. But when you wander into the main room after ordering some tea, you'll explore all the nooks and crannies in this delightful place!
From puffs to sit on to caves and fun places to climb around, Sirius is a great spot to relax for a bit and feel like a kid again while drinking tea!
We loved the Winter Dream tea and Cinnamon Star tea!
Sirius Tea House Address: Budapest, Bródy Sándor u. 13, 1088 Hungary
Sirius Tea House Hours: 12:01-10 pm daily.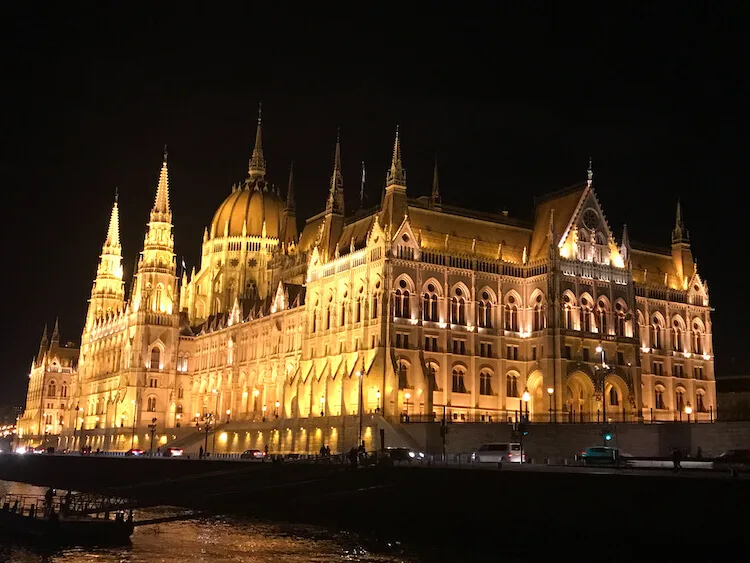 Wrap Up Your Trip on a Danube Cruise!
On your final night in Budapest, I totally recommend going on a cruise along the Danube. You'll be able to see the iconic sites you've seen throughout your time but all lit up at night. And let me tell you… there is nothing more beautiful in Budapest than seeing the Parliament building at night.
Take a cruise in the evening and admire the city lights. And definitely go on the balcony to take awesome photos even if it is cold. We did this in November and it was worth being cold to get a closer look at the Parliament building!
Many cruises offer welcome drinks with the price so sit back, reflect on your 48 hours in Budapest, and take in the beautiful scenery.
Danube Cruise Price & Hours: $10 and at various times in the evening.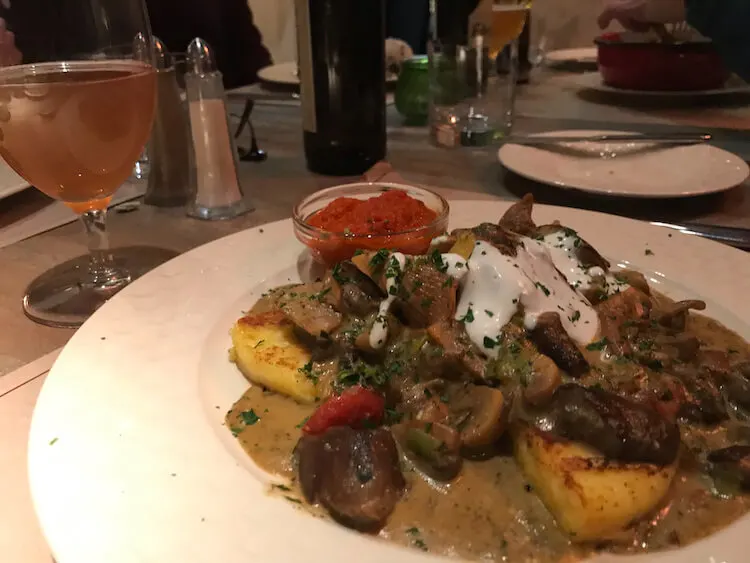 Enjoy the Last Dinner
For your last meal in Budapest, I recommend Alma & Korte. This adorable restaurant tucked away on a side street serves traditional Hungarian food in a modern way. We loved their Hungarian wine selection, smoked sheep's cheese, and Hungarian sponge cake.
Alma & Korte Address: Budapest, Lőrinc Pap tér 3, 1088 Hungary
Alma & Korte Hours: Monday-Saturday 6 pm-12 am. Closed on Sunday.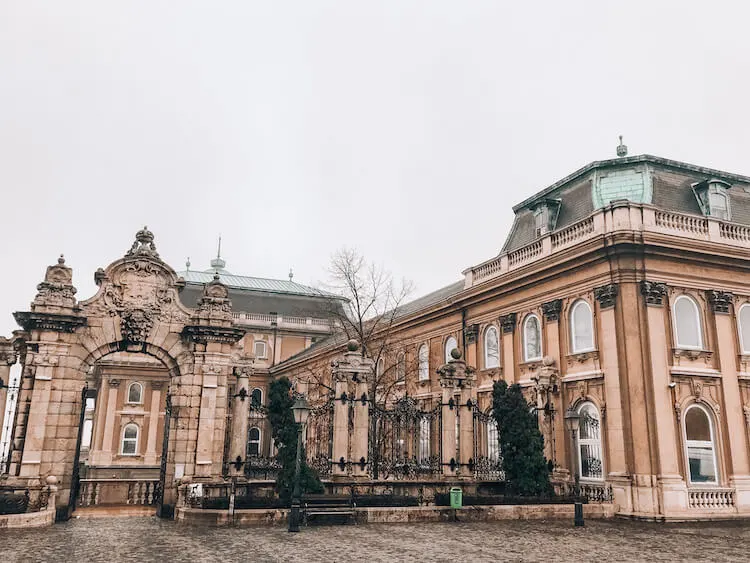 Summary of the Perfect Budapest 2 Day Itinerary:
So is 2 days in Budapest enough? 100%! Of course, there is plenty more to see, and if you have more time, I recommend checking out our 4-day guide to Budapest! But if you are short on time, 2 days and 2 nights in Budapest is plenty of time to get the most out of this awesome city!
To sum up, what to do in Budapest in 2 days, here is the perfect itinerary:
Day 1 in Budapest:
Visit Aran Bakery
Cross the Chain Bridge
Admire the views from Fisherman's Bastion
Explore Matthias Church
Enjoy both Rudas and Gellert Baths
Grab dinner and drinks at two awesome ruin pubs: Szimpla Kert and Mazel Tov
Day 2 in Budapest:
Brunch at London Coffee Society
Feast your eyes at Central Market Hall
Venture over to St. Stephen's Basilica
Wander the Old Town
Head to the Jewish Quarter and visit Dohany Street Synagogue
Get tea at Sirius Tea House
Wrap up the Budapest 2 day itinerary with a cruise on the Danube
One final dinner in Budapest at Alma & Korte
Pro-tip: Depending on the 2 days of the week that you visit Budapest, you may want to switch some Day 1 & Day 2 activities if some attractions are closed.
Places to Visit in Budapest in 2 Days Map
Where to Stay For Your Budapest Itinerary in 2 Days
There are some great places to stay in Budapest, and if you are visiting Budapest in 2 days, I recommend getting an Airbnb or VRBO in the Jewish Quarter where there are many great cafes, bars, and restaurants.
We stayed in an Airbnb on our most recent trip and loved it! This is the Airbnb we stayed at.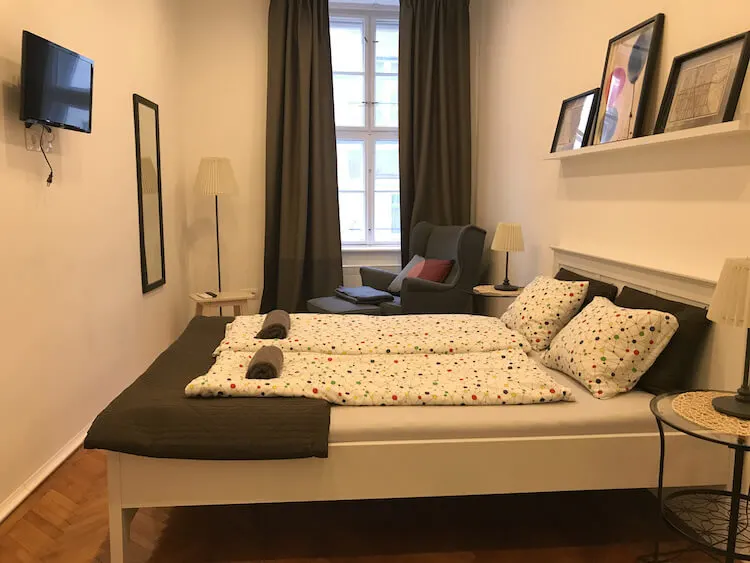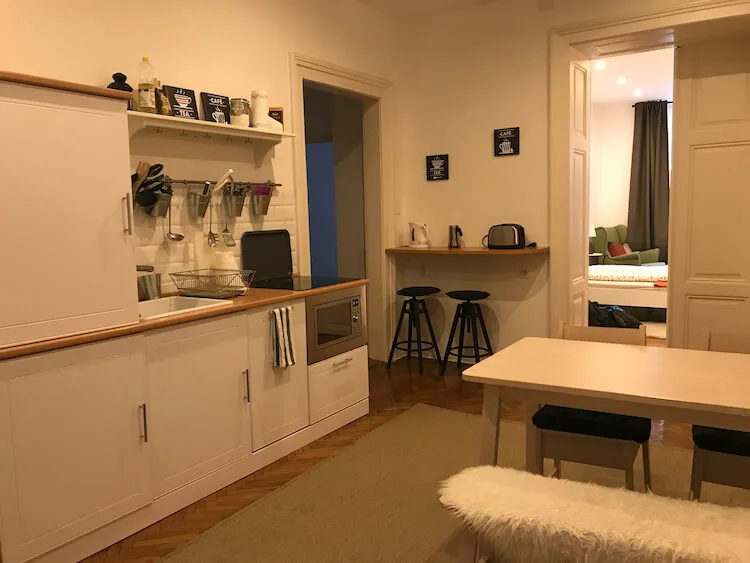 There are also some fantastic hotels in Budapest to check out too based on your budget!
This hostel has private rooms and it super affordable at around $80 per night. It is also located in the Jewish Quarter, perfect for exploring this unique neighborhood. Read reviews on TripAdvisor and book here!
This art nouveau hotel starts around $150 per night and even has a rooftop pool and sauna! It is also located in the Jewish Quarter. Read reviews on TripAdvisor and book here!
Known as one of the best hotels in Europe, this place has a spa, pool, free afternoon wine and cheese, rooftop lounge, and gorgeous rooms! It is a great place to splurge at around $320 per night. Read reviews on TripAdvisor and book here!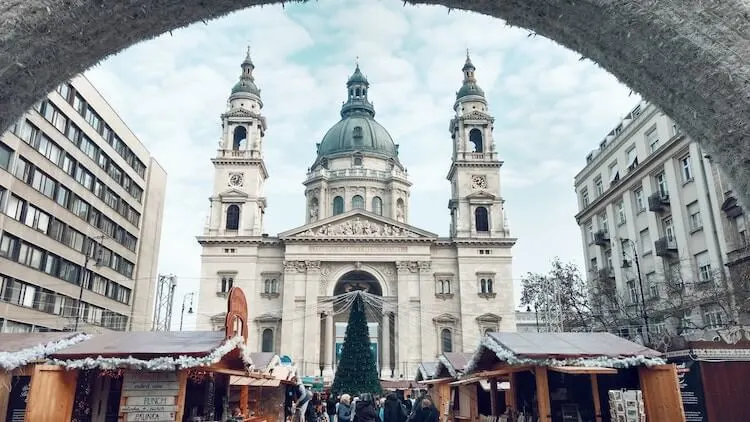 Things to Know Before Visiting Budapest in Two Days
Before you leave for your Budapest two day itinerary, here are some key things to know.
Packing Tips: I have a whole packing list for Budapest on my 4 day Budapest itinerary for you to check out!
How to Get Around: They have a great metro system, trams, and the city is pretty walkable! They also have a ride-sharing app called Bolt that works similar to Uber. And like many big cities, you can get around via electric scooters or rental bikes across the city!
Planning to see a lot? Get the Budapest Card! This covers public transportation, a walking tour, entrance to many attractions, including a bathhouse, plus discounts.
If you are pushed for time, I recommend the Hop On Hop Off Bus! I've done this in Budapest and it's a lot of fun! It is great if you don't have the time or energy to walk around the city and don't want to think about transportation.
When is the best time to visit Budapest in 2 days? Any time of year is great! While winter can be quite chilly, the Christmas markets are truly magical in November/December. Plus you have the opportunity to check out other Christmas markets in Vienna and Prague nearby! Shoulder season, or fall and spring, are great times for fewer crowds and lower prices and summer is peak season. I would avoid August to avoid more tourists, but other than that, there isn't a bad time to visit!
Beware of pickpocketing. In many cities in Europe, this can happen. I usually have my anti-theft crossbody bag on me to keep my things safe.
Don't forget travel insurance! Whether your passport gets lost or stolen, you get sick, etc. Travel insurance is a great idea to have. We love World Nomads for all of our trips across the globe.
The currency is the Hungarian Forint. This is about 309 HUF to $1 USD, 403 HUF to £1, and 335 HUF per €1, and 233 HUF per $1 CAD. ATMs are readily available but I recommend getting cash out at a bank, as it is more secure.
This wraps up the best 2 days in Budapest itinerary! I hope you enjoy exploring one of the best cities in Europe and that your Budapest itinerary will inspire you to want to come back and see more!
Would you visit Budapest in 2 days? What tips do you have? Let us know in the comments!
Pin it here!