Some posts on this site contain affiliate links, meaning if you book or buy something through one of these links, I may earn a small commission (at no additional cost to you!). Read the full disclosure policy here.
---
When it comes to ultimate relaxation, I can think of fewer places to visit than a spa in Budapest, especially if visiting in the chilly winter months! After having visited Budapest 3 times in the last several years (including a short, 2-day visit to Budapest), I've checked out many Budapest baths, and I have to say, Rudas Baths Budapest is by far my favorite!
As a thermal spa Budapest fan, Rudas Baths Budapest tops my list. So I want to share with you all you need to know about visiting Rudas Baths in Budapest to have the best time!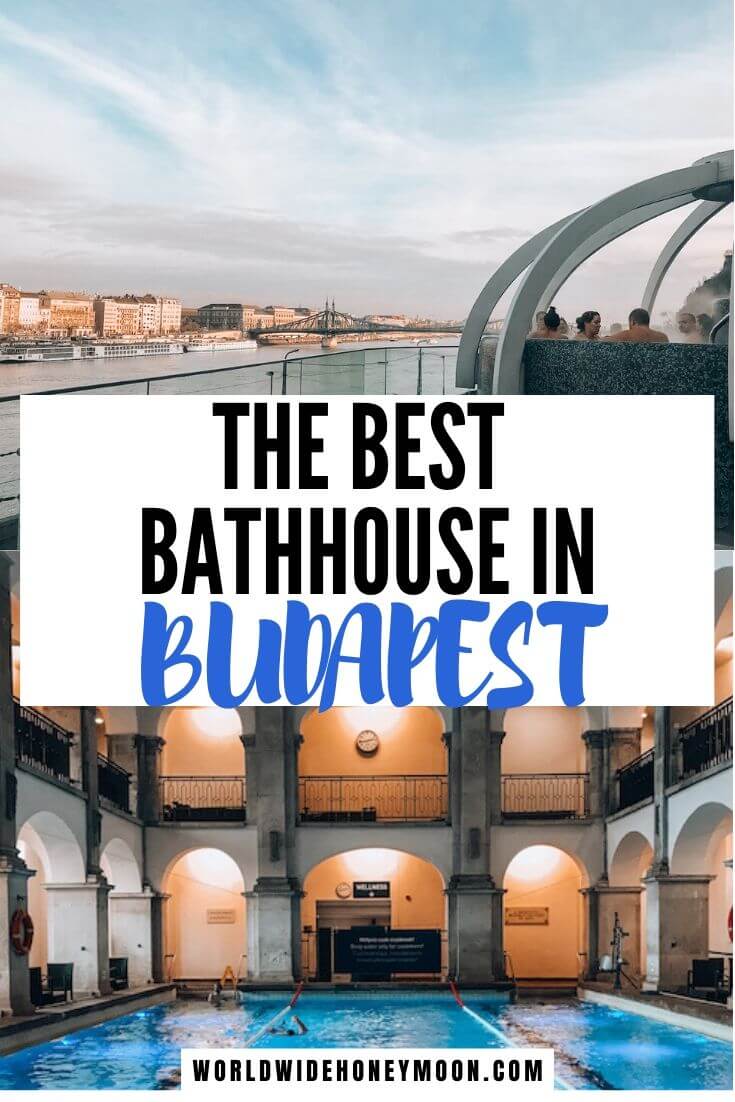 Why Visit Rudas Baths Budapest Over Other Budapest Baths?
First of all, Rudas Spa Budapest isn't even the most popular day spa in Budapest. That award goes to the famous Szechenyi Spa. It is, after all, an incredibly beautiful place decorated in the Baroque Revival style with elegant facades, dreamy pools, and the giant outdoor heated pool that is fun to soak in no matter the time of year.
But… I've been to that spa several times. And over the years that spa went from being local and not that crowded to jam-packed with tourists without a local in sight. The prices started to increase, and I haven't even gotten to the worst part.
The third time I visited the spas in Budapest at Szechenyi, it was to go to the famous Spa Party (or Sparty). And after witnessing the stuff that happens in the late-night hours with a bunch of drunken backpackers in these non-chlorinated waters, I'm going to go on ahead and give this place a hard pass.
Luckily, there are much better Budapest hot springs out there, and I think that Rudas Baths is by far the best spa in Budapest. For starters, it is much more local. I mean, it is catching on as a fabulous spot for a Budapest spa break, but there are still locals that come to hang out here and far fewer tourists than many of the other thermal spas in Budapest.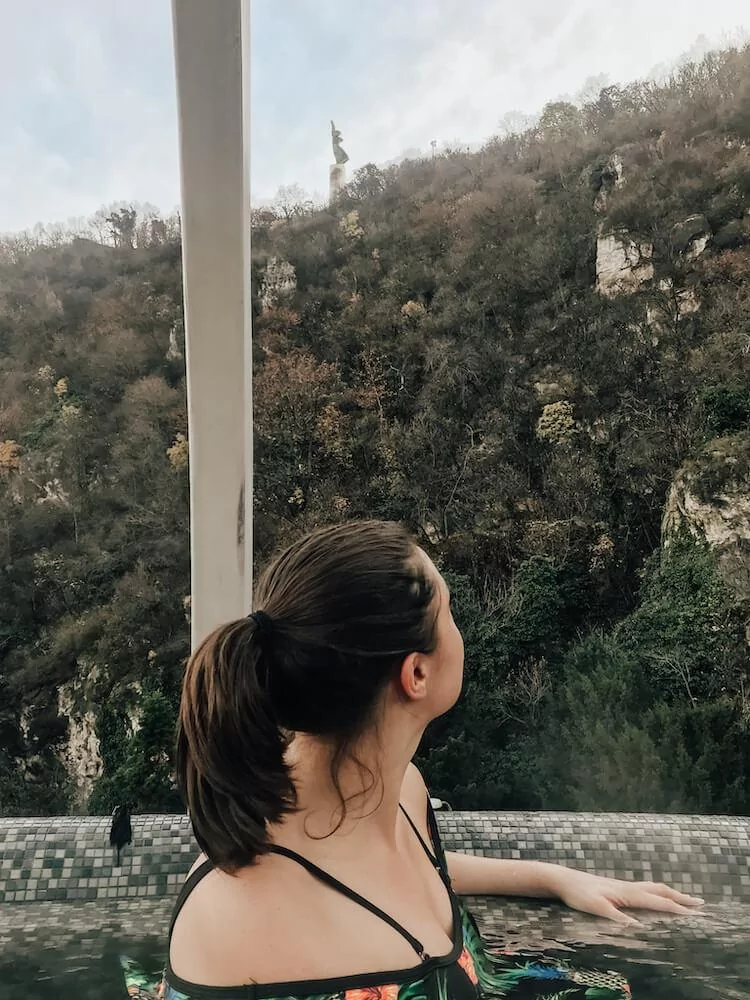 Also, it is much more affordable! Prices start at 4,700 Ft ($15) for a ticket that includes a locker to store your things. Plus, if you get the Budapest Card, you get 20% off!
And the best part about Rudas Baths Budapest is the rooftop thermal spa overlooking the stunning Danube River!
Basically, if you are searching for the best thermal spa in Budapest, Rudas Baths is the place to be.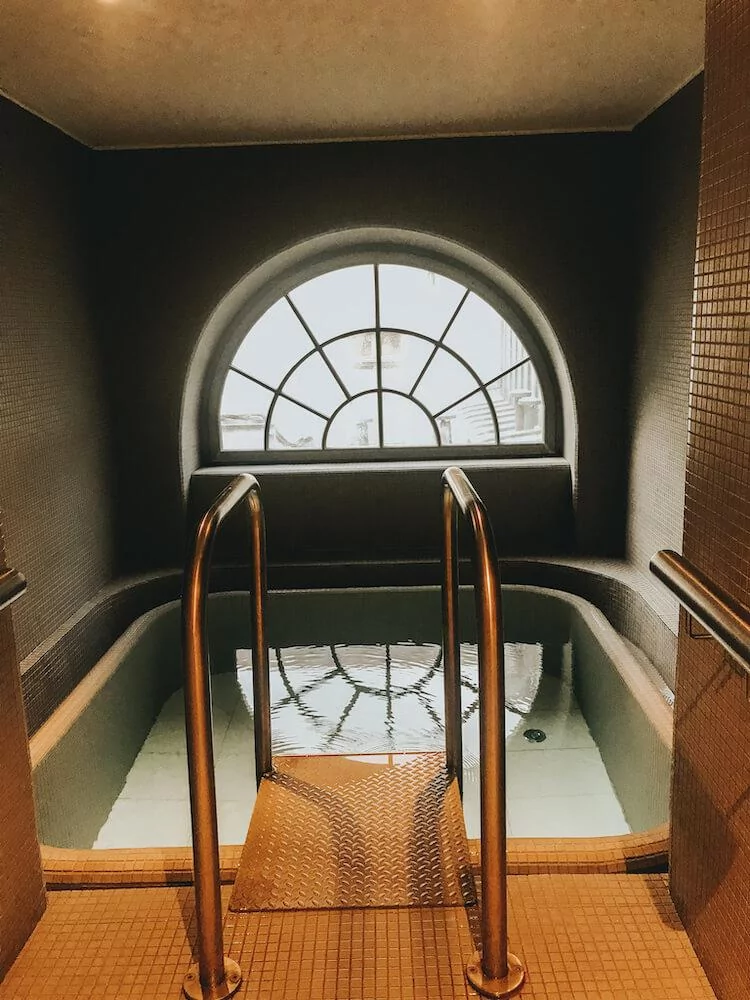 The Sections at Rudas Baths
If you plan to visit the spas in Budapest, you probably already know that many of the rooms in these bathhouses have pools with varying temperatures. But Rudas Baths has several different sections with their own themes! So check out the sections at Rudas Baths in Budapest!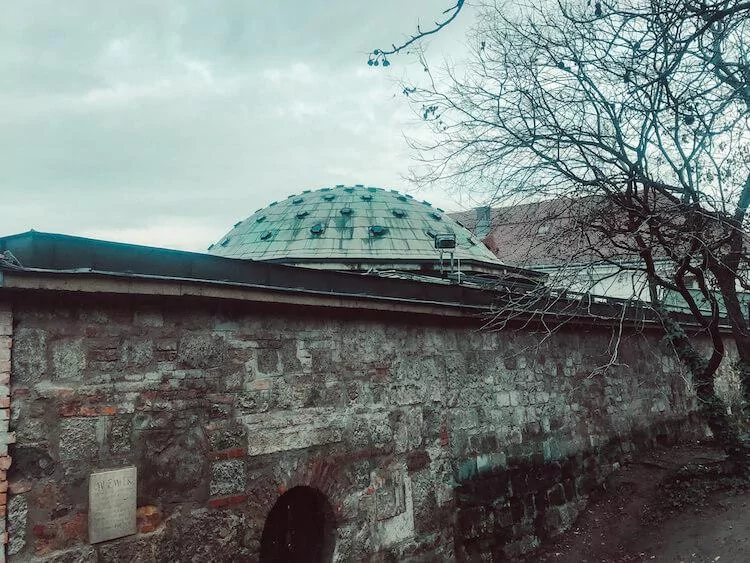 Turkish Bath
The oldest part of the bathhouse, the Turkish bath, contains an octagonal pool with a large dome that was built in the 16th century. It is a sight to behold with its ancient concrete pillars and small holes for light at the top of the dome. It'll have you feeling like you're traveling through time.
There are also pools off to the side of the main Turkish bath that vary in temperature from 28-42ºC (82-108ºF). The center and oldest pool is a nice 36ºC (97ºF). Just outside of this main room, there is a cold plunge pool with a chilly temperature of 16ºC (61ºF).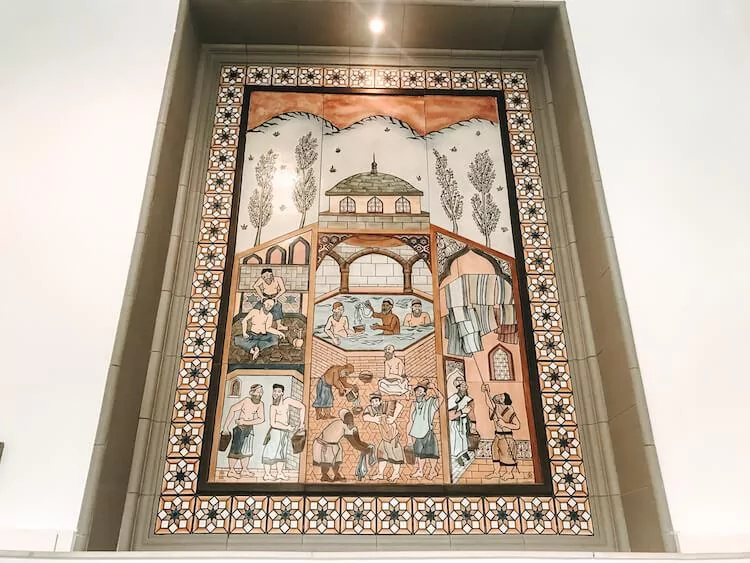 Chris and I may have moved from the central pool to the really hot spa, and then took a quick plunge into the immersion chilly pool before getting right back to the central spa again. It certainly woke us up going from hot to cold so quickly!
Aside from the classic domed bath at Rudas baths, the Turkish bath section has a resting area to relax between soaking.
The most important thing to note about this section of the bath is that it is NOT coed all the time. This is open for women only on Tuesdays and men on Monday, Wednesday, Thursday, and Friday until 12:45 pm. Starting at 1 pm on Friday through the weekend it is open for both genders.
We ended up coming to Rudas Spa Budapest around 1 pm on a Friday so we were able to get in here. However, as no photos are allowed, the only photo I got was one of the immersion pool before entering the large domed room itself.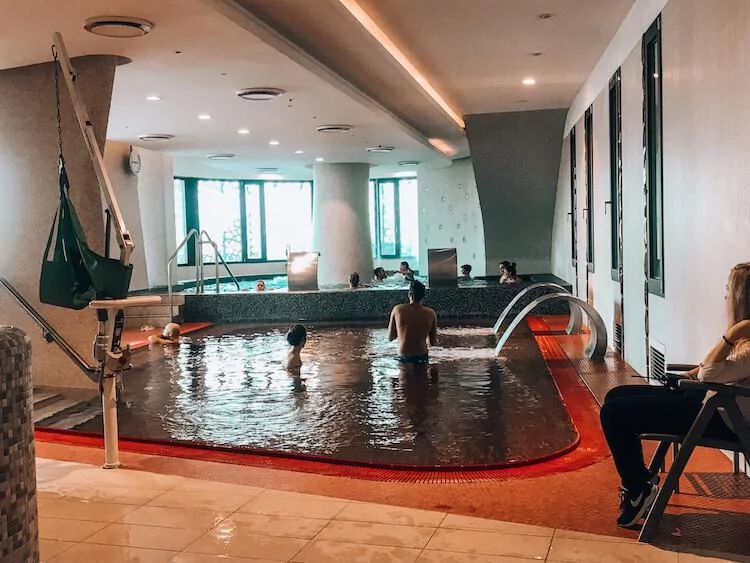 Wellness Thermals Baths
This is a more modern version of the ancient Turkish baths. They appear more like swimming pools, and they have jets for a relaxing hydromassage. Plus, they have big windows to see the sun shining in and views of the Danube while you're sitting and relaxing. The pools here vary in temperature from 32-42ºC (90-108ºF) and the wellness bath has the chilliest pool in the whole complex at 11ºC (52ºF). If you are feeling up for a cold plunge, this is the place to do it!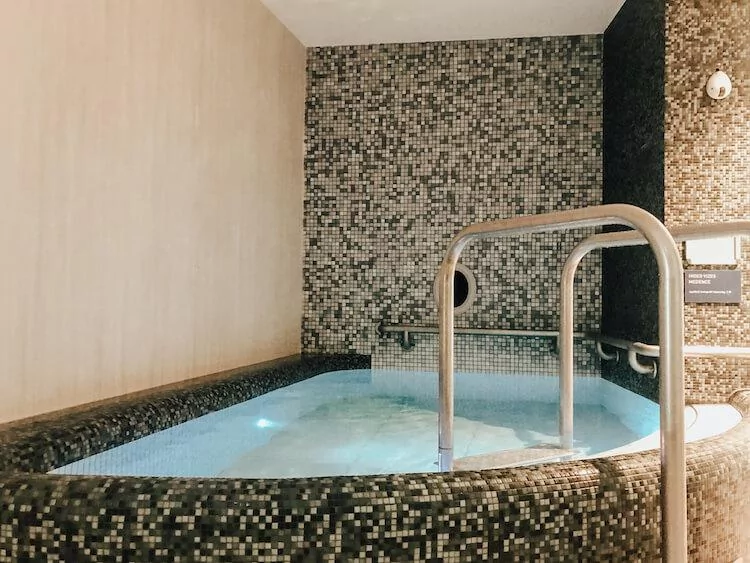 This is also the perfect spot to try contrast bathing. This is essentially where you go into a hot pool, then take a cold plunge, then go back to the hot pool, and then take a warm shower. You can do this 2-3 times and it is supposed to help with circulation and immunity. However, only do this if you are 100% healthy without any circulatory issues.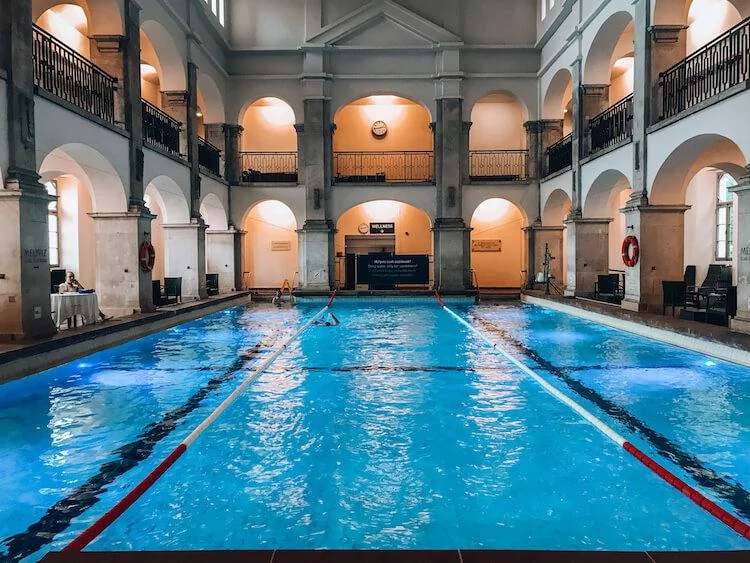 Swimming Pool
This room is absolutely stunning with the swimming pool of dreams. First of all, the room itself is two stories and has deck chairs to relax and look outside on the second floor. Then, you have the beautiful pool itself. At 29ºC (84ºF), it is a great temperature for swimming. And that is what you do in this pool, as it is a lap pool.
This is not the pool for soaking and relaxing, this is for breaststroke only. Also, this is the one pool where it is mandatory to wear a swim cap.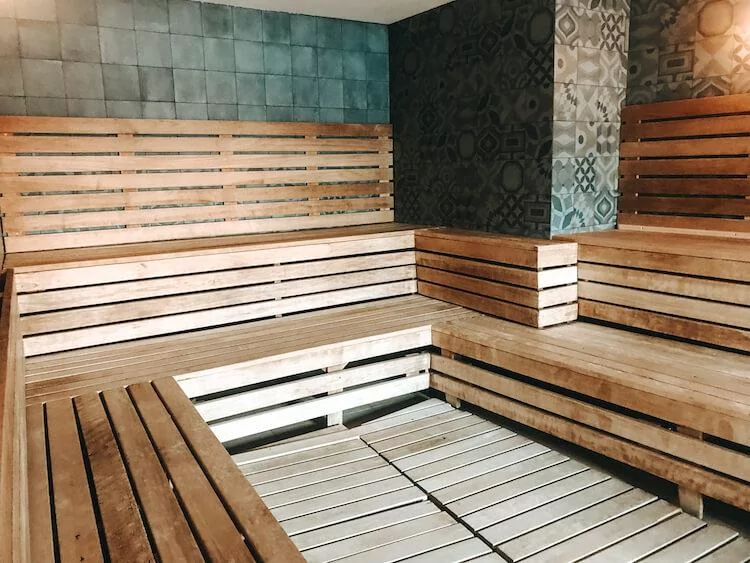 Sauna World
If you love sitting in hot saunas, then this is the section you'll love. Chris's sister thoroughly enjoyed these rooms!
Sit in dry heat and let the stress of the day fade away. The temperatures vary immensely from room to room. For example, the aroma sauna is 40-45ºC (104-113ºF) and the Finnish sauna is a whopping 90-100ºC (194-212ºF)!
Then, why not check out the steam room to create a little more sweat? Once you've had enough of the steam room (I didn't last more than 20 seconds), you can get some dry salt therapy for your lungs in the salt room.
And after ridding your body of stress and sweat in those rooms, I recommend showering before moving on to the best part of Rudas Baths Budapest.
Pro-tip: You need to have a towel to sit on in the saunas. Nobody likes sitting on someone else's booty sweat.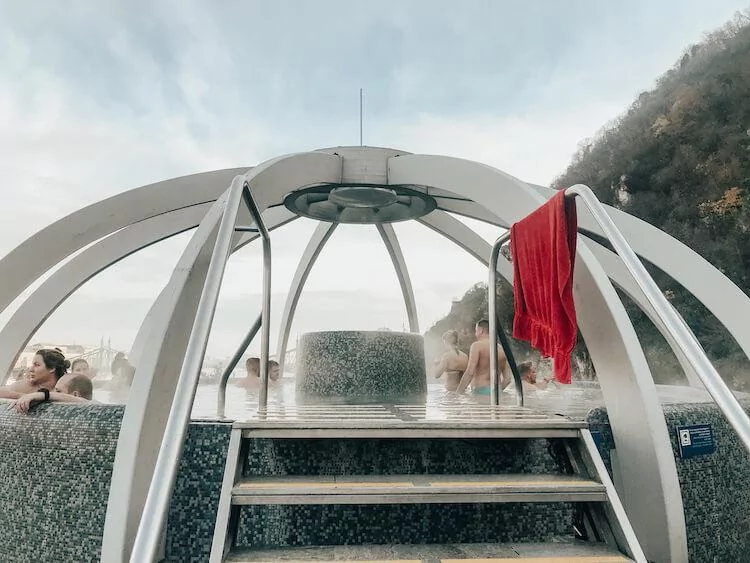 Rooftop Pool
Probably the most Instagrammable spa in Budapest, the rooftop pool is the main attraction. It does get the most crowded, with there hardly being anyone else in the remainder of the spas.
But I totally get the hype. This pool is a warm 36ºC (97ºF) and is open year-round. And the best time to go is around sunset. We had a great time hanging out on the rooftop pool, staring at the Danube and watching the sunset over Budapest as we soaked in the warmth on the chilly day we visited Rudas Baths Budapest.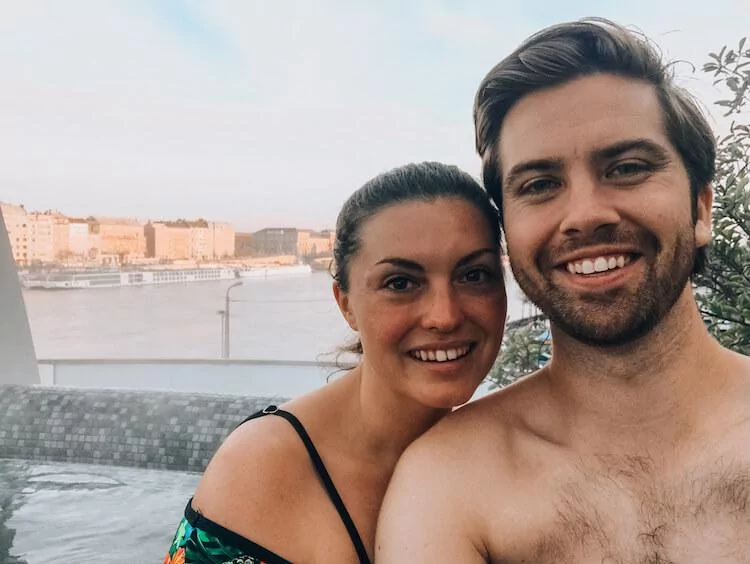 You can also grab a drink at the bar up there and sit with a cocktail while enjoying your view!
Seriously, this part of Rudas Baths (along with the Turkish spa) is what makes this place the best thermal spa in Budapest.
If you're lucky enough to visit on a warm summer day, there are lounge chairs to sit on to get some sun. But as we visited Budapest in November for the Christmas markets, we loved the warm and toasty spa that we probably spent at least an hour soaking in.
Those are the main rooms in the Rudas Spa in Budapest. There, of course, is also a locker room to store your things in, take a shower, and change into your swimsuit. But this sums up all of the amazing things to do at Rudas Baths!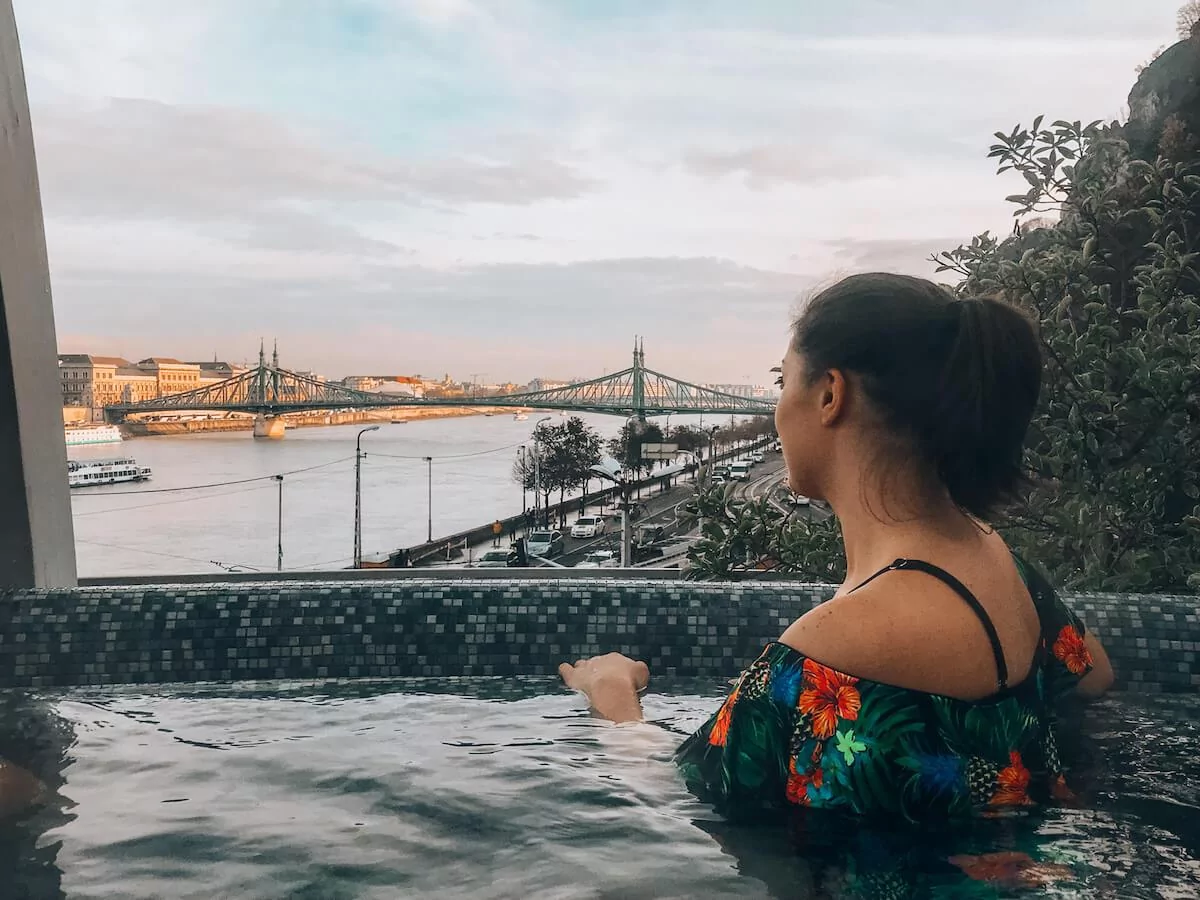 Top Tips for Visiting Rudas Baths Budapest
If you plan to visit the best thermal spa in Budapest, here are the top tips you need to know!
1. Hours:
Swimming Pool: 6 am-10 pm daily.
Wellness and Sauna World: 8 am-10 pm daily.
Turkish Baths: 6 am-10 pm daily. Open for women only on Tuesdays, open for men on Mondays, Wednesdays, Thursdays, and Fridays until 12:45 pm. Coed from 1 pm on Friday through the weekend.
Night bathing is available from 10 pm-4 am on Friday and Saturday nights. Don't worry this isn't a sparty like at Szechenyi.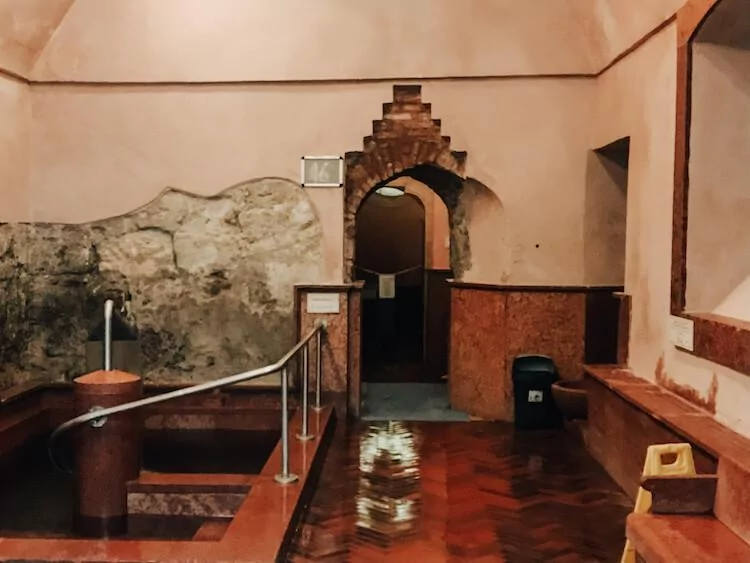 2. Prices:
Prices vary based on time of day, which areas you'd like to access, and any other packages including massages. We paid around 5,500 Ft ($18) a person for full access to the spa as we went on a weekday but the price increases to 6,900 Ft ($22.50) on weekends. Here are the full prices according to their website:
Daily thermal-wellness pass (includes locker): 5,500 Ft ($18) on weekdays and 6,900 ($22.50) Ft on weekends.
Thermal pass with cabin: 4,000 Ft ($13) on weekdays and 4,700 Ft ($15) on weekends.
Combined thermal and swimming pool ticket (includes locker): 4,700 Ft ($15) on weekdays and 5,400 Ft ($18) on weekends.
Morning thermal ticket with cabin (available 8:30 am-12 pm): 3,300 Ft ($11).
Morning thermal ticket for students & seniors: 2,600 Ft ($9).
Night thermal ticket (Friday/Saturday 10 pm-4 am): 7,000 Ft ($23).
Wellness pool ticket (includes locker): 3,800 Ft ($12) on weekdays and 5,200 Ft ($17) on weekends.
Discounted wellness pool ticket for students & seniors: 2,200 Ft ($7).
3. Grab a massage for the ultimate relaxation at Rudas Baths Budapest!
They offer so many massages including aroma, thermal, water, and more! Prices for massages vary from $30-131 depending on the length of time and type of massage you'd like to get.
4. Wear flip-flops around the thermal spas in Budapest!
It is super important to wear shoes as you walk around the building in order to keep the pools clean. A lot of the pools have places to rinse your feet off before entering, but a cheap pair of flip-flops is a good idea to have.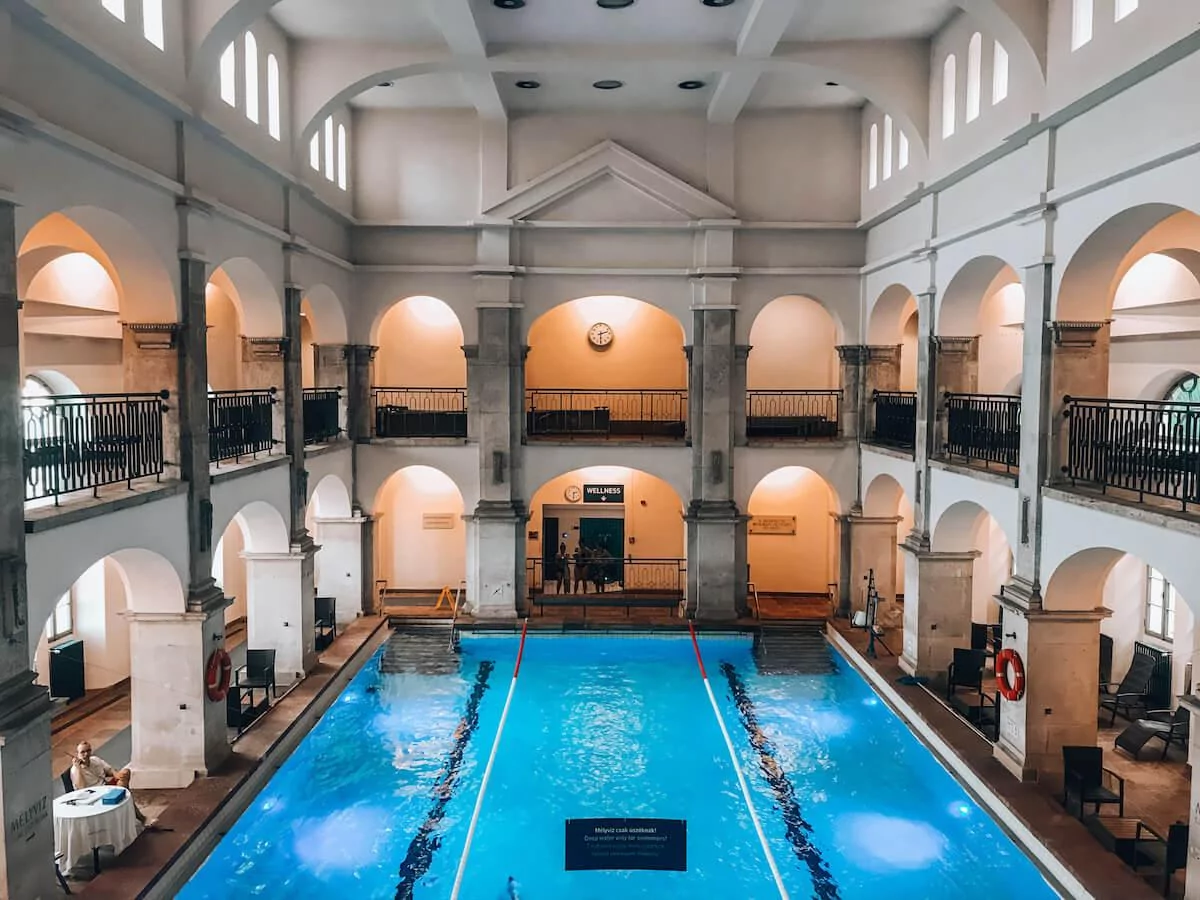 5. What to bring to Rudas Baths.
As far as what to bring for your Budapest spa break at Rudas, I recommend a swimsuit (I love this one piece that I wore) or swim trunks, flip-flops (Chris wore his Oofos), and a towel (I love these microfiber towels that dry quickly).
Also, if you plan to use the lap pool, pack a swim cap! And lastly, if you plan to sunbathe on the rooftop, always wear sunscreen!
While they do provide all of the necessities should you wish to rent them, I recommend bringing your own stuff. First of all, they charge crazy prices for rentals, especially for towels! It is a 3,000 Ft ($10) to rent a towel plus a 2000 Ft ($6.50) deposit. That is almost the price of a day pass for a towel rental! Just bring your own and you should be good!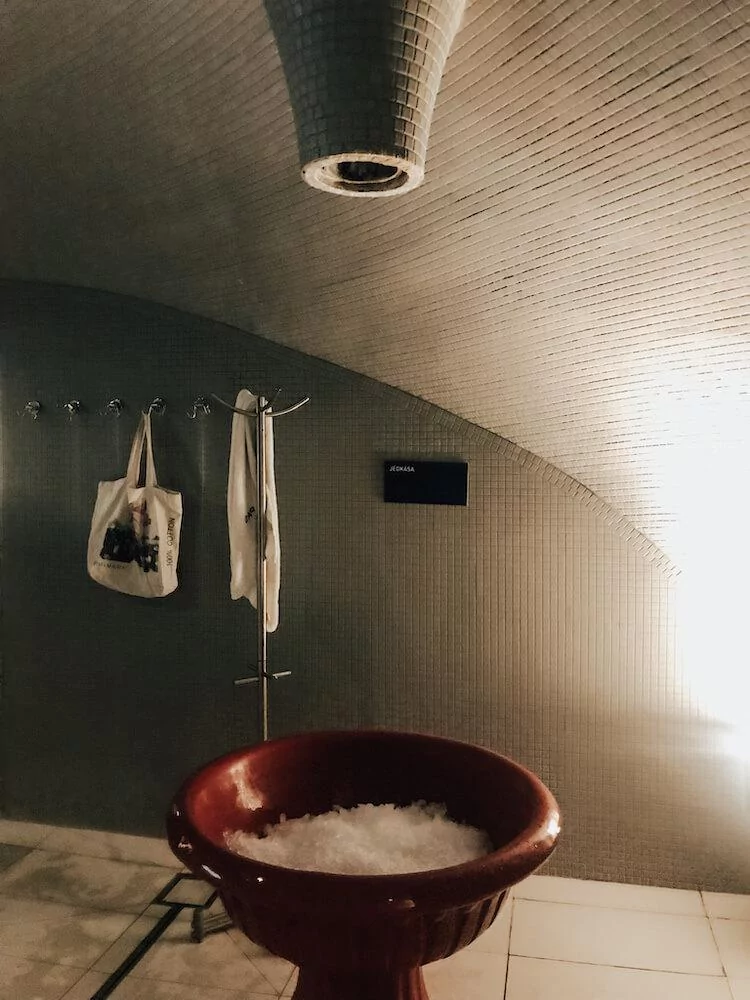 6. If you plan to see a lot of Budapest, including Rudas Baths Budapest, get the Budapest Card.
The Budapest card includes entrance to various attractions including a 20% discount to Rudas Baths, unlimited transportation on the metro, free entrance to Lukas Thermal Baths, and more!
7. Budget Your Time Accordingly.
I cannot stress this enough. At first, we planned to spend the morning exploring the Buda side of Budapest and then hit up both Rudas Baths and Gellert Baths before taking an evening river cruise on the Danube. After we realized we'd been soaking in the rooftop pool for over an hour and hadn't even experienced the saunas or Turkish bath, we knew we didn't want to rush ourselves.
I think we spent around 4 hours taking in all of the baths. By far, our favorite was the rooftop pool overlooking Budapest and the Turkish bath. If you get a chance, come on the weekend so you can experience it together. It is so unique to soak in a traditional centuries-old bath!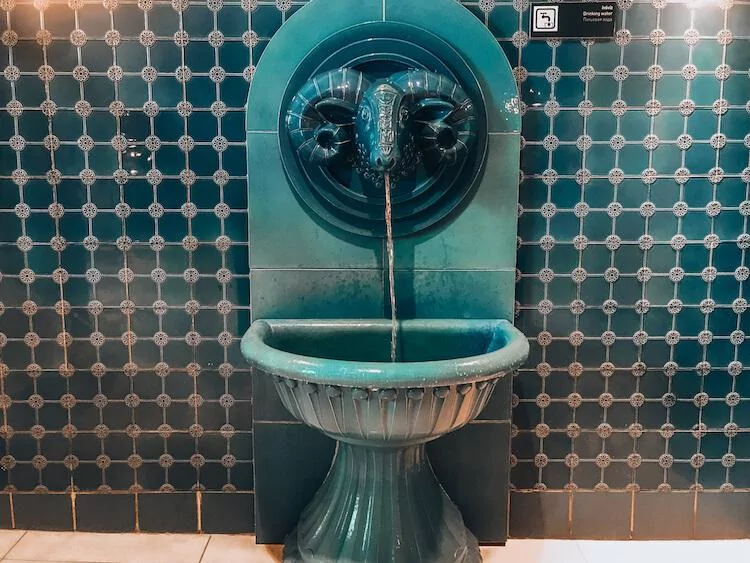 8. Check Out the Awesome Drinking Fountains!
No, I'm not talking about the snack counter at Rudas Baths. They have beautifully intricate water fountains all over that are safe to drink! They are labeled as drinking water. I noticed the first one near the saunas. So after sitting in dry heat, it is a great idea to drink some water!
9. The best bath in Budapest is HUGE, so definitely check the maps.
This place is a labyrinth, and while I ran around trying to find the Turkish baths, I had no idea you had to exit the modern baths, cross over the café, and they were on the other side. They have maps posted everywhere, so just take a photo or try to get your bearings right away and that will help you to not get lost later on!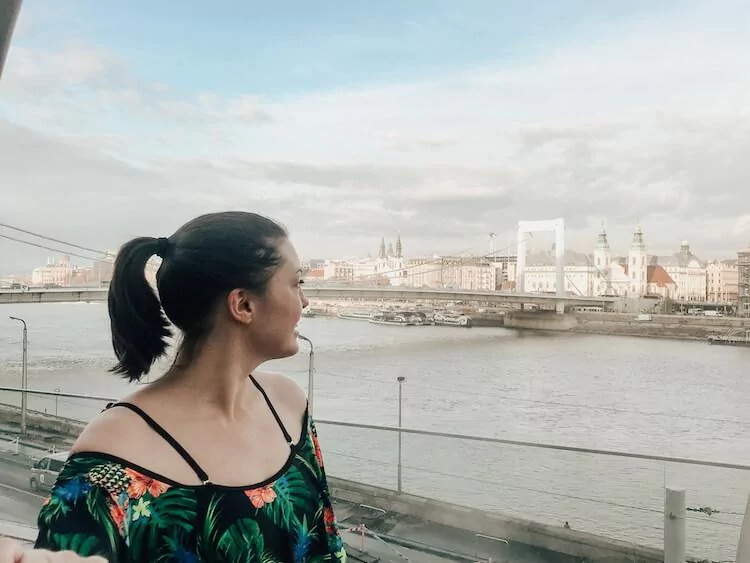 10. Relax!
This is the perfect place in Budapest to relax. You are soaking in thermal springs. What better time is there than here to sit back and chill? After all of the running around the city to see all the top sights of Budapest, come to Rudas Baths and sit back and enjoy. Don't rush it. If you spend the whole day here then fine. It is more than worth it!
11. Where to Stay in Budapest
There are some fantastic VRBOs in Budapest!
If you would prefer to stay in hotels, here are some great ones to check out:
Budget Hostel: Maverick City Lodge (Read reviews on TripAdvisor and book here)!
Mid-Range Hotel: Continental Hotel Budapest (Read reviews on TripAdvisor and book here)!
Luxury Hotel: Aria Hotel Budapest (Read reviews on TripAdvisor and book here)!
So there you have it! Rudas Baths Budapest is one of the best baths in Budapest (if not #1 of Budapest baths). If you have the chance to visit a bathhouse in Budapest, visiting Rudas Baths is the best choice out there!
Would you visit a thermal spa in Budapest? What spas in Budapest have you been to? Let us know in the comments!
Want to listen about how to travel to Budapest? Check out our podcast episode!
Pin it here!