Some posts on this site contain affiliate links, meaning if you book or buy something through one of these links, I may earn a small commission (at no additional cost to you!). Read the full disclosure policy here.
---
Looking for honeymoon gifts for the perfect wedding registry?
Chris and I lived together for years before we got married. So when it came time to register for wedding gifts, we had no clue where to start. We had almost everything we needed. While we included a few things for the house, we also made a honeymoon gift list.
If you're a travel lover like us, then you probably know that the best wedding registry ideas are 100% travel gifts for either a honeymoon or a future trip. Whether you are in search of honeymoon gifts to give to the happy couple or you are trying to register for gifts, we have a full list of ideas!
20 Perfect Honeymoon Gifts For the Perfect Honeymoon Wedding Registry
Without further ado, let's get into the best honeymoon funds and honeymoon gift ideas that every traveling couple will love.
1. Gift of Experiences/Day Trips
These days, people are much more into the gift of experiences rather than material goods. On our honeymoon registry through Blueprint, we were able to customize it to create our own experience gifts. From tickets to see the Angkor Wat Temples to a snorkel trip from Koh Lipe during our Southeast Asia honeymoon, we created little things that people could contribute to.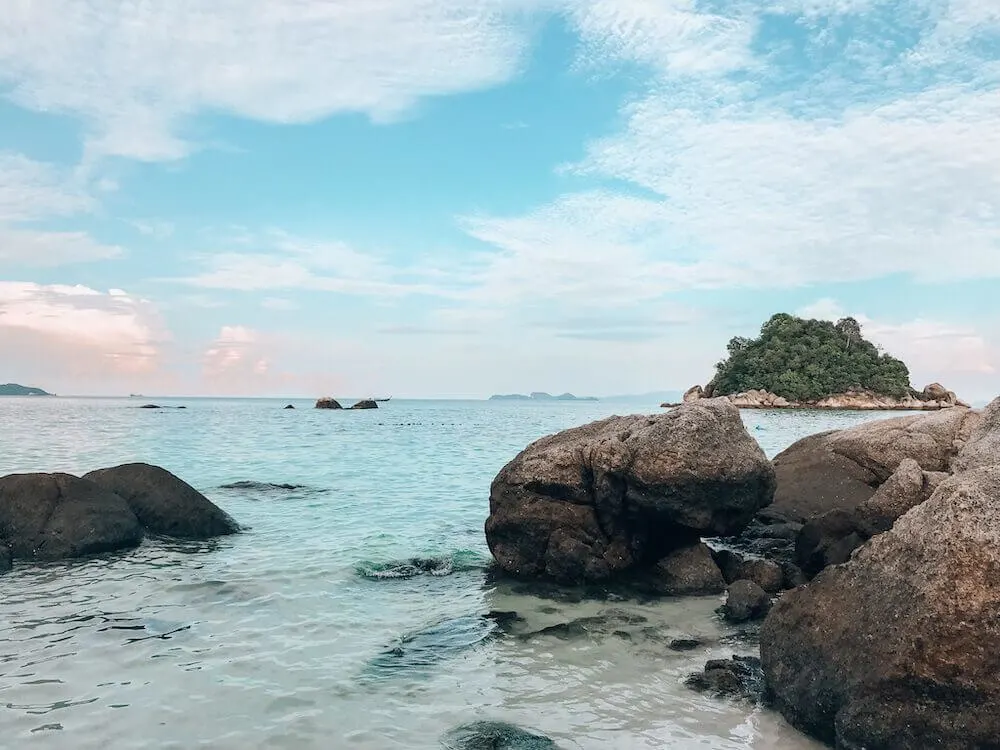 This is a fantastic idea because the gifts were pretty small in amount (around $100 or less) so people could easily give us an excursion rather than donating $100 to a general honeymoon fund.
Other experience ideas that are on many registries already include dancing, dinner, drinks, etc.
Some great places to register for a honeymoon experience include Blueprint Registry and HoneyFund.
2. Couples Massages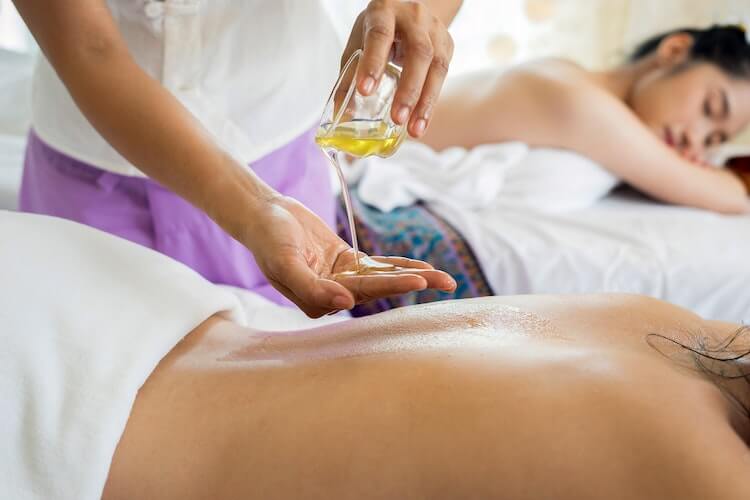 After the stress and excitement of wedding planning and the amazing wedding itself, a couple's massage on a dreamy honeymoon is the perfect way to relax and unwind as a newlywed couple.
3. Drinks on the Beach/Plane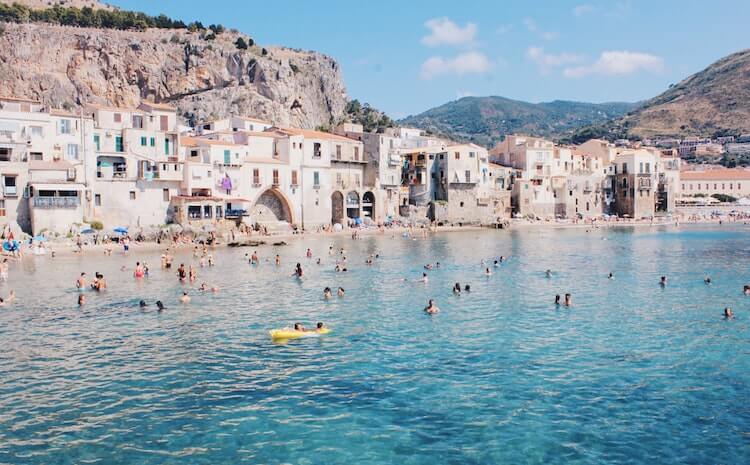 I love this idea! While most airlines actually give you free bottom shelf alcohol on intercontinental flights, you can opt for the fancier booze and bubbly with a gift contribution to drinks on the plane!
Also, cocktails on the beach are a must! Chris and I had the best time sitting by the beach in Koh Lipe sipping cocktails during happy hour and playing with the hotel's pups. We loved and appreciated having friends give us money for extra booze on our trip!
4. Airline Tickets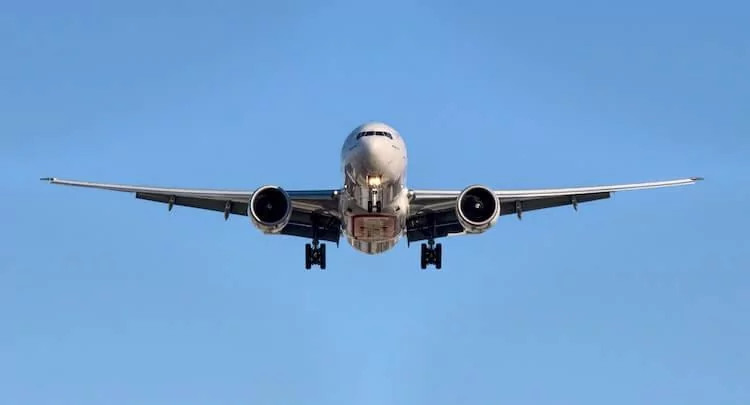 For those who are feeling really generous, they can purchase the airfare for the happy couple or pay to upgrade them to business or first class.
Or, if they have miles and points to spare, they can book flights to the couple's honeymoon destination for under $100 each! That's what we did to book our flights to Southeast Asia in business class for $60 each!
Now, of course, nobody expects a guest to pick up the entire flight, but if it is someone who is super close to the couple and feeling generous, it is a great idea that anyone would greatly appreciate. However, if they'd prefer to contribute to their flight rather than pay for it outright then that leads to the next gift idea.
5. Airline Gift Cards/Contributions to Flight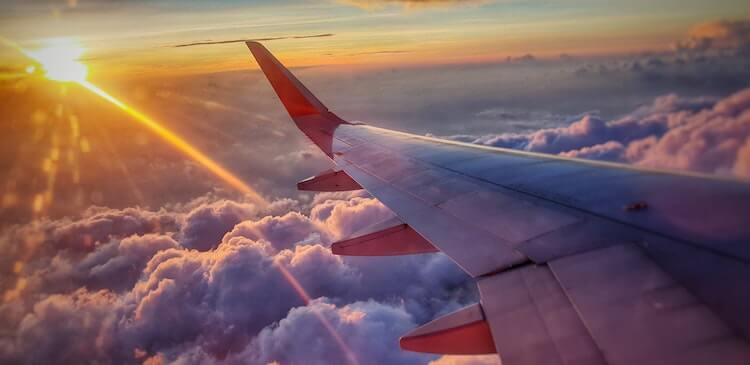 Adding airline gift cards to a honeymoon registry is a great idea to offset the cost of an expensive flight to a honeymoon locale. Those gift cards could also be used later on for another future romantic getaway. Delta, Southwest, etc. have gift cards available online!
Also, some honeymoon registry sites like Blueprint or HoneyFund allow guests to contribute to plane tickets so they can make a contribution versus paying for the entire flight like I mentioned above.
6. Hotel Gift Cards
Many hotel booking sites have gift cards for sale that you can add to the registry. Hotels dot com is a popular site to book online for that perfect hotel stay during the honeymoon.
Also, on some honeymoon registry sites, you can even add a gift for a hotel night or two for guests to contribute to.
7. Airbnb Gift Cards
Airbnb is a great way to stay in budget during a honeymoon! And with an Airbnb gift card, it brings down the cost even further so you can book a more premium Airbnb or even have a unique Airbnb experience.
Add gift cards to the honeymoon gift registry and you're set to save a lot of money on your honeymoon.
8. Book About the Destination You Are Visiting
We sometimes enjoy reading about the destination that we're visiting, especially if it is a place we've never been to before. From literature from local authors to guide books about different countries, it can be super helpful while planning the honeymoon to have some context via a good book.
Some of our favorites include Moon Travel Guides (like this one about the National Parks or this one about Thailand).
9. Matching Suitcases
In need of new luggage? We personally love our Osprey Farpoint 40 backpacks and have taken them everywhere from 2 weeks in South Africa to 4 days in Paris! Here is the female version and male version, respectively. The photo below is the female version.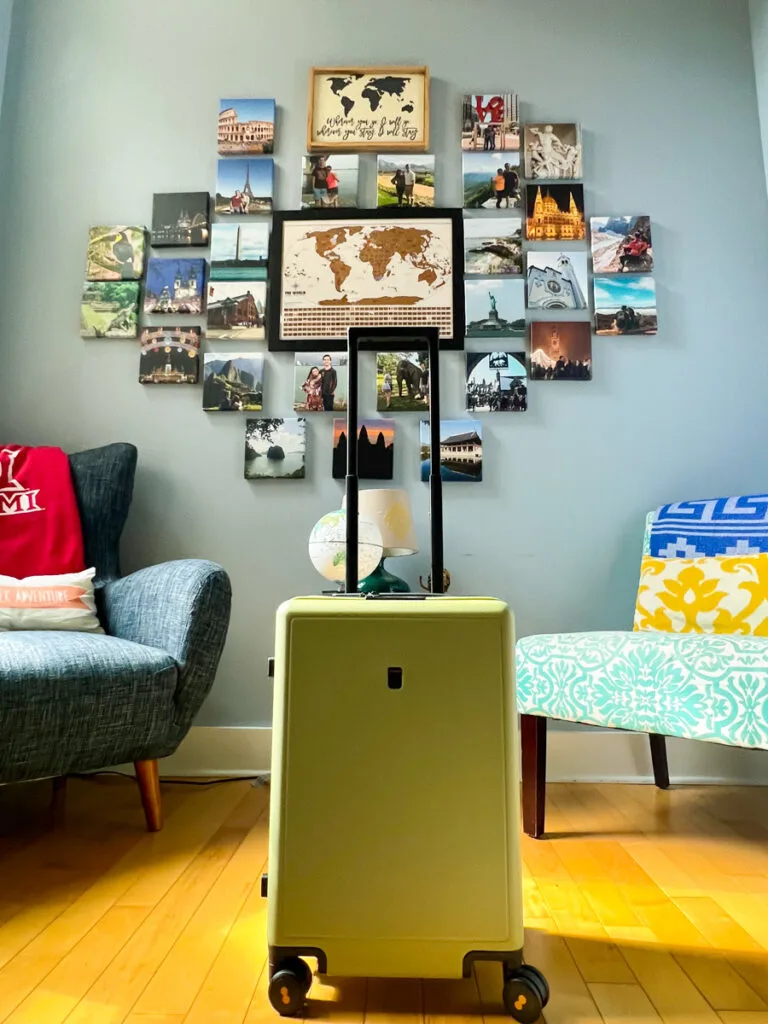 If you'd prefer a suitcase with wheels, then LEVEL8 is a great brand to purchase matching suitcases for your next trip! They come in really fun colors, have smooth wheels, and are so fun for carrying your things! I just got one earlier and am obsessed!
PS- Use Discount Code: Katherine10 for 10% off your purchase on LEVEL8!
10. Matching Passport Holders
Keep your passport safe and match your spouse for your honeymoon with cute passport holders that say things like "Mr." and "Mrs." or some have travel quotes! Check out these customized passport holders that you'll love!
11. Destination Specific Supplies
Planning a safari honeymoon? What about a trip to the Amazon? Even a snorkeling trip requires some special supplies you may not already have.
Check out a packing list for certain destinations and see what you may need and register for it! For example, for our trip to the Amazon Rainforest, we needed a headlamp and binoculars. Or if you're snorkeling somewhere, register for some goggles or a snorkel mask.
12. New Camera or GoPro Make for Perfect Honeymoon Gifts
As a newlywed couple, you'll want to save those memories from your honeymoon. This makes a new camera or GoPro a must.
We have such great footage of snorkeling underwater or sea kayaking in Halong Bay from our GoPro. And for a great camera, we love this Olympus mirrorless camera for beginners or the simplicity of the Nikon Coolpix.

13. Tripod
Who is going to take photos of you while you're out exploring on your honeymoon? We love this lightweight tripod that can hold smaller cameras and cell
phones to take great shots of the two of you! It definitely makes for a great honeymoon wedding gift.
14. Honeymoon Bound Shirts
Who doesn't love a fun t-shirt to commemorate your honeymoon? These custom tees are adorable and a perfect addition to your honeymoon gift ideas.
15. Travel Map
One of the best honeymoon gifts for couples is a travel map. Whether it is a scratch-off map (like what we have at home) or a map with pins, you can mark off the places you've been to together and display it at home.
16. Novelty Customized Mugs
Whether you need some coffee (or wine) on the beach, check out these customized travel mugs that make for perfect gifts for honeymooners.
17. Global Entry
This is a fantastic gift that keeps on giving! If someone has a credit card with this benefit, or if they want to pay $100 per person, they can pay for the application for you both to get Global Entry. This makes traveling internationally and returning home a breeze, as it expedites you through customs.
It also includes TSA precheck, which expedites security, giving you both more time to enjoy a cocktail or two before boarding. And it lasts for 5 years!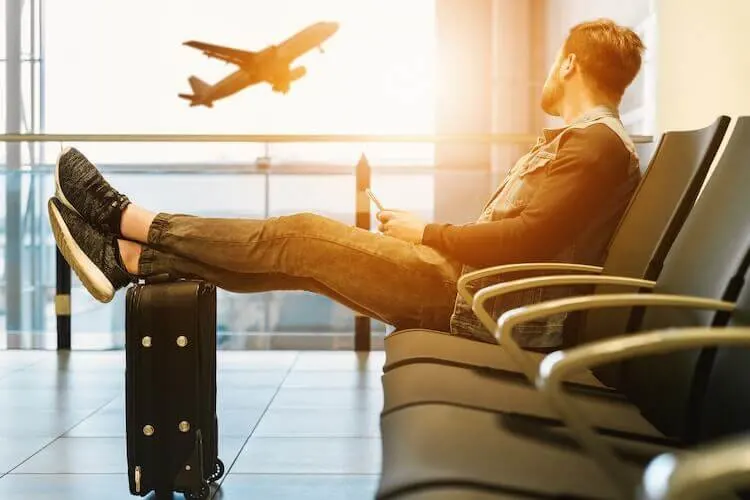 18. Priority Pass Lounge Subscription
Another fabulous honeymoon gift that keeps on giving is a year subscription to Priority Pass. This allows you access to Priority Pass lounges and restaurants, so you can enjoy free food and booze before your flight. They have over 1,300 lounges worldwide. We've used this for the last few years and can't recommend it enough!
We love breezing through security and heading to the lounge to relax before our flight! While we get unlimited access with a free guest thanks to the Chase Sapphire Reserve, we recommend registering for the Standard Plus ($299 per person) or Prestige ($429 per person). You could also make this into a contribution gift on BluePrint.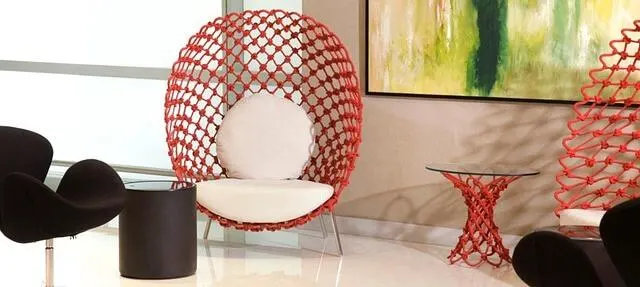 19. Honeymoon Gift Box
This is an adorable idea. If a guest would like to get creative and make a honeymoon care package, this is a cute way to give a great honeymoon present.
Or, there is this pre-made honeymoon gift box complete with a silicon ring, luggage tags, and more!
20. Honeymoon Fund
Last, but certainly not least, if you are looking for great honeymoon gift ideas, then a honeymoon fund is an obvious choice!
On places like Blueprint you can do a general fund and the amount for people to contribute to. Honeyfund is another great honeymoon fund website where guests can contribute to the happy couple's getaway.
I'll be totally honest, we tried doing something like this, and most people were more likely to give us individual experience gifts than they were to just throw money into a fund. We ended up taking our Thailand Honeymoon Fund down and replaced it with individual gifts like couples massages, drinks on the beach, day trips, etc. and our guests fully funded everything we asked for!
That was our experience, which could be totally different for you. If you aren't sure what to do experience-wise on the honeymoon, then definitely create a honeymoon fund for guests! If you have everything you need, why not register for things you want?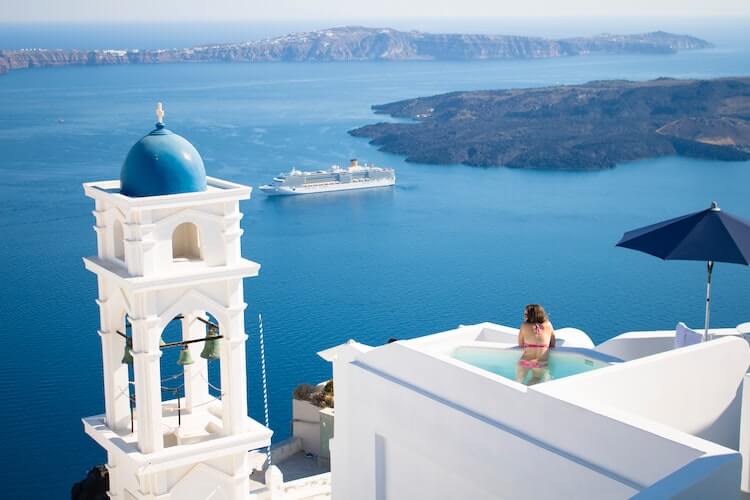 The Perfect Way to Say Thank You For the Honeymoon Gifts
We all know that sending a thank you note is a must after receiving wedding gifts to thank guests for their generous and thoughtful presents. We sent everyone the customary thank you note, but for our guests who did contribute to our honeymoon in some way, we picked up postcards from our trip and sent them according to the location they contributed to (i.e. we sent a postcard of Angkor Wat to the guests that paid for that, a postcard of Koh Lipe to our guests that paid for drinks on the beach, etc.).
It was a fun way to show them we thought about them on our trip and appreciated their contribution to such amazing memories!
What other gifts for honeymoons would you like to add to your wedding registry?
Looking for other gift ideas? Check out our gifts for couples who love travel as well as gifts for hikers!
Want more honeymoon tips? Check out these guides!
Pin it here!