As if you need a reason for visiting… here are some amazing things to do in Peru
Some posts on this site contain affiliate links, meaning if you book or buy something through one of these links, I may earn a small commission (at no additional cost to you!). Read the full disclosure policy here.
---
Whenever Kat and I talk about a new destination that we would like to visit, we always run into the same problem. How can we possibly fit everything that we want to see into our itinerary?! Some couples look forward to lounging on a beach and sipping cocktails for the majority of their trip. Other couples do not feel as though they have truly experienced a destination unless they do something new. Kat and I are somewhere in the middle.
After performing a ton of research as to how best to spend our time in Peru, I arrived at the following list of the top ten things to do in Peru!
We aim to travel at a pace that will allow us to immerse ourselves in as much of a destination as possible without frantically trying to do so much that we never truly experience the cultural and social offerings of a particular locale. In a nutshell, we are the type of couple that prefers to take the time to hike up the mountain rather than simply riding the funicular, snapping a few pictures at the summit, and boarding the funicular for a ride back to the base so that we can quickly go and find the next photo opportunity within the city. There's nothing wrong with wanting to do everything, but it's just not our style.
As you know, we are planning to travel to Peru in 2019! This is the first trip that I have planned, so I am trying to ensure that we do not miss anything while also finding time to relax and leave enough flexibility in our schedule so that we can embrace the unexpected. After performing a ton of research as to how best to spend our time in Peru, I arrived at the following list of the top ten things to do in Peru!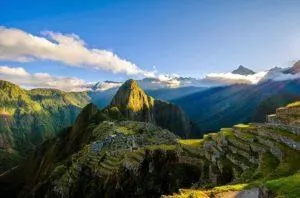 1. Gain an appreciation for Incan culture through a visit to Machu Picchu.
Okay, this had to top the list of things to do in Peru, right? Does anyone know someone who has visited Peru without making a trip to Machu Picchu (assuming that they have not seen it before)? Machu Picchu is by far the most popular and well-known attraction in Peru – and for good reason! It offers a unique blend of adventure and culture, and it is also perhaps one of the most famous spots for photography in the world.
There are many ways to arrive at Machu Picchu but perhaps the most well-known is to hike the Incan Trail. While this is an endeavor in and of itself, it offers a greater appreciation for the ancient Incan culture. Depending upon the amount of time that you will be spending in Peru, this may be an attractive option to leave with a deeper understanding of the ancient culture. It takes around four days to hike the classic Incan Trail, but you could do shorter versions thanks to buses and trains from Cusco.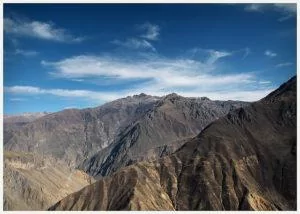 2. Witness condors take flight in Colca Canyon.
Located in the Andean Valley in the southern part of Peru, the beautiful Colca Canyon is routinely a "must-see" destination while in Peru! The Colca Canyon has a depth of roughly 11,000 feet (or 3300 meters) making it one of the deepest canyons in the world. Local people still maintain their ancestral roots and inhabit the Colca Valley at the bottom of Colca Canyon.
But, it's not just the beautiful scenery that makes this a popular attraction for visitors to Peru. Colca Canyon is also home to the spectacular Andean Condor, which, with a wingspan of roughly 8 feet (or 2.6 meters), is surely an awe-inspiring sight as it returns to its nest and soars through Colca Canyon.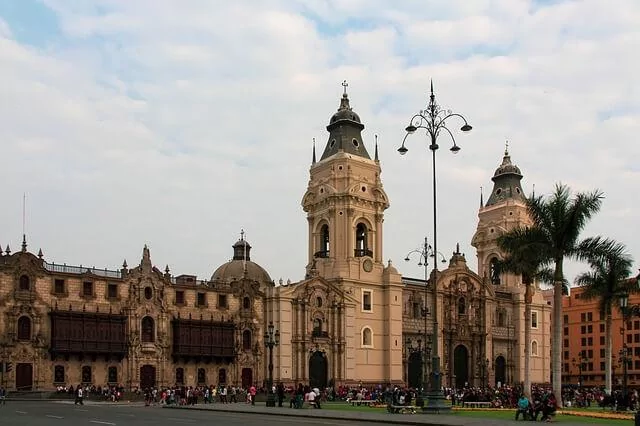 3. Enjoy delicious Peruvian cuisine in Lima.
Lima is quickly becoming known as one of the best gastronomical hubs in the world and with unique Peruvian offerings such as ceviche (fresh raw fish with citrus juices and spices) and pisco sours (a classic Peruvian cocktail), it's easy to see why! In fact, Lima is the proud home to three of the top fifty restaurants in the world for 2018: Astrid y Gastón (No. 39), Maido (No. 7), and Central (No. 6).
Not sure where to go? Check out The Lima Gourmet Company and get a taste for a variety of different Peruvian flavors before making your decision! This company offers food tours during the day and in the evening and even offers a Peruvian cooking class so that you can learn how to recreate the exquisite flavors at home.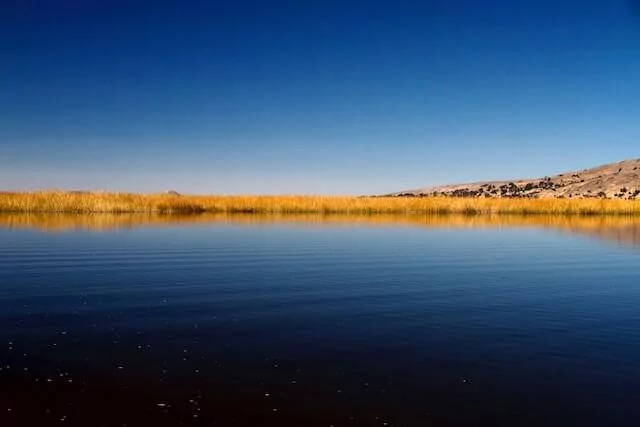 4. Discover the wonder of the Floating Islands of Lake Titicaca.
Located on the border of Bolivia and Peru, Lake Titicaca is the largest lake in South America. Lake Titicaca has the "floating islands" which are manmade islands constructed by the local Uros people.
Many of the floating islands are made from reeds – as are the shelters and canoes used by the locals. The Floating Islands offer a unique perspective for any traveler to interact with the locals, although some islands are definitely more crowded than others. As with any excursion, it is important to determine which island(s) you would like to visit as each offers its own unique experiences.

5. Unwind in the Amazon rainforest.
Arguably one of the most popular things to do in Peru (right after visiting Machu Picchu), the Amazon rainforest covers most of the Amazon basin in South America, and Peru is home to the second largest portion of the Amazon rainforest after Brazil. Due to its sheer volume, no two trips to the Amazon rainforest will be the same, which has many visitors returning time and time again to experience the beauty and serenity of the rainforest.
With so many regions and offerings, it is important to decide how a trip into the Amazon fits into your Peru itinerary. But, with experiences such as macaw clay licks, Amazon River cruises, and rainforest hikes, the Amazon rainforest is sure to offer something for everyone! If you would like to go to the Amazon, be sure to allocate at least two nights.
6. Enjoy the aerial view of the Nazca Lines.
The Nazca Lines are ancient formations that include basic geometric shapes as well as more detailed designs such as monkeys, trees, fish, and flowers. The Nazca culture created these figures, but no one is absolutely sure about the purpose of the Nazca Lines.
Some experts believe that the Nazca lines were formed for some sort of religious ceremony. Others believe that they serve more of an agricultural purpose, such as identifying potential water sources. Visit the Nazca Lines and decide for yourself! Many companies offer flights and helicopter rides over the Nazca Lines in order to better appreciate the breadth of these formations.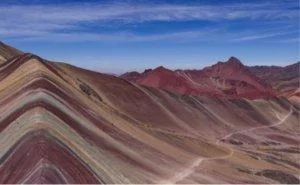 7. Lace up your boots and hike Rainbow Mountain.
With an altitude of just over 17,000 feet (or 5200 meters), hiking Rainbow Mountain isn't for the faint of heart! But, with the beautiful pink, teal, gold, and blue hues along the ridge of this mountain, it is well worth the trip if you are up for the challenge.
This day-trip is sure to satisfy the appetite of even the most seasoned adventure seeker as it is roughly a 6-mile hike in challenging conditions relating to temperature and altitude. But, you will likely encounter wild alpaca on your trip, and many guided hikes will be sure to bring water and oxygen in order to ensure a safe hike for everyone. Many locals will even offer rides on burros (for a fee) if you become too tired to continue your hike so that you can still enjoy the beautiful views of Rainbow Mountain.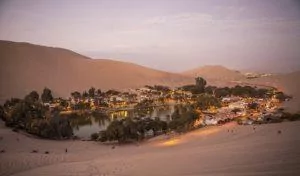 8. Surf the sand dunes in Huacachina.
The village of Huacachina is located in southwest Peru and it is best known as an oasis that is surrounded by sand dunes. It is a popular destination for both thrill seekers and those seeking relaxation and healing due to its diverse offerings.
While those looking for adventure opt to try their luck at surfing sand dunes or taking a dune buggy for a spin on the surrounding dunes, the water and mud of the of the local lagoon are said to have healing powers. So, if you're looking to slow down the pace of your trip while in Peru, don't write off Huacachina just yet! Perhaps an afternoon soaking in the lagoon is just the thing you need to feel rejuvenated for the remainder of your trip. This could be a day trip from Lima or an overnight excursion.

9. Take a train ride through the Sacred Valley.
Also known as the Urubamba Valley, the Sacred Valley is located in the Andes of Peru. Much like the more-commonly known Machu Picchu, the Sacred Valley is home to even more awe-inspiring Incan architecture.
With attractions like the beautifully constructed Moray, the Pisac Ruins (and market!), Chinchero, and Ollantaytambo, a train ride through the Sacred Valley will not disappoint! Be sure to identify which attraction(s) you'd like to see so that you can book a train that allows you to stop at each!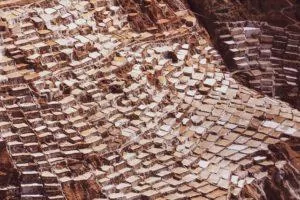 10. Tour the Maras salt mines.
If you're still looking for things to do in Peru, outside of the town of Maras, which is situated in the Sacred Valley, you can find the Maras salt mines. The salt "mines" are more accurately described as salt "ponds" which allow the water to evaporate in order to reveal the beautiful, natural salt. As the water emerges from a local stream, it flows throughout the intricately designed web of salt ponds in order to achieve the optimum conditions for the workers to harvest the salt.
You can even walk along the edges of some of the salt ponds in order to get a closer look at the entire process. Don't forget to purchase a bag or two of salt so that you can use it in your Peruvian cooking at home! It makes for a unique Peru souvenir!
Conclusion
There are far more adventures to be had other than these top ten things to do in Peru! Peru is a country filled with a wealth of opportunities. So, do your own research based upon your desired pace and see what kind of experiences could await you in Peru.
More importantly, keep in mind that we are simply in the planning stages of our trip! So, have you visited Peru and experienced any of our top ten things to do in Peru? Is there anything on our list that you would definitely not recommend or recommend? We'd love to hear from you before our trip!
This is the third article in our Planning for Peru series in which Chris will provide monthly updates about our progress for preparing for Peru. If you have any advice for us on things to do in Peru, where to eat, etc., we'd love to hear from you as this will be our first trip to South America!
Want more Peru content? Be sure to check out our Peru honeymoon guide!
Love this post or want to save for later? Pin it here!