Some posts on this site contain affiliate links, meaning if you book or buy something through one of these links, I may earn a small commission (at no additional cost to you!). Read the full disclosure policy here.
---
There are so many reasons to love Cusco. This gorgeous city in the mountains has lovely architecture, so much history, and even a thriving food scene. During our 10 days in Peru, we made a stop here a priority. And while we made time to explore the city itself, it is a great place to base yourself for many day trips from Cusco.
So after you're finished exploring Cusco, check out these adventurous and fun Cusco day trips!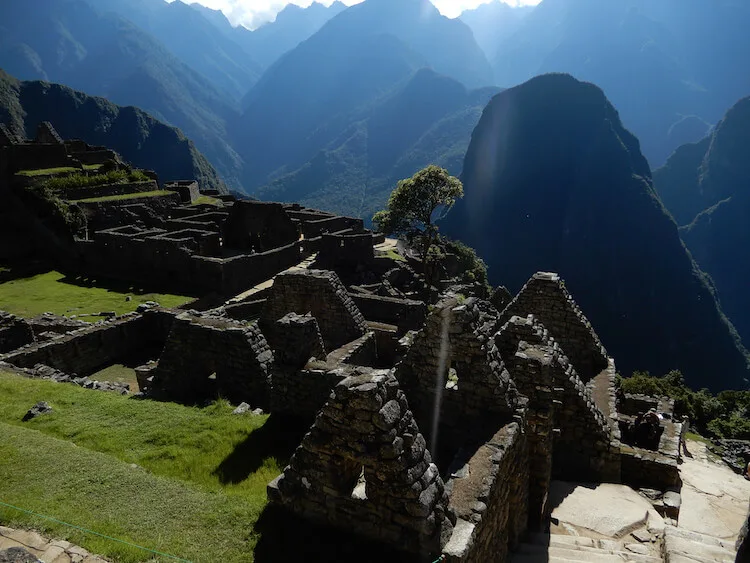 The Best Day Trips From Cusco
During your tour of Cusco, Peru, it is likely that you'll want to get out of the city and explore more of this stunning, mountainous region. So take a look at these 7 Cusco excursions that you're going to love.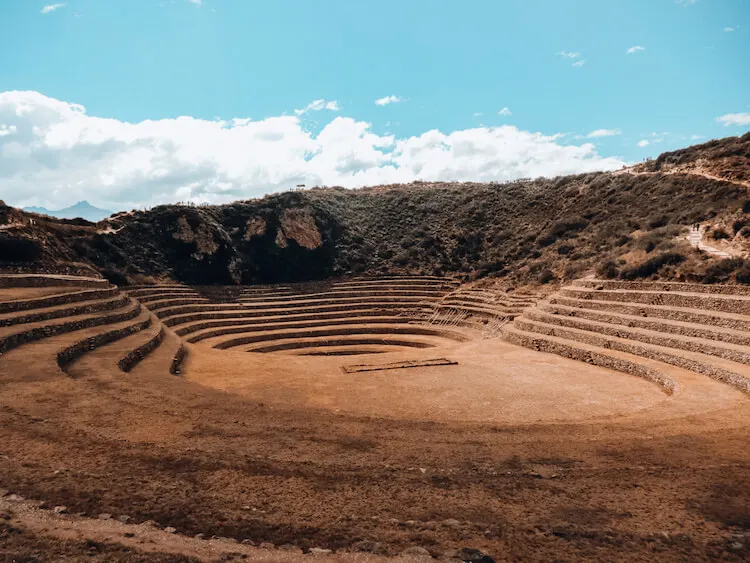 Day Trip from Cusco Idea #1: Sacred Valley
The Sacred Valley of the Inca is a thing of beauty. And even if you only have the opportunity to spend 1 day on a Sacred Valley tour, we highly recommend it. From Incan ruins to unique villages, this is probably my favorite day trip from Cusco. Yes- Even * gasp * better than Machu Picchu!
Sacred Valley Day Trip Stops
And while we wrote a super-comprehensive post all about visiting the Sacred Valley, here is a brief rundown of what we did (and totally recommend doing):
Chinchero Market and Archeological Site to see the Incan palace-turned colonial church, marvel at the agricultural terraces, and enjoy the crazy beautiful view of the Andean mountain range.
Visit a shop in Chinchero to learn about the process of alpaca wool making. We even saw what they use for dyes and watched someone making a table runner!
Visit the Moray Ruins Agricultural site to see how freaking smart the Inca were by using multi-tiered terraces to create microclimates and diversify their vegetation!
Explore the Maras Salt Mines, which were breathtaking! They were created by the Inca and are still in use today! They filter water from a salty spring to these clay pools and let it dry until they have salt!
Check out Ollantaytambo Ruins and spot various temples, terraces, and learn about this prior home for Incan nobility.
Visit Pisac and the ruins in the area. *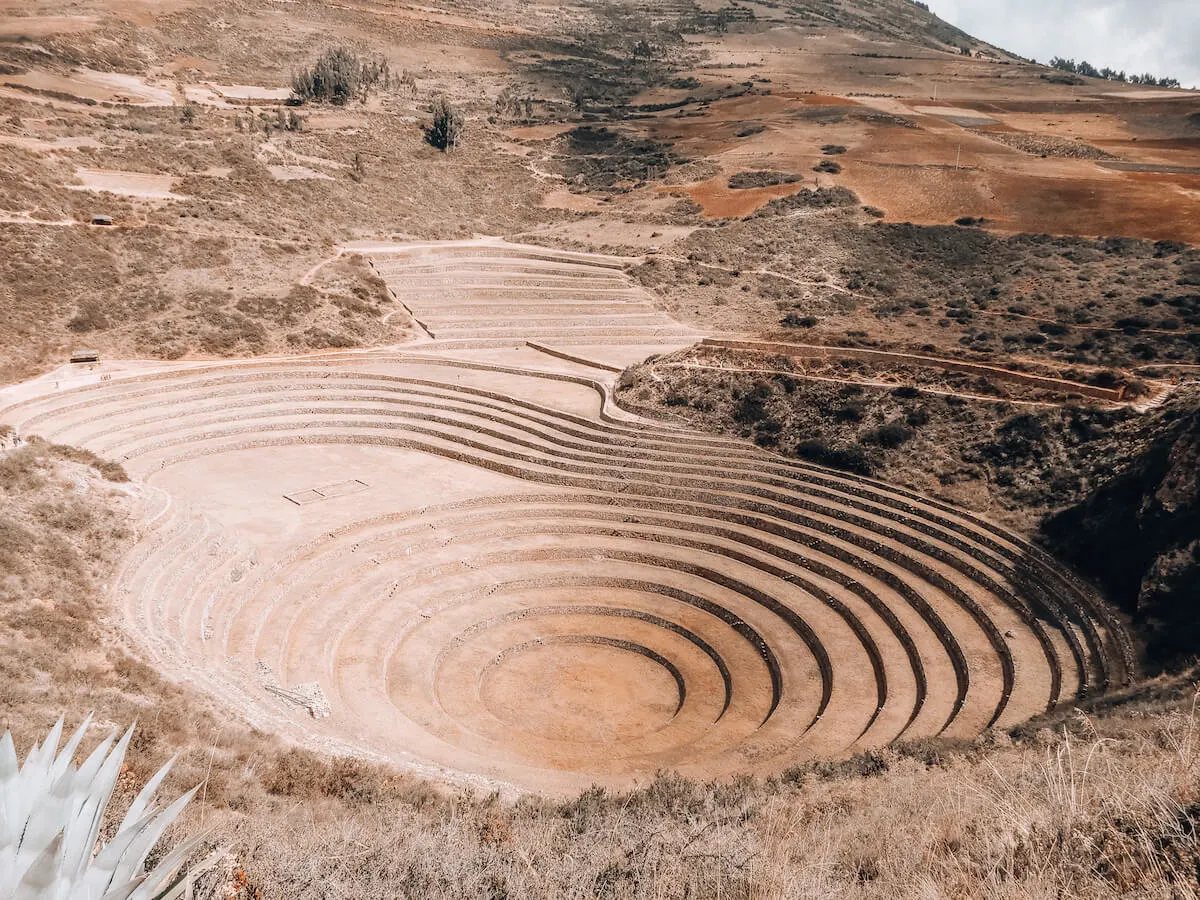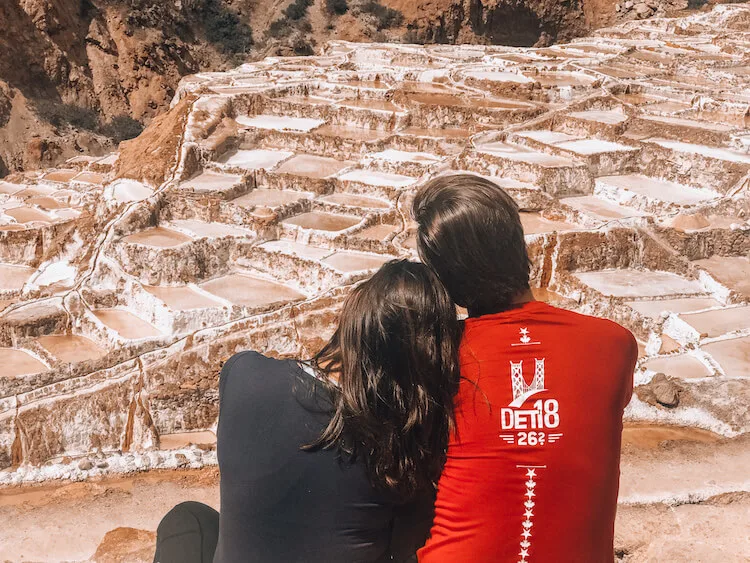 As far as visiting the Sacred Valley, you could rent a car and do it on your own and just pay to visit the ruins, but we recommend going on a tour. We ended up doing the Flashpacker Connect 2 day/1 night Sacred Valley and Machu Picchu tour from Cusco, but they also offer this tour as a day trip from Cusco.
The cost is $150 per person including transportation to/from Cusco, a guide around the ruins to give context, and entrance tickets to all of the attractions. We can say that it was 100% worth it! We learned so much and had the best experience exploring the hidden gems of the Sacred Valley!
*Note that if you do this as part of the 2-day tour with Machu Picchu, there isn't enough time to visit Pisac.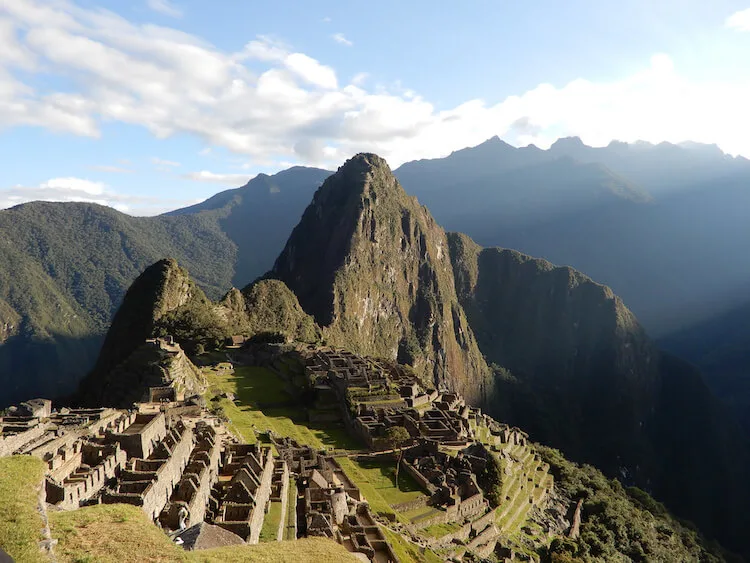 Tours from Cusco Option #2: Machu Picchu 1 Day Tour
While this may sound like an ambitious day trip from Cusco, it can be done in just 1 day. A Machu Picchu day trip from Cusco involves taking the train and bus up to the ruins.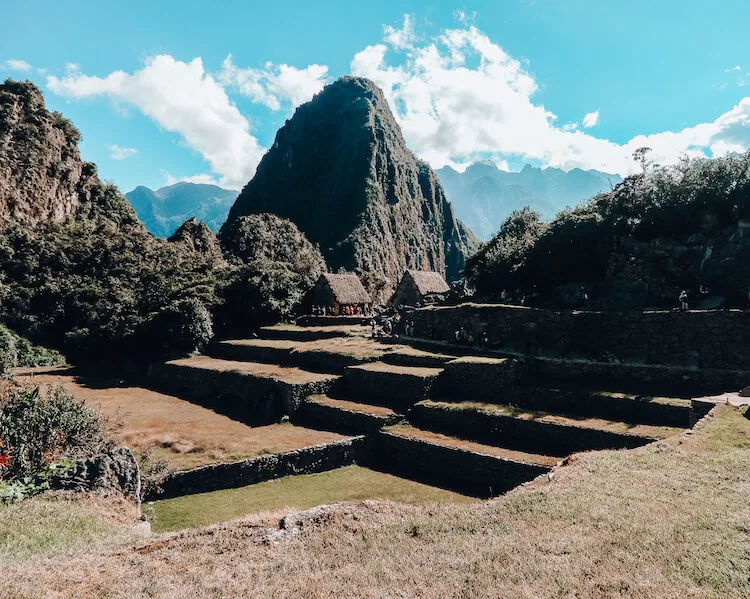 Getting from Cusco to Machu Picchu in 1 Day
Luckily, it can all be booked on Inca Rail. The Voyager train departs from Cusco in the morning around 8:30 am and arrives at the train station around 12:40 pm. Then, they have a bus to take you up to the citadel, and you have access to Machu Picchu from 12-5:30 pm. You then can take the bus back down and take the 7 pm train back to Cusco, arriving at 11:30 pm.
The cost for this is around $200 per person, with the all-inclusive offer (highly recommend this) including lunch, bus to the citadel, entrance ticket, and back to Cusco.
It definitely can be done in a day, but for sure it will be a long day! And if booking trains and buses seem daunting, definitely go on a tour.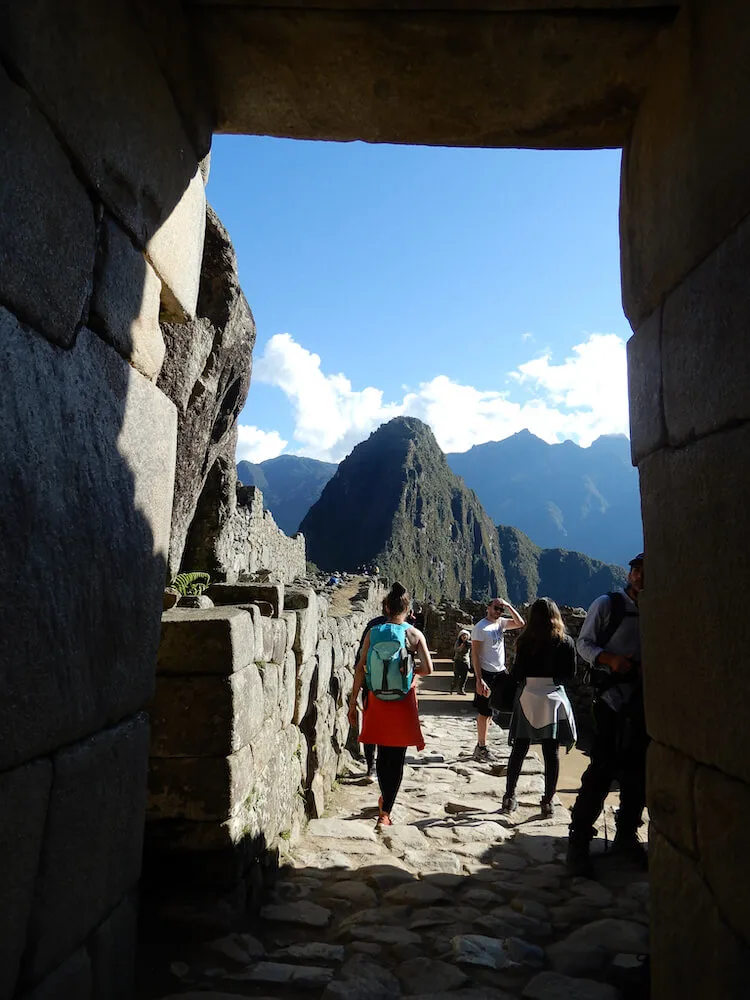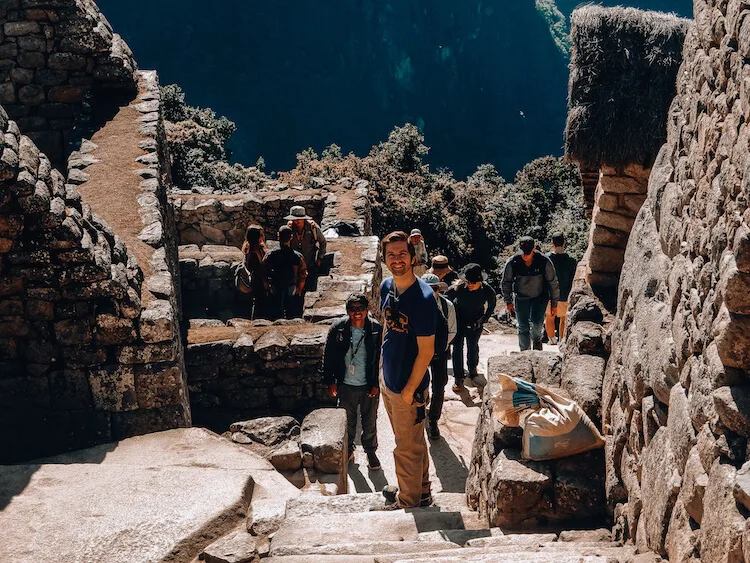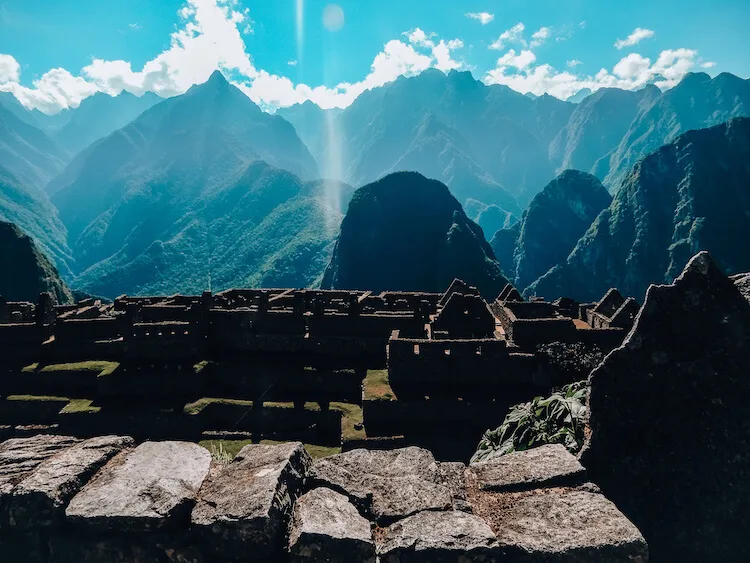 While I highly recommend the 2 day/1 night tour of the Sacred Valley and Machu Picchu, and staying in Aguas Calientes at the base of Machu Picchu the night before, here is a fantastic day trip from Cusco option that is $328 per person and includes pick-up/drop-off in Cusco, buses and trains to Machu Picchu, an English speaking guide to show you around Machu Picchu, and entrance to Machu Picchu.
Seriously, this tour is a fantastic time-saver if you don't want to plan this out yourself!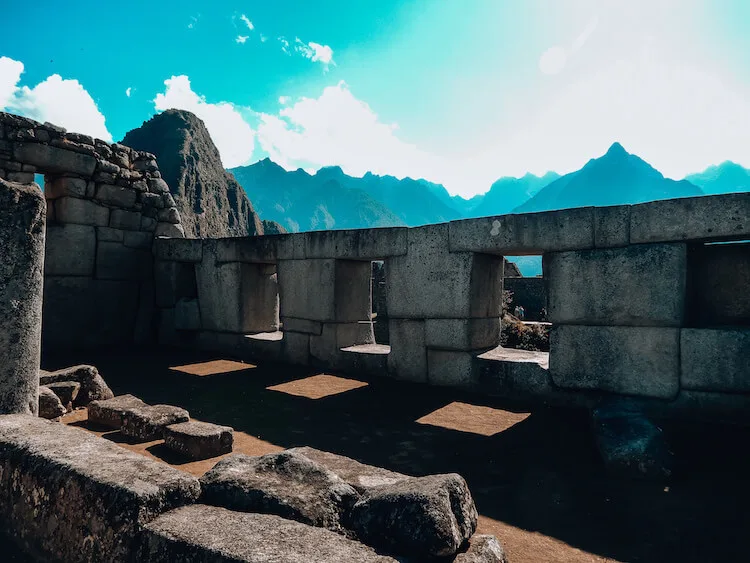 What to see at Machu Picchu
I wrote a whole guidepost on Machu Picchu here, but here are some quick highlights to look out for at Machu Picchu:
You can book tickets ahead of time to hike up Huyana Picchu Mountain
Sun Gate
Agricultural and support terraces
Temples such as Temple of the Sun, Temple of the 3 Windows, and Principal Temple
Various houses where citizens lived
The Sacred Rock shaped like the mountain itself
Intihuatana rock that was used as a sundial
Fountains to bring water into the city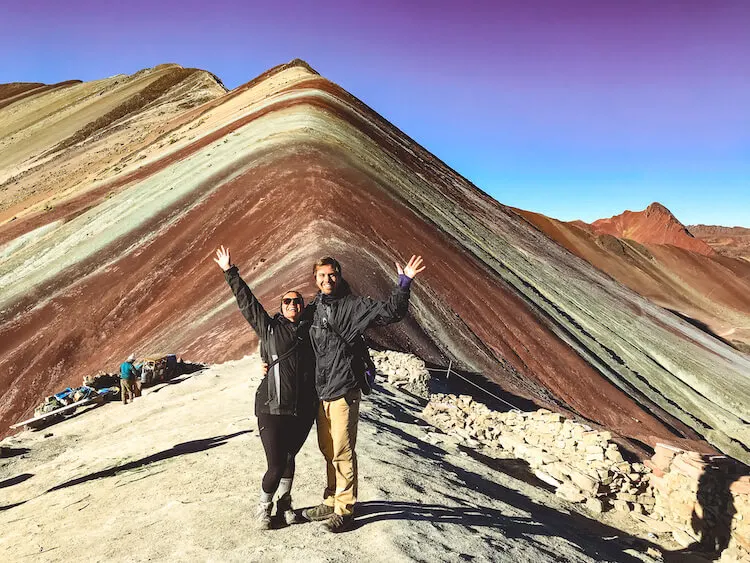 Day Trip Idea #3: Rainbow Mountain Tour from Cusco
This was a wonderful day trip from Cusco and worth the hype. Rainbow Mountain is colorful, and the scenery around it is absolutely stunning. I wrote a guide all about visiting Rainbow Mountain too!
Yes, you could certainly rent a car and do this yourself, but to avoid crowds later in the morning, and avoid getting lost, a tour is a way to go. The roads were windy and super bumpy, so I don't really advise driving this yourself, especially if it is still dark outside.
Again, we chose to do this through Flashpacker Connect, and we did this because they were known as being the first on the mountain. And they lived up to their reputation! When we arrived at the hiking trail, we were the first ones there!
This is a super early day- I'm talking like a 2 am pick-up time if going with Flashpacker Connect, and you arrive at the trailhead around 5 am. You eat breakfast and start hiking! And we were the only ones on the trail at first- it was incredible seeing the alpaca, snow-capped mountains, and more in the peace and quiet. It is about a 2.5-hour hike to the top and you are rewarded with breathtaking views!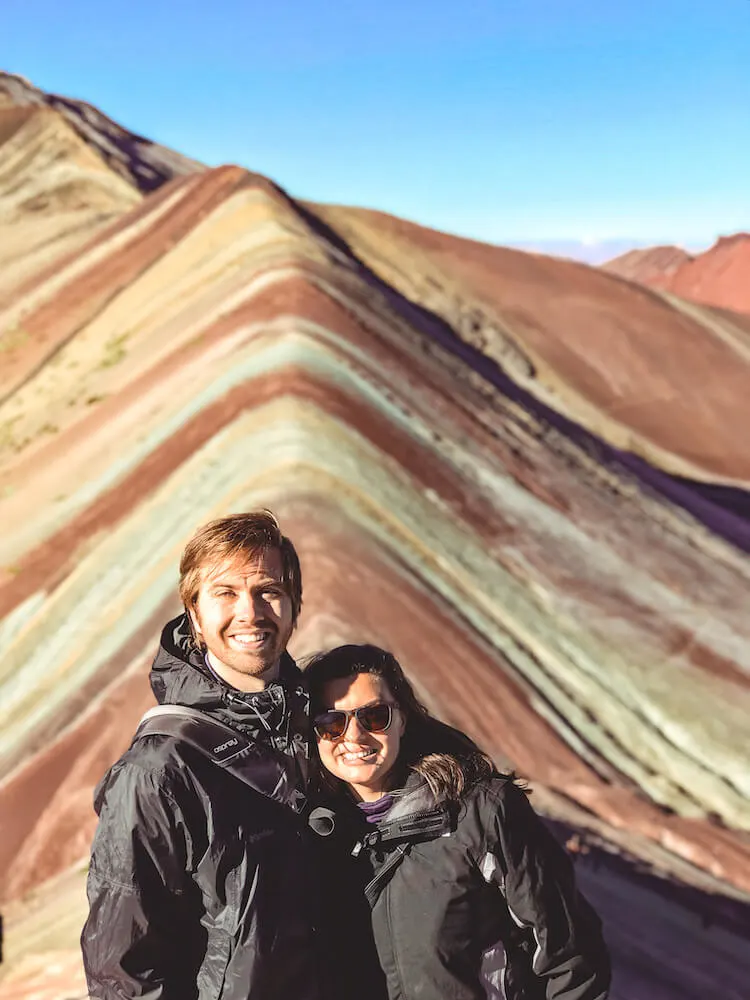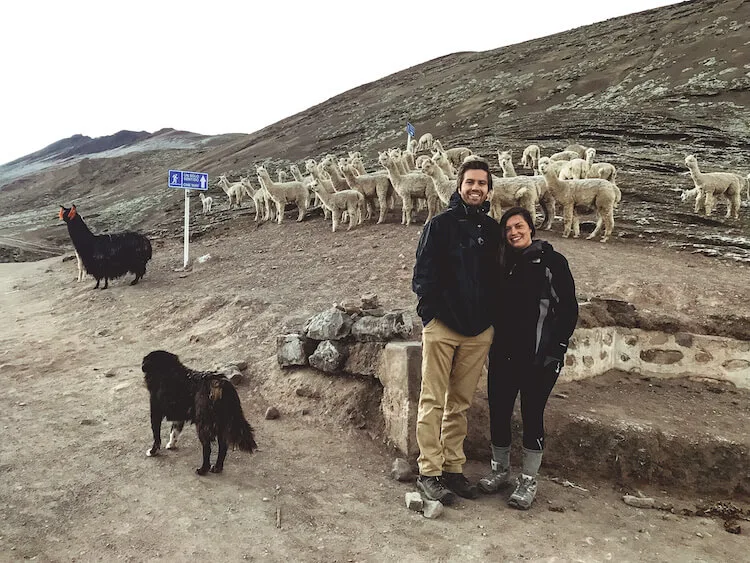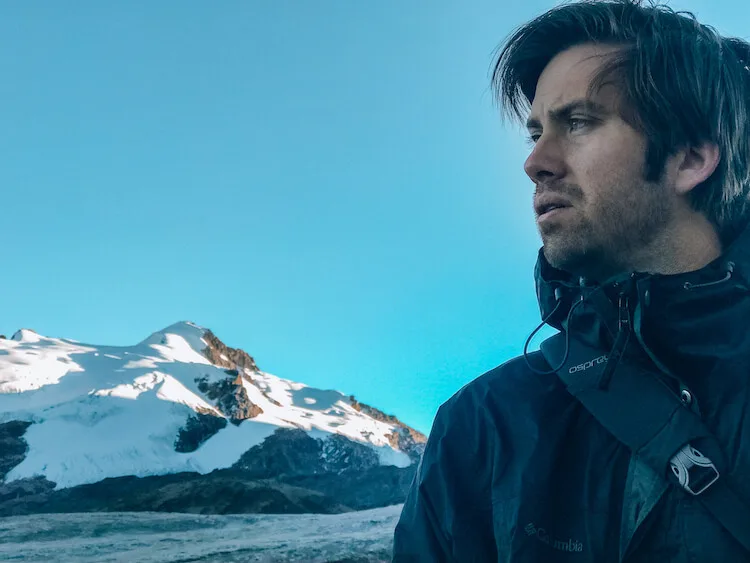 We were the first of a handful of people at the top, and we got fantastic photos and admired the 360º sights!
And when we started hiking down, we were relieved we saw it earlier because there were literally hundreds of people on the trail by then hiking up.
Definitely go with Flashpacker Connect on this one! The cost is $150 per person including a guided hike (plus oxygen for altitude sickness for emergencies), lunch, snacks, water, and transportation.
Extra tips for hiking Rainbow Mountain: If you want to ride a horse up, it is $25 and save some soles for a passport stamp at the top!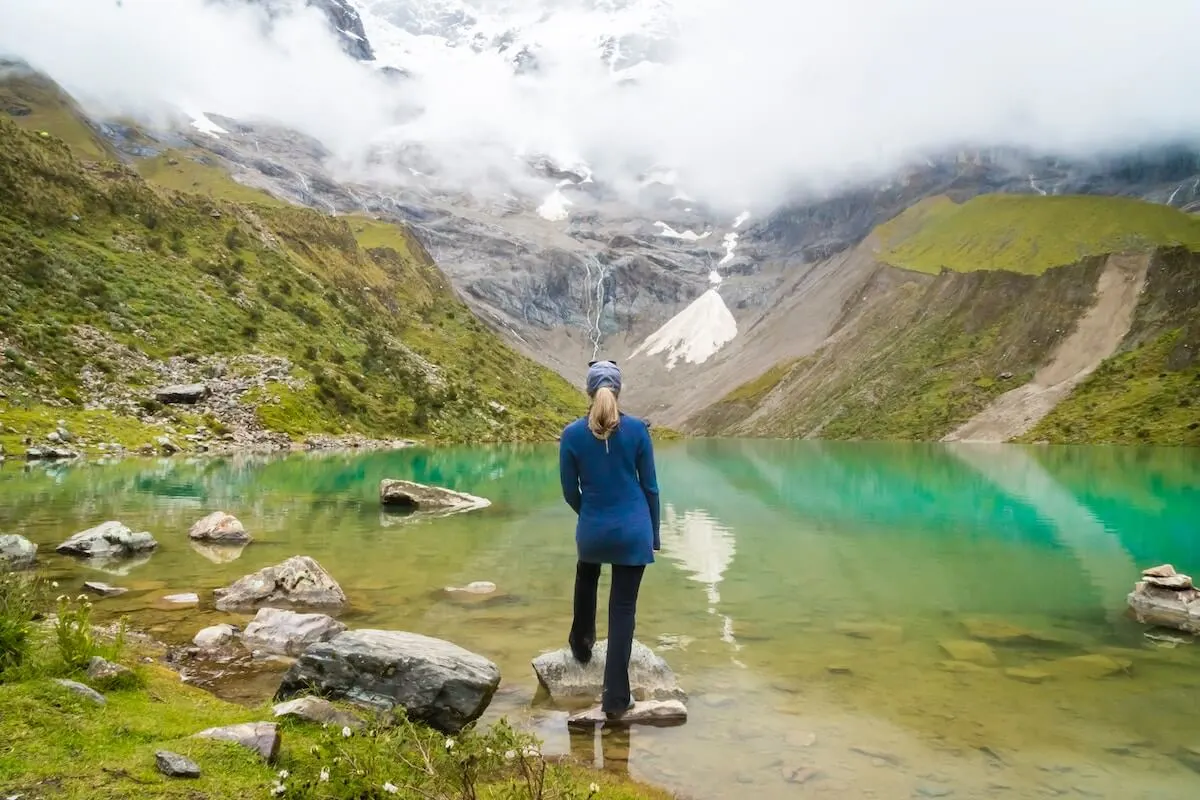 Cusco Day Trip Idea #4: Humantay Lake
If you've already done the top 3 day trips from Cusco, or you want to check out a stunning mountain lake and do a shorter trek, this is the day trip for you!
Humantay Lake, located about 3 hours from Cusco, is definitely an option where you could drive and hike to it yourself, but, again, especially with the high altitude (17,225 feet or 5,250 meters), I suggest going with a tour.
Marvel at Salkantay Mountain, trek to the lake and get the best photos of this one of a kind lake in Peru.
It is a 2-hour hike to the lake from Soraypampa mountain plateau where you'll start. Then, you are rewarded with stunning mountain views all around you before a short, hour-long hike back and then lunch.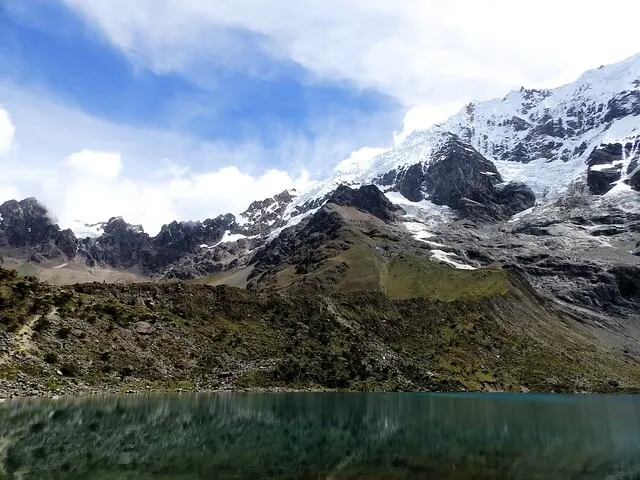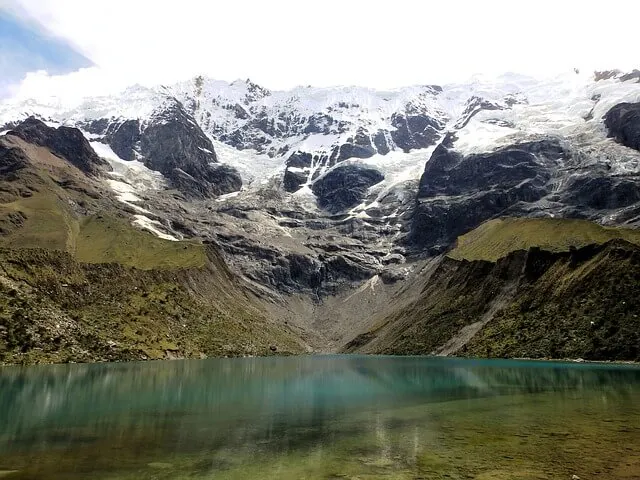 A guided tour here costs $40 per person and includes transportation to/from the trailhead from Cusco, a tour guide, an oxygen bottle, entrance fee for the trek, and breakfast and lunch.
Book it here for this fantastic deal and unique day trip from Cusco that not many people get to experience!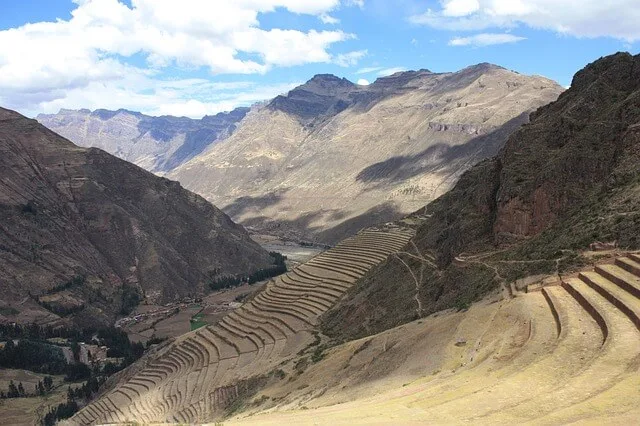 Day Trip #5: Pisac
While you could visit Pisac as part of the Sacred Valley tour above, if you do end up doing the 2 day/1 night Sacred Valley and Machu Picchu tour as we did, you won't have time to see this. And the thing is that Pisac has so much to see!
To get to Pisac from Cusco, you can just take a collectivo. This shared minibus costs 4 soles ($1.50) and can be taken from Puputi Street in Cusco to Pisac. You can also take a collectivo back from Pisac later on.
Once in Pisac Village, be sure to explore this charming area, including the famous Pisac market for handcrafted goods to take home as souvenirs!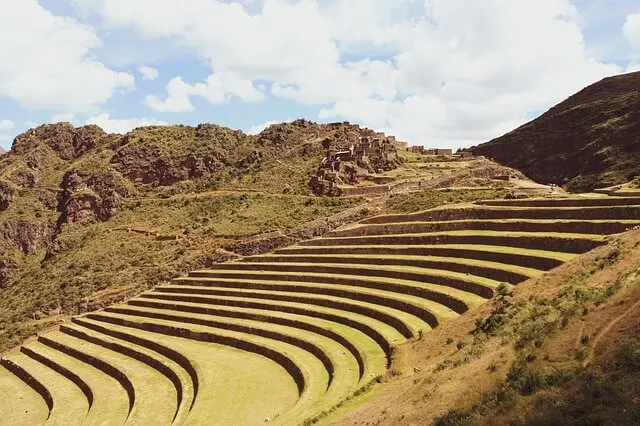 Then, take a cab for about $7-8 each way to get to the Pisac ruins and go check it out!
There are so many ruins to explore, that if you keep walking further, you can easily avoid the crowds.
This is an easy self-guided day trip to take from Cusco that you could even do within a half-day.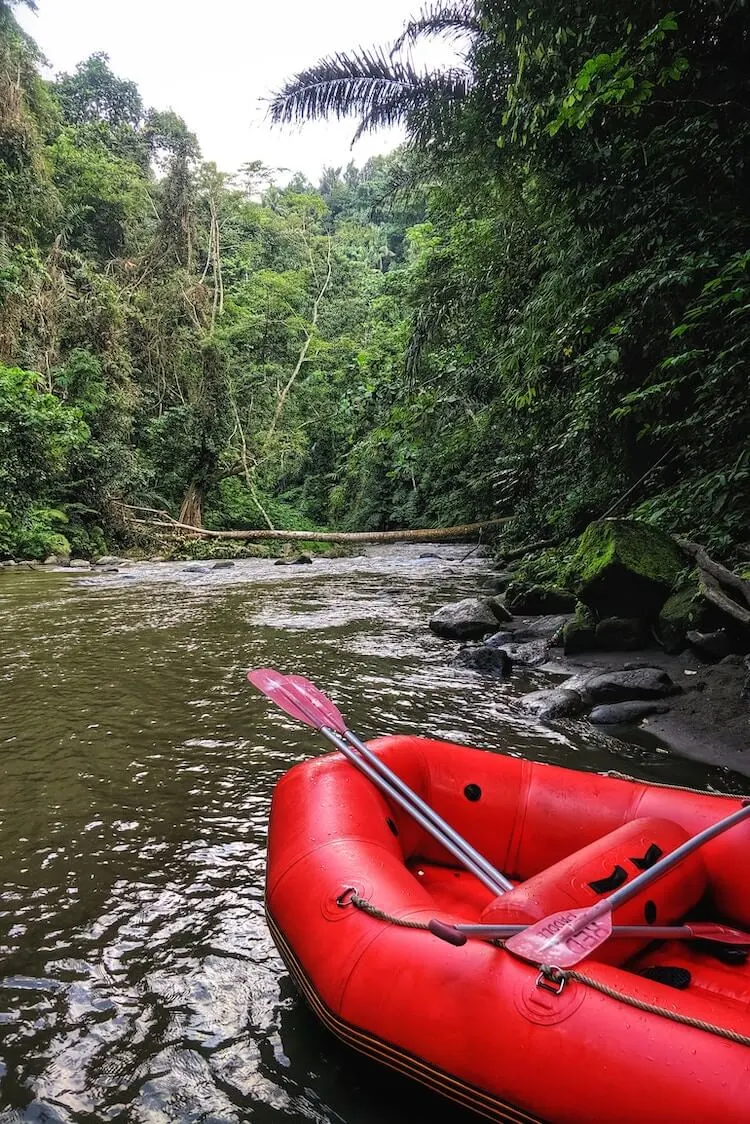 Adventurous Day Trip from Cusco Idea #6: Urubamba River Rafting
Not for the faint of heart, but for those looking for adventure outside of Incan ruins and mountain treks, river rafting may be for you.
This unique day trip from Cusco is best done with a group tour. For $55 per person, you can ride on Class 2 and 3 rapids and the tour comes with safety equipment, an English-speaking guide, lunch, and a place to shower/get dressed after.
Beware that during the rainy season, those rapids could certainly turn into Class 4 and 5 too!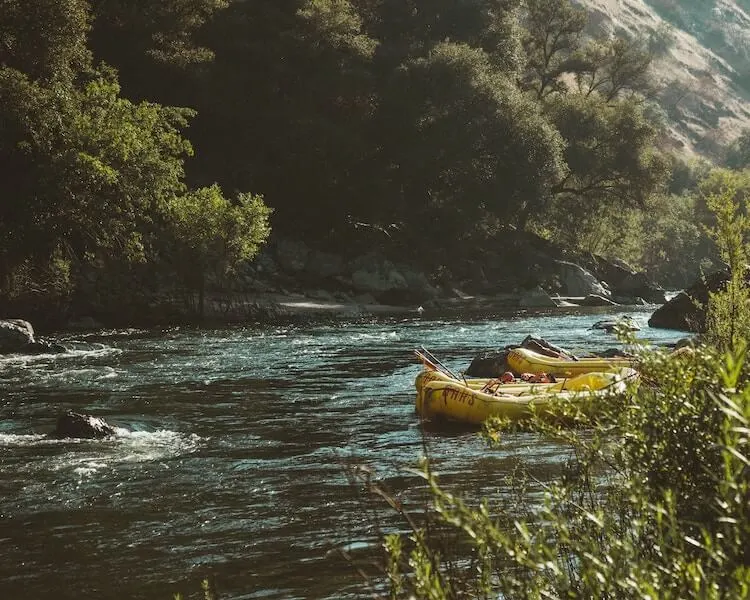 Take in the iconic Urubamba River in a unique way, and if river rafting isn't enough of an adventure, be sure to do the zip-line across the river too!
Book this incredible river rafting tour here!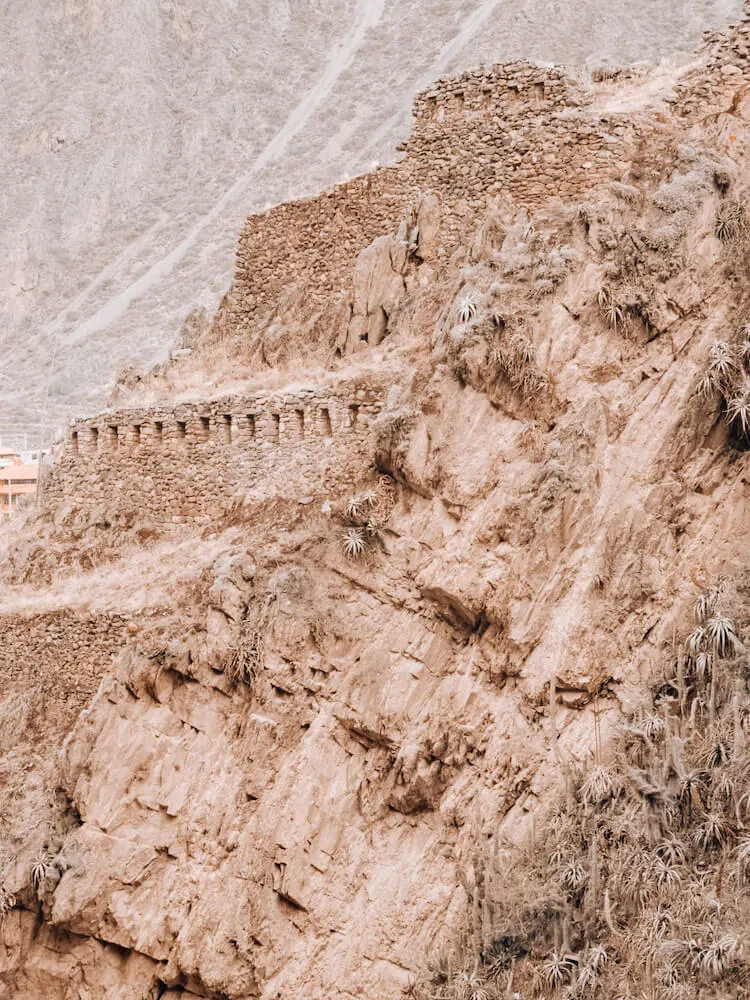 Last But Not Least is #7: Inca Quarry Hike
If you want to get off the beaten path on the Sacred Valley, this is the perfect hiking opportunity.
You start this tour by being picked up around 8 am and drive to Ollantaytambo to venture around with a guide and then climb to the Inca granaries for views of the valley.
Then, you go on a hike up to the Inca Quarry, where the Inca got most of their stone for this village. This hike passes by gorgeous mountains until you stop and see the spot where partially carved stones once waited to be carted off to Ollantaytambo but are still there.
After the hike up and a picnic lunch, you'll be able to visit Inti Punku if you'd like for better views of the Urubamba River, and on the hike down you'll learn about the history of the quarry and how they moved the stones.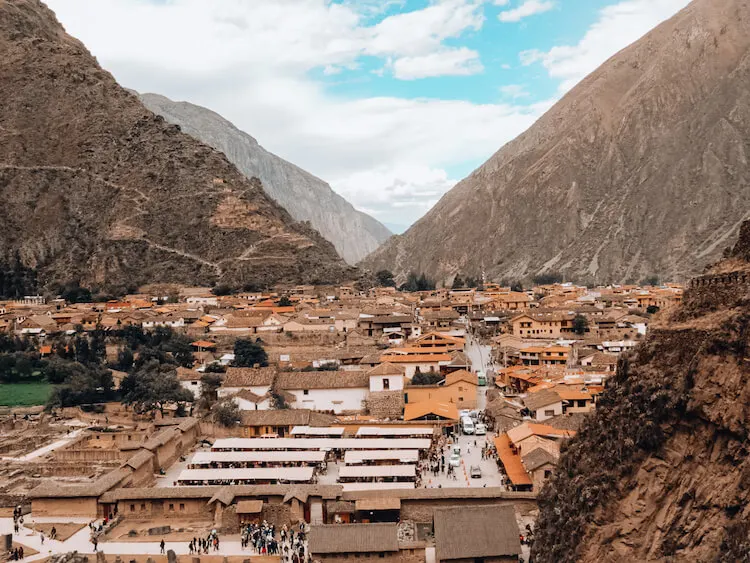 This tour is $122 and includes hotel pick-up/drop-off, lunch, all of the hiking, a local guide, and the tour is no bigger than 10 people.
Book it here for a unique take on the Sacred Valley!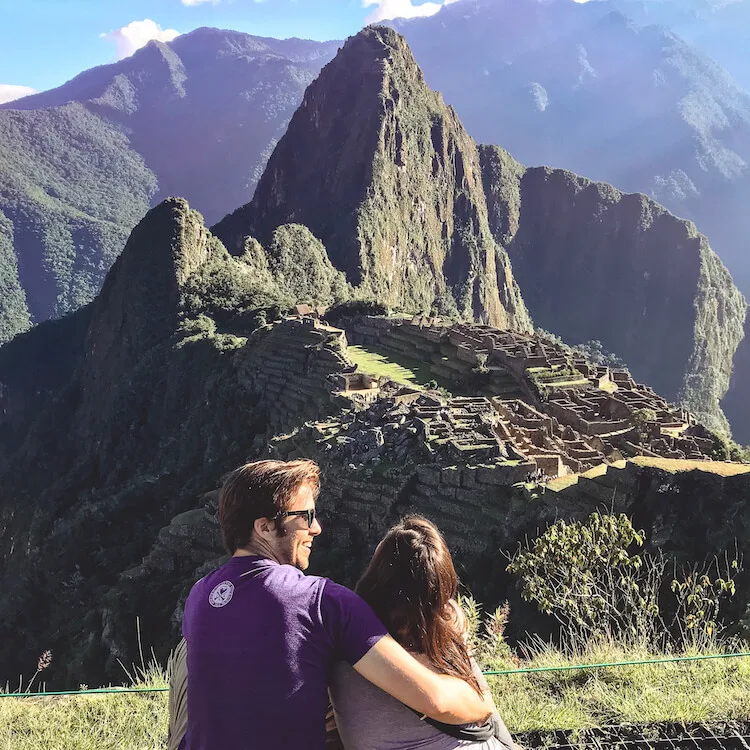 Pro-tips for Visiting Cusco and Taking Day Trips
When it comes to taking tours from Cusco, here are some key things to note:
Adjust to the altitude first! I cannot emphasize this enough. Spend a day or two in Cusco letting yourself adjust to the altitude before attempting any of these day trips. Some places like Rainbow Mountain and Humantay Lake are really high in altitude that it could be dangerous to hike if you haven't adjusted yet.
While you could book many of these day trips in Cusco, I recommend doing it online. Why? Because you can vet out the vendors to find the right tour and it guarantees your spot in advance. Why risk booking a tour if it is at capacity? Our favorite websites for reading reviews of tours and booking is Get Your Guide and Viator.
Consider travel insurance. When we travel internationally, we go with World Nomads. It has comprehensive travel insurance and is affordable. While we get it regardless of what we're doing, it is a good idea if you are hiking, trekking, and doing riskier activities.
If you need a place to stay in Cusco, we highly recommend Rumi Wasi. This charming hotel built on Incan stone has gorgeous views, free breakfast that you can have on the balcony, in their kitchen, or your room, and the décor is beautiful. This boutique hotel was absolutely stunning during our stay and we can't recommend it enough!
Be sure to pack accordingly! We were able to fit everything we needed for Peru in 10 days in a carry on, and for these day trips, we recommend hiking boots (I love my Merrill Moabs and Chris loves Keen), hiking socks, thermal hiking pants (I used my thermal running pants and Chris had his hiking pants), and plenty of layers! I also wore an undershirt, long-sleeve, thermal pullover, and a 3-in-1 Northface jacket for our Rainbow Mountain trek along with gloves and earmuffs. Check the weather, altitude, and temperatures to know what all to pack (in places lower in altitude like the Sacred Valley you won't need as many layers).
To carry your things while on day hikes, Chris had his Osprey Daylite Sling and I used my Travelon anti-theft crossbody bag.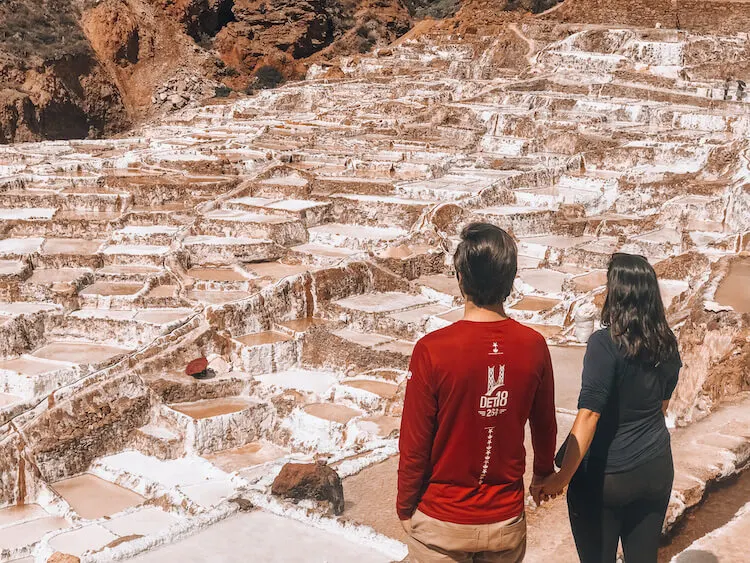 If you plan to visit Peru, there is a large chance that you'll be taking a trip or two from Cusco. And if you are short on time like we were, these are all fantastic Cusco excursions that will immerse you into this beautiful region of the world!
What did you think of these day trips? Would you visit Cusco and go on a day trip? Let us know in the comments!
Pin it here!