Some posts on this site contain affiliate links, meaning if you book or buy something through one of these links, I may earn a small commission (at no additional cost to you!). Read the full disclosure policy here.
---
Before I was ever a part of a traveling pair, I was a solo traveler. While I absolutely loved my time backpacking across destinations in Europe and the US by myself, traveling with Chris has opened my eyes in so many ways. And while I definitely think solo travel is important, even in a relationship, here are 30 reasons why traveling as a couple may be the best thing you do.
1. You stare at a beautiful sunset, and while it is lovely on its own, it's even better to share.
Have you ever looked up at a beautiful sunset, sunrise, or even a sky full of stars, and you wish you had someone to share it with? Or you wish you could take your future spouse there once you meet them? Been there a few times during solo travels.
Those romantic moments while traveling are made even more so when traveling as a couple. Stargazing in the African bush or watching the sunset in Thailand have been some amazing highlights for us to share.
2. It is a way to test a relationship.
Whether it's early on, or you've been together a long time, traveling will test your relationship. Maybe you've got different ideas on what a "vacation" is, or maybe you have different travel paces. It's not the differences that will make or break you, it is how you handle them.
Traveling together will help determine how compatible you are together, especially if you're able to learn from conflict or hard times while traveling because it isn't all sunshine and rainbows when you miss a flight, someone is hangry, and you're completely lost.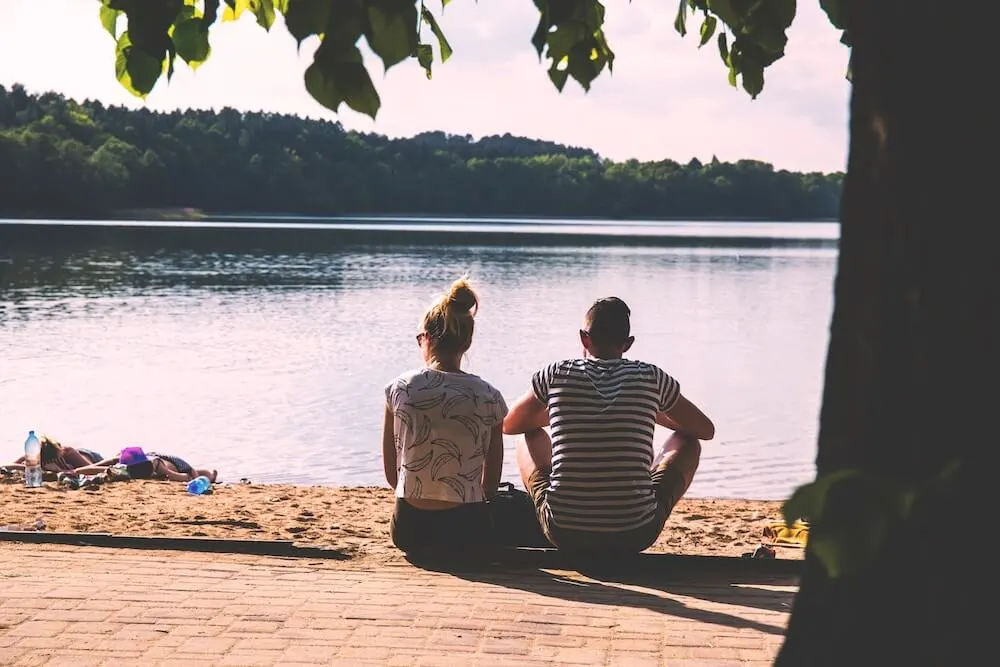 3. It teaches forgiveness.
Going off of #2, if you can easily forgive the low moments while traveling and move on, you'll be just fine.
4. You feel a bit safer having two people watching things, walking around, etc.
Again, as a former solo female traveler, and still travel solo at times, it's not dangerous to travel alone. However, when you've got an extra person keeping an eye out while you're at the ATM, watching your purse or backpack at the airport, and even safety in numbers while walking around at night, it does feel safer.
5. You'll feel more compelled to be present and in the moment.
You can't really get lost on Instagram or your camera the whole time when you've got another person there who'd like your attention. Traveling with your love will force you to put the camera down, hold their hand, and stare in wonder at your destination.
6. You've got someone to get lost with…literally.
Getting lost kind of sucks, but sometimes it can be fun! Traveling as a couple means that if you do get lost, you've got two minds helping you both find your way AND you at least have someone to commiserate with if you truly can't figure out where you're going.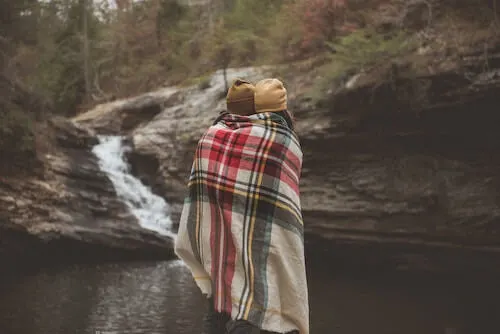 7. Thanks to getting lost, you learn how to communicate better.
And thanks to getting lost, you'll find ways to communicate better. Not only will you be talking more versus watching TV on the couch, but when situations like a missed flight or someone lost their passport comes up, you have the communication skills to deal with it as a team.
8. You get to relax together without the worry of chores, work (unless this is your job), etc.
Unless you're renting an Airbnb for a long time, you typically don't have the everyday stresses of home weighing on you. You're off work (unless traveling is your job), you don't have daily chores, and overall, you have less to stress about and more fun to have together.
9. Every trip can feel like a honeymoon.
While it probably isn't honest to tell everyone it's your honeymoon when it's not, every trip together will feel kind of like a honeymoon. Whether it's exploring Italy, spotting wildlife on an African safari, road tripping New Zealand, etc., it can all feel romantic and honeymoon-esque together whether you're not even married or you've been married for years.
10. You've got someone who can shoulder the burden of planning.
You can take turns trip planning, or you can have someone plan the hotels and flights and the other activities. It is nice to have another person to contribute to the planning process and make it less stressful.
11. If you don't have room in your suitcase, you can throw it in the other person's.
This is always a great perk. Sometimes I over-pack. Chris wears like the same 5 outfits all the time, so if I need to squeeze a hairdryer or extra pair of pants in for the trip, I can put it in his bag.
Likewise, if you're worried about your luggage weight for certain discount airlines, it's great to utilize each other's bags to put things in to distribute the weight better.
12. You can downsize and share some things you are bringing.
Much like sharing each other's luggage for storing items, you don't each need shampoo, soap, sunscreen, etc. Instead, you can pack less by bringing one of each of those items.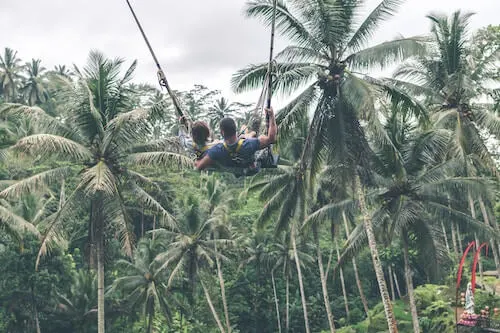 13. While it is more expensive traveling with another person food and beverage wise, your per person hotel room cost goes down.
Yes, food and beverage costs will double when you're traveling. That $10 dinner will now be $20… and chances are you'll probably drink a little more than if you were traveling solo. This part does add up as you travel together.
However, hotel prices per person will go way down. Whether it is a private room in a hostel, or you've booked a cute hotel, it's cheaper per person (especially if you're splitting costs) than staying in that room solo.
14. If you've been to a place solo before, it is so much more fun going back and showing your love around.
There are places I've been to that I'm so excited to get back to with Chris. This coming year, while I'm only adding 2 new countries to my list, we're traveling more than we ever have. The difference this time is I'm going back to places I love that Chris has never been to. He'll actually be visiting 7 new countries this year!
So if you fell head over heels for a place, taking your other half there makes it even sweeter!
15. You've got something fun to talk about with each other.
There are times in every relationship where you're working a ton and the time you have together is either spent talking about work or watching Netflix. We've been there. But when you travel together, you've got things to talk about! Where you want to go, where you've been, reminisce about your past trips, inside jokes about that time you could not speak the language well and had to mime everything… you get it.
Having shared experiences like travel make the conversation much more exciting than complaining about work or deciding what to make for dinner.
16. Traveling makes things, well… more exciting.
Yes, couples who travel together tend to have better sex. A combo of a new environment, a deeper connection and more communication, and sharing new experiences together is an aphrodisiac if there ever were one.
I mean, as if we needed more reasons to travel together!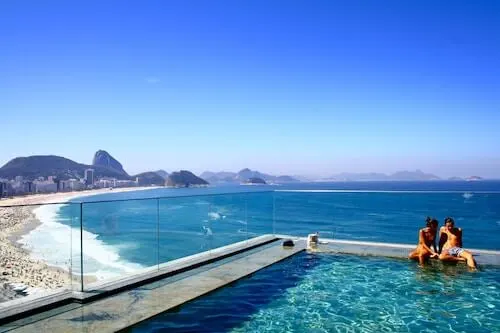 17. Having someone else around helps you slow down a bit.
When I traveled solo, I was all go-go-go. I would wake up early, see the town, stop and unwind for an hour or so at a café, and then I was back at it. I would have an occasional beach day, but I would say I did not travel slowly whatsoever.
The first time I traveled with Chris, we had an argument. Nothing serious, but when I wanted to get Blue Bottle Coffee at one spot in NYC, then walk to Ess A Bagel, and then catch the metro to the Ellis Island and Statue of Liberty Ferry all before 11am, Chris wasn't pleased. It gave him anxiety, and we ended up not having time for bagels AND missed the ferry.
Traveling with someone helps you slow down and enjoy the moment. Grabbing a coffee and getting a bagel would have been a great morning activity OR taking the ferry and visiting the sites. Trying to do it all wears on you eventually, so having another person have you take a step back and take it all in and enjoy really helps.
18. If you've got flight anxiety, you've got someone to talk to and cuddle with for support.
I definitely have flight anxiety. Turbulence scares me (even if I know it's nothing to worry about). I get anxious when there are too many people near the bathroom/emergency exit. I get anxious I'm going to miss my flight. You get the idea. But having Chris around to cuddle with, talk to, and reassure me that it'll be okay helps a ton.
So if you're afraid of flying, it helps to have a loving partner there to calm you down.
19. You've got a built-in photographer ready to capture your adventures… so long as you return the favor.
No worrying about whether a stranger will screw up your photo, steal your camera, taking selfies and not getting any of the scenery in the shot, or packing and figuring out hot to use a tripod.
Having a partner there will help you get amazing shots, and yes, they may get annoyed with how many photos you want, but if you promise to take photos of them too it's a great compromise.
20. New experiences are always fun with a partner.
New experiences are fun when you can share them with someone. Shark cage diving wasn't nearly as scary and way more exciting when I was holding Chris's hand and in the cage with him. And exploring the temples in Thailand was more exciting while talking about the architecture and colors together. Sharing in those experiences and creating laughter and memories with a partner is so much more fun.
21. You develop a deeper understanding of your significant other.
I truly understood Chris when I traveled with him. I learned more about his fears, what he loves, where he likes to go, and we watched as we both expanded our comfort zones. When you're together 24/7, you learn a lot about the other person.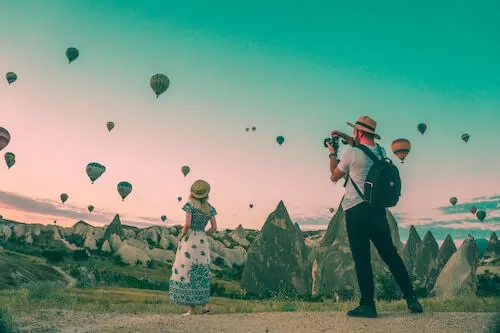 22. You've got a backup credit/debit card if the ATM eats yours.
It's always a good idea for both of you to bring debit/credit cards. Because if someones gets lost, stolen, or stuck in an ATM, you've at least got a backup!
23. There is someone to take care of you if you get sick or injured.
Getting sick while traveling is the worst. All you want is for someone to bring you soup and to stay in bed all day, watching Netflix. Having someone there for you to make sure you're feeling better is much better than suffering alone.
24. You Have a Built-In Supporter.
Terrified of diving for the first time? Not sure if you can hike all the way to the summit? Having a person who loves you and supports you rooting you on the whole way really helps your mindset and can-do attitude. It's harder to fail when you've got support.
25. You always have someone to talk to.
You rarely feel lonely while traveling as a couple. When I traveled solo, there were times where I hadn't talked to anyone in a couple of days. I'm a sociable person, but if nobody can understand you, or you're staying somewhere by yourself, it can get lonely.
Having your love with you to talk to helps you adjust to your new surroundings and not be lonely.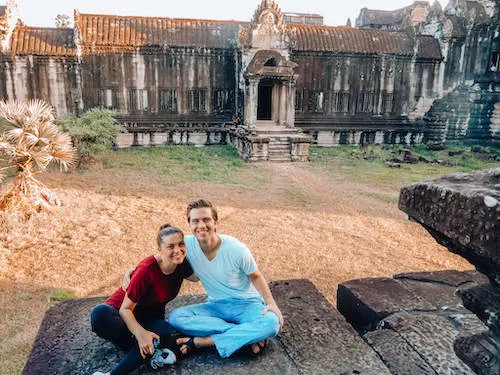 26. One can capture video and the other can take photos that you can reminisce while going through back home.
Torn between taking photos or video? Divide and conquer when traveling as a pair. Chris and I do this all the time. He takes photos, I use the GoPro (which I desperately need to start making videos). Cut your time capturing the memories in half and spend the rest of the time enjoying it.
27. You've got someone who will encourage you to do something great… or maybe something embarrassing.
Having someone else around means you've got someone to laugh with you… or at you, all the time. Maybe they'll convince you to dance around like an idiot in the street. Or perhaps they'll encourage you to try something new and exciting you wouldn't have normally done.
28. Two Words: Room Service!
You can do this traveling solo too, but it's so much fun to throw on your bathrobes, order room service, and drink wine while watching a movie. And traveling together is the perfect excuse to order it!
29. It's nice to split the decision making while on location.
So maybe you've planned this together, but when it comes to deciding where to eat or drink, it is nice to take turns and not worry about it all the time.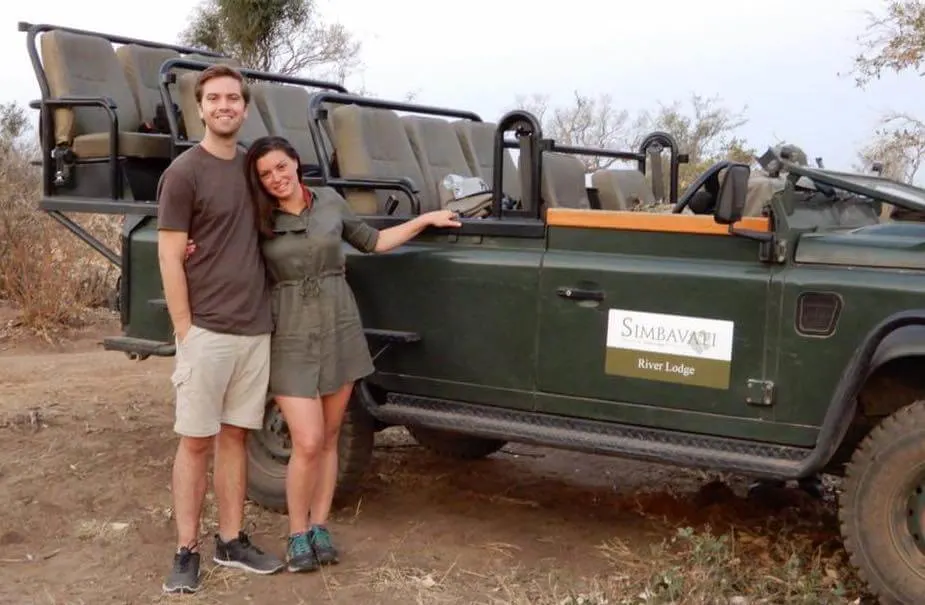 30. The best reason to travel as a couple is the lifelong memories you'll share and the bond you'll strengthen.
I cannot begin to express how amazing it is traveling as a couple. I'll never forget the first day on safari together how we saw many of the Big 5 and just looked at each other thinking, "I can't believe we're here together experiencing this!"
We've made the most incredible memories in the few short years we've traveled together, from the US to South Africa to Asia, and the many more places to come. When I look back on all of my travels, my favorite times have been with Chris.
We've bonded over learning all about Thai cuisine and culture, South African wine, and even combined our love of running and travel and made trips across North America for races.
Traveling together is something to cherish and bond over. You'll bond over the things you've done together, your similarities (and differences) in travel styles, your inside jokes, and even how silly the other person looks running through an airport with a backpack.
If there is one thing you should do as a couple. It's travel together.
Check out some great bucket list destinations for couples!
Have you traveled together? What experiences have you had together? What other reasons to travel as a couple did I miss? Let us know in the comments!
Love this post or want to save for later? Pin it here!