Some posts on this site contain affiliate links, meaning if you book or buy something through one of these links, I may earn a small commission (at no additional cost to you!). Read the full disclosure policy here.
---
There are so many wonderful things to do in Annecy, France that you'll want to visit this alpine town for yourself to experience it all!
I'll admit it was easy to fall in love with Annecy. Shortly after my arrival in Grenoble, France to study for 5 months, I heard locals and other study abroad students talk about how beautiful it was. So when the opportunity arose, I knew I had to take the less than 2-hour train ride over to Annecy to see it for myself.
Everything I perhaps had thought about Annecy was nothing compared to it in person. The gorgeous medieval old town contained canals leading up to this awe-inspiring alpine lake with towering mountains on the other side. It left me breathless.
I have since been in love with this city and recommend a visit to everyone! After having visited several times, these are hands-down the best things to do in Annecy to have an amazing time!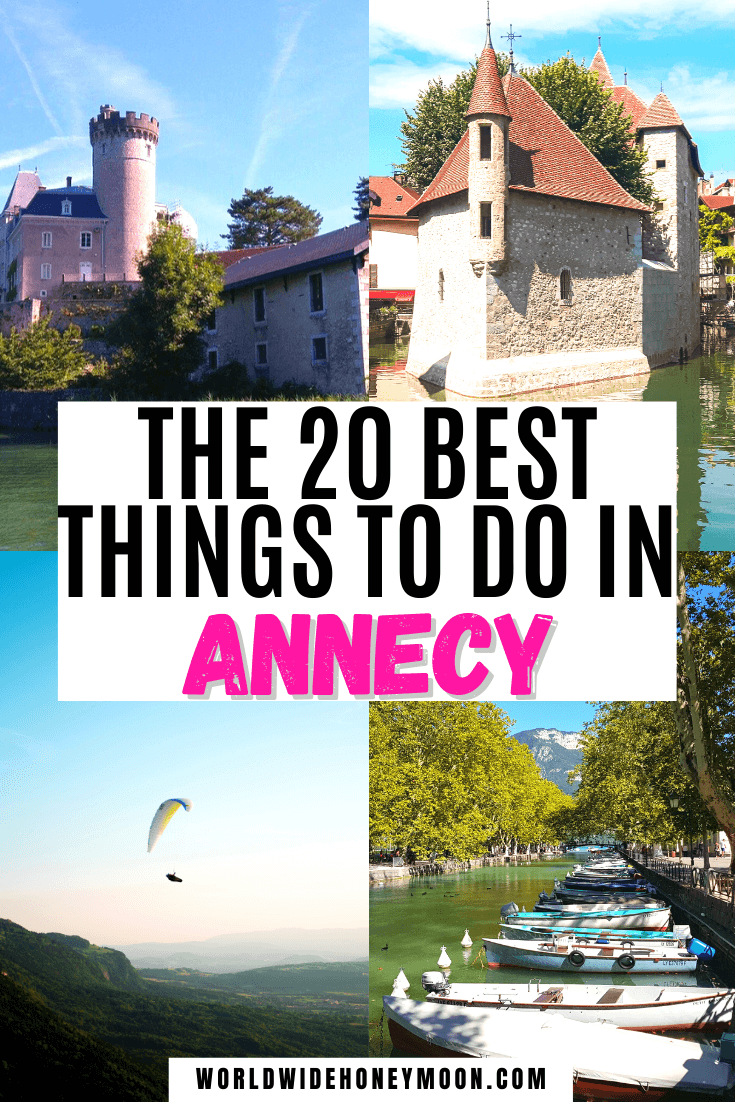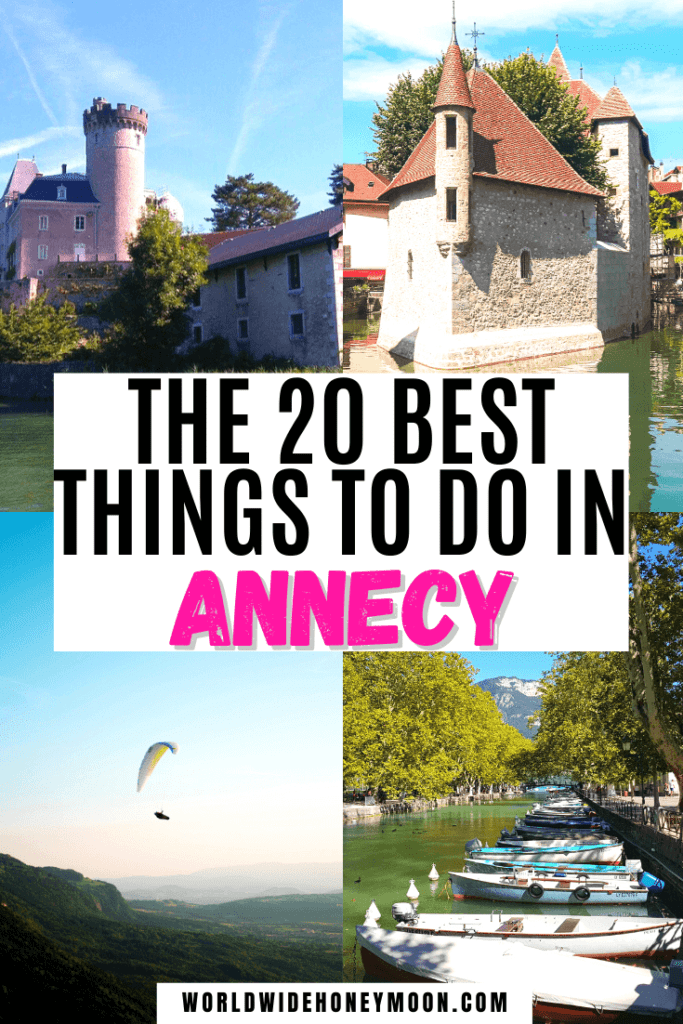 Best Things to do in Annecy
From wandering around the lake to eating all the amazing alpine food, these are the top Annecy things to do!
1. Walk Along Lake Annecy
Lake Annecy, or Lac d'Annecy, is nothing short of jaw-droppingly beautiful. With crystal clear water, mountains jutting out on the other side, and a lovely walking path, you cannot miss a chance to stroll along the lake.
This picture-perfect lake is ideal to visit any time of year, but it is even better during a hot and sunny afternoon! You'll get the best views around the lake as well as see pretty far down under the water on a sunny day!
This is a fantastic spot to take a picnic lunch and watch the boats, swimmers, and sunbathers frolic along the sunny shores of Lake Annecy.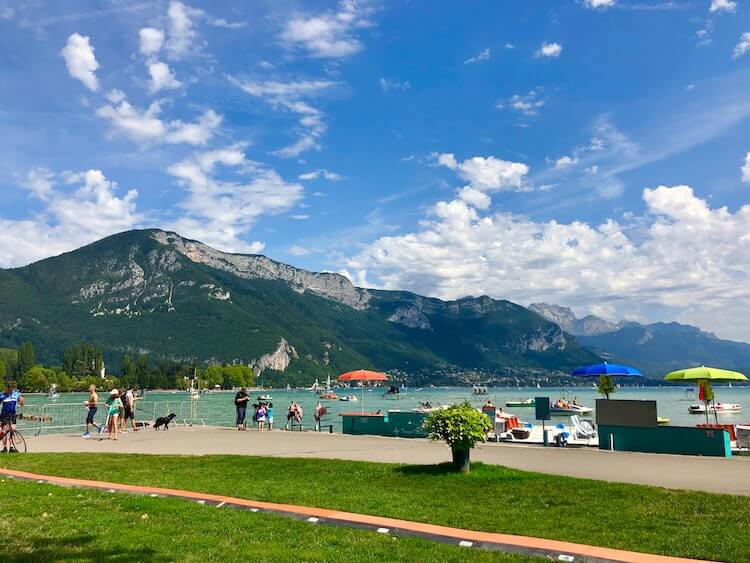 2. Getting Out on the Lake is One of the Best Things to do in Annecy
If you really want to enjoy the charms of Lake Annecy, getting out on the water is best! Aside from going in for a dip and cooling off on a hot summer day, you can also rent a motorboat, go paddle boating, try your hand at stand up paddleboarding, and even waterski!
Prices to rent a paddleboat is €15 per hour for a 2 person boat or €18 per hour for a 4 person boat. Prices for a motorboat rental start at €60 per hour. You can also rent water ski equipment while renting a boat for an added fee.
It really is a lot of fun to rent paddle boats and enjoy a romantic boat ride on the lake!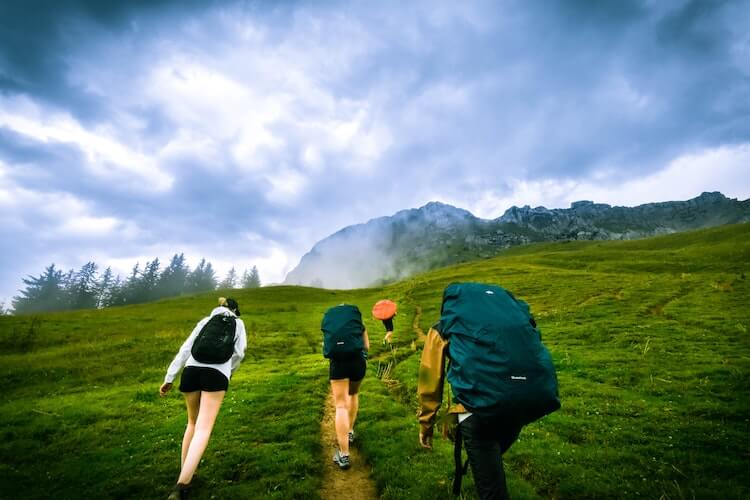 3. Go for a Hike Around Lake Annecy
If you are looking for Lake Annecy things to do that don't involve getting out on the water, then consider going on a hike or two!
Get a bird's eye view over the lake and get into nature as you hike a trail with viewpoints over the lake. Here are a few good ones to choose from during your time in Annecy.
Mont Veyrier Hike is moderate in difficulty, is a little over 6 miles long, and you'll get fantastic views over the lake and the town itself. Plus, this trail is really close to the city making it easy to get to. Expect to spend around 5 hours hiking this.
Semnoz Plateau is a great easy hike that is about 5 miles long and takes around 3.5 hours to hike. It offers beautiful mountain pasture views and on clear days you can see Mont Blanc! Plus, during the summer you can mountain bike down the mountain or ski down in winter!
La Tournette is a pretty difficult hike especially as it is the highest peak in Annecy. Expect to spend upwards of 7 hours on this hike as it is over 7 miles. But the views at the top go on for miles! On a clear day, you can see several mountains including Mont Blanc.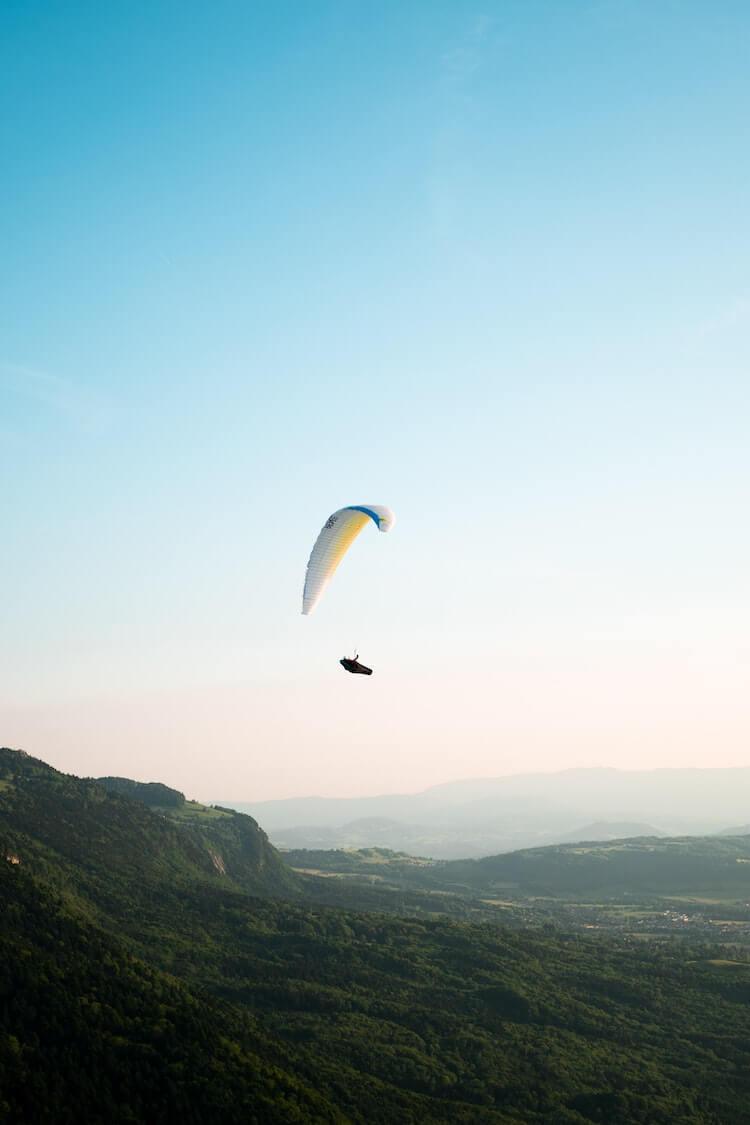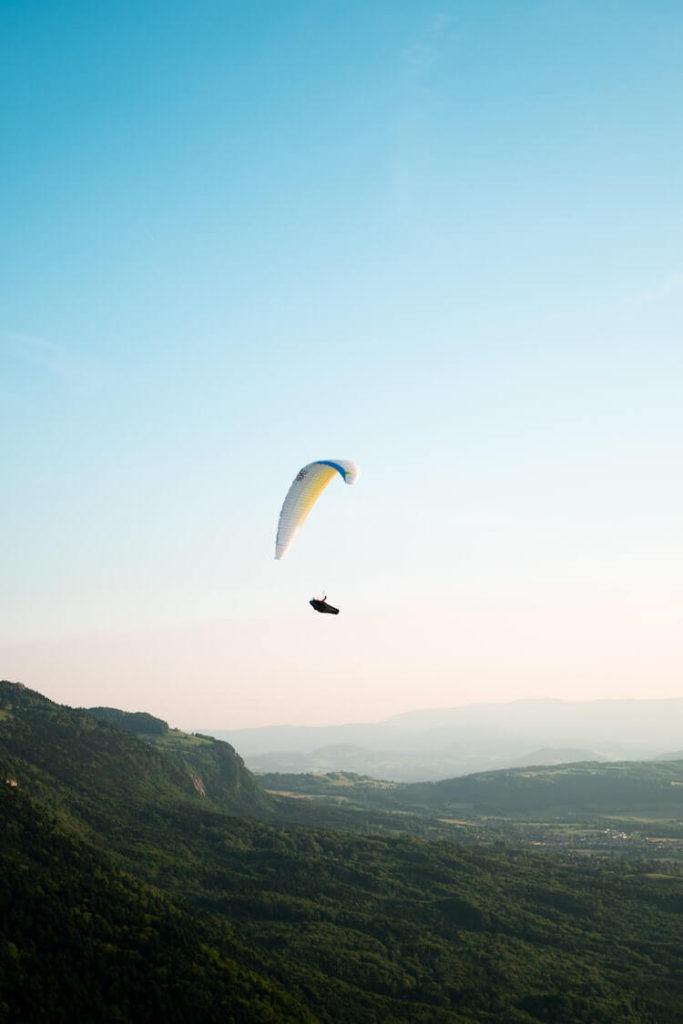 4. Go Paragliding!
While this definitely isn't something I'd ever really do because I'm terrified of heights, this is a really cool and memorable experience for many!
Embrace the peacefulness as you glide over the stunning Lake Annecy and take in its unobstructed views. Prices start around €85 depending on the amount of time you go. Be sure to book ahead of time!
This is actually one of the top paragliding destinations in Europe so for the adventurous, this is easily one of the top things to do in Annecy, France!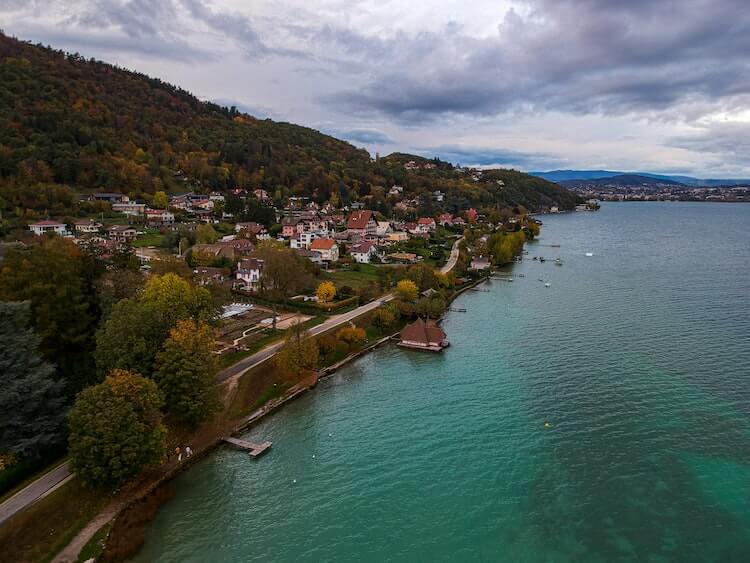 5. Bike Around Lake Annecy
I know I keep talking all about the things to do around the lake. But it is seriously so beautiful with so many activities to do around it that you could spend a day or two just exploring the lake, let alone the city!
Aside from walking around the lake, you can also bike around! Chances are if you are strolling around the lake, you'll just walk for a bit and head back to the town. But on a bike, you can travel the circumference of Lake Annecy!
Start and finish in Annecy and spot beautiful towns along the ride including the charming villages of Duingt, Sevrier, Menthon Saint Bernard, and more. Oh, and the views you'll have around the lake are truly stunning! This bike ride is around 27 miles long and is a fun day activity in Annecy.
Feel like you're on the Tour de France while biking on one of the most beautiful paths in the country! Prices to rent a bike start around €25 depending on the length of time and type of bike.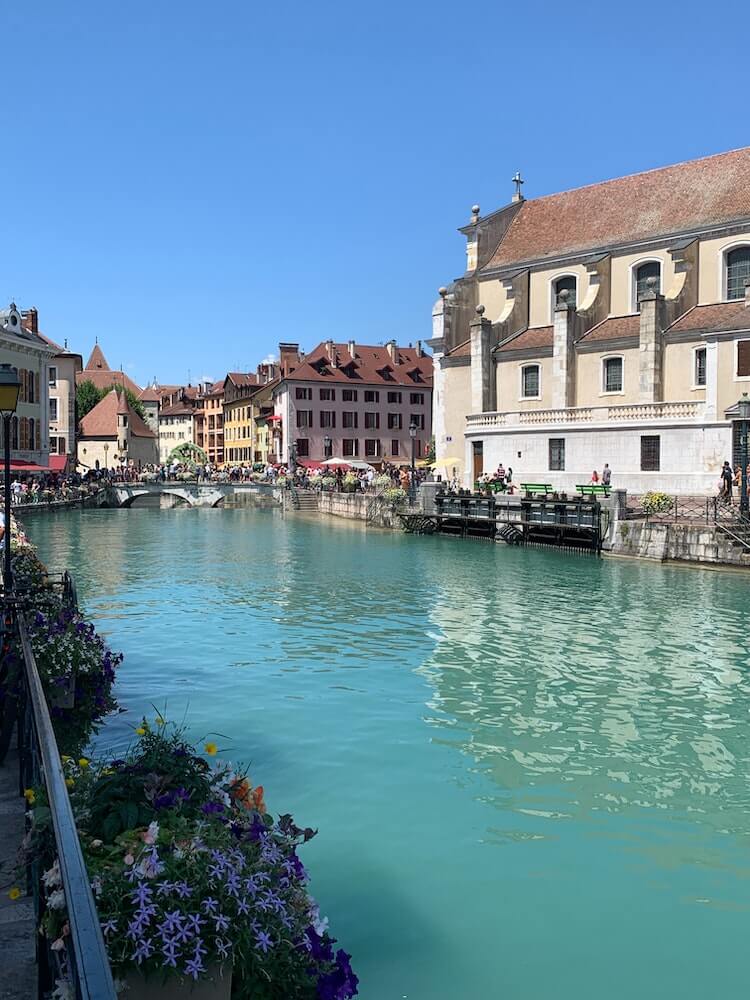 6. Wander the Charming Old Town
The old town of Annecy is one of the most romantic places in France. It even can give Bruges in Belgium a run for its money!
Seriously, between the canals, palace, and sidewalk cafes, there are so many cute places to enjoy on a stroll around the old town of Annecy. It is truly an Annecy must see!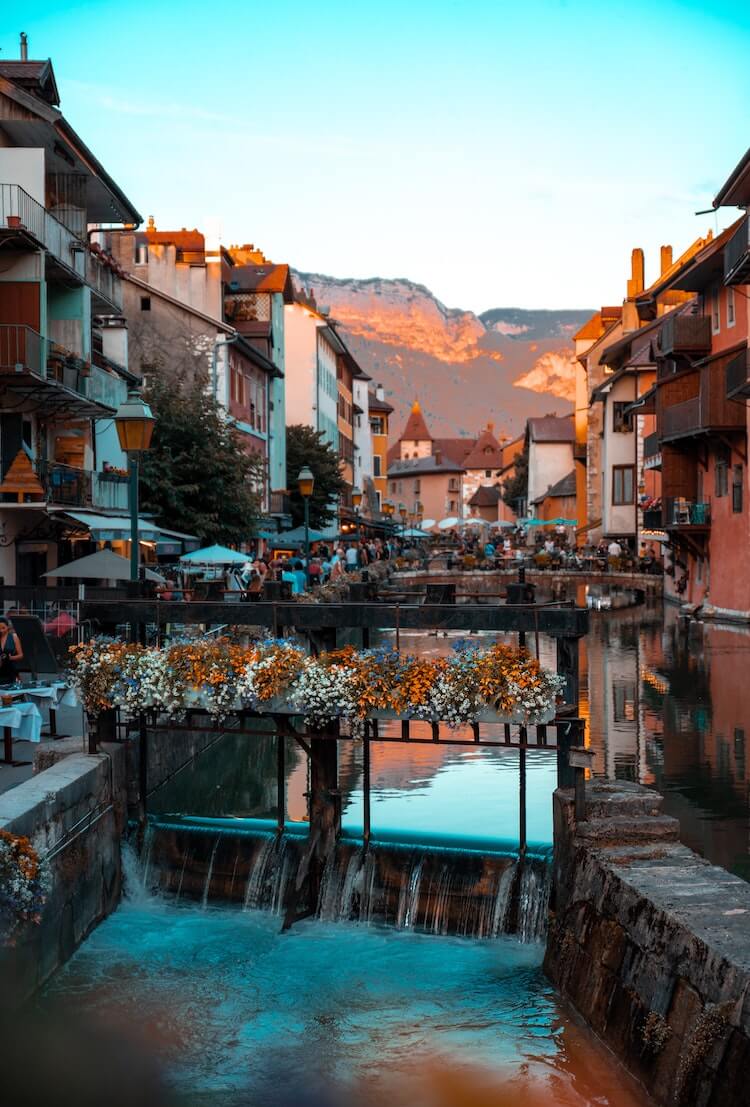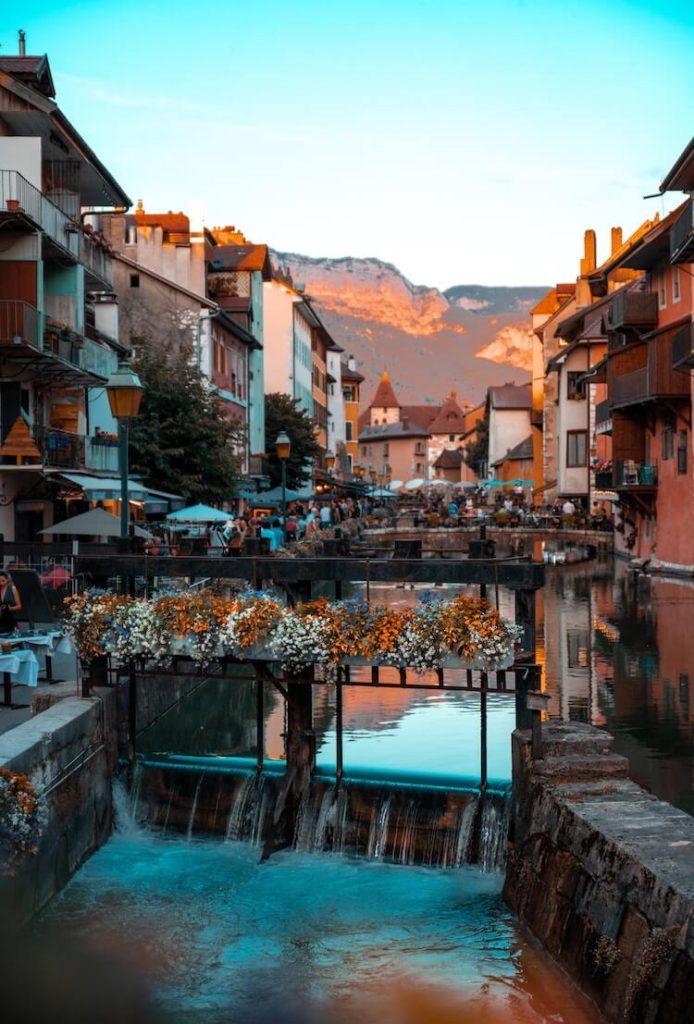 7. Explore the Canals
Annecy is also known as the "Venice of the Alps" and easily one of the top things to see in Annecy itself is the canals. As the lovely Thiou River passes through Annecy and empties into the lake, the town is full of little canals lined with flowers, making it one of the most flowered cities in France!
There is nothing more romantic than strolling through the old city of Annecy and wandering along the canals. They are dreamy with the flowers around them and adorable sidewalk cafes. Definitely have lunch along a canal for great views and people watching!
8. Pont des Amours is One of the Best Places to Visit in Annecy for Lovers
And for the lovers, one of the best things to do in Annecy is to visit Pont des Amours. Rumor has it that if you kiss your lover here then you'll be together forever.
Regardless, the views here will certainly make you fall in love with Annecy! Whether you're looking for things to do in Annecy in winter or summer, you'll certainly want to take a minute to admire the views of Lake Annecy and the surrounding mountains from this bridge.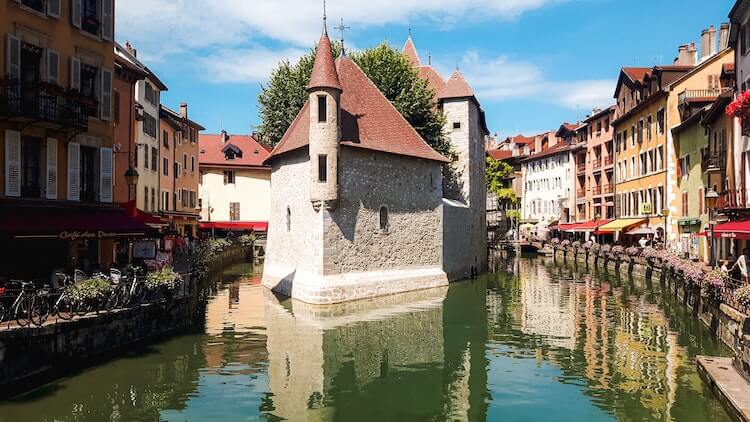 9. Palais de L'ile is One of the Top Annecy Attractions
This iconic building sits in the middle of the Thiou river and is easily on everyone's Annecy sightseeing list!
Built around the 12th century, it is well known particularly as being a former prison due to its prime location and the fact that it is fortified. It also went on to be a courthouse as well as an administrative center.
Now, this historical monument is a small art and history museum. It is definitely worth a stop on your Annecy itinerary to check out this beautiful structure and take a peek inside! It is also only €3.80 to visit Palais de l'ile.
10. Jardins de l'Europe
While you're wandering along Lake Annecy, you'll also want to stop in the Jardins de l'Europe for a visit. This is a perfect spot for a picnic amongst the picturesque lake and flower gardens.
11. Visit the Lovely Churches
Like any lovely city or town in France, there are beautiful churches and cathedrals to admire. From the St. Pierre Cathedral that was built in 1539 as a Franciscan Monastery to the gothic St. Maurice Church that dates back to 1422 and is the oldest church in Annecy, there are ample churches to explore.
Don't forget to wander inside of Notre-Dame de Liesse Church which was built in the neoclassical style in the mid-1800s after the original church was destroyed during the French Revolution. You can still spot the original bell tower from the 1500s.
12. Annecy Castle Museum is a Popular Annecy to do Item
The former residence of the Counts of Geneva from the 13th and 14th centuries is now a beautiful museum with rotating exhibits and collections including contemporary art, lake archeology, and medieval sculpture.
You can also admire the architecture of this medieval chateau during your trip to Annecy. The price to visit is €5.50.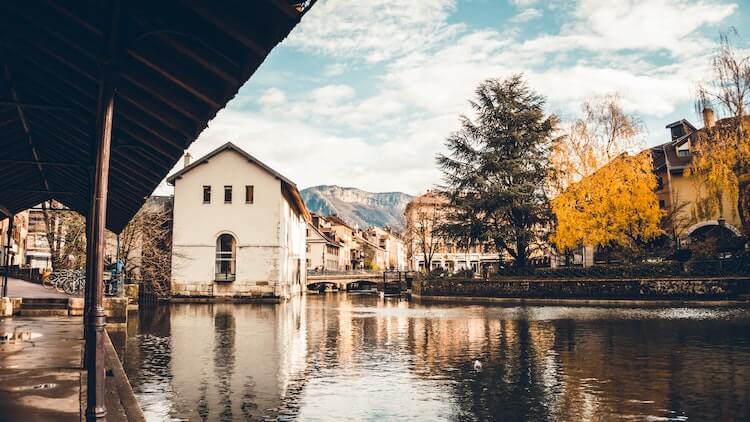 13. The Old Town Market is One of the Top Things to do in Annecy
If you plan to visit Annecy, be sure to come on a Tuesday, Friday, or Sunday anytime during the year. Why? Because from 7 am to 1 pm, you can wander around the booths of the Old Town Market.
On Tuesdays, it is smaller with more food and local produce. However, on Fridays and Sundays, you can also purchase textiles and handcrafted items.
Seriously, I had the best nougat of my life here, and I wish I could go back to get more tomorrow!
Aside from fresh produce and snacks, you can pick up flowers, meats, and cheeses!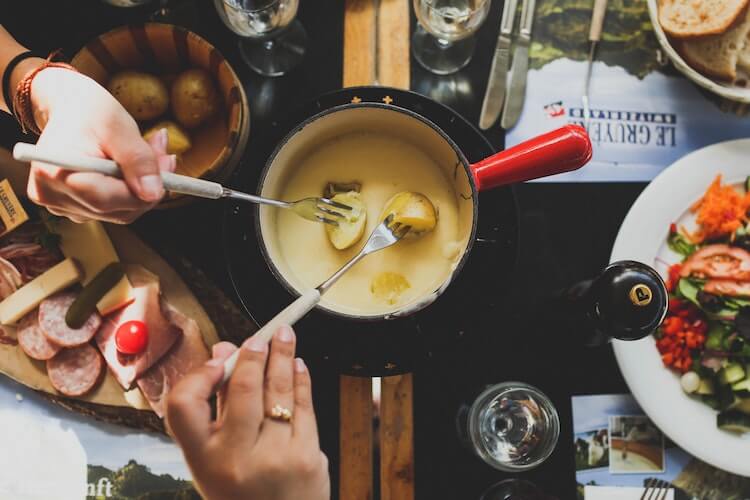 14. Eat and Drink Amazing Alpine Fare
Speaking of food, when you're situated in the French alps you know you're in a great spot for cheesy delicious foods and interesting drinks.
Tuck into tartiflette (one of the many reasons I put on weight when I lived in Grenoble!), a tasty dish made from potatoes, reblochon cheese, fatty bacon, and cream.
Fondue Savoyarde is also an absolute must try while in Annecy. This cheesy delight is perfect for dipping with warm bread or potatoes.
Raclette is a half-wheel of cheese that is placed under a heat lamp and the melted cheese is scraped onto potatoes and other delights.
Oh, and if you need more carbs definitely opt for a cheesy bacon bread, and thank me later! Seriously the food is beyond delicious. While not the healthiest, it definitely is comfort food to the max! Head to L'Etage for some of this deliciousness!
And don't forget to wash it all down with a glass of French wine at La Cave wine bar!
While living in Grenoble I became well acquainted with Chartreuse (a spirit made with tons of botanicals by Carthusian monks), and it is well worth a try while in Annecy too.
Be sure to sample some Genepi as well. It is an herbal liquor also made in the alps.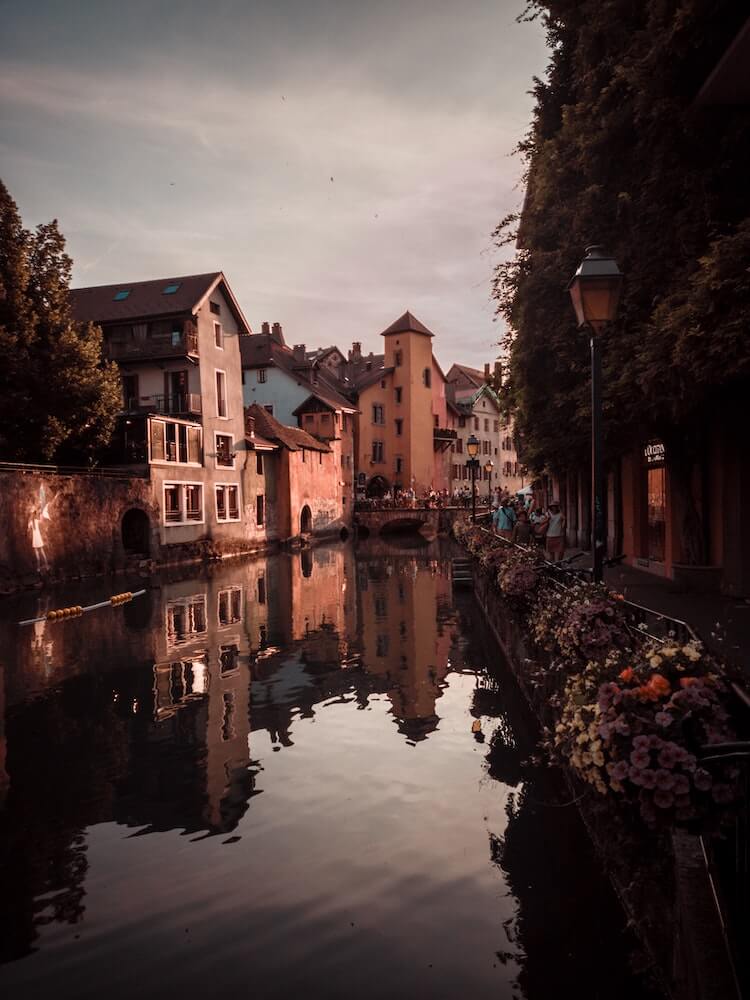 15. Watch a Sunset Over Lake Annecy
I've talked at length about how beautiful Lake Annecy is. At sunset, it is even more beautiful! So watching a sunset over the lake is an Annecy must see!
You could watch it at a restaurant like Chalet la Pricaz that is perched over the lake, or you could stroll along to the lakeshore or Jardins de l'Europe for that prized view. It definitely is a romantic thing to do in Annecy.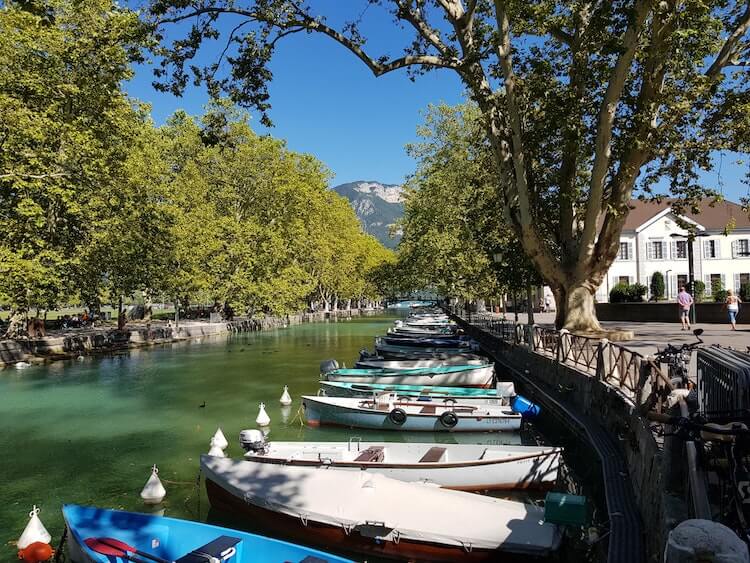 16. Château de Montrottier
Getting a bit outside of the city itself, there are plenty of cool things to do in the area in general. Visiting this castle is one of them. This fairytale-like castle is perfect for a visit during your stay in Annecy.
There are beautiful gardens to explore, medieval architecture to admire, traditional weaponry, and lots of art to see.
You can visit this castle during April, May, June, September, and October from 10 am- 6 pm from Wednesday to Sunday. In July and August, it is open on Monday from 2-6 pm, Saturday from 10 am-2 pm, and from 10 am-6 pm the remainder of the week.
Tickets for adults are €8.
17. Aix les Bains
Located only about 30 minutes by car from Annecy, this spa town is situated along Lake Bourget. Aside from partaking in more hiking and watersports around the lake, this town is well known for its thermal baths.
Relax at Valvital Chevalley Thermal Baths or Hotel & Spa Marina d'Adelphia for the day before returning back to Annecy.
18. Visit Gorges Du Fier
Located only about 6 miles from Annecy, this natural wonder is one of the fun and unusual things to do in Annecy.
This narrow canyon was formed by erosion. You can take a footbridge that is perched about 82 feet over the water in the canyon to peer out over the rocks and water.
This place is open from March 15-June 14 and September 1-October 15 from 9:30 am-6:15 pm and June 15-August 31 from 9:30 am-7:15 pm. It costs €5.80 per adult.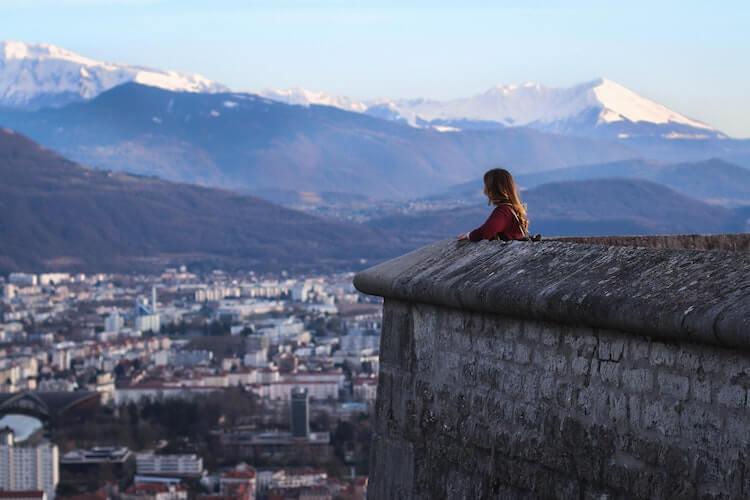 19. Take a Day Trip From Annecy
With Annecy being super close to many other cities in the region, you could easily take a day trip either to Annecy from these places or take a day trip there from Annecy! Here are some great cities to explore:
Grenoble– Okay, maybe I'm biased because I lived here, but this beautiful city is full of fun places to explore from the cable car up to the Bastille to the several museums! It is only about an hour and a half driving and less than 2 hours by train.
Geneva– You could be in Switzerland in about an hour by car or 1.5 hours by train. Walk around Lake Geneva, wander the old town's charming streets, and admire the many parks and museums!
Lyon– About 2 hours away via car or train, you could visit this historical city and the gastronomic capital of France. Eat your way around town, spot Roman ruins, and explore the old town.
20. Enjoy the Festivals Around Annecy
Annecy has festivals at various points during the year you'll definitely want to attend. From film festivals to carnival, here are some great events you'll want to be in Annecy for:
Annecy International Animation Film Festival usually takes place in June.
The Lake Festival with a giant fireworks display over the lake takes place on the first Saturday of August.
Carnaval in Annecy takes place during carnival season in February or March. Get dressed up with masks and wander about the city.
Return of the Alpine Pastures during the second Saturday of October is when the streets are full of flocks of animals as they head to shelter during the winter months after being in the mountains.
Annecy Christmas Markets are a must! Of course, if you love Christmas markets, then coming between late November and December is a great way to see the city's markets, enjoy mulled wine, buy delicious food, and grab a souvenir or two!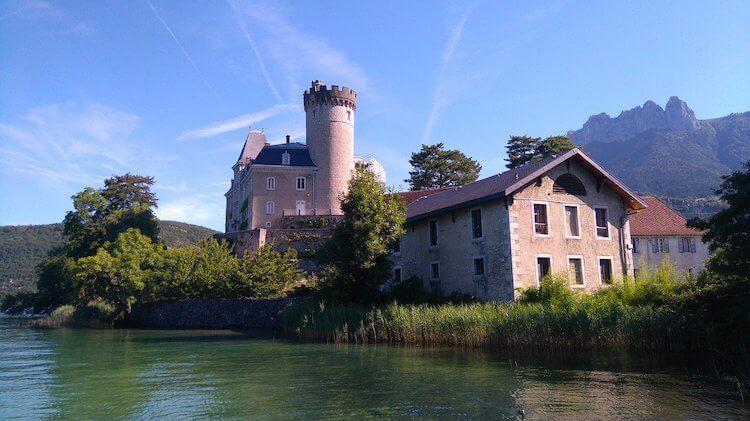 Where to Stay in Annecy
While you could do a day trip to this smaller alpine town from other cities like Geneva, I recommend staying the night if you can! Here are some great options based on budget.
And, as always, you can snag some great deals on VRBO! Check out great Annecy VRBOs here.
For hotels, here are a few to choose from:
Budget: IBIS Styles Annecy Gare Centre
Located in the city center and close to the old town and lake, this affordable hotel in Annecy includes breakfast during your stay, cozy rooms with mountain or city views, and all the comforts of home. Prices start around $70 per night.
Read reviews on TripAdvisor and book here!
Mid-Range: Privilodges Le Royal – Apparthotel
This is situated right in the heart of the old town within steps of the main attractions in Annecy. Enjoy views of the charming old town from your room or on the beautiful terrace at the hotel. Prices start from $120 per night.
Read reviews on TripAdvisor and book here!
Luxury: Les Loges Annecy Vieille Ville
Located in the middle of the old city, this luxury hotel is here to spoil you with two bottles of local wine if your apartment, beautiful breakfast, and they have an oyster bar that you can enjoy in the restaurant itself or have it delivered to your room. Prices start around $275 per night.
Read reviews on TripAdvisor and book here!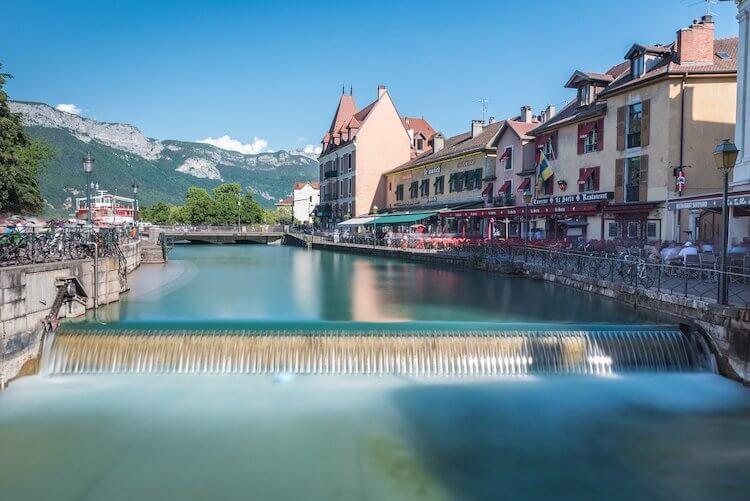 How Long to Stay in Annecy
While, again, you could do this as a day trip from Geneva, I recommend staying a day or two to see all that this city has to offer! From hiking and biking to strolling the romantic old town, you could relax and enjoy the charms of this city in 2 days.
But, if you're short on time and only have 7 days in France, then this is a great day trip option from Lyon as well!
Best Time to Visit Annecy
Honestly, this is a fantastic city to visit year-round. I've visited anywhere from late spring/early summer to chillier days in late winter and they were all lovely times to go!
However, if you plan to visit for the festivals and markets be mindful of that (dates shown above). Winter is chilly but a great time for winter sports in the area as well as eating all the cheesy alpine food. Temperatures range from 28-30ºF (-2 to -1ºC) at night and 38-42ºF (3-6ºC) during the day.
Spring warms up with average daytime temperatures reaching 49-64ºF (9-18ºC) during the day and 33-45ºF (.5-7ºC) at night.
Summer is the warmest time of year to visit with temperatures reaching 71-76ºF (22-24ºC) during the day and 51-53ºF (11-12ºC) at night. And lastly autumn is still a lovely time to go with temperatures ranging from 46-69ºF (8-21ºC) during the day and 35-48ºF (2-9ºC) at night.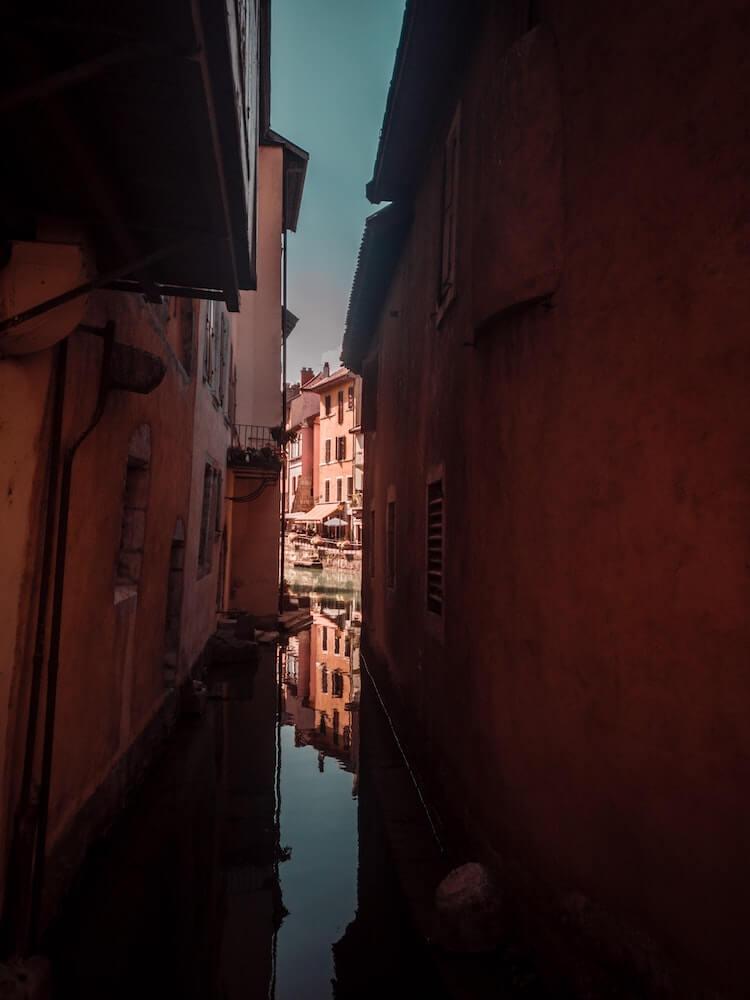 How to Get to Annecy
The easiest way to get to Annecy from the surrounding area is by train. The train system throughout France is very well connected so if you're traveling around France anyway, it is a good idea to hop on a train here!
I always check The Trainline for times and prices for train tickets around Europe! Annecy is located about 2 hours from Lyon, 1.5 hours from Geneva, just under 2 hours from Grenoble, 4 hours from Paris, 5-6 hours from Marseille, and about 4 hours from Avignon.
If you plan to fly, then the closest airports are Lyon and Geneva. Check Skyscanner for the best rates to fly into those cities!
And renting a car is always a great idea to see the smaller cities and towns in the area. I love checking Sixt to compare rental car prices!
Other France Travel Ideas
Planning to travel around France? We have a lot of great information here:
Would you visit Annecy? What would you most like to do here?
Pin it here!