Some posts on this site contain affiliate links, meaning if you book or buy something through one of these links, I may earn a small commission (at no additional cost to you!). Read the full disclosure policy here.
---
Still debating on where you'd like to visit for your honeymoon? Do you love the beach, amazing rosé, delectable seafood, and maybe some gambling? You should probably take a closer look at Nice, France, our destination spotlight today. Check out all you need to know before you go.
Facts:
Currency: Euro, approximately $1.19 per euro conversion.
Climate: Temperate, with July being the hottest month with an average high of 80 degrees Fahrenheit or 27 degrees Celsius. January is the coldest with an average high of 52 degrees Fahrenheit or 11 degrees Celsius.
Location: South of France on the Mediterranean Sea.
Known for: Delicious seafood, rosé, beaches, and art.
Best Time to Go:
The best time of year to go to Nice is June-September for sunbathing weather, with October and November being the rainy season. To avoid the crowds at the height of summer, avoid August at all costs. That is when most Europeans are on vacation, and prices are high and the crowds are abundant. I'd suggest either early June or September for the best deals and least amount of crowds if you're going to the beach.
Where to Stay:
With Points:
At the

AC Hotel by Marriott

you can use your Marriott rewards points for free night stays. The cost is a little over 29,000 points per night and is in the heart of Nice.
If you're willing to stay in Saint Tropez instead, (40 miles from Nice), you can redeem Starwood Points at

Hotel Sezz Saint-Tropez

for 25,000 points a night.
La Malmaison by Choice Hotels can be redeemed for 12,000 points a night. This is also in the heart of Nice.
With Cash:
Ibis hotels are a popular hotel chain throughout France. Ibis Style Nice Centre Gare is a good one located in the center of Nice and only about $135 a night.
Hotel 64 Nice is another quality hotel super close to everything and is a little more luxurious. The price tag here is about $175 a night.
These prices will vary based on time of year, but here's a good picture of what to expect around June-September.
Things to Do:
Stroll along with Promenade des Anglais: Want to take in all of the lovely beaches of Nice and the most gorgeous views of the Mediterranean? This is the best place to start. Forget long walks on the beach, start with long walks along this almost two century old promenade.
Cours Saleya Market (flower market): My first time walking in the flower market in Nice felt magical. Colorful peonies, roses, orchids, and best of all, lavender! Mix that with the fresh, Cote d'Azur lavender soaps and fresh fruits and veggies, this outdoor marketplace will leave you feeling relaxed and full of fresh scents to take with you.
Vielle Ville: In the old part of the city, this area is full of gelato shops, crêperies, cafes, and restaurants. Spend some time eating and enjoying the lovely summer days in Nice. You can also explore the Nice Cathedral, located in this neighborhood.
Parc de la Colline du Château: After taking a long hike up this steep hill, you will be rewarded with the best views of Nice and the beaches below. You'll also get a glimpse of the boats in port below and even an awesome waterfall. There is an elevator for those wanting to relax a bit more on their honeymoon as well.
Go to art museums: If you're big on museums and art, Paris isn't the only place to go: Nice has its own art museums worth taking a peek at. You can explore Musée des Beaux-Arts de Nice, the Modern and Contemporary Art Museum, the Museum of Photography, even museums dedicated to artists like Chagall and Matisse. There are so many wonderful places to admire lovely artwork without venturing too far from the beach.
Eat all the food: Known for their seafood, it is a must to try whatever is freshly caught that day. Another amazing dish is Salad Niçose, complete with a hard boiled egg, anchovies, fresh tomatoes, and olives. There is also Socca, an amazing street-food that is basically a chickpea pancake, and then there is ratatouille, which you can even get in a crêpe.
Take a wine tour or visit Chateau de Bellet, Chateau de Cremat, Domaine de Tosac, and Domaine Saint Jean for all of the rosé and delightful, crisp wines of the region.
Venture to Monaco: Only a 25 minute train ride from Nice, you can go into Monaco where you can gamble, see the aquarium, view all of the expensive cars and yachts, or even check out the palace where Princess Grace once lived.
Go to the beach: Nice is amazing and you seriously need to go to the beach while there! Nice is not known for having sandy beaches, but with good water shoes, and a chair rental, it's a great place to sunbathe and frolic in the azure Mediterranean. For sandier beaches, go check out Villefranche, a 20-minute drive or 30-minute train ride, where they have softer, shale rocks. There is also Antibes, also a 20-minute drive or 30-minute train ride, to softer, sandier beaches. If you're there for several days, why not check out the neighboring beaches, right?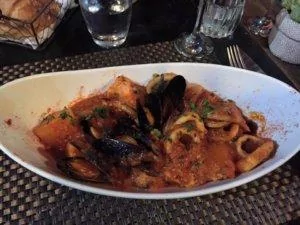 Why You Should Consider It:
Aside from the breath taking beauty of the sea, the laid-back beach culture of the residents and the close proximity to lovely markets, amazing food, museums, and even other fun towns, Nice is the place to be. It's why you see celebs flock there for getaways. It's why so many famous artists came to call this place home. If you're a beach loving foodie with a taste for culture, Nice is the perfect place to honeymoon. So what are you waiting for?
So, is Nice on your honeymoon bucketlist? Have you been to Nice? Let me know all about it in the comments!