Some posts on this site contain affiliate links, meaning if you book or buy something through one of these links, I may earn a small commission (at no additional cost to you!). Read the full disclosure policy here.
---
Spending more time than you have to in an airport is kind of the worst. There are only so many times you can walk around, looking at the exact same shops that are at every international airport and eating exorbitantly-priced food. So when our flight route to Southeast Asia took us through Seoul's Incheon Airport, where we had a 15-hour layover, I knew I couldn't just hang out there the whole day. Instead, we decided to spend the long layover in Seoul by exploring Seoul's free airport tour!
Things to do in the Seoul Incheon Airport
Incheon Airport is known as being one of the best airports in the entire world. So having a layover where you can't get out into the city isn't so bad. And aside from shopping and eating all the Korean food that you can, here are some highlights to check out:
Visit the Korean Cultural Museum inside the airport and watch a live musical performance
Chase down the Seoul Airport robots, get some photos with them and ask questions
Go to the movies- that's right, this airport has a movie theater where you can watch the latest movies and see a Korean movie
Golf- you can take the airport shuttle to the golf course and putt around
Partake in a Korean bathhouse and spa
Visit the gardens inside the airport
Go ice-skating, or rather an ice-skating simulator
Priority Pass Lounge hop if you've got a premium card like the American Express Platinum Card
Yea, this airport has plenty to keep you occupied if you've got a few hours to spare. But the best thing you can do is take a Seoul Airport Tour.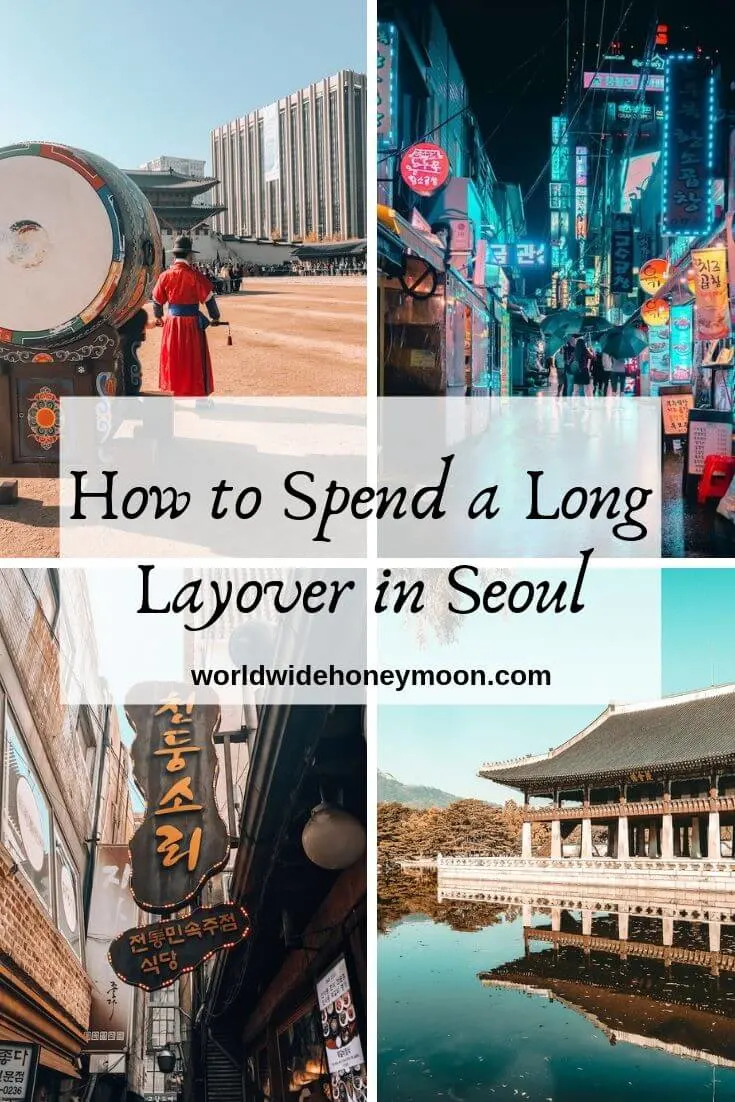 Seoul Airport Tours
The best thing about Seoul Incheon airport is that if you have a longer layover, you can take a tour of the city and it is free! They have tours ranging from 1-5 hours long with pickup and drop off at the airport. So if you have 4+ hours to spare, it is a great option to fill your time.
Tours can be booked ahead of time (recommended) online or you can show up to the tour desk and sign up.
Pro-tip: Check visa requirements prior to booking a tour to see if you need a visa to exit the airport. For US citizens, you will not need to get a visa to take this tour but always check the US travel website just in case.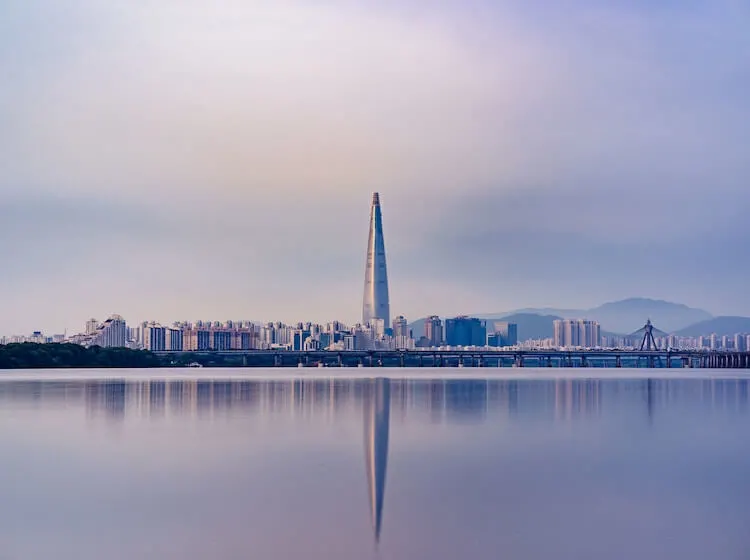 What Airport Tours Do They Offer?
1. Yonggungsa Temple Tour
Duration: 1 hour
Time: Terminal 1: 8-9 AM, 9-10 AM, 2-3 PM, Terminal 2: 7-8 AM, 8-9 AM, 1-2 PM, 2-3 PM
Departs from: Terminals 1&2
Details: Visit a 1,300-year-old temple and the previous temporary residence of Heungseon Daewongun. Admire the architecture and 1,300-year-old zelkova trees in front of the temple.
2. Paradise City Art-Tainment
Duration: 1 hour
Time: 10-11 AM and 1-2 PM
Departs from: Terminals 1&2
Details: This place has casinos, clubs, an art gallery, and plenty of places to shop.
3. Incheon City Tour
Duration: 2 hours
Time: 3-5 PM
Departs from: Terminals 1&2
Details: Visit Songdo Hanok Village, a traditional village within the modern city, and Triple Shopping Street.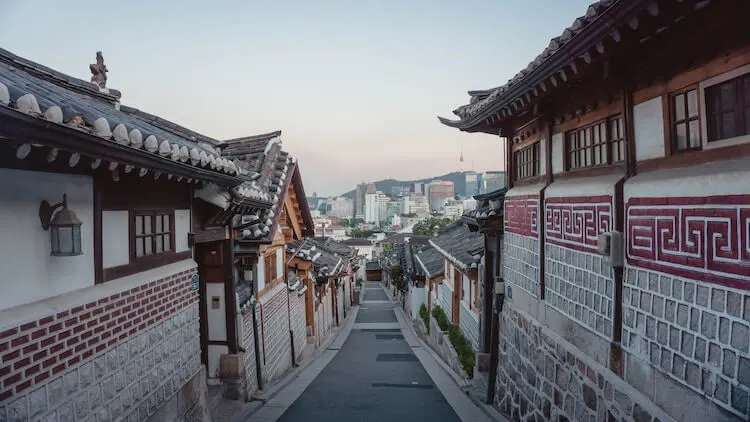 4. Industry Tour
Duration: 4 hours
Time: 9 AM-1 PM Tuesday-Sunday
Departs from: Terminals 1&2
Details: Visit Gwangmyeong Cave, which was an old gold mine that now shows the industrialization of Korea.
Note: On Monday, this tour is replaced with another tour.
5. Temple Tour 1
Duration: 4 hours
Time: 8 AM-12 PM
Departs from: Terminals 1&2
Details: Visit Jeondeungsa Temple, the oldest temple in Korea from the 4th century and where Buddhism was introduced into the country, and Deokjinjin, a fortress with an artillery base used in many battles.
6. K Culture Tour
Duration: 4 hours
Time: 2-6 PM
Departs from: Terminals 1&2
Details: Visit the 2002 Fifa World Cup Stadium and see the largest football-specific stadium in Asia. Then, check out Hongdae Street, with urban arts, music, clubs and more! This is the place for indie musicians.
7. Shopping tour
Duration: 5 hours
Time: 1-6 PM
Departs from: Terminals 1&2
Details: Visit the modern shopping center and see the latest in Korean fashion at Myeong-dong before going to the more traditional and artisan market of Namdaemun Market.
8. Traditional Sites
Duration: 5 hours
Time: 8 AM-1 PM or 10 AM-3 PM
Departs from: Terminals 1&2
Details: Visit Gyeongbokgung Palace, a historic palace built right in the middle of Seoul before checking out the Insa-dong neighborhood full of unique shops, galleries, and more.
Note: On Tuesdays, they visit Changdeokgung Palace instead of Gyeongbokgung Palace as it is closed.
For more details, and where we got this information, check out the airport tour page!
Perfect Long Layover Airport Tour Itinerary
As you can tell, there are a TON of great options for things to do during a long layover in Seoul. And as we had 15 hours before our late-night flight to Hanoi, we wanted to get the most out of our time. We ended up reserving a spot online for the Traditional Sites tour because we liked that it was 5 hours long to kill some time and we wanted to see both a historic palace and more modern Seoul. Here is the itinerary of our tour and great ideas for a long layover in Seoul.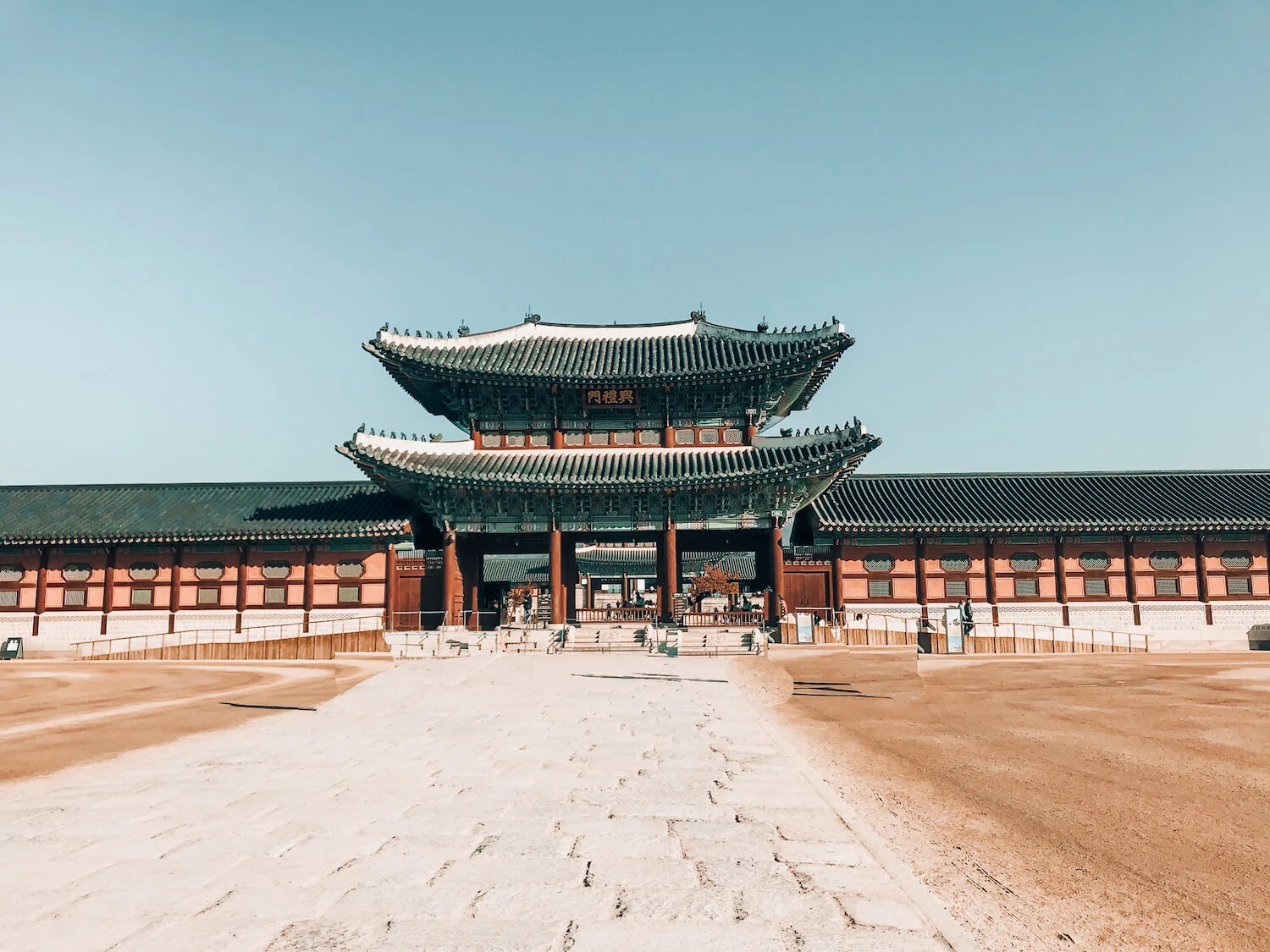 Traditional Sites Seoul Airport Layover Tour Stop 1: Gyeongbokgung Palace
After being picked up by the tour guide and ushered onto the tour bus, you'll venture to Gyeongbokgung Palace to explore. They arrive as soon as it opens at 9 AM, getting slightly ahead of the large crowds. While most people only see photos of the main building in the middle of everything, it is actually a huge complex, full of hidden spots to explore!
Our guide walked us around to the main sites and explained the history. This place was built in 1395 by the Joseon Dynasty, burned down in 1592 during a Japanese invasion, and was rebuilt in 1867 (check out more on the Airport Tour website). As you can imagine, it has seen a lot during its time, and it is astounding just wandering around and admiring the details. Everything is intricately made, with fine paints, carvings, and more. It is such a fun and beautiful spot to explore.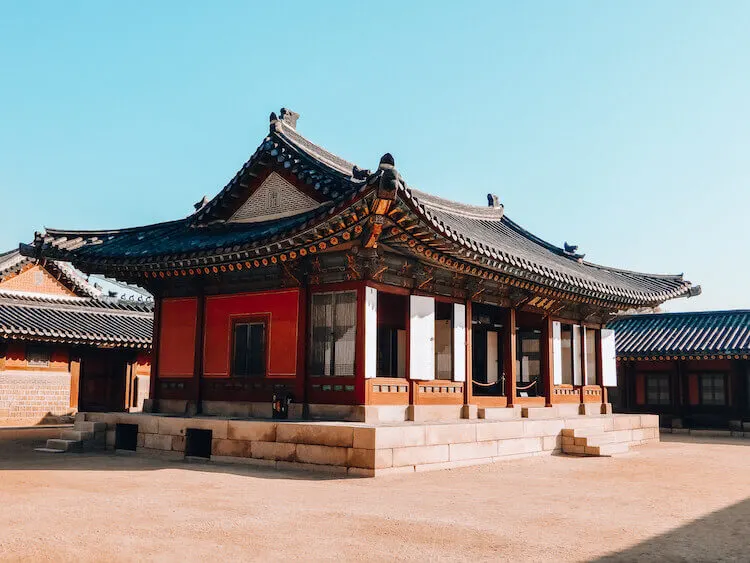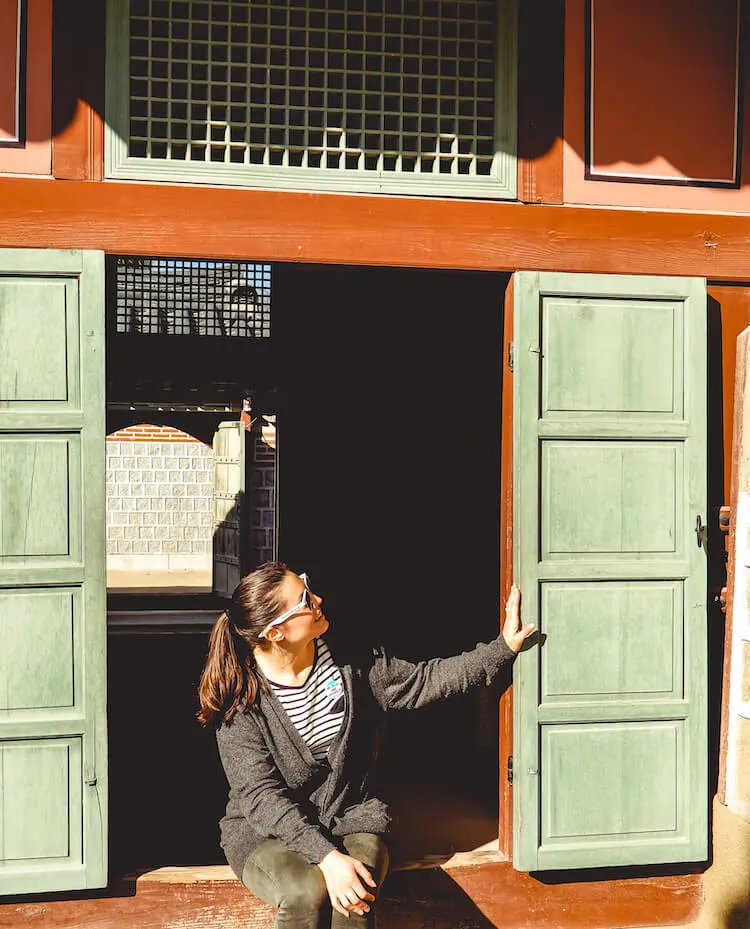 And it was crazy to see this palace all laid out in the traditional way, with stunning mountains in the background, and then turn around and see a large, booming metropolis right behind it. It was an eye-opening mix of old and new in one spot.
Want more exclusive content and tips? Subscribe here!
Traditional Sites Seoul Airport Layover Tour Stop 2: Insa-dong
Now time to explore modern Seoul. This is the place to pick up a potential souvenir, or just wander around the quirky shops and alleyways, searching for antiques and galleries.
What we enjoyed most here was the authentic lunch. The cost wasn't included in the tour, but it was only $10. You get the choice between beef stew and bibimbap and of course we had to get the bibimbap! It was very tasty and plenty of food.
After lunch, get back on the tour bus heading for the airport to spend the rest of the afternoon. They are pretty prompt, getting everyone back around 1 PM, meaning we had 6 hours left before our flight.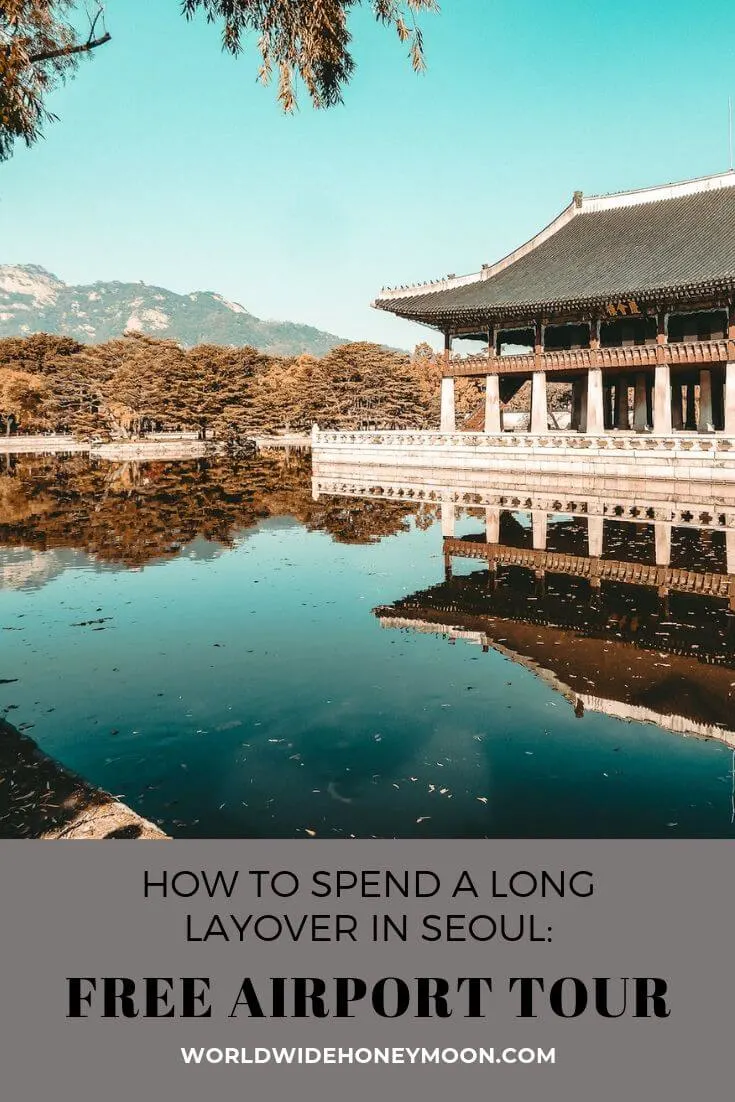 After the Seoul Airport Layover Tour
After the tour, grab your bags, get through security, and start wandering around the amazing airport! Go check out the gardens, find that robot and get a really cool photo with it (or it'll take a photo of you)!
Then check out the cultural museum and pick up a little souvenir to take home. And my favorite part was eating and drinking our way around the Priority Pass lounges. The Seoul Incheon airport has 6 lounges in Terminal 1 and 3 in Terminal 2! What were our favorites? We really enjoyed the Asiana Business Lounge, as it was very spacious, is open late, had amazing food, and a self-serve bar.
We also loved the bibimbap and free Korean beer at the Skyhub Lounge. I think I had bibimbap at least 3 times during our time in Seoul (and once on our Asiana Airlines business class flight to Seoul), and it was 100% worth it every time.
Thanks to all of the amazing things to do in the airport and the free tour, the 15-hour layover flew by, even in our exhausted, jet-lagged state. So whether you've got 4 hours or 24 hours to spare in Seoul, here are some amazing things to do to pass the time during a long layover in the Seoul Incheon airport.
What have you done during long layovers in the past? Let us know in the comments!
Pin it here!