Some posts on this site contain affiliate links, meaning if you book or buy something through one of these links, I may earn a small commission (at no additional cost to you!). Read the full disclosure policy here.
---
In the beginning phases of planning a safari trip of a lifetime, you'll probably ask yourself, "How much does an African safari cost?" We get it.
The thing is, the only time to really find out how much it will specifically cost is when you start reaching out to a company. Then, you're stuck fielding calls, emails, and sometimes even texts as they try to sell their safari trip to you.
I mean, it makes sense. They're just doing their job and bringing in new clients. However… wouldn't it be nice to know the African safari cost (or at least a ballpark idea) BEFORE you reach out?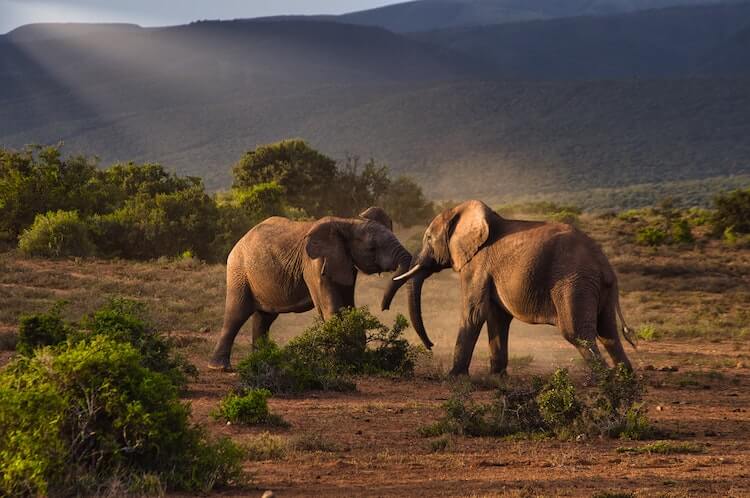 The same thing happened to us as we were planning our dream trip to Uganda and Kenya. It took a lot of reaching out to various companies to figure out the exact costs and to even find someone to work within our budget.
And let me just say… It was a challenge! We started researching and reaching out over 2 years before our trip to get an idea of how expensive it would be. We weren't ready to book yet, as we were planning to go in 2022, and, as we mostly wanted an idea of pricing so we could start budgeting, it was a hassle.
However, now after having been on a South African safari during our 2 week South Africa trip a few years ago, and after our Uganda and Kenya trip, we've got all the details on how much an African safari costs as well as what to include in your budget!
PS- Check out our podcast episode all about this too!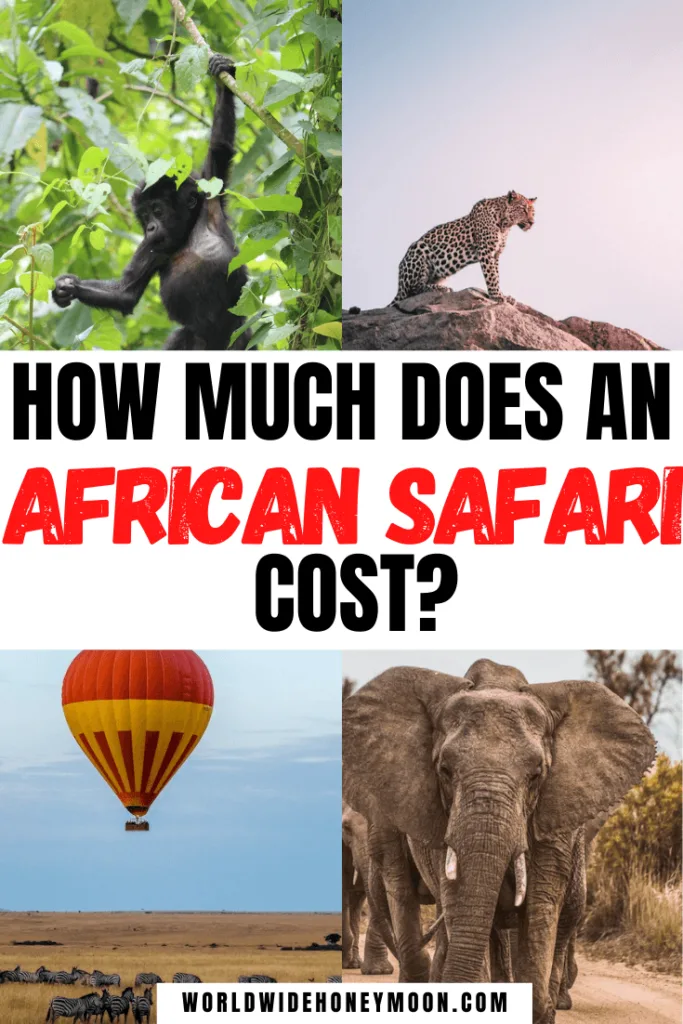 How Much Does An African Safari Cost?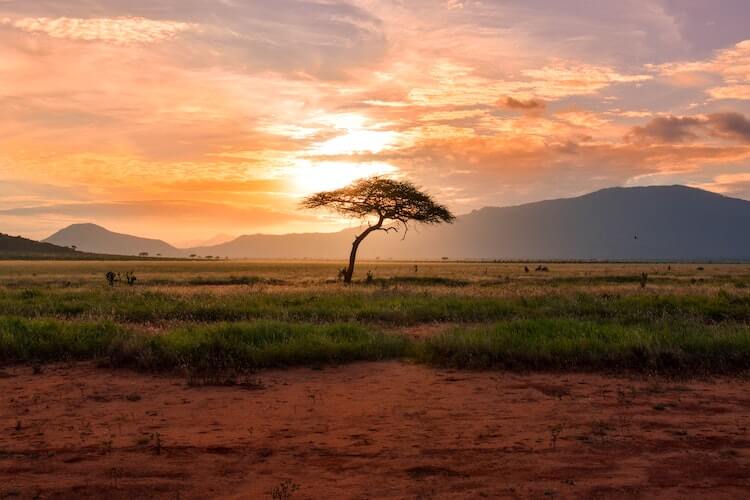 This may sound like a simple question, but there is a wide range of possibilities for this answer! Are you going on a group tour? Are you a budget traveler? When are you visiting? Which country/countries do you plan to visit?
ALL of these things and more will factor into an African safari trip cost.
So throughout this post, we're going to share with you where you can go on safari and safari lodging costs, cost of safari group tours, great trip planning companies we've found, how to choose a company for your safari, factors into your safari cost, and even how much our African safari trip costs have been!
Without further ado, this is the ultimate guide on the African safari vacation cost!
Where Can You Go On An African Safari?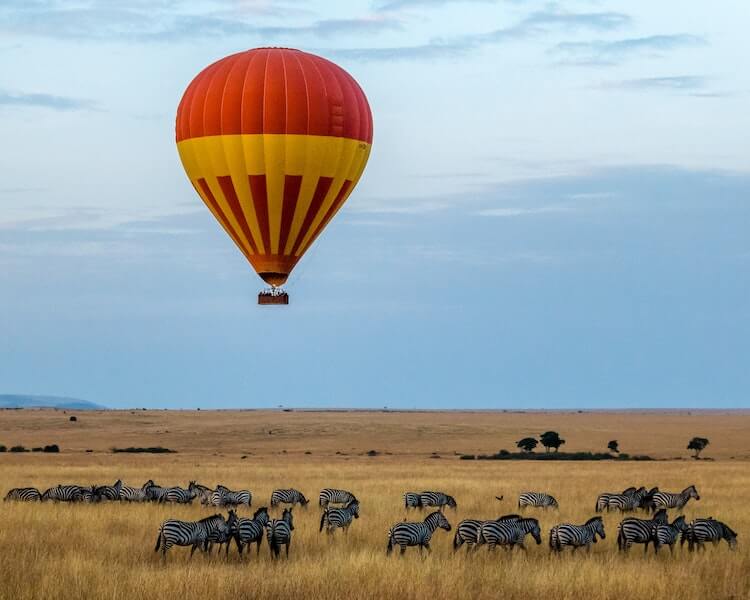 Let's start by listing out where you can actually go on an African safari!
Kenya: Known for big 5 spotting, the great migration, and hot air balloon safaris. Popular places include the Masai Mara and Amboseli.
Tanzania: Known for big 5 spotting, the great migration, Mt Kilimanjaro, and hot air balloon safaris. Popular places include the Serengeti, Ngorongoro Crater, and Lake Manyara.
South Africa: Known for big 5 spotting, having some malaria-free safaris, and great for shorter safaris. Popular places include Kruger National Park, Pilanesberg National Park, and Shamwari Game Reserve.
Botswana: Known for boat safaris, and great wildlife spotting, especially elephants and hippos. Popular places include Chobe National Park and Okavango Delta.
Zambia & Zimbabwe: Known for walking safaris, access to Victoria Falls, and has smaller camps. Lower Zambezi is a popular safari destination and these two countries are typically combined for a trip.
Namibia: Mostly desert climate, but Etosha National Park offers opportunities for lion and elephant spotting.
Uganda, Rwanda, and the Democratic Republic of the Congo: Known for gorilla safaris, chimpanzee safaris, many primate species, and tree climbing lions (in Uganda). Popular places include Bwindi Impenetrable Forest, Volcanoes National Park, and Queen Elizabeth National Park.
We're mostly going to focus on more popular safari spots including Kenya, Tanzania, South Africa, Botswana, and Uganda.
What Types of African Safaris are there?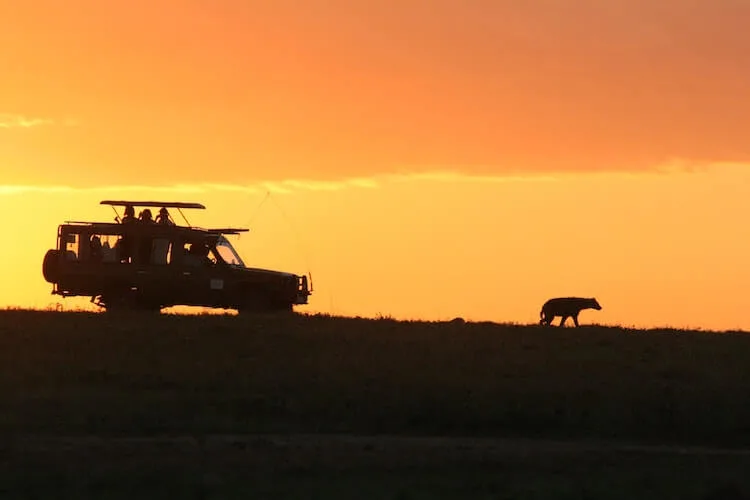 There are a few ways to go on an African safari: group tours through companies like Intrepid Travel, going through a safari trip planning company, and doing it independently (which I don't necessarily recommend).
If you've been on our website before, you'll know that Chris and I are pretty much independent travelers. We love a group trip occasionally, but we mostly plan out vacations ourselves (like our 3 week trip to Southeast Asia!). However, for an African safari, it is far easier to have someone plan it for you.
Why? Well, there are a lot of factors that go into planning a safari trip. Aside from finding the perfect lodges, there is getting to each place and figuring out transportation around your destination, national park fees, figuring out whether the lodge does its own game drives or hiring that out, etc.
Basically, having someone plan it for you makes it less stressful. And, if you find the right company, it'll be cheaper than doing it yourself as many of the planners are on the ground in Africa and specialize in those areas. They know where to find deals to help you!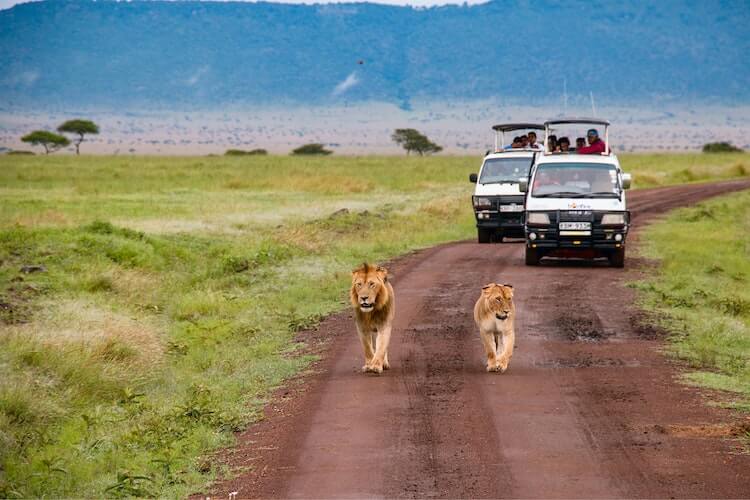 And, as far as choosing between a planner or a tour, it all comes down to pricing and flexibility. If you are on a budget and are a bit flexible with your plans, then a tour is a great idea! If you have specific places you want to visit and you want something more customized, then having a planner is key.
Now that we've got these factors out of the way, let's get into costs! Let's start with tour costs if you choose that route!
How Much Does an African Safari Cost If You Go With A Tour?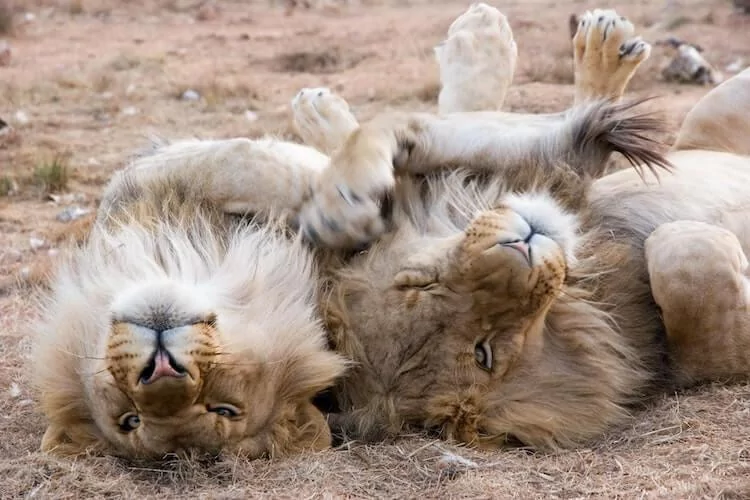 One of the best ways to have a cheap African safari would be to go on a group tour. Thanks to having more people, prices will be less expensive.
And with tour companies like Intrepid Travel, you can go on anything from a budget overlanding and camping safari to a more premium safari. Here are some costs for an Intrepid safari ranging from budget to premium (per person):
Kenya tours: $1,310-$4,200 per person for 7-8 days.
Tanzania tours: $1,950-$5,500 per person for 8 days.
Combo Kenya/Tanzania tours: $3,475-$8,145 per person for 10-15 days.
South Africa tours: Starts at $1,150 for 9 days. You can even just do a Johannesburg to Kruger National Park in 4 days for $785. Many tours are combined with Botswana and Zimbabwe too and range from $1,685 for 9 days to $9,995 per person for 14 days in premium accommodation.
Botswana tours: $2,860 to $4,640 for 7 days on a more premium trip.
Namibia tours: $4,430 with South Africa added on for 13 days to $5,525 for 10 days.
Combo Uganda/Rwanda tours: $3,120 for a quick 4 day gorilla trek in Uganda to a premium $4,740 for a Uganda/Rwanda trip in 6 days.
Intrepid Travel is a great option for those who want to go on a group tour and perhaps are on more of a budget safari. I like and recommend this company a lot for tours so you know these will be fantastic!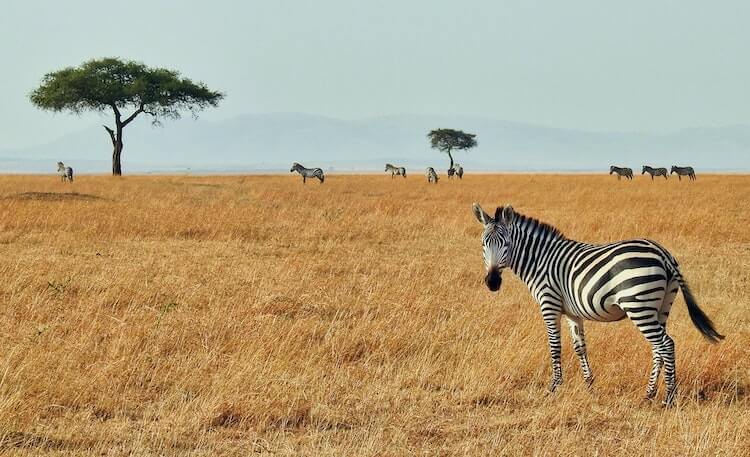 Another highly recommended tour company is Rock My Adventure. These tours tend to be longer, at around 17+ days, so if you have extra time to spare, these fantastic tours range from $3,000-$5,000 per person and go to Botswana, a DRC, Uganda, and Rwanda combo trip, Tanzania, a combo of Kenya and Tanzania, a combo of Zambia and Zimbabwe, and Namibia.
Safari Cost: Safari Lodging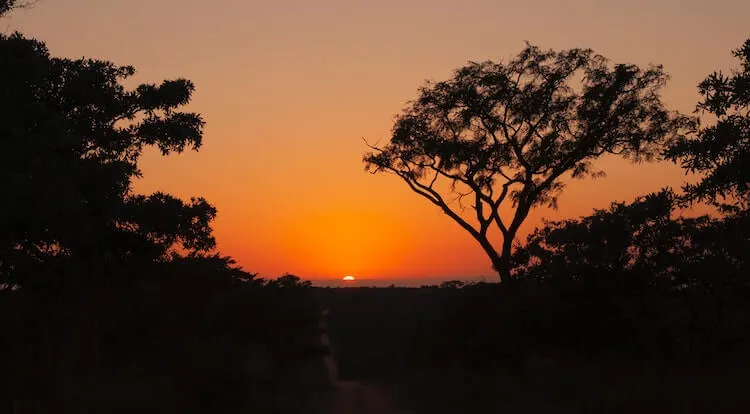 Alright, if you don't plan to do a group tour for a safari, then the biggest safari trip cost will definitely be accommodation.
While that makes sense with most travel, keep in mind that many lodges can be all-inclusive and offer all food, drinks, game drives, and other safaris, and more! Many at least include game drives and meals.
So let's break down a few choice safari lodges around Africa and their costs. These are per person, per night with 2 people sharing:
I think you get the point. Budget accommodations will also be cheaper but sometimes don't offer things like game drives, whereas many of these lodges include meals, game drives, and sometimes even transportation to the lodge.
Also, I can't emphasize enough that these prices are per person, per night sharing. If this is a honeymoon trip or trip for 2, then double these costs.
*Note that for gorilla lodges the permits are not included, and some safari lodges may not include things like park fees or conservation fees.
Factors in Your African Safari Cost: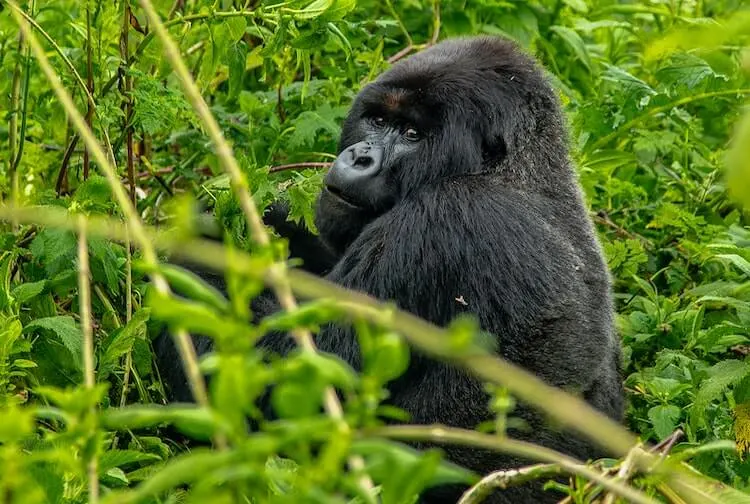 There are several factors that will determine the cost of your African safari trip. So whether you're looking for African budget safaris or all-inclusive African safaris, these are factors that'll determine your costs:
Destination: As you can see above, different destinations have different costs. In our experience, South Africa was a more budget-friendly safari destination that had a lot of value for the price. Kenya is also a place that has more budget-friendly safaris.
Time of Year: Are you visiting during the famous great migration in Kenya or Tanzania? What about the dry season in Uganda? Both will see a dramatic increase in prices. If you want to save costs, definitely opt to visit in the off-season. You'll still have a great time!
Length of Trip: If you're doing a longer trip and staying in a few lodges only, you may actually get some deals for longer stays. However, if you're bopping around from place to place, prices will be more expensive.
Transportation: Are you flying everywhere or overlanding? If you're overlanding, it'll be cheaper than flying into every safari destination.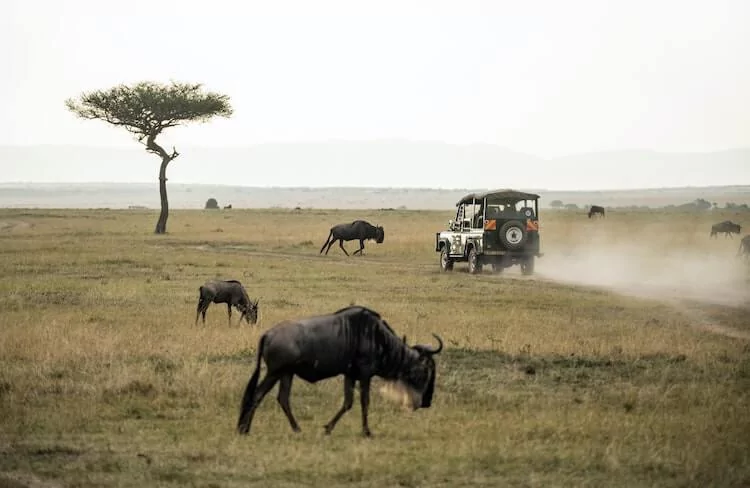 Tour Vs. Independent/Company: Tours are typically cheaper overall than doing it yourself or hiring a planner.
What is Your Travel Style? If you don't like the idea of roughing it and would prefer a more luxurious glamping form of accommodation, then it'll be more expensive.
African Safari Cost: Other Costs You Might Not Think About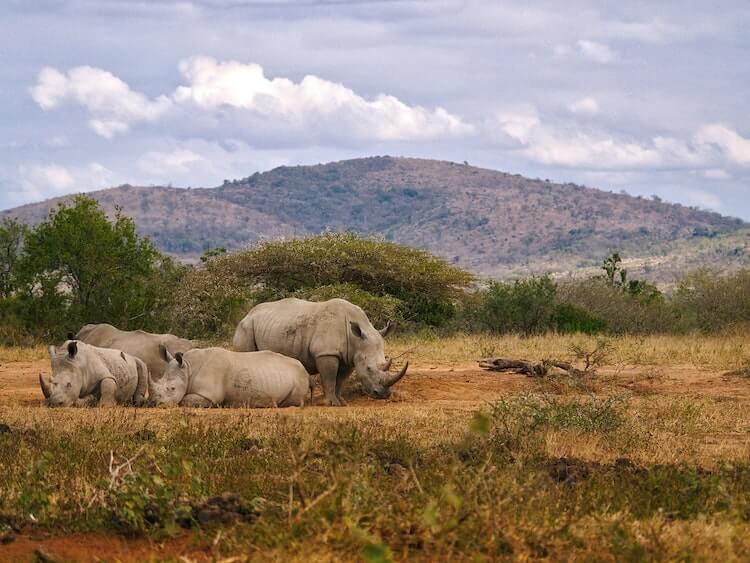 Of course, there are other factors into safari costs other than being on safari itself. Here are the top African safari costs that you probably haven't thought of.
Visas: Some countries will require a visa. Others, like South Africa, may not (at least for US citizens). Uganda, Kenya, and Rwanda have an East African Tourist Visa for only $100 per person. Tanzania's visa is $50 for a single entry.
Tipping: It is proper to tip your guides, game trackers, drivers, butlers (if you have one), lodge staff, etc. Be sure to factor that into your budget. $10 per person per day is appropriate for guides and $5 per person per day for trackers. $10-20 per person per day is good for the lodging staff.
International Flights: Remember, while your flights within your planned safari (if you go with a planner) will likely be covered, that isn't always the case for international/intercontinental flights. So be sure to factor in the cost to get you from home to your destination and back.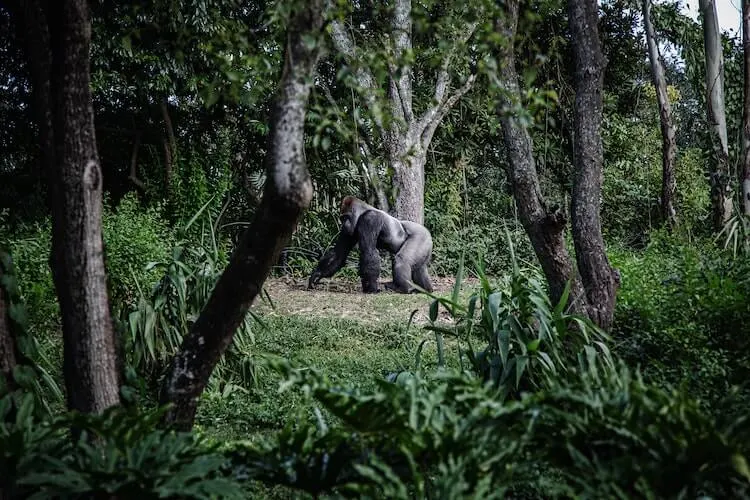 Travel Insurance: No matter what, ALWAYS get travel insurance. If your luggage is lost or stolen, or you have an emergency, travel insurance is there to help. For something as big as a safari, it is worth making sure you won't lose money if something happens. Chris and I always go with World Nomads for affordable and great insurance plans.
Food and Drinks: While many safari lodges include meals, some may not include alcohol. Also, while booking, see what meals and things aren't included in your itinerary so you know how much to budget.
Incidentals: Want to get a massage at your lodge? What about laundry? Craving a fancy top-shelf liquor? Want an epic hot air balloon ride over the Masai Mara? It can all add up!
Etc.: Always check your itinerary and with your planner to see what is included in your trip. If game drives aren't, then you'll need to budget for that. It helps to know exactly what you're getting so you can plan for other incidentals.
Pro-tip: Be sure to check with your travel planner or lodge website for deals! We snagged a stay 4/pay 3 deal at Simbavati River Lodge in South Africa!
What Was Our South African Safari Cost?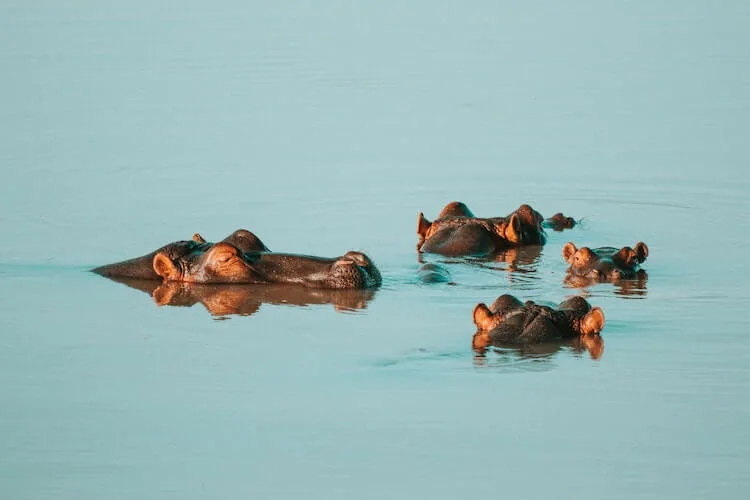 Okay, in all transparency, we're going to divulge exactly what we've spent on safari so you can get an idea.
We're mid-range travelers for the most part. And I want you to know that mid-range on an African safari will NOT be mid-range in Europe, Morocco, Cape Town, etc. Safaris are by nature a bit expensive! You need to fly or drive long distances to get there, the lodges can get pricey, etc.
So our South African safari cost ended up being $4,600 for 4 days/4 nights.
Like I mentioned before, we got the stay 4/pay 3 deal at Simbavati River Lodge so after paying $565 per person per night for 3 nights, that totaled $3,390. This included 2 game drives a day, lodging, all meals, a sundowner drink, and transportation to and from the airstrip.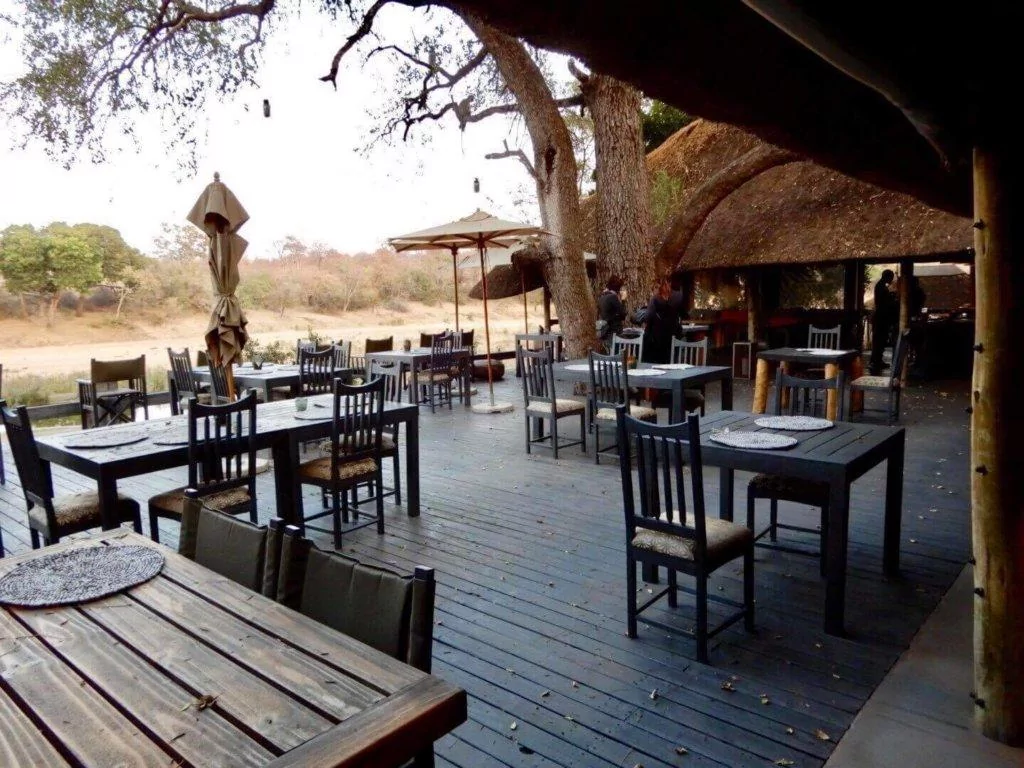 Then, we paid $610 for flights there from Johannesburg and then on to Cape Town. Next up, we paid $100 for massages and about $500 for tipping and drinks.
Our total South Africa trip was $10,000 for all of our travel including flights, hotels, food, activities, and tours for 12 days. We spent 2 days in Johannesburg, 4 days on safari near Kruger National Park, and several days in Cape Town.
Could we have done this far cheaper? Sure. But it was our first safari and a bucket list trip. So we didn't mind splurging for mid-range to semi-luxury accommodations.
How Much Were Our Uganda and Kenya Safari Costs?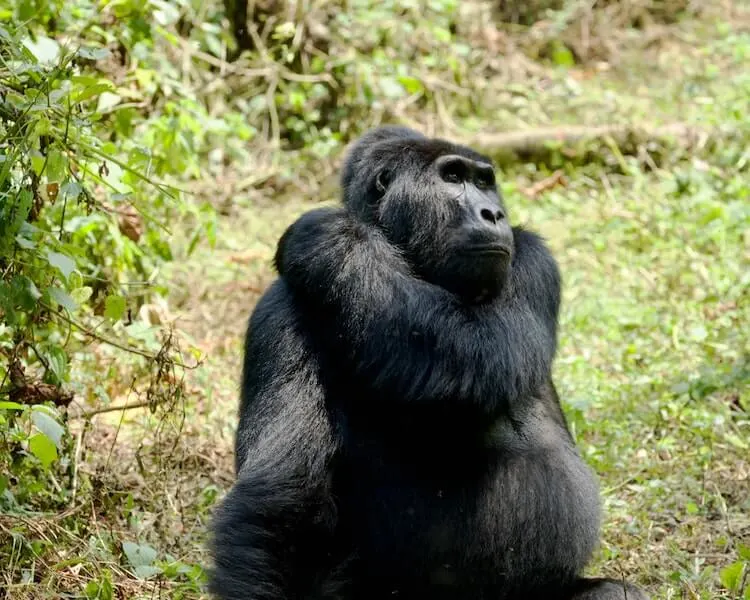 I'll be honest the sticker shock here was real. We knew traveling to both Uganda and Kenya would be more expensive. Honestly, we thought about Uganda and Tanzania, but that was way too much for us and our budget.
However, we finally found a good safari company, Go2Africa, to help us plan our trip. And the cost of our trip to Uganda and Kenya? $17,600.
For 12 full days here, this included almost all meals, lodging, flights around the two countries, game drives, gorilla trekking and permits, and chimp trekking and permits.
Yes, this seems like a lot for 2 people. However, it costs $700 per person for a gorilla trekking permit in Uganda and $400 for a chimp trekking permit. This means $2,200 of this is simply for permits to see gorillas and chimpanzees in the wild.
And again, as this was a bucket list trip, we didn't mind splurging a bit. Sure you could do this cheaper (as evidenced by the tours above), but we stayed in semi-luxury lodging and we used a planner instead of a tour.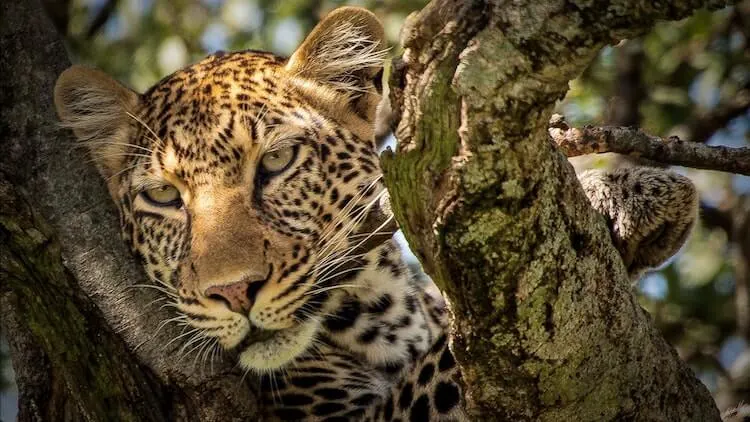 While I wish that was the total cost of our trip, we still had to budget for flights there (which we used points for), our East African Tourist Visas, travel insurance, tipping, and any incidentals. So our trip was closer to $20,000.
Trust me, compared to some luxurious travel planners, this wasn't bad at all. Some were quoting me $25,000+ before flights, tipping, insurance, etc.!
But, keep in mind that safaris can range wildly from different places, how long you're going, travel style, and more!
How to Find the Right Safari Company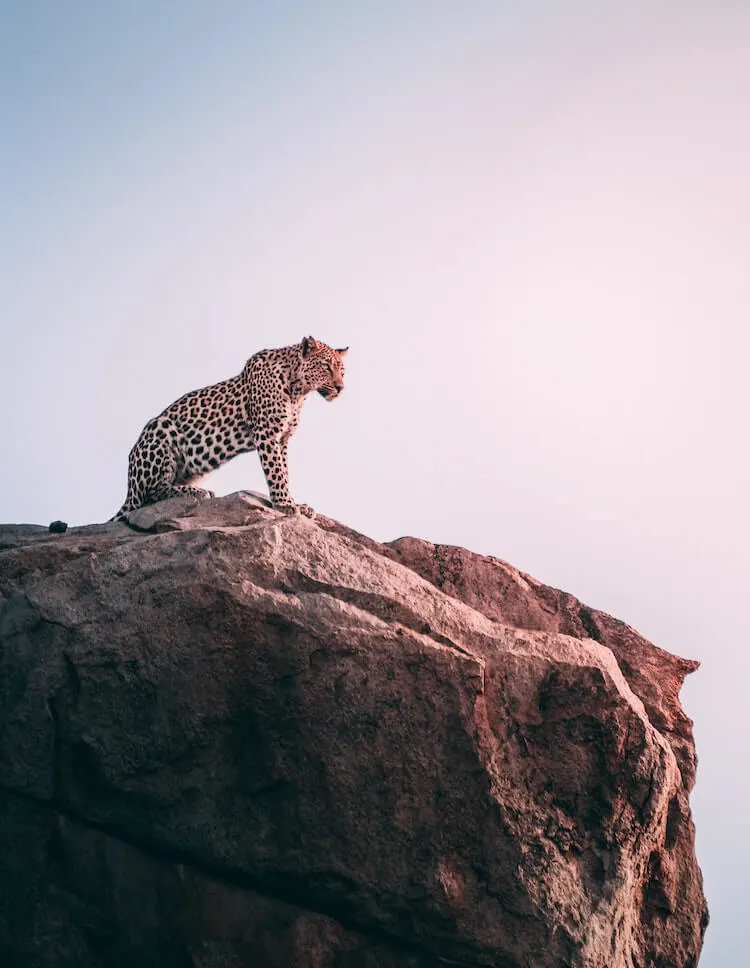 Now that you have a good idea about how much African safaris cost, let's talk about finding the right company to go through.
When it comes to finding the right safari company to go through, you may have to vet them. Yes, this is the part where you start reaching out to companies and fielding the calls. But at least you have an idea for pricing!
Here are some key things to think about when choosing a company:
Find one that works within your budget
Where are they based? Are they in Africa and have experts in that particular destination? Do they use local guides?
Research lodges they use
Is it cheaper to do this or plan it myself? Ideally, a good company will make it more affordable!
Read reviews of the companies you're looking at
Ask family and friends (or your favorite travel bloggers!). We found our South Africa safari planner from a friend of mine who had gone and loved it!
We've worked with Safari365 for our South Africa trip and Go2Africa for Uganda and Kenya and highly recommend both of them!
So how much does an African safari cost? It could range anywhere from $2,000-$25,000+ for two people. But we hope this guide helps you to decipher through these costs and find a great safari that fits your needs and budget!
Where would you love to visit on a safari?
Want more budget guides? Check out these posts:
Pin it here!