Some posts on this site contain affiliate links, meaning if you book or buy something through one of these links, I may earn a small commission (at no additional cost to you!). Read the full disclosure policy here.
---
Coming up with a trip budget is difficult, to say the least, let alone a budget for traveling Southeast Asia as a couple.
You've heard countless people who have been there saying just how cheap Southeast Asia can be, and to some extent, they're right… but how right are they? And who is it that is saying it's so freaking cheap?
The truth is if you're staying in a hostel dorm, eating only street food, and doing the free tours and super cheap trips offered by said hostels meant for backpackers… you'll probably only be spending like $20-30 a day.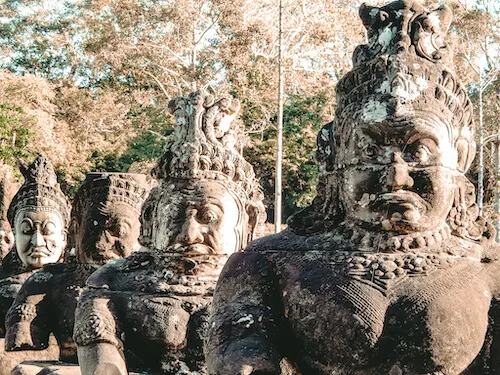 But what about those of us who don't want to stay in hostels?! You know, like couples that are opting for a romantic getaway or honeymoon?
Chris and I faced the same challenge. We wanted the perfect 3-week trip to Southeast Asia, but, as this was our honeymoon, we were not about to stay in hostels with gap year kids or young twenty-somethings taking a soul searching trip and partying all night. Nothing against them (and believe me, I have been one of them), but now that we're in our thirties, that's just not our thing.
That being said, traveling Southeast Asia as a couple is NOT crazy expensive at all. In fact, we had plenty of meals that were definitely less than $10… heck, some were only $3! But let's talk about how much to actually budget for a trip to Southeast Asia together.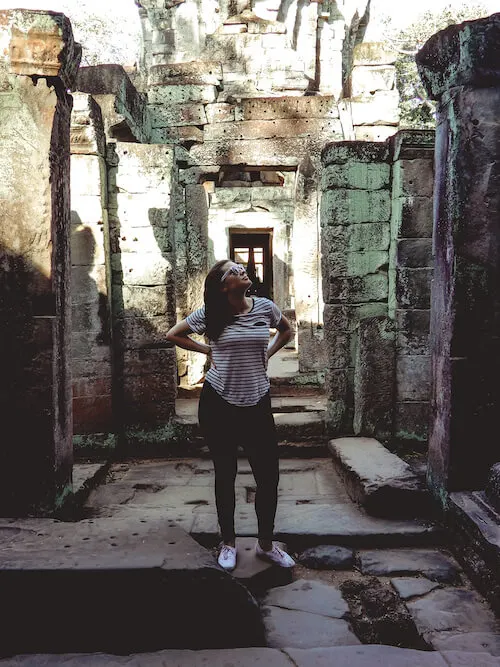 The Perfect Budget for Traveling Southeast Asia as a Couple
If you're also the type of couple that enjoys a good splurge here and there but keeps a budget in mind, then this is the budget for traveling Southeast Asia as a couple for you!
Flight Prices to Southeast Asia
If you're flying to the other side of the world, flights can sometimes be tricky to find on the cheap. However, I highly recommend services like Skyscanner or Hopper to help you find the best flights and book at the right time. Hopper is a fantastic app that you enter in your airport, destination, and it'll show you the best dates to book OR you can watch it and it'll alert you when prices drop so you can book!
We used this for finding flights to South Africa a couple of years ago and got Cleveland to Johannesburg round-trip flights for only $850 a person!
Then, of course, my favorite is Skyscanner. It'll help you find the best time to go, and even combine various airlines, even airlines that are not in the same alliance AND discount airlines, meaning you'll get the best deal! My advice is to wait until Hopper says to book and then book via Skyscanner.
With these tricks, it is entirely possible to get your flight to Southeast Asia for under $1,000 a person.
Then, Of Course, There's Always Miles
Or you could save thousands of dollars and fly business or first class using miles! This is what we did, as we wanted to be fancy on our honeymoon. We cashed in 180,000 United miles and $60 each and got round-trip business class flights. Talk about a great deal! What better way to start your romantic trip than being pampered and refreshed in business class with free champagne?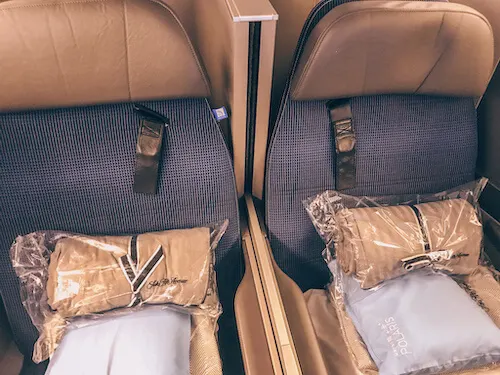 Cost of Getting Visas For Southeast Asia
There are some countries where you won't need a visa. It depends on your passport and where you're going, but for US citizens, you won't need a visa to visit Thailand or Indonesia for less than 30 days. For countries like Malaysia and Singapore, you can stay for up to 90 days.
Then, for countries like Vietnam, Cambodia, Myanmar, the Philippines, or Laos, you will need a visa to enter the country. For Vietnam, the E-Visa is $50 for two people, and for Cambodia, for a single entry visa or Visa on Arrival, it is $60. Myanmar's E-visa fee is $100 for two people, a visa for the Philippines costs around $74 for two people, and Laos's visa is upon arrival and costs $70 for both people.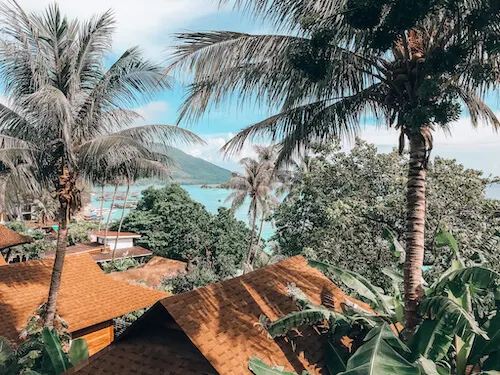 Don't Forget Travel Insurance in Your Southeast Asia Trip Budget
Travel insurance is no joke. I used to never travel with it. I also used to be incredibly dumb and not make the best decisions (I'm sure you did the same between 18-23).
But now, I never leave the country without it. I highly recommend getting travel insurance for your trip to cover unexpected hospital visits if someone gets sick or injured, trip cancellation or interruption, baggage loss, and any other incident you're hoping will never happen.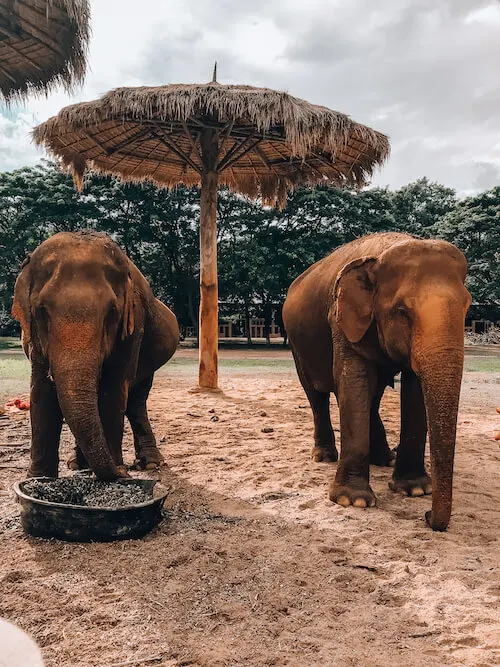 I always go with World Nomads for all of my travel needs. The cost for the two of us was right around $340 for 3 weeks for the Explorer Plan. You can also do the Standard Plan and get it cheaper.
Cost of Actually Traveling Around Southeast Asia as a Couple
Okay, now that you're in Southeast Asia let's talk about getting around. And this is where I can confidently say, yes, this place is SUPER inexpensive.
There are quite a few options as to getting around Southeast Asia:
Flights: The most "expensive" option, but if you're short on time, i.e. you only have 3 weeks like we did and want to see 3 countries, this is great. Our flights between cities throughout Southeast Asia averaged right around $160 for two people per flight. That's less than $100 a person. Not bad at all and certainly cheaper than traveling the US. Take airlines like Air Asia, Vietjet, and Nok Air and you'll have great deals!
Trains: Trains are not available everywhere, but they can be found for transportation in Thailand, Vietnam, Singapore, Malaysia, and Cambodia. These can be super economical, as tickets cost as little as $20 a person. This will take longer than a plane, and it isn't as readily available as flying, however.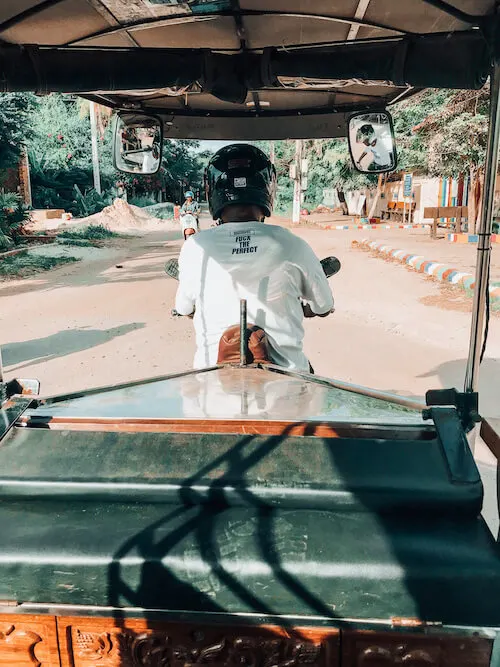 Buses: If you're really on a budget, $5-10 a person for bus fare may be an option. These buses range in quality and reliability and will take much longer than flying.
Grab: Grab is a great option for transportation around a city. It's very similar to Uber, but they also include tuk-tuks, scooters, and cars. It's a great and super affordable option, costing sometimes less than $5!
Boats and Ferries: If you want to include some island time on your trip, you may end up taking a ferry or two. We were able to get round-trip ferry prices and transportation to the Hat Yai airport for Koh Lipe for as little as $50, so budget for that in your upcoming travel fees. You can also rent boats to take you around islands for as little as $40 a day.
Motor Scooters: You can even rent your own scooters for around $8-12 a day in some cities.
Tuk-Tuks: Probably our preferred method of transportation ever, you're bound to take a tuk-tuk or two while gallivanting across Asia. These are also super cheap, with rides across town costing $3-5.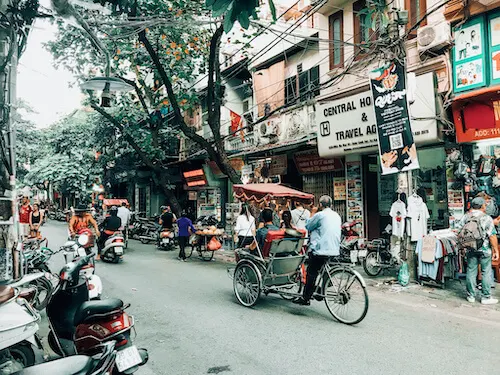 Side Note: For booking flights around the region, I recommend using Skyscanner. For buses, trains, or ferries, check out 12GoAsia.
Hotel Costs for Your Southeast Asia Budget
This area of the budget can range from super cheap to really expensive! Hotels can range from small, guesthouses at $20-30 a night, to luxury, boutique resorts upwards of $400 a night. It really is up to you. We opted for an in-between. We wanted some luxury and rooftop pools, but we also didn't want to fork over $400 a night… that would severely diminish our budget.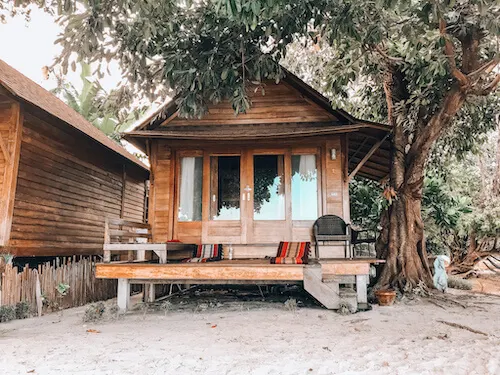 So, most of our hotels were typically between $100-200 a night. The more expensive hotels can be found in more touristy areas and along popular beach destinations. Our most expensive hotel was around $200 a night in Koh Lipe (at Ten Moons Lipe) for a beach bungalow, and our least expensive hotel was $85 a night in Hanoi for a King Suite at the Chi Boutique Hotel.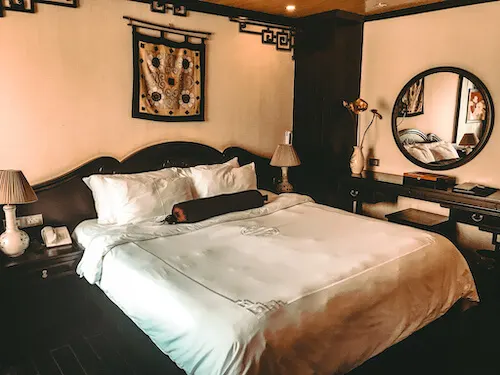 Cost of Activities During Your Trip to Southeast Asia
Right. So let's talk about the fun stuff: what romantic activities you'll be participating in with your significant other while exploring this amazing part of the world together!
There is so much to see and do in the various cities and countries in this glorious area called Southeast Asia. Some of the ones that we partook in included: Elephant Nature Park in Chiang Mai, a cooking class, a Halong Bay Cruise, visiting Angkor Wat and a driver for Angkor Wat, getting a boat around Koh Lipe for a snorkel tour, etc.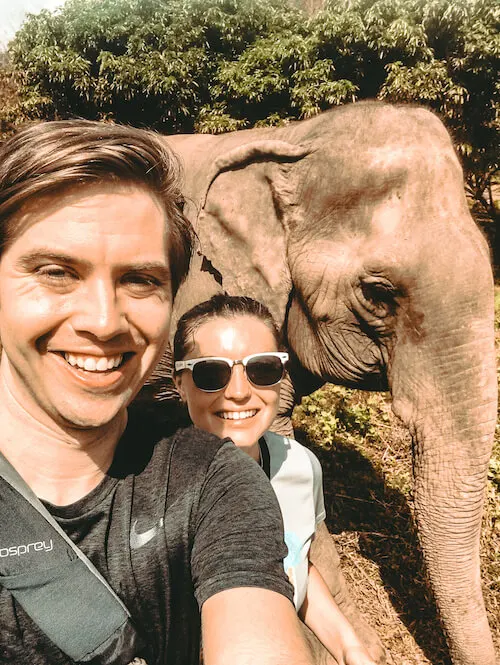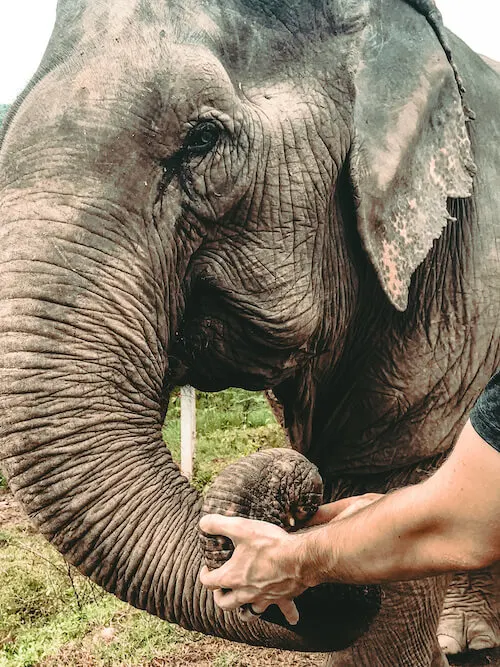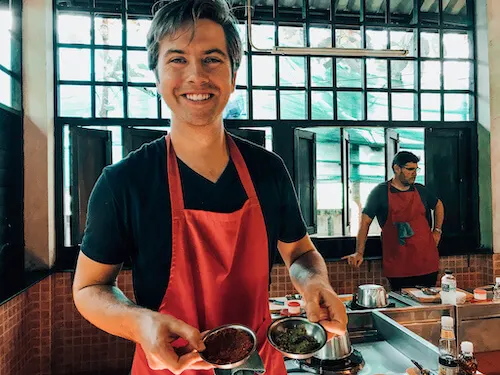 We ended up averaging about $70 a day for activities between the two of us. I'd say that $50-70 a day for two people on entertainment should cover most of what you'll be doing.
How Much is Eating and Drinking While Traveling in Southeast Asia as a Couple?
You're bound to get a little hungry, right? Southeast Asia truly lives up to its inexpensive reputation when it comes to food. Chris and I got an appetizer, two entrees, and two beers for only $6 at a sit-down restaurant in Hanoi. Bowls of pho at another restaurant were $1.50 per person. Khao soi in Chiang Mai was also only an astounding $1.50.
There are also some nicer, sit-down places where you can anticipate spending $25 or so for two people for a nice dinner and drinks.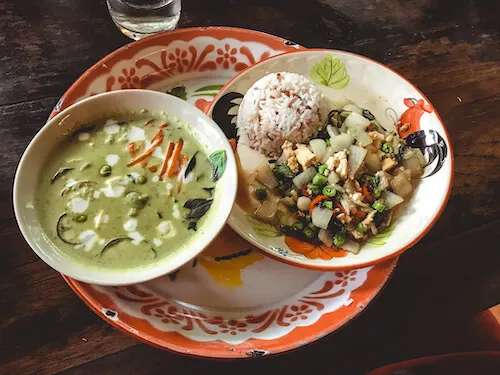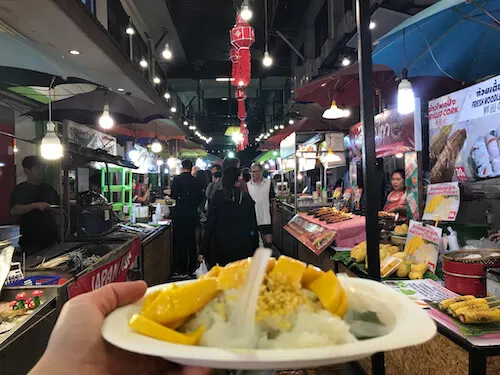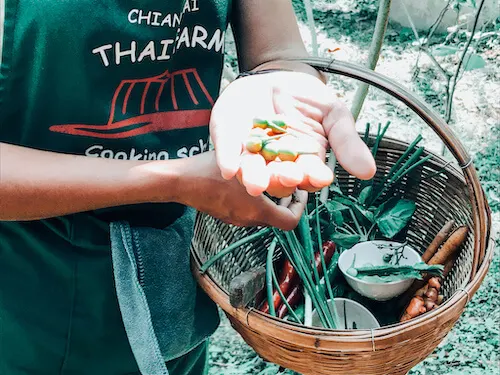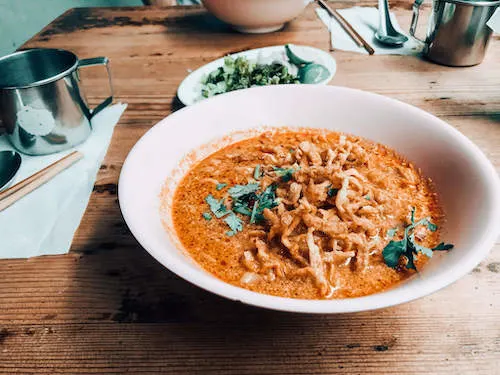 You'll eat well in Southeast Asia, and you'll not pay for it… at least not in money. Bloating or other tummy troubles, I can't guarantee.
Beer is the common drink of choice in Southeast Asia, with each country and city having its own kind. They are typically $2-3 a can or bottle at most restaurants and a little cheaper than that at your friendly 7/11. Cocktails are about $6-8, especially on the islands or beaches.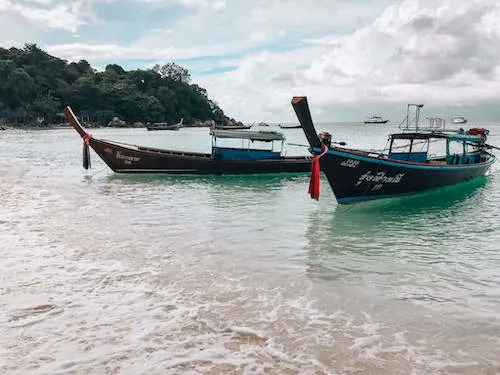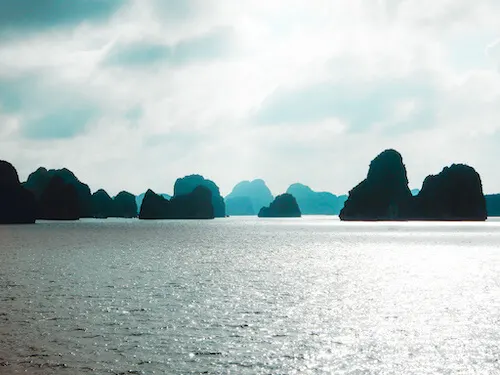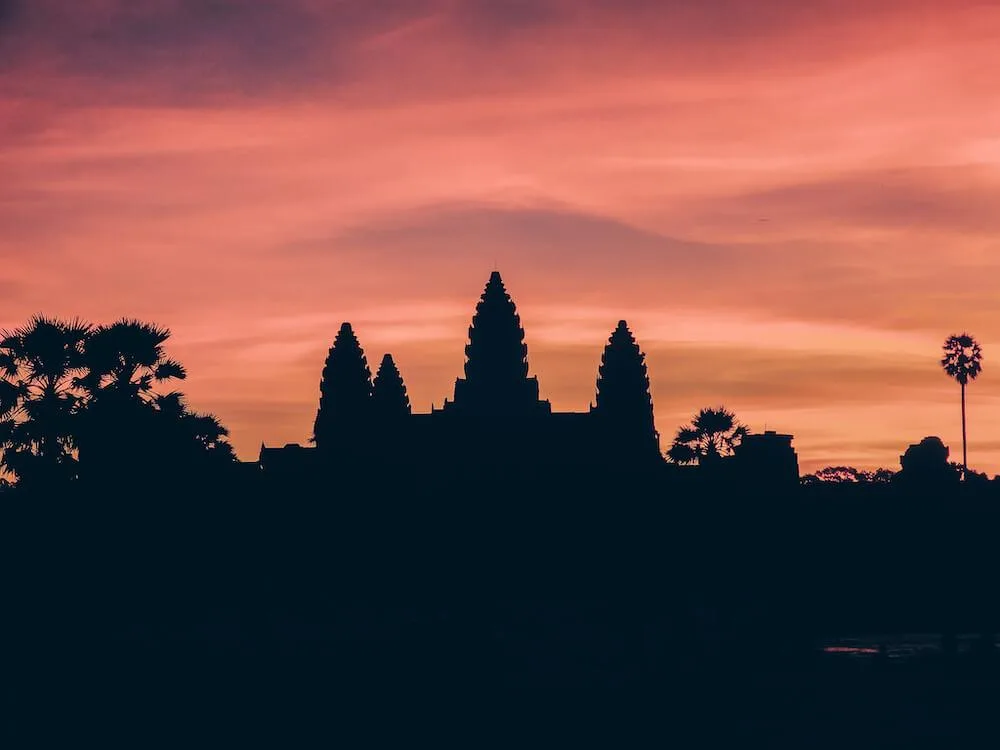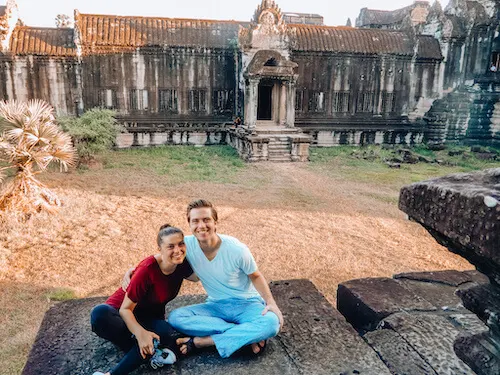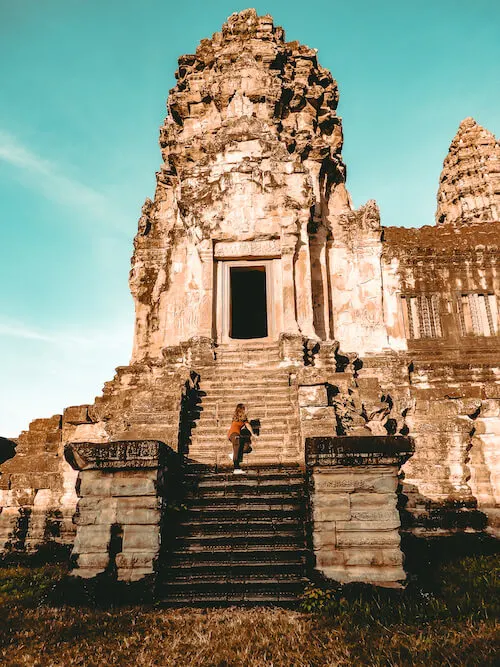 How Much Did We Spend While Traveling Southeast Asia as a Couple?
We ended up spending $6,800 total for 3 weeks in Southeast Asia. That is all flights, hotels, transportation, insurance, food, drinks, souvenirs, visas… everything. And only $5,065 actually came from our own pockets, while the honeymoon fund covered the rest.
Remember, You Can Save Money Too!
Okay, I know the backpackers reading this are probably shocked and appalled. I know, you could probably do Southeast Asia in three weeks for as little as $3,000-4,000 for two people with flights, cheaper accommodation, buses, only street food… and a LOT less luxury.
However, when you're traveling to Southeast Asia as a couple, sometimes you want a little luxury. Sometimes you want that romantic cruise along Halong Bay in your king-sized bed and Jacuzzi tub. Or maybe you want one of the more expensive passes to Elephant Nature Park where you go in a smaller group and get an elephant to yourself to walk, feed, and pet for the day. These little luxuries cost more but are 1,000% worth it for amazing memories with your love.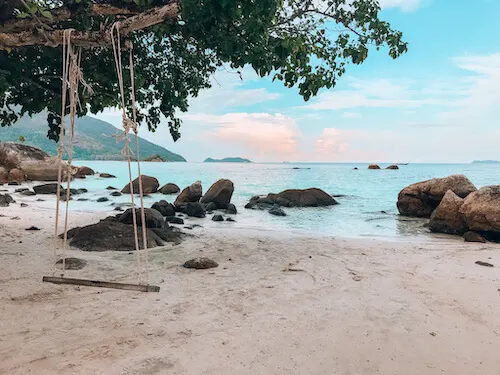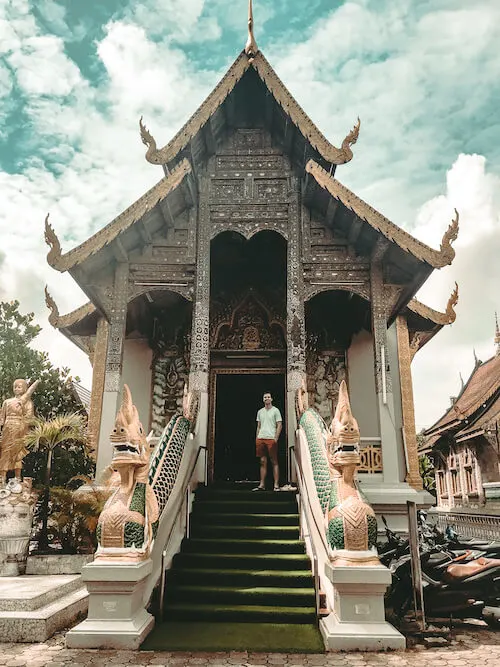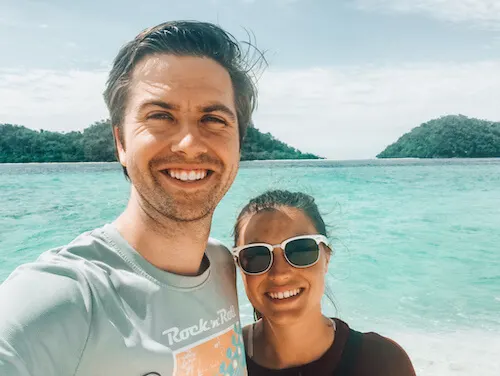 You also may want to be super bougie and spend even more on 5-star hotels at every destination, private, guided tours, and even more add-ons that could soar the cost upwards of $10,000-12,000. It really depends on your travel style.
So, when it comes to Southeast Asia for 3 weeks, a budget of $6,000-$7,000 is perfect for two people, especially while traveling with a mid-range to a little more luxurious budget.
Lastly, if you travel in the off-season, you'll definitely find better deals. We went in November, during shoulder season, but if you came during the rainy season (no, it doesn't rain all the time), you'll definitely get much better pricing on hotels! And, of course, if you've got hotel points, you could cash them in for more savings too!
Whew, I know budget talk isn't the sexiest conversation to have while trip planning, but it is so important to have a good budget in place before your trip to ensure you don't overspend. But hey, it's worth it to add in a few luxuries to #treatyoself too.
Have you traveled to Southeast Asia? What kind of budget did you go with? Was it much more expensive or much less? Let me know in the comments!
Want more budget guides? Check these posts out:
Love this post or want to save for later? Pin it here!