Some posts on this site contain affiliate links, meaning if you book or buy something through one of these links, I may earn a small commission (at no additional cost to you!). Read the full disclosure policy here.
---
How much does a trip to Las Vegas cost?
The short answer? A weekend trip to Vegas can cost anything from under $1,000 for budget backpackers to $10,000+ for those looking for a luxurious experience.
Essentially, it all depends on your travel style. However, if you've ever read my other trip cost guides for Paris, Glacier National Park, Peru, or Belize, you'll know that I love breaking it down based on budget, mid-range, and luxury travel styles.
So whether you're a high roller or budget traveler, a bachelorette party, or planning a Vegas honeymoon, let's talk about the perfect Vegas vacation cost for you!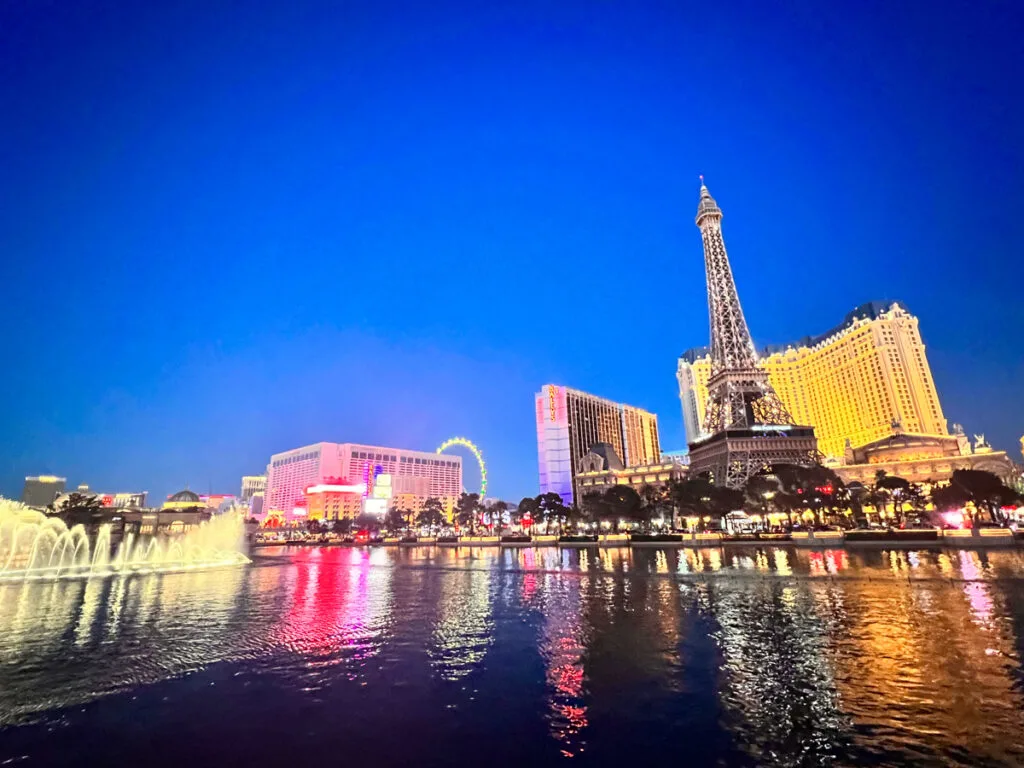 Cost of Vegas Trip Factors
For starters, you can have widely different experiences in Vegas (as well as varying Las Vegas trip prices) based upon the following factors: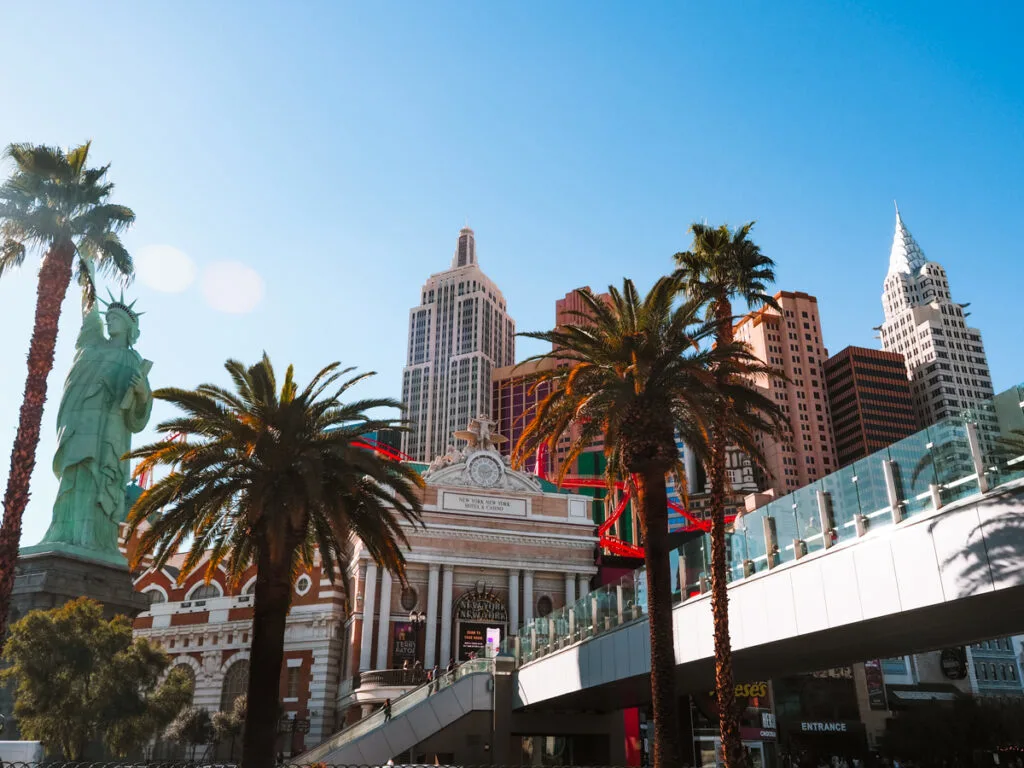 How Much Does it Cost to Go to Las Vegas? Vegas Flight Prices
Before you explore the amazing things to do in Vegas, you have to get there. Luckily, this can be a pretty inexpensive part of your trip!
Many discount airlines like Spirit, Frontier, and Allegiant, plus many big airlines like American Airlines, United, and Delta fly into the Harry Reid International Airport in Vegas, making prices fairly cheap.
In fact, on my recent trip to Vegas, my round trip flight from Cleveland to Vegas was only $260! And that was on United!
Flights can even be as little as $65 round trip if you're coming from the West Coast like in LA or even $200 from smaller cities around the country.
That being said, those flight prices are for discount airlines or basic economy seats for regular airlines. While that was fine with me for a 4-hour flight, if you're celebrating something, upgrading will cost extra.
For business or first-class flights, you can expect to pay around $800-1,500 per person to go to Vegas.
Trip to Vegas Airfare: $65-1,500 per person based upon budget to luxury. The average flight cost to Vegas is between $250-350 per person.
For the best flight prices to Vegas, check Skyscanner!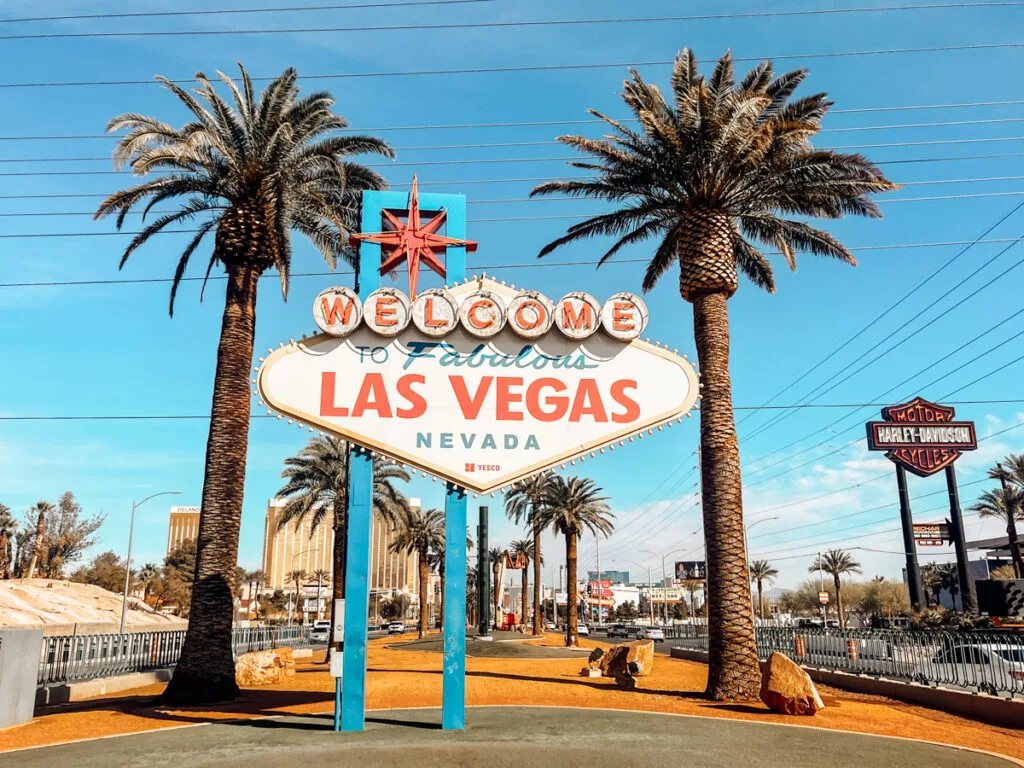 Cost of Trip to Vegas: Transportation
Luckily, this is another way to save money in Vegas!
Grabbing an Uber from the airport to a hotel along the Vegas Strip can range between $15-30 depending on the time of day.
From there, you can walk to several places along the Strip. Also, many hotels even have free trams that connect them!
There is the Mandalay Bay, Luxor, and Excalibur tram, the Park MGM, Aria, and Bellagio tram, and the Mirage to Treasure Island tram. These are great for getting around the Strip on a budget.
There is also a Monorail that runs along the Strip that stops at the MGM Grand, Bally's & Paris, Flamingo & Caesars Palace, Harrah's & The LINQ, Convention Center, Westgate, and Sahara.
Prices to ride this monorail are $5 for a single ride, $13 for a day pass, $23 for a 2-day pass, $29 for a 3-day pass, $36 for a 4-day pass, $43 for a 5-day pass, and $56 for a 7-day pass. The passes allow for unlimited rides!
Lastly, there is also the option to rent a car. That is what we did for our trip, as we added Vegas on to our Southwest road trip!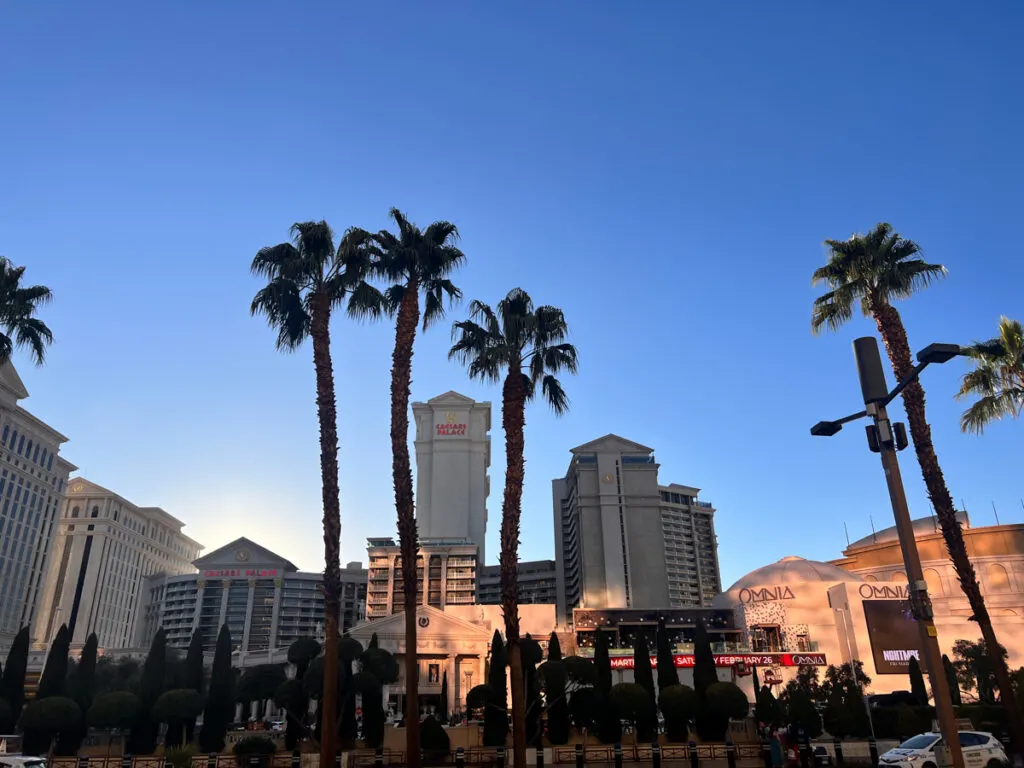 Rental cars go for about $80 per day for the cheapest option up to $150 per day for a more luxury car. Gas prices are more expensive here too, at around $5 a gallon at the moment!
For great rental car prices, check RentalCars.com!
Don't forget that the earlier you book a rental car the cheaper it is!
Oh, and if you plan to rent a car, don't forget to add on about $15 a day for hotel parking on the Strip.
Cost of Transportation in Vegas: Between $30-$570 for a weekend trip to Vegas depending on whether you plan to just Uber and then walk, or go full luxury with your rental car and gas.
The average cost is around $100 if you're just going to use Uber around the city and walk along the Strip or if you plan to Uber to/from the Airport and then use the Monorail.
For a rental car, expect to pay around $200-300 for transportation for a weekend. This can obviously be split based on how many people you have!
I ended up spending $5 for the monorail during our trip for a one-time ride, $30 to park for 2 nights, $75 to fill up our tank before returning our rental car, and then $165 for the car for 2 days in Vegas. Total for my trip: $275, which ended up being $140 for me, as I split the rental car and paid for my monorail ticket.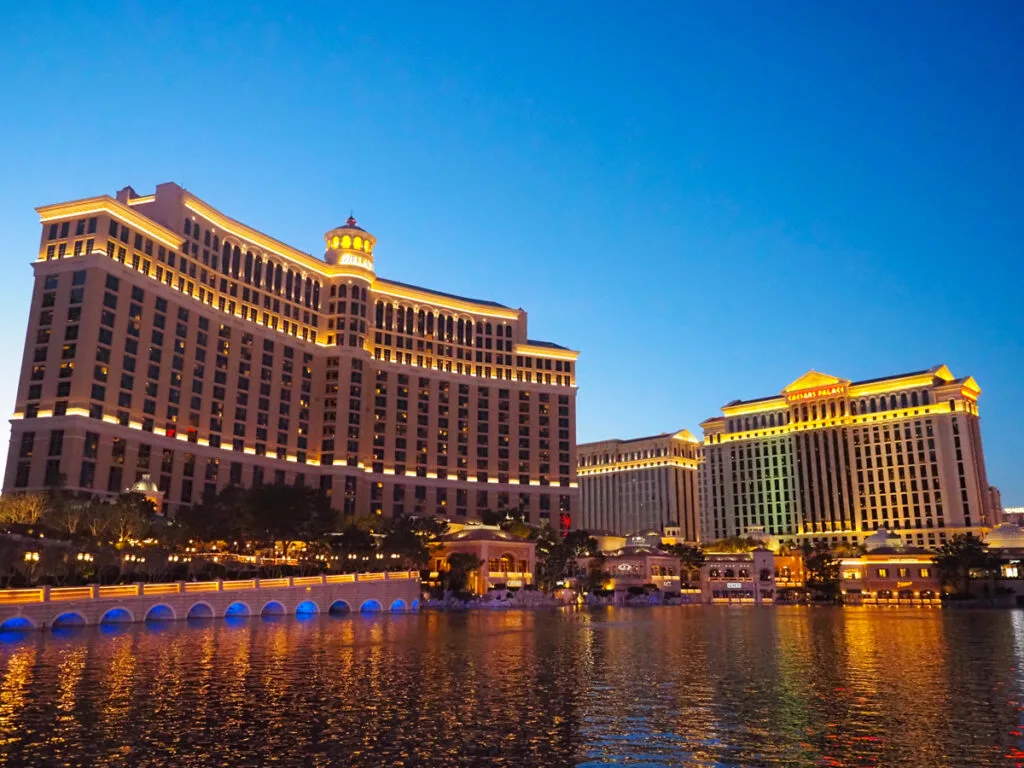 How Much Do Hotels Cost in Vegas?
This, my friends, is the big question. This can range anywhere from under $100 per night to $5,000+ per night. It all depends on which hotel and type of room you choose, obviously.
So here are some hotels based on budget to check out:
Budget Hotels on the Vegas Strip:
Hotels in this category usually start with weekday prices between $30-50 per night and weekend prices of $120-250 per night.
Mid-Range Hotels on the Vegas Strip:
Hotels in this category typically start with weekday prices between $60-130 per night and weekend prices between $300-500 per night.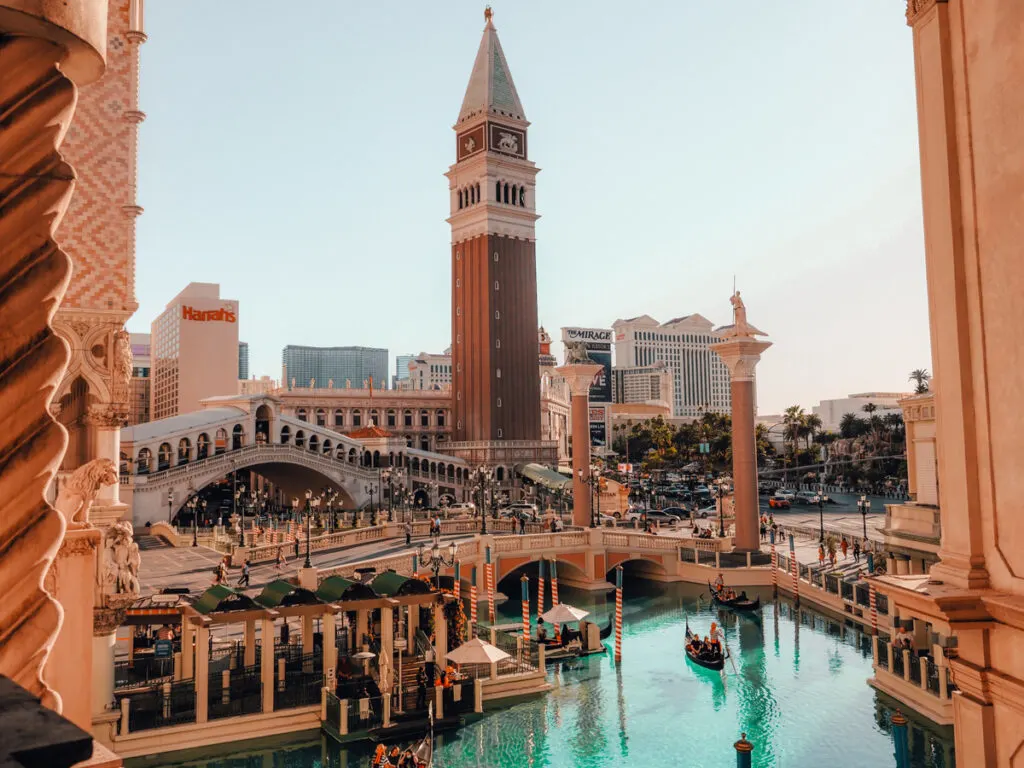 Luxury Hotels on the Vegas Strip:
Hotels in this category typically start with weekday prices between $175-450 per night and weekend prices between $400-800 per night.
Don't forget that many of these hotels also have a resort fee charge of $25-45 per night too.
This is also just for a standard room in each hotel. If you plan to get super luxurious and get a suite, you can pay upwards of $700 a night all the way up to $10,000+.
Total Trip to Vegas Cost For Hotels: Between $75-800 per night, or $150-$2,400 for 3 nights. These are for standard rooms between budget and luxury. The average 3-night stay at a mid-range hotel will likely run around $600-900.
On my recent trip, my Vegas hotel cost $231 a night during my 2-night Vegas stay at the Park MGM, which only ended up costing me around $462. That was with the resort fee too! However, I also stayed mid-week which helped.
I also split my cost with a friend and only had to pay $231 for my total stay in Vegas. So, again, if you have more people to split the cost with, it helps!
PS- The Park MGM is the only gaming hotel on the Strip that is non-smoking!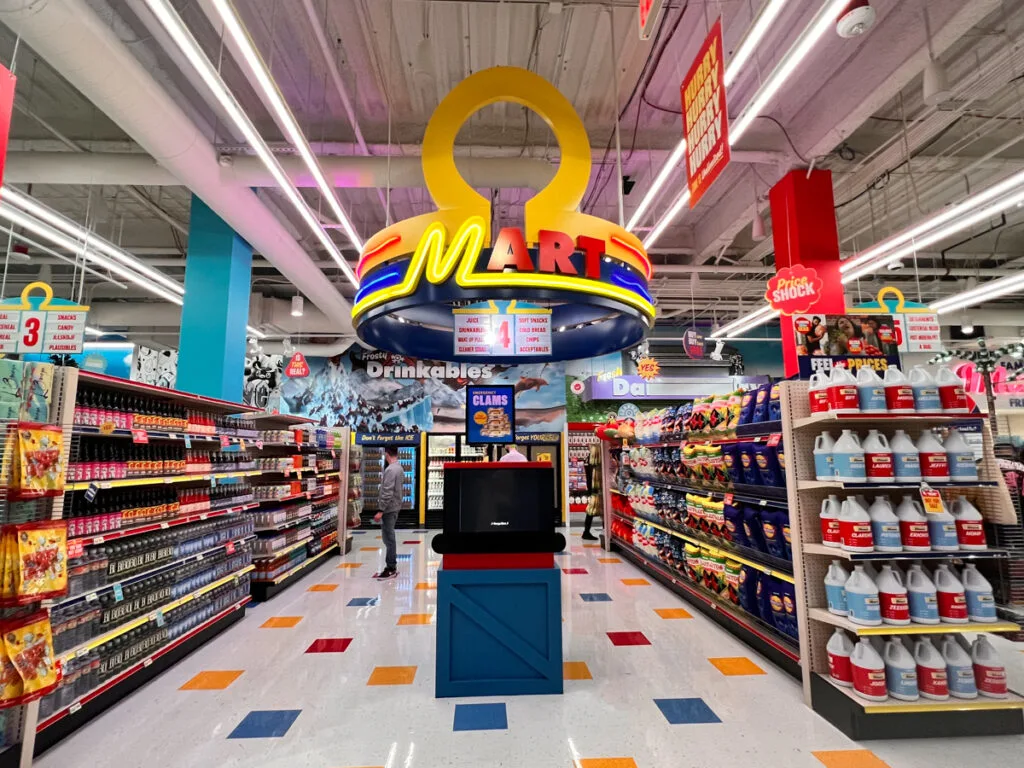 Want to listen to our podcast episode about Vegas? Check it out here!
Trip to Vegas Cost For Activities
There are actually a lot of free things to do in Vegas that make it so fun to visit! But there are plenty of other activities that you'll need to budget for.
Some free things to see/do in Vegas include exploring the Strip on your own and stopping into various hotels to see neat things like the canals at the Venetian, the Bellagio Conservatory & Botanical Gardens, fountains at the Bellagio, etc.
While those are free, there are some things on the Strip you'll need to pay for if you choose to do them. These include the Big Apple Coaster at New York-New York ($19-23 per rider), gondola rides at the Venetian ($34-39 per person), and even going to the SkyPod Observation Deck at the Strat is $20-30 per person.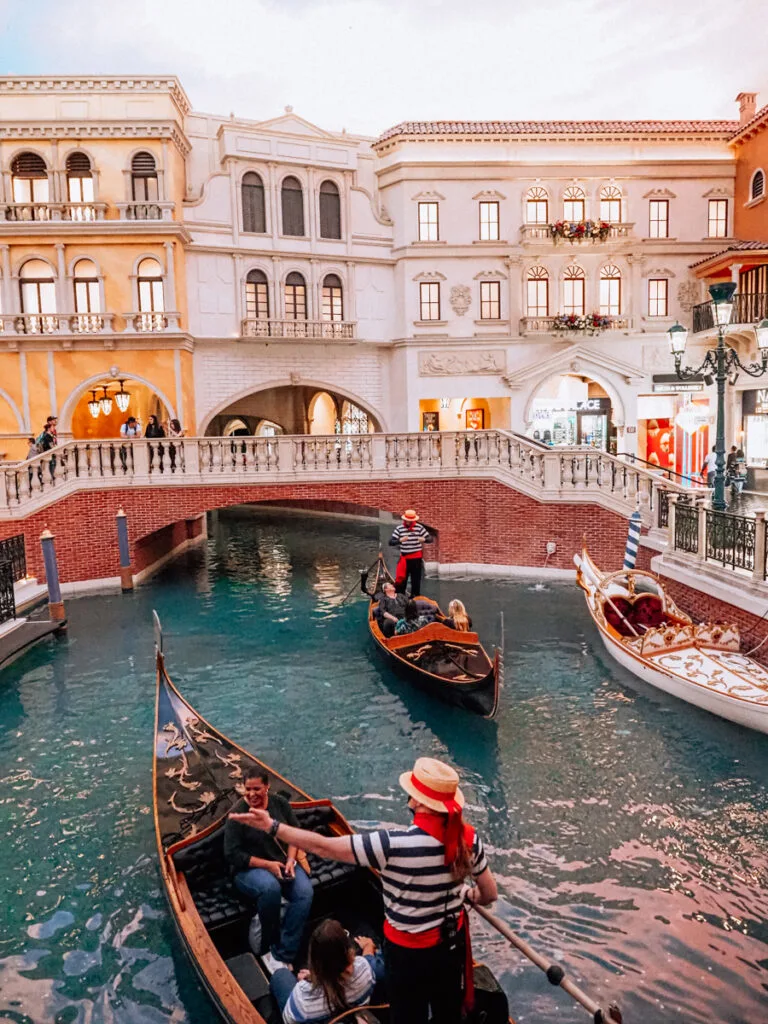 Aside from things to do on the Strip, there are ample museums to visit including the Neon Sign Museum which is $20-28 per person depending on a general visit or guided tour, and the zany Meow Wolf Las Vegas's OmegaMart art installation is $49-55 per person.
There is also the option to get outside of Vegas and explore places like Red Rock Canyon ($15 per vehicle) or Valley of Fire State Park ($10 per vehicle).
And for guided tours like a guided hike in Valley of Fire State Park or a Hoover Dam tour, expect to pay around $50-150 per person.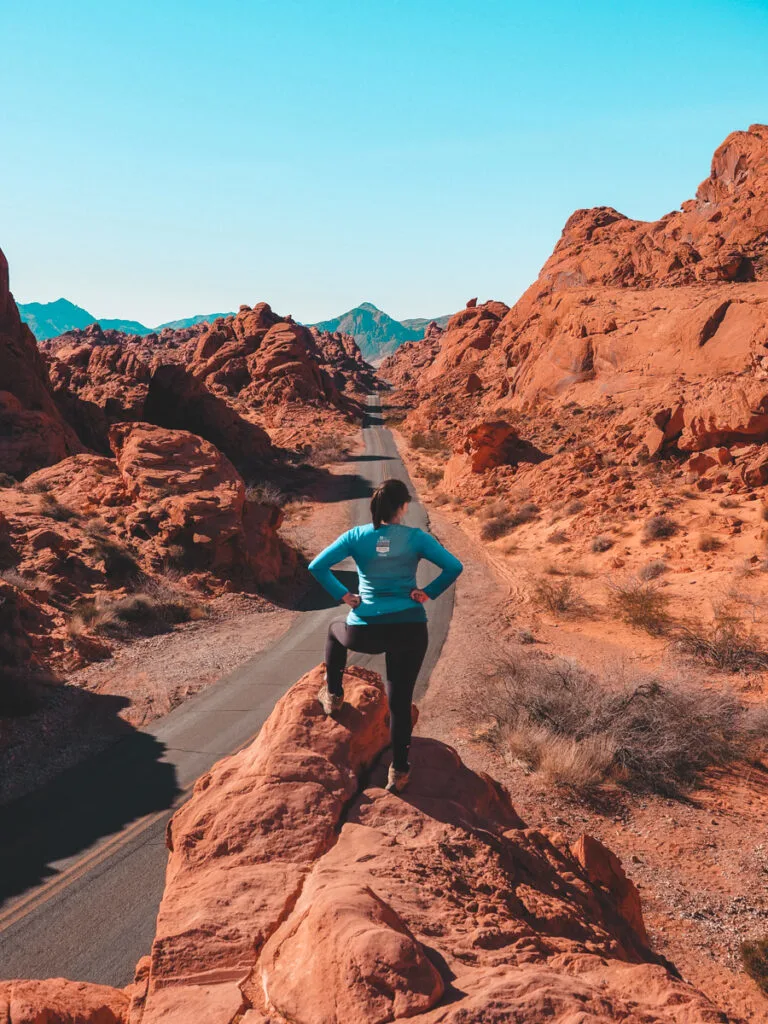 Lastly, there are also some incredible shows! Plan to budget around $50-125 per person for those.
PS- If you plan to see and do a lot in Vegas, opt for the Go City All-Inclusive pass for $189. It includes admission to all the main attractions like a helicopter ride over the strip (if you purchase the premium pass), Hoover Dam Highlights Tour, High Roller observation wheel, and more!
So…How Much Should You Budget For Activities in Vegas? Between $100 per person for budget travelers doing mostly free things and either going to one museum and an attraction or two during their three days in Vegas, up to $500 per person if you plan to see and do a lot and take a day trip during your time in Vegas.
A mid-range budget would be closer to $200 for a weekend.
During my trip to Vegas, I stuck to a lot of free things to do and hopped around the various hotels on the Strip. I did, however, go check out OmegaMart which was a ton of fun! I also explored both Red Rock Canyon and Valley of Fire State Park.
So, how much did I spend? Right around $100 during my time in Vegas.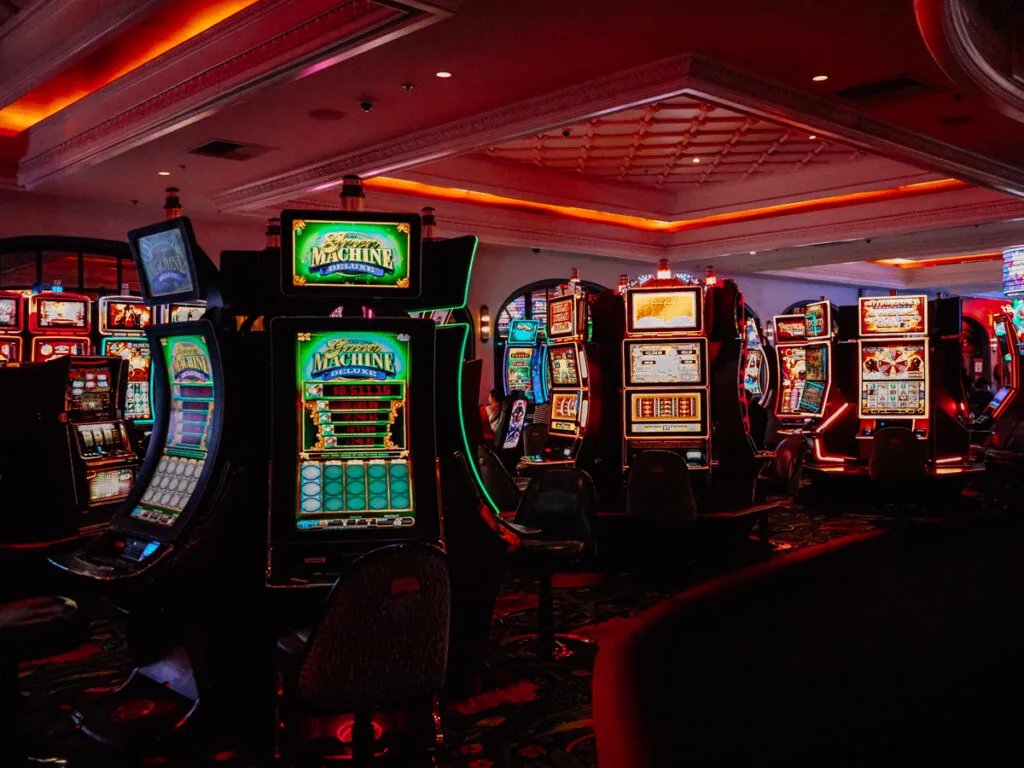 How Much Does Gambling Cost in Vegas?
This varies widely, as you could choose not to gamble at all (trust me, there is still a ton to do in Vegas if you don't gamble), or you could make it the primary reason for your visit.
So gambling could cost between $0-1,000+. But I'd say most people spend between $100-500 for a weekend trip to Vegas.
I never actually got around to gambling so I didn't spend any money on this, but it was really because I didn't have the time between everything else I wanted to do.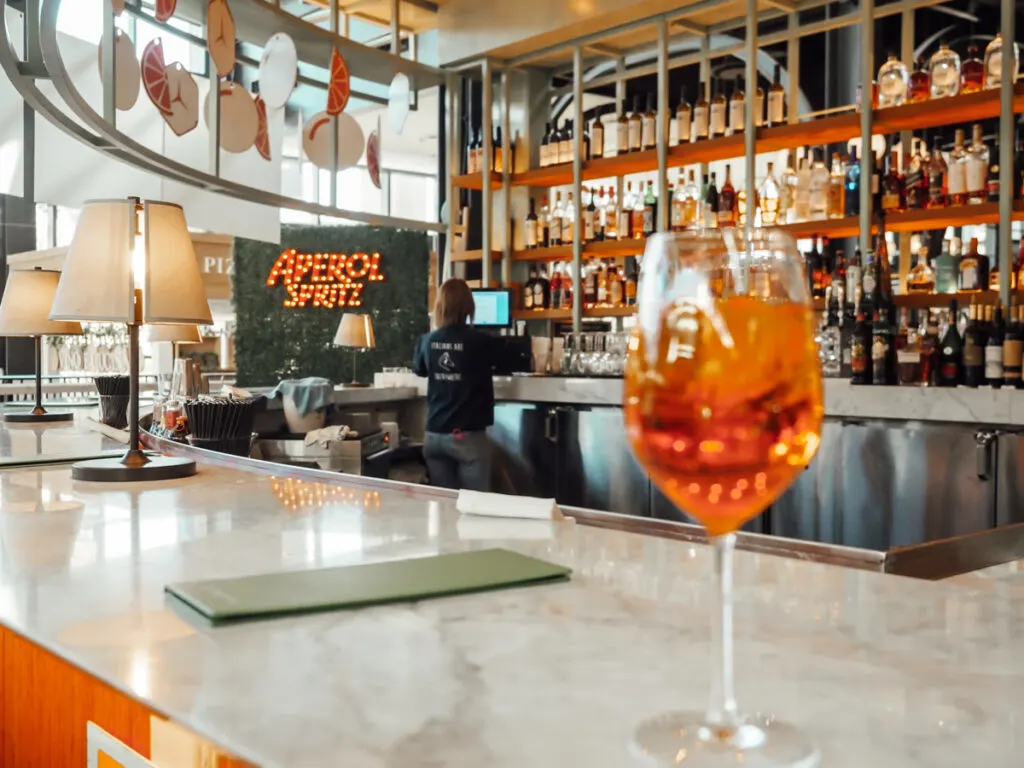 Cost of Clubs and Drinking in Vegas
As a general rule in Vegas, expect to pay about $15-20 a drink. Seriously. Maybe it is because I live in Cleveland, but I was very surprised to see a normal, not even great, glass of wine priced at $20 a glass.
Cocktails also run about this much whether you go to a bar, club, or just grab a drink with lunch. I did see some beers and glasses of wine less than this, but about $15-20 is a normal price per drink, with beers sometimes being around $10.
Now if you plan to drink a lot in Vegas at both bars, restaurants, and clubs, be sure to budget accordingly. However, if you really are tight on cash, there are ample CVS's, Walgreens, and Rite Aids along the Strip where you can purchase alcohol to drink while walking or to have in your room before going out.
Also, as far as clubs go, you can actually visit a club without a cover if you sign up for the guest list. You can do that here, and then you can party it up for free (aside from alcohol, of course). Note that clubs may require a ratio to be met for men.
The normal cover price for dayclubs, nightclubs, and pool parties in Vegas cost about $30-100 per person and $20-30 for presale tickets ahead of time.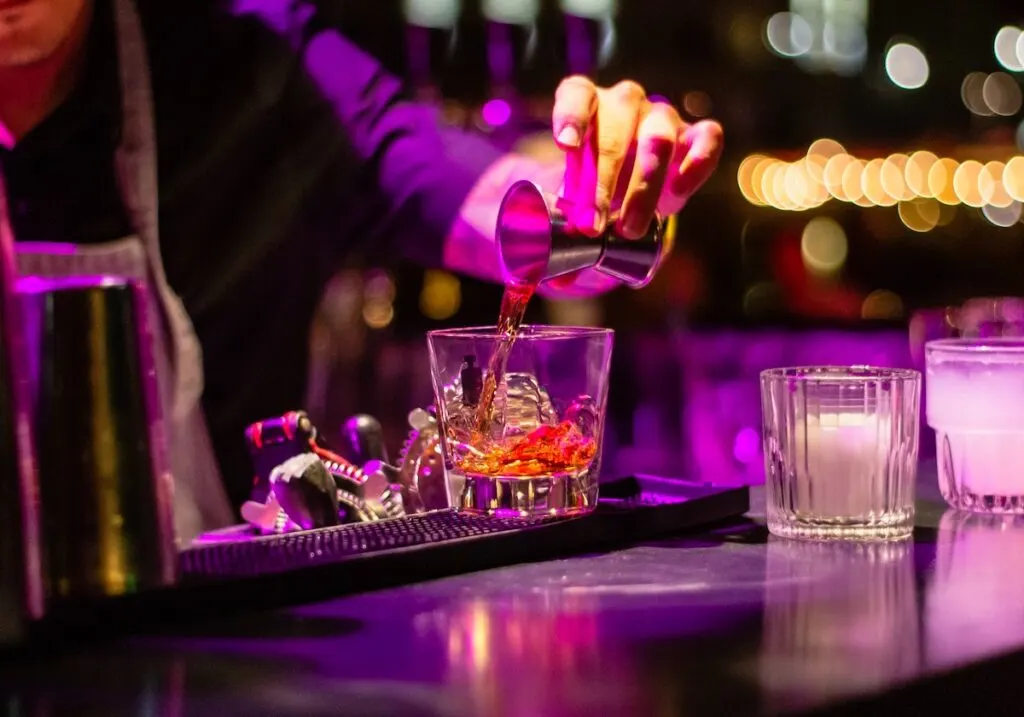 Lastly, if you plan to get bottle service at these clubs, that'll definitely add up (around $500-2,000) but it depends on your group size.
Trip to Vegas Price For Partying: Aside from a hangover the next day, you could spend as little as $0 (if you don't drink) and up to $300+ per day. For a person who signs up for the free guest lists and has about 5 drinks a day, budget around $100 for the price of drinks each day.
I spent around $100-150 during my two days in Vegas, so $50-75 a day for drinking, but that's because I didn't really party it up, but rather had a few drinks throughout the day.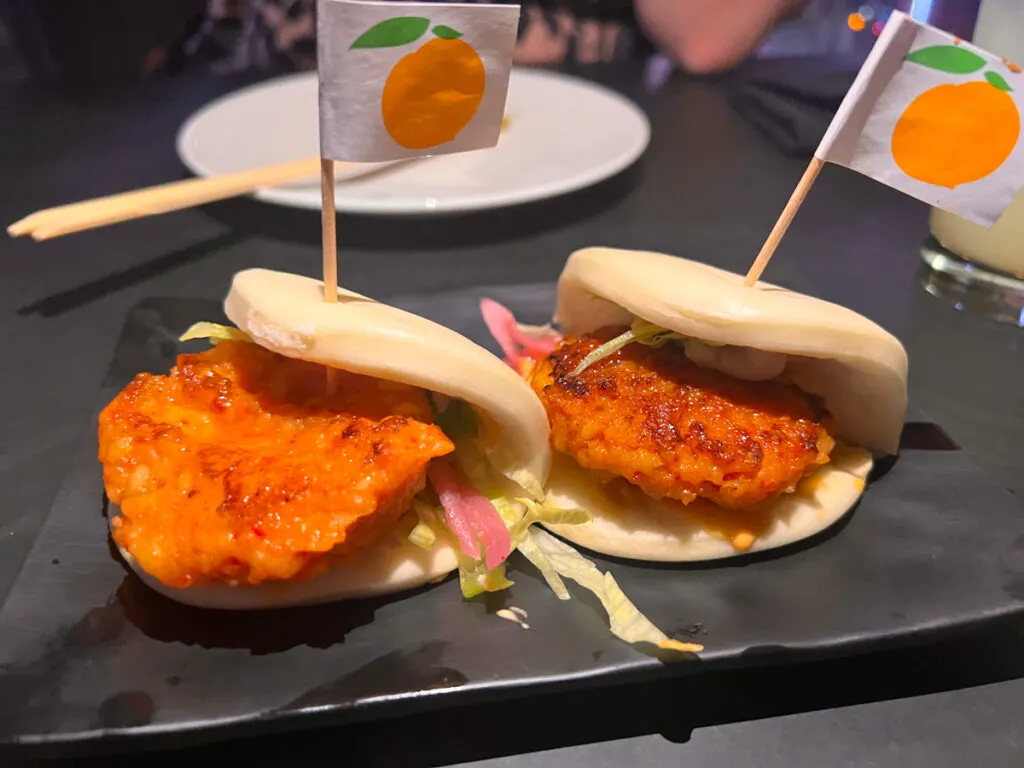 How Much Does Food Cost in Las Vegas?
I mean, you've got 3-star Michelin restaurant Joel Robuchon on one part of the Vegas Strip and a fast food court on another end.
For budget backpackers, you could hit up fast food places and get takeout between $10-20 a meal.
And for high rollers, you can pay around $500 for a meal (before drinks) at Joel Robuchon.
However, many higher-end restaurants cost about $100-200 per person for a meal. And for more mid-range restaurants, expect to pay between $50-75 for a meal.
Yes, eating in Vegas can add up quickly unless you decide to eat fast food.
Food Prices in Vegas: Around $30-600 per day based on your tastes. $30 is the bare-bones minimum if you're only eating fast food. $600 is if you're planning to go Michelin-star most of the time.
For mid-range travelers, I'd say about $150 per person per day is fair.
I spent around $150 a day, or $300 during my trip eating at mid-range restaurants.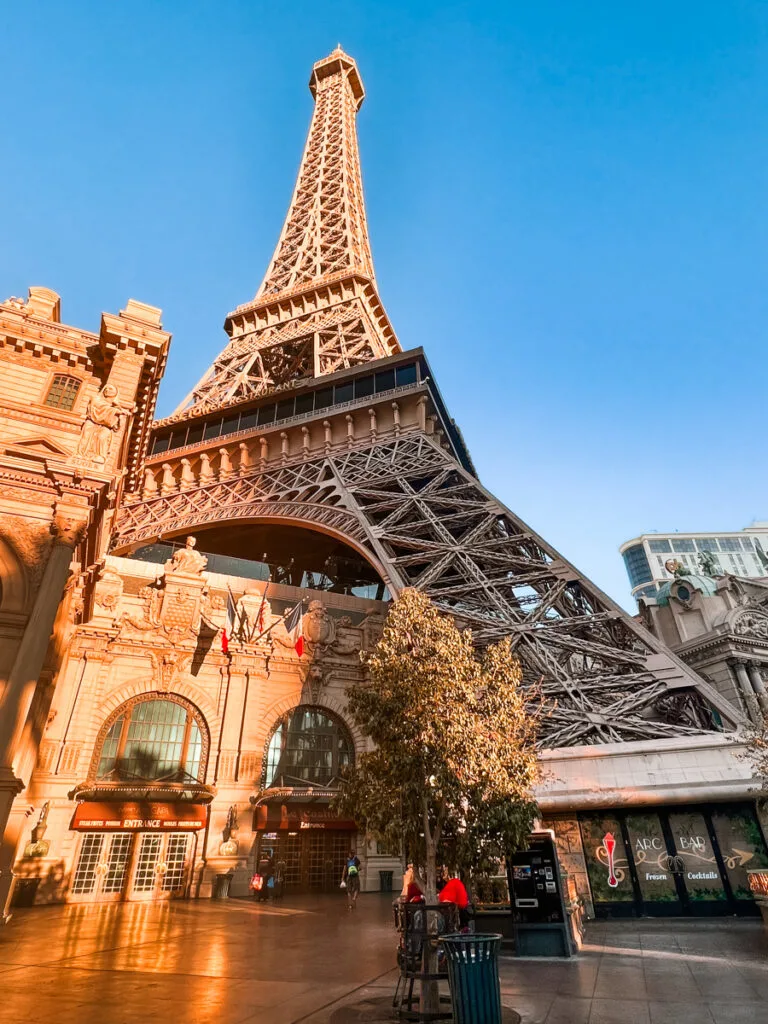 So How Much Does a Weekend Trip to Vegas Cost?
As most people tend to spend a weekend in Vegas, or about 3 days, here are some budgets to consider based on your travel style.
Budget Traveler:
For a budget traveler, expect to pay around $750-$1,200 for a solo traveler, or $1,000-1,800 for a couple. This includes discount flights, budget hotels, using minimal transportation while there, doing a few activities, and eating and drinking on the cheap.
Mid-Range Traveler:
For an average trip to Vegas cost, budget around $2,000-2,600 for a solo traveler, or $3,300-4,000 for a couple. This includes average flight prices, mid-range hotels with weekend prices, renting a car, doing some activities/seeing some shows, and eating and drinking in mid-range places.
Luxury Traveler:
And for those luxurious travelers, budget around $4,000-7,800+ for a solo traveler, or $6,900-12,700+ for a couple. This includes business/first-class flights, luxury hotels, luxury rental cars, doing a ton of activities, and eating/drinking luxuriously.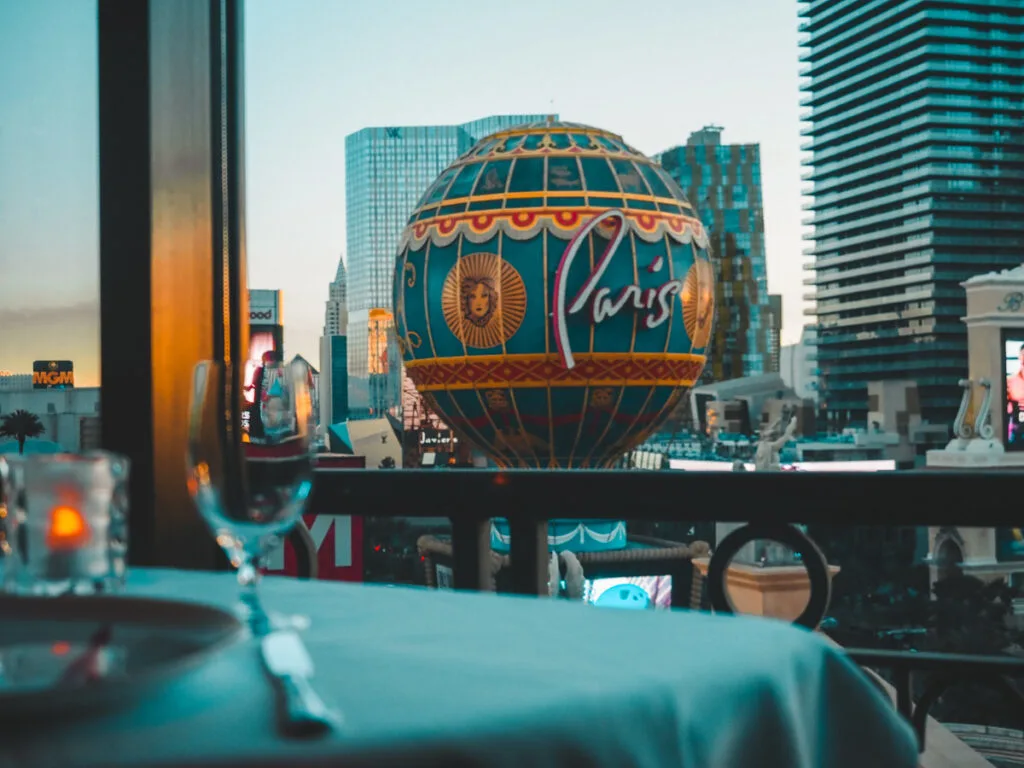 So How Much Did I Spend During My Trip to Vegas?
I spent around $1,200 during my 2-day trip to Vegas. However, it would've cost closer to $1,700 if I had been there for 3 days, which is the average time in Vegas.
However, note that I didn't gamble, and I only had a few drinks a day. I also had casual breakfasts and lunches and splurged more for dinner at upscale (but not super fancy) restaurants.
I also went mid-week. These all make huge differences in the cost of a Vegas trip.
In conclusion, prices in Vegas can vary wildly from budget to uber-luxurious. So, while creating a budget for your trip can seem daunting, this guide is here to help you make the most of your trip!
Enjoy your time in Vegas thanks to this Las Vegas vacation cost guide!
Want more vacation cost guides? Check out these posts!
Pin it here!