Some posts on this site contain affiliate links, meaning if you book or buy something through one of these links, I may earn a small commission (at no additional cost to you!). Read the full disclosure policy here.
---
We're back with episode 5 of our series all about how to spend 2 weeks on a continent! This week is all about how to spend 2 weeks in Asia!
If this is your first time listening to this series, Chris and I each come up with 2 separate itineraries (we don't even tell each other!) on how we feel is the best way to spend 2 weeks on a continent.
Why 2 weeks?
Well, many people, especially US citizens, don't get much time off from work to spend months and months somewhere new. For many, a 2-week trip somewhere across the globe is a once-in-a-lifetime thing and they want to make the most of it!
So whether you want to use this as a first-timer's guide to visiting Asia or this is your once-in-a-lifetime trip, we hope you enjoy it, and let us know your thoughts on these itineraries!
From exploring temples and shrines in Japan to walking with elephants in Thailand, you'll definitely find some incredible things to do in just 2 weeks in Asia!
Comment below and let us know your thoughts or you can reach us on Twitter @wwhoneymoon, Instagram @worldwidehoneymoon, or email [email protected].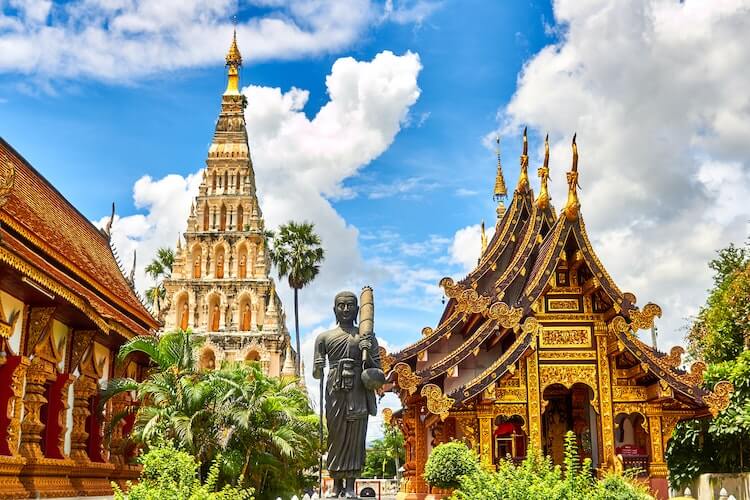 Time Stamps How to Spend 2 Weeks in Asia:
0:17- Intro
0:35- Updates/chat
4:36- Topic intro: How to spend 2 weeks in Asia
7:54- Kat's approach to creating her Asia itinerary
11:34- Kat's 2 week Asia Itinerary: Japan (Osaka, Kyoto, Hakone, Tokyo), Thailand (Chiang Mai, Phuket), and Singapore
25:23- Chris's approach to his 2-week itinerary
28:40- Chris's itinerary: Siem Reap, Hanoi and Bai Tu Long Bay, Tokyo, and Chiang Mai
40:34- What did we want to include but couldn't?
45:08- What would we drop to make it a slower trip?
47:04- What did we learn?
50:38- Wrap up
Helpful Links and Further Reading:
Relevant Podcast Episodes:
Relevant Blog Posts:
How You Can Help:
Pin it here!