From where to book your travels to insurance and more, here are some great resources we use, love, and highly recommend to get the most out of our dollars and travels!
Links on this page are affiliate links. This means that we earn a small commission when you click and make a purchase through these links (at NO additional cost to you)! We only work with and promote brands and products that we use, come highly recommended, and love. Read more about our affiliates in our privacy policy.
1. Flights
Outside of travel hacking, when it comes to saving money on flights, our go-to is Skyscanner. Before we even book a flight using miles, we check Skyscanner first to see if it's a better deal to pay cash versus using our miles. Skyscanner is also unique in that it allows you to enter your home airport and search "everywhere" as a destination as well as choose various months and cheapest months to compare. It also pulls in all the little discount airlines that other flight search engines sometimes don't include, so in the end, you know you're getting the best deal out there.
2. Hotels
As for hotels, we go with the sites that are showing the best deals. The hotel sites we love and book on include Agoda, especially for Asia travel, and TripAdvisor, Expedia, and Hotels.com for everywhere else. All of these are great, user-friendly sites that we've used to book various hotels as well as research hotel costs in certain areas. I also love TripAdvisor as it is a great way to find out what to do in the area, organize day trips, and more!
3. Tours
When Chris and I travel to a new place and find it challenging to organize flights, accommodation, transportation, and more, using a tour company always helps. And the one we trust is Intrepid. Let Intrepid handle all the details and let you get immersed within a culture and location for as much time as you have there. From trips ranging a few days to several weeks, they organize small-group tours around the world, both famous locations to even smaller, more remote countries. If you're interested in traveling deeper, this is the company to choose.
4. Day Tours
Not sure what to do when you arrive at a new place? Get Your Guide has so many amazing tours that can take you around any given city, including food tours, historical tours, and more! And if you want to take a day trip, Get Your Guide takes care of that too. From trips to the Loire Valley outside of Paris, or even fast pass tickets for Disneyland, Get Your Guide has so many great options for you!
5. Travel Products
Whether it is last minute supplies like an outlet adapter, or things we love, like microfiber towels, we always search on Amazon first. Free, 2-day shipping with our Prime membership, means we have everything we need to travel fast.
6. Wedding Registry
Planning your wedding? We used Blueprint Registry and loved it! It keeps track of all of your gifts from other retailers in one spot! Just shop on your favorite sites, choose to save on Blueprint, and it's there! You can also import registries from places like Target, Bed, Bath, & Beyond, and more into Blueprint. Our favorite part was the customizable honeymoon fund! We created our own things, as well as selected from their pre-set list like "Drinks on the Beach" or "Romantic Dinner for Two."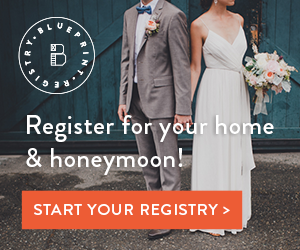 So here are our top resources for booking flights, hotels, wedding registry, and even purchasing everyday travel items. We love these products and companies and hope you enjoy as well!