Some posts on this site contain affiliate links, meaning if you book or buy something through one of these links, I may earn a small commission (at no additional cost to you!). Read the full disclosure policy here.
---
Paris: the city of lights, the city of romance, and a city of wonder. If there is one cliché that lives up to its name, it is that Paris is a dreamy place. From the beautiful balconies to the charming streets, a trip to Paris is sure to delight you. And if you only have a short amount of time, fear not! I'm going to let you know how to cover the highlights of Paris in 4 days!
I lived in France and have traveled to Paris several times, including a chilly visit in January, a springtime visit in May, as well as visits in the summer and fall. I also have a local friend who has shown me some incredible hidden gems and fun places to visit around the city.
Paris is hands-down my favorite city in the world, and France is my favorite country to visit time and again. I even have a whole blog dedicated to France travel. So when it comes to the perfect Paris itinerary that includes both fun tourist attractions and local favorites, I've got you covered.
In this insider's guide for a 4 day Paris itinerary, we're going to cover the following topics:
A detailed 4 days in Paris itinerary
Tips for spending 5+ days in Paris
Best time to visit Paris
Where to stay in Paris
How to get to Paris + getting around Paris
Expert tips for visiting Paris
Check out our Paris itinerary and tips on our podcast episode!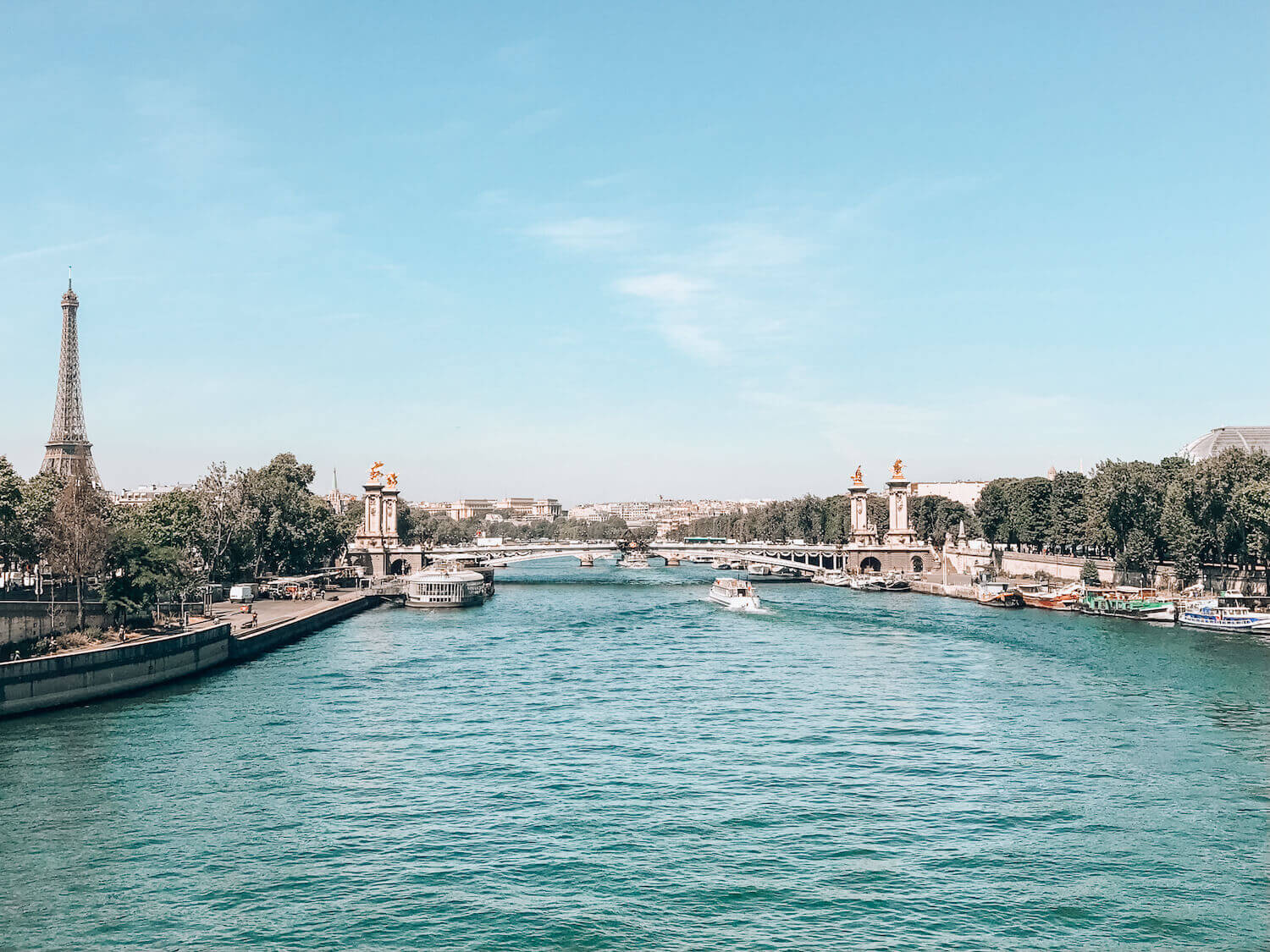 4 Days in Paris Itinerary
It is time to talk about all of the places to visit in Paris in 4 days! Here is a great 4-day Paris itinerary from a Paris fan-girl.
Day 1 of Your Paris in 4 Days Trip: Louvre, Palais Royale, the Seine, and the Eiffel Tower
If you are flying or taking the train to Paris, you will want to get in early. Usually, flights to France from the US are red-eye, meaning you'll get in the following morning.
Getting through customs isn't too difficult unless there is a long line. The most recent time we went, we were out and in an Uber within 30 minutes of getting off the plane. Get to your hotel, check in, drop off your luggage, and get some food.
I recommend heading over to your nearby boulangerie for a cheese sandwich and a beautiful pastry. Relax for a little bit and then start wandering the streets of Paris!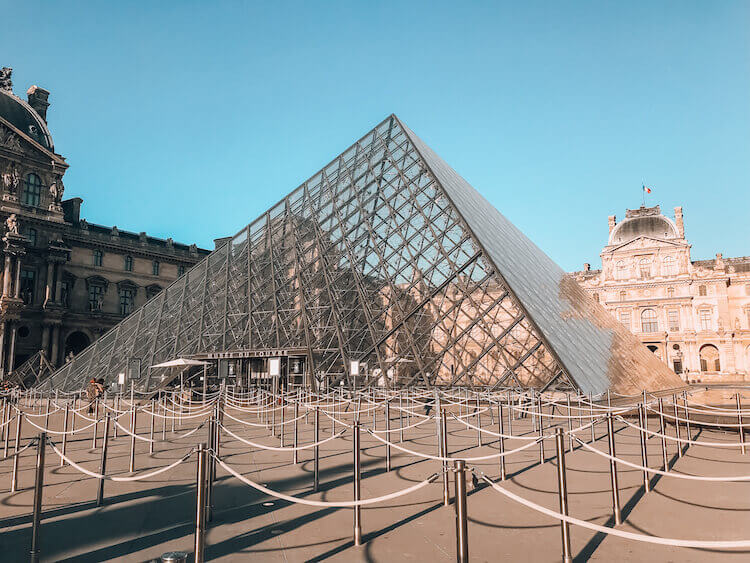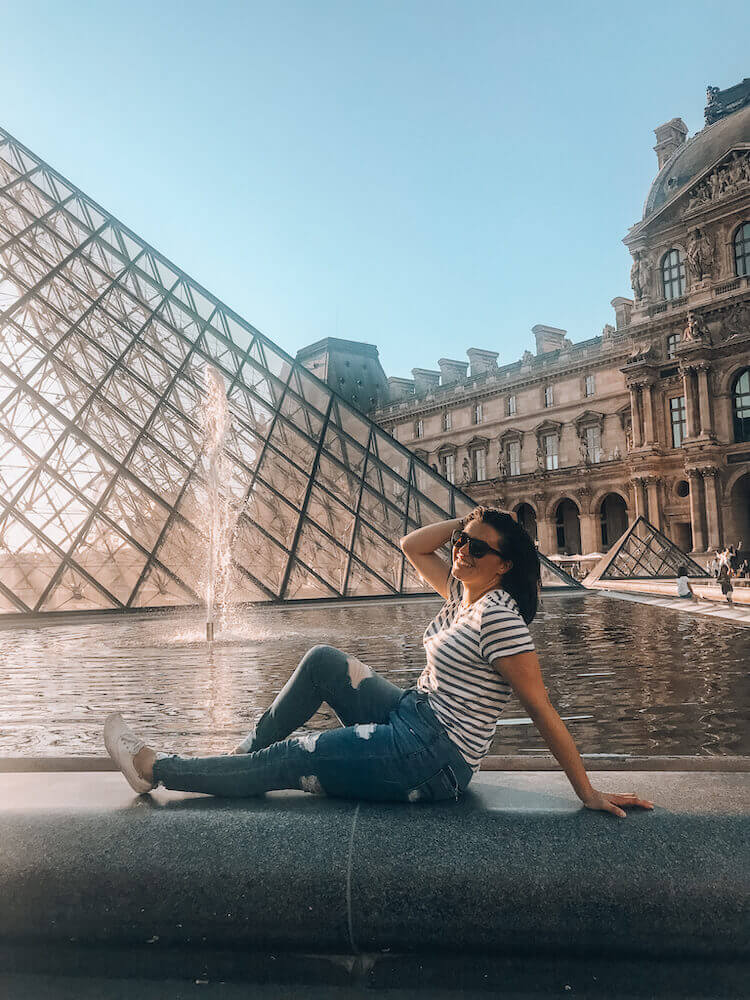 Start in the first arrondissement (that just means district) and you'll happen upon the Louvre and Palais Royal. I highly recommend taking some sweet photos on the columns at Palais Royal or along the pyramid at the Louvre.
We took these in the evening after the museum was closed, but you could also come before it opens another day and take some good shots before the crowds arrive.
If you would like to visit the Louvre, budget some time for that today. If it is your first time, I highly recommend at least going through and seeing the main artworks such as the Mona Lisa and Liberty Leading the People.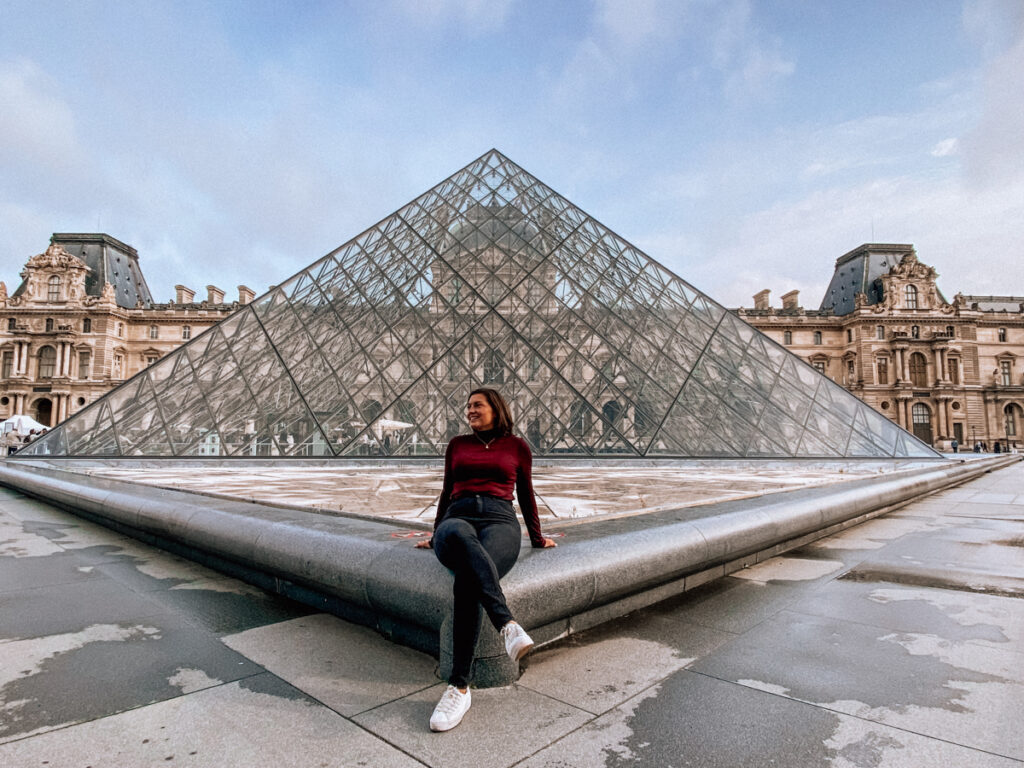 Also, I highly recommend purchasing timed entry tickets before you go to avoid wasting time waiting in line. I went here on my first visit to Paris and was able to see the highlights in about 2 hours. Yes, you could spend a lot more time here, but it can be a bit overwhelming after a couple of hours.
Louvre Hours: Monday, Wednesday, Thursday, Saturday, and Sunday from 9 am-6 pm. Friday from 9 am-9:45 pm. Closed on Tuesdays.
Ticket Price: €17 if purchased online and €15 if purchased at the museum. Note that tickets may sell out.
Pro-Tip: Skip the line and purchase tickets online!
After the Louvre and Palais Royal, start heading to the Eiffel Tower. On the way, you'll wander along the gorgeous Seine River. Admire the boats as they pass, see people grab a drink at cute bars, and maybe purchase some art sold by the green stands along the river.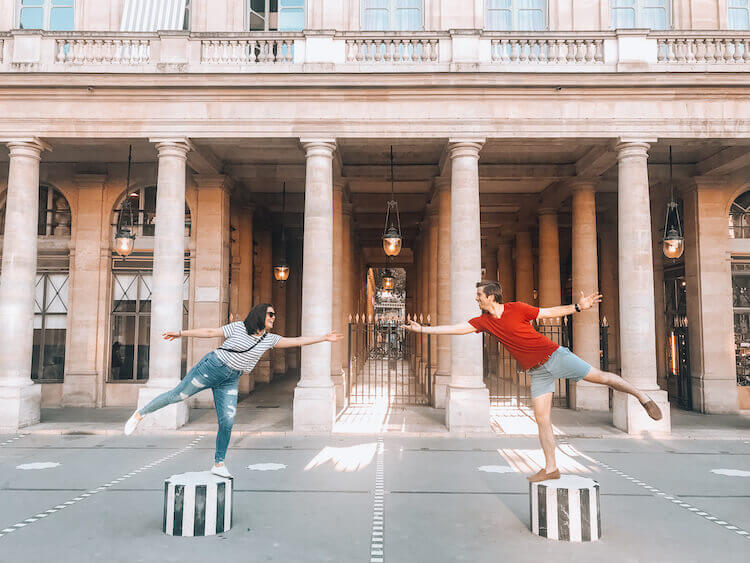 You'll pass over the lovely Pont Alexandre III bridge, a photo opportunity all on its own before happening upon the Army Museum, a stunning building with a gold dome on top. Inside, you'll discover the history of France's military. And if you don't have the time to stop in, definitely admire the architecture of the building and the lovely gardens.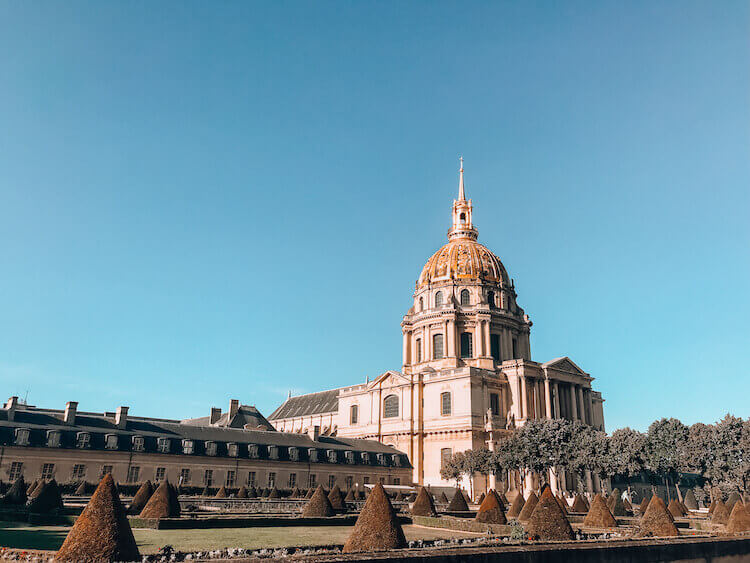 Then, you'll see it: standing tall above all the buildings in Paris, with fountains in the front and sprawling gardens in the back: the Eiffel Tower. It is certainly a photo opportunity, with ample places to take lovely pictures. If you like, you can also reserve tickets in advance to go into the tower (and skip the line)!
Eiffel Tower Hours: 9:30 am-11 pm.
Ticket Price: €11.30-28.30 depending upon taking the stairs to the 2nd floor or the elevator to the top.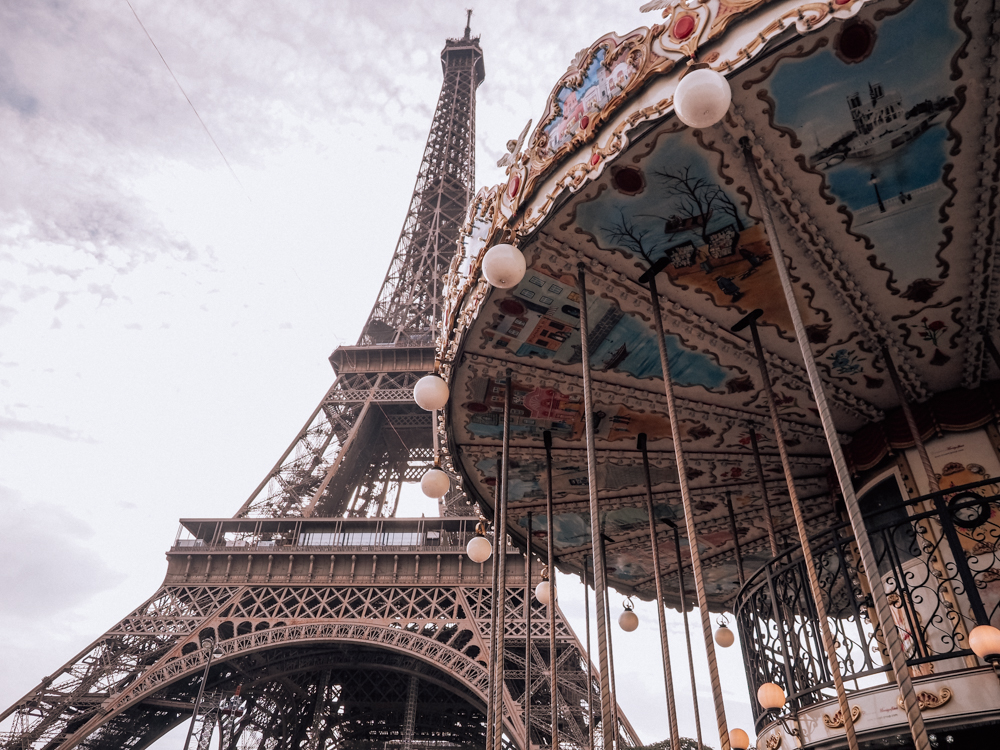 Wander the gardens, the fountains, and see the whimsical carousel at the base of the tower. Pretty soon you'll start to feel the magic that is Paris sink in.
After walking around these stunning sites, I recommend an early night. Grab a quick bite to eat at Les Bols de Jean, an innovative place that serves bread-bowls filled with cheese, rice, and so many delicious things. It's a fast meal before going to bed for the following day's adventures!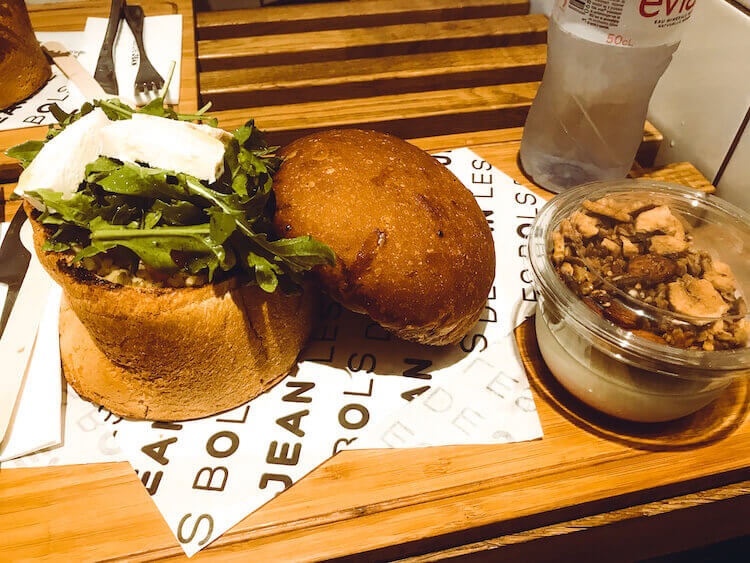 Day 2 of Your 4 Days in Paris: Les Deux Magots, Abbey of Saint-Germain-des-Pres, Musee Rodin, Musee L'Orangerie, Le Marais Food Tour, and Les Juveniles Wine Bar
I recommend waking up early to take photos (and have a tasty breakfast) before everyone else. In this case, I absolutely love going into the Saint Germain area. And the best Paris itinerary has to include Les Deux Magots for breakfast.
Known for the likes of Hemingway and Picasso, it was a place for artists and intellectuals to meet up. Now, it is a cute café to enjoy people watching and delicious drinks!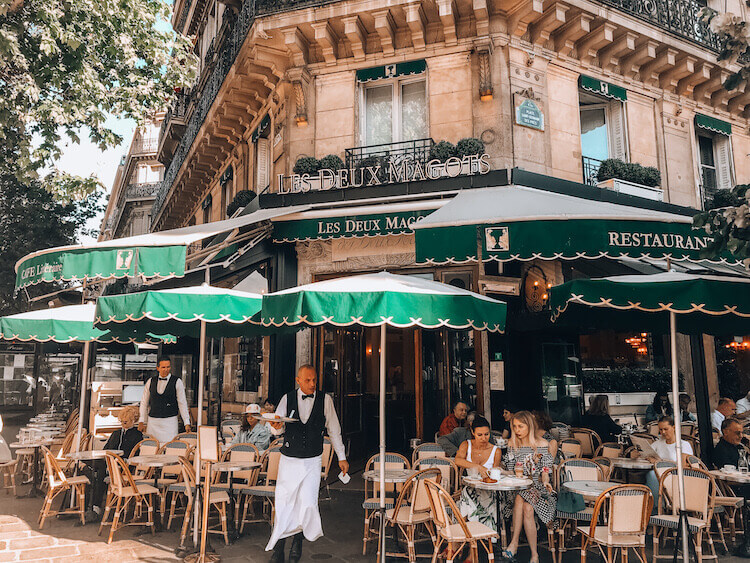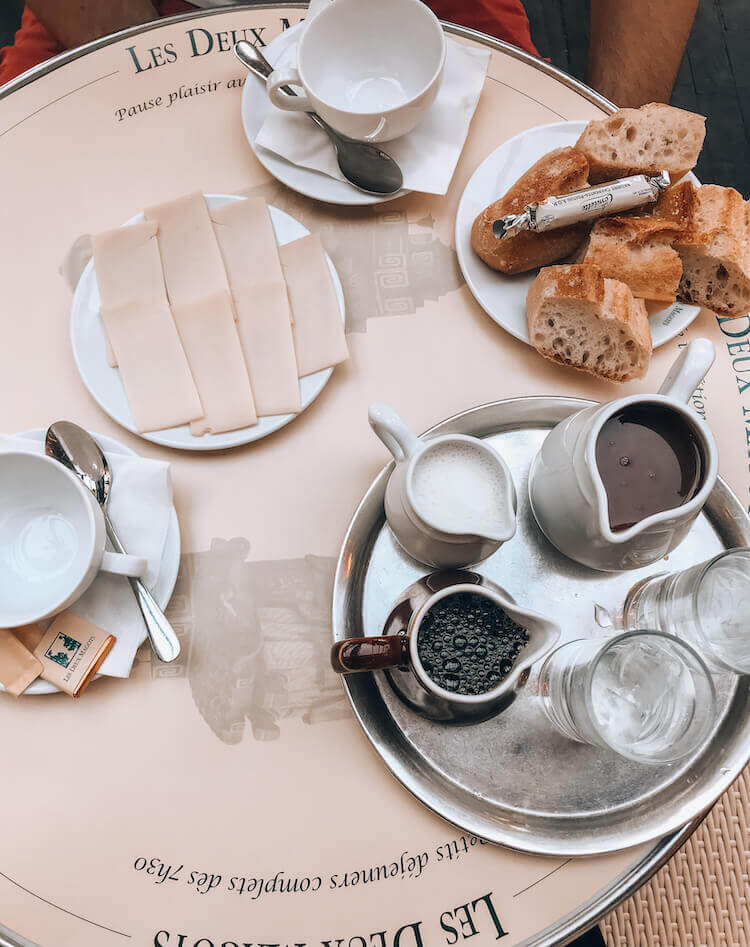 We loved it so much we went twice during our last time there! Situated across from the Abbey of Saint-Germain-des-Pres, enjoy beautiful views of this church while drinking the thickest, most dreamy hot chocolate you'll ever have. Seriously, it is the melted candy-bar of your dreams!
Chris and I ordered the ancient hot chocolate and coffee to share and man- the hot chocolate was so rich and they give you so much, it is worth sharing! Even the coffee was delicious too!
Order some tasty baguette, cheese, and croissants, and you'll feel geared up (and to be honest, a little carbo-loaded) for the day of sightseeing.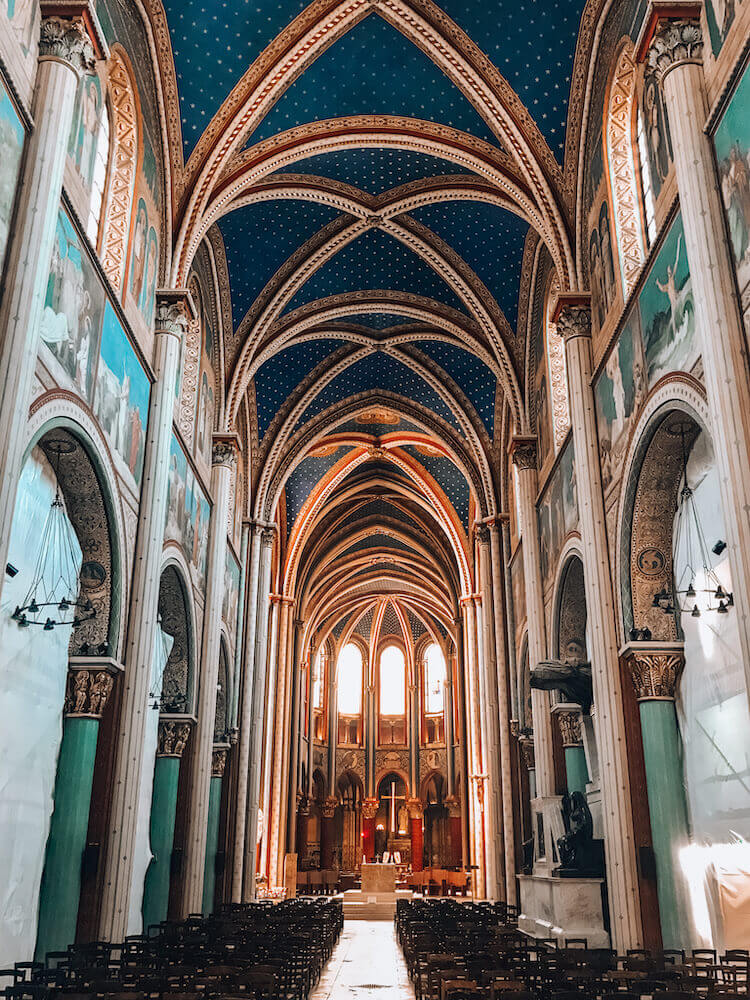 Museums and Abbey Saint-Germain-des-Pres
I recommend wandering over to the church across the street after and taking a peek inside. It is free, and honestly, it turned out to be one of my favorite churches in Paris to visit. It was completely empty when we went in too! There is even an adorable little garden next door.
After visiting the church, head up the street just a little bit to eat a little more for breakfast-and a macaron at that! Lauderée, France's most iconic macaron and pastry shop, is the perfect spot to taste one of these little gems. Our favorites were pistachio and orange blossom!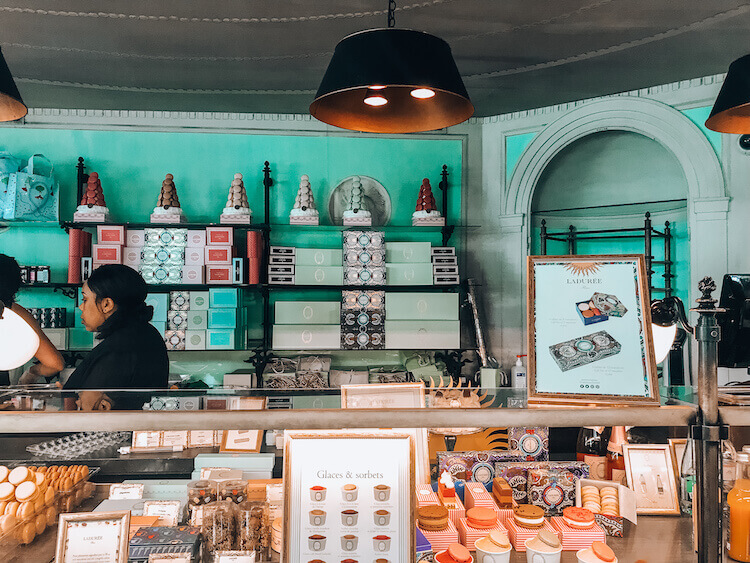 Okay, now that you're sufficiently full from breakfast round two, it is time to walk that off and go to one of Paris's lesser-known museums: the Rodin Museum.
Full of sculptures, especially those from Auguste Rodin, this museum is beautifully decorated inside, and much smaller than many other art museums. It is definitely a Paris bucket list item!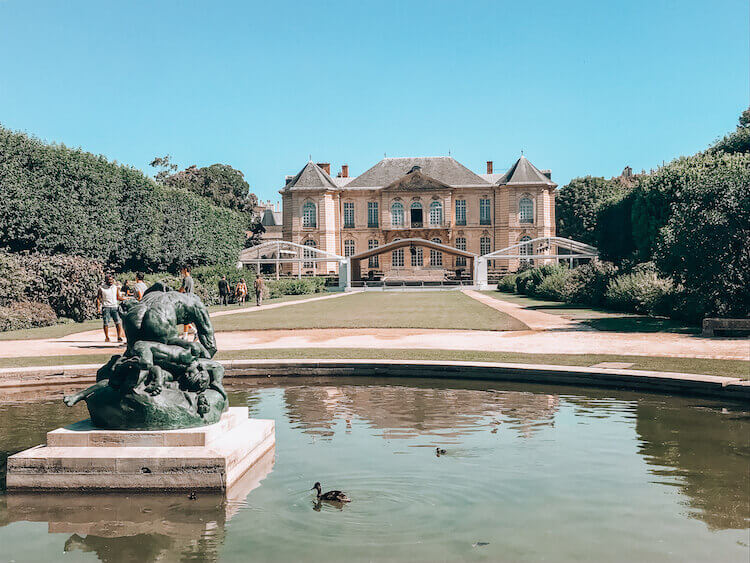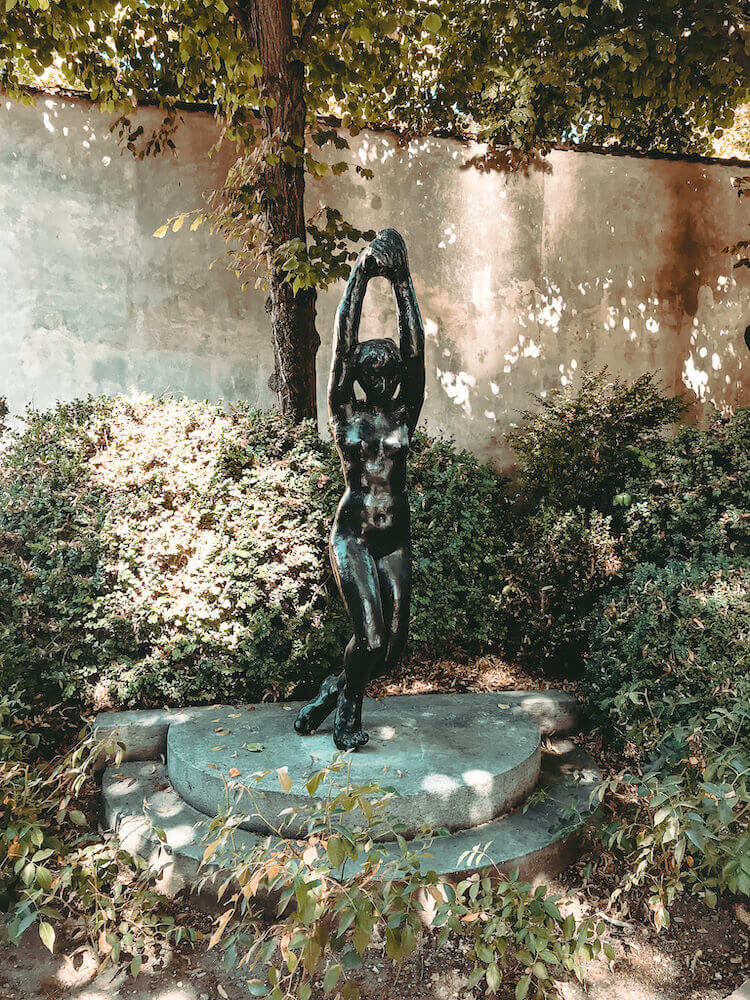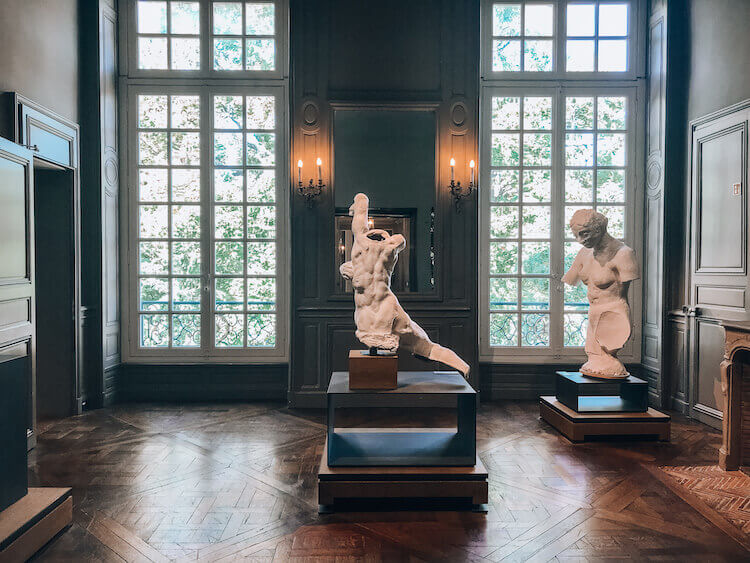 But what I loved the most about it was the sculpture garden in the back, including famous sculptures like The Thinker. We spent quite a bit of time frolicking among the beautiful flowers, admiring the sculptures, and posing alongside them!
And at this point, you may be getting tired of museums, but I promise you that you'll want to see this next one. If there is one must-see in Paris, the L'Orangerie Museum is it.
With rooms designed by Monet himself to display his giant water lily paintings, if you only go to one museum in Paris, visit this one.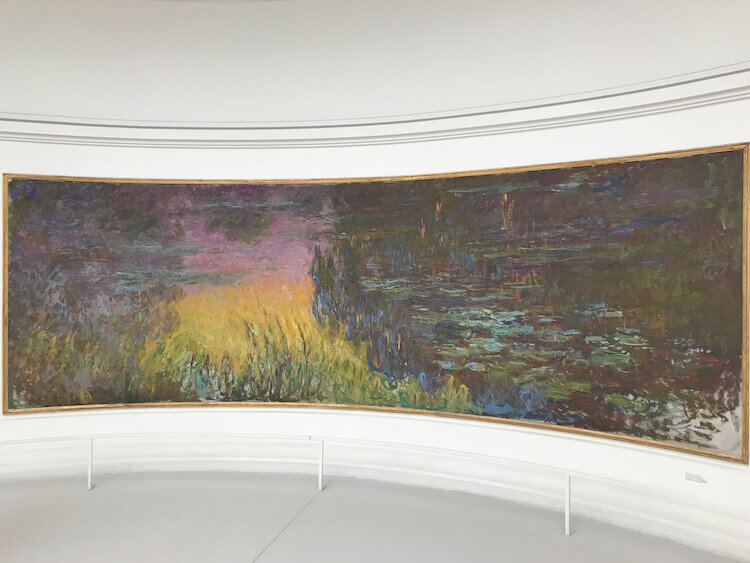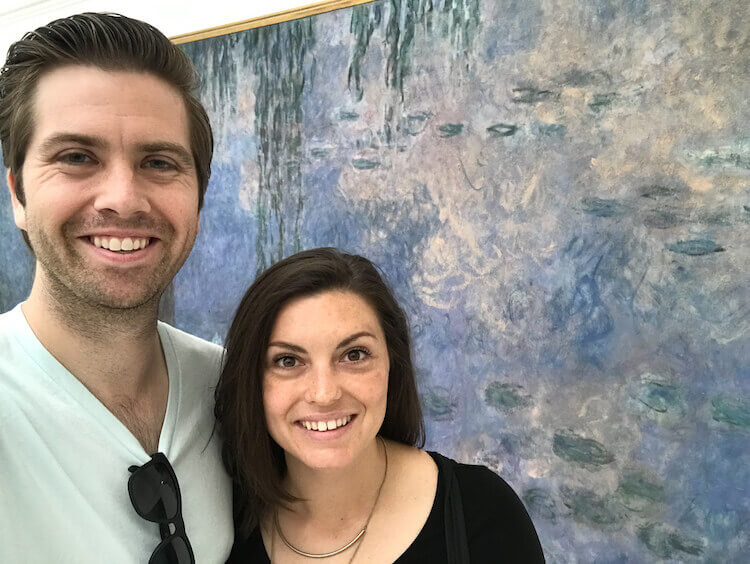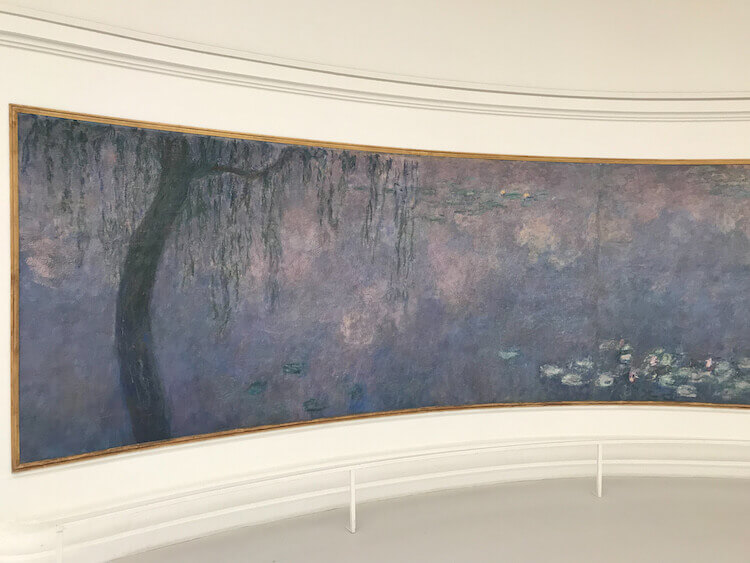 This small museum features artists like Paul Cezanne, Henri Matisse, Pablo Picasso, and Pierre-Auguste Renoir. Take your time and enjoy these famous works with fewer crowds than D'Orsay.
Rodin Museum Hours: Tuesday-Sunday 10 am-6:30 pm. Closed on Mondays.
Ticket Price: €13.
Orangerie Museum Hours: Wednesday-Monday 9 am-6 pm. Closed on Tuesdays.
Ticket Price: €12.50.
Forget Lunch-Take a Food Tour
Who needs to decide what food you'd like for lunch when you can take a food tour?! It may not be a surprise to you, but Paris, and France, in general, is a foodie place. The best way to experience the food is to take a tour!
And a must do in Paris is this food tour. Definitely opt for one of my favorite Parisian neighborhoods: Le Marias.
On this delightful food tour, you'll spend 3 hours wandering around this beautiful neighborhood sampling anything from croissants at a bistro to amazingly delicious wine and cheese at a tucked-away market.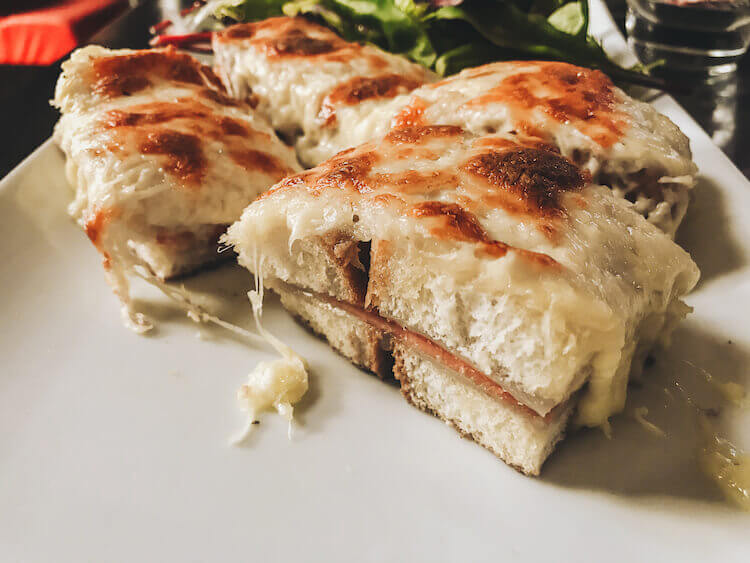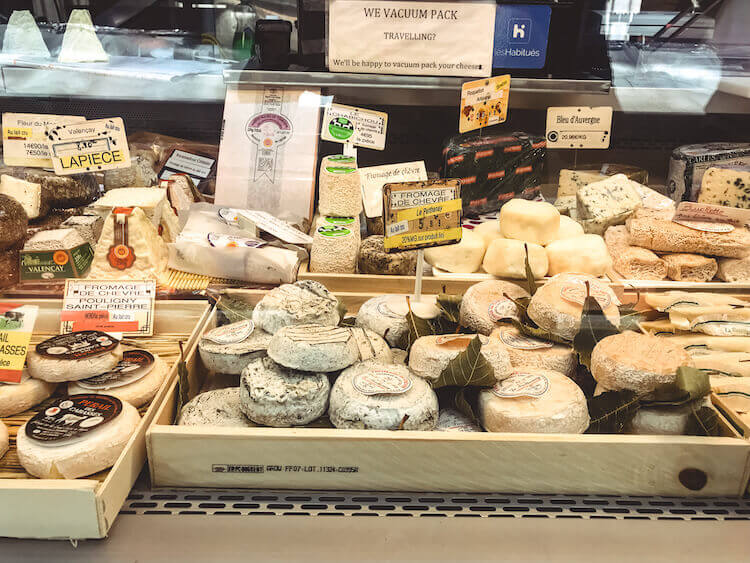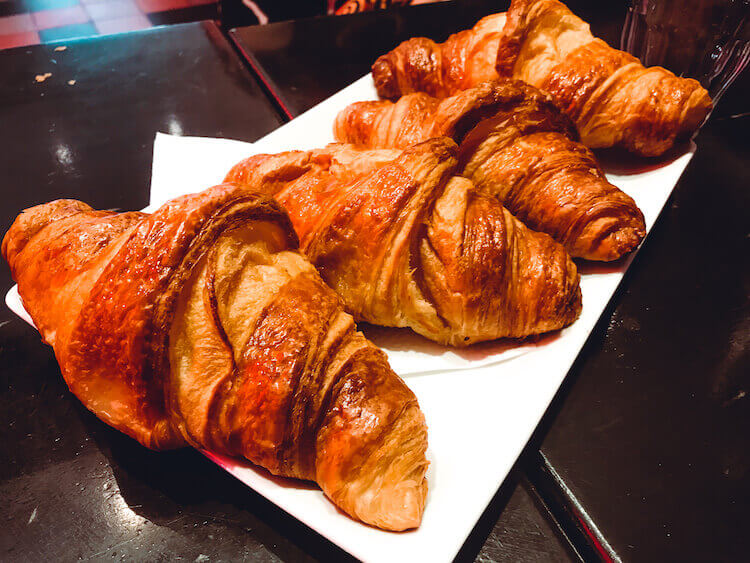 We discovered so much about French food, including how croissants and the word bistro came to be! Le Marais is charming and full of great spots from falafel to literally the best macarons I've ever had at Edwart Chocolatier.
Enjoy this food tour as you eat dish after dish of French fare on top of learning (and tasting) wine from various regions of France.
Wine Down at Les Juveniles
After the tour ends in the evening, it is time to "wine" down and go to a lovely happy hour. If you want to try one of the best French wine bars, make reservations and check out the lovely Juveniles.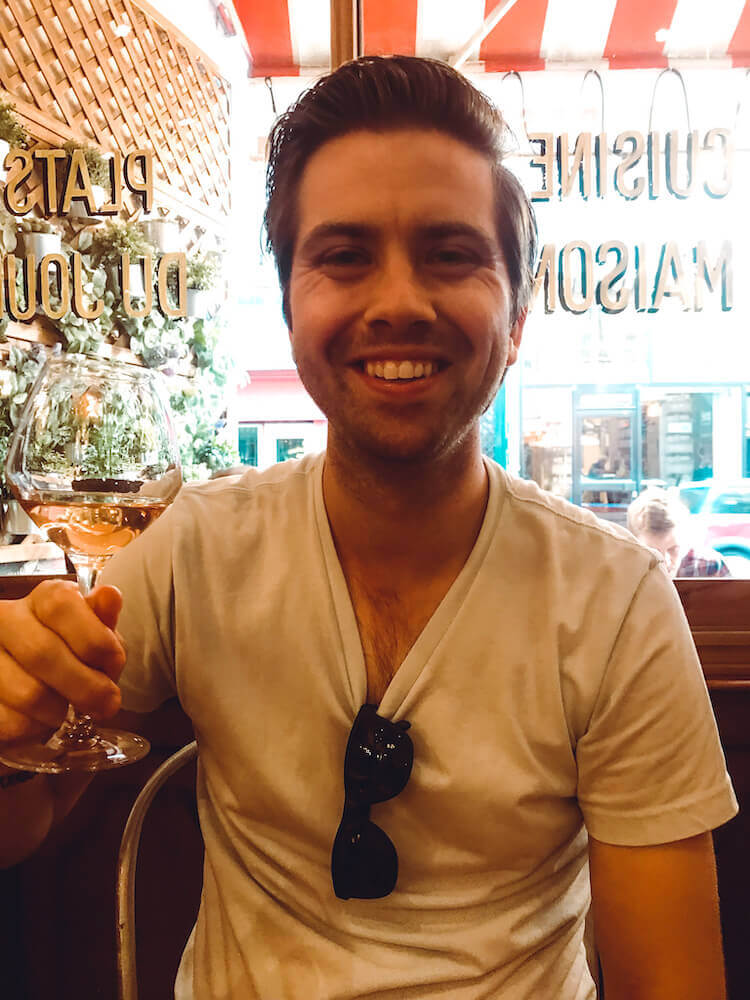 But, if you're like us and forgot to make reservations (or potentially got confused) Bistro Richelieu is the perfect spot for drinks. Locals and tourists alike come here to drink the drink of the summer, an Aperol Spritz, or sample a bottle (or two) of French wine.
What I love most about France is that you can truly take your time when you sit down for a meal or drink. Sip your wine for hours and chat with your partner, reflect on your day, and enjoy. How often are you in Paris, right?
After some wine drinking and a belly full of food from the tour, this could be a fun time to head back to the Eiffel Tower for a small picnic of bread and cheese to see the Eiffel Tower lit up at night! It is a sight to see with it glittering away on the hour!
And if you really want to enjoy a night on the town, be sure to check out Castor Club, a hidden gem of a cocktail bar in Saint Germain with speakeasy vibes and a great drink list!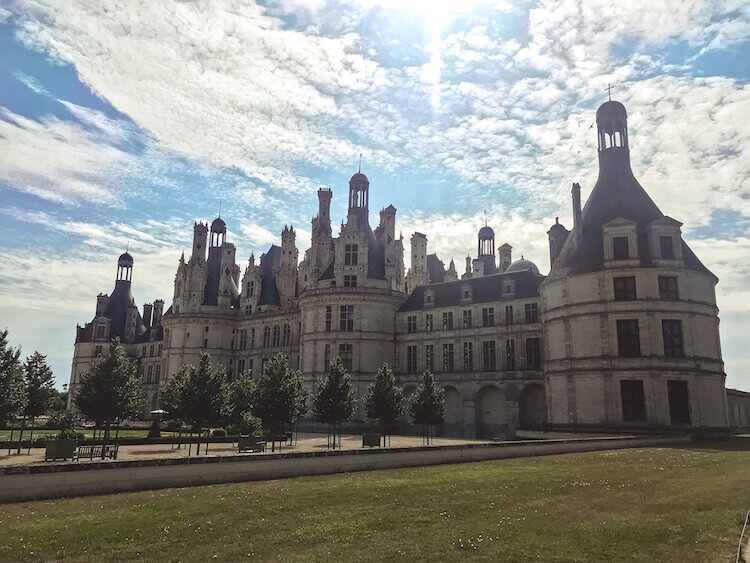 Day 3 of Your 4 Days in Paris: Paris Day Trips!
If you are lucky enough to spend more than 3 days in Paris, I would take full advantage of a day trip. It gives you a chance to see something new and get out of the city! In the summer, it is a welcome relief.
But no matter when you decide to visit, here are a few great day trip ideas from Paris: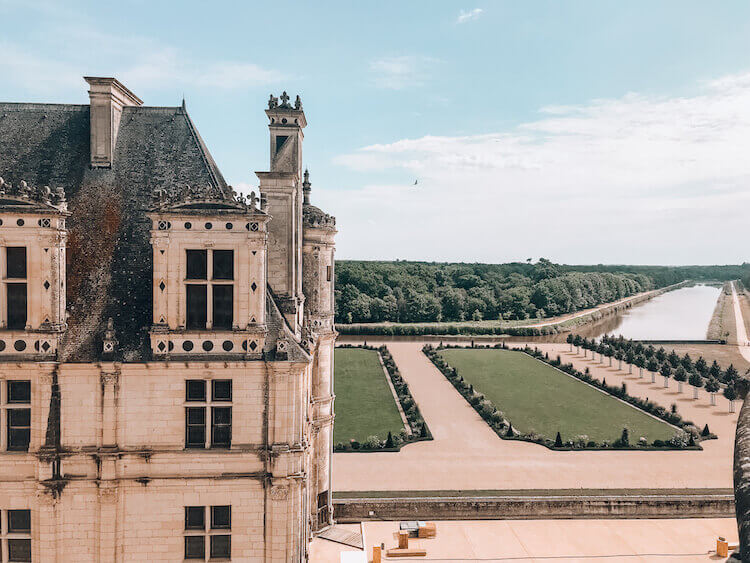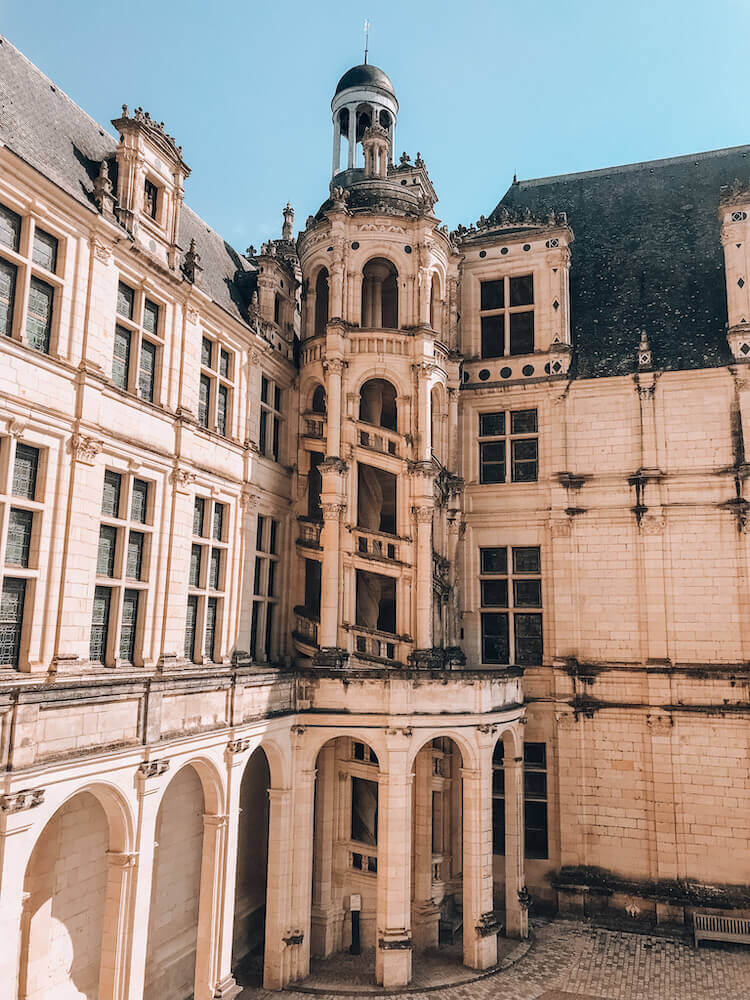 There are plenty of things you can certainly do outside of Paris, but if you love wine and castles, opt for the Loire Valley tour.
The tour starts with an earlier pick up time (around 7:30 am) and you head to Chateau de Chambord, the castle that inspired Disney's Beauty and the Beast.
This gigantic chateau is great for admiring the architecture and wandering the gardens, winding staircases, and more.
Then, you stop for a traditional French-country meal at Chateau de Nitray. This family-owned estate grows its own grapes for wine and they make wonderful roasted chicken, tomatoes, and potatoes for lunch.
They also guide you in a wine tasting and give you delicious Cabernet Franc to enjoy with your meal.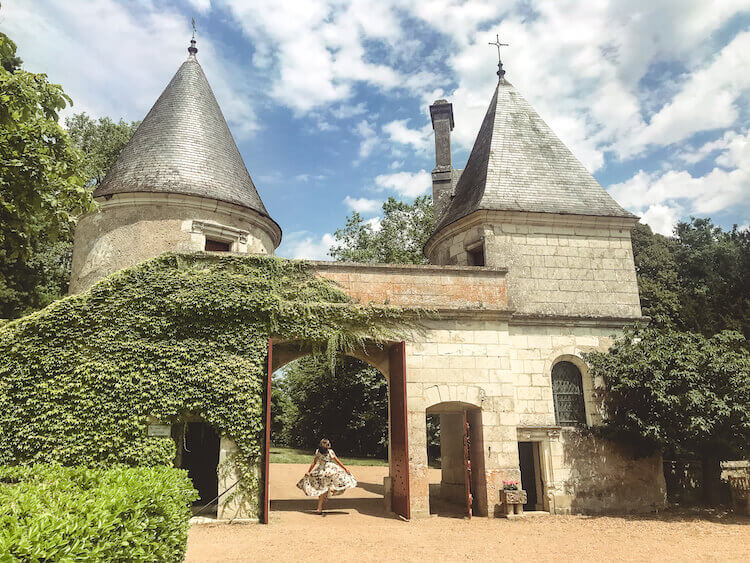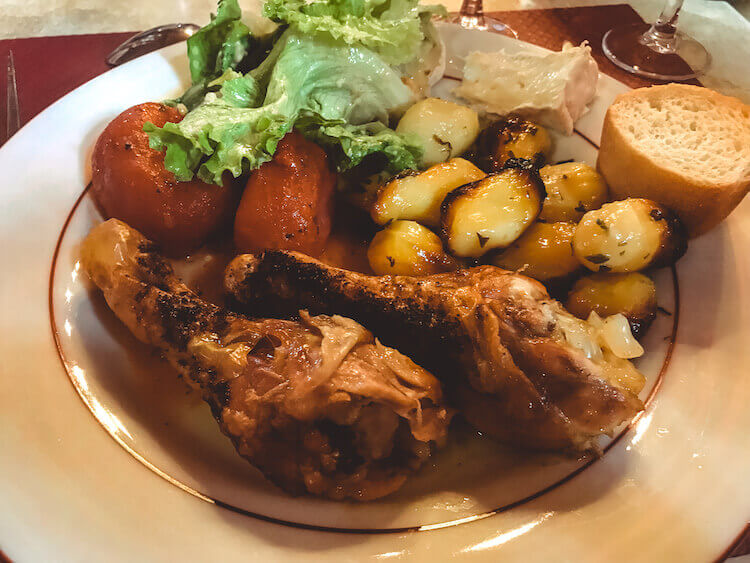 And if you aren't already stuffed, you'll definitely want to have their apple tart for dessert and a little bit of sparkling wine. After all of that, they'll guide you on a tour of their estate, from the courtyard to the gardens.
Lastly, you end the tour at Chateau de Chenonceau. Known as the "lady castle" this place was run by several women in history including the likes of Diane de Poitiers and Catherine de' Medici.
Enjoy the gardens here and views of the Cher River before departing back to Paris.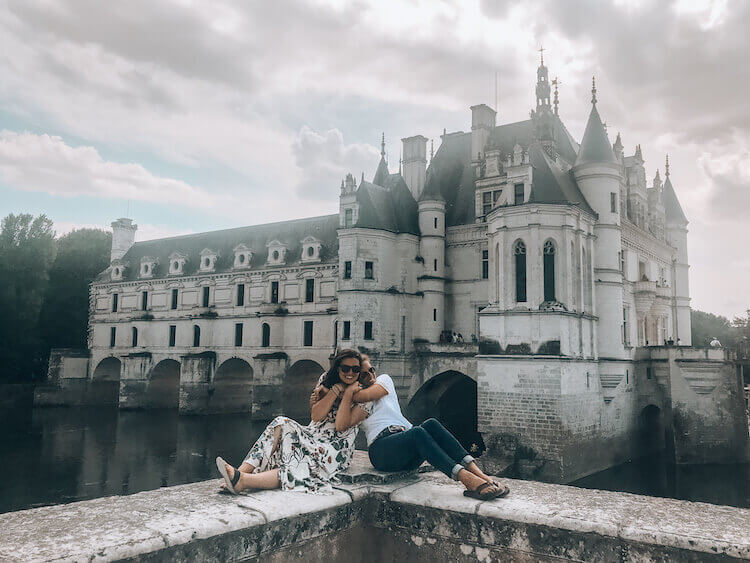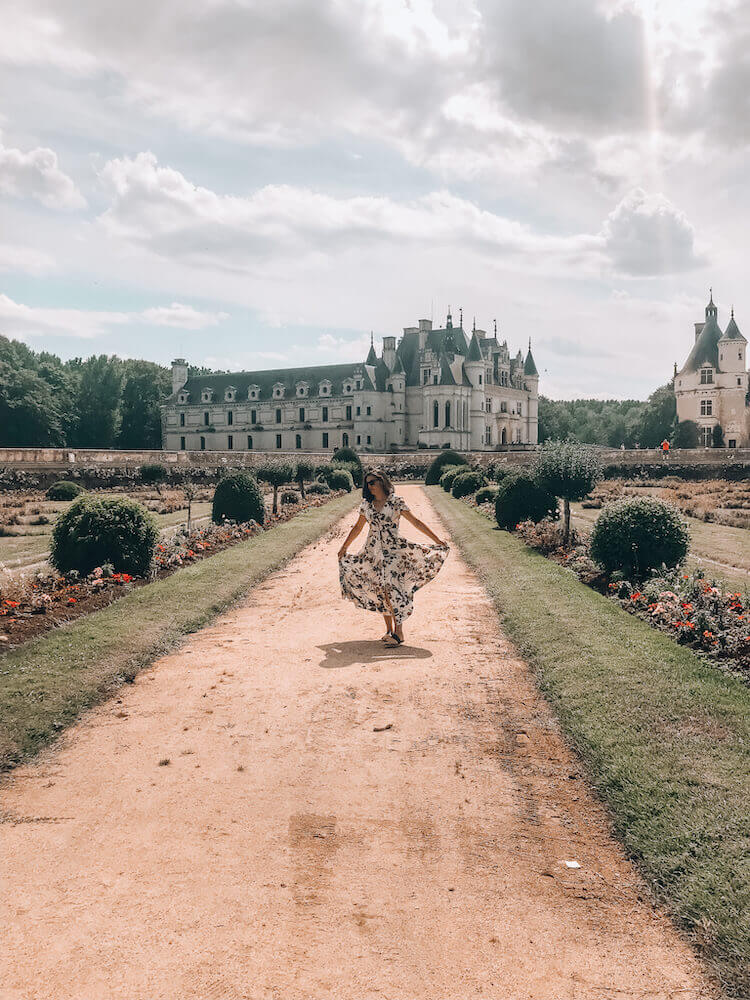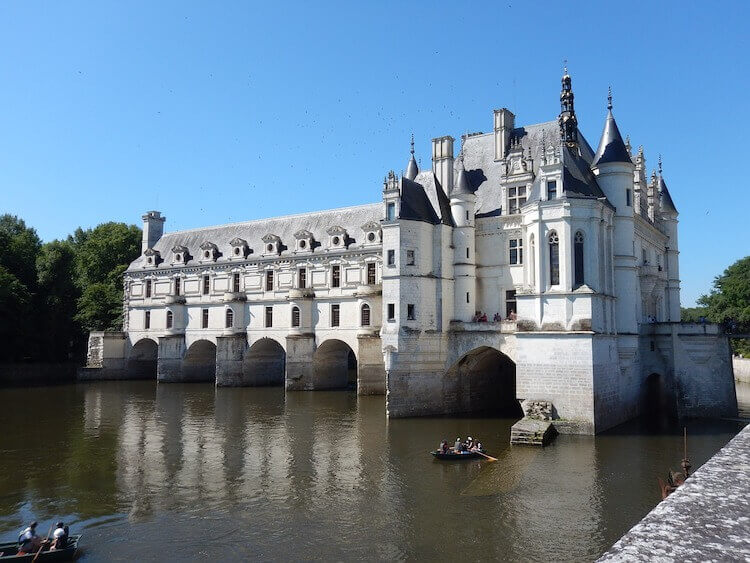 Dinner and Dessert in Paris
After arriving back in Paris, dinner is a no-brainer; Le Procope is the place to go. The oldest café in Paris that is still in operation has become a part museum and part delicious institution.
We enjoyed the artichoke salad and fish with risotto with a side of Merlot as we talked about our time in Paris and the Loire Valley. It is a fantastic spot to eat after a day of exploring.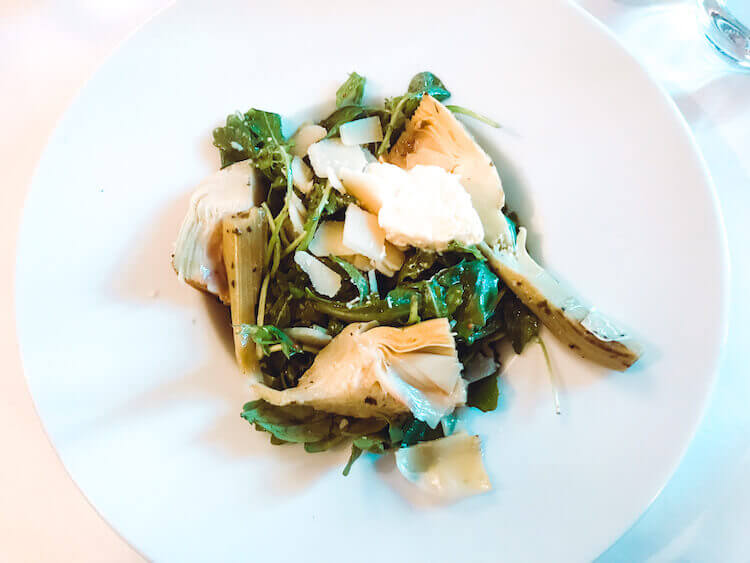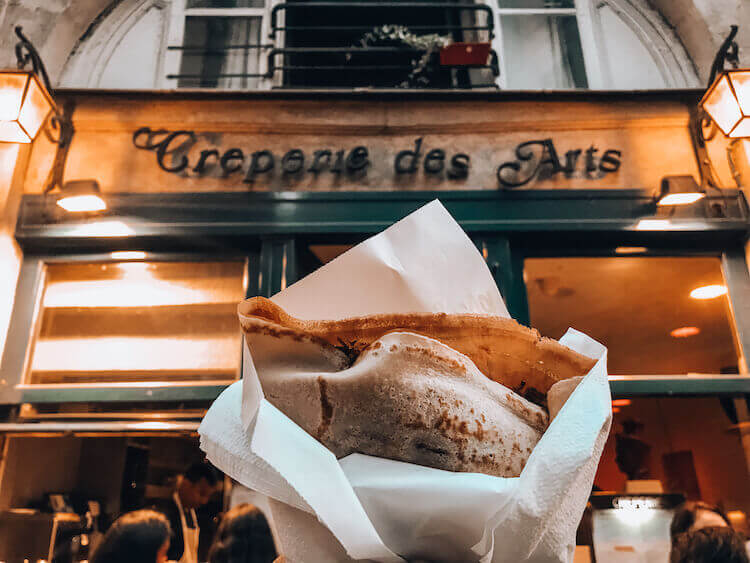 And if you want a little smaller establishment, La Jacobine next door is a tiny café with amazing cuisine. It is located in the cutest tucked-away passage. But be sure to make a reservation! It's always busy!
But no matter what, save up for dessert. Because who goes to Paris and doesn't have a crepe? And you can't just have any run-of-the-mill crepe. Instead, go to Creperie Des Arts. If you'd rather take your crepe to go you can, or you can enjoy it inside with a cup of coffee.
What's our favorite crepe? Hands-down Nutella and banana. We loved walking around eating our crepe and spotting the front of Notre Dame.
It is a great opportunity to watch the sunset around the cathedral and the Seine River.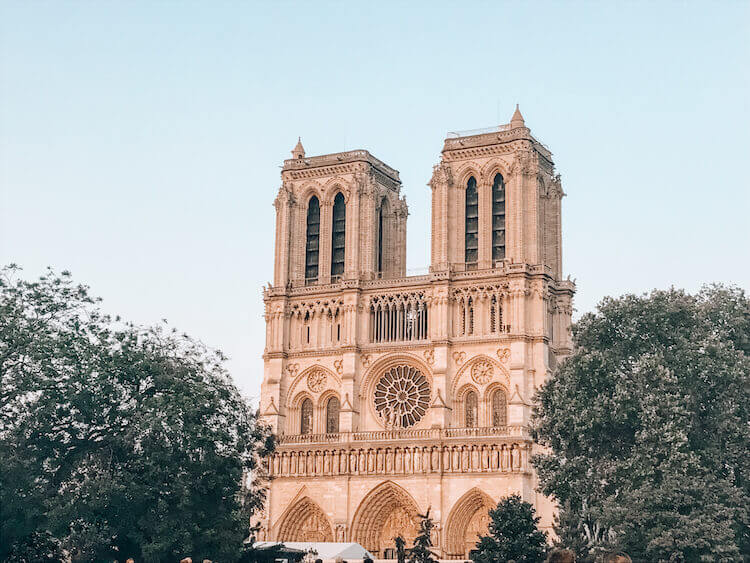 The Last of 4 Days in Paris: Explore Montmartre, Bar Perruche, and La Felicita
Your four days in Paris would not be complete without a trip to the historic and hilly Montmartre neighborhood.
Starting with a quick stop while walking up the steep hill into the neighborhood, Gontran Cherrier was a spot we could cool down and grab a strawberry meringue and chocolate éclair for breakfast.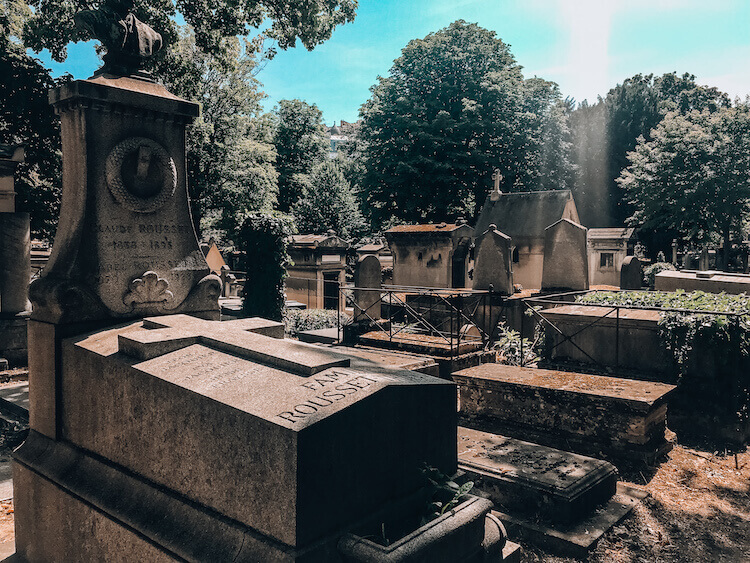 Then, walk up to the Montmartre Cemetary. With aboveground graves and family crypts, it may sound spooky at night, but during the day it is peaceful and beautiful. There are also many famous people buried here including novelist and playwright Alexandre Dumas (son of Three Musketeers' Alexandre Dumas) and impressionist painter Edgar Degas.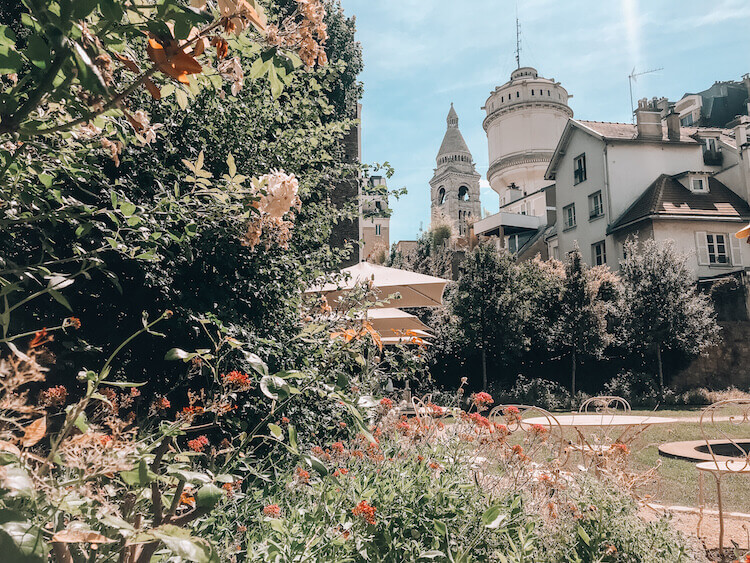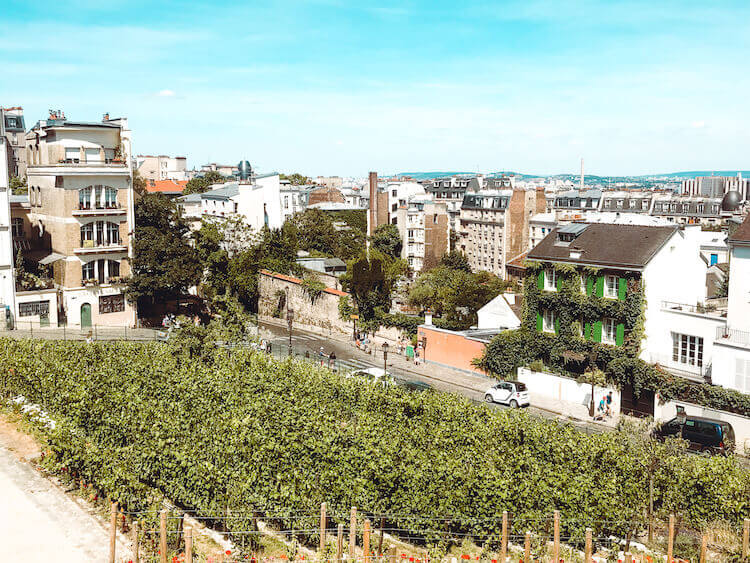 After the cemetery, I recommend walking up to the Montmartre Museum. This was once home to Renoir and includes exhibits on the history of the neighborhood including its cafes and cabarets.
Montmartre Museum Hours: Daily from 10 am-7 pm.
Ticket Price: €15.
And as a bonus, you get up close to the famous Montmartre vineyard.
Outside of the museum, you can take several photos of the surrounding area including La Maison Rose, Le Consulat, or all of the other colorful and bright side streets and alleys here.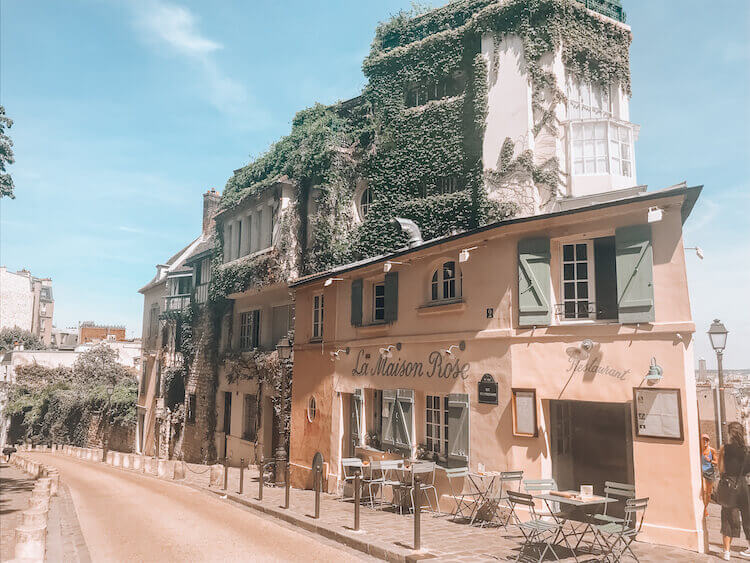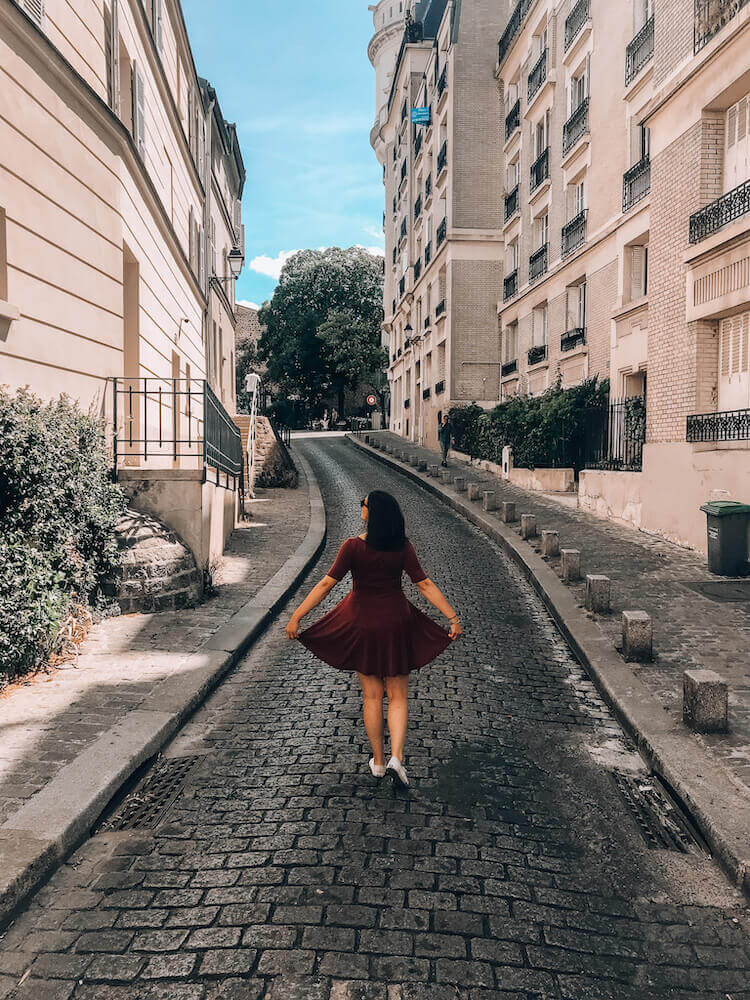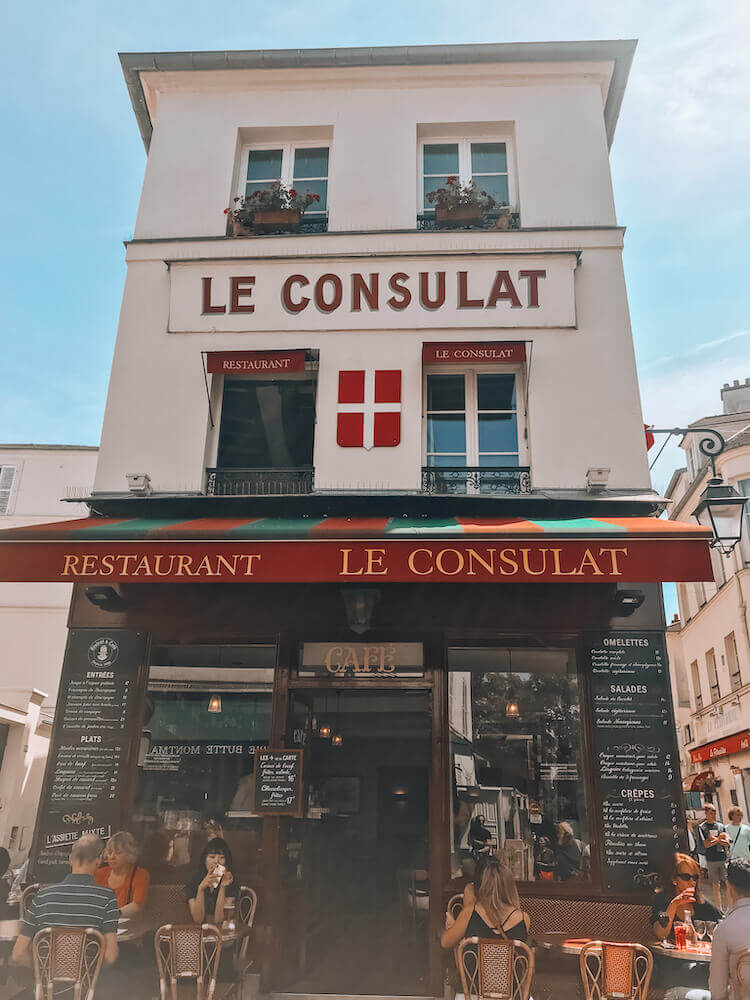 After all of this wandering around, I recommend getting a hearty lunch. I absolutely loved Le Coq et Fils in Montmartre. Known for its roasted chicken, you can get all kinds of delicious poultry and the best macaroni gratin.
Then, take in some of the best views of Paris from Sacre Coeur. This famous church overlooks most of Paris, making it the ideal spot to view the city.
Enjoy the sprawling view before spotting the I Love You Wall ("Le mur des je t'aime") where you can see "I love you" written in various languages. Find it in your native tongue and take a photo!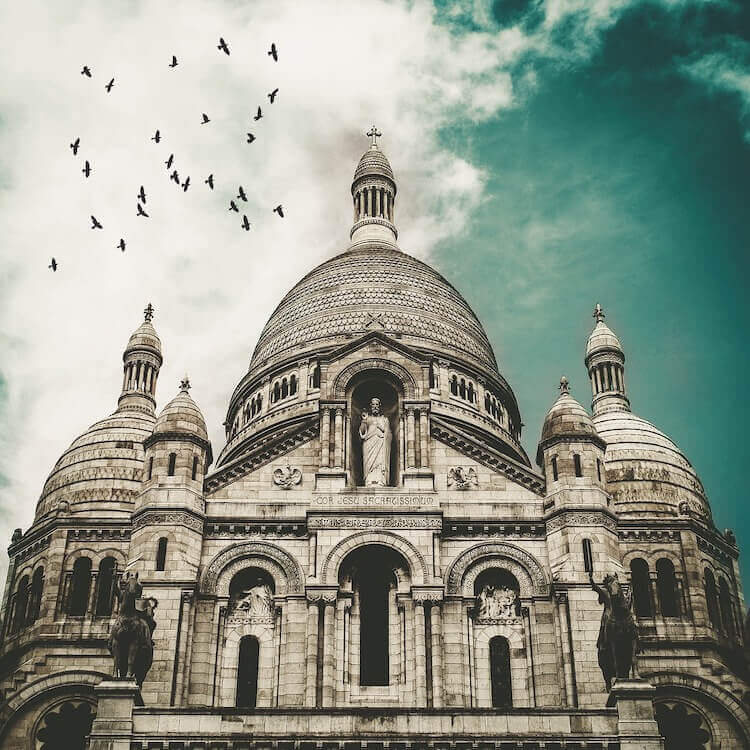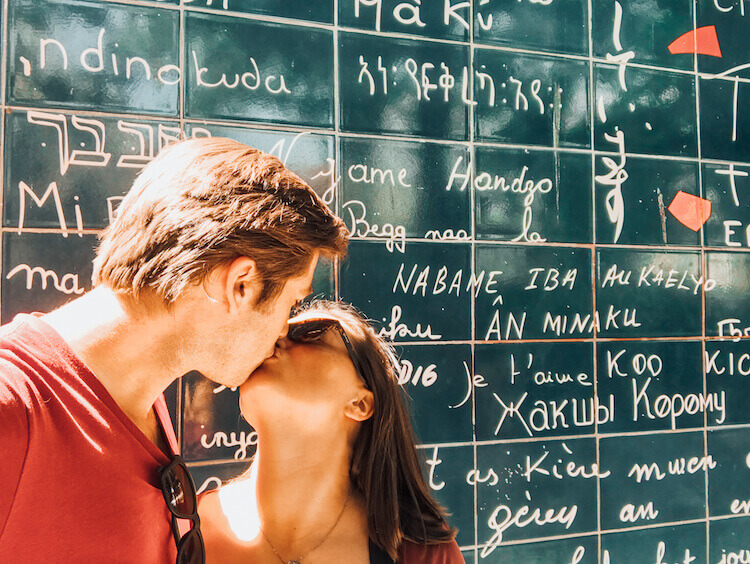 Then depart Montmartre and grab a fun cocktail at the rooftop above the Printemps shopping mall. The bar is called Perruche. The drinks are overpriced but the views of the city make it totally worth it!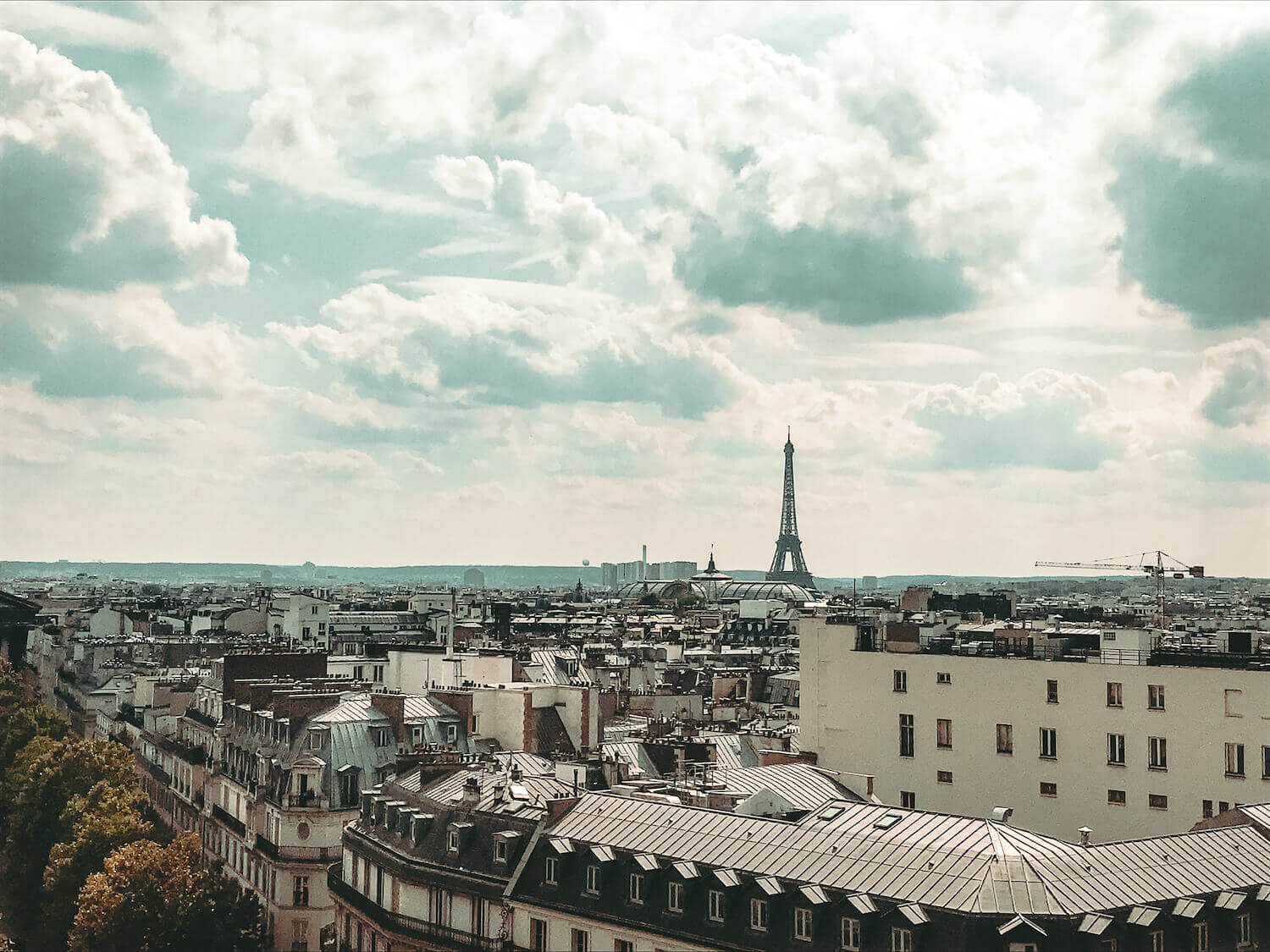 Finally, to end your time in Paris, for dinner, you've got to head across town to La Felicita.
Located in a start-up incubator space, this gigantic food hall boasts several bars, including a tiki bar and giant cocktail bar, places to order up pizza, pasta, and more! It may not be traditional French fare, but it is a popular spot much loved by locals!
And the pizza and pasta are seriously amazing! We were totally full after our dinner here but saved up room for tasty gelato on the back patio. This spot is well off the beaten path for tourists and the perfect place to party it up and enjoy delicious food.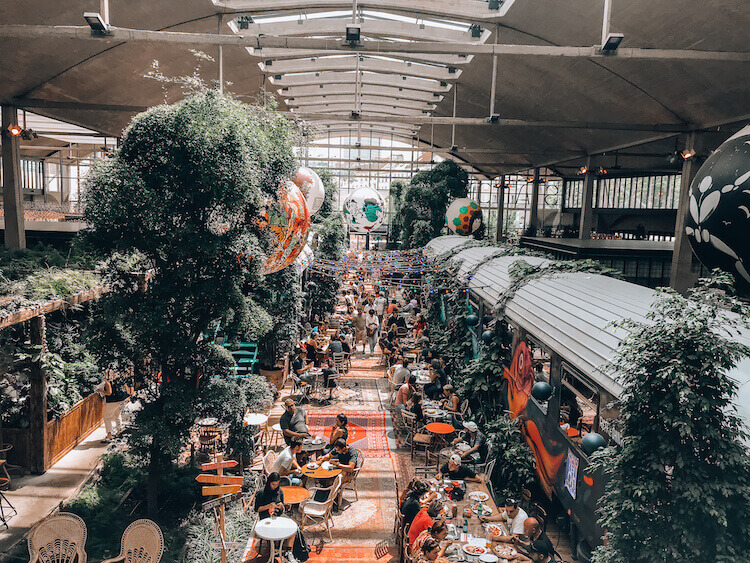 After that, it is time to take the metro back to your hotel and pack up to leave the following day. It's been a fantastic 4 days and 4 nights in Paris itinerary. It's hard to say bye to Paris.
But with this 4-day trip to Paris including so many amazing spots, you'll feel immersed in the local culture (and cuisine) all while having spent a lot of time enjoying the history.
Recap For Your 4 Days in Paris Itinerary
Day 1: Arrive, wander the streets of Paris including the Louvre (potentially visit if time!), Palais Royale, Seine River, Pont Alexandre III, and the Louvre
Day 2: Breakfast at Les Deux Magots, explore Saint Germain, visit the Rodin Museum and Orangerie Museum, and go on a food tour
Day 3: Day trip of your choice and have dinner at a historic restaurant
Day 4: Explore Montmartre including the Montmartre Cemetery, Montmartre Museum, Sacre Coeur, "I Love You Wall," and end visiting a rooftop bar in Paris
If You Have 5 Days in Paris
Okay, if you've got an extra day, here are a few other great spots to check out:
Museum D'Orsay. If you love the French impressionists, this is the place to find them. World-renown paintings reside in this train station turned museum. If you have the extra time, definitely check this place out. If you don't, then either visit this museum or L'Orangerie on Day 2.
Arc de Triomphe and Champs-Elysees. Why is this not included in the 4 day Paris itinerary? Well, I do love the Arc du Triomphe, but unless you have extra time to shop at Champs-Elysees, I'd honestly give it a skip. If you have the time it is nice to see, but if not, you won't miss out too much not seeing this street. However, you can get pretty good views of the city from the arch!
Another great day trip! Want to see more of France- or perhaps mosey up to London or Belgium? Take another day trip!
Catacombs of Paris. Another place that may be slightly creepy, but it includes the bones of millions of people from the 1700's all in underground tunnels.
Canal Saint-Martin. Located in a more local spot, this canal is lined with shops and restaurants to explore.
Go to some parks! Parc des Buttes Chaumont is such a gem as is Bois de Vincennes, Paris's largest park!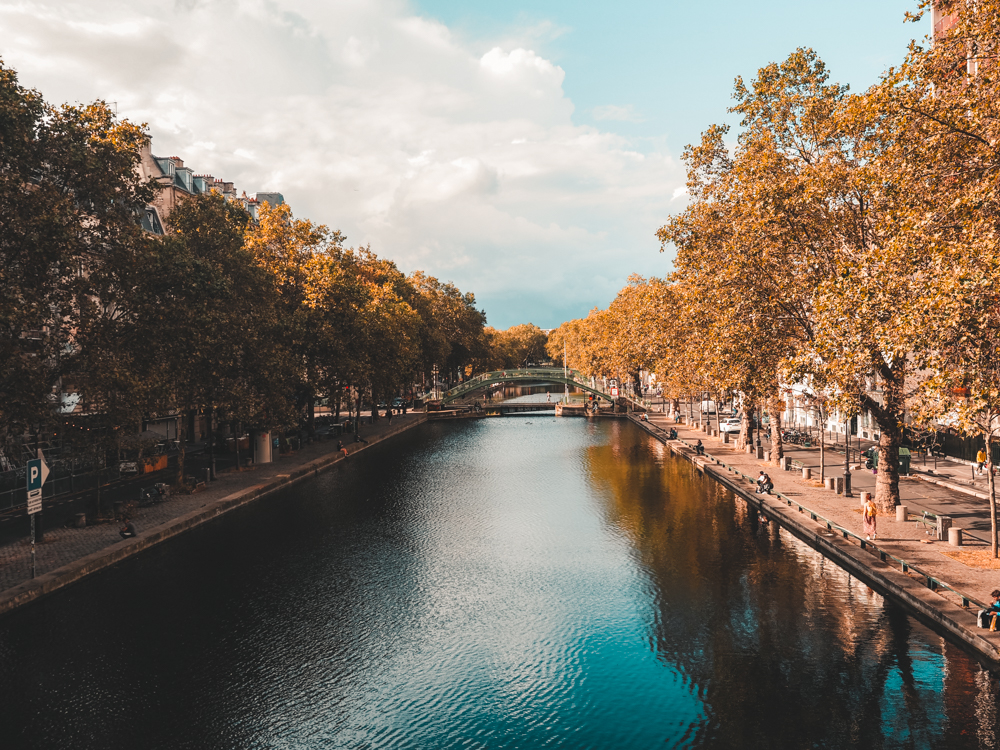 Best Time to Visit For a Paris Honeymoon or Trip
With only 4 days and 4 nights in Paris, you'll want to go at the right time to avoid crowds and for ideal weather. Here is a breakdown of when to visit Paris. We also have a full guide on the best times to visit Paris!
Winter (December-February):
If you want to travel with the least amount of crowds, this time of year is probably the best time. Even with American Airlines, you can snag a good award saver ticket during the winter months and flights and hotels are typically cheaper.
I've been in January and it was far less crowded than when we've been in July. However, the weather wasn't ideal. It rains far more and is overcast. The average high is around 43ºF or 6ºC with the low being 34ºF or 1ºC. However, in December the Christmas markets are up and beautiful!
Spring (March-May):
I love the shoulder season. The time of year when the weather is slightly better, but the summer holidays have not yet started is pretty great.
The weather is much more comfortable at daytime highs of 50-60ºF or 10-16ºC and lows of 38-50ºF or 3-10ºC. You'll also have the opportunity to see many flowers blooming around the city's many parks!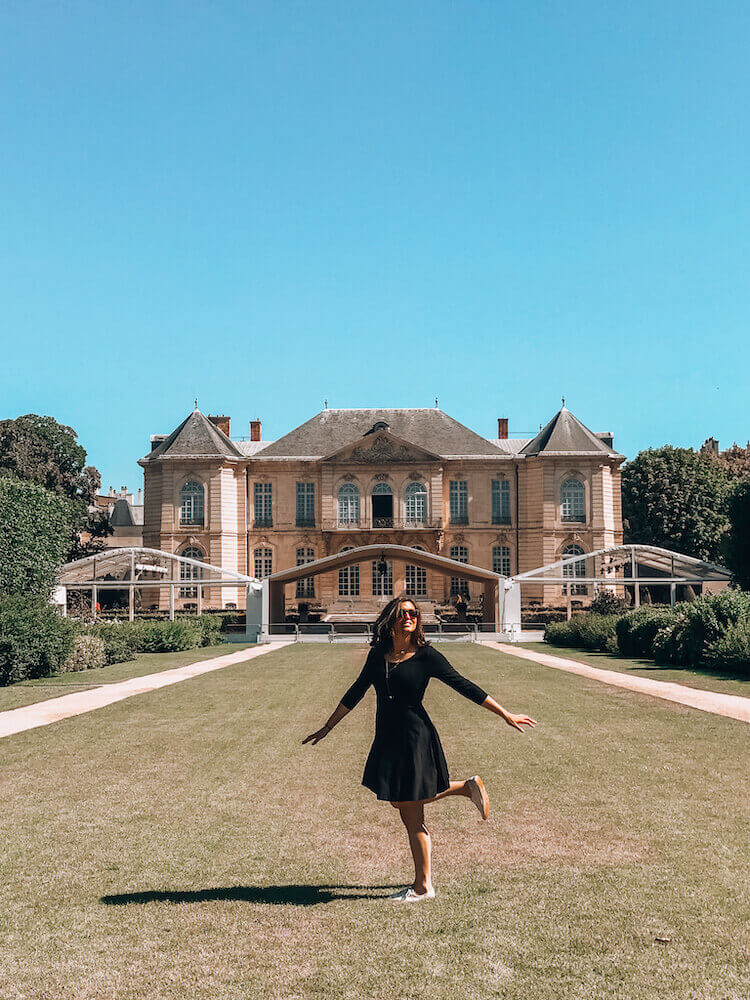 Summer (June-August): Peak season is the summer.
Many people are traveling, particularly in July and August within Europe and internationally to Paris. There will inevitably be crowds at the main museums.
Prices for flights and hotels will increase. Also, as a fair warning, many places do not have A/C, which can be terribly uncomfortable on really hot days. However, we visited in July 2019 and noticed that while there were long lines at the Louvre and Eiffel Tower, there were few people exploring smaller museums, and in the morning, it's possible to avoid crowds!
Also, if you purchase tickets in advance, you can skip the lines! Daytime highs average 75ºF or 24ºC (unless you're in a heatwave!) and lows are 58ºF or 14ºC.
Fall (September-November):
Phew, back in shoulder season again. I just got back from a fall visit and it was lovely! The autumn leaves are gorgeous to spot amongst the many trees in Paris.
Also, prices dip again and temperatures get to a more comfortable 50-70ºF or 10-21ºC and nighttime lows get to 40-52ºF or 4-11ºC. The fall foliage is super romantic!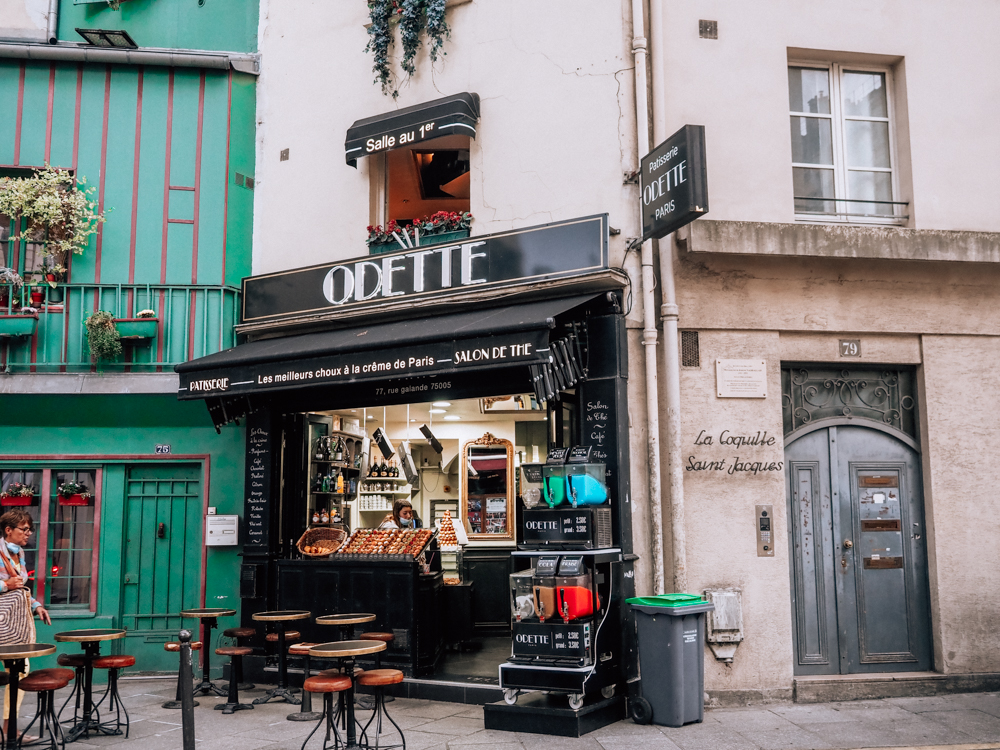 Where to Stay in Paris | Best Hotels in Paris
Paris isn't exactly the cheapest city to visit. Luckily, we have a guide all about where to stay in Paris based on your travel style ranging from those going on a honeymoon in Paris to those traveling on a budget! And don't forget to check VRBO too to save extra cash!
Here are a few hotels based on your budget to check out:
Budget: Hotel du Printemps
It is a fairly safe assumption that the further you get from the main tourist attractions in the city, the more affordable the accommodation will be. Luckily, because Paris has a well-connected metro system, you don't have to stay in the touristy area!
What I love about Hotel du Printemps is that it is in a charming arrondissement with many local cafes and boulangeries, and it is a quick metro ride into downtown. For prices starting under $100 per night, it is a steal in Paris with local flare.
Check prices and reviews on TripAdvisor and book here!
Mid-Range: Hotel des Artes- Montmartre
Located in Montmartre, you're in a delightful neighborhood at this hotel. The hotel also has great amenities like a gym, hammam, and a lovely bar/lounge. Prices start around $150 per night.
Check prices and reviews on TripAdvisor and book here!
Luxury: Grand Hotel Du Palais Royal
If you want to really treat yourself, opt for the Grand Hotel du Palais Royal. Near the Louvre, Opera House, and Palais Royal gardens, this hotel has stunning views from the balcony, a Turkish bath, a spa, and a fitness center. And in your room, you'll have A/C, a minibar, and everything you need to make your stay in Paris comfortable. Prices start at $500 per night.
Check prices and reviews on TripAdvisor and book here!
Logistics: Getting to and Around during a Paris Itinerary
Getting to Paris is easy, thanks to its many airports. However, you are likely to fly into the main international airport of Charles De Gaulle.
From here, it takes about a 45 minute or so Uber or taxi ride to downtown. The only issue is the cost- budget at least 50 euros ($56) per way to get downtown.
If you want to save some money, the Roissybus runs every 15-20 minutes most of the day and runs around $17.60 (or €16.20 each way). There is also the RER B train. It costs around $12.50 (€11.45).
And from many spots in Europe, you can get to Paris via the train. Check train times and prices here!
Once you're in downtown Paris, you can easily get around via the Paris Metro, buses, Uber, and even scooters and bikes. And you can also walk to most places downtown as well!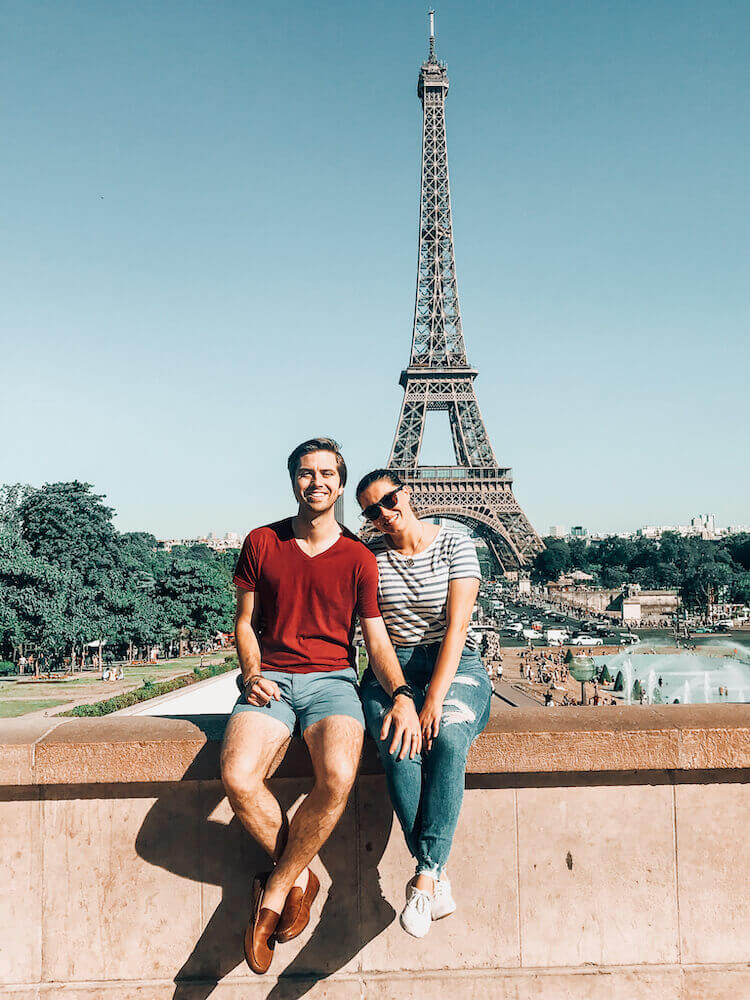 Tips for Paris Travel
If you are planning a trip to Paris, whether it is for things to see in Paris in 4 days or best day trips, definitely check out these tips we wish we'd have known before our first trip:
1. Always be vigilant!
Okay, I don't want to just quote Mad-Eye Moody here, but Paris is not the place to wander willy-nilly and not watch your stuff. Pickpocketing and petty theft are prevalent, especially in crowded and touristy areas.
Those street performers may seem harmless (and some definitely are), but they could be causing a distraction so you end up getting pickpocketed. I recommend carrying an anti-theft over-the-shoulder bag (here is the exact one I use) and keeping it in front of you. In the metro, I even put a hand over my bag.
I've been to Paris so many times and this has worked to keep our stuff safe. Also, only carry the cash you need, one credit card, and a copy of your passport. Leave the rest in the hotel safe. Men, I recommend carrying your wallet in front.
If you get pickpocketed, get sick, or have an emergency, it is a great thing to have. For travel insurance, we use World Nomads. They have great coverage with a couple of different plans to choose from.
3. Paris can be expensive
But it doesn't have to be! Check out the best way to budget for Paris! Credit cards are widely accepted here, so if you have Visa or Mastercard, you don't need to withdraw a lot of Euro. I also highly recommend having a credit card without foreign transaction fees like the Chase Sapphire Preferred or Capital One Venture X.
4. The Metro can be tricky.
But Citymapper is a great app to navigate the metro, bus, and even the bikes.
5. Attempt a little French!
Know a few words like "Hello," "Goodbye," "Thank you," and how to order food, and you'll be fine. French people aren't unfriendly, and they love it when you attempt a little bit of French! I love using Duolingo for learning languages if you want to get more in-depth!
Bonjour is honestly the most important thing to know, especially as it is considered very rude to go into a shop and not say it to the person working there. If you want to get help and good service, as well as not be considered rude, this is a must.
Also, saying "bonne journee" or "bonne soiree" (say the latter after 5 pm), is a nice touch as you leave. It means to have a good day or have a good evening.
6. Bring comfy shoes!
You'll be walking a ton! Check out this article for more on what to pack for Paris! Hint: white sneakers are essential and basically worn by tourists and locals alike.
7. Don't try to see everything!
Make a plan to come back one day, but if you try to see everything you won't experience the real Paris. And the real Paris isn't just in the museums. Pick a few museums to enjoy and spend time wandering the streets, eating French food, and going where the locals go!
8. You can even see the highlights in Paris in one day!
We have an article if you are shorter on time in Paris that talks all about how to visit Paris in a day!
9. If you have more time in France:
Check out our 7 day France itinerary as well as information on things to do in Annecy and a guide to Nice.
10. Have tons of fun!
It truly is one of the best places! I can't get enough of it and try to visit as often as I can.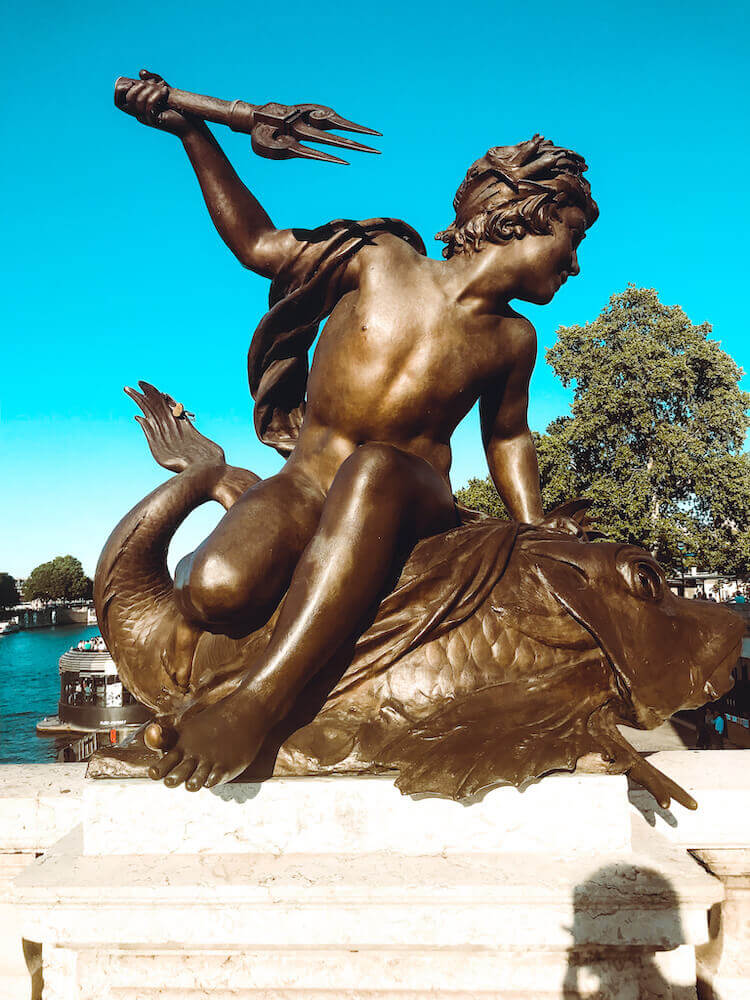 Phew, I know this is a lot of information, but I want your 4 day trip to Paris to be the best vacation! Paris is one of my favorite cities to visit.
After having gone various times in every season during the year, I can tell you it is just as beautiful in winter as it is in summer. It is the spot for romance, scenery, and delicious food and drinks!
Have you been to Paris? What else would you recommend for where to go in Paris for 4 days? Would you like a Paris honeymoon? What questions do you have? Let us know in the comments!
We also recommend checking out our posts about Lisbon and a week in Greece for more romantic ideas in Europe!
You may also be interested in:
Pin it here!