Some posts on this site contain affiliate links, meaning if you book or buy something through one of these links, I may earn a small commission (at no additional cost to you!). Read the full disclosure policy here.
---
You want to go somewhere tropical. You decided to honeymoon in Costa Rica. Sitting on a white sand beach with a refreshing drink in hand and your love by your side sounds amazing. After all the hubbub and stress of wedding planning that sounds like the perfect way to kick back and de-stress.
But, you may be thinking, you can only spend so much time lying on the beach before it gets a little boring. A couple of days is nice, but maybe not your whole honeymoon.
You're embarking upon an amazing life-long adventure: marriage. It's only fitting that your honeymoon is filled with thrilling mini-adventures to kick it off.
Here are 7 ways to add adventure to your honeymoon in Costa Rica. Try out even just a few of these ideas and you'll have an experience that you and your partner will be reminiscing about for years to come.
1. Ziplining
Have you heard of ziplining? It's an activity that's becoming popular the world over. Companies set up cables and, using gravity and pulleys, develop a system of zipping along high above the ground.
People have been using technology like zip line systems as methods of cargo transport for several hundred years. But who figured out how to make it an exciting adventure? Where did the first zip line tour happen? He was a graduate student called Donald Perry and it happened in Costa Rica.
Mr. Perry was a biologist looking for an efficient method to move around the forest canopy without having to climb up and down all the time. Eventually, entrepreneurs began capitalizing on and expanding his idea to create zipline tours.
If you are looking for adventure during your honeymoon in Costa Rica, this is a perfect place to start. You'll feel free as a bird flying high above the rainforest floor.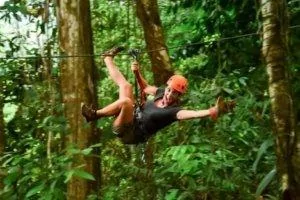 2. River Rafting
Is ziplining not enough heart-pumping action for you? Take an exciting river rafting tour. Costa Rica boasts several grand rivers and you can find a tour for every excitement level in this beautiful country.
Opt for a casual float on a Class I river and enjoy viewing the extensive flora and fauna the Costa Rican rainforest has to offer. Or pull out all the stops and go for a thrilling ride on a Class VI river.
Don't worry if neither of these two extremes appeals to you. There are plenty of options right in the middle for those who want a little thrill, but also want to relax and enjoy the scenery.
3. Horseback Riding Tour
What's more romantic than riding horseback along the beach or through the jungle with your love? There's just something so appealing about this ancient form of transportation. Granted, your tour might not be exactly the same as riding off into the sunset–but almost.
There are several options for horseback riding in Costa Rica. Some tours will take you for a jaunt along the beach and the guide will regale you with interesting tidbits of info about the area and/or wildlife.
Others will take you deep into the rainforest where you're sure to see lots of flora and maybe even some mischievous monkeys! Many of these tours take you to a waterfall or some other serene spot where you can enjoy a delicious Costa Rican-style meal.
4. ATV Tour
What if you like the idea of getting out in the jungle, but horseback riding seems a little tame? Then go for an exciting ATV tour! You'll cover more ground this way, although it'll be more difficult to spot any monkeys or toucans.
You'll get to romp through the forest and maybe even splash across a little river or two! Like horseback riding tours, many ATV tours take you to a scenic spot where you can relax, swim, or enjoy a meal.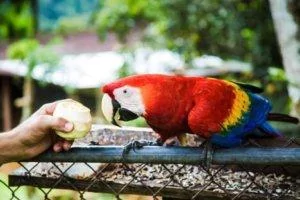 5. Wildlife Tour
About 25% of Costa Rica is protected lands. These come in the form of national parks, biological reserves, wildlife refuges and more.
Many of these areas happily welcome visitors. Their knowledgeable guides delight in teaching people about the wonders of the Costa Rican rainforest. If an education day sounds fun, be sure not to miss one of these. Don't worry, it's nothing like going to school!
Some places may require you to go with a guide, while others won't. While the guide will always be able to provide more information, this service will also cost more. If you're looking for a fun, inexpensive outing, try exploring on your own. At the very least you and your sweetie will enjoy the exercise and a hike through the rainforest is an amazing experience all in itself.
6. Jungle Night Walk
Looking for a more exciting stroll through the jungle? Try a jungle night walk instead. Not only is it more stimulating to prowl through the jungle at night, but you have more chance of seeing something interesting. About three-quarters of Costa Rican mammals are nocturnal.
The jungle can always be dangerous, more so at night. Don't try to do this on your own, but go with a knowledgeable guide. They'll be able to help you spot a whole lot more animals anyway.
Plus, they are goldmines of information when it comes to interesting Costa Rican wildlife.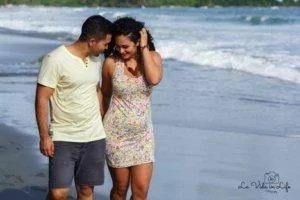 7. Kayaking/Mangrove Tour
Another fun way to get out and explore is to go kayaking or take a mangrove tour. In some cases, you can rent the kayaks and head out exploring on your own. This is an inexpensive and fun way to spend the day with your sweetie.
You can also take a mangrove tour, either in kayaks or a small boat. Wondering what mangroves are? They are trees that grow in swampy coastal areas in the tropics.
They are found primarily where the rivers meet the ocean. Because of the juxtaposition between freshwater and saltwater, there is a lot of wildlife in these areas.
You can freely float along and enjoy the natural beauty that surrounds you. It isn't recommended to swim in these areas, though. The abundance of fish here makes the mangroves a favorite place for crocodiles to hang out.
Ready for your honeymoon in Costa Rica?
As you can see activities in Costa Rica are so much more than just sitting on white sand beaches and sipping cocktails. There are plenty of exciting things to do during your honeymoon here.
Are you ready to start your adventure? There's no better time than the present.
Love this post or want to save for later? Pin it here!