5 Dreamy Mediterranean Islands that are Perfect for Your Honeymoon
Some posts on this site contain affiliate links, meaning if you book or buy something through one of these links, I may earn a small commission (at no additional cost to you!). Read the full disclosure policy here.
---
There is something about the Mediterranean Sea that feels different than any other coastal place. The fresh seafood paired with delicate cucumbers, ripe tomatoes, and sharp feta is next to none in Greece. The seafood pasta is divine in Italy. The clear, blue water surrounded by the calming music that can only truly be appreciated with a glass of crisp, Provençal rosé or a shot of ouzo or limoncello or even sangria. The culture of dance, art, and food is incomparable to any other place. No matter the European country that is lucky enough to sit along this lovely sea, they all exude a laid-back vibe in their coastal villages. After your wedding, the perfect place to relax could just be the Mediterranean. Check out these 5 dreamy Mediterranean Islands perfect for your honeymoon.

1. Sardinia, Italy
For one of the largest islands in the Mediterranean, you've probably never heard of it. Popular amongst European tourists, but most Americans tend to visit Capri or Sicily. The beauty of this big island is that there is an endless amount of things to do. Rent a car and explore several beaches, taste local wine, and even see ancient ruins. Also, you can't beat Italian food, and fresh lobster, seafood pasta, and octopus are just some of the delectable treats you'll find, especially with all of the tiny, quaint fishing towns scattered on the island. But first and foremost, the clear blue water makes it heavenly.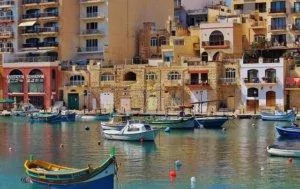 2. Malta
The island nation of Malta is located between Italy and Africa and is a delight. It is inexpensive, and the beaches are perfection. Stay on Gozo Island for a few nights, easily accessible via ferry, and you'll be treated to lush hills leading down to sandy beaches. There is also the inland sea, where you can swim in a cave and witness gorgeous rock formations throughout the island. Then, visit the main island and the capital city of Valletta, with stunning stone architecture, where Game of Thrones was inspired to create King's Landing. After wandering the streets, look along the sea, where you'll see brightly colored boats bobbing in the water. The perfect mix of scenery and culture awaits you here.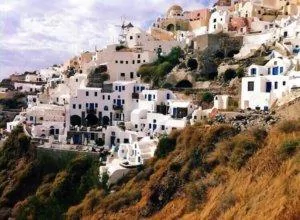 3. Santorini, Greece
You cannot include a list of dreamy islands and exclude the most famous one. Picture white-washed buildings, donkeys wearing colorful blankets and winding their way up stairs with goods or people in tow, and the most vibrant sunsets of pink, and purple lighting up the horizon that surrounds you. Santorini is magical and a great place to mix in beach time with exploring the caldera and all it has to offer. From colorful beaches of pink and black sands, to a volcano in the center of the caldera, cruising around the island is a great way to see it all. Just don't forget to enjoy each view.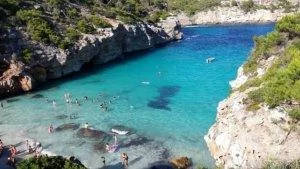 4. Majorca, Spain
You've probably heard of the party island of Ibiza, but this Spanish island combines nightlife with awesome cityscapes and the bluest most perfect water you will ever step foot into. Adore the cathedral overlooking the scene as you soak in much needed warm ocean air and sunshine. Book a stay at glamorous resorts with nothing but amazing views. Perfection may not exist, but this Spanish island comes pretty darn close.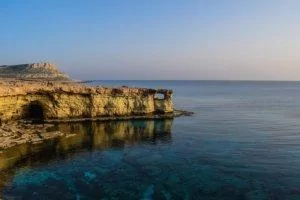 5. Cyrpus
This is another island nation that has history, amazing sea views, and a unique background. Divided on one side by Turkey and another Greece, the cultures vary on both sides, and if you're there, visiting both can be very interesting. While these countries are at a stalemate over the island, it is still a safe place to visit. And a visit may be perfect to cast off your wedding planning stress as you take in the unique cultures, cuisines, and beaches of this Mediterranean island.
The Mediterranean Sea is vast and diverse, but one thing is the same: the blue waters and calming vibes make it lovely to visit. These islands are perfect for your dreamy honeymoon in the Mediterranean, so why not check them out? And if you love this article and want more, be sure to subscribe and get these freebies: