Some posts on this site contain affiliate links, meaning if you book or buy something through one of these links, I may earn a small commission (at no additional cost to you!). Read the full disclosure policy here.
---
Picture one of the most romantic cabin getaways in Ohio: a cozy atmosphere, great views, the little luxuries from home, the smell of cedar from the wood, and, most importantly, a place to unplug a little and connect with your love. Enter Getaway House Ohio.
I don't know about you but winter is pretty much always a time for working hard and accomplishing goals. Maybe it is from making New Year's resolutions, but we tend to get a lot done.
However, it is this time of year where we work late, wolf down dinner, and pretty much go to bed. In short, we are so connected to answering emails that we aren't actually connecting as much. So when Getaway House contacted us and asked if we'd love to check out their cabins in Lisbon, Ohio, we replied with a resounding "yes!"
And we're here to tell you why we think it just may be one of the most romantic getaways in Ohio for two. Plus we want to let you in on all the details you've been wondering about renting these cabin getaways in Ohio.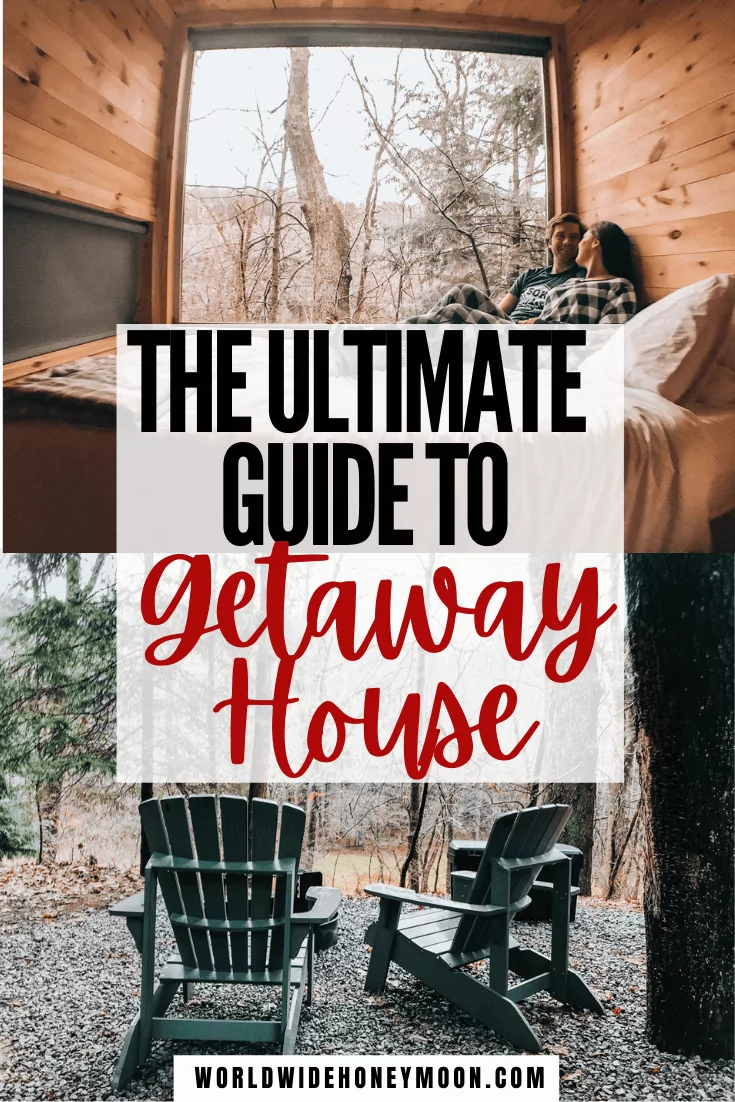 Getting to Getaway House Ohio Plus The Perfect Pit Stop Along the Way
Getaway House Ohio is located at 45529 Middle Beaver Rd. in Lisbon, Ohio. This is about an hour and a half southeast from downtown Cleveland or a little over an hour northwest from Pittsburgh.
So whether you live in either city, it is the perfect little romantic cabin getaway in Ohio to escape from the hustle and bustle of everyday life.
And, as we were coming from Cleveland, we found an incredible brewery along the way in Columbiana. Birdfish Brewing Company was a great way to break up the drive with tons of pinball machines, skeeball, shuffleboard bowling, and more. Plus, their beer is so good! We made sure to pick up a 4-pack of Buckeye State of Mind Chocolate Peanut Butter Porter for our stay at Getaway House!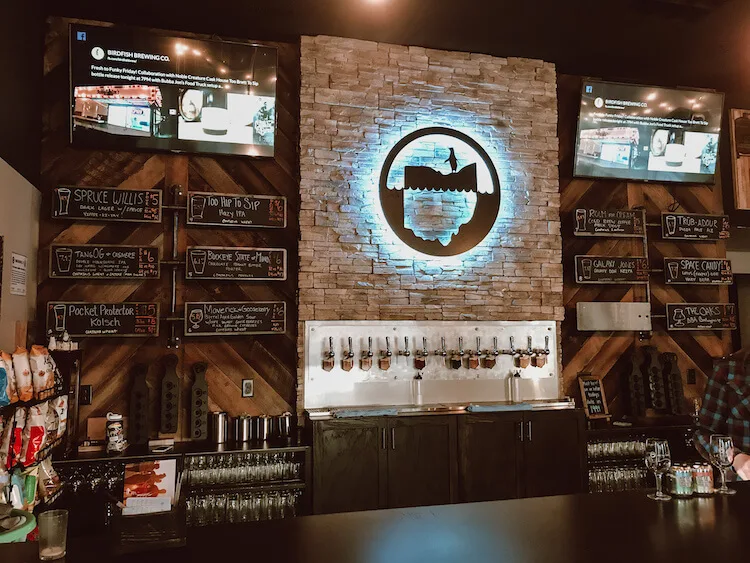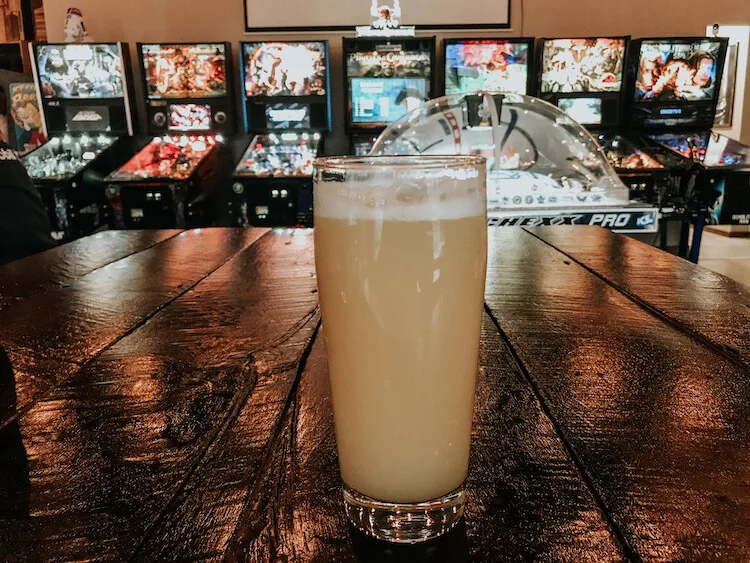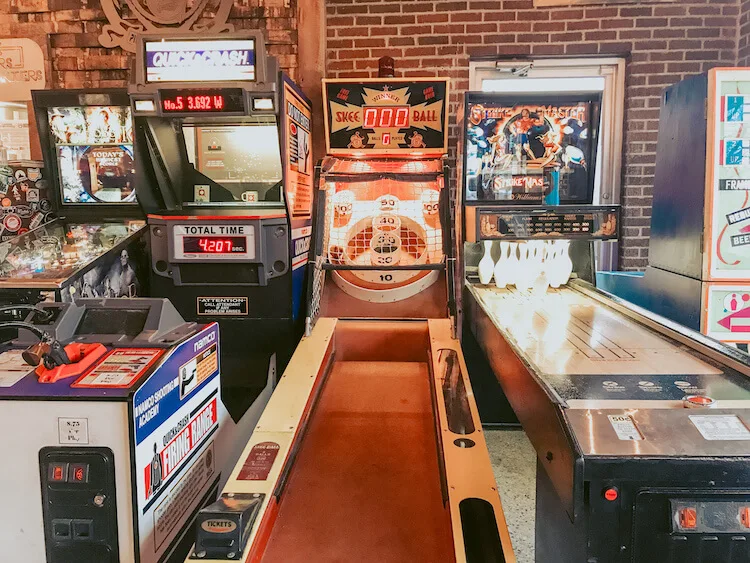 The Most Romantic Cabin Getaways in Ohio: Inside of Getaway House Ohio
Upon entering our cabin, we were wowed by the space! These cabins are pretty much like tiny house rentals complete with a queen-sized bed, a 2-person table that can be folded down for space, a mini-kitchen including a 2-burner stovetop, mini-fridge, and sink, heat and A/C, and, super important, a fully functioning toilet and shower.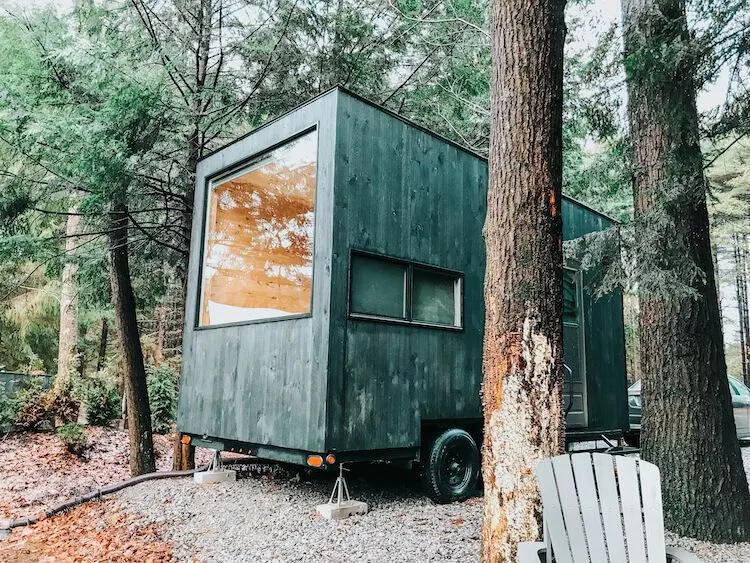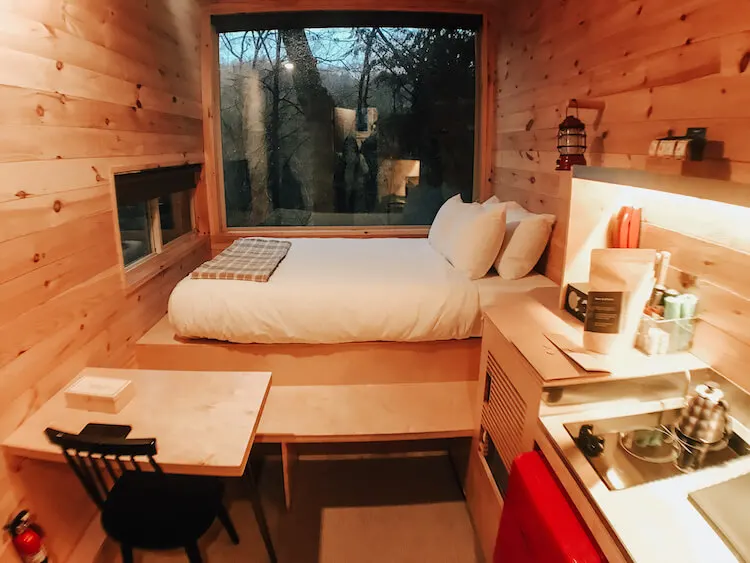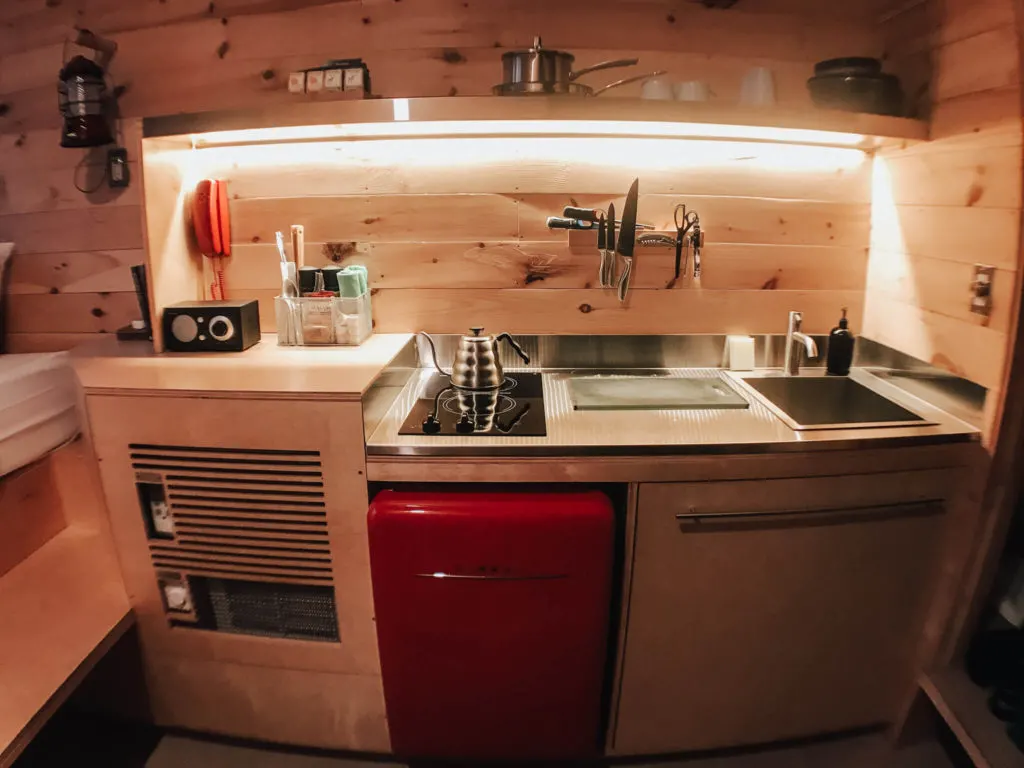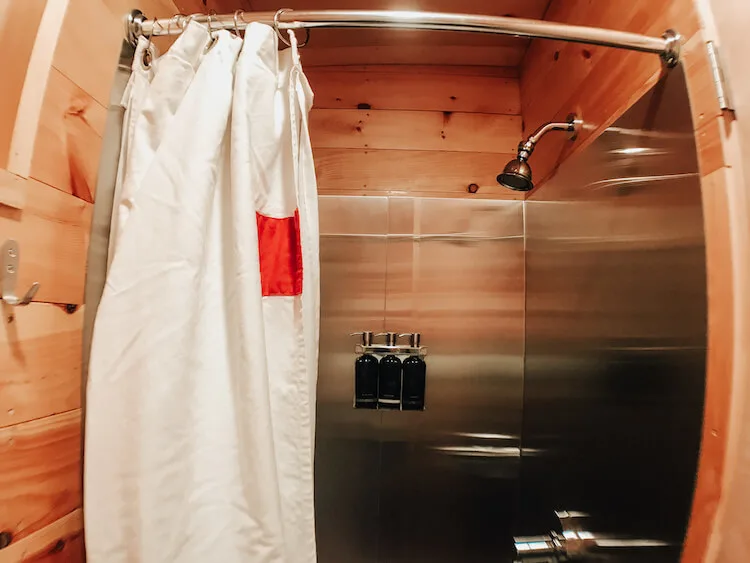 So, for those wondering, everything you need is in the Getaway cabin itself and you don't have to go to a bathhouse or anything!
But the best part of staying in these romantic cabin getaways in Ohio is the giant window that looks out to the forest. You'll feel immersed in nature as you sit in the comfortable bed and watch the woods outside.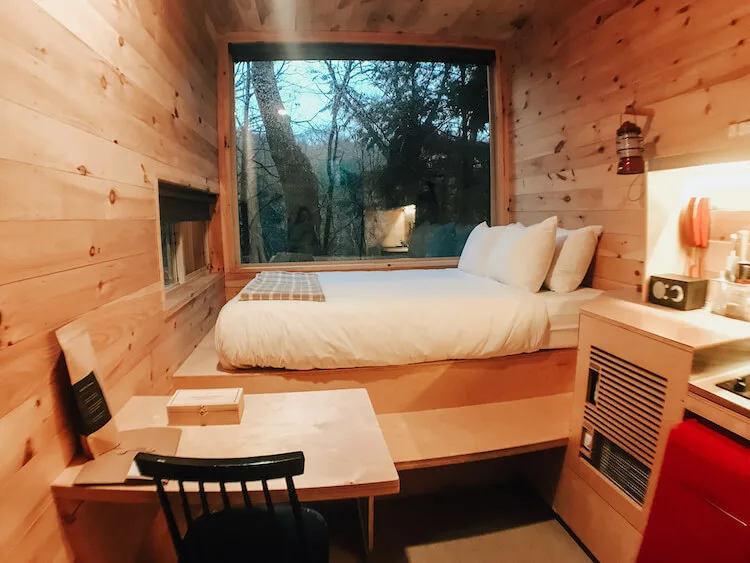 Plus, for those who actually want to get outside, there are a couple of chairs and a fire pit to sit out and relax as you roast marshmallows and enjoy your time away.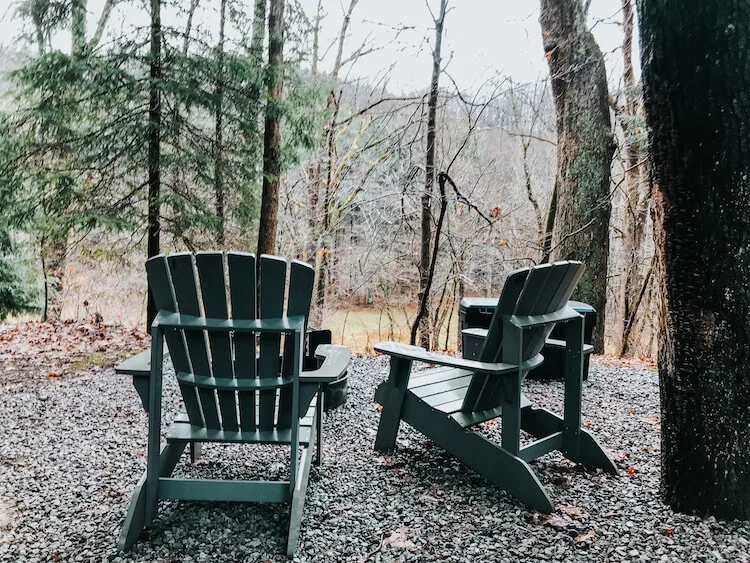 What I also loved about Getaway House Ohio is the cell phone box. Getaway House is known as a place to "get away" and unplug from technology, explore the world around you, and basically connect with yourself and those that matter. So when Chris and I finished taking photos of the place, we put our phones in the box and were ready to enjoy an evening of connecting, talking, cooking, and enjoying each other's company.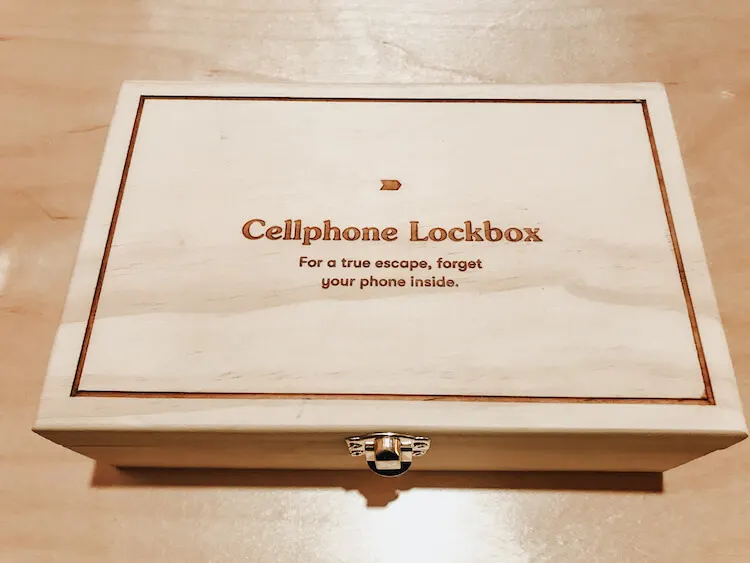 And honestly, it was exactly what we needed. We talked for hours, played card games (they have a deck of cards there), and really enjoyed an evening without phones, emails, work, etc.
I cannot recommend these cabin getaways in Ohio enough!
The only thing I wish is that it wasn't raining when we went because we would've loved to have taken their hiking trail and explored more or had a fire!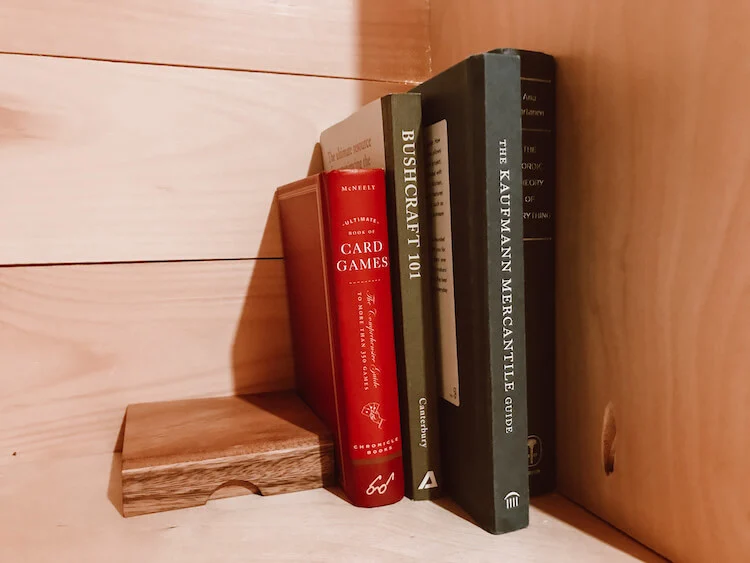 What Do You Need to Bring to This Tiny Cabin?
Honestly, they have almost everything you need. They have the stovetop, fridge, cooking utensils, cups, bowls, plates, etc. to create a meal. You can even purchase things like pasta and sauce from their outpost (just call using the red phone located in your getaway) and they will deliver it to you! They also have firewood and starter for purchase so you can create a delightful campfire.
No need to pack bedding, towels, soap, or shampoo/conditioner, as these are provided during your stay!
Just bring yourself, your clothes, and supplies to create dinner or breakfast if you wish and enjoy! We ended up packing ingredients to make our favorite 15-minute creamy vegan ramen recipe for dinner and packed up our own coffee to use our new Aeropress in the morning.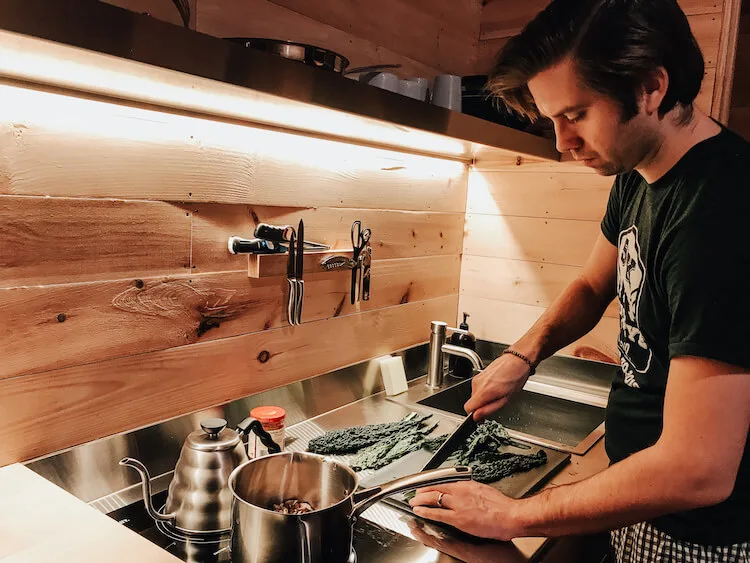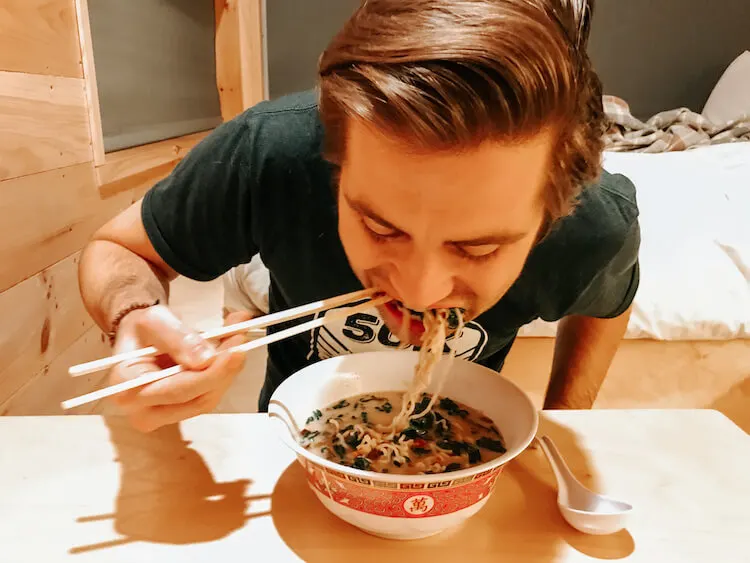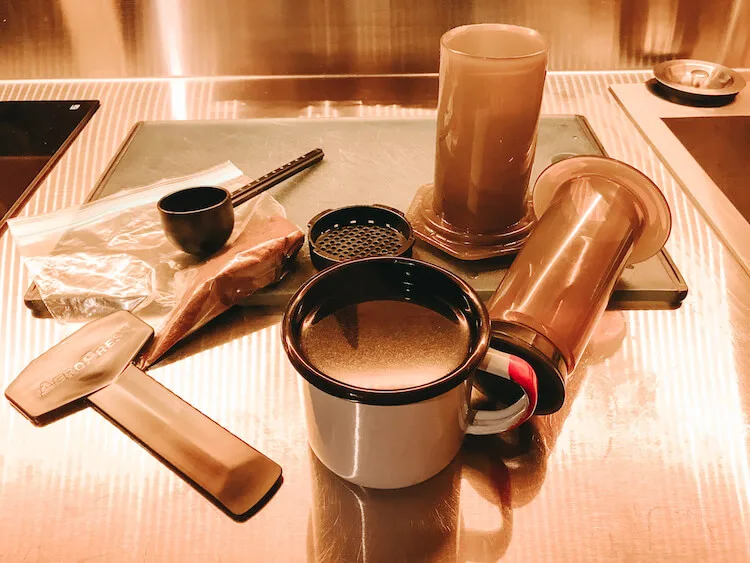 But if you want to leave that at home, they have coffee and tea available at the cabin plus a kettle to warm up the water.
And for taking sweet photos like these, we loved using the new tripod that we got for Christmas plus these iPhone lenses to capture the inside of the cabin!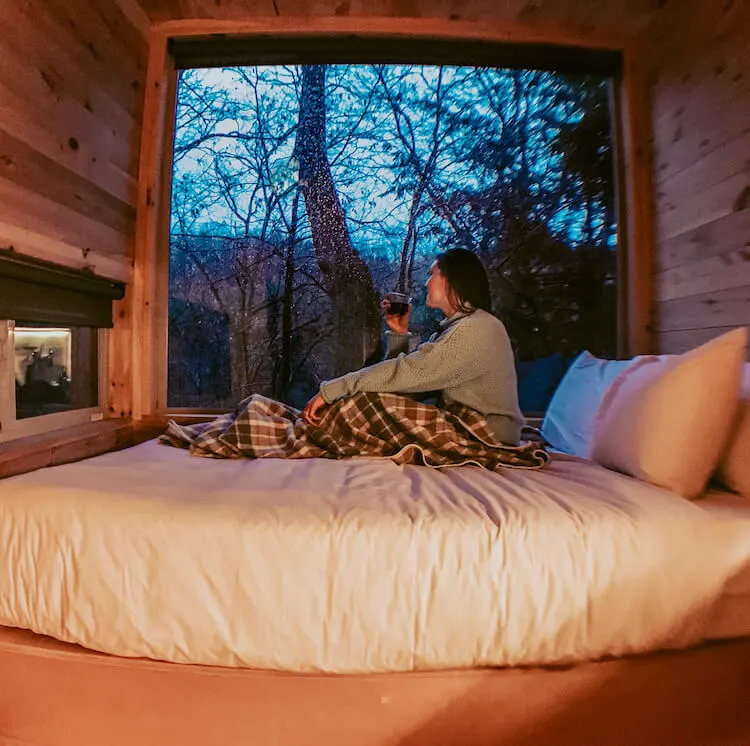 Important Things to Know for These Romantic Getaways in Ohio For Two
Before you visit these romantic cabins in Ohio, here are some top things to know plus answers to questions I got about our stay!
1. No, you are not alone in the woods.
When I first heard about Getaway House Ohio, I thought to myself, "random cabin in the woods…sounds like the setup of a horror movie."
Thank goodness it was far from it. Essentially, it felt like a giant campground only instead of tents and campers, you have these lovely cabin getaways. You've definitely got space between each cabin for privacy, and there will not be cabins blocking that gorgeous view from the giant window. But no, you are not alone. Plus, there is an outpost at the entrance where you can order food and supplies.
Lastly, the cabins are secure with a locking door. So don't worry about safety here!
2. Have a dog? Bring them along!
They allow dogs to join you at Getaway House, and they include bags plus a dog dish for your pooch.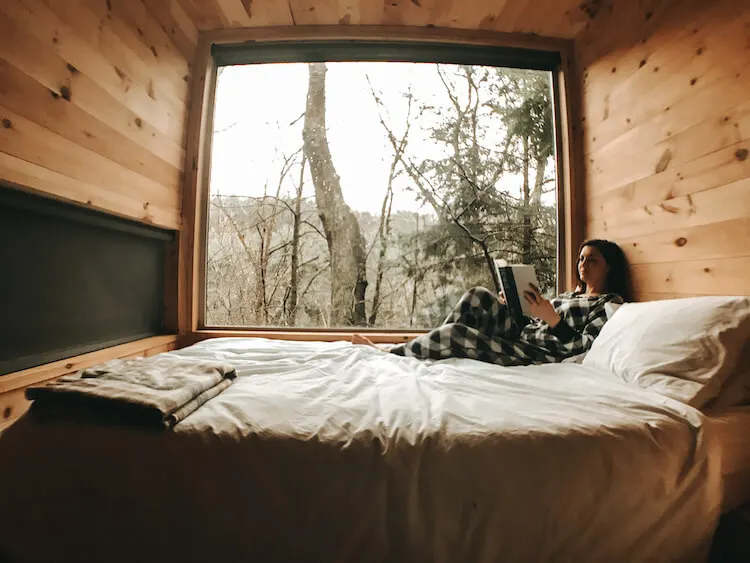 3. Every provision is under $10.
Didn't pack dinner? Order what you need from the outpost and each item is under $10. From s'mores to spaghetti noodles, they've got you covered.
4. All your cabin information is sent right before your stay.
Not sure how to get there? They send an email with the address plus a map of the complex so that you can find your cabin. They will send you the cabin name plus code to get in before your arrival so check-in is seamless and digital.
Also, check out is super easy with a list of instructions and all you have to do is lock up and leave.
Check-in starts at 3 pm and check out is 11 am.
5. Don't forget to check out their outdoor activities.
While we loved staying inside, cooking dinner, and enjoying each other's company the night we went, there are trails nearby for hiking plus the outdoor fire pit to enjoy on nice evenings!
Just be sure to pack some hiking boots, a waterproof jacket, and a reusable water bottle for those hikes!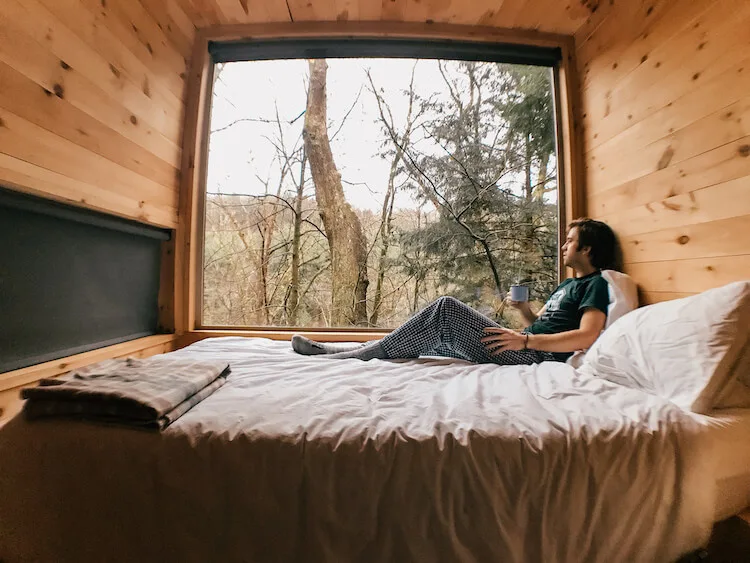 6. There are cabins for up to 4 people too!
We stayed in a 2-person cabin during our stay with the gorgeous window, but if you have a family of 4 or you want to get away with friends, they have 4-person cabins with a lofted bed for your stay.
7. What to pack for this romantic weekend getaway in Ohio for 2:
We packed up pajamas, stuff to hike in if it stopped raining (hiking boots, jacket, hiking pants and socks, and sweat-wicking shirt), and our basic toiletries for getting ready.
If you plan to cook during your stay, just bring the ingredients as they have utensils like knives, forks, spoons, a cutting board, a pot, a pan, plates, etc.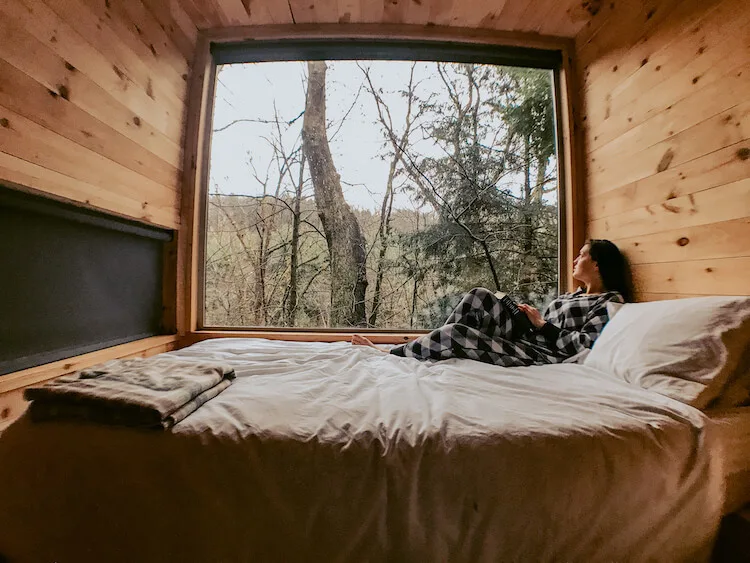 8. Don't live in Ohio or Pennsylvania? There are more Getaway House locations near you!
I thought they were just in the northeast at first, but as it turns out, Getaway House is all over! They have locations outside of these cities:
• Atlanta
• Boston
• Dallas
• Los Angeles
• New York
• Pittsburgh/Cleveland
• Portland
• Washington, DC
9. Interested in staying at Getaway House? Use our code for $25 off your stay!
Use the code WORLDWIDE25 and get $25 off your stay at Getaway House!
Why We Loved These Romantic Cabin Getaways in Ohio
We've seen ads for Getaway House Ohio for a while now, and it definitely piqued my interest. But I wasn't sure how I'd feel about it. It turns out we really enjoyed these romantic cabin getaways in Ohio!
Yes, we realized we've been working too hard lately, and visiting Getaway House helped us to unwind, unplug, and mainly, reconnect with each other. After our whirlwind European Christmas market trip in November/December, the busy holiday season enjoying winter in Cleveland, both of our birthdays, plus getting back into the grind at work, it was nice to escape for an evening to enjoy each other. We caught up and chatted about our lives, brainstormed ideas for the future, and mostly, loved feeling present and in the moment.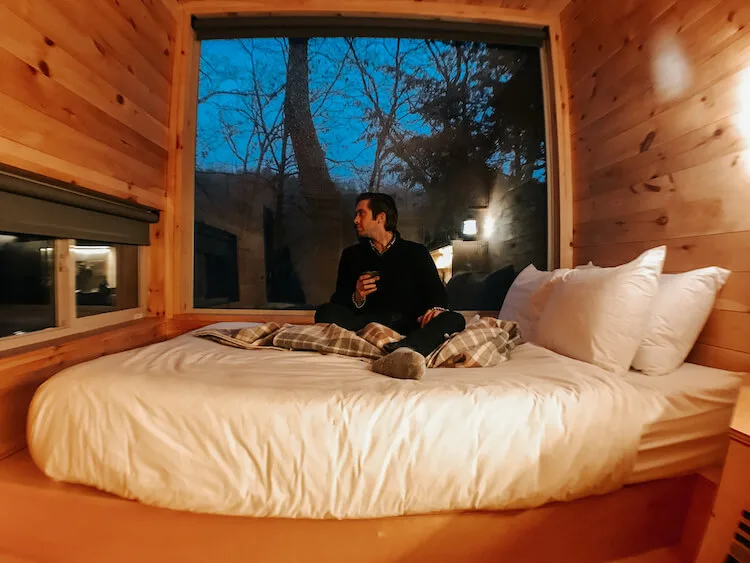 So if you're looking for weekend getaways in Ohio for couples, Getaway House is the place for you. It is comfortable with few distractions so that you can focus on what matters: each other. We hope you love it as much as we did!
And don't forget to get $25 off your stay with WORLDWIDE25!
Would you visit these romantic cabin getaways in Ohio? Have you been to Getaway House? Let us know in the comments!
**Thank you Getaway House for hosting our stay in exchange for our review. As always, we keep it real and honest with you guys and all opinions are our own.
Pin it here!