Is there a standard honeymoon anymore?
Some posts on this site contain affiliate links, meaning if you book or buy something through one of these links, I may earn a small commission (at no additional cost to you!). Read the full disclosure policy here.
---
If there is one thing that I've learned in helping plan honeymoons is that no honeymoon is the same. The days of everyone getting married, leaving for their honeymoon right after the wedding, and lying on a beach in the Caribbean for a week is pretty much a thing of the past. I'm not saying it doesn't happen anymore (it's still really popular for good reason), but it's just not necessarily the norm. The beautiful thing about it is that there isn't a norm for honeymoons these days.
So whether your dream is to literally lay on a beach all week and maybe see some sights or you are full-on adventure to the T, the question isn't whether you're having a normal honeymoon, it's whether you're getting the most out of it!
So what does that mean exactly?
To get the most out of the honeymoon, it's all about finding the right balance between relaxation and adventure. Too much relaxation will leave you bored and ready to head home in a few days. Whereas too much adventure will leave you exhausted and ready for another vacation when you go back to work. Basically, the trick is making sure you have a great time and feel refreshed by the time you come back home with that "honeymoon glow.
The best thing to do to find your balance is simply write down what you're hoping to get out of your honeymoon. Are you so exhausted from wedding planning that you just want to chill for a few days? Ready to try something new like a cooking class or bungee jumping? Are you trying to learn more about the location you're visiting and see the sights? Or are you a mix of a few days relax/a few days of exploring? List out your goals and discuss together!
Also, at this point you've probably selected your location. This means do a little research! What is there to see and do? Make a list of your non-negotiable must-see's and how many days you've got. Obviously, no matter where you go, you won't see everything, so only picking a few things to do is the best way to not get overwhelmed.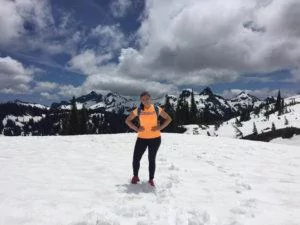 With these key steps, you'll be balancing adventure and relaxation in no time!
For Chris and I's honeymoon planning, we decided that amongst exploring exciting cities like Hanoi and Bangkok, we wanted to have a few days on a beach to relax and basically do nothing. We researched various islands throughout Thailand and found the most relaxing place to visit: Koh Lipe. This quieter island compared to Koh Phi Phi or Koh Samui has only a few key things to do: hike, snorkel, cruise around, and absolutely nothing. It sounded like bliss to us! My biggest advice here is that no matter how adventurous you are, you definitely want some time to relax.
Okay, so after research, listing your goals etc. it's time to give your number! What's your relax to adventure ratio? Is it 50/50? 95/5? For us it's closer to 80/20, but I've worked with couples with all kinds! Knowing this helps you figure out how many days you should plan an adventure, and how many days you should relax on the beach/mountain/infinity pool on the 30th story of your hotel/wherever you please and how many days you should get out on the town!
Do relaxation days literally mean do nothing? Do adventure days mean non-stop go?
Absolutely not! It just depends on what you view as relaxing versus adventure. Is relaxation sleeping in, having a slow brunch, and then walking around, exploring a city? Great! Does it mean snorkeling or kayaking around? Awesome! Does it mean literally working on your tan (but promise you'll wear sunscreen!) Definitely! Do what makes you happy.
On the flip side, if adventure means exploring a city or snorkeling? Do that! If it means skydiving or hiking, that's great too. Just be sure to discuss with your partner about what you both think makes for an amazing honeymoon!
Basically, the key takeaway is to 1) determine what your honeymoon goals are, 2) decide on what to do in your location, 3) what's your adventure/relax ratio, and 4) decide what a relaxing/adventure day looks like! With these key steps, you'll be balancing adventure and relaxation in no time!
Love this and want more? Be sure to subscribe for weekly updates and a FREEBIES!