Some posts on this site contain affiliate links, meaning if you book or buy something through one of these links, I may earn a small commission (at no additional cost to you!). Read the full disclosure policy here.
---
"So…where do I start?" The exact question that Chris asked me when I gave him a daunting task: plan next year's trip to Peru. Now while he considers me an expert trip planner, he made the gravest mistake of telling me in South Africa, "Wow, all I had to do was show up!" So now while of course, I'm still planning out our honeymoon to Southeast Asia, I figured I'd start him off with just one country for a 10-day trip. However, neither of us have been to South America and he's never planned a trip in his life…. so where does one start?
Have you ever thought of the perfect destination and then sat at your computer in front of Google for hours not knowing where to start? Planning a vacation can be stressful. Planning a honeymoon post-wedding can be even more stressful. But it doesn't have to be! Here are some tried and true trip planning resources that we use to plan our dream vacations without the stress.
Trip Planning Resources
1. Pinterest
It may sound funny but Pinterest is not a social media platform. It's a search engine. However, unlike Google, you see way fewer ads at the top and more of the good content you're searching for. This means all of the many travel bloggers and experts who are writing about a certain destination are most certainly posting it on Pinterest. Search your destination and voila! So much helpful information pops up and articles to read all about it!
2. Google Flights Explore:
We all know about Google Flights. But did you know about Google.com/flights/explore? It's probably the greatest tool Google has given to us travel lovers. While Google Flights helps you find good flights on specific dates, this site actually allows you to search by region (i.e. the Caribbean or Europe) and amount of time of the trip. Then, it pops up the cheapest places to fly in that area and the dates to go. It's like magic! And super helpful if you're on a budget.
3. Skyscanner
Skyscanner is similar to Google Flights Explore in that you don't have to know where you're going to explore flights. This is perfect if you just have no clue where to go. You type in your home airport, put in everywhere and type in the cheapest month (or desired month) and it'll show you the best deals!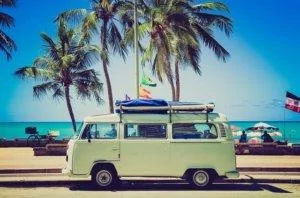 4. SeatGuru
After you book your flight, this handy tool helps you pick your seat. Type in the flight number and date and it'll give you a seat map and recommendations for seats. It also has pictures of the inside from passengers as well as details on what the flight offers for each class. I don't pick my seat without it anymore.
5. TripAdvisor
This gem of a site lets you search anything from hotels to things to do, all reviewed by people like you! If you're looking for a hotel in a good area and want to see it on a map, you can do that. If you want to take a tour and aren't sure of the reviews, you can read them. It's a great way to know that where you're staying at and going is a great spot.
6. Zomato/Yelp
A great resource for getting an idea of the food scene wherever you're going. Also, for budget purposes, I check this to see local food menus and gauge the cost of going out to eat.
7. BudgetYourTrip
Speaking of budgeting, this handy tool helps you figure out costs at the location you're going to in any currency. We used this a lot for our trip to South Africa last year and even our honeymoon to SE Asia. You can pick the budget, mid-range, and luxury options to compare prices of hotels, food, transportation, etc.
8. Rome 2 Rio
This site is phenomenal. If you've never been to a place before and have absolutely no clue how to get from point A to B, this is the site for you. From flights to local transportation, this site helps you find your way around and plan accordingly.
9. Podcasts
This may be my favorite! There are so many great travel podcasts out there to not only offer you helpful tips and advice, but several of them talk about locations to really spur up some wanderlust. Or, if you've already picked a place, you can get even more excited by listening to fellow traveler's tip and reviews. Maybe you'll get some ideas of things to do or places to eat! My favorite travel podcasts are Extra Pack of Peanuts, Indie Travel Podcast, and Amateur Traveler.
10. Instagram
I know, this sounds crazy, right? But travel bloggers, influencers, even tourism boards and hotels have accounts these days. Follow them for photos of where you're planning to go! See great sites and get tips! Also, you can follow hashtags and locations, so if you're hoping to visit Aruba or Krabi, you can see all the picturesque spots and great hotels in the area. It's a hidden gem that isn't just about scrolling through your feed liking photos, you can use it for finding some seriously cool places.
These are my top 10 trip planning resources that I use when figuring out destinations, things to do, and costs. What other tips do you have? Which of these has worked well for you? Let me know in the comments! Be sure to subscribe for more content!
Love this post or want to save for later? Repin it here!