Some posts on this site contain affiliate links, meaning if you book or buy something through one of these links, I may earn a small commission (at no additional cost to you!). Read the full disclosure policy here.
---
Have you ever had to sprint to your gate or worse, had to deal with a missed flight? It's typically a not so fun and costly experience. It also almost always puts stress on every person, especially couples. The best way to never have to endure this situation is to prepare, but sometimes, even with the most meticulous planning, mishaps can occur. My story, while not with my fiancé, goes like this:
My bestie and myself were having so much fun hanging out in Budapest (one of my favorite cities) chatting with our hostel mates about the awesome Bath Party we all went to a couple of nights before and realized we only had 2 hours until our flight. Typically, not a big deal, we'll make it right? Well, if you know where you're going, sure. So we headed out and hopped on the metro, presumably towards the airport. As everything is in Hungarian, and I have had a history of getting lost occasionally, we went the wrong way. By the time I realized it, we were quite a few stops in the opposite direction. So we headed back, got to the airport about 20 minutes before our flight, and they wouldn't let us go through security, as they board 30 minutes before.
Of course we were freaking out- what were we going to do? I'd never missed a flight in my life! So we had to talk with an airline travel agent and book the next flight to Athens (trust me, blaming "traffic" does not get you a free flight). This cost us 100 euro each that we were not expecting. We also ended up staying the night in the airport as the next flight wasn't until the following morning. It was a mess.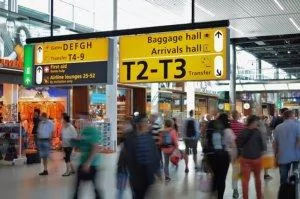 So how to prevent this?
Obviously, making sure you leave plenty of time for navigating to the airport helps. Most of the time, directions aren't in English and can be difficult to understand, so allow plenty of time to get to the airport. I recommend leaving 3 hours before your flight, which will give you about an hour to reach the airport, then 2 hours to get through security, get to your seat, etc.
Piggy-backing off the language: either grab a language phrase book or use an app, like Google Translate, Speak and Translate, or iHandy Translator, to help you interpret directions. Or it'll at least help you ask for directions in the local language and understand them.
After this experience, I now always print off my hostel/hotel/Airbnb directions before I arrive at my location so that I know exactly how to get to and from the airport.
Have it mapped out the night before! Know exactly how you're going to get to the airport. This could be via bus, metro system, cab, uber, etc. Have a plan so you both know exactly what you're doing the next day.
Bring a carry on: We never travel these days with a checked bag. It's pretty easy to pack light, especially for trips under a couple of weeks. It'll prevent the long lines for bag check-in and you don't have to wait at baggage claim.
Another great preventative measure to avoid feeling stressed about travel mishaps – make sure to budget a little extra for this stuff. I made ourselves a very strict budget, with no room for errors. Silly me. With travel, as I'm sure you're familiar with in wedding planning, mishaps happen to everyone, and having even just a little extra helps out in a pinch if needed. Even $50 extra will help out in these situations, and help you avoid the next piece of advice: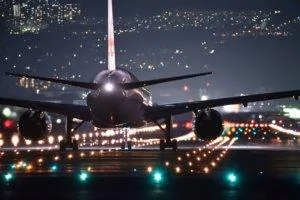 So this has already happened: What can you do?
First and foremost: don't play the blame game. Yes, it is extremely tempting. Your new spouse was too busy chatting and lost track of time… or you were in charge of directions and got lost. But blaming won't solve anything at this point. The plane is gone. It's time to take a step back, breathe, and realize it'll be okay. You can only move forward together.
Now start looking at flights. A last minute flights sucks and is almost always expensive, but if you need to be somewhere in a pinch, it may be your only option.
You could look up alternative travel modes of transportation to flying and see if you could snag a last minute-ticket. Think trains, buses, rental cars, etc. (If only teleportation were an option!)
Break out an app called Hotel Tonight, depending on where you're at, so you can find affordable hotels if you need to spend the night at your location (and you'd rather not hunt down available benches in an airport).
While having a missed flight was a crazy experience at the time, it helped me learn ways of preventing this situation in the future, as listed above. It also taught me something I didn't know: I'm stronger in a crisis than I imagined. Sure, it's not a huge crisis. And it won't be if it happens to you both. Take a breath, and move onto a solution together. It'll make you stronger.
I know it's super stressful missing a flight, because it makes you worry about not having the time to enjoy your next stop, where you're going to stay the night, and even money. But you've got options, and if you know what to do to prepare, you'll be ready like a travel pro.
Have you missed a flight? What was it like? What did you do? Let me know in the comments!