Some posts on this site contain affiliate links, meaning if you book or buy something through one of these links, I may earn a small commission (at no additional cost to you!). Read the full disclosure policy here.
---
Words that mean absolutely nothing to airlines anymore: "I'm on my honeymoon"! In our parent's day, they could sometimes get upgraded flights and hotels. Sometimes, they pulled off gaining lounge access just by showing off those wedding rings and saying they're honeymooning. If only that were the case now, but with airlines squeezing as many people onto planes as they can, it's nearly impossible that you'll be upgraded to anything.
But there's good news! Unlike in our parent's day, collecting airline miles and travel hacking has become easier than ever (and without even flying to earn it). So sit back, relax, grab some celebratory champagne, and let me tell you about gaining lounge access.
Through Airline Credit Cards
Probably the easiest way to earn lounge access is via airline credit cards. These cards typically come with free checked bags, no foreign transaction fees, priority boarding, travel insurance, and potential hotel upgrades. Also, most airlines offer a generous award of 50,000 miles once you hit the minimum-spend in 3 months. This varies from airline to airline (from 25,000-100,000), but you get the picture. To put into perspective, 50,000 miles is two round-trip flights in the US. With 60,000 miles you can get a round-trip flight to Europe. Basically, if you travel at least once a year, getting an airline credit card is worth it.
So which cards offer access to lounges?
United: While United hasn't had the greatest press lately, they have great benefits for their Mileage Plus Explorer Card members. Not only do you get 40,000 miles for their card by meeting the min spend, but also you get all of the benefits above. They also give you 2 lounge passes a year- perfect for that honeymoon layover! Even with an annual credit card fee of $95, the benefits more than pay for itself.
Delta: With the Gold and Platinum Skymiles Credit Cards, you get reduced rates to lounge access of just $29 per person. The Gold Card is free the first year and $95 after that, with the Platinum Card costing $195 a year. Both also offer priority boarding, 20% in flight purchases, and a free checked bag per person. The Platinum also offers a companion domestic ticket after the purchase of one ticket upon your card anniversary. So perks and lounge access? Not a bad idea. They also offer between 30,000-35,000 miles once you hit the min spend.
*The Reserve Card offers free lounge access anytime and a reduced rate for guests, but for a cost of $450 in annual fees for the card, I wouldn't recommend unless you truly were a frequent flyer and were loyal to Delta. The perks just don't outweigh the price tag. This is the same for the American Airlines Executive World Elite MasterCard.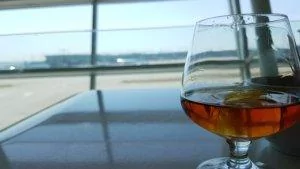 Non-Airline Branded Cards That Offer Lounge Access (And Fees That Are Worth It)
While $450 is pretty steep for obtaining lounge access for one airline in particular, a lot of other travel cards that aren't airline branded have way more perks that may be worth it. Not only do these cards have access to nicer lounges, but most offer TSA precheck or Global Entry credits and $200-300 in travel statement credits. They also are more likely to give you upgrades on flights and hotels, give you higher point earning potential, and basically pay for themselves with their perks. So if you fly a few times a year, these cards are worth looking into.
Platinum Card from American Express: For a steep fee of $550, you get $200 in Uber credits a year (that can be used on Uber eats too), Global Entry/TSA precheck credit, and access to the nicest lounges in any airport: Centurion. It also automatically gives you lounge access to Delta's lounges. Either way, if you think it's worth it, then by all means snatch this up. You also receive 60,000 miles if you meet the minimum spend.
Chase Sapphire Reserve: For $450, you've got 3x point earning potential on travel and dining expenses, $300 annual statement travel credit, and Global Entry/TSA precheck credit. You also get coveted lounge access worldwide with a complimentary pass to a guest (i.e. your future spouse). If you're willing to splurge a little, this is definitely the card I'd choose. This also gives you 50,000 miles if you meet the minimum spend.
Using Your Airline Miles to Purchase First or Business Class Seats
This is where your travel hacking actually gets put to good use. When you redeem your miles for award flights in business or first class, that gives you lounge access during your trip. The best part is just by opening a couple of travel cards you can collect enough miles for these exclusive seats.
Of course, you may have to open more for the both of you, but if you get your future spouse involved, it's easier than ever, keeping in mind that you spend wisely. Another perk? These lounges are also fancier than the standard lounge, offering more privacy, gourmet meals, and fancier cocktails. These are worth it, and if you can travel hack your way to 2 business or first class tickets for the price of $100 total, then why not? #treatyoself… it is your honeymoon after all.
Nothing screams anti-honeymoon than eating expensive airport food, sitting in uncomfortable chairs, and waiting for hours to board your flight. Instead, use these tips and start sitting in a lounge where you get free drinks and snacks while you wait. Because it's your honeymoon, and you deserve it to be fancy for less!
Where will you lounge? Let me know in the comments! Interested in learning about travel hacking? Check out my FREE 3 Days to Becoming a Travel Hacker Email Course here!