Hint: You don't even need to use miles for this one….
Some posts on this site contain affiliate links, meaning if you book or buy something through one of these links, I may earn a small commission (at no additional cost to you!). Read the full disclosure policy here.
---
What's that, you mean? I don't need to search through Google Flights to find a cheap flight or happen upon a mistake fare AND no miles needed?! A free flight does sound too good to be true right?
That's what I thought! But apparently United gets a thing or two right occasionally.
I found this out doing what I do best: helping a couple plan their awesome honeymoon to New Zealand. A normal out of cost ticket would've cost them at least $1,700 a person. As spending $3,400 would've already set them way back on their honeymoon budget (because who's wouldn't it?!), we started figuring out their options. It was also at that point when they had a moment that we can all relate to…. "Well, if we're so close already…could we swing a quick trip to Australia too?" While that may seem like a lot with flights already so freaking expensive, that's when the bride-to-be mentioned something she had read on another travel site: the United Excursionist Perk.
What's that you say?
Only the most magical, and probably the best thing, United has come up with. That, and maybe their actual retrofitted Polaris Planes.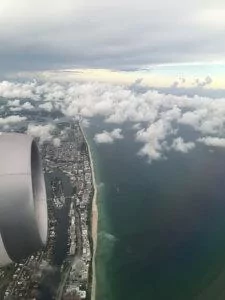 What is the United Excursionist Perk?
I did a little digging with this one and how to actually use it, but the gist of it is that if you're flying round-trip on an award flight between two different regions (i.e. Europe, Oceania, Southeast Asia, North America, etc.), you get one FREE one-way flight within the destination region. That's right. 0 miles. Okay, I lied. You may have to pay taxes and fees, which are usually under $50-100. But other than that, it's an almost free flight without using any of your hard earned miles!
So how does one use it? This can get tricky because United doesn't like to make it easy to get a free flight, even if you're paying in miles. However, if you keep looking and searching, you'll be able to find some seriously sick deals. Also, if you have their United Mileage Plus Explorer credit card, they have extra award availability that they don't show to non-card members.
In this instance, we found their original flight from the US to Auckland, New Zealand. We then found another award flight from Christchurch to Melbourne, and then their last award flight from Sydney back to the US. The total was 160,000 miles (80,000 miles per person standard economy saver flight award ticket) plus a free one way to Melbourne (typically 17,500 miles). So rather than it being 195,000 miles, they can save the extra miles for another flight at another time!
So how do you go about booking this?
I'm glad you asked! While this extra award flight is only for those flying round-trip into a different region, you actually need to book a multi-city ticket. Basically, you can't do three one-way tickets. But you don't have to book a round-trip to one city either. So if you wanted to go to London and Paris, you could do multi-city where you fly from home to London, the second flight to Paris, and third back home. United should give you the free one-way flight to Paris free (no miles)! See below:
What else do I need to know?
This is where you have to know some rules. These are the basic rules to follow to get your flight:
It has to be round-trip between different regions. This means that you can't go from North America to Europe to Asia. If you started in North America for your first flight, you have to come back. Again, it doesn't have to be in the same city, but it does need to be in the same region.
If you book multiple one-way flights (more than 3) it will only give you a zero mile flight on the second flight. For example, if you fly Chicago to London, London to Madrid, Madrid to Rome, then Rome to Chicago, only the London to Madrid flight is free.
If you're flying different classes on your award flights, the free one will either be the same or lower (e.g. no free first class flights when your highest class ticket was business).
This perk is for award tickets only. If you were to pay out of pocket for these three or more flights, you wouldn't get a free flight. Isn't this just another reason to use miles?
Clear your cache between searches, otherwise, United's outdated system will lose its mind and you'll get some error messages.
Apparently United gets a thing or two right occasionally.
It may take a few tries to find the right combo of flights, but after paying for a wedding and now honeymoon, wouldn't you rather put in a little extra effort here to get to the destination of your dreams AND have extra money to blow there? Basically, this perk is everything you ever needed and more!
I'm so glad this couple suggested the United Excursionist Perk, and with some research, we were able to book their round-trip tickets at an astounding price of… $315 total! For two people to go to Australia and New Zealand on the honeymoon of their dreams, it sounds like a miracle, but with proper planning, and useful travel hacking skills, it can most certainly be done!
Have you used the United Excursionist Perk before? What redemption did you get? What is your favorite part? Let me know in the comments!
Love this post or want to read later? Pin it here!