Some posts on this site contain affiliate links, meaning if you book or buy something through one of these links, I may earn a small commission (at no additional cost to you!). Read the full disclosure policy here.
---
Whether you are wanting to save up for a honeymoon flight upgrade or you want to make a trip that much more special, you may ask yourself, "is business class worth it"?
I mean if we had the option to choose between economy or business class, of course, we'd all choose business class. Free drinks, better food, and more attentive customer service are some of the reasons why people love flying in business class. Oh, and the extra legroom doesn't hurt either.
But… if you're like us and don't happen to have unlimited funds (or unlimited miles and points) you do need to weigh the pros and cons of whether it is worth the splurge to pay for business class.
To help you in that decision-making process, we're breaking it down!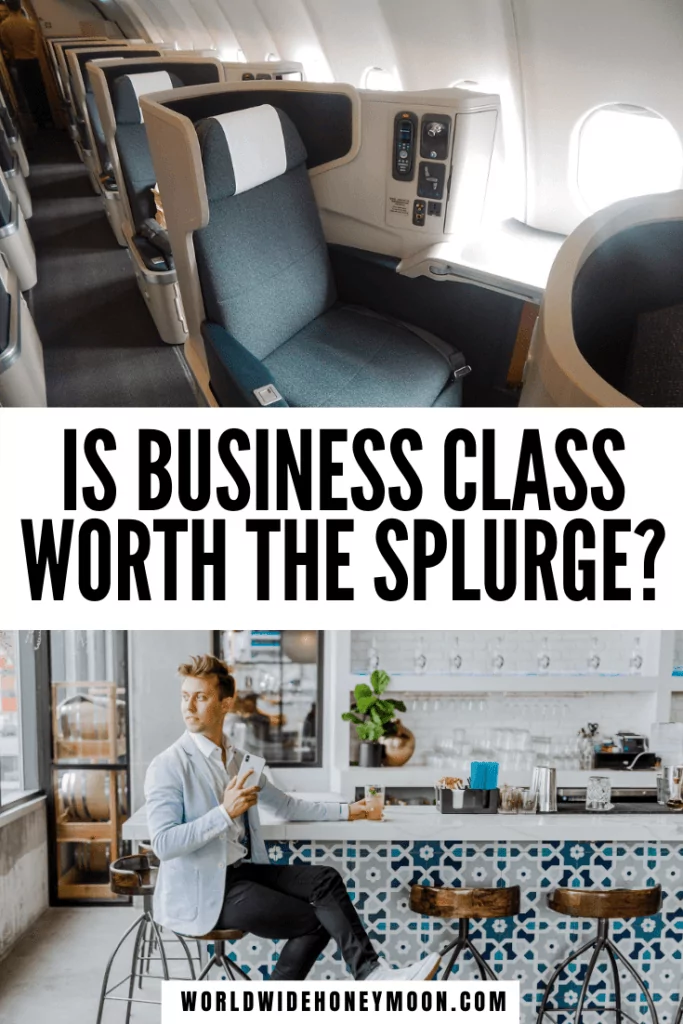 Is Business Class Worth It?
First of all, a good question to know is how much more is business class? If it is fairly nominal in terms of points or money, then I say why not? However, this is rarely the case. So, let's break down the differences between economy and business class to determine whether or not the differences make flying business class worth it.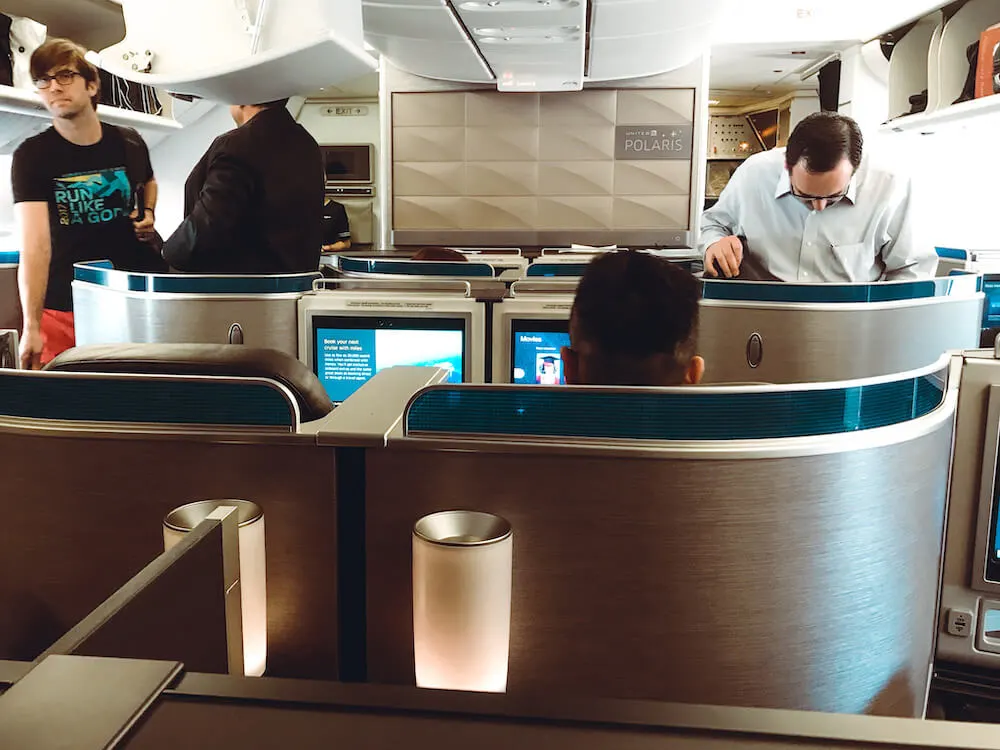 1. Is Flying Business Class Worth It: Comparing the Legroom and Seat
Domestic/Short-Haul International: A few extra inches for an hour or two? I mean… not really worth the extra couple of hundred dollars. Sure it's more space, but unless you're taller than 6'2, it's probably not that worth it for a shorter flight. For a longer cross-country or continent flight, I'd say maybe.
International/Long Haul: Having a fully-flat reclining seat (most common these days) complete with fluffy pillows and blankets and a footwell to stretch out in feels heavenly. No, it's not exactly like being at home in your own bed, but it's a hell of a lot better than sitting in a cramped economy class. I would definitely say this perk is worth it.
You also lower your risk dramatically of getting a DVT as you've got room to stretch out, and it's much easier to walk around the cabin when there are only 20 or so people.
Not to mention the amount of privacy you get (if you pick the right airline)! Reserve a solo seat closest to the window with your cocktail table closer to the aisle and you have your own private spot. For us, couple travelers, get the odd row seats or "honeymoon seats" if available where you can sit right next to your love and hold hands in your own private cocoon.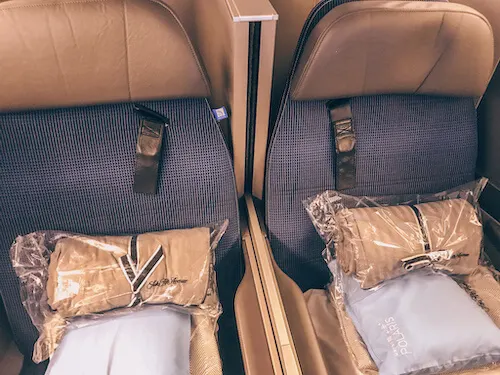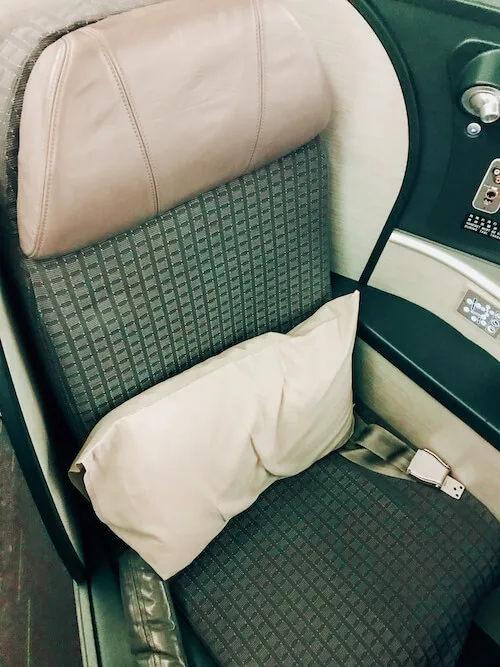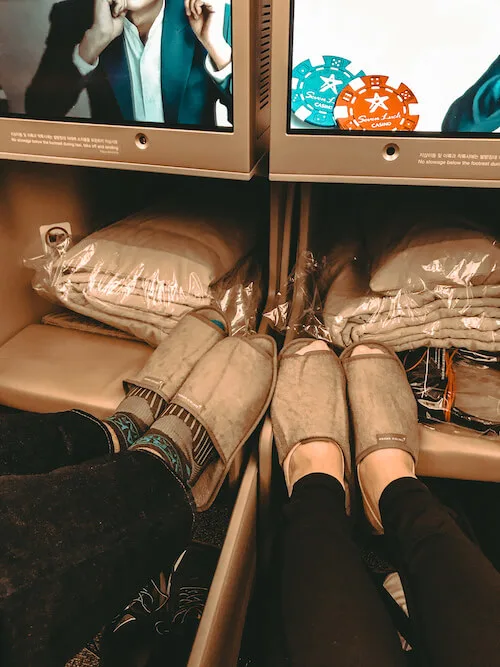 2. The Food
Domestic/Short-Haul International: If you get food on domestic flights this is a miracle in itself. On economy flights operated domestically or short-haul, you're lucky to get water and pretzels. Here, you'll get alcoholic drinks AND a meal in business class.
It's what I'd like to think the good ol' days of air travel must've been like. However, I'd rather suffer for an hour or two without any food or cocktails to save a couple hundred bucks. Then again, if it was a cross-country 5-hour flight, this may be a great option!
International/Long Haul: Guys. You not only get a several-course meal, but you also get it served on REAL dishes and with REAL silverware. The meals internationally are fantastic with both western and more local fare, depending on the flight.
You also get unlimited drinks and mid-flight snacks that can include ramen served in an actual bowl, grilled cheese and tomato soup, and assortments of chips, fruit, etc. You won't go hungry on these flights and the food is typically pretty good, depending on the carrier.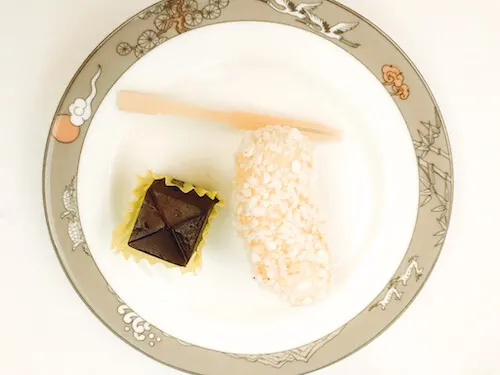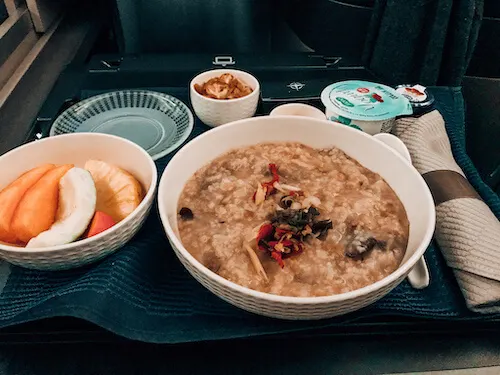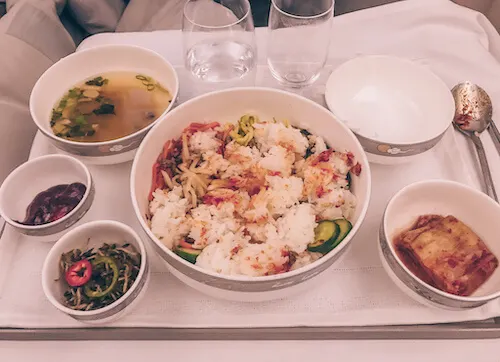 3. Lounges
Whether you're flying domestic or international, you get access to the lounge when you fly business class. This is always great because 1) you get to get away from crowds and relax a bit, 2) there is almost always free wifi to get work done, 3) FREE food (and sometimes alcoholic beverages).
Nothing has saved us quite as much money as having lounge access, thanks to the Amex Platinum Card that comes with Priority Pass among other lounges. I love being able to get some work done or watch movies online before my flight, but the food and drinks alone being free is great. We never have to pay exorbitant prices to eat and drink at the airport again. So this perk is pretty amazing.
4. Is Business Class Worth it: Entertainment
Domestic/Short-Haul International: On business class flights domestically or short-haul, you usually get a screen to watch TV and movies on. Considering several flights in economy don't have that domestically/short-haul, this is a great draw, especially if you're on a long flight across the US.
International/Long Haul: Okay, most international flights have screens and such for everyone. But in business class, it's much bigger. You also get a remote! I mean, you don't really need a remote, but when you're reclined and not wanting to get up from your comfy spot, it's a great thing to have.
5. Amenities
Domestic/Short-Haul International: Unless you're traveling across the country, you probably won't get any.
International/Long Haul: Can you say "amenity kits"? You'll almost always get a kit filled with a toothbrush, toothpaste, chapstick, earplugs, eye mask, and lotion. And on some flights, you'll even get slippers and maybe pajamas. It's nice to have some of the comforts of home to make it cozier. Also, you'll get [almost] noise-canceling headphones to use. You definitely don't get these in economy on most airlines.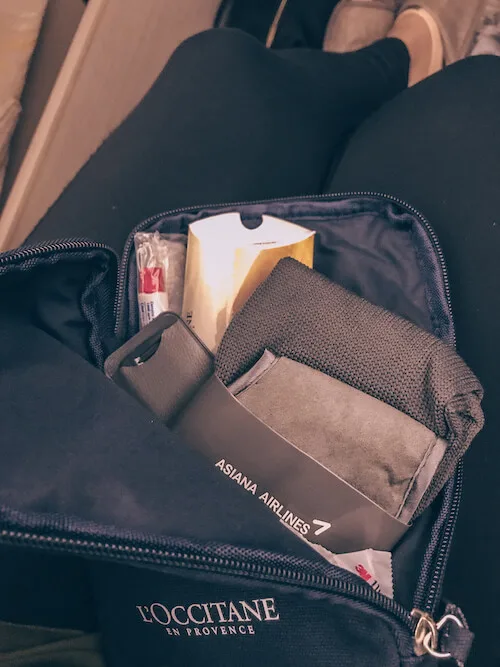 6. Service
Aside from priority boarding, and sometimes a designated check-in counter, the service, while variable, is pretty good! If they don't know and call you by name, they are more courteous than they typically are in economy.
I wouldn't necessarily pay extra for a more friendly flight attendant or gate agent, and I've certainly met friendly flight attendants while sitting in economy, but it is nice to have. Oh, and designated bin space helps too!
7. Bathrooms
Domestic/Short-Haul International: Okay, on smaller flights, you're pretty much sharing with everyone else and it's not a big deal. Cross-country, though, there can be nicer, larger bathrooms.
International/Long Haul: Definitely has more space and amenities! Forgot your toothbrush? The bathroom has you covered! I've seen some with face misting spray, lotion, etc. It's also much cleaner as flight attendants keep an eye on the bathrooms on these flights in business class.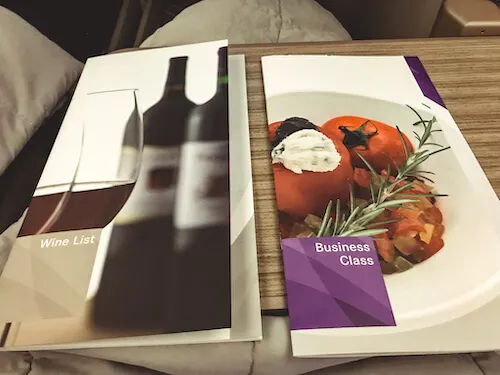 So Is Business Class Worth It?
Okay, is business class worth it on domestic or short-haul flights? It depends. If you're going for a shorter, 1-2 hour long flight, I think not. Your only advantage is a meal and a little extra legroom. That being said, if you've got endless amounts of money, are really tall and need the space, or you can get it free via status and complimentary upgrades, I say why not?
I for one wouldn't waste my money or airline miles for a flight this short. If it's a longer flight, like NYC to SFO, it could for sure be worth it. 5-6 hours in a plane can definitely be made more comfortable with more legroom, a meal, and great entertainment. It's a coin toss whether it's truly worth the extra money or miles, but this may be based on your preference. Personally, I'd stick with economy.
Is business class worth it for an international flight? On international long-haul flights, I think it's worth it every time. You can't beat the space. A place to actually sleep and be comfortable, a lot of food, good screen for entertainment, amenity kit, and more… if I could fly business class on all of my international flights, I'd be happy.
If you've got the extra money or miles, or have an upgrade available, do it. Also, if it is a big trip like a honeymoon, babymoon, anniversary, etc., 100% go for the upgrade! We did just that for our trip to Southeast Asia for our honeymoon using points from these three cards.
You can thank me later. My only caveat is if you travel often like us, we generally aren't big on spending double the miles for business class, so we don't splurge often unless it is a flight that is 11 hours or longer.
That being said, some carriers allow you to use miles to get an economy flight and you can pay cash (usually $100-200 per way depending on the flight) to upgrade to economy plus or business if available. That I would recommend in order to save some miles too!
What do you think? Would you upgrade to business class? Is flying business class worth it? Let me know in the comments!
Love this post or want to save for later? Pin it here!