Some posts on this site contain affiliate links, meaning if you book or buy something through one of these links, I may earn a small commission (at no additional cost to you!). Read the full disclosure policy here.
---
Gone are the days where people go directly to airline websites, compare prices, and find cheap flights to book. You could still do that, but let's be real it's extremely inefficient. And when you just researched venues, DJs, florists, and more while wedding planning, who really has that kind of time to find cheap flights?
No, I'm not here to talk to you about Kayak. It is probably one of the worst places to start looking for flights. Kayak doesn't like to show the discount airlines quite as much, so you really don't get the best deals. It also charges a fee to book with them. If it doesn't really find you the best deals, then what does?
So what's the solution to finding cheap flights?
For finding all of my search possibilities I go with Skyscanner. My biggest reason for going with this site is because of the possibility to combine flights that aren't necessarily in the same alliance. For instance, if I were to go to Kayak and find a flight round-trip somewhere on American Airlines, the flights would only be American Airlines or in American Airline's alliance, One World. Sure, American Airlines may have some cheap flights, but what if you want to fly on American Airlines to London and Delta home? As they aren't in the same alliance (Delta is in Sky Team), Kayak will not combine these.
But Skyscanner will! So to find cheap flights, search on Skyscanner. Boom. Cheap flights galore!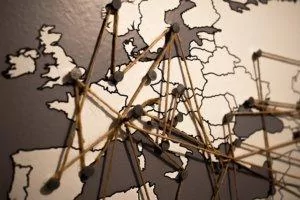 What are some other tools you can use?
Another tool that I rave about is the app, Hopper. It's the app I use to predict when flight prices will drop. For our trip to South Africa, I was just learning about travel hacking, and had no miles to book the flight. I also knew I wasn't about to pay over $1,000 per person to get there. So I downloaded this app, input the dates I was interested in, and it told me to wait to book. When prices dropped, it alerted me, and we booked right away. And to fly round-trip Cleveland-Johannesburg, it was $850 a person. Not too shabby for a long haul flight. This is a great option if you're looking to book a honeymoon flight but don't have the time to collect miles.
Let's also talk about the travel site Google doesn't really advertise: Google.com/flights/explore. This lets you pick a time frame, how many days, and either specific destinations or regions to explore. Then, it pops up with the cheapest times to fly. It's amazing. For instance, I just looked up a round-trip flight to Bangkok from Cleveland and it was $842… or Cincinnati to Dublin round-trip is $540. Even without miles you don't have to pay crazy prices for your dream honeymoon! I also show cities who don't have huge airports to show you that you don't have to live in NYC or LA to fly cheaply.
Last, but not least, if you're really last minute booking a flight, and want to find a deal, head over to The Flight Deal or Secret Flying. Both sites find mistake fares (when airlines forget to add in fuel surcharges or other fees and their prices are super low) or just really cheap last minute flights. It's a game changer, but you better act fast! Because mistake fares usually don't last longer than 12 hours, or until the airline realizes they messed up. But their loss is your gain… especially as most airlines will honor their mistakes. So be sure to check out these savings!
So these were my tips to collecting cheap flights if you don't have enough miles. But at the end of the day, I always recommend collecting miles. Because wedding/honeymoon planning is the perfect time to collect! And you honestly can't beat flying first or business class for less than $100 round-trip. But if you're in a pinch, I highly recommend these services. I've been using these for years for flights and can't get enough.
If you're collecting miles and need help with a game plan on collecting or redeeming, let me know! Visit my consulting page and we can get you started on a great mile game plan!
What's the best deal you've encountered using these sites/apps? Let me know in the comments! And be sure to subscribe to my page for more details!