Some posts on this site contain affiliate links, meaning if you book or buy something through one of these links, I may earn a small commission (at no additional cost to you!). Read the full disclosure policy here.
---
Finding the best beaches in Thailand can be a real challenge. There are literally hundreds of beaches along this gorgeous country. So how does one choose?!
Chris can vouch for me when I say this took me the longest to figure out when it came to making our 3-week honeymoon to Southeast Asia itinerary. I knew right away that we wanted to go to Hanoi/Ha Long Bay, Angkor Wat/Siem Reap, Chiang Mai, and Bangkok. I also knew that we really wanted to see some of the best beaches in Thailand. But when I started doing research… holy crap there are so many options! It seriously took me months to decide!
There are options that cater to crazy all-night parties, backpackers, divers, and even a few places that are so remote that there are only a few shacks to sleep in. None of these really screamed "honeymoon" to me. So I kept going back to square one until I stumbled upon some information about the perfect beaches in Thailand for honeymoons. So I'm here to help you all out today in finding the best beaches in Thailand, and more particularly, for romantic getaways!
First of all, there are several factors to consider. Not all honeymoons are alike and no two couples are alike. Therefore, what we picked may not be your ideal spot at all! So we're going to give you advice on how we found our perfect beach and let you know where we picked at the end.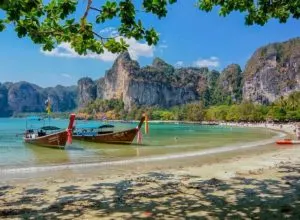 What time of year are you going?
This plays a large factor in where you can go. Rainy season is no joke in Thailand, and while you can still visit beaches during the rainy season, some ferries are unavailable for certain islands. Also, while the rain during the rainy season is usually a torrential downpour that doesn't last too long, you still don't want to deal with choppy water, less visibility, and overall having to stay inside instead of on the beach. So avoiding the rainy season is key.
That being said, shoulder seasons typically have better weather and the beaches are not as crowded. During high season, you can expect higher prices, so you'll need to book in advance, and there are more crowds.
So when should you go?
The Gulf of Thailand, including Koh Samui, Ko Pha Ngan, and Koh Tao, have a rainy season typically from October until December, and then it cools down to much better temperatures in January. The driest months of the year are February and March, and the hottest month is April. May through September typically have a good amount of sunshine with some rain sprinkled in. Some of the best times to go here are in February/March and September (avoiding school holidays is best).
On the other side of Thailand, in the Andaman Sea, including Phuket, Krabi, and many islands, you can expect completely different results. Rainy season here starts in May and ends around October, then shoulder season here is in November and March/April. The peak season here is right around the holidays in December through February.
Basically, depending on the time of year you are planning to go will greatly affect which side of Thailand you'll be enjoying.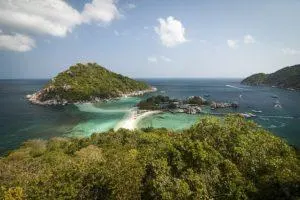 How much time do you have?
Another key aspect of planning your perfect Thai beach getaway is time. Do you have a week or so? Perhaps island hopping via ferry across the various Andaman Sea islands like Koh Lipe, Koh Phi Phi, and more islands is perfect. Do you only have a few days? Then perhaps sticking to Phuket that has an airport close by and is easy to get to is great.
Likewise, on the Gulf of Thailand side, you could easily fly into Koh Samui for your time there if you only have a few days, but if you have a lot of time be sure to check out Koh Tao and learn to dive! And if you've only got a day or two total for the beach, Pattaya is an easy trip from Bangkok.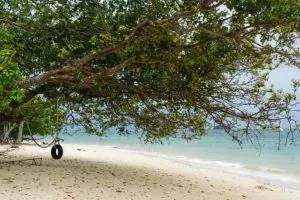 What activities do you want to do?
Just like my article about perfect places to honeymoon based on your travel style, this is similar. There are seriously the best beaches in Thailand for all tastes here. If you both love a good party-all-night vibe, head over to Ko Pha Ngan for the famous Full Moon Parties. You may also enjoy Phuket's beach bars, and Chawang Beach in Koh Samui or Railay Beach are known for their nightlife too.
Conversely, if you are not the partying all-night type and are looking for quieter places to honeymoon, check out Koh Lipe, with beach bars only open until midnight on Sunrise or Sunset Beaches. You may also enjoy Koh Lanta, which is so large that you can easily find remote beaches and resorts, or Koh Chang that is fairly remote and peaceful.
While you can dive pretty much anywhere along the coasts of Thailand, there are some notable spots that are known for diving and snorkeling. Koh Tao is particularly famous for its diving, and Koh Lipe has gorgeous reefs and is known as the "Maldives of Thailand." You can either rent a boat and go snorkeling for the day or you can head to a dive school and learn to dive!
If you'd like to do something other than beachy things, Koh Lanta is a fantastic option! It is one of Thailand's largest islands, and you could easily rent a motorbike and explore hidden jungles, waterfalls, and more!
For the most instagramable beaches in Thailand, look none other than Koh Phi Phi or Railay Beach. The only issue here is that everyone else is doing the same photos… so either plan your photos when the crowds are smallest, deal with the crowds, or have good photoshop skills to crop them out.
You can island-hop throughout the Andaman Sea. Start out in Phuket and hop to Krabi, Koh Phi Phi, Koh Lanta, and more!
And of course, if you're looking to do absolutely nothing, perhaps planting yourself on the more remote islands of Koh Lipe or Koh Chang and lying by the ocean is the best way to go.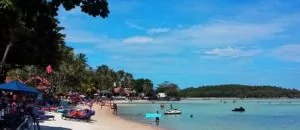 How many people is too many?
This is a big one if you want to avoid crowds, high costs, and feel like you've got the place to yourself. You can do most of this simply by avoiding high season at most beaches. However, some remote beaches include Sunset Beach in Koh Lipe or visiting the neighboring island of Koh Adang, Koh Chang, Koh Rok, Koh Kood, or even Thong Nai Pan on the typical party island of Koh Pha Ngan.
If you don't mind the crowds, then definitely the Phuket area has some of the best beaches in Thailand. Maya beach is absolutely stunning in the Phi Phi Islands, but super crowded after the movie, The Beach, came out. What was once a dream destination is now overrun. However, it still maintains some beauty.

Where We Went!
While this took me a long time to figure out, we ended up choosing to stay on Koh Lipe at Ten Moons Lipe Resort on Sunrise Beach. We chose this because 1) We wanted a chill beach and had no interest in Full Moon Parties or crazy parties in general during our honeymoon, 2) we went for 4 days and had plenty of time to fly and take the ferry over, 3) we saw photos on Instagram and read about the amazing water and coral reefs and obviously had to check it out for ourselves, and 4) we went in November, and the Gulf of Thailand is completely out due to it being the rainiest month over there, while the weather here was pretty great!
We fell head over heels for Koh Lipe, and highly recommend this island for your honeymoon! It was such a romantic place to visit. And while crazy luxury resorts aren't as abundant on this island (but isn't that a good thing?), it is fairly remote enough and has all of the things we're looking for! To us, it seemed like one of the best beaches in Thailand that fit our honeymoon perfectly!
Love this post or want to read later? Pin it here!